Warm Shrimp and Soba Noodle Salad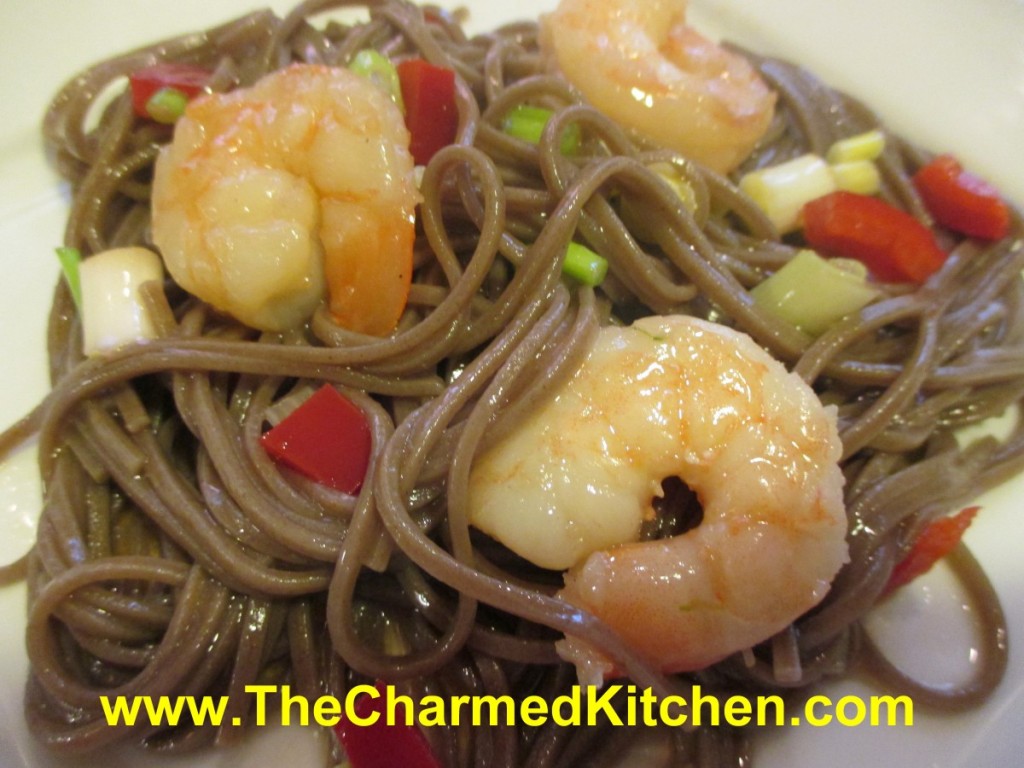 I eat salads all year round, even in winter. Since it is unseasonably warm today, I decided to treat myself to this very special salad for lunch today.
Whenever I make soba noodles, I wonder why I don't eat them more often. I really love their flavor.
Soba noodles are made from buckwheat flour. They have a wonderful, almost nutty flavor. I picked these up at a recent visit to the Asian market. You can find soba noodles in some grocery stores, too.
I have enjoyed soba noodles in cold salads, hot soups and stir fries. This time, I decided to use them in a salad that fell somewhere between hot and cold. It made a great meal for a winter afternoon.
Warm Shrimp and Soba Noodle Salad
12 oz. soba (buckwheat) noodles
1 lb. raw shrimp, shelled and de-veined
2 T. oil
2 cloves minced garlic
½ c. chopped sweet peppers
½ c. chopped green onions
Dressing:
¼ c. oil
2 T. Rice wine vinegar
1 t. sesame oil
1 t. soy sauce, or more to taste
1 t. hot sauce, or more to taste
1 t. ginger
In pot of boiling, salted water, cook noodles according to package directions. They only take a few minutes. Be careful not to overcook them. Drain and set aside. Heat a skillet and add the oil. Add the shrimp and garlic and stir fry until shrimp are just cooked through. Time will vary based on the size of the shrimp you are cooking. Place soba noodles in a bowl. Add the cooked shrimp and veggies. Make dressing by placing all dressing ingredients in a jar with a tight fitting lid. Shake until mixed well. Pour dressing over the noodle mixture and toss to coat evenly. Serve while still warm. Serves 4-5.