Pork Enchiladas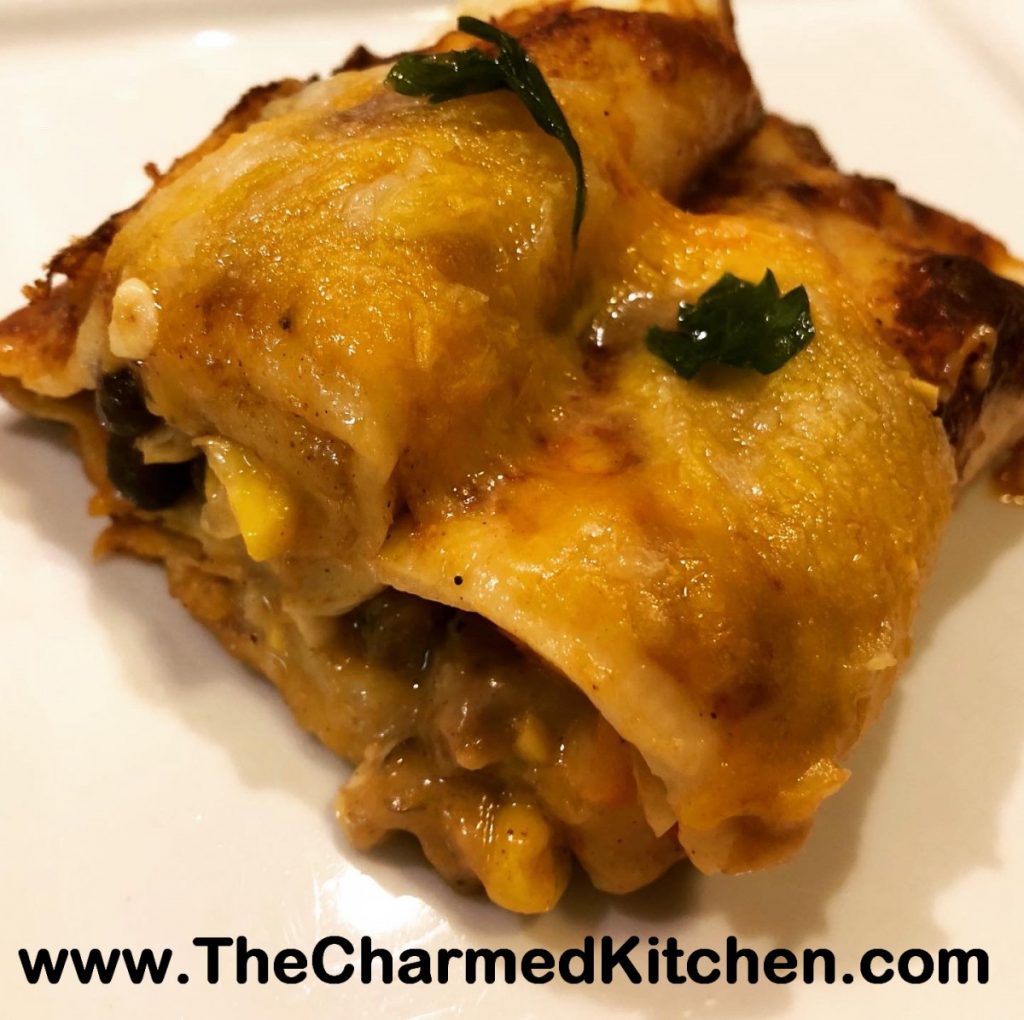 I love a good enchilada, all warm and cheesy. I really should make them more often. A few weeks ago, I shared my brunch enchilada recipe. Today, I went more traditional.
These pork enchiladas were the perfect dinner last night. I had loaded them up with pork, black beans, corn and cheese, then topped them with enchilada sauce. They were so tasty. I made my own enchilada sauce. It was easy to make and well worth the effort.
Pork enchiladas are often made with a green enchilada sauce. I went with red, since I like red. I had a bottle of green enchilada sauce in my pantry, but opted to go with a homemade sauce. I love how simple the sauce is to make- and how good it tastes. Plus, when you make your own sauce, you can tweak it to suit your taste.
Same thing with the filling. I used what I had and what I like together. The pork, corn and beans are pretty traditional. I had planned on added canned green chilies, until I realized I was out. I did add some fine chopped onion and some sweet red pepper, just for flavor and texture.
That's the nice thing about enchiladas. You can play around with fillings, based on your likes and what ingredients you have. You could just as easily make this recipe with chicken, beef or even turkey.
Just be sure to fill them up!! I used just about a cup of filling in each tortilla, when you factor in the pork mixture and the cheese. I had planned on using eight tortillas, but needed a ninth one to use up the last of the filling. Rolled them tight and crammed them in the pan. It worked out just fine.
After baking, when I went to cut them, I thought the bottom was a little tough. It tasted fine, though, just hard to cut into squares without using a knife. I thought, in hindsight, I should have put a little sauce on the bottom of the pan, before adding the rolled tortillas. I had plenty of sauce. So that is what I would suggest for you to do. Just 1/4 cup or so, to add a little moisture to the bottom of the dish. Other than that, I wouldn't change much on this one.
So here is the recipe for my pork enchiladas. I also include the recipe for enchilada sauce. Hope you give them a try.
Pork Enchiladas
2-3 c. cubed or shredded cooked pork
1½ c. corn, cooked and drained well, I used frozen corn
1 can (15.5 oz.) black beans, rinsed and drained well
½ c. minced onion
1 c. diced sweet pepper
1 recipe enchilada sauce- recipe follows- or 2 c. bottled enchilada sauce
3 c. shredded cheese- I used a cheddar/Monterey Jack blend
8-9 (8-inch) flour tortillas
Non-stick spray or enough oil to grease the pan
Chopped parsley or cilantro, optional
Lightly grease or spray with cooking spray a 9×13-inch baking pan. You can put ¼ cup of the enchilada sauce in the bottom of the pan, if you like. Set aside. In mixing bowl, combine the meat with the veggies and ½ cup of the enchilada sauce. Stir to blend. Add salt, if needed. Place about ¾ of a cup of the mixture down the center of a tortilla. Add about 3 tablespoons of the cheese. Roll up tightly and place seam side down in the pan. Repeat with remaining ingredients until all the filling is used up. I was planning on using 8 tortillas, but had enough filling for an extra one. As the pan gets full, you have to kind of push them together to get them all in. You will have leftover cheese. Pour the remaining sauce down the center of the tortillas and cover with foil. Bake in a preheated 350 degree oven for 30 minutes. Remove foil and bake 15 minutes longer. Remove from oven, sprinkle the remaining cheese down the middle and return to the oven to melt the cheese. You can turn off the oven at this point. Just let the enchiladas sit in the oven for about 10 minutes. Remove from oven and let sit at least 10 minutes before serving. You can add a sprinkle of chopped parsley or cilantro just before serving. Serves 6-8.
Enchilada Sauce
3 T. oil
3 T. flour
1 T. chili powder, or a bit more to taste
1 t. paprika
1 t. cumin
1 t. garlic powder
½ t. oregano
½ t. salt, or more to taste
2 T. tomato paste
1 t. apple cider vinegar
Fresh crushed black pepper
2 c. stock- chicken, veggies, I used pork
Combine oil and flour in a small saucepan. Cook over medium low heat until mixture warms and thickens. Add spices, tomato paste and vinegar. Heat a few minutes, stirring constantly. This will add a toasted flavor to the spices. You should smell them more as they warm up. Slowly add the stock, whisking until smooth. Keep cooking, turning heat up to medium. Once mixture thickens and gets bubbly, turn down to low and simmer a few more minutes. Makes 2 cups.