Tara's Date Cake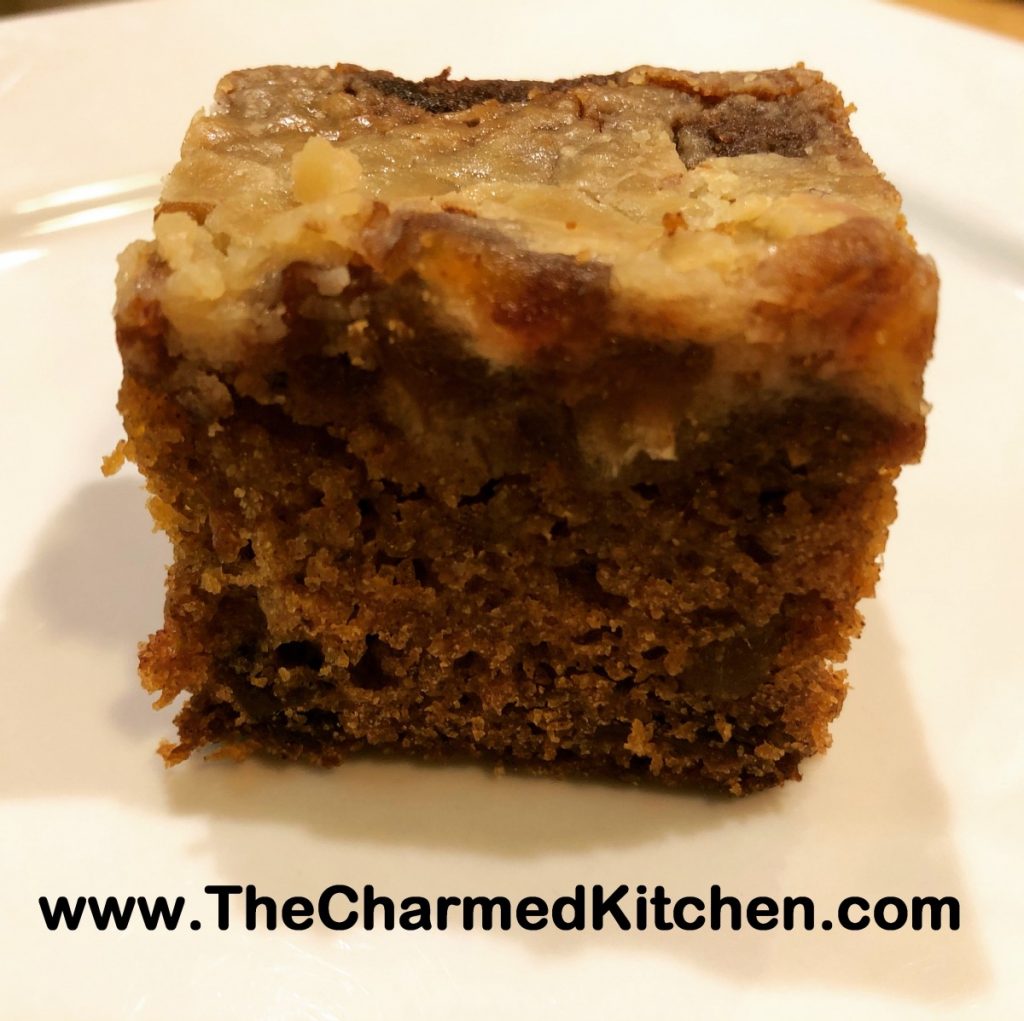 Looks can be deceiving. This is not a very pretty cake. But it is one of my all time favorites. I love dates and their natural sweetness adds a unique flavor. This cake also has a soft delicate texture, that you might not expect. I have been sharing it with various friends for feedback. So far we all agree it is a winner.
I shared some of this cake with my friend, Tara, the other day. She really loved it. We also talked about how recipe names come about. So I thought, what the heck, I will name the cake after her. Did I mention how much she liked it?
This all started because I had a request to bake a date cake. I hadn't made one in a long time and forgot how much I like them. Unlike a date nut bread, which can be dense and more like a fruitcake, this cake is rich, but light.
The cake comes out very dark brown, but it isn't burnt- unless you leave it under the broiler too long. Don't ask me how I know this. The dark color just means the cake has a toasty flavor, especially around the edges.
Yes, the cake goes under the broiler for a few minutes after baking it. It gives the topping a sort of caramel flavor.
So enough chat- here is the recipe.
Tara's Date Cake
1½ c. water
1½ c. raisins or dried cherries
¾ c. dates, pitted and chopped
½ c. butter
¾ c. granulated sugar
2 eggs
1 t. vanilla extract
1½ c. all-purpose flour
½ t. salt
1 t. baking soda
Topping
4 T butter (½ a stick)
½ c brown sugar
2 T. half and half or cream
½ cup chopped dates
½ c. chopped nuts, optional
Grease and flour a 9- inch square pan. Set aside. In a saucepan, combine water and raisins. Bring to a boil and boil for 5 minutes. Remove from heat and stir in chopped dates. Set aside to cool, about 30 minutes. Preheat oven to 350 degrees. In a large bowl, beat butter and sugar until light and fluffy. Beat in the eggs, then beat in the vanilla. Beat in the flour and salt. Combine the baking soda and date mixture. Stir well, then add date mixture to batter. Beat just until combined. Pour batter into prepared pan.
Bake 40 minutes, or until a toothpick inserted into the center of the cake comes out clean. Remove cake from oven, and set oven to broil. Make Topping: In a saucepan, melt butter. Stir in brown sugar, half and half or cream, chopped dates and nuts, if using. Spread mixture over warm cake and place under broiler until lightly browned, about 3 minutes. Watch carefully – it burns easily under the broiler. Cool before serving. Serves 12.