Broccoli with Hummus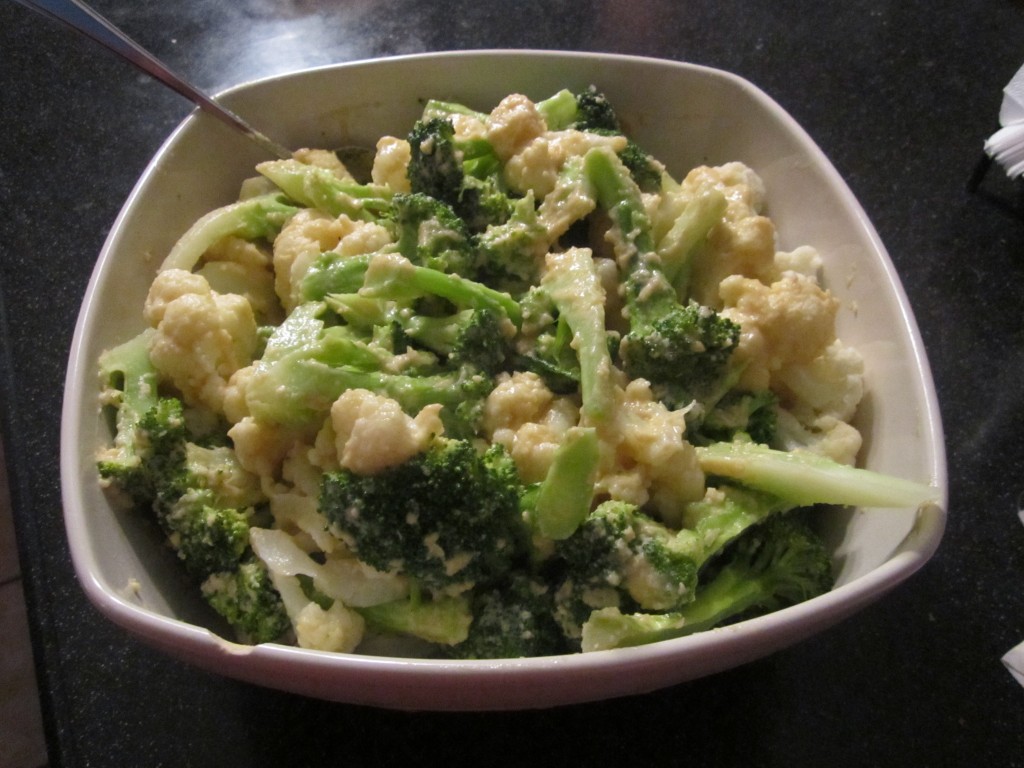 When you think of hummus, I bet you think of it as a dip. It is a great dip, paired with some pita bread or fresh veggies. But hummus can be more than a dip.
I love to toss hot veggies with hummus. I especially like to do this with broccoli. I started doing this years ago for a friend who was vegan. The hummus was a nice substitute for butter or a cheese sauce.
You can use homemade hummus, but store bought is fine, too. Hummus is made from chickpeas, olive oil, tahini, lemon juice, garlic and a few seasonings. Of course, you can make all sorts of variations, if you prefer. You just combine the ingredients in a food processor or blender until smooth. Doesn't get much simpler. I prefer to make my own, so I can flavor it the way I want.
One of my favorite combinations is hummus with broccoli. The flavors work great together. You just toss hummus with freshly cooked broccoli. So yummy.
Since I had some cauliflower, I added some of it to the dish as well.
So the next time you have some hummus around, try tossing it with hot, cooked veggies for a fun side dish.
Steamed Broccoli with Hummus
1 lb. fresh broccoli, you can also use cauliflower or a combination
1/2 c. hummus, homemade or store bought
Cut broccoli into long spears, peeling and trimming tough stems. Steam until just tender. Warm hummus over low heat or in a microwave and spoon over the cooked broccoli. Toss to coat evenly. Serves 4 as a side dish, 2 as a main course.
Hummus
1 can garbanzo beans, drained
1/4 c. olive oil
2 T. lemon juice
2 T. tahini (sesame seed paste)
2 cloves garlic
salt and hot pepper sauce to taste
Combine all ingredients in a blender or food processor until smooth. Adjust seasonings. Chill. Serve with pita bread, crackers or fresh vegetables. Also nice spread in a pita bread with sliced tomatoes, cucumbers and lettuce. Freezes well.