Butternut Squash Soup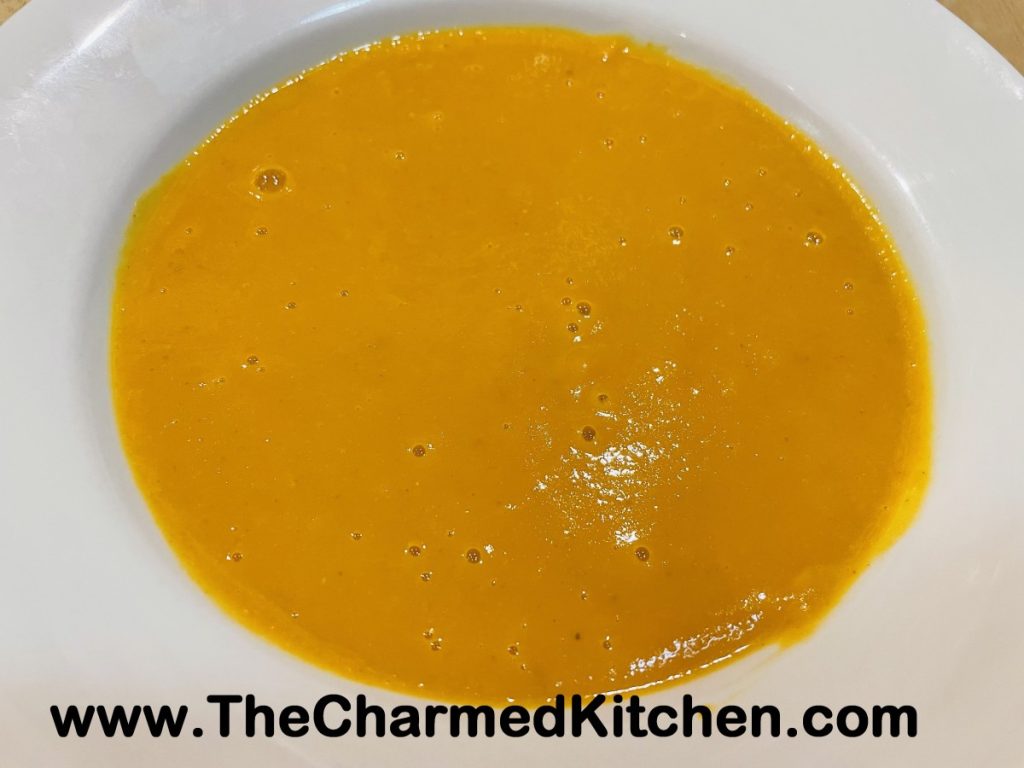 When fall arrives, I look forward to winter squash and all the wonderful dishes I can make with them. One of my favorites is butternut. A friend recently gifted me with squash from her garden. It has gotten chilly and I decided to make soup with one of the butternuts. Thanks, Irene.
I have been making versions of this soup for a long time. I tend to make a vat of it, then freeze some for later. I pared the recipe down this time. I tend to use the veggies I have on hand. Some, like onions, carrots, garlic and celery are always used.
I used a fresh squash that I peeled and cubed up, but you can use frozen or canned squash instead. Here is my latest version of this wonderful autumn soup.
Butternut Squash Soup
2 qts. Water, or a bit more
1 ham bone or smoked turkey on the bone (1 small turkey drumstick)
2 onions, peeled and halved
3-4 cloves garlic, peeled- the ones I had were very large
3-4 carrots, peeled and chunked
4 c. chopped cabbage
2 ribs celery, sliced
1 c. tomato sauce – or a couple of cups of chopped fresh or canned tomatoes
8 cups cubed butternut squash- you could use pumpkin or most any winter squash
-OR-
3-4 c. cooked pumpkin or winter squash
Paste-type soup base to taste, about 3-4 tablespoons
1 fresh sage leaf or ¼ teaspoon dried
Hot sauce to taste
Place all ingredients, except soup base and seasonings, in a large pot and bring to a boil. Cover and simmer until vegetables are very tender and meat is cooked and tender, at least 1½ hours and up to 3 hours. Remove bone or meat to cool and add soup base and sage. Use an immersion blender to puree the vegetables. It does not have to be completely smooth, but it should be close. If it is too thick, you can add a little more water. Density is a personal preference. Add hot sauce to taste. Puree a little more. Adjust seasonings if needed. Optional: Cut the meat off the bones and return meat to the soup once pureed. Serves 6-8. Freezes well.
Note: I make it in even larger batches because this soup freezes well. You can add other vegetables like sweet potatoes, corn, potatoes, green beans or whatever else you have around. I often add cauliflower and zucchini. If you want thicker chowder add a potato or two to the recipe. For a smoky taste you can also add smoked turkey sausage and the chowder will be cooked in less time. Just remove the sausage, puree the chowder, slice sausage and return to the pot. Smoked paprika or liquid smoke can also be used to add a smoky flavor. This is a good way to use up a ham bone or leftover ham.