Baked Eggplant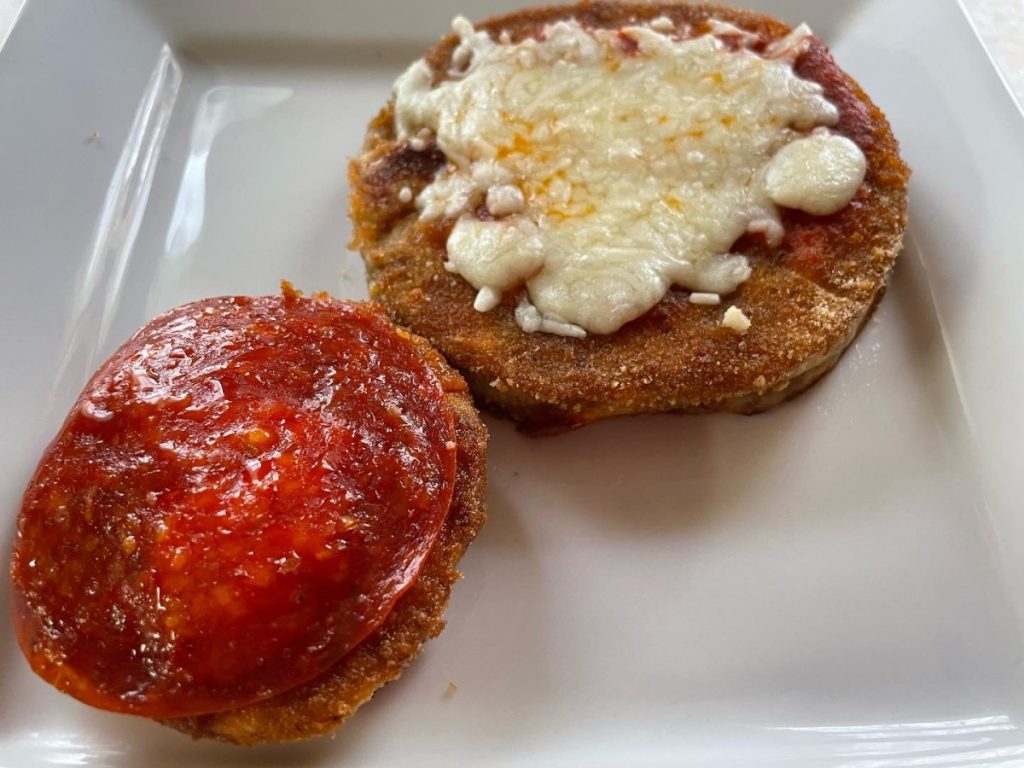 I love eggplant prepared in a lot of different ways. I must say, this preparation is one of my favorites. I think it is because it reminds me of my parents. My mother used to bread and bake eggplant this way. My dad loved it- and he was not a big eggplant fan. I guess pretty much anything tastes better when breaded. She would top the eggplant with some cheese and sometimes with some marinara sauce.
I had picked up an enormous eggplant at a local produce market. I decided to bake it. I cut the eggplant in slices, but you could also cut them in strips and serve like French fries, if you prefer.
One of the problems with eggplant is about how much oil it will absorb when cooking. If you fry these slices in a skillet- they will soak up the oil like a sponge. I prefer to bake the eggplant, with a drizzle of oil. They come out crispy, but not greasy.
They make a nice side dish or even main dish. I topped mine with marinara sauce and mozzarella cheese.   Mozzarella was what my mom used. I often use Parmesan cheese or a Pecorino Romano.
Baked Eggplant
1 large eggplant or 2 medium
flour- about 1/2 cup
salt and pepper
2 eggs
1/4 c. water
1 T. Tuscan seasoning* recipe follows or use another blend of Italian herbs
1 t. garlic powder
about 1 cup of bread crumbs
1/2 c. oil
1/2 – 1c. marinara sauce
1 c. shredded mozzarella cheese
pepperoni, optional
Peel and slice eggplant. Place flour in bag and season with salt and pepper generously. Prepare egg wash by mixing the eggs with the water, pepper, a little more salt, Tuscan seasoning and garlic powder. Place in a shallow bowl. Place bread crumbs in another shallow bowl. Preheat oven to 375 degrees. One slice at a time, place in bag with flour and shake to coat , dip eggplant in egg wash, then in the bread crumbs, turning to coat evenly. Place on a baking sheet. Repeat with remaining eggplant. Drizzle with the oil and bake for about 25 minutes. Turn slices after 15 minutes and continue baking until eggplant slices are golden brown and tender. Spread some marinara on top, sprinkle with cheese and return to oven for 5 minutes longer. Serve as is, or with extra marinara sauce. Serves 3-4.
*Tuscan Seasoning
½ c. dried basil
½ c. dried oregano
½ c. dried marjoram
3 T. dried minced onion
2 T. dried minced garlic
2 T. dried rosemary
2 T. dried parsley
1 t. crushed red pepper