Crab Rangoons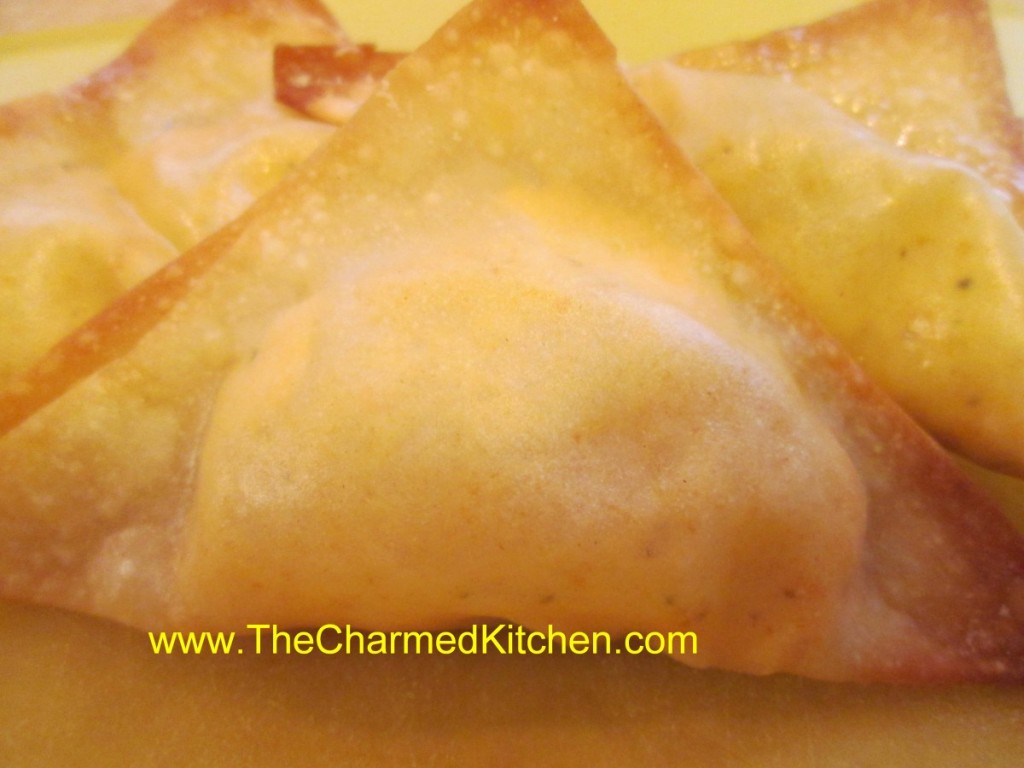 These tasty bundles of crabby/ cheesy goodness are so simple to make. Because they are small- I don't use a lot of oil to deep fry them. Just a couple of cups of oil in a small saucepan- fry a few at a time and you are done in no time at all. Of course, if you have a big crowd over, you might want to use a bigger pot, with more oil. A wok works well for frying them, too.
There are two ways you can go with the filling- real crab or surimi, the faux crab. That is not my call to make. It is up to you. I had friends over to make dumplings the other day. I had surimi in my freezer and had not planned on using it that day. However, when I mentioned I had it- the idea of making crab rangoons was obviously well received. I have baked them. We fried them.
You have some options with folding them. We used pre-made wrappers I bought at the local Asian market. You can fold them into triangles, like the picture above, or into little bundles like the picture at the end of this post. They taste wonderful no matter how you shape them.
So here is the recipe I like to use
Crab Rangoons
1 can (6 oz.) crab meat,drained well
1 (8 oz.) package cream cheese
1 t. horseradish
dash of hot sauce
wonton wrappers
oil for frying
Combine crab meat with cream cheese, horseradish and hot sauce. Place a wonton wrapper on work surface and place a teaspoonful of the crab filling in the middle. Fold 2 corners in to just touch. Take one of the remaining corners and roll up into a tiny roll. Dampen edge with a little water to affix. Repeat with remaining filling. You should get a several dozen. Pour 1-inch of oil into a small saucepan and heat to 350 degrees.  Fry rangoons a few at a time until golden and drain on paper toweling. Keep warm in 300-degree oven until ready to serve- but best served right after you make them. Serve with Sweet and Sour Sauce.