Apple and Cheese Salad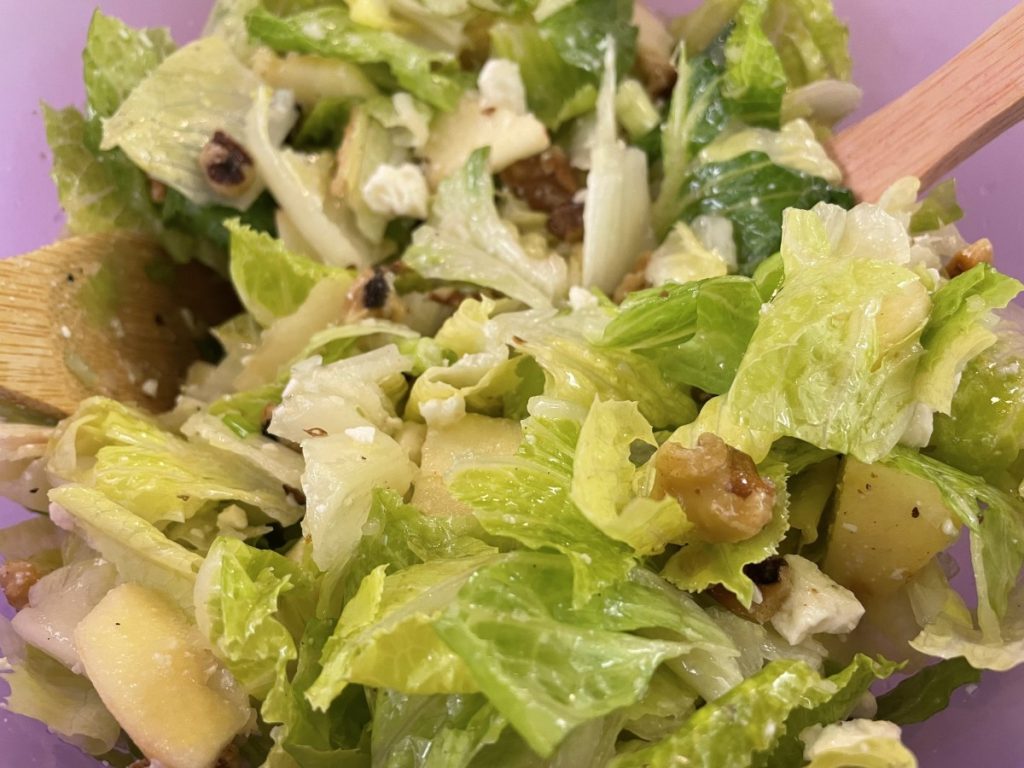 This is one of those recipes where the combination of ingredients seems simple, but the final dish is really special. The texture is nice and crunchy, with richness coming from the cheese and nuts. The dressing is simple, but also has plenty of flavor.
We made this salad in class the the other night using feta cheese and toasted walnuts. I enjoyed that combination a lot. You can switch around the nuts and cheese that you use. If salad isn't the first thing that comes to mind when you think of apples, maybe it should.
Apple and Cheese Salad
Dressing:
3 T. white wine vinegar
2 T. lemon juice
2 t. sugar
¼ c. olive oil
3 T. dried minced onion
2 T. water
salt and pepper to taste
1 c. walnuts or pecans, toasted
4-6 cups salad greens, washed and spun dry
1 c. shredded cheddar cheese or ½ c. crumbled feta or bleu cheese
2 Granny Smith or other tart apples
1 T. chopped fresh mint or parsley
1 T. snipped chives or green onions, optional
In container with tight fitting lid shake dressing ingredients together and chill until ready to use. To toast nuts place on a baking sheet in a 350 degree oven for 15 minutes. Cool. When ready to serve the salads divide the greens among 4 plates or arrange greens on a platter. Core the apples and cut in slices. Toss apples with the dressing. Place apples on greens, then top with remaining ingredients. Serves 4.