Cauliflower Flatbread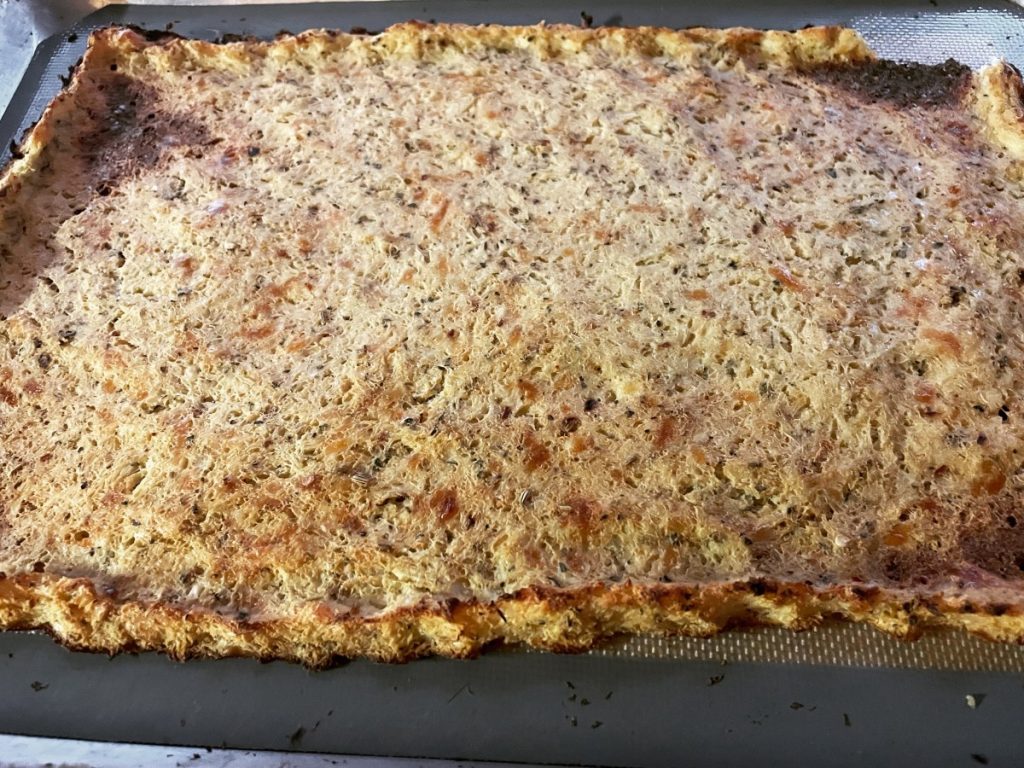 I have made this recipe before, but it had been awhile and I knew I wanted to make it again. I love cauliflower and eat it often. I had picked up a, huge cauliflower from a local produce market and I just wanted to do something different with it this time. It isn't that hard to make. It is easier than making bread.
I was torn about what to call it. Often it is called a cauliflower pizza crust, but I think that gives you unrealistic expectations. It is after all, just a cauliflower. Somehow flatbread works better for me, but call it whatever makes you happy. In spite of not want ing to call it a pizza crust. I ended up treating it like a pizza.
The most time consuming part of this recipe is "ricing" the cauliflower. It involves cutting the cauliflower into flowerets and then chopping them in a food processor until the pieces are about the size of rice grains. Still, not that hard, just takes a few minutes. You can also buy cauliflowwer already chopped up, so you can even skip this step, if that helps.
After I made the crust, I cooked down a couple of jars of home canned tomatoes, sauteed onions, garlic and peppers and put it all together for the topping. Like a chunky pizza ssauce. added pizza seasoning to it, too. I spread it ocver the crust then topped with mozzarella and Parmesan cheeses. It was actuaslly very good and was eaten quickly by my guests.
So here is the recipe.
Cauliflower Flatbread Crust
2½ pounds cauliflower florets, riced
2 eggs, beaten
2 oz. cream cheese, softened
½ c. shredded mozzarella cheese
2 t. pizza seasoning- or seasoning of your choice
1 t. salt
To make the cauliflower "rice", pulse batches of raw cauliflower florets in a food processor, until a rice-like texture is achieved. Fill a large pot with about an inch of water, and bring it to a boil. Add the "rice" and cover; let it cook for about 4-5 minutes. You can also steam the cauliflower or even bake it in the oven at 350 for 10-15 minutes. Just get the cauliflower cooked. Drain into a fine-mesh strainer. Once you've strained the cauliflower, let it cool down, then transfer it to a clean, thin dishtowel or several layers of cheesecloth. Wrap up the steamed "rice" in the dishtowel, twist it up, and squeeze all the excess moisture out! It's amazing how much extra liquid will be released, which will leave you with a nice and dry crust.
In a large bowl, mix up your strained cauliflower, beaten eggs, cheeses, and spices. (Don't be afraid to use your hands! You want it very well mixed.) It won't be like any bread dough you've ever worked with, but don't worry– it'll hold together! Press the dough out onto a baking sheet lined with parchment paper or a silicone liner. (It's important that it's lined, or it will stick.) Keep the dough about ⅓" thick, and make the edges a little higher for a "crust" effect, if you like. Bake for 35-40 minutes. The crust should be firm, and golden brown when finished. Now's the time to add all your favorites– sauce, cheese, and any other toppings you like. Return to the oven, and bake an additional 5-10 minutes, just until the cheese is hot and bubbly. Slice and serve immediately!
Note: I used the cream cheese because I had some leftover from another recipe and it made sense to use it up. I honestly think the recipe would be fine without it- maybe add a bit more mozzarella cheese. I also added a second egg, which I did not do the last time I made the "crust". I think it helped the crust to hold together better.