More Recipes for Hard Cooked Eggs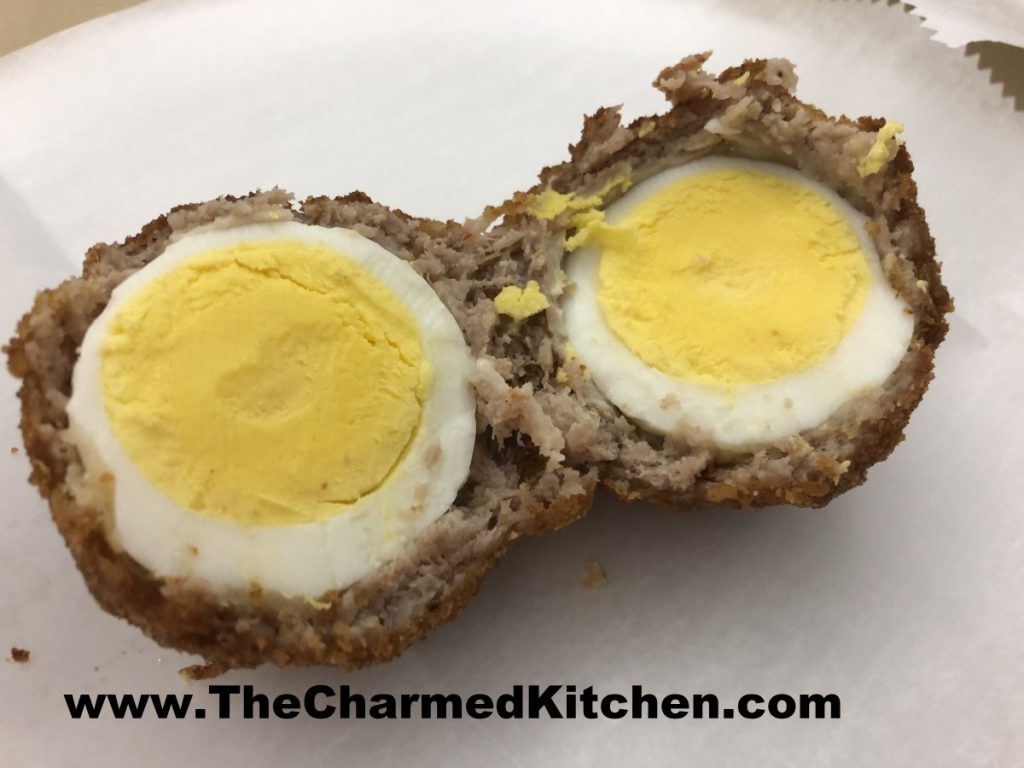 If you have hard cooked eggs leftover from Easter, you might want some recipes to use them up. I have put together a few of my favorites recipes, including a cookie recipe!!! Enjoy.
Scotch Eggs
6 hard-cooked eggs, well chilled
1 pound breakfast sausage
1/2 cup flour
2 eggs, beaten
3/4 cup fine bread crumbs
Vegetable oil for frying
Peel eggs and set aside. Divide sausage into 6 portions. Roll each egg in flour and with hands press a portion of the sausage around each egg. If the sausage sticks to your hands, dip your hands in a little water to make pressing the sausage easier. Dip sausage-wrapped eggs into beaten eggs and roll in bread crumbs. Heat vegetable oil to 350 degrees. Cook each egg in oil about 4-5 minutes or until sausage is cooked and browned. Drain on paper toweling. Serve warm. Makes 6.
Mom's Macaroni Salad
1 lb. uncooked pasta, shells are preferred
Salt and pepper
Mayonnaise, about 1 cup
Salad dressing, like Spin Blend or Miracle Whip, about ½ cup
3-4 ribs celery, sliced thin
4-5 green onions, trimmed and sliced thin
8-12 hard-cooked eggs, cooled and peeled
Cook pasta according to package directions, but do not overcook. Rinse with cold water and drain well. Place drained pasta in a large bowl and sprinkle with salt and pepper to taste. Add dressings and vegetables and stir until well mixed. You may want to add more dressing to suit your taste. Chop eggs and stir into salad. Adjust seasonings if needed and chill before serving. Serves 8-10.
Polish Butter Cookies
This cookie dough includes cooked eggs yolks. I wish I remember where I got the recipe. It is a Polish recipe, at least according to the name, but my Mom never heard of it. So, wherever the source, it is a good cookie, with nice flavor and texture.
Dough:
1 c. butter
3/4 c. sugar
5 hard-cooked egg yolks, pressed through a fine sieve
1 t. vanilla
2 1/4 c. flour
1 t. salt
Glaze:
1 egg white
1 t. water
1/3 c. sugar
1/2-1 t. cinnamon
Beat together butter and sugar until light and fluffy. Beat in egg yolks and vanilla. Stir in flour and salt. Wrap dough and chill for at least an hour. Roll out 1/4 of the dough at a time into scant 1/4 -inch thickness. This dough is soft, so I use a pastry cloth to prevent sticking. Use extra flour sparingly and use a marble rolling pin or one with a cloth sleeve. I also keep extra dough chilled until ready to roll. Cut out with cookie cutters and place on greased baking sheet. Mix egg white with water and brush on cookies. Combine sugar and cinnamon and sprinkle on cookies. Bake in a preheated 350-degree oven for about 10-12 minutes. Cookies will be golden. Makes around 5 dozen, depending on the size of the cutters.
Wilted Kale Salad with Bacon
2-3 slices thick sliced bacon, chopped
1 onion, sliced
4-5 cups kale, washed and torn into pieces
2 T. cider vinegar
1 T. maple syrup
dash of hot sauce
2 hard- cooked eggs, peeled and cubed
In skillet cook bacon until crispy. Remove bacon from pan and set aside. Remove some of the fat from the pan- leaving about 2 tablespoonfuls. Add onion and cook until golden. Return bacon to pan and add the kale. Cook over medium-high heat, stirring often, until kale in wilted. I don't mind my kale on the firm side-cook it longer if you like it more tender. Drizzle in the vinegar, maple syrup and hot sauce and stir to coat evenly. Place on a serving dish and top with the eggs. Enjoy!!
Curried Egg Sandwiches
These tiny sandwiches are perfect for a tea party.
3 T. mayonnaise
½ t. curry powder, or to taste
½ t. salt
¼ t. fresh ground pepper
4 hard-cooked eggs
6 T. butter, softened
¼ c. chutney, chopped, or sweet pickle relish
16 very thin slices whole wheat or pumpernickel bread, crusts trimmed
Combine mayo with seasonings. chop eggs and add to mayo mixture, stirring to blend. In small bowl combine butter with chutney. Spread a slice of bread with some of the butter mixture then top off with some of the egg mixture. Top with another slice of bread that has also been spread with the butter mixture. Cut sandwich into quarters, diagonally, making 4 sandwiches. Repeat with remaining ingredients. Makes 32 sandwiches.
Cornbread Salad
4 c. crumbled cornbread or corn muffins
1 c. shredded mild cheese
1 sweet red pepper seeded and diced
1 c. diced celery
½ c. diced green onion
4 hard-cooked eggs, peeled and chopped
¼ c. chopped parsley
1-1 ½ c. mayonnaise or salad dressing, sometimes I use potato salad dressing or even slaw dressing
2 c. diced fresh tomatoes
1 c. toasted pecans
paprika for sprinkling on the top, optional
Place cornbread and next 6 ingredients in a medium bowl. Stir in dressing until desired moistness is achieved. Chill and stir in tomato and nut just before serving. Sprinkle with paprika if you like. Serves 6.
Note: You can add whole kernel corn also if you like.
Mom's Mustard Potato Salad
4 lbs. potatoes- I used Klondike Rose and I did not peel them
4 hard cooked eggs, peeled and chopped
1 sweet pepper, seeded and chopped, optional
1 c. mayo- maybe a little less
1/4 c. prepared mustard- I like a grainy brown mustard
salt and pepper to taste
dash of hot sauce
Bake whole potatoes until tender and allow to cool. Cube potatoes into large bowl and combine with remaining ingredients. Chill until ready to serve. Serves 8.
Deviled Eggs
12 hard cooked eggs, peeled and cut in half
¼ c. mayonnaise
1 T. mustard – I like Dijon or horseradish mustard- use what you like
Salt and pepper to taste
Pinch of cumin
Pinch of paprika
Pinch of garlic powder
Snipped chives, optional
Carefully scoop out the yolks and place them in a bowl. Set whites on a plate for now. Use a fork to mash up the yolks, adding the remaining ingredients, except the chives. Taste and adjust seasonings. I use a small cookie scoop to place the yolk mixture in each of the egg whites. You can also use a piping bag. Top with a sprinkle of chives, if you like. Chill until ready to serve. Makes 24.
Subscriber to our Mailing List
Follow us on Social Media