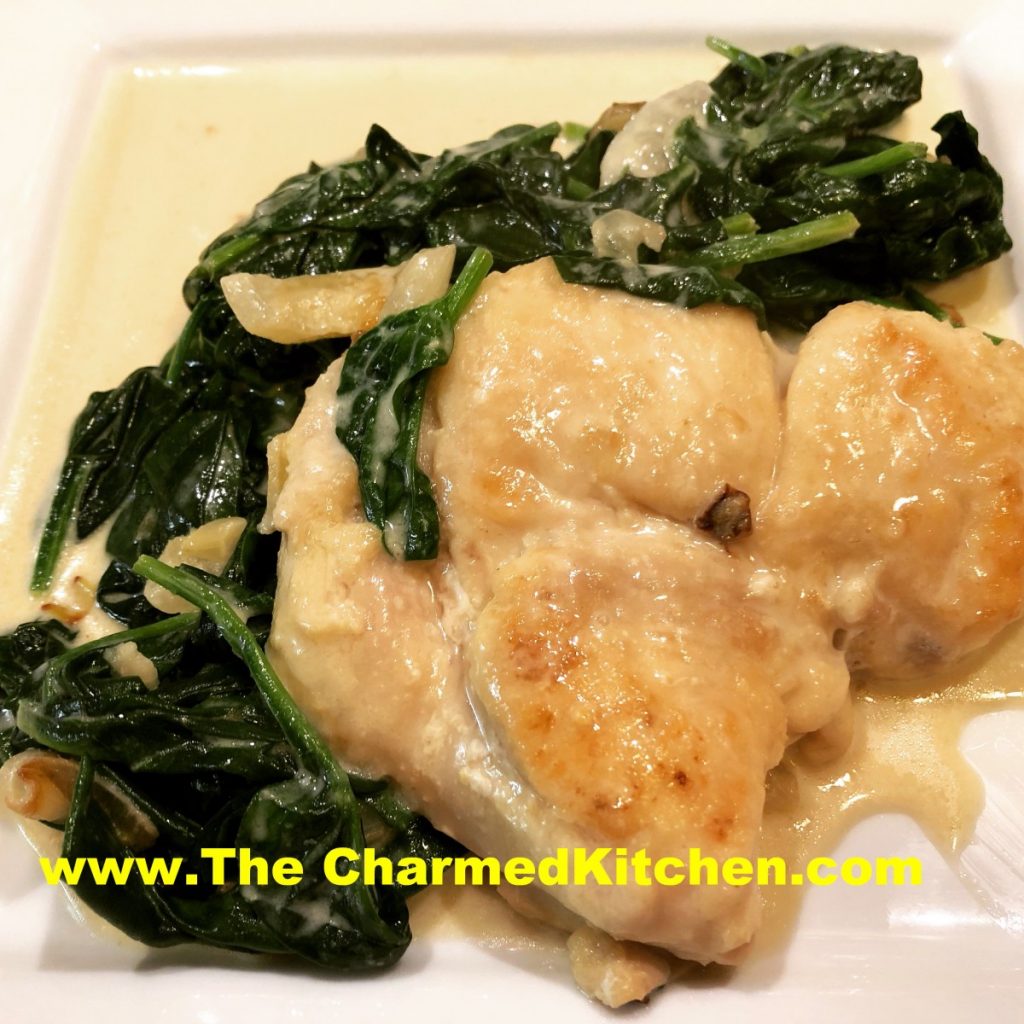 I love spinach. I always have, even when I was a kid. My Mom used to make Pork Chops Florentine and it was one of my favorite dishes. She had to add more spinach to her recipe because I loved the spinach so much.
Chicken Florentine is another spinach dish I just adore. It is a simple dish to prepare, too. Great for a weeknight, when you might not have a lot of time to get dinner ready. It is also special enough to serve to company. The most difficult part is getting all that spinach in the skillet.
A pound sounds like too much spinach, but trust me, it is the right amount. The spinach cooks down so much, you need more than you think.
The hardest part of making this dish is just getting all the spinach in the skillet. Don't try to get it in all at once. As you add the spinach, it will cook down a lot. As the spinach wilts, keep adding more, until it is all in.
I served the Chicken Florentine on its own, but you can serve it over rice, pasta or potatoes. You can also cook it longer to thicken the sauce more, if that is how you prefer it.
I used boneless chicken breasts, because that is what I had. Boneless thighs work great in this dish, too.
So here is the recipe. I hope you give it a try. It is an easy way to get a lot of leafy greens in your diet, for sure.
Chicken Florentine
2 T. oil
1 c. sliced onion
1½ lbs. boneless chicken, I like thighs
Flour
Salt and pepper
1 c. chicken stock
½ c. half and half or milk
¼ c. sherry- Not cooking sherry
1 lb. fresh spinach, washed
In large skillet, oven medium high heat, heat oil. Add onions and sauté until golden. While onions are cooking, season flour with salt and pepper. Dredge chicken pieces in the seasoned flour. Add chicken to the skillet. Cook until chicken is golden on both sides, turning once. Add stock, half and half and sherry to the skillet and bring mixture to a simmer. Add the spinach, a few handfuls at a time, until it wilts and will fit in the skillet. The spinach wilts down a lot. Turn down heat to medium and cook until spinach is cooked down, stirring to get spinach mixed in. Cook a few minutes more so sauce will reduce and thicken a little. Add more salt and pepper to taste, if needed. Serves 4.
Note: If you prefer, you can use frozen spinach instead. add 2 (10 oz. ) packages, thawed and drained a bit.