Published
December 24, 2021
Angel Wings are what a lot of people call these fried, delicate cookies. In my family, we also call them Flancate (Slovenian) or Chruschiki (Polish). After posting a picture on Facebook, I learned they have even more names. Many nationalities make versions of these cookies. We made them in class the other night and everyone enjoyed them.
The dough is a mixture of 8 eggs yolks, white wine, a little salt and flour. Very similar to pasta dough. They are a tradition in my family. I try to make them at least once during the holidays.
I use a pasta machine to roll out the dough. You can roll them out by hand, but a pasta maker makes the job a lot faster and easier. Also, if the cookies sit around and start to dry out before you can fry them, they tend not to grow as much. They are cut, shaped then fried. They puff up a lot when fried. More than doubling in size.
Once cooled, they are dusted with powdered sugar. Because they are rolled so thin, a single batch can make a hundred cookies or more.
Part of the fun of making them, is watching someone eat one for the first time. They are delicate and will sometimes fall apart when you go to bite into one. Then there is the powdered sugar. Let's just say you don't want to be wearing black.
Angel Wings/ Flancate / Chruschiki

8 egg yolks
2 ½ -3 c. flour, plus extra for rolling
½ c. white wine – I sometimes use sherry
1 t. salt
oil or shortening for deep frying
powdered sugar for sprinkling
Combine egg yolks, wine and salt mixing until smooth. Stir in 2 cups of the flour and continue adding flour until dough is very firm, but still pliable. It is better to add more flour later than to add too much too soon. Knead or mix the dough in a mixer for 5-8 minutes. Kneading dough, or mixing in a stand mixer strengthens the dough. Divide dough into thirds, cover and allow to rest 1 hour.
On lightly floured surface, roll dough out into thin strips. Cut strips diagonally into 1 ½ inch wide pieces. Cut a small slit in middle of dough and pull one end through, pulling until dough is long and somewhat twisted. Work with small amount of dough at a time to avoid drying out. Dry dough will tear and be hard to work with. You can use a pizza cutter or a pastry wheel with a zigzag edge. Cook dough, a few pieces at a time in a skillet with either oil or shortening 2 inches deep and heated to a temperature of 375 degrees. Pastry will cook in 30 seconds or so. Remove when lightly brown and drain on paper toweling. Cool and dust with powdered sugar. Makes at least 100, depending on how thin you can roll them. We have gotten as many as 200 from a single batch.
Note: If you have access to a pasta machine, the rolling time will be greatly reduced. Use the machine to roll the dough uniformly and quickly. There is no substitute for experience. After making a batch you will learn just how the dough should feel and how thick to roll the dough. If too thick, the dough is not as tender. Too thin and they fall apart to easily. Also, get a friend or two to help you. The are a lot of jobs to do and the time will fly with some assistance. Besides, you'll have plenty to share with family and friends.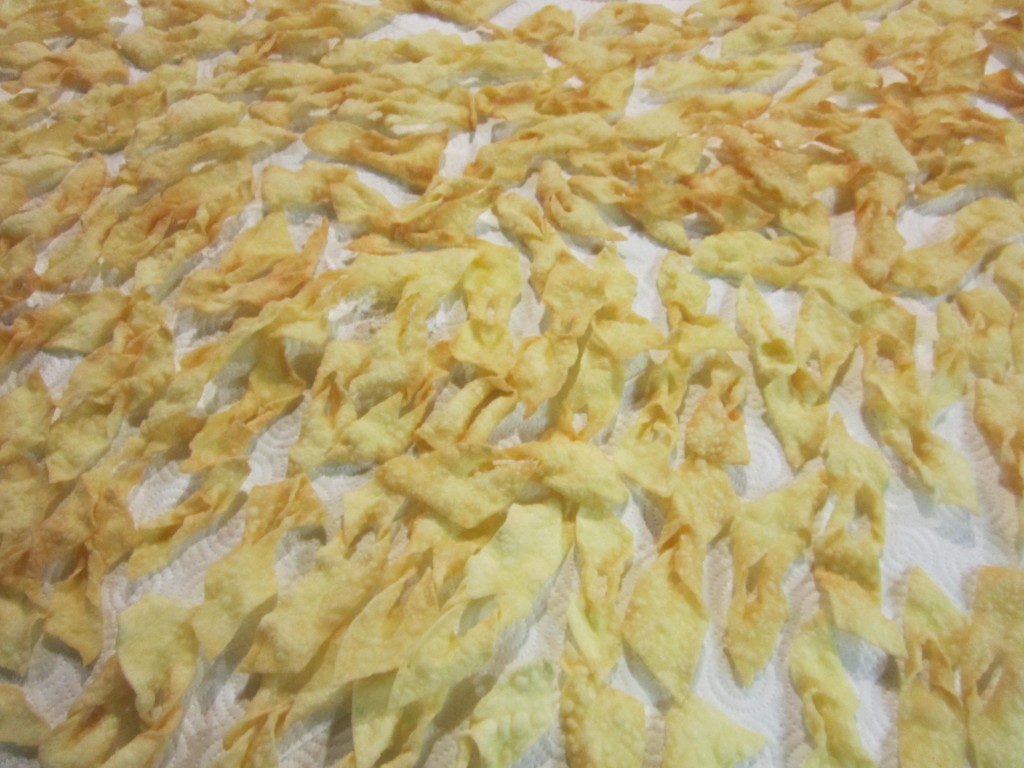 Published
December 11, 2016
Don't let their simple appearance fool you. The flavor and texture of these cookies is really special. They have a secret ingredient that you probably haven't used in cookies before. The ingredient is eggs.
I know, you use eggs in cookies all the time. But you probably haven't used COOKED eggs in cookies. More specifically, hard cooked egg yolks. Cooked yolks are pressed through a fine sieve and added to the dough. The end result is a cookie with an amazing delicate texture and rich flavor. If you don't want to have a bunch of cooked egg whites to use up, you can do what I do. I separate the whites and yolks of raw eggs. I always have recipes that call for egg whites, so they don't go to waste. Then I simmer water in a small saucepan. I gently add the egg yolks, and poach them until they are cooked through. Drain well, pat dry and cool before using them in the cookie dough.
Polish Butter Cookies
Dough:
1 c. butter
3/4 c. sugar
5 hard-cooked egg yolks, pressed through a fine sieve
1 t. vanilla
2 1/4 c. flour
1 t. salt
Glaze:
1 egg white
1 t. water
1/3 c. sugar
1/2-1 t. cinnamon
Beat together butter and sugar until light and fluffy. Beat in egg yolks and vanilla. Stir in flour and salt. Wrap dough and chill for at least an hour. Roll out 1/4 of the dough at a time into scant 1/4 -inch thickness. Use extra flour sparingly and use a marble rolling pin or one with a cloth sleeve.  I also keep extra dough chilled until ready to roll. Cut out with cookie cutters and place on greased baking sheet. Mix egg white with water and brush on cookies. Combine sugar and cinnamon and sprinkle on cookies. Bake in a preheated 350-degree oven for about 10-12 minutes. Cookies will be golden. Makes around 5 dozen, depending on the size of the cutters.
Subscriber to our Mailing List
Follow us on Social Media