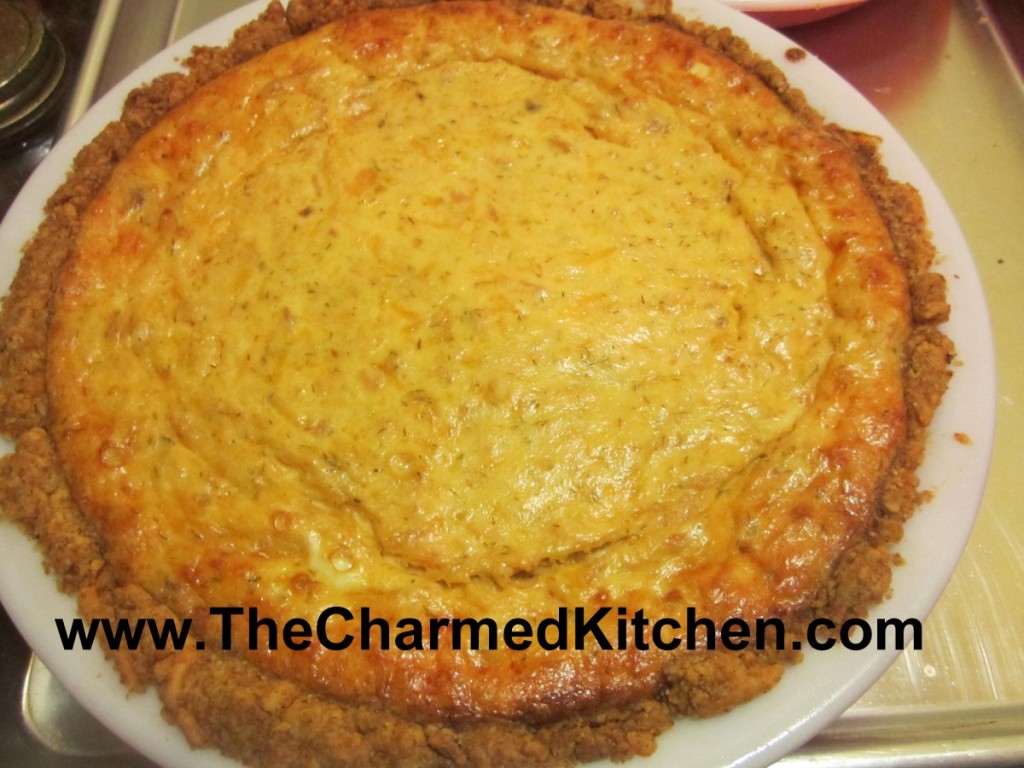 I like canned salmon. There, I said it. I know it sometimes gets a bad rap, but I find canned salmon very convenient to have around. If you didn't already know this- canned salmon is made from wild caught salmon and has all the nutritional benefits of fresh. If you are looking for something different to do with canned salmon, you might want to try this recipe.
If you prefer, you could use fresh salmon. About 12 oz. of cooked salmon, flaked, would be used in place of the canned salmon.
The crust is a breeze to make. It's pressed into the pie pan, rather than being rolled out. The crust is made with whole wheat flour, almonds and cheddar cheese. Yum. You could use this crust recipe for other quiches.
Did I mention it also freezes well?
Salmon Quiche
1 c. whole wheat flour
2/3 c. shredded sharp cheddar cheese
1/4 c. chopped almonds
1/2 t. salt
1/2 t. paprika
6 T. oil
1 (15 oz.) can salmon, flaked, drained, liquid reserved, bones and skin removed
3 eggs, beaten
1 c. sour cream
1/4 c. mayo or salad dressing
1/2 c. shredded sharp cheddar cheese
1 T. grated onion
1/2 t. dillweed
3 drops Tabasco
For crust, combine first 5 ingredients in a bowl. Add oil and mix well. Press into a 9 inch pie plate. Bake in a 400 degree oven for 10 minutes. Remove pie crust from oven and reduce oven temperature to 325 degrees. Meanwhile, begin filling. If needed, add water to reserved salmon juice to measure 1/2 cup. Combine remaining ingredients in a bowl, including reserved liquid. Pour into prepared crust and bake for 45 minutes or until set in the center. Makes 6 servings.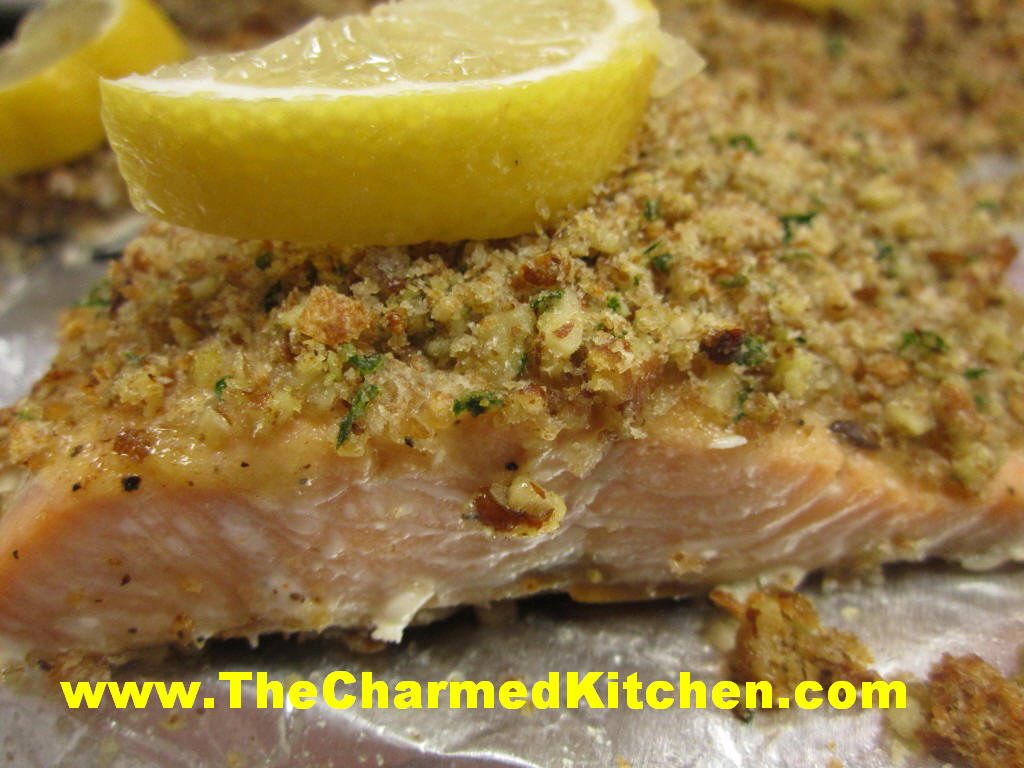 If you love salmon like I do, this is a fun way to prepare it. The crunch from the nuts adds a nice contrast to the texture of the fish. The flavors work well together, too. We had this for Christmas Eve dinner. It would be a nice dish for New Year's Eve.
You don't have to use pecans. I prefer them, but finely chopped walnuts, hazelnuts, almonds or even pumpkin seeds might be fun.
A combination of Dijon mustard, butter and honey helps the nuts to stick to the fish. There are a few fresh bread crumbs in there as well.
This dish is simple enough to prepare any night of the week, but special enough to make for company.
I used salmon fillets. You could use a whole side of salmon. You just have to increase the baking time to about 20-25 minutes and reduce the oven to 425 degrees. Depending on the size of the piece of salmon, it might take a few more minutes.
You could use other fish, but you need a sturdy fish that will stand up to the topping. I have made it with Steel Head Trout and it worked out beautifully.
Pecan Crusted Salmon
2 T. Dijon Mustard
2 T. melted butter
4 t. honey
1/4 c. fresh bread crumbs
1/4 c. finely chopped pecans or walnuts
2 t. chopped parsley
4 salmon fillets
Salt and pepper
Lemon wedges
Mix together mustard, butter and honey and set aside. Mix together bread crumbs, nuts and parsley and set aside. Season each fillet with salt and pepper. Place on lightly greased baking or broiling pan. Brush each fillet with mustard mixture. Divide crumb mixture among fillets, patting to hold. Bake in 450 degree oven for 10 minutes per inch thickness of fillets. Serve with lemon wedges. Serves 4.