Smoky Vegetable Soup
My nephew Danny really liked this so I promised to get the recipe to him. Thought I would share it with you, too. This far into the challenge of not going to the grocery store I have to deal with the ingredients I still have around. Managed to make a pretty yummy and healthy soup with what was on hand. I'm calling it Smoky Vegetable Soup- but  I really just call it Orange Soup. Since the soup is going to be pureed you don't have to be too fussy about chopping things up in even pieces. Rustic works here just fine.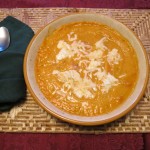 Had it Saturday night with a little cheese on top.
Smoky Vegetable Soup
1 T. oil
1 onion, chopped
4 carrots, peeled and chopped
1 small cauliflower, cut up – I had some in the freezer
1- 1 1/2 lbs. sweet potatoes, peeled and cut up
2 ribs celery, chopped
1 can, about 14-16 oz. stewed tomatoes
6-8 cups  vegetable or chicken stock
1 lb. fully cooked turkey smoked sausage unsliced
1 T. Tuscan Seasoning- recipe follows
In soup pot saute the onions until tender and just getting brown. Add the rest of the ingredients, except the seasoning and cook, covered, until vegetables are  really tender, about an hour. Add seasoning and remove the sausage. While the sausage cools down a little puree the soup. I use an immersion blender so I can puree it right in the pot. If you have to puree the soup in a blender do it in small batches. Since the soup will be very hot use a towel to cover the blender- the soup will splash because it is hot. Be careful. Once the soup is pureed you can slice the sausage and return it to the soup. If the soup is too thick for your taste feel free to add more stock. Season with salt and pepper to taste and serve. Serves 6-8.
Tuscan Seasoning
½ c. dried basil
½ c. dried oregano
½ c. dried marjoram
3 T. dried minced onion
2 T. dried minced garlic
2 T. dried rosemary
2 T. dried parsley
1 t. crushed red pepper
Use this blend in tomato sauce or other Italian dishes. Also, you can add to vinegar and oil with a little salt, if desired, to make a quick salad dressing.