When I was a kid, I loved getting a baked potato, when we went out for dinner. I loved my Mom's home cooking, including her baked potatoes, but it was different at a restaurant. It would come to the table wrapped in foil and all puffed up in the middle. As a kid it looked very special to me. They also had so many toppings you could get. Choices included sour cream, butter, chives, bacon and cheese. This soup starts off as a cream of potato soup, and then combines many of the toppings you might have on a baked potato. It feels just like those baked potatoes at the steakhouse. Comfort food on a couple of levels.
Baked Potato Soup
4 slices bacon, chopped
1 large onion, chopped
4- 5 medium potatoes, peeled and cubed
4-5 cups chicken stock
1/2 c. chopped fresh parsley
2 c. half and half
3 T. flour
salt and pepper to taste
Toppings:
Sour cream
chopped green onions or chives
shredded cheese
extra bacon, cooked crisp and crumbled
In soup pot combine bacon and onion and cook over medium heat until bacon is cooked and onion is tender. Add potatoes and stock and simmer, covered , until potatoes are tender, about 20 minutes. Add parsley and most of the half and half. Reserve a couple of tablespoons of the half and half and combine with the flour and stir until smooth. Ladle a little of the warm soup into the flour mixture and whisk until smooth. Add the flour mixture to the rest of the soup and stir until smooth. Cook until soup is thickened and bubbly. Adjust seasonings and serve. Add toppings of your choice at the table. Makes 4 servings.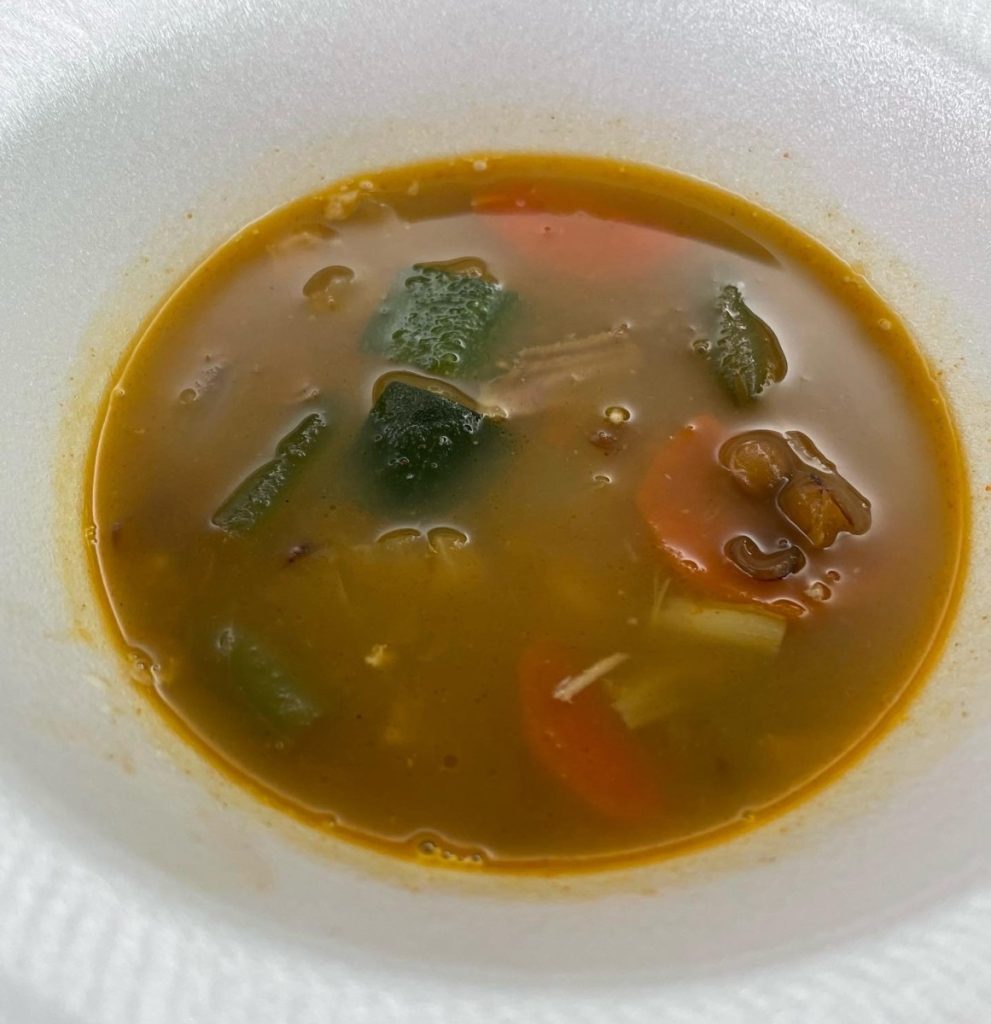 In soup class the other night we made this tasty and satisfying soup. A combination of veggies and lentils, along with the warm spices make it a favorite recipe of mine. Like most vegetable soups, you can add whatever veggies you have around. I veered off the original recipe by adding some zucchini, because I had some zucchini.
I used a chicken stock and added cooked chicken to the soup, but this one is easily turned into a vegetarian soup by just using vegetable stock and leaving out the meat. It is tasty either way.
Ethiopian Vegetable Soup
2 T. oil
1 large onion, chopped
3 carrots, peeled and sliced
1 c. uncooked lentils, rinsed
6-8 c. chicken or vegetable stock
1/2 lb. fresh or frozen green beans, sliced
1 can garbanzo beans, drained
1 T. paprika
1 t. each cumin, garlic powder and ginger
1/2 t. each allspice, cinnamon and cayenne pepper
2 c. diced cooked chicken, optional
Sauté onion in oil until lightly browned. Add carrots and sauté 5 minutes more. Add lentils and toss with vegetables then add stock and simmer, covered, until lentils are tender, about 1 hour. Add green beans, garbanzos and seasonings and cook 15 minutes more. Adjust seasonings and stir in chicken before serving, if desired. Good as is, or served over cooked rice for a richer dish. Serves 6-8.
Note: You can also use 2 T. Ethiopian seasoning in place of all the spices.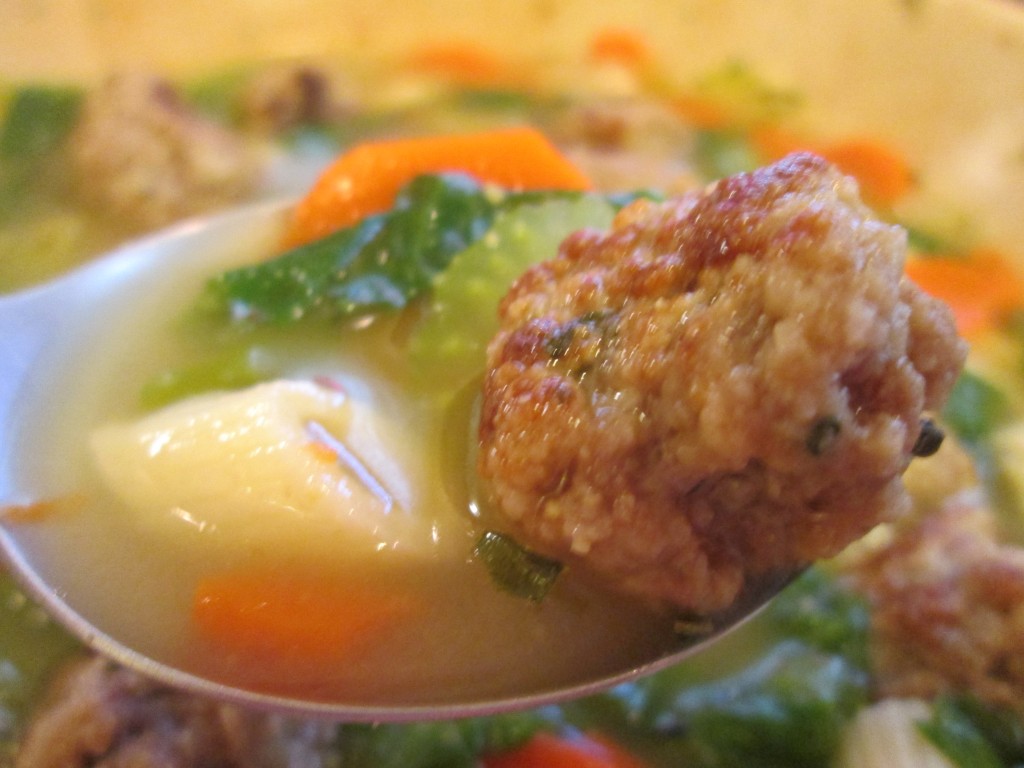 I love this soup. I've had different versions over the years, but they all have those wonderful little meatballs in common. This recipe came from the mother of a dear friend. I still have her handwritten copy in a file. Every time I make this soup I think of her.
In class last night, we used collard greens in the soup. Cut into thin strips, they were tender in no time. Everyone seemed to like it.
Italian Wedding Soup
Meatballs:
3/4 lb. ground beef or a mixture of beef, pork and veal or turkey
1 egg, beaten
1/4 c. dry bread crumbs
2 T. grated Parmesan cheese
1 T. dried parsley or 3 Tablespoons fresh chopped parsley
1/4 t. salt
1/4 t. garlic powder or 2 cloves of minced garlic
1/4 t. each pepper and dried oregano
1 T. oil
Soup:
8 c. chicken stock, not too salty
1 c. thin sliced carrots
1 c. thin sliced celery
1/2 c. thin sliced green onions, optional
1/2 t. dried basil or 1 1/2 t. fresh chopped
1/2 c. uncooked small pasta, I like orzo
1/2 lb. escarole or kale, cut in thin strips
To make meatballs combine all ingredients except the oil and form into 50 tiny balls. Sauté in oil until browned on all sides. Drain. In large saucepan combine broth with vegetables. Bring to a boil and simmer, covered 10 minutes. Add basil, pasta, meatballs and escarole or kale and simmer 10 minutes longer. Serves 6-8.
Note: you can use spinach instead, but add for last 5 minutes of cooking.
I should make crepes more often. Maybe that can be a resolution for the new year. Crepes are so versatile. They taste great, too. Crepes are one of those foods that everyone seems to love, but very few love to make them. I hear that all the time. There is some sort of irrational fear of crepe-making that I hope to dispel.
Crepes aren't hard to make. Once you make a couple, you fall into a sort of rhythm. I do. I use a tiny sauce ladle to portion out the batter. In it goes. I tilt the pan to get an even, thin coating over the bottom of the pan. It just takes a couple of minutes for the crepe to brown lightly. A flip of the spatula, another minute or two- done. Then on to the next.
I always think about my Mother when I make crepes. I loved watching her make them. One after the other- all perfect. She said the first crepe never worked. She said there is a crepe "tradition" that the first crepe of the day always looks like an amoeba. So if this happens to you- just keep going. They get easier to make, I promise. You get into a sweet spot where the pan is the right temp, you are putting the right amount of batter in. Once this happens, you'll have a stack of perfect crepes in no time at all.
I made a classic recipe- the same recipe my mom used. I have other recipes for crepes, but this one is a sentimental favorite.
These crepes can be filled with either sweet or savory ingredients. I made a blueberry filling for some of the crepes, then froze the rest to use as pancakes for moo shu duck. You can just smear the crepes with you favorite jam or jelly, fold and enjoy.
So here is the recipe for both the crepes and the blueberry filling.
3/4 c. flour
1/8 t. salt
3 eggs, beaten
2 T. melted butter
3/4 c. milk, approximately
Butter or oil for pan
Beat together flour, salt and eggs until smooth. Stir in melted butter and then stir in milk until batter consistency is that of cream. Let stand for 30 minutes before using, or can be refrigerated, covered, overnight. Beat again, just before using.
Heat 6 or 7 inch skillet. Brush with butter or oil and pour in about 2 tablespoons of batter, tipping pan to cover bottom of pan completely with batter. Cook until edges start to brown, turn over and cook until lightly browned (about 2 minutes per side.) Remove to a plate and repeat with remaining batter.
Crepes can be made day ahead. They can also be frozen. To freeze, layer crepes between sheets of waxed paper and wrap in plastic wrap of place in a freezer container or freezer bag. Freeze. Makes 12.
Crepes can be filled ahead or guests can fill their own. Fillings can be served warm or cold. These crepes can be filled with either sweet or savory fillings.
To make the blueberry crepes: Lay a crepe on work surface. Spoon about 2 tablespoons of the blueberry compote onto one half of the crepe. Fold in half, then fold again to create a fan shape. You can also spread the filling all over and roll up the crepe instead. Serve dusted with powdered sugar, if you like. You can also serve with whipped cream or ice cream.
Blueberry Compote
2 pints fresh or frozen blueberries
Zest of 2 oranges
Juice of two oranges
¼ c. honey
Pinch of salt
Place all ingredients in a medium saucepan and cook, over medium heat, until berries soften. Continue cooking, over medium low heat, until most of the liquid has cooked off and mixture thickens. Stir from time to time, to prevent sticking. Watch more closely as mixture cooks down.  If you like a sweeter product, you can add a little sugar. Set aside until ready to use. Can be spooned into crepes warm or at room temp. Makes about 2 cups.
I have wonderful memories of my Aunt Josie making these for every family gathering. Aunt Josie cut the cake into squares. They were all perfectly even. I asked her how she did that. She told me that she used her cooling racks to get the lines even. She would set the cooling racks on her cake and use the wires as guides. So clever.
I never could seem to get them even, so I bake my cake in cupcake tins and call then snowballs. Whatever the shape, these little cakes are a favorite treat in my family.
In bakeries, you'll find them in squares or rectangles. She shared her recipe with me a long time ago, and I am sharing it with you.
You can bake the batter in mini muffin pans or standard muffin pans. It just depends on what size you want your snowballs to be. After the cupcakes are baked, freeze them. The frozen cakes are dipped in a chocolate sauce and then rolled in desiccated coconut.
Desiccated coconut is dried and unsweetened. It looks like coarse, white bread crumbs. You can find it in stores that carry baking supplies and at Asian markets. It is the same kind of coconut used to make coconut shrimp.
Here is the recipe for making the "snowballs". The recipe for the cupcakes is listed below, as well. I just doubled my classic white cupcake recipe, but you could use a box mix, if you prefer.
Aunt Josie's Coconut Cake Squares aka "Snowballs"
1 white cake, prepared and frozen solid* or cupcakes
Chocolate Sauce
1 c. unsweetened cocoa
1 1/4 c. sugar
2 c. water
1 t. vanilla

1 c. desiccated coconut (available at cake supply stores and some health food stores)
Cut frozen cake into small squares, or cake can be baked in regular or mini cupcake tins. Keep cake frozen until ready to use. Meanwhile, make the chocolate dipping sauce. Combine remaining ingredients, except coconut, in a medium saucepan. Bring to a boil then simmer 5 minutes. Remove from heat and cool completely.
Using toothpicks or fondue forks, dip frozen cake in sauce let drain a few seconds, then roll in the coconut. Can be enjoyed right away or frozen again for later use.
*If you make the cake in muffin tins you'll get 24 cupcakes or about 60 mini cupcakes.
Classic White Cupcakes
1 cup sugar
1/2 cup butter
2 eggs
2 teaspoons vanilla extract
1 1/2 cups all-purpose flour
1 3/4 teaspoons baking powder
1/2 cup milk
Preheat oven to 350 degrees. Line a muffin pan with 12paper liners. In a medium bowl, cream together the sugar and butter. Beat in the eggs, one at a time, then stir in the vanilla. Combine flour and baking powder, add to the creamed mixture and mix well. Finally stir in the milk until batter is smooth. Pour or spoon batter into the prepared pan. Bake 20 to 25 minutes. Cupcakes are done when they springs back to the touch. Makes 12.
There is nothing better than the smell of fresh baked bread. This Swedish rye bread is a favorite of mine. It has a soft texture and makes great sandwiches. It also makes the house smell wonderful as it bakes.
The flavor in enhanced by a combination of caraway seeds and a little orange zest. It even makes wonderful French toast. My brother-in-law says it is just like the bread his Swedish mother made.
It is not like rye breads you might traditionally think of. Limpa is lighter in color and texture. It makes really great French toast, too.
I shape mine in two round loaves, but you can also bake this bread in loaf pans, if you prefer. If you want to use it for sandwiches, the loaf pans are probably a good idea. You can also shape the dough into dinner rolls, if you like. You will get 2-3 dozen rolls out of this recipe, depending on how big you make your rolls.
Swedish Limpa
6 ½ c. flour
2 c. rye flour
¼ c. brown sugar
2 t. salt
2-t. caraway seeds
2 t. grated orange peel
2 pkt. Active dry yeast
2 T. butter, softened
2 2/3 c. hot water (125-130 degrees)
Set aside 1-cup flour. Mix remaining flours and other dry ingredients in a large bowl. Add butter and water to flour mixture and stir to blend. Mix in enough additional flour to make a soft dough. Knead on a floured surface until smooth about 8-10 minutes. Place dough in oiled bowl turning to oil top. Cover and let rest in a draft free area until doubled, about 30 –40 minutes. Punch down. Divide dough in half and form into 2 balls. Place on greased baking sheet and cover until doubled in bulk, about 30 –40 minutes. Bake in a preheated 400-degree oven for 30 minutes or until bread sounds hollow when tapped lightly. Makes 2 loaves.
Note: you can also divide the dough and place in 2 (9×5-inch) greased loaf pans.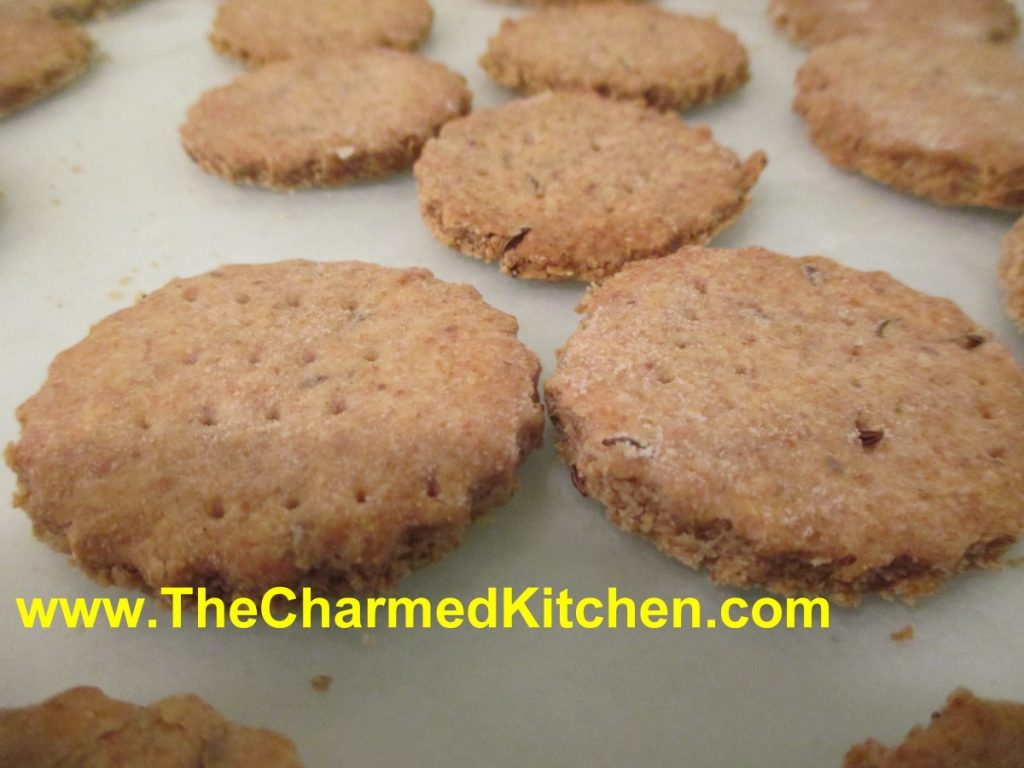 Making crackers is fun, and actually pretty easy. These rye crackers are as simple to make as a batch of cookies. They are crisp and full of flavor. The thinner you roll them out, the crisper they will be.
I am a big fan of rye bread and a fan of these rye crackers, too. I love the flavor of rye flour. I think it pairs so well with any number of toppings. These are great with a little Swiss cheese melted on the top. You can also cut the crackers out in fun shapes.
So here is the recipe for rye crackers. I hope you'll give cracker making a try.
Rye Crackers
1 c. rye flour
1 c. all-purpose flour
1 T. caraway seed
1½ t. salt
1 t. onion powder
1 t. garlic powder
1/3 cup oil
1 t. honey
¼ c. water, or as needed
Combine the rye flour, all-purpose flour, caraway seed, salt, onion powder, and garlic powder in a bowl. Stir in the oil and honey. While stirring with a fork, slowly add the water until the dough comes together in a ball. Cover and rest for 10 minutes. Preheat oven to 375 degrees. Divide the dough into 4 sections, rolling each piece out on parchment paper to 1/8 inch thick. Cut into desired shapes, then place on a baking sheet. Prick each cracker a few times with a fork. Bake until the edges are brown and the crackers are crisp, 10 to 12 minutes. Remove immediately to a cooling rack.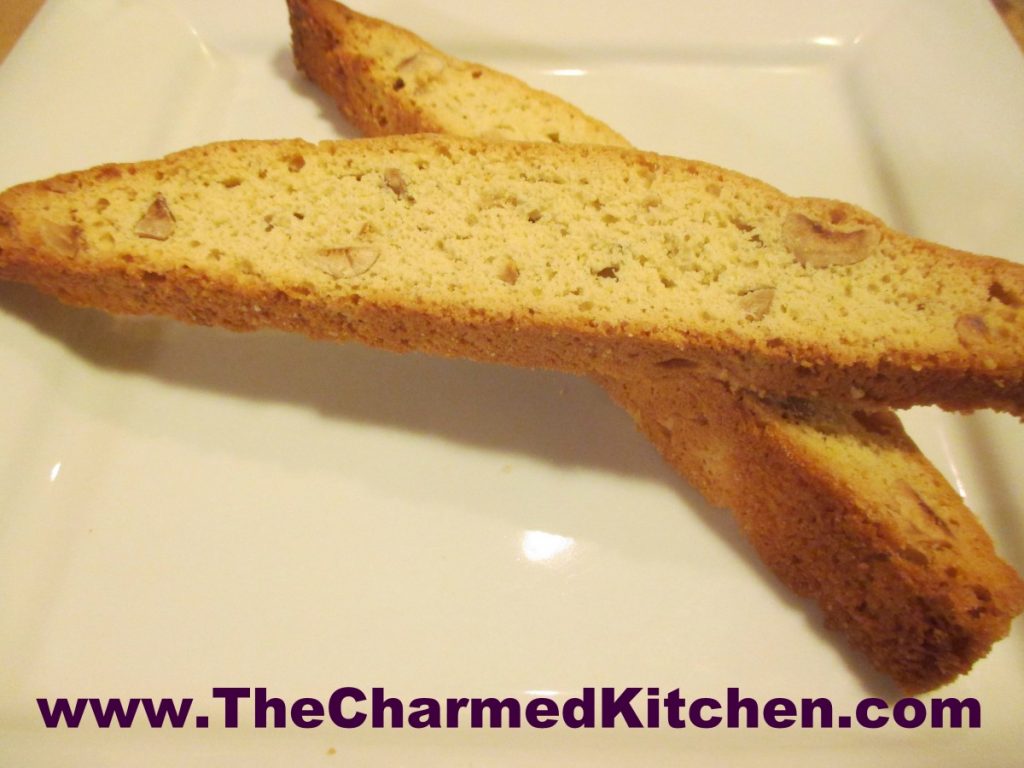 These biscotti are the perfect treat to have with your morning cup of coffee or tea. Crisp, but not too hard, they are studded with crunchy hazelnuts and flavored with vanilla and orange peel. I like them just the way they are, but you could dress them up with a drizzle of powdered sugar glaze. You can also dip one end of each biscotti in melted chocolate.
I was inspired to make these after buying hazelnuts recently.
I don't know why more people don't make their own biscotti. They are so easy to make, and you can flavor them to suit your own taste. Once baked, store them in an air tight container. They stay crisp for weeks. Assuming you don't eat them first!
Biscotti get their distinctive, extra crunchy texture, from being baked not once, but twice. The batter is spread on a cookie sheet and baked until firm. Once cooled and little, the loaf is sliced and the slices are returned to the oven to get baked until crisp and toasted. I put the slices on a cooling rack, placed on the baking sheet, before the second bake. That way, the biscotti toast on both sides evenly. No need to turn them all over half-way through the second bake.
So here is the recipe. I hope if you haven't made biscotti before, you give them a try.
Hazelnut Biscotti
3 c. flour
2 t. baking powder
1/2 t. salt
3 eggs
1 c sugar
1/4 c. butter, melted
1/4 c. olive oil
1 1/2 t. vanilla
1 t. grated orange peel
1 c. hazelnuts, toasted, peeled and chopped*
Combine dry ingredients and set aside. Mix together eggs, sugar, butter, oil, vanilla and peel. Beat until smooth and stir in flour mixture and nuts. Grease a large baking sheet, oil your hands, and place dough on sheet, forming into a 16×4-inch log. Bake at 325-degrees until tester inserted in center comes out clean, about 30 minutes. Loaf with spread a bit. Cool 15 minutes and leave oven on. Use serrated knife to cut into 1/2 -inch thick slices. Place cooling rack on a baking sheet. Place slices, cut side down, on cooling rack and return to oven for 20-22 minutes. Cool. Makes about 24.
If you like, you can dip one end of the finished biscotti in melted chocolate.
to toast hazelnuts, place on a baking sheet and bake in a 325 degree oven for about 10-15 minutes. You don't want them to burn. While they are baking, place a tea towel on a rimmed baking sheet. When the nuts come out of the oven, dump them on the tea towel. They tend to roll around, so the rimmed baking sheets is to save you from cursing as nuts roll off the towel and onto the floor. Fold the nuts up in the towel and rub them to get the skins off. Most of the skins will come off, which is fine.
Winter is citrus season and I have been eating a lot of oranges lately. Besides eating them fresh, I also like to cook with oranges. If you are looking for a new recipe for a quick bread, I would recommend trying this one.
The bread is flavored with orange zest in the batter, then a warm orange syrup is drizzled over the bread, right out of the oven. This makes for a bread that is flavorful and moist. It can be breakfast, a brunch dish or even a dessert, when topped with ice cream or whipped cream. The recipe makes one loaf, but I often double the recipe and make two. It seems to disappear around here pretty quickly. The bread freezes well, too.
Orange Tea Bread
2 cups all-purpose flour
1-1/2 teaspoons baking powder
1 teaspoon baking soda
1/2 teaspoon salt
2/3 cup Greek yogurt or sour cream
2/3 cup sugar
2 large eggs
3 tablespoons melted unsalted butter
1 tablespoon grated orange zest
Syrup:
1/2 cup orange juice
1/4 cup sugar
Preheat oven to 350 degrees. Grease an 8×4″ loaf pan. Line pan with wax paper or parchment and set aside. Sift flour, baking powder, baking soda and salt into a bowl. In a separate bowl, whisk together yogurt, sugar, eggs, butter and orange zest. Add liquid ingredients to dry ingredients, and stir mixture until well combined. Transfer batter to loaf pan, smoothing top, and bake in oven for 45 to 50 minutes, or until skewer inserted in middle comes out clean. While the bread is baking, combine orange juice and sugar in a saucepan. Bring mixture to a boil over moderate heat while stirring, and simmer for 1 minute. Keep syrup warm. Make holes in top of bread with a thin wooden skewer and drizzle with syrup. Let stand in pan until cool. Makes 1 loaf.
When a family member was diagnosed with Celiac disease years ago, the selection of gluten free foods was pretty limited. Happily, today going gluten free is much easier. I buy a gluten free flour at Costco that can be used in any recipe that calls for all purpose flour. Gluten free flour is available in many grocery stores, too.
Gluten free flour seems to bake, or at least brown, a little faster, so you have to keep an eye on what you use it in. It doesn't get much easier than that. In this recipe you could also use all purpose flour, if that is what you prefer. Just increase baking time 3-5 minutes.
The muffins are moist and not too sweet. They are great for breakfast, snacks or even as a dessert. They could also be served with lunch or dinner in places of rolls.
They freeze well so you can make a batch and freeze the extras for later. Wonderful for busy days when you don't have time to make them.
Sweet Potato Muffins- Gluten Free
4 eggs, slightly beaten
3/4 c. oil
1 c. sugar
2 c. cooked sweet potatoes, mashed
1 3/4 c. gluten-free flour
1 T. cinnamon
1 t. nutmeg
2 t. baking powder
1 t. baking soda
3/4 t. salt
Blend together in large bowl eggs, sugar, sweet potatoes and oil and set aside. In another bowl combine dry ingredients. Add dry ingredients to egg mixture and stir until well blended. Pour into paper-lined muffin tins, filling about 2/3 full. Bake in a preheated 350-degree oven for 20-25 minutes or until muffins spring bake when touched lightly. Makes 30-36.
These freeze well.