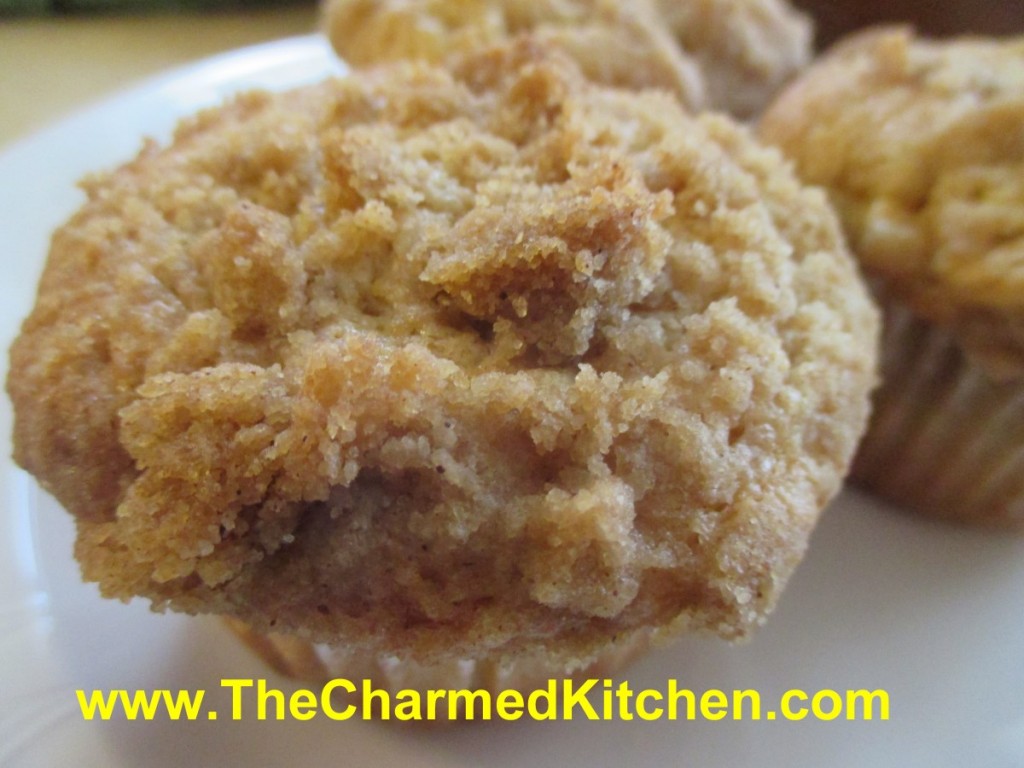 I can't get enough of peaches these days. I have been eating them fresh, making preserves, freezing peaches and cooking with them. This recipe is one of my favorites.
I hadn't made them in a long time, so I decided today was the day. Now I remember why I liked them so much. Perfect crumbly texture, not too sweet, and that streusel topping.
They can be for more than breakfast, too. Split, topped with sweetened fruit and ice cream, these muffins make a great "shortcake" dessert.
While they are really great warm from the oven, these muffins are still fine the next day, or even the day after that, assuming they last that long. They freeze, well, too.
Peach Streusel Muffins
Streusel topping:
1/3 c. flour
1/3 c. brown sugar
½ t. nutmeg
4 T. cold butter
Batter:
2 c. flour
½ c. sugar
¼ c. brown sugar
1 T. baking powder
1 t. cinnamon
½ t. nutmeg
½ t. salt
½ c. cold butter- 1 stick
2 eggs
¾ c. half and half or buttermilk
1 t. vanilla
1 c. finely chopped fresh peaches, about 1 large
½ c. finely chopped pecans, optional
Heat oven to 375. Line 15 muffin tins with paper liners or grease them. Set aside. Make streusel by mixing together flour, sugar and nutmeg in a small bowl. Use your fingers, or a pastry blender, to cut the butter into the flour mixture until it resembles coarse crumbs. Set aside. Make batter: In medium bowl combine flour with sugars and other dry ingredients. Mix well. Cut in butter until mixture resembles coarse crumbs. In small bowl beat eggs and add half and half and vanilla. Stir into flour mixture and fold in until just mixed. Mixture will look lumpy. Fold in peaches and nuts, if using. Scoop batter into prepared tins, filling about ¾ full. I get more than 12 from this recipe- normally about15, but it depends on how full you fill them. Sprinkle the tops with streusel. Place muffin tins on a baking sheet and bake for 20 or until golden brown. Cool a little before serving, if you can wait.
I remember making melon balls for fruit salad, when I was a kid. My mom showed me how. It always seemed like a special occasion when we made them. I had to learn how to use the melon "baller" to get pieces that were all perfect little rounds.
I will admit, I haven't made melon balls in a long time, but I still like the way they look.
I used melon balls at the inspiration for this dish. Funny thing is- there isn't any melon in the dish. I made three different sorbets- strawberry, mango and kiwi. Each one is meant to resemble a different melon- watermelon, cantaloupe and honeydew. You can, of course, make sorbet from melons. I just didn't happen to do that.
They can be served alone and make a light, wonderful dessert. You can add a scoop of ice cream or whipped cream, if you like. They can also be served with cake or cookies. You can even add some to a glass of lemonade or a summer cocktail, just for fun.
This dessert is easy to make and a nice alternative to ice cream. Don't get me wrong, I love ice cream, but sometimes I want something lighter. Nice for those who are lactose intolerant, too. Once made, you can have them on hand for dessert anytime.
Strawberry Vanilla Sorbet
2 c. fresh or frozen strawberries (allow frozen berries to thaw a little first)
1/4 c. sugar, or to taste
3 T. fresh lemon juice
1 t. vanilla
Place ingredients in food processor and process until smooth. Place in shallow pan and freeze. If you are using frozen berries re-freezing will take only about 1 hour. Up to 30 minutes before serving remove sorbet from freezer and allow to soften enough to break into chunks. Place in processor and blend again until very smooth. Return to freezer until needed.
Mango Honey Ginger Sorbet
2-3 large, ripe mangoes, seed and peeled
1/4 c. honey, or to taste
2-3 t. fresh grated ginger
Place ingredients in food processor and process until smooth. Place in shallow pan and freeze. Up to 30 minutes before serving remove sorbet from freezer and allow to soften enough to break into chunks. Place in processor and blend again until very smooth. Return to freezer until needed. For an even smoother sorbet, you can blend it another time.
Kiwi Lime Sorbet
6 kiwi, peeled
juice of 1 lime
1/4 c. sugar, or to taste
Place ingredients in food processor and process until smooth. Place in shallow pan and freeze. Up to 30 minutes before serving remove sorbet from freezer and allow to soften enough to break into chunks. Place in processor and blend again until very smooth. Return to freezer until needed.
To serve the sorbets, use a cookie scoop to make the "melon" balls. I made them as I was serving them, but you can also make the balls and return them to the freezer until ready to serve.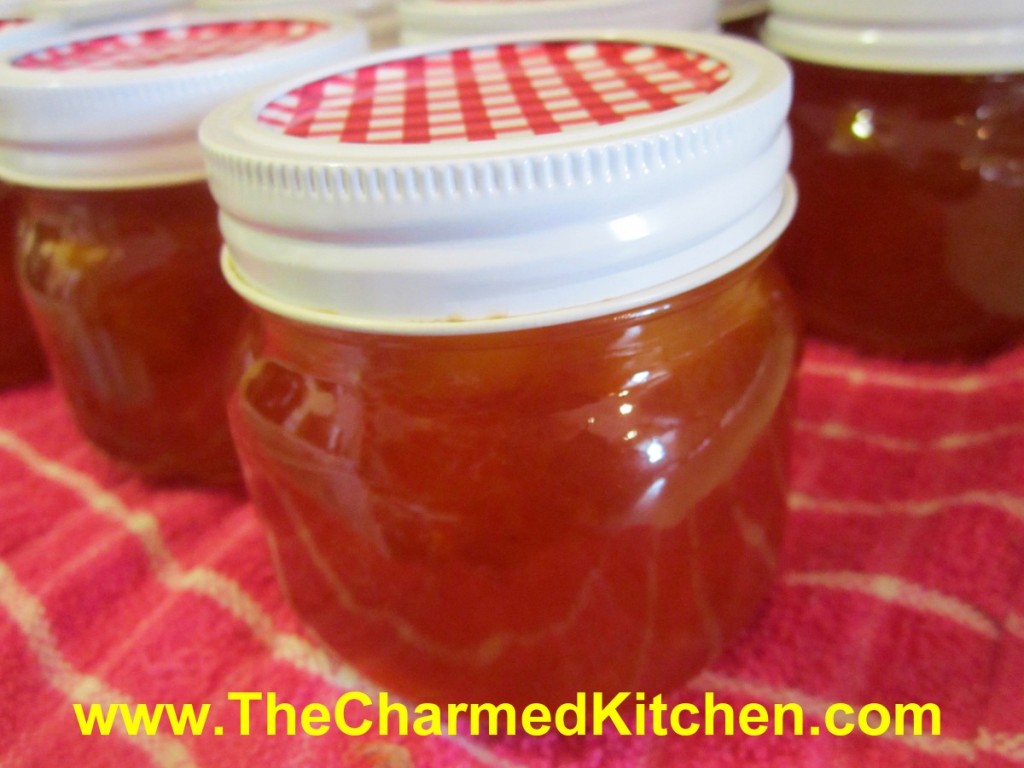 After getting some peaches from a local market, I decided to make preserves with some of them. The peaches were so juicy and perfectly ripe. They smelled amazing. I knew I would not be able to eat them all. I used a basic preserve recipe, but added cinnamon for added flavor. I also used pectin in this batch.
You can make peach preserves without added pectin, but because these were so ripe, I knew they would set better with the pectin. There is less pectin in very ripe fruit. The end result was just what I was going for. Pieces of peach, suspended in a soft gel, lightly flavored with the cinnamon. I may have to make another batch.
Cinnamon Peach Preserves
4 c. sliced peaches, about 2-3 lbs. of fresh
6 T. pectin
2 T. lemon juice
3-4 (4-inch) cinnamon sticks
7 c. sugar
Note: Before starting the preserves have your canning supplies ready including clean jars, lids, rings, water bath canner, funnel and ladle.
Prepare peaches by scalding in boiling water for a minute. Place in cold water, then slip off the skins. Cut in half and remove the pits and any fibrous parts near the pits. Slice peaches and place peaches and any juices in a large pot. Add the pectin, juice and cinnamon sticks and bring to a boil, stirring often. Add the sugar and cook over high heat, stirring often, until mixture comes to a boil that you can't stir down. Stir constantly for 1 full minute.
Remove from heat and remove the cinnamon sticks. Skim off any foam, if needed. Ladle hot preserves into clean, hot jars, filling to ¼-inch from the top. Wipe rims and screw on lids until comfortably tight. Repeat until the jars are filled. Place jars in water bath canner filled with boiling water. Water must cover the jars by at least an inch or two. Cover pot. Once water returns to the boil, start timing. Process for 10 minutes, turn off heat and leave jars in pot for 5 minutes longer. Remove jars to counter with a towel on it, or a cooling rack. Keep out of drafts. Allow jars to cool, check seals. Makes about 9 half pint jars.
Adapted from Ball Blue Book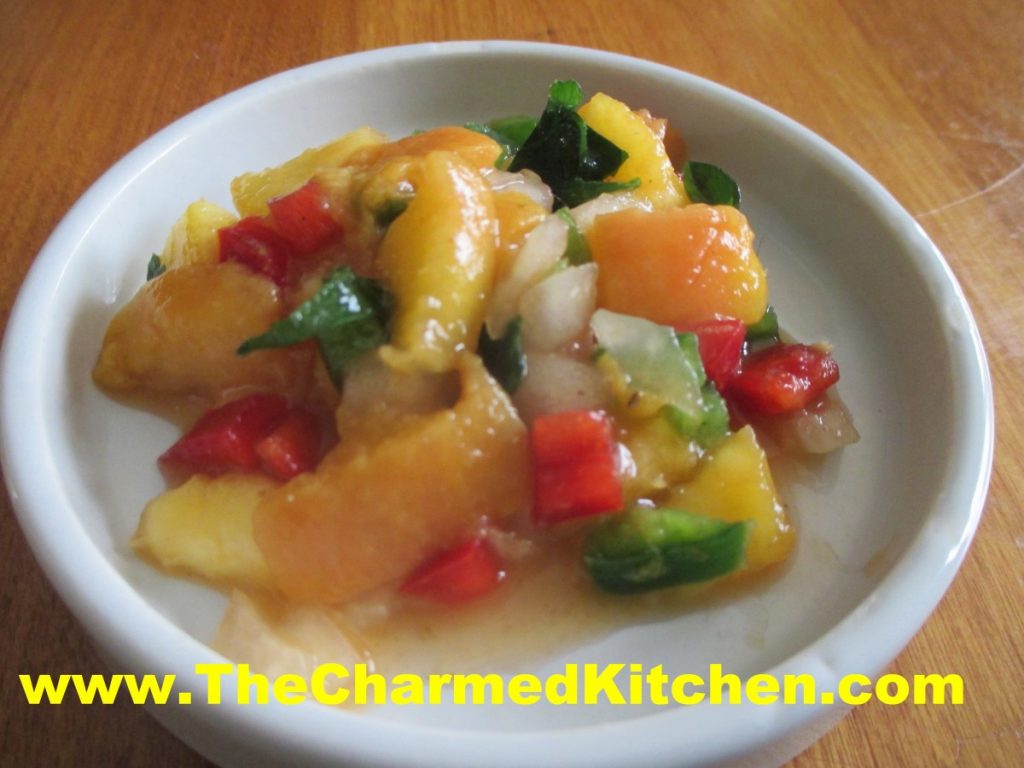 This salsa makes a great topper for grilled meats or fish. It is also fun to serve with chips. While salsa may traditionally be made with tomatoes, there are other options. The peaches give the salsa a great natural sweetness. It is so colorful.
I used really ripe peaches, which are tough to peel. To help peel them, I placed the peaches in boiling water for a minute. Then I put them in cold water. Once they were cool enough to handle, they peeled easily.
I used 5 peaches and ended up with almost 2 cups of prepared fruit. You might need more or less, depending on the size of the fruit.
You can make the salsa as spicy as you like. I added a jalapeno pepper and some hot sauce. I tasted the salsa 30 minutes after I made it and added a little more hot sauce.
Fresh Peach Salsa
4-5 ripe peaches, peeled, pitted and diced
½ c. minced sweet onion
½ c. minced sweet pepper
1 jalapeno, seeded and minced
2-3 T. chopped fresh cilantro
1t. hot sauce, or to taste
zest and juice from 1 lemon, you could use a lime instead
salt and pepper to taste, don't be afraid to give this dish a good bit of salt
Combine all ingredients in a bowl and stir until mixed. Check seasonings. Chill for at least 30 minutes and taste again- you will likely add more seasoning. Serve over grilled meats or with chips.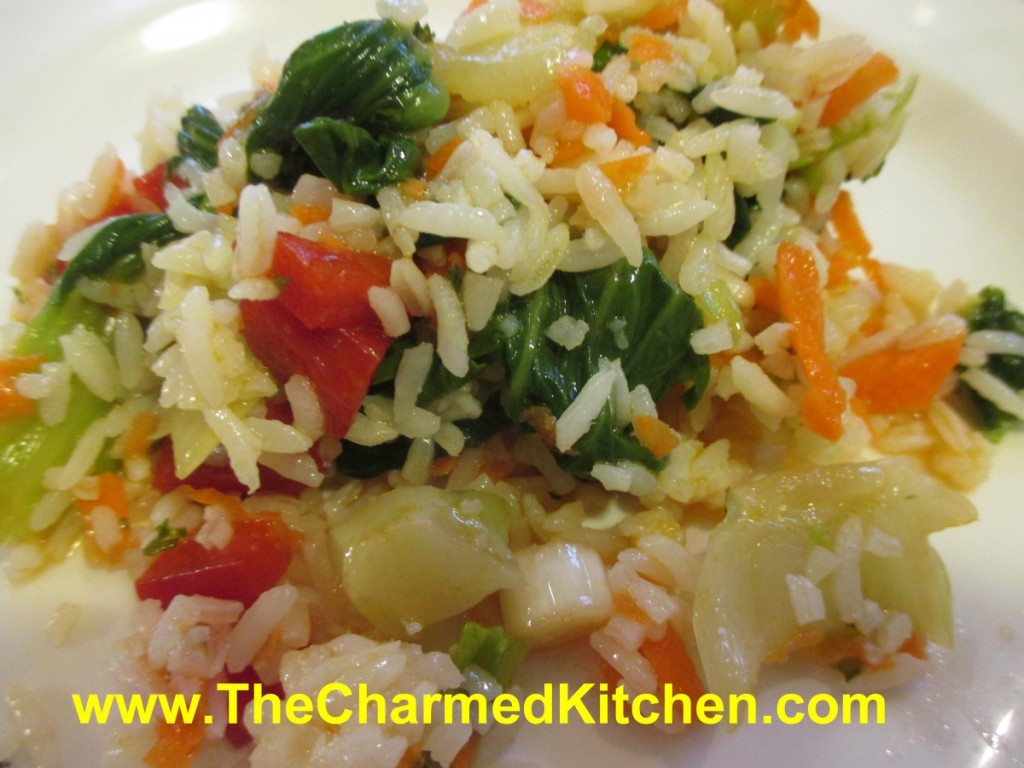 It is going to be very hot the rest of the week. Here are some ideas to help you stay cool while cooking and eating. Recipes for some "cool" dishes are at the end of the post.
Some tips to keep you cool.
Buy a roasted chicken at your local store. Now you have a healthy entree and can round out dinner with a salad and some bread. Also the leftovers can make great salads or sandwiches for additional meals.
Use the microwave for cooking potatoes or rice. It will not heat up the kitchen as much as conventional cooking methods and rice and potatoes make a good base for salads. I often steam veggies in my microwave.
Cook once, use twice. Cook a double batch of meat, dried beans, pasta, rice, vegetables, whatever.  Freeze the extra for another day so you don't have to cook it twice.
Grill whenever possible. It keeps the kitchen cool, is generally a healthy way to cook and let's be honest, food tastes better when grilled!!
Be a seasonal cook. Market prices on seasonal vegetables and fruits are generally lower and the flavor of fresh produce can't be beat. Use them in salads, desserts and on the grill. If you or family members have a garden, plan menus around the bounty that nature provides at this time of year.
Re-invent the sandwich. Go beyond peanut butter and jelly on white bread. Use interesting breads like multigrain, pita, tortillas, and bagels. French bread etc. Then get a little creative with the fillings. Try crabmeat salad, or turkey ham with artichoke. Try grilling a whole Portobello mushroom cap and serving with grilled onions and cheese. You can just pile up vegetables and have a sort of tossed salad sandwich.
Spill the beans. Canned beans are a quick way to make a summer salad more filling, or to make any one of a number of fun dishes. Just drain and rinse for high protein, high fiber and no-cook ingredients.
Pastamania! There are so many new and exciting pastas on the market take advantage and try one of them in an old recipe to dress it up. Pasta cooks quickly and can be cooked ahead of time. Pasta come in many flavors, colors and shapes and can easily add interest to your summer menu. Fresh pasta cooks even faster than dried pasta. You can even make a batch of homemade pasta.
Drink up. With warmer weather comes the need for more fluids. Drink plenty of water, but also enjoy lemonade, iced herbal teas and sparkling fruit juices. Watch out for alcohol and caffeine laden beverages as they act as diuretics and can dry you out. These should be enjoyed in moderation in hot weather and never after times of strenuous activity when your body needs water the most.
Fresh fruit is often the nicest dessert. Fruit salads or kabobs can be served along with homemade sorbets and smoothies.    
Bok Choy and Leftover Rice Salad
4 T. oil
2 cloves garlic, peeled and chopped
2-3 c. sliced bok choy- I used baby bok choy, but use what you like
2 c. cold cooked rice
1 carrot, peeled and shredded
½ of a sweet pepper, seeded and chopped
1 green onion, sliced
Dressing:
1/3 c. rice wine vinegar, or white wine vinegar
2 T. oil
2 T. chopped parsley or cilantro
1 T. sugar
1 t. soy sauce
1 t. sesame oil
1 t. fresh grated ginger
Salt and hot sauce to taste
In skillet, sauté garlic for a couple of minutes, being careful not to burn it. Add bok choy and stir fry a few more minutes, just until bok choy wilts a little, but is still crisp. In medium bowl place the bok choy/garlic mixture, being sure to include the oil used in cooking. Add rice and veggies to boy choy mix. In small jar, with a tight fitting lid, place the dressing ingredients. Secure lid and shake until well mixed. Pour over the rice mixture and stir until well mixed. Chill a few hours or overnight before serving. Serves 4-6.
Note: You can make this a main dish salad by adding a little protein. Cooked chicken or shrimp are great. For a vegetarian version- scrambled eggs or edamame work well, too.
Thai Chicken Salad
1 (3 lb.) chicken, cooked, skinned, meat shredded
8 oz. angel hair pasta, cooked and drained
2 T. coarsely shredded fresh mint leaves
1/2 c. chopped cilantro
1 tomato
1/2 c. olive oil
1 garlic clove
1/2 t. red pepper flakes, or to taste
1 T. plus 1 t. soy sauce
1 T. plus 1 t. fresh lemon juice
1 1/2 t. brown sugar
Lettuce leaves for lining the platter
Place chicken meat and pasta in bowl and combine. Mix remaining ingredients, except lettuce, in blender until smooth and toss with chicken mixture. Salad can be served immediately or chilled. Line serving platter with lettuce leaves and spoon over chicken mixture. Serves 4.
Open-Faced Pork and Apple Sandwiches
4 slices roast pork
Salt and pepper to taste
2 oz. cream cheese
2 T. mayonnaise
4 slices rye bread
4 slices Swiss cheese
1 crisp apple, sliced thin
Season pork slices and set aside. Combine cream cheese and mayonnaise and spread on bread slices. Top with cheese, then pork and finish with apple slices. Serves 4.
Italian Bread Salad
1 lb. Loaf, day old crusty bread, cut into 1-inch cubes
5-6 plum tomatoes, sliced
½ English cucumber, sliced
1 c. sliced sweet onion
2/3 c. olive oil
1/3 c. red wine vinegar
3 T. balsamic vinegar
¼ c. fresh basil leaves, cut into thin strips
2 t. Italian seasoning
In large bowl toss together bread cubes and vegetables. Combine remaining ingredients in a smaller bowl and pour over the bread mixture, tossing to coat well. Be sure that all the bread gets coated. Serves 6-8.
Greek Eggplant Salad
1 medium eggplant
1 large tomato, seeded and chopped
1 sweet pepper, seeded and chopped
1 small onion, minced
1/3 c. olive oil
¼ c. red wine vinegar
1 clove garlic
Salt and pepper to taste
Sliced ripe olives and chopped fresh parsley
Broil or grill eggplant until skin has blackened. Cool. Rub skin off the eggplant with a damp paper towel and chop the pulp. Combine eggplant with remaining vegetables in bowl. Combine dressing ingredients in blender until smooth and toss over eggplant mixture. Chill and garnish with olives and parsley. Serves 3-4.
I love all sorts of sorbets. I make them all year long, but seem to make more when summer arrives. The basic recipe is simple – just pureed fruit, some sweetener and usually, some flavoring or herb, to add interest. They are so light and refreshing. The perfect dessert for summer.
So far I have make sorbet from pineapples, mangoes, strawberries, blueberries (with red grapes), peaches, cranberries and coconut. I am sure I have forgotten some of them.
I picked up fresh cherries at the market, so I could make cherry sorbet.
Fresh cherries are one of my favorite fruits of all time. I love both sweet and sour cherries. For the sorbet, I just pitted a pound of sweet cherries, added sugar and some lemon juice. It needed a little something more- so I added almond extract. Really worked well with the cherries. You could easily use sour cherries in this recipe. You might want to add just a little more sugar.
So here is the recipe. Simple and sweet.
Cherry Almond Sorbet
1 lb. cherries, pitted
3/4 c. sugar, or to taste*
3 T. lemon juice – it helps the cherries retain their color
1 t. almond extract
Place cherries in blender or food processor, with the sugar and extract. Blend until smooth. Adjust sweetener to suit your taste. Place in a container with a lid and freeze. Once mixture is frozen, remove from the freezer, break into chunks and place in food processor. Process until mixture looks creamy and smooth. You might have to do this in batches, depending on the size of your food processor. Eat or return to freezer until ready to use. Makes just over a quart of sorbet.
*Feel free to use other sweeteners you like in place of the sugar. Honey or maple syrup would both work nicely.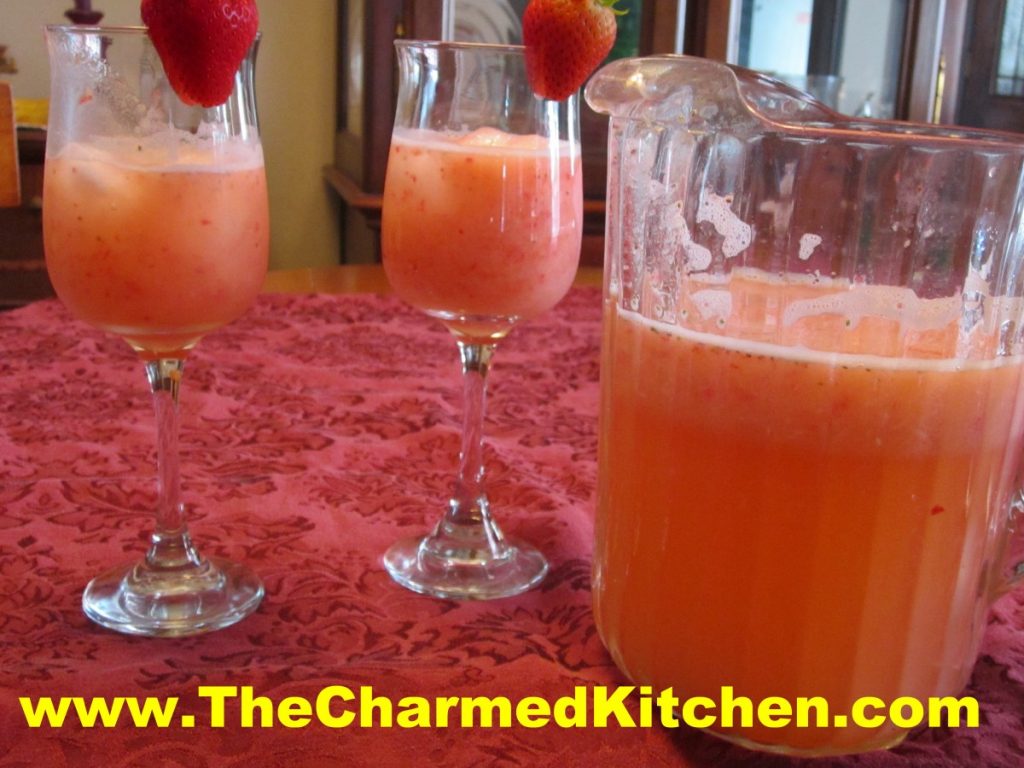 I love this "pink" lemonade. The lovely blush comes from strawberries, not artificial color. The strawberries add more than just color- they add their wonderful flavor as well.
This is a great drink for hot summer days. Heck, I think its a good drink anytime. You don't have limit yourself to lemonade. I have also made a pink limeade, which is also very tasty.
The strawberry seeds will settle to the bottom of the pitcher- so be careful when pouring out the last bit of lemonade. No one wants a mouth full of seeds.
This lemonade can also be used as a base for cocktails.
Here is the recipe. I have also included some helpful information when buying strawberries.
Strawberry Lemonade
7 c. water
1¼ c. sugar
1¼ c. lemon juice
2-3 c. fresh strawberries, washed and stemmed
In a pitcher, combine water with sugar and lemon juice and stir until sugar dissolves. Place berries in blender and add about 2 cups of the lemonade. Process until strawberries are pureed. Add strawberry mixture to the remaining lemonade. Chill before serving. Serve over ice, garnishing with whole berries, if desired. Watch as seeds will accumulate on the bottom of the pitcher.
Shopping Tip
When berries are priced by weight or volume it is not always easy to decide which is the best price. If one store has quarts for $2 and another had berries for $2 per pound where would you get the better deal? Also, if a recipes calls for 4 cups sliced berries how many do you need to buy? Here are some approximate guidelines.
3/4 lb. = 1 full pint
1 1/2 lbs. = 1 full quart
1 1/2 lbs. = 4 cups sliced
1 lb. frozen = 1 1/3 c. whole berries
To help your berries last longer soak them in a water/vinegar solution for a few minutes as soon as you get them home. Then just drain and put in the fridge. This will keep them from getting mold as quickly. I use 1/2 cup of vinegar and 4 cups of water.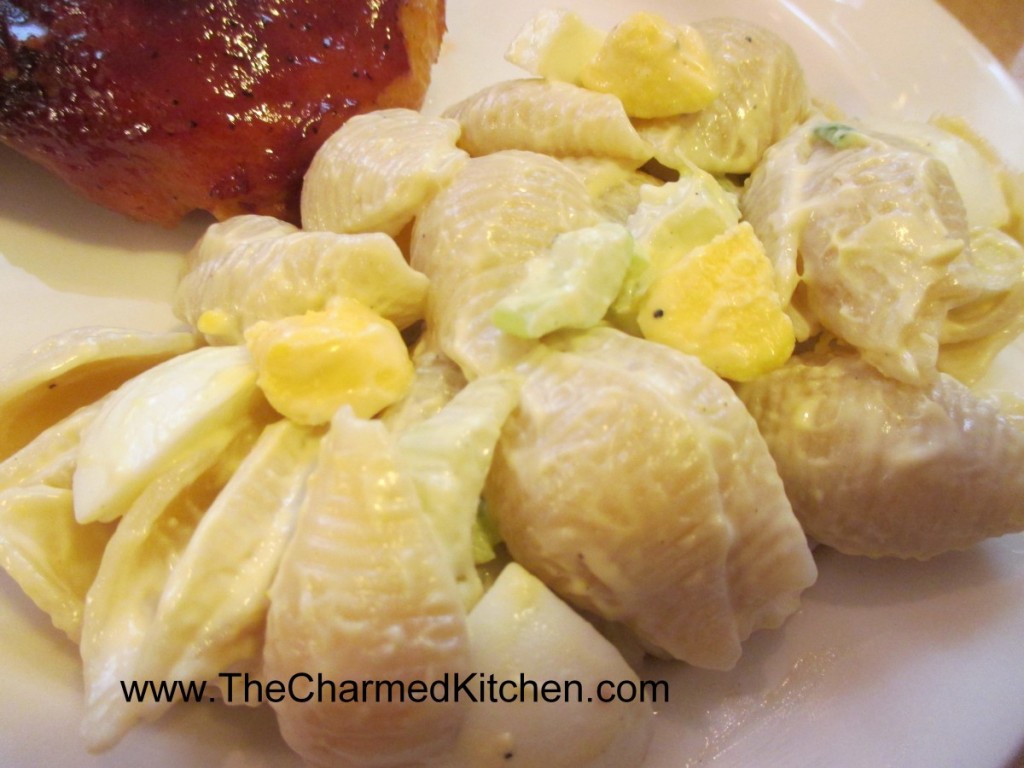 I've been in a nostalgic mood this week. Remembering, fondly, the picnics and cookouts from my childhood. For summer cookouts, we always had this salad. Long enough ago that it was called macaroni salad, not pasta salad. I loved it then, and I love it now.
I won't say I don't make other pasta salads. I do. I make all sorts of combinations, but this is the salad that brings me home.
Mom used mostly mayo, with a little salad dressing like Spin Blend. She felt it gave the salad just a little more zing. I use straight mayo, but that part of the recipe is flexible.
She added quite a few hard cooked eggs and I think they add a richness to the dish. My dad would cut up the celery and green onions for her. Mom liked the veggies cut into a fairly small dice in this dish, and Dad had great knife skills. I love the image of them cooking together.
So here it is- a family recipe wrapped up nicely with some memories, too.
Mom's Macaroni Salad
1 lb. uncooked pasta, shells are preferred
Salt and pepper
Mayonnaise, about 1 cup
Salad dressing, like Miracle Whip, about ½ cup or more mayo- I use all mayo
3-4 ribs celery, sliced thin
4-5 green onions, trimmed and sliced thin
8-12 hard-cooked eggs, cooled and peeled
Cook pasta according to package directions, but do not overcook. Rinse with cold water and drain well. Place drained pasta in a large bowl and sprinkle with salt and pepper to taste. Add dressings and vegetables and stir until well mixed. You may want to add more dressing to suit your taste. Chop eggs and stir into salad. Adjust seasonings if needed and chill before serving. Serves 8-10.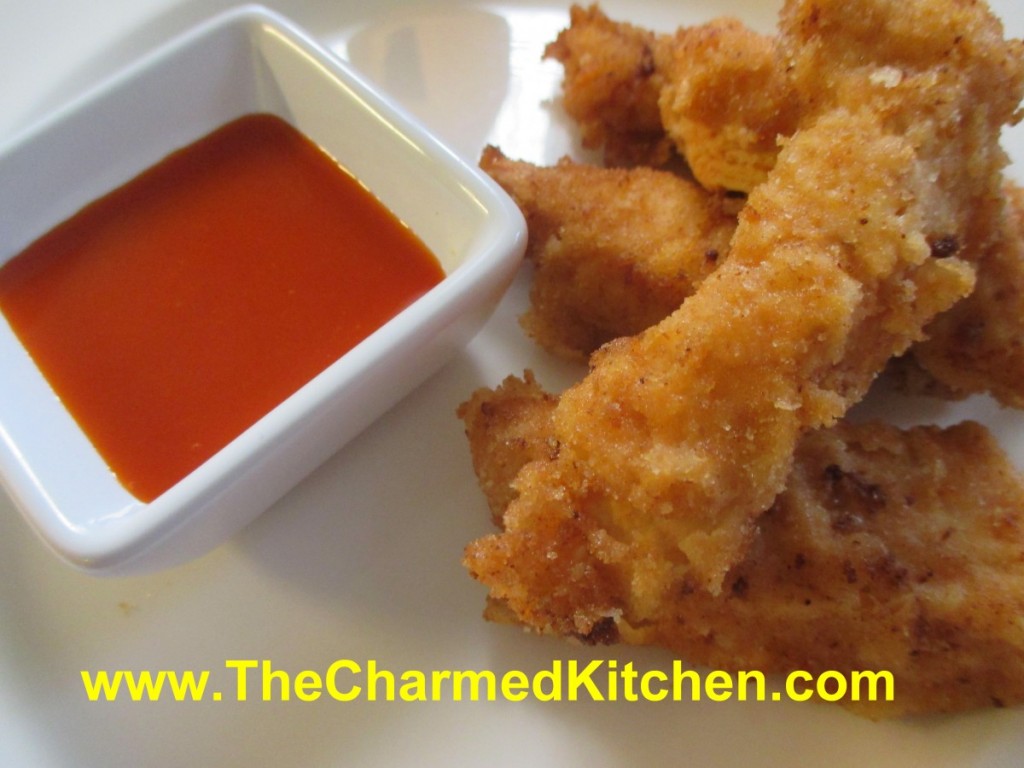 Sometimes the best recipes happen when you don't have time to plan. This is one of those recipes. Even better because it only uses 4 ingredients. Fun for the 4th of July, too.
I needed an appetizer, but didn't have extra time for prep. I also did not have time to go to the store, so I used what I had on hand. I had some boneless chicken breasts. I could also have used boneless thighs or even chicken wings. I used what I had.
I cut them into strips and poured a bunch of hot sauce over them. Put them in the fridge to marinade overnight. The next day I just tossed the chicken strips in breadcrumbs and fried them in a little oil. Served with extra hot sauce on the side, they were a big hit.
Firecracker Chicken

2 lbs. boneless chicken, I used breasts, but thighs would be good, or wings
3/4 c. hot sauce, plus extra when serving
2 c. bread crumbs
2 c. oil, for pan frying
Cut chicken into strips and place in a bowl. Pour over the hot sauce and stir to coat evenly. Cover and chill overnight, or even for a couple of days. Place bread crumbs in a plastic bag. Place a small handful of chicken in the bag and shake to coat. Place on a plate and continue with the rest of the chicken. Heat oil in skillet to 350- 375 degrees. fry chicken in several batches- you don't want to crowd them in the skillet- that will make the oil col down too much. Fry for a minute or two per side. Remove to platter lined with paper towels and cook the rest of the chicken. Keep chicken warm until ready to serve. serve with extra hot sauce on the side. Serves 8 or more as an appetizer, but can be served as a main dish, too.
These little treats make a great addition to your 4th of July party. They are simple to make, with only three ingredients. You can make them in no time at all. It is a fun treat for kids to make, too.
Think of the cherry bombs as a type of candy. A simple, sweet treat that can be served just as they are. They can also be used to top a cake or other dessert. You can even garnish a cocktail with them. I did the same thing with strawberries, but "strawberry bombs" did not have the same ring to it.
To make the cherry bombs, you will need cherries, white chocolate and blue sugar. If you don't have blue sugar, you can put granulated sugar in a bag, add a few drops of blue food coloring, seal the bag and shake it up. The sugar will turn blue. You could also use blue sprinkles.
Wash and dry off some large, sweet cherries. Melt white chocolate, stirring until smooth. Dip the cherries in the white chocolate, then the blue sugar. Place on wax paper to firm up. Store in fridge.