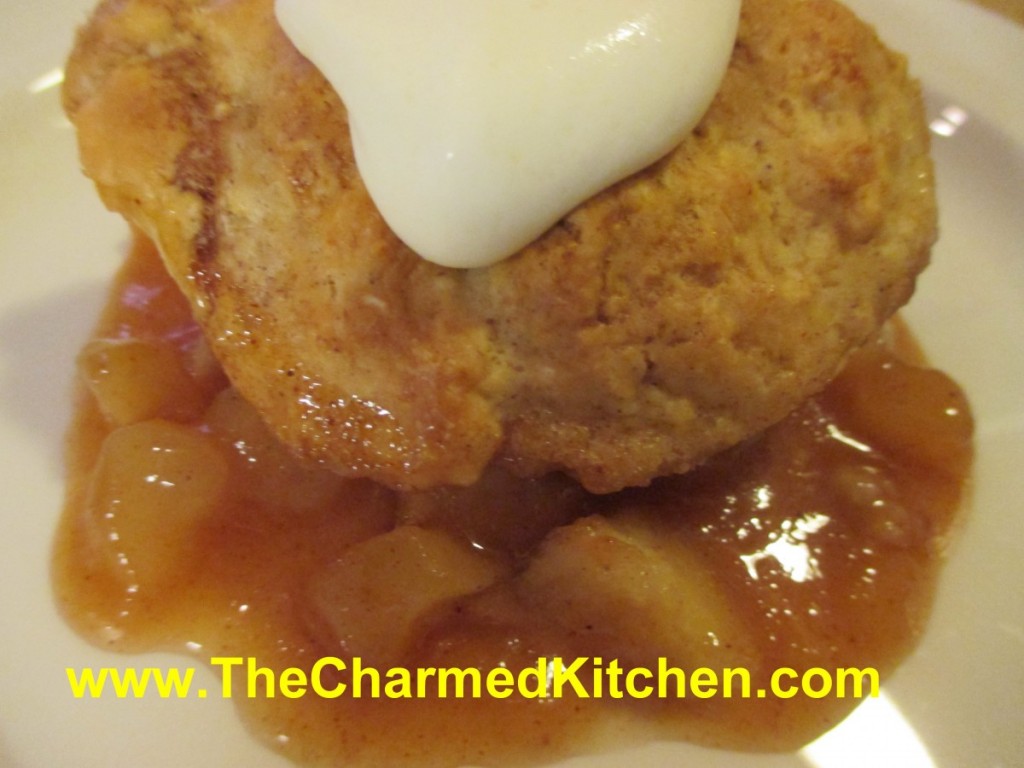 Cobbler is one of my favorite desserts for this time of year. I really enjoy making this pear cobbler for family and friends. Like apples, pears always remind me of Fall.
While cobblers can be made with any number of different fruits, I love using pears. It is one of the simplest desserts you can make from scratch, and one of my favorites, for sure.
In the time it takes to preheat the oven, you can have it ready to bake. This recipe calls for baking mix, like Bisquick or Jiffy Mix. I make my own- recipes follows- but use what you like.
The cobbler is fine served plain, or with a dollop of whipped cream or ice cream. It can also be served cold, but I like to serve it warm.
If you prefer, you can also make the cobbler with a combination of pears and apples.
  Pear Cobbler
4 c. peeled and sliced pears
½ c. sugar
1 T. plus 2/3 c. baking mix (Like Bisquick or Jiffy Mix or even homemade)- recipe follows
1-2 t. cinnamon
2 T. packed brown sugar
¼ c. butter
2 T. milk
In 1-quart shallow casserole, combine fruit, sugar, 1 tablespoon of the biscuit mix and cinnamon. In medium bowl combine remaining biscuit mix with sugar. Cut in butter to resemble coarse crumbs. Stir in milk to make a soft dough. Drop by spoonfuls over fruit mixture. Bake in a preheated 400-degree oven for 30 minutes, or until toothpick inserted into dough comes out clean. Let stand 5 minutes. Serves 4-6.
Baking/ Biscuit Mix
8 cups sifted, all-purpose flour
1 c. powdered milk
1 c. powdered buttermilk
¼ c. baking powder
1 T. salt
2 c. shortening*
Sift dry ingredients together 3 times. Cut in shortening to resemble cornmeal. Keep in an airtight container. Store in a cool dry place and use within six months.
*You can use butter or coconut oil in place of the shortening. Just store in the fridge, if you do. I use coconut oil.
For all the soups I make, this is one of my favorites. The blend of vegetables and seasonings work so well together. The soup is creamy and full of flavor. I eat the soup hot, most of the time, but in hot weather, I eat it cold.  It is an easy way to eat more veggies.
I have a friend who is trying to eat more veggies, so I shared some of this soup with her. She really liked it. The soup freezes well, so you can make a big batch and freeze some for later. While I have the recipe below- you can add other veggies and play around with the soup. For texture, you can serve it with croutons on top. This is also nice served with a grilled cheese sandwich.
Creamy Veggie Soup
3 T. oil
2 onions, chopped
3 carrots, peeled and sliced
2 ribs celery, sliced
3-4 sweet potatoes, peeled and cubed
1 medium cauliflower, chopped
6 c. stock- I used chicken, but you could use vegetable
1 qt. tomatoes- I used home canned but you could use 1 (28 oz.) can
2 T. Tuscan seasoning* recipe follows
¼ c. hot sauce- or to taste
Salt and pepper to taste
In large pot, heat oil and cook onions until tender. Add carrots and celery and cook a few minutes longer. Add remaining vegetables, stock, and seasonings and simmer, covered for an hour or longer. Puree soup in blender in batches until smooth or use an immersion blender to puree the soup. Warm up soup before serving. Adjust seasonings and serve. Makes a lot of soup – but freezes well.
*Tuscan Seasoning
½ c. dried basil
½ c. dried oregano
½ c. dried marjoram
3 T. dried minced onion
2 T. dried minced garlic
2 T. dried rosemary
2 T. dried parsley
1 t. crushed red pepper
Combine all ingredients and store in an air tight container. Use this blend in tomato sauce or other Italian dishes. Also, you can add to vinegar and oil with a little salt, if desired, to make a quick salad dressing.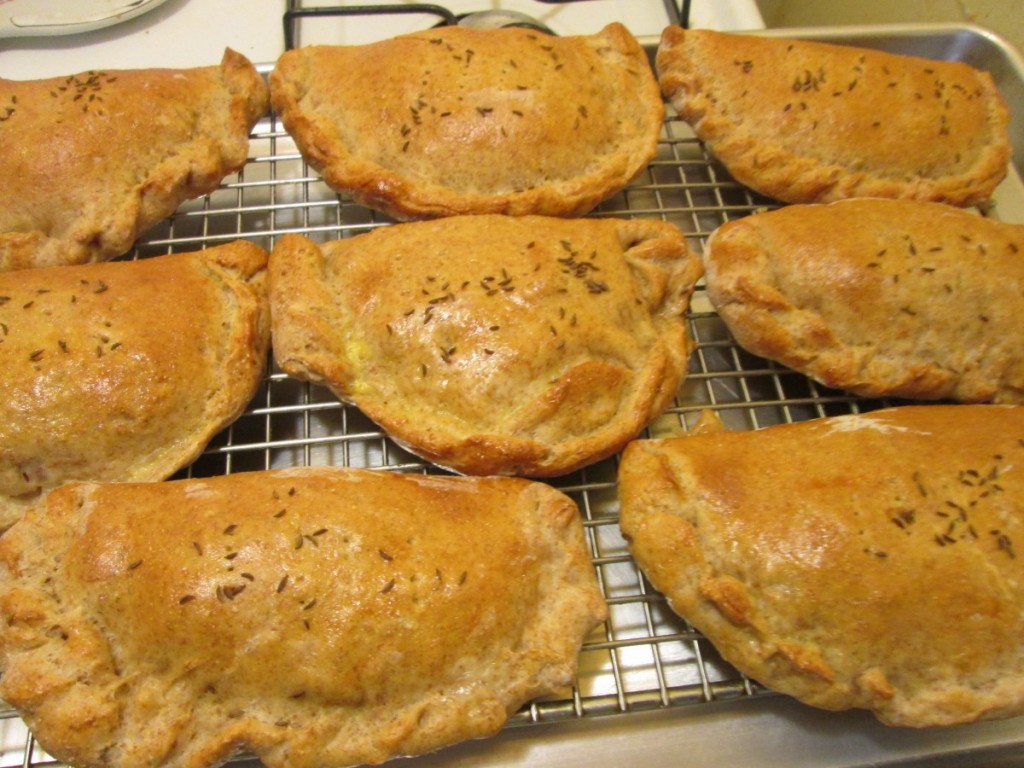 Calzones are traditionally made with Italian/pizza type fillings, but you can fill them with all sorts of other ingredients. They are kind of a cross between a sandwich and a pizza.
I like to get creative when making calzones. I often use what I have on hand. I think about what ingredients would go well together.
Calzones are wonderfully portable, and great to pack for lunch. They are also great food to serve at parties.
I like to make a batch and freeze some of them. I use one of three recipes for dough, listed below, then swap out fillings depending on what I am in the mood for. Get creative and have fun.
Basic Homemade Dough
This recipe is enough for 8 large calzones, more if you make them smaller.
1 packet active dry yeast
1 t. sugar
1 2/3 c. warm water
4-4½ c. flour
2 t. salt
In mixing bowl combine yeast with 3 cups of flour, sugar and the salt. Add the warm water and stir together, mixing well. Gradually add more flour until soft dough forms. Place dough on floured surface and knead until stretchy and smooth, about 10 minutes. Allow dough to rest 3 minutes and knead a few more times. Place in bowl and cover. Let rise until doubled in bulk, about 45 minutes. Punch dough down.
Assembly: Divide into 8 or more pieces. Cover pieces until ready to roll out. Roll out a piece of dough into an 8-inch circle. Add fillings to half of the dough and wet edges with water. Fold over and press edges firmly to seal. Cut a couple of slits in top of calzone to allow steam to vent. Repeat with remaining dough.
Finishing /Baking: Place calzones on greased baking sheets. Cover calzones and allow to rise 30 minutes or so. Bake in a 400-degree oven for 20-25 minutes or until golden brown.
Variations:
Whole Wheat: You can add 1-2 cups whole wheat or spelt flour to replace the same amount of white flour for a whole grain calzone.
Rye: Add 1-2 cups of rye flour to replace the same amount of white flour. This is great for the Reuben calzones.
Fillings: Traditional fillings could include shredded mozzarella cheese, mushrooms, pepperoni, cooked sausage, chopped onions or peppers, pizza sauce (some prefer to serve sauce on the side) olives or anything you might top a pizza with.
Note: For any filling, use ingredients that are cold or at room temperature. Vegetables should be cooked as raw veggies will give off water and may make your calzone soggy. If using a sauce, make sure it is on the thick side. Sometimes I brush the dough with a little oil first to keep the dough from getting soggy.
Toppings: You can brush the top of the calzones with an egg wash if you like for a shinier top. Apply just before baking. If you want, you can also sprinkle the tops with seeds- but use an egg wash to make sure the seeds will stick.
Ham and Swiss Calzones
1 recipe calzone dough, rye variation preferred
1 1/2 -2 lb. thin sliced ham- more or less
3/4 lb. sliced Swiss cheese
Thousand island dressing- recipe follows
1 egg , beaten
In the middle of the dough place 1 1/2 ounces of the Swiss cheese, a spoonful of the dressing and 2-3 ounces of the ham. Brush the edge of the dough with water. Fold over the dough in half and press the edges to seal. Brush the edge again with water and roll the edge over again. It will give you a prettier look and seal the calzone better. Repeat with remaining dough and fillings. Place calzones on greased baking sheets- or on a baking sheet with a silicone liner or parchment paper liner. You will end up with 8 calzones in all. Only put 4 on one baking sheet. Cover and let rest 15 minutes while preheating the oven to 400 degrees. Before placing calzones in the oven brush with beaten egg and make a few slashes with a knife to help steam to escape while baking. I put 2 baking sheets in the oven at the same time and switch them halfway through baking. Bake in a preheated 400-degree for 20-25 minutes or until golden brown. If baking 2 at once switch them after 10 minutes or so. Cool slightly before eating. Serve warm and refrigerate leftovers. Makes 8.
Thousand Island Dressing
Combine equal parts of ketchup, mayo and sweet pickle relish. You likely need at least a cup for this recipe. I made extra so the sandwiches could be dipped in extra dressing, if desired.
Reuben Calzones
1 recipe homemade dough, rye version
1½ -2 lbs. sliced corned beef
½ lb. sliced Swiss cheese
2 c. rinsed and drained sauerkraut
Thousand Island dressing
Caraway seeds, optional
Make dough and assemble 8 calzones dividing the ingredients among them. Dressing can be added in the calzones or served on the side. Use an egg wash and sprinkle on a few caraway seeds , if desired. Makes 8.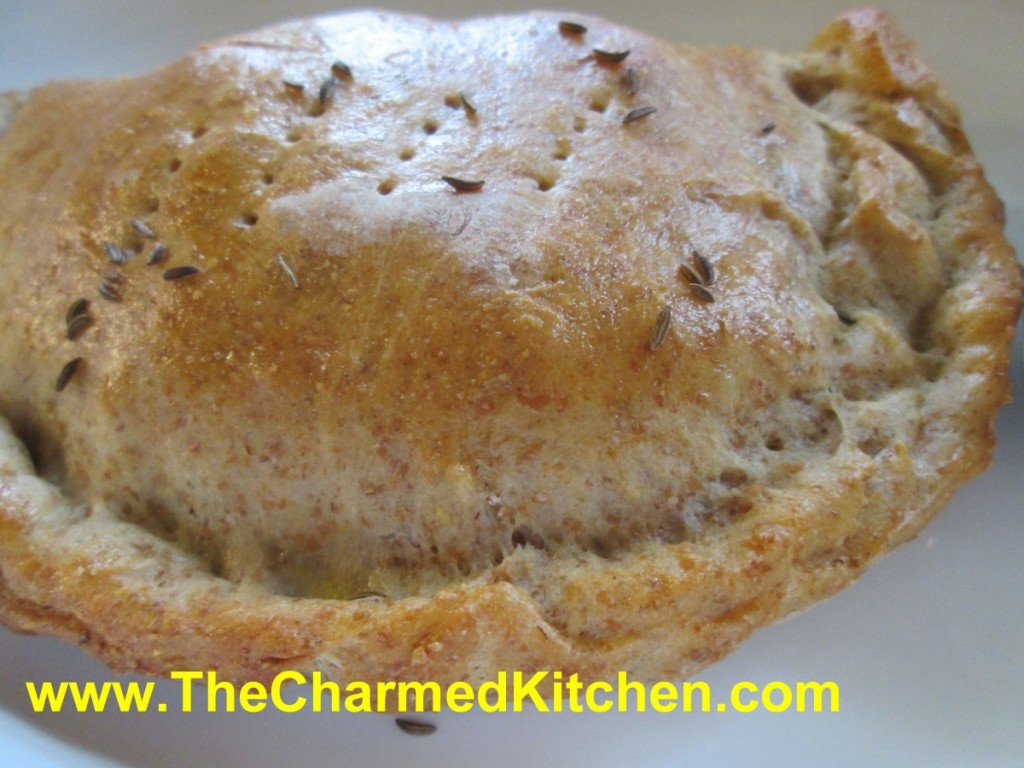 Curried Vegetable Calzones
1 recipe calzone dough
2 T. oil
1 onion, sliced
1 c. sliced carrots
1c. chopped cauliflower
1 c. green beans, sliced
1-2 T. curry powder, or to taste
Salt and pepper to taste
Heat oil in skillet and sauté onion until tender. Add the rest of the veggies and cook until tender. Sometimes I cover the pan and turn down the heat to steam them. Once veggies are tender drain and set aside to cool. Season to taste with curry powder and salt and pepper. Divide mixture among 8 calzones. Makes 8.
Spinach and Artichoke Calzones
1 recipe calzone dough, whole wheat works well in this recipe.
1 can (about 15 oz.) artichoke hearts, drained well and chopped
1 package (10 oz.) frozen spinach, thawed, and drained well
2 c. shredded mild cheese or 1c. crumbled feta cheese
1 T. lemon juice
Salt and hot pepper sauce to taste
Combine ingredients and mix well. Divide among 8 calzones. Makes 8.
Freezing Calzones: Note: you can freeze them baked or unbaked. Just place calzones on wax paper on a baking sheet and place in the freezer until frozen. Remove from baking sheet and wrap in plastic wrap, foil or wax paper and place in freezer bags. Label and place back in the freezer.
If you froze them unbaked- thaw in fridge overnight- unwrap but cover loosely with plastic wrap and a towel. Thaw in fridge at least 8- 12 hours. Place on greased baking sheet and place on counter at room temperature for another hour or two, covered with a towel. Bake in oven as normal.
If you froze them baked- you can heat up in a microwave- about 3 minutes per calzone. You can also warm them in a conventional oven. Place on baking sheet and bake in a preheated 350-degree oven for 20-25 minutes. Cover with foil if it starts to get too brown.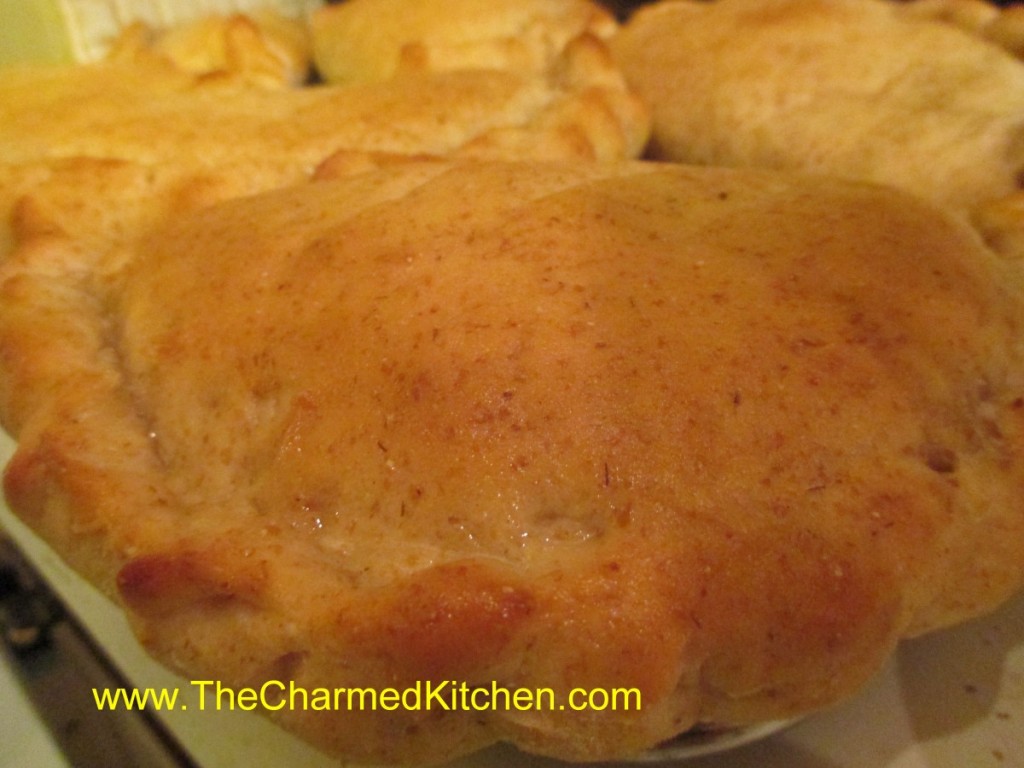 For dinner with friends last night, I decided to make sweet and sour pork. It takes a bit of work- but it is worth the effort. I used a fresh pineapple, which I prefer, but canned pineapple could be used, too.
I have to admit to loving all things sweet and sour. You can buy sweet and sour sauce in most grocery stores, but I like my own better.
Make the sauce first, so you can just toss it over the pork and veggies when ready to serve.
The pork is cubed and marinated overnight in a mixture of soy sauce, cornstarch and an egg. The pork comes out very tender, when prepared this way. You could substitute cubed chicken, for the pork, if you prefer.
Sweet and Sour Pork

1-2 lbs. boneless pork
1 egg
1 t. cornstarch
2 t. soy sauce
Additional cornstarch for dredging
oil for frying
1 medium onion, chopped
1 sweet red or yellow pepper, seeded and chopped
2 cups peeled and cubed fresh pineapple, or 1 can pineapple in juice, drained, reserving juice for sauce
Sweet and Sour Sauce, recipe follows
Chopped green onions
Cut meat into cubes and place in bowl. Combine egg, 1-t. cornstarch and soy sauce and pour over the meat, stirring to coat. Allow marinating at least 1 hour in fridge, but best if done the day before, or early in the day.
When ready to cook, heat 1-2 inches of oil in a medium sauce pan to 350 degrees. Dredge the pork in corn starch to coat. Set aside. Heat 1T. oil in large skillet or wok. In wok, sauté onions on high until tender. While you are cooking the onions and other vegetables, start cooking the cubed pork in the sauce pan in the 1-2 inches of hot oil. It will take several batches to cook the pork. As the pork cooks- it will take about three minutes per batch- remove the pork from the pan and drain on paper towels. Continue to cook the pork in batches while finishing the veggies and pineapple in the wok. Add pepper to onion and sauté 3 minutes more. Add pineapple and cook until pineapple starts to brown a little. Add the cooked pork to the onion mixture. Then and some of the sweet and sour sauce and toss until coated. There is usually extra sauce for a later use. Serve over rice, and top with some green onions. Makes 4-6 servings.
Sweet and Sour Sauce- see note

1/2 c. apple cider vinegar
1/2 c. sugar
1/2 c. pineapple juice
3 T. ketchup
2 T. soy sauce
2 T. cornstarch
1 t. dried minced garlic
1-t. fresh grated ginger
Hot pepper flakes to taste
In saucepan combine all ingredients. Cook over medium heat, stirring as mixture gets hot, until sauce begins to bubble. It will also get much clearer. Boil gently 1 minute, stirring constantly before removing You may also want to use only some of the sauce and save the rest for another use.from heat. Makes 1 1/2 c. Keeps in the fridge for a couple of weeks.
Note: If you make the sweet and sour sauce ahead of time it will get runny when reheated if made with regular cornstarch. Either use modified cornstarch (Clear Gel ) or make sauce just before using.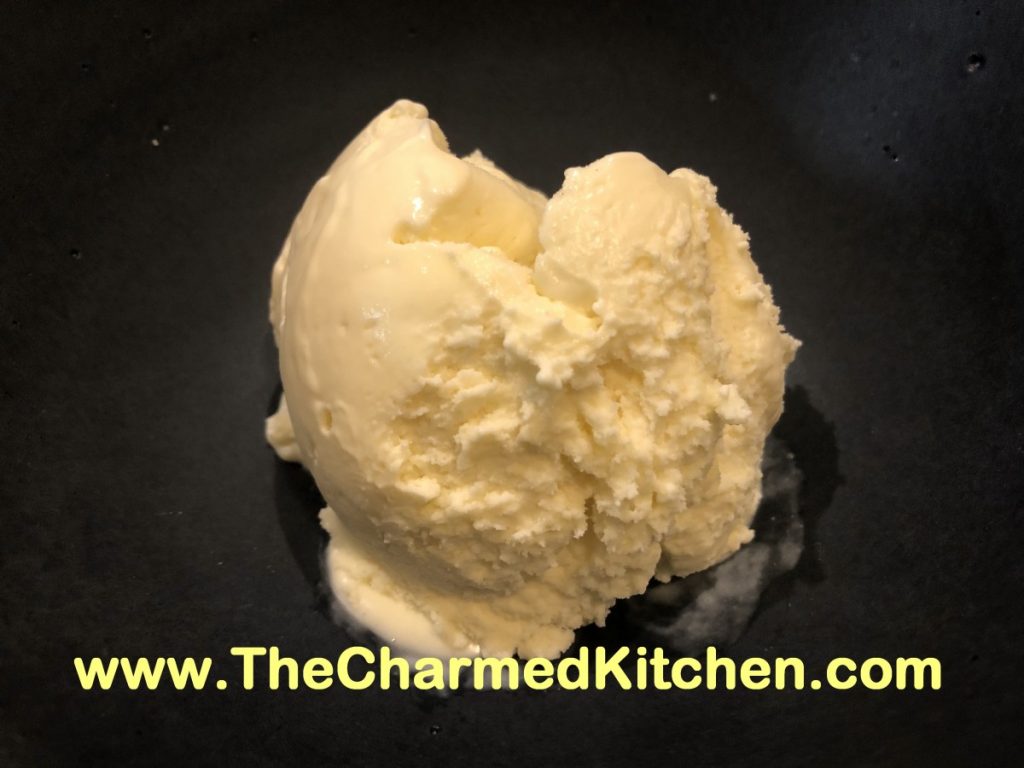 I love this ice cream. The richness of the custard works wonderfully with the sweet flavor of the honey. I don't use all that much honey in this recipe. It is sweet, but not overly so. You could make it sweeter if you like.
I was recently given some local honey (thanks, Richard). I wanted to use some of it in a special dish. This ice cream is certainly special. I am pairing it with coffee waffles for dessert.
So here is the recipe. I hope you give it a try.
Honey Ice Cream
1 ½ c. whipping cream
1 ½ c. half and half
2/3 c. honey
6 large egg yolks
pinch of salt
Heat together cream and half-and-half to simmer . Whisk honey, yolks and salt in a medium bowl. Gradually whisk in hot cream mixture. Return to pan and heat until mixture thickens (about 170 degrees). Do not boil. Strain into large bowl. Chill until cold. Process in ice cream maker. Makes 4 ½ c.
A very long time ago, I was served a salad called copper pennies. The name came from the rounds of carrots that were the main ingredient. I know the salad had a sweet and sour tomato-based dressing. I liked it a lot.
The original dressing was made from canned tomato soup. I didn't have tomato soup, but I had tomato sauce. I winged it and came up with a dressing I really like. It reminds me of a sweet French dressing. There is enough dressing that I spooned some out and used it on a lettuce salad.
So here is my version of copper pennies. Fun name, tasty salad.
Marinated Carrot Salad- Copper Pennies
1½- 2 lbs. of carrots, peeled and sliced
1 sweet pepper, seeded and chopped
1 small sweet onion, chopped
1-2 green onions, chopped, optional
Dressing
1 c. tomato sauce
¾ c. apple cider vinegar
¾ c. sugar
½ c. oil
2 T. prepared mustard- I like Dijon
2 t. salt
1 t. hot pepper sauce, or to taste
pepper to taste
Steam or boil carrots until just tender. While carrots are cooking place veggies in a large bowl. In a medium bowl, combine dressing ingredients and whisk until smooth. When carrots are cooked, drain and place them in the bowl with the veggies. While carrots are still hot, pour over the dressing and stir to cover them well. Allow carrots to cool down a little before covering the bowl and placing in the fridge to chill thoroughly. Serves 10-12. Keeps for a couple of weeks.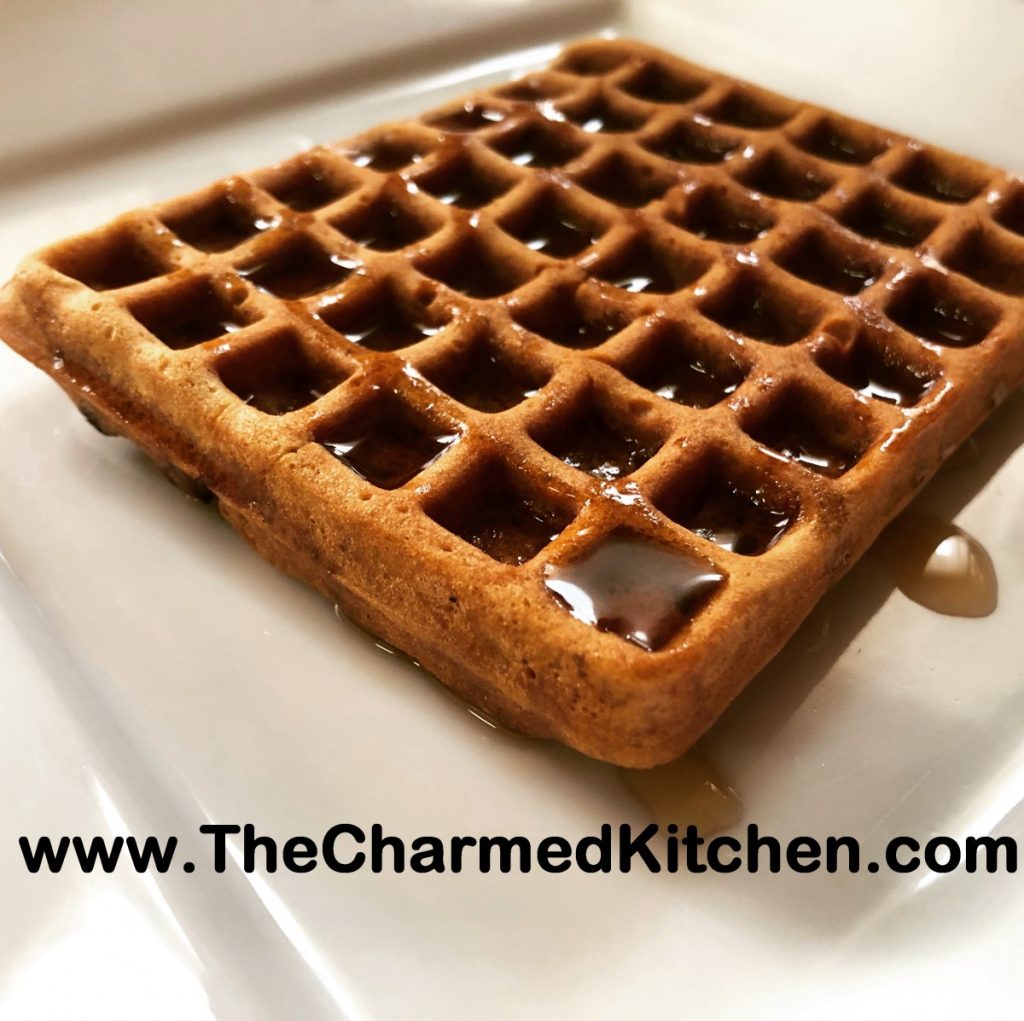 Yes, you read that right. Coffee waffles. Waffles with coffee already inside them. They are quite wonderful actually. Great for breakfast, which is obvious, I suppose. These waffles also make a fun base for desserts. I am serving them with honey ice cream as a dessert later this week.
I wanted to add coffee flavor to waffles, but I knew even strong coffee would water down the batter too much. The only solution was to use either instant coffee or espresso powder. I knew I could get enough coffee flavor into them, without affecting the batter in a negative way.
It worked!! Plenty of coffee flavor and a nice, crispy waffle. I was thinking it might be fun to add cinnamon to the next batch. I got 10 rectangular waffles out of the recipe. Froze most of them for later.
You can serve them topped with butter, syrup, whipped cream or powdered sugar.
So here is the recipe. Hope you give them a try.
Coffee Waffles
1¾ c. flour
¼ c. brown sugar
1½ t. baking powder
½ t. salt
1½ c. half and half or milk
1 egg, beaten
1/3 c. oil
1 T. instant coffee or espresso powder
1 T. vanilla
Non-stick spray or oil for coating the waffle iron
In medium mixing bowl, mix dry ingredients together and set aside. In a separate bowl, combine the half and half with the remaining ingredients. The dry coffee granules will not dissolve right away. You can let the wet ingredients sit a few minutes and whisk again, if you like. While they are just sitting there, you can heat up the waffle iron. Coat the waffle iron with a non-stick cooking spray or brush with a little oil. Add the wet ingredients to the dry ingredients and stir until mixed together. Don't get crazy over mixing. That will give you tough waffles, and nobody wants that. Just stir until you don't see any dry bits in the mix. I like to use a rubber scraper to get to the bottom of the bowl. Ladle some batter into the waffle iron and cook until golden brown. When the steam stops coming out of the waffle iron, or lessens a lot, it is usually good indicator that your waffles are done. Yield depends on the size of your waffle iron. I got 10 waffles, about 4×5 inches.  
Note: The instant coffee breaks down more when mixed with the dry ingredients. Espresso powder will dissolve quickly, but if you use instant coffee like I did, expect a few "flecks" of coffee in the batter. I kind of liked the way it looked. 
Spelt flour is one of my favorites for making yeast breads and rolls. Spelt is a whole grain flour, with all the fiber and nutrition of whole wheat flour. Spelt has a softer texture than whole wheat flour. It is easy to work with and rises light and tender.
Spelt also doesn't require as much kneading as other flours.
For this recipe, I just divided the dough into 12 pieces for pretty good sized rolls. You could divide the dough into up to 18 pieces if you prefer smaller dinner rolls. If you have family members who aren't crazy about the heavier texture of whole wheat you might want to give spelt flour a try.
Spelt Dinner Rolls
3 ¼ c. whole spelt flour
1 pkt. Active dry yeast
1 c. water
¼ c. honey
¼ c. oil
1 t. salt
1 egg
Place 2 c. flour, yeast and salt in a medium bowl. Heat together water, honey and oil until warm (120-130 degrees) Add water mixture to spelt mixture and beat on low speed of electric mixer for 30 seconds, or until moistened. Add egg and beat on high 3 minutes. Stir in enough spelt to make a soft dough. Cover bowl with a towel and allow to rise until doubled, about 1 hour. Grease a baking sheet and set aside. Use a rubber scraper to transfer dough onto floured surface. Divide dough into 12 pieces. Shape each piece into dinner roll shapes, using extra flour to prevent sticking. Place on baking sheet and cover with a towel. Allow to rise until doubled, about 1 hour. Cover and let rise until doubled, another hour. Bake in a pre-heated 375 degree oven for 15 minutes or until rolls are light brown on top. Remove from pan and cool on wire rack. Makes 12 rolls.
I had picked up some beets from a produce market the other day. I have made this dish many times and it seemed like a good time to make it again. It is so tasty and easy to make. You just have to give the flavors time to develop.
This is a recipe that my friend, Martha, made for us one chilly autumn afternoon, many years ago. The amounts are random for a reason. Just use what you have- more or less – and let the flavors blend together gently. That is what Martha did.
Full of earthiness and great fresh flavors it is always a favorite of mine. I always think of her, with great affection, when I make it. Miss you, my beloved friend.
Martha's Beets
Oil
2 Onions, chopped
Potatoes, cut in big chunks, peeled, if desired
1 bunch beets, with greens*
Chicken or vegetable stock
Parsley
Salt and pepper
Cook beets in boiling water for 20 minutes. Cool and slip off skins. Cut up beets into chunks. In large pot, cook onions in oil until tender. Add potatoes and prepared beets with just enough stock to keep them from sticking. Cover and cook over medium-low heat until vegetables are tender. Meanwhile, chop up the beet greens. Add them to the pot and stir in. Cover and continue cooking until greens are tender. Toss in fresh parsley and cook 5 minutes longer.
* If you can't find beets with greens, or if you like more greens, you can also add red Swiss chard in place of the beet greens.
If you are looking for a fast and easy new way to prepare zucchini this dish really works well. Somewhere between a quesadilla and a frittata it can be a main dish, side dish, brunch dish or even a great breakfast. The hardest part is getting it turned over once it starts to set.
Don't worry if it isn't perfect. Once you sandwich it between two tortillas any mistakes are covered up. All cheesy and gooey in the middle, with crisp tortillas on the top and bottom, it might even get your kids to eat their veggies. You just cut it in wedges to serve.
Zucchini Quesadilla
2-3 c. shredded zucchini
2 eggs
1 medium onion, minced or grated
1 carrot, shredded
1/2 c. flour
2 t. dried basil or 2 T. fresh
2 t. dried parsley
1/2 t. salt, or to taste
1/2 t. chili powder
Oil
2 (10- inch) tortillas – I used whole wheat
1 c. shredded cheese, cheddar or Monterey Jack work well, but use what you like or have on hand.
Pepper confetti (finely minced sweet peppers, mixed colors if you can)
Salsa, optional
Combine first nine ingredients in bowl and set aside. Heat 10-inch skillet and add a small amount of oil. Pour in zucchini mixture and spread out evenly. Turn down heat to medium-low and cook until edges start to firm up and brown. With spatula turn over zucchini pancake and cook 3 minutes longer. It should be set. Place 1 tortilla on top of "pancake" and turn over again, so tortilla is in bottom of pan. Place cheese on top of pancake and place second tortilla on top of the cheese. Press down lightly. Cook a couple of minutes before turning again. Tortilla should be lightly browned. Cook long enough for the second tortilla to also brown. You can flip them back if to want to make them crispier. Remove to serving dish and sprinkle with the peppers. Cut into wedges and serve. Serve with salsa, if desired. You can also add a dollop or sour cream or some sliced ripe olives if you like.
Makes 2 luncheon servings or 4 appetizers. You can also make them ahead of time and keep them warm or reheat them in a 350-degree oven for about 15 minutes.
Variations: You can use 1-2 cups cooked mashed beans (kidney, black, chickpeas etc. in place of the zucchini, or even use cooked lentils.