Zucchini Quesadilla
If you are looking for a fast and easy new way to prepare zucchini this dish really works well. Somewhere between a quesadilla and a frittata it can be a main dish, side dish, brunch dish or even a great breakfast. The hardest part is getting it turned over once it starts to set.
Don't worry if it isn't perfect. Once you sandwich it between two tortillas any mistakes are covered up. All cheesy and gooey in the middle, with crisp tortillas on the top and bottom, it might even get your kids to eat their veggies. You just cut it in wedges to serve.
Zucchini Quesadilla
2-3 c. shredded zucchini
2 eggs
1 medium onion, minced or grated
1 carrot, shredded
1/2 c. flour
2 t. dried basil or 2 T. fresh
2 t. dried parsley
1/2 t. salt, or to taste
1/2 t. chili powder
Oil
2 (10- inch) tortillas – I used whole wheat
1 c. shredded cheese, cheddar or Monterey Jack work well, but use what you like or have on hand.
Pepper confetti (finely minced sweet peppers, mixed colors if you can)
Salsa, optional
Combine first nine ingredients in bowl and set aside. Heat 10-inch skillet and add a small amount of oil. Pour in zucchini mixture and spread out evenly. Turn down heat to medium-low and cook until edges start to firm up and brown. With spatula turn over zucchini pancake and cook 3 minutes longer. It should be set. Place 1 tortilla on top of "pancake" and turn over again, so tortilla is in bottom of pan. Place cheese on top of pancake and place second tortilla on top of the cheese. Press down lightly. Cook a couple of minutes before turning again. Tortilla should be lightly browned. Cook long enough for the second tortilla to also brown. You can flip them back if to want to make them crispier. Remove to serving dish and sprinkle with the peppers. Cut into wedges and serve. Serve with salsa, if desired. You can also add a dollop or sour cream or some sliced ripe olives if you like.
Makes 2 luncheon servings or 4 appetizers. You can also make them ahead of time and keep them warm or reheat them in a 350-degree oven for about 15 minutes.
Variations: You can use 1-2 cups cooked mashed beans (kidney, black, chickpeas etc. in place of the zucchini, or even use cooked lentils.
Thought I would share this fun recipe for cupcakes, using beets. I already make a chocolate beet cake- which has red tones from the beets. I wanted a lighter texture for cupcakes, with more chocolate flavor, so I made some changes to the beet cake recipe and ended up with these cupcakes.
Rich, but light, with a very subtle blush of red. I decided to call them Pink Velvet. I topped them with cream cheese frosting, but a dusting of powdered sugar would work well, too, or a favorite buttercream.
Here is the recipe. I hope you will give them a try.
Pink Velvet Cupcakes (Chocolate Beet)
2 cups all-purpose flour
2 t. baking soda
½ t. salt
¾ c. cocoa powder
1 c. butter, softened
1½ c. sugar
3 large eggs
2 teaspoons vanilla
1½ cups grated cooked beets
Powdered sugar, optional
Preheat oven to 350°. Line 24-28 muffin tins with paper liners; set aside. Combine dry ingredients in a bowl; set aside. In a mixing bowl, combine the butter and sugar. Beat until light and fluffy. Beat in eggs one at a time, beating well after each addition. Beat in vanilla. Slowly beat in dry ingredients until well mixed; stir in beets. Spoon batter into prepared tins, filling about 2/3 full. Bake 18-20 minutes, or until cupcakes spring back when touched lightly or when toothpick, inserted into cupcakes , comes out clean. Cool before frosting. Makes 24-28.
Cream Cheese Frosting
8 oz. cream cheese, softened
1 stick, (½ cup butter) softened
2-3 c. confectioners' sugar
1T. vanilla
Beat all ingredients together until smooth and fluffy. Store in the fridge.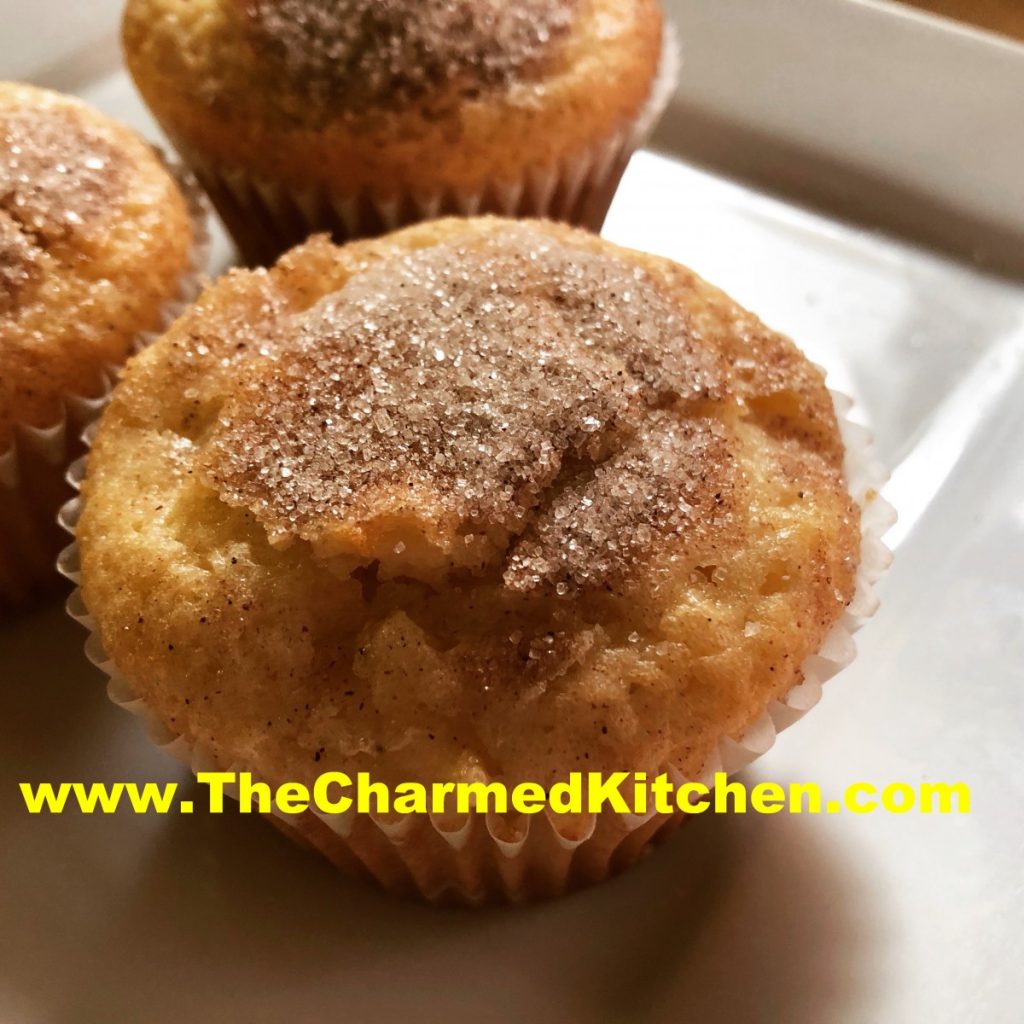 These tasty little cakes are actually a revision of a favorite apple cake recipe. I needed cupcakes, and made a few changes, so it would work in cupcake form. I was pretty happy with how they came out.
I sprinkled cinnamon sugar on top of the cupcakes right before baking. It worked fine. I thought I might try baking them plain on top next time- then dipping the tops in melted butter and cinnamon sugar after baking. I make French Breakfast Puff muffins that way, and it works well.
I also chose not to frost them. I could see using a cream cheese frosting, or perhaps a drizzle of caramel, if you like a sweeter dessert. These would also be great served with ice cream.
Cinnamon Apple Cupcakes
1 c. oil
4 eggs
1 t. vanilla
1/3 c. lemon juice
3 c. flour
2 c. sugar
3 t. baking powder
¼ t. salt
4 medium apples
Topping:
½ c. sugar
2 t. cinnamon
Preheat oven to 325. Combine oil, eggs, vanilla and lemon juice. Beat until smooth and set aside. In medium bowl, combine flour, sugar, baking powder and salt. Make a well in the middle and add the egg mixture. Beat by hand until smooth. Batter will be very thick. Peel, core and dice the apples. Add apples to the batter and stir until well blended. Line 24 muffin tins with paper liners- or grease. Spoon the batter into the muffin pans, filling almost to the top. Combine cinnamon and sugar and sprinkle over the tops of the cupcakes. Bake for 22-24 minutes, or until golden and toothpick, inserted in cupcakes comes out clean. Makes 24.
I did a program with kids yesterday, and we made these caramel apples. The kids loved them and I wanted to share the recipe. Making caramel apples is a wonderful childhood memory for me. Every Autumn, we would make a batch.
We used those little store bought caramels. I was often the one tasked with unwrapping them. I can remember unwrapping one after the other. It seemed to take forever.
I wanted to make my own caramel, so that is what I did with the kids. It is so much better than the store bought version.
Caramel is not that hard to make. You do need to keep an eye on it. Stir constantly. Just a hint, be sure your candy thermometer is really secure. Mine was a little slippy on the pan I was using. At one point the thermometer slid into the caramel. Not what you want to have happen!!!
Once dipped in the caramel, you can dip the bottom of the apples in nuts, pumpkin seeds, sprinkles, cereal, or even popcorn.
Homemade Caramel Apples

1/2 c. butter, cut in cubes
2 c. packed brown sugar
1 c. corn syrup
pinch of salt
1 can sweetened condensed milk
2 t. vanilla
8-12 apples
chopped nuts, pumpkin seeds, cereal, sprinkles, popcorn for dipping the bottoms of the caramel apples, optional
In heavy saucepan combine the butter, sugar, syrup and salt. Bring mixture to a boil, stirring constantly. This will take about 10 minutes. Add milk and bring mixture up to 248 degrees. Remove from heat. Stir in vanilla. Place a Popsicle stick, skewer or chopstick down the center of each apple. Dip apples in the caramel, allowing excess to drip off- or not. Dip bottoms of apples into nuts, seeds or whatever ingredient you picked. Place on wax paper and allow to set up. If you don't want to dip the bottoms in anything, place the dipped apples on lightly buttered wax paper. Cool before serving. Makes 8-12 caramel apples.
Note: You could also use pears in the recipe.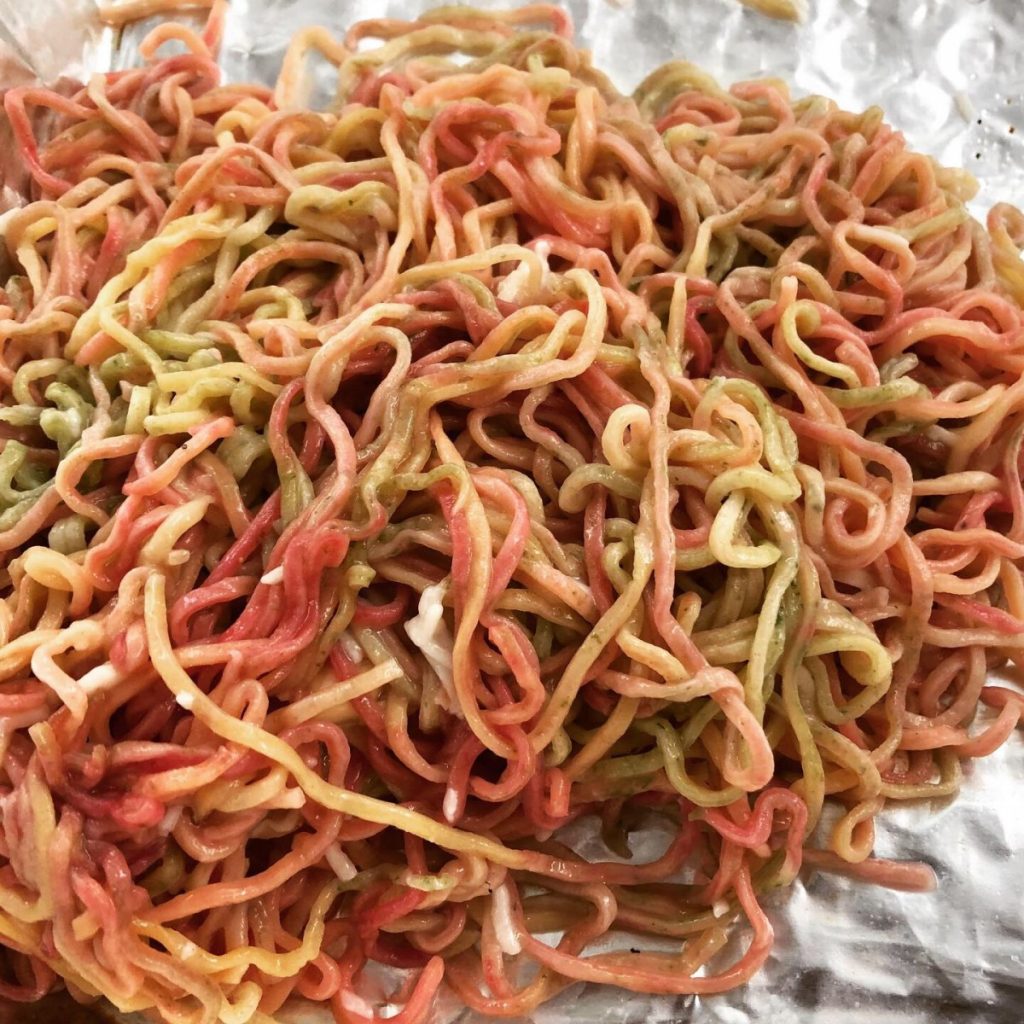 Homemade pasta is so much fun to make and the flavor is worth the extra effort. I taught a pasta making class last night. Everyone had a great time. We made several different veggie based pastas, including spinach, carrot and beet. The recipe is pretty simple. Cooked veggies and flour.
We combined the ingredients in a food processor, then let the dough rest before rolling. Once you are ready to roll out your pasta, the shape is up to you. You can hand roll the pasta, and cut into noodles. We used pasta makers to roll the dough, and then a cutting attachment for the angel hair pasta and linguine. Some dough was also used to make cheese stuffed ravioli, or combined with other pasta dough for more of a rainbow pasta.
We also had some egg based pasta dough and a parsley pasta dough.
Directions for mixing the dough is all the same- combine ingredients in a food processor and mix until dough forms into a ball. Allow to rest, covered, for 20 minutes, before rolling.
To cook fresh pasta, noodles are cooked in boiling, salted water for 1-2 minutes. Ravioli are cooked in boiling water for 3-5 minutes.
Mixed veggie pasta, ready to be cut
Spinach angel hair
Carrot and Spinach Ravioli
Parsley Linguine
Carrot Pasta
1 c. flour
1/3 c. cooked carrots
1-2 T. water, if needed
Beet Pasta
1 c. flour
1/3 c. cooked beets
1-2 T. water, if needed
Spinach Pasta
2 c. flour
1 10 oz. package frozen spinach, thawed, drained, reserving some of the liquid
Mix this dough as for other pastas, but don't be too quick to add reserved liquid. While processing, you'll get water out of the spinach. May require more kneading and rolling than other pasta dough. Be patient, it's worth the work.
Parsley Pasta
1 c. flour
3 t. chopped fresh parsley
1 egg
1 T. oil, (optional)
2-4 T. water, if needed
Basic Pasta Dough
1 c. flour
1 egg
1 T. olive oil
1 T. water, if needed
Four Cheese Ravioli Filling
3 c. shredded mozzarella cheese
15 oz. whole milk ricotta cheese
8 oz. cream cheese
5 oz. shredded Parmesan cheese
Combine all ingredients and mix well. Chill until ready to use. This will fill dozens and dozens of ravioli. Extra filling can be frozen and used another time.
This pasta sauce is one of my favorites. Most people don't think of carrots when they think of pasta sauce, but maybe they should. It tastes wonderful and looks pretty, too.
It's a simple sauce that packs a lot of flavor.
The process is easy. Just cook carrots, with sauteed onions and garlic in stock, until the carrots are really tender. Most of the liquid cooks off. Puree, adding cream or half and half and some dill. Adjust seasonings and you are done!
I used chicken stock, but you could use a vegetable stock for a vegetarian version of this dish.
Toss the sauce with pasta, rice, or even with veggies or meats.
You might get kids to eat carrots, this way.
Here is the recipe. I hope you try it.
Carrot Pasta Sauce
1 T. oil
1 onion, chopped
1 garlic clove, minced
1 lb. carrots, peeled and sliced
2 c. chicken or vegetable stock
Salt and pepper to taste
1/2 c. cream, half and half or evaporated milk
1T. fresh dill or 1 t. dried
Hot cooked pasta
Sauté onion in oil until tender. Add garlic, carrots and stock and cook until carrots are very tender. Much of the liquid should have evaporated by then. Place mixture in blender and add cream or milk, mixing until smooth. Add dill and adjust seasonings, tossing over hot pasta to serve. I sometimes top with some shredded Parmesan cheese, too.
Variations: Use sweet potatoes, pumpkin, winter squash or even peas for different tastes.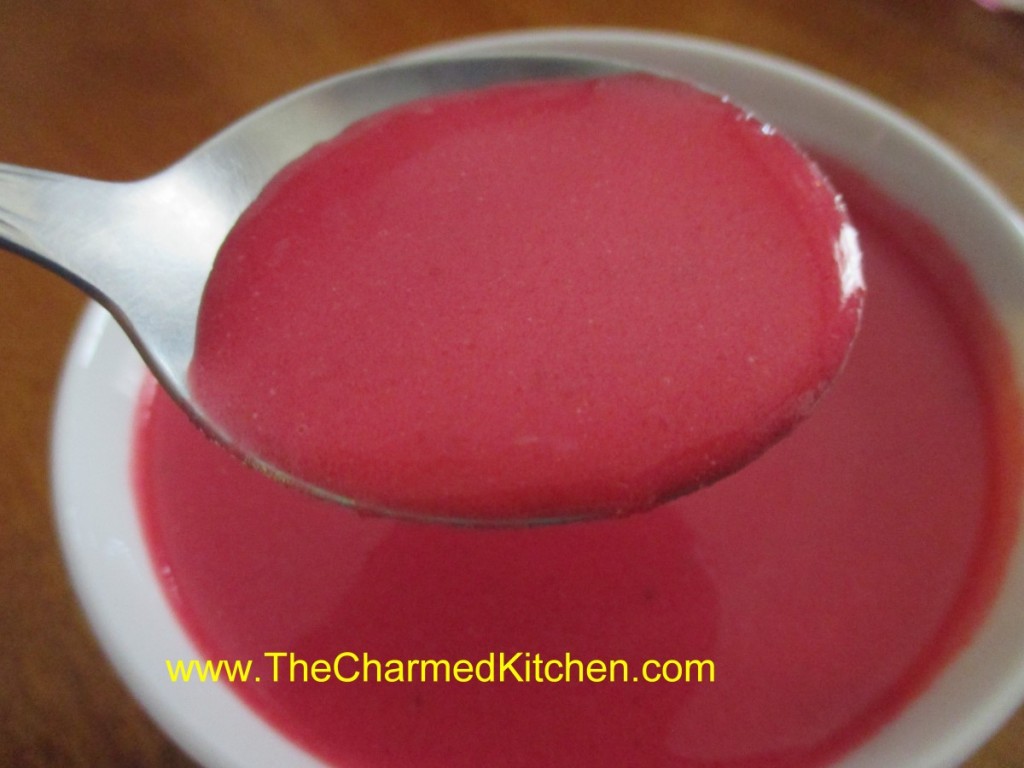 Since I had some fresh beets, I decided to make this soup. It is a favorite soup of mine – but perfect for this time of the year. One day we are wearing sweaters- the next day- we are the "sweaters", so to speak. I am enjoying my soup warm and steamy one day- chilled the next.
That is one of the nice things about this recipe. This soup is good, what ever temperature you serve it.
It is also a pretty soup. The color is so beautiful. A friend came over and I offered her a bowl. When I set it down in front of her she said, "Wow, this is really pink soup."
People seem to have strong opinions about beets. They either love them or hate them. I love them and I enjoy them in soups, salads, relishes, casseroles and more. The earthy flavor really appeals to me and the color is a delightful bonus. I added some extra veggies for more flavor and sour cream for a tart, creamy flavor and texture element. The result was a very tasty dish that is also sort of striking to look at.
Hot or Cold Beet Soup
6 or 7 small beets – or 3 large beets
2 T. olive oil
1 large onion, chopped
2 carrots, peeled and chopped
1 rib celery, chopped
3 medium potatoes, peeled and chopped
6 cups stock- I used chicken but vegetable stock or beef stock would also work
2 t. dill weed
salt and pepper to taste
1 c. sour cream- or a little more if you like
Cut beets off of their stems- leaving about 2 inches attached- this will reduce bleeding and retain more color in the beets. Place beets in a pot of water deep enough to cover them and cook until the beets are just getting tender, about 20 minutes – longer for larger beets. Remove and place in cold water. Once the beets are cool enough to handle trim off the stems and slip off the skins. Cut the beets into chunks and set aside. In soup pot heat the oil and cook the onion until tender. Add the carrots and beets and cook a few minutes longer. Add the rest of the vegetables, stock, dill and simmer, covered, until vegetables are very tender. This will take at least 30 minutes- but cooking longer is better- around an hour. Puree the soup. To add the sour cream place sour cream in a bowl and add a ladle full of the hot soup to the sour cream, whisking until smooth. Add another ladle or two of the soup and whisk again. Return sour cream mixture to the soup. By warming the sour cream gently you prevent it curdling. Adjust seasonings and serve right away, or refrigerate and serve cold. Serves 6-8. Freezes well.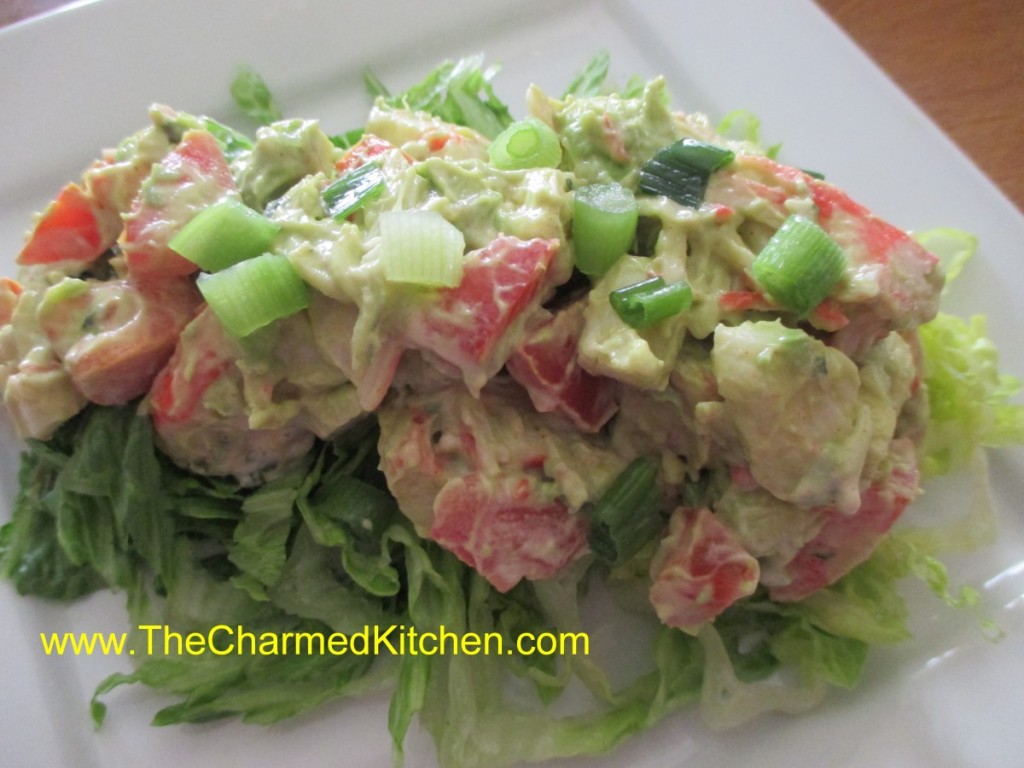 I don't think you can go wrong combining crab and avocado. The sweetness of the crab pairs so well with the buttery flavor and texture of the avocado. I used crab legs, but canned would be fine, too. For this salad I wanted big chunks of crab, so I used crab legs. I made a simple dressing with mayo, capers, paprika, hot sauce, garlic and cumin. For some crunch, I served the salad over a bed of shredded romaine lettuce.
Crab and Avocado Salad
2 c. crab meat
2 avocados, peeled, pitted and chopped
2 small tomatoes, seeded and diced
juice of 1 lime
Dressing
1/2 c. mayo
1 T. capers
1 t. cumin
1 t. paprika
1/2 t. garlic powder
dash of hot sauce, or to taste
salt and pepper to taste
Shredded lettuce- I used romaine
Green onions, chopped, optional
Combine crab with avocado and tomato in a medium bowl. Drizzle the lime juice over the crab mixture and toss. Combine dressing ingredients and stir into crab mixture. Adjust seasonings and chill until ready to use. Serve over shredded lettuce. Garnish with green onions, if desired. Serves 2.
I love apple season. I will go to local farm markets and orchards most weekends, picking out different varieties each time.
Several of my favorite varieties won't be around until October, but there is a great selection already.
I eat plenty of apples fresh, but I also cook with them. This is one of my favorite apple recipes.
The tender cake and crunchy topping seem like the perfect combination. Most days I would rather have a crumb topping on a cake than frosting.
This recipe hits all the right notes. Sweet with apple chunks throughout, a nice touch of cinnamon and that crunchy topping that I love.
Apple Crumb Cake
For cake batter:
2 c. flour
2 t. baking powder
½ t. salt
½ stick (¼ cup) butter, softened
¾ c. sugar
1 egg
½ c. milk
2 c. chopped peeled, cored apples
For topping:
½ c. sugar
¼ c. flour
2 t. cinnamon
½ stick (¼ c. butter, chilled and cut into bits)
Combine dry ingredients and set aside. In mixing bowl with electric mixer, beat butter and sugar until light and fluffy. Beat in egg and milk. Add flour mixture gradually until just mixed in. Fold in apples. Grease and flour an 8 or 9-inch pan and add prepared batter. Combine topping ingredients until they resemble coarse crumbs. Sprinkle over the batter in pan and bake in a preheated 375-degree oven for 35-45 minutes. Use toothpick to test.
Note: I used a 9-inch square pan and it worked fine.
Tomato season is all about those firm, ripe, juicy tomatoes. For me, tomato season is also about fried green tomatoes.
Green tomatoes have a very different flavor than ripe tomatoes. It is like tomatoes and lemons had a baby. There is a distinct citrus-like tartness in green tomatoes.
Green tomatoes are pretty hard, compared to ripe tomatoes, which makes them great for frying. They soften, but don't fall apart when fried.
There are a number of variations on exactly how to fry your tomatoes. I do a traditional breaded method, flour, egg wash and cracker crumbs. Then I pan-fry them.
I like using cracker crumbs, but you could use bread crumbs instead. I have friends that love to use cornmeal instead.
So here is my recipe. I hope you give it a try.
Fried Green Tomatoes
1 c. flour, or 1/2 c. flour and 1/2 c. cornmeal
1 t. salt
1 t. pepper
5 green tomatoes, sliced 1/2-inch thick
1-2 c. cracker crumbs, saltines preferred
2 eggs, beaten
butter or oil for pan frying
Place flour and seasonings in small bowl. Place crumbs in second bowl and eggs in a third bowl. Dip tomato slices in eggs then in flour. Dip slice in egg again and then in crumbs. Fry slices in hot oil until golden and tender in the middle, turning to cook evenly. Drain and serve warm. Serves 4-6.