If you need a great food gift, this brittle might just be the answer. It is fast and easy to make.
I was given this recipe at a craft show a few years ago. The brittle is cooked in the microwave. No special thermometers or equipment required. Just a glass bowl and a few minutes of your time. It could not be simpler. It is really good, too.
You can use other nuts, if you prefer, or peanuts. You can add a little cayenne pepper, if you want a spicy version. You can also dress it up with a drizzle of chocolate, once cooled. So many ways to enjoy it.
Stored in a covered container, in a cool, dry place, the brittle will stay crunchy for weeks.
Homemade Cashew Brittle
2 c. cashews*
1 c. sugar
1/2 c. corn syrup
1/8 t. salt
1 t. butter
1 t. vanilla
1 t. baking soda
Butter or oil a large baking sheet and set aside. In a 3-4 quart glass bowl combine the nuts, sugar, corn syrup and salt. Microwave on high for 3 minutes. Remove from microwave, stir well and return to microwave. Cook 3 more minutes in microwave. Remove and stir in butter and vanilla, stirring until butter has melted. Return to microwave and cook for 2 more minutes. Remove from microwave and stir in baking soda. Stir until well blended and pour mixture onto prepared baking sheet. Spread out quickly, then allow to cool. Once cool, break into pieces. Store in a cool, dry place. I normally store it in a tin or plastic container with a tight-fitting lid.
* I used salted cashews but feel free to experiment with other nuts
Note: Use high power setting on microwave.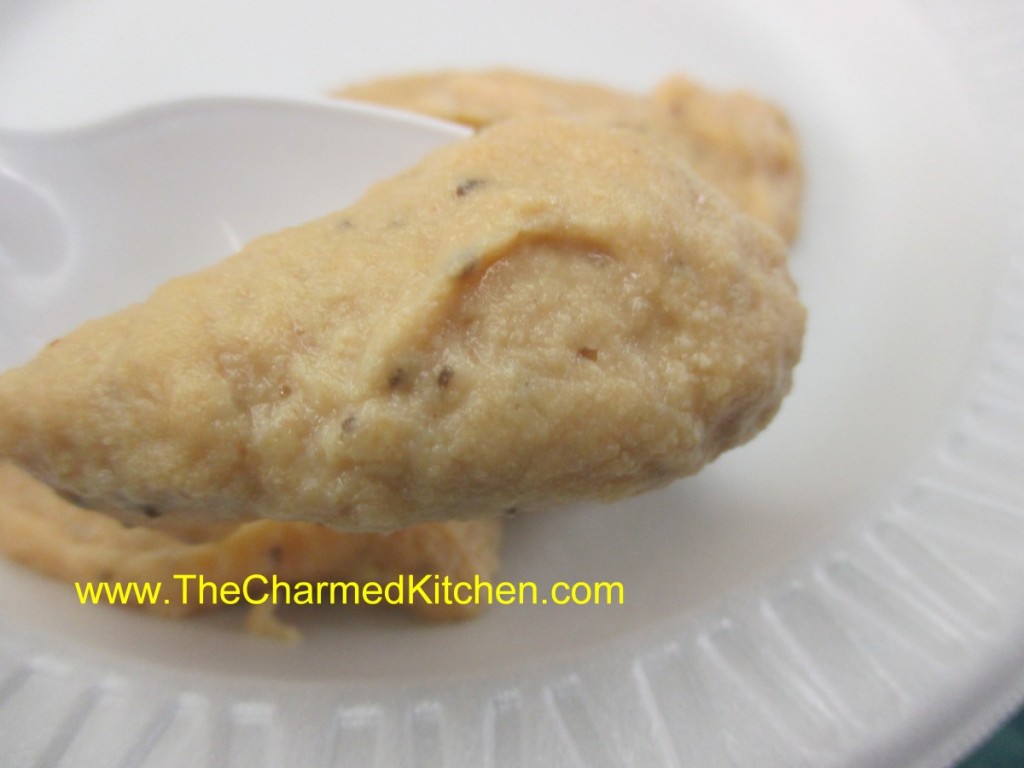 I love making food gifts for the holidays. I often make cookies or other baked goods. But not everyone wants sweets. For those friends and family, I often make them homemade mustard. I have included recipes for 5 of my favorite mustards.
I wasn't a big fan of mustard, when I was a kid. I am now. I enjoy using all types of mustard in all sorts of dishes, not just on hot dogs.
Mustard is great on sandwiches and sausages. It is a versatile ingredient for salads, salad dressings, marinades and all sorts of sauces. I lean towards spicy brown mustard myself.
I also enjoy making my own mustard. That way, I can tweak the seasonings.
So here are five of my favorite homemade mustard recipes. If you never made mustard before- you might want to try. It is easy, and fun. Four of them are stored in the fridge- and will keep for months. For gift-giving, look for decorative jars or crocks to put them in. The fifth recipe is canned, so 4 ounce canning jars are required, but it doesn't have to be stored in the fridge.
Horseradish Mustard
1 c. dry mustard
3/4 c. white wine vinegar
1/3 c. dry white wine or dry sherry
1/4 c. brown sugar
1/4 c. granulated sugar
1 T. dried minced onion
2 t. caraway seeds
1 1/2 t. salt
1/4 t. coarse ground mustard
2 eggs, slightly beaten
1 T. prepared horseradish
Combine all ingredients, except eggs and horseradish in top of double boiler and let stand at room temperature for 2 hours. Whisk in eggs and cook over simmering water until mixture has thickened and eggs are cooked, about 10 minutes. Remove from heat and stir in horseradish. Pour into sterilized jar, cool and cover. Store in fridge for up to 3 months. Makes 2 cups.
Bavarian Mustard
3/4 c. beer
2/3 c. dry mustard
2 T. sugar
2 T. cider vinegar
2 t. salt
1-t. celery seeds
1/2 t. fresh grated ginger or 1/4 t. dry
1 egg, beaten
Combine all but the egg in the top of a double boiler and let stand 2 hours at room temperature. Stir in egg and cook over simmering water. stirring constantly until mixture thickens and egg is cooked, about 10 minutes. Pour into sterilized jars and cool before covering. Store in fridge for up to 2 months. Makes 2 cups.
Spicy Mustard
1 c. dry mustard
2/3 c. dry white wine
1/2 c. vinegar, flavored with herbs or garlic
1/2 c. sugar
2 t. salt
1 t. basil
1 t. chili powder
1 t. dried minced garlic
1 t. oregano
1/2 t. cracked pepper
2 eggs, slightly beaten
Mix all ingredients, except eggs, in top of double boiler and let stand 2 hours at room temperature. Add eggs and cook over simmering water, stirring constantly until mixture thickens and eggs are cooked, about 10 minutes. Pour into sterilized jars and cool down before covering and refrigerating. Keeps in fridge for up to 2-3 months. Makes 2 cups.
French Herb Mustard
1/4 c. dry mustard
1/4 c. white wine vinegar
1/4 c. white wine or dry sherry
1/4 c. brown sugar
1/2 t. salt
1/2 t. tarragon
1/4 t. dill seed
1/4 t. celery seed
1/4 t. ground cloves
3 egg yolks or 1 whole egg
Combine all ingredients, except eggs, in top of double boiler and let stand at room temperature 2 hours. Whisk in eggs and cook over simmering water, stirring constantly, until mustard thickens and eggs are cooked, about 5 minutes. Store in crock or jar in fridge for up to 1 month. Makes 1 cup, recipe can be doubled.
This recipe can be canned, so it doesn't have to be kept in the fridge. I bit of work , but worth the effort. Makes about 6, (4 ounce) jars.
Dijon Mustard
2 cups chopped onion
2 cups Pinot Grigio or other dry white wine
1 cup white wine vinegar (5% acidity)
1 tsp. salt
6 garlic cloves, coarsely chopped
4 black peppercorns
1 rosemary sprig
1 cup yellow mustard seeds
1⁄3 cup dry mustard
2 2⁄3 cups water
Combine first 7 ingredients in a large stainless steel or enameled saucepan. Bring to a boil over high heat; reduce heat, and simmer, uncovered, 15 to 20 minutes or until onion is very soft, stirring occasionally. Remove pan from heat; pour onion mixture through a wire-mesh strainer into a glass or stainless steel bowl. Discard solids. Stir mustard seeds and dry mustard into wine mixture. Cover and let stand at room temperature at least 24 hours, but no longer than 48 hours. Process mustard mixture in a blender or food processor, adding water until consistency of cooked oatmeal. Transfer mustard to a small saucepan. Bring to a boil, stirring often; reduce heat, and simmer, uncovered 5 minutes. Ladle hot mustard into a hot jar, leaving 1⁄4-inch headspace. Remove air bubbles. Wipe jar rim. Center lid on jar. Apply band and adjust to fingertip-tight. Place jar in boiling- water canner. Repeat until all jars are filled. Process jars 10 minutes, adjusting for altitude. Turn off heat; remove lid, and let jars stand 5 minutes. Remove jars and let cool.
Source Ball Book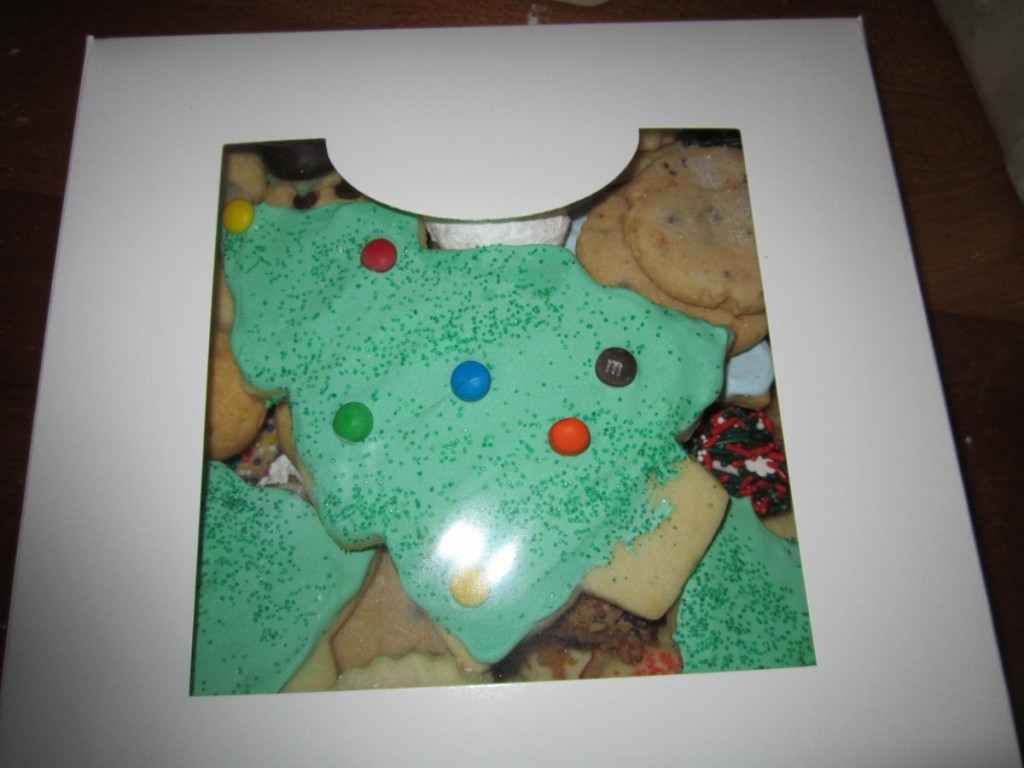 I will be selling boxes of cookies again this year. The boxes weigh more than 2 pounds and contain at least 10 different kinds of cookies. Contact me if you are interested. They are $25 ( $22 per box if you order 3 or more) and will be available for pick-up at my house starting December 21th.
But there's more……
I will have other holiday treats.
Pumpkin bread, cranberry bread, or applesauce bread. Large (4×8) $8 Small (3×6) $5
Pumpkin Cake Rolls- $20
Chocolate Beet Cake (Red Velvet) (6×8 in)or Pumpkin Squares (6×8 in.) $8
I will also be making the Christmas tree coffee cakes, pictured below. Eleven rich pineapple and cream cheese rolls- in the shape of a Christmas tree. Adorable. $25
Contact me: Judi_strauss@att.net
or text at 216 501 2905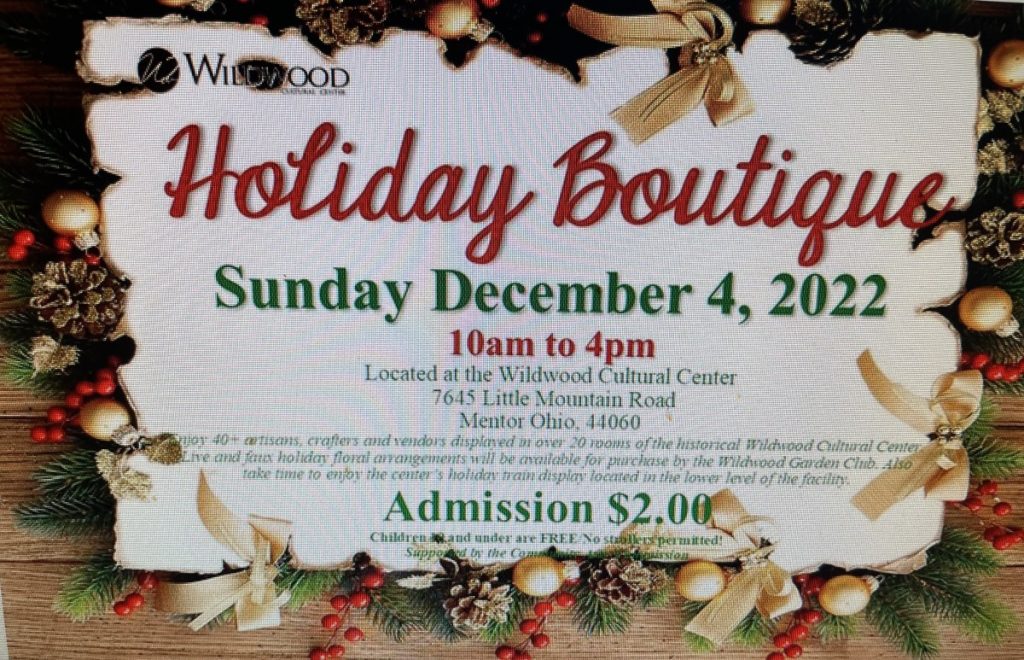 I will be at this wonderful show this Sunday. I will be selling my cookbooks, jams and jellies and herb seasonings. Come in and say hello.
Forget any of the store-bought "cheesy" crackers you have had in the past. These are so much better. The dough is pretty simple, with just 5 ingredients- cheese, butter, salt, cayenne or hot sauce and flour.
Homemade crackers are not hard to make at all. They do involve a little time, but it is well worth it.
We used miniature cookie cutters (also called aspic cutters) that come in all sorts of adorable shapes. You can also just cut the dough into thin strips, or small squares. We even cut some in little fish shapes, like a popular cheesy snack cracker.
I used sharp cheddar cheese, but you can play around with other cheeses. I have made these with Swiss cheese and they were also good. You can add more cayenne or add some herbs, if you like. I really recommend using a food processor to make the dough. It helps to get the cheese and flour to combine.
They don't spread at all, so you can place them pretty close together on the baking sheet.
Think of how much fun these would be to serve at your next party. They make a nice gift, too.
Cheese Puffs
1 lb. sharp cheddar cheese, grated
½ c. butter
½ t. salt
¼ t. cayenne pepper or hot pepper sauce to taste
1¾ c. flour
In mixer or food processor, combine cheese and butter until smooth. Add remaining ingredients and blend until pretty smooth. Roll out onto lightly floured surface to 1/4-inch thickness. Cut into thin strips or use mini cookie cutters to make shapes. Place on ungreased baking sheet, nearly touching, as they do not spread. Bake in a preheated 350 degree oven for 15-20 minutes. Bottoms should be lightly browned. Makes about 100, freeze well.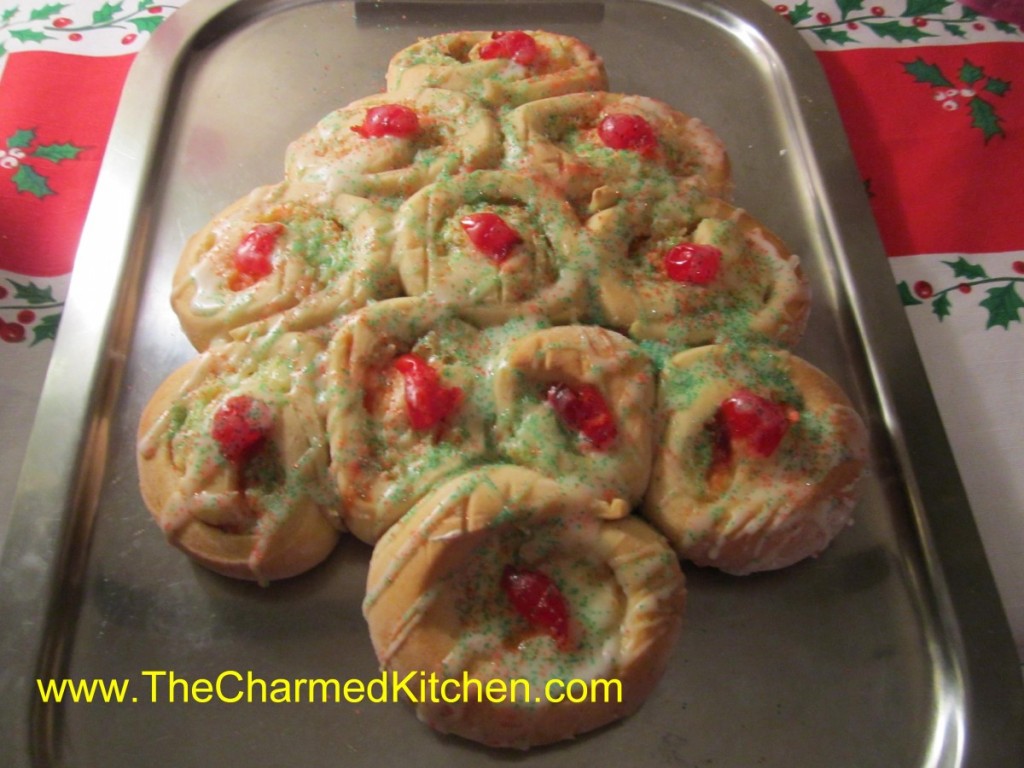 This Christmas "tree" has become a tradition around here. I make one as a gift for a dear friend every year. If you are looking for something to serve for Christmas morning, or even as a dessert option, I suggest you make this coffee cake.
The recipe actually makes 2 "trees," so you can have one to give- and one to keep. Or perhaps, one for Christmas Eve and one for Christmas Day.
The yeast dough is prepared, then chilled before rolling. You can do that a day, or even two days, ahead of time. The rolls are filled with a pineapple and cream cheese mixture and are very tasty.
The rolls are arranged in a tree pattern before baking. Then, after baking, the "tree" is topped with a light glaze and gently sprinkled with red and green sugars. The original recipe called for candied cherries. You can use them, or Maraschino cherries or even dried cherries or cranberries. I can my own spiced cherries and sometimes use them. So pretty, and not that hard to make.
Here is the recipe.
Christmas Tree Coffee Cake
Dough:
4-4 1/2 c. bread flour
1/2 c. sugar
1 1/2 t. salt
2 packages active dry yeast
3/4 c. milk
1/2 c. water
1/2 c. butter
1 egg
Filling:
1 lb. Cream cheese, softened
1/2 c. sugar
1/4 t. nutmeg
dash salt
1/4 t. vanilla
1 (20 oz.) can pineapple in its own juice drained and squeezed dry
Topping:
11 Maraschino cherries, halved
2 c. powdered sugar
3 T. milk
red and green sugars
For dough in large mixing bowl combine 2 cups of the flour with the sugar, salt and yeast. Heat together the milk, water and butter until very warm. Add to flour mixture and beat 2 minutes. Add egg and 1 more cup of flour and beat 2 more minutes. Stir in enough of the remaining dough to make a stiff batter, about 1 cup. Cover bowl tightly with foil or plastic wrap and refrigerate for at least 2 hours or up to 3 days before using. For filling combine all ingredients for the filling except the pineapple and beat until smooth. Stir in pineapple and set aside until ready to use. Remove dough from fridge cut in half. Roll out one piece on lightly floured surface into a 10×11- inch rectangle. Spread with half the filling, leaving an inch at the end of 11-inch side. Roll up from eleven- inch side. Use thread or dental floss to cut through dough in 1-inch pieces by placing thread under roll and crossing ends. Pull outward and thread should cut through dough. If you aren't having any luck you can always use a knife, but they tend to flatten the rolls. On a greased baking sheet arrange the slices (you should have 11) into a tree shape. Start with one on the top and then a row of 2 below then 3 and then 4. The last roll will serve as the trunk. Cover dough with plastic wrap and set in a warm place to rise. Repeat with the remaining dough and filling. When dough is risen, about 1-2 hours bake in a 375- degree oven for 15 minutes then cover edges with foil to prevent over browning and return to oven for 10 minutes more. Cool on wire rack. Place half a cherry in the middle of each roll. Make a glaze with powdered sugar and milk and drizzle over. Sprinkle with the sugars. Makes 2 trees, 11 rolls each. Can be frozen up to a month ahead . Defrost in a 350 -degree oven for 10 minutes and apply toppings.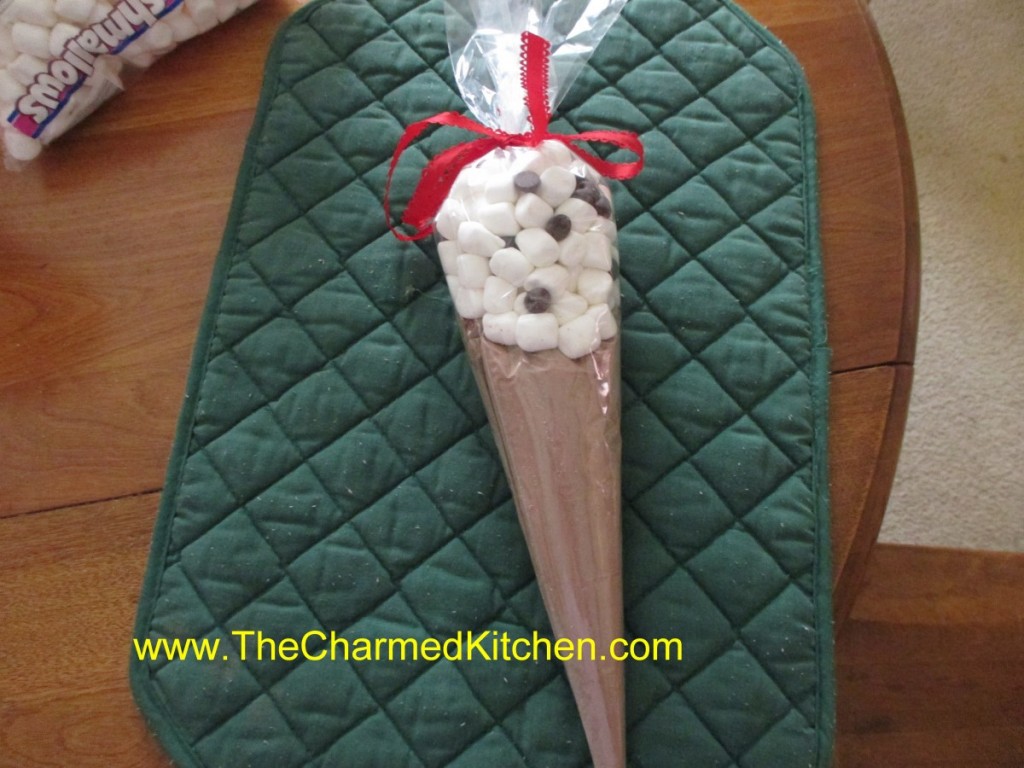 I am always looking for homemade gift ideas for the holidays. I really like gifts that both adults and kids can make. This one is just a simple way to package homemade hot cocoa mix to make it special.
You start with hot cocoa mix- recipe follows. Then you get these cone-shaped bags. I use a 12-inch size and a 17-inch size. I buy my online, but they are available in some craft and candy making stores. Put about 1 cup of the hot cocoa mix in the smaller cone-shaped bag. Fold the top down and tape it shut. Now place the smaller bag inside the larger bag. Top with about a cup of mini marshmallows mixed with some chocolate chips. The chips are optional. Tie shut with a ribbon. It ends up looking (sort of) like an ice cream cone. I add a label that says "Hot Cocoa for Two" with directions that say, "Divide hot cocoa mix between two large mugs. Fill with a cup of boiling water in each. Stir and top with the marshmallows". You can make whatever label you like. A quick and simple gift. You could also include mugs with the gift. This is a great idea for kids to make for grandparents, teachers, etc.
Here is the recipe for the hot cocoa mix.
Hot Cocoa Mix
3 c. nonfat dry milk
1 c. cocoa
1 c. sugar
1/4 t. salt
1 c. mini marshmallows (optional)
In large bowl, mix all ingredients well. I like to sift the ingredients in because it powders the milk even finer than the way it comes. Store in an airtight jar and use within 6 months. To use add 5 tablespoonfuls to 8 ounces boiling water. Variation, flavor with cinnamon, instant coffee, cayenne pepper or even dried orange peel.
These tasty dumplings are easy to make and taste just wonderful. In many ways I think they are easier to make than pasta. The dough is mixed and rolled into ropes, then cut into individual pieces and boiled. No rolling pins or heavy lifting required. You can add the traditional gnocchi ridges by rolling the cut pieces of dough over the back of a fork before cooking. It is optional, but does look nice.
They can be served as a side dish, with butter and salt, We added some Parmesan cheese. You can also toss them with your favorite pasta sauce.
The dough is a combination of cooked sweet potato, cooked russet potato, eggs, flour and salt. I have made them without the russets and liked them best with a little added. Other white potatoes could also be used. You can certainly add additional seasonings, if you like. Turmeric can be added for color, rather than flavor.
Sweet Potato Gnocchi
1 c. mashed, cooked sweet potatoes
½ c. mashed, cooked russet potatoes
2 eggs
1 t. salt
1 t. turmeric, optional
2 c. flour or more
Get a pot of water boiling. In mixing bowl combine the sweet potatoes with the eggs and seasonings. Add about 1½ cups of the flour and stir until a soft dough forms. Continue adding flour, a little at a time, until the dough can be handled without sticking to your hands but is still soft. Take about ¼ of the dough at a time and roll into a rope, about 15 inches long, on a floured work surface. Cut dough into ½ inch thick pieces. You can leave them as is, or add ridges by rolling each gnocchi over the tines of a fork. Place gnocchi in a pot of boiling water and after a few minutes the they will float to the top. Cook them for several minutes after they have risen to the top of the pot. Remove with a slotted spoon and drain. If you aren't going to use them right away drizzle with a little oil to prevent sticking or toss with butter. You can also run a little cold water over them instead. Repeat with the remaining dough.
Winter squash season is here, and I could not be happier. I love the variety of squash (and pumpkin) at the markets this time of year. They are both beautiful and tasty.
This dish is a combination of butternut squash with onions, garlic, carrots, and finished off with black sesame seeds. It makes a great, seasonal side dish.
I used butternut squash, but you could use any number of hard squashes, or even pumpkin. If you are looking for a different way to cook some of those squash- try this dish. I think you might be surprised at just how good it is.
When cutting up hard squashes, you have to be careful not to cut yourself. A round, hard  squash, with a tough outer skin can be a recipe for disaster. I trim a small slice off one end of my squash, creating a flat side. Then I lay it down on that side, to make it more stable for cutting. With the butternut, once it was sliced on one side, I was able to cut in in half pretty easily. Recently I had a small, very hard Hubbard squash to cut open. My friend suggested softening it up by cooking it in the microwave. We cooked it for 5 minutes and it sliced in half so easily. Thanks, Joe.
To peel a hard squash, so you can cut it into cubes, use a vegetable peeler to remove the skin. You will need to run the peeler over the skin a few times to get off all of it. Then cut into cubes. You can also use a sharp knife. Just be careful.
Butternut Squash Sauté
3 tablespoons olive oil
1/2 cup chopped onion
1 teaspoon minced garlic
4 cups cubed fresh butternut, acorn or Hubbard squash or pumpkin
1/2 cup grated carrot
2 tablespoons soy sauce
1 teaspoon salt
1 teaspoon ground black pepper
2 teaspoons black sesame seeds, or a bit more
Heat the oil in a large skillet. Add the onion and garlic; cook and stir until the onions begin to brown. Stir in the squash, carrot, soy sauce, salt, and pepper; cook, covered, another 5 to 7 minutes, until squash is tender. Sprinkle with sesame seeds before serving.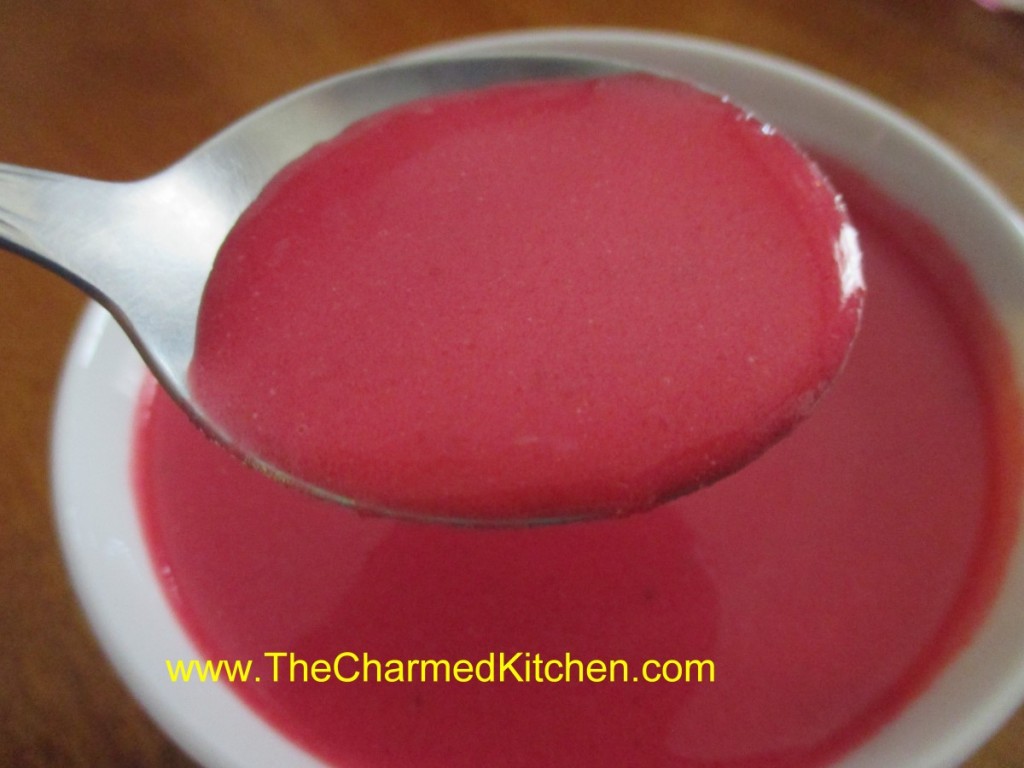 Since I had a beautiful bunch of beets, I decided to make this soup. On cooler days, I heat it up. On hot days, I serve it chilled. That is one of the nice things about this recipe. This soup is good, what ever temperature you serve it.
It is also a pretty soup. The color is so beautiful. A friend came over and I offered her a bowl. When I set it down in front of her she said, "Wow, this is really pink soup." I just called it pink soup after that.
People seem to have strong opinions about beets. They either love them or hate them. I love them and I enjoy them in soups, salads, relishes, casseroles and more. The earthy flavor really appeals to me and the color is a delightful bonus. I added some extra veggies for more flavor and sour cream for a tart, creamy flavor and texture element. The result was a very tasty dish that is also sort of striking to look at.
Beet Pink Soup
6 or 7 small beets – or 3 large beets
2 T. olive oil
1 large onion, chopped
2 carrots, peeled and chopped
1 rib celery, chopped
3 medium potatoes, peeled and chopped
6 cups stock- I used chicken but vegetable stock or beef stock would also work
2 t. dill weed
salt and pepper to taste
1 c. sour cream or Greek yogurt- or a little more if you like
Cut beets off of their stems- leaving about 2 inches attached- this will reduce bleeding and retain more color in the beets.  Place beets in a pot of water deep enough to cover them and cook until the beets are just getting tender, about 20 minutes – longer for larger beets. Remove and place in cold water. Once the beets are cool enough to handle trim off the stems and slip off the skins. Cut the beets into chunks and set aside. In soup pot, heat the oil and cook the onion until tender. Add the carrots and beets and cook a few minutes longer. Add the rest of the vegetables, stock, dill and simmer, covered, until vegetables are very tender. This will take at least 30 minutes- but cooking longer is better- around an hour.  Puree the soup. To add the sour cream place sour cream in a bowl and add a ladle full of the hot soup to the sour cream, whisking until smooth. Add another ladle or two of the soup and whisk again. Return sour cream mixture to the soup. By warming the sour cream gently you prevent it curdling. Adjust seasonings and serve right away, or refrigerate and serve cold.  Serves 6-8. Freezes well.