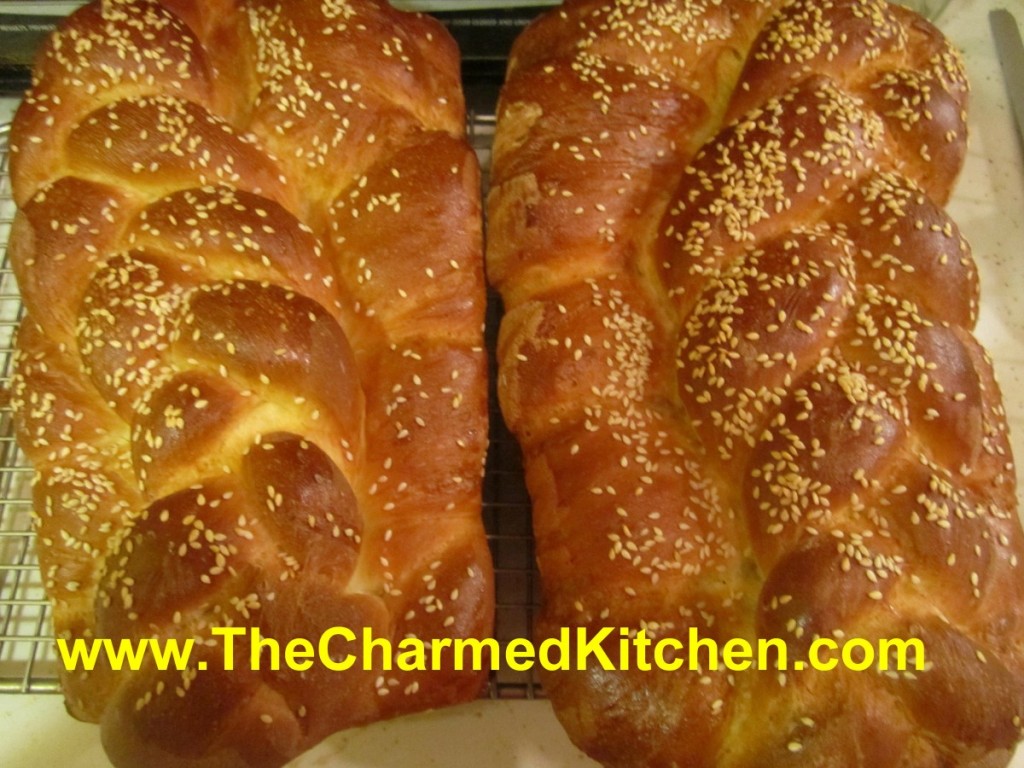 I have wonderful memories of my mother making this bread. Whenever I make it, I think of her. It is a simple egg bread, in many ways, but the braiding makes it look so pretty. You can bake the bread in loaf pans, or on baking sheets. Both look great.
This is one of my favorite sandwich breads, but I also like it for French toast. Challah is a nice option for bread in your holiday stuffing (or dressing) and it makes great bread pudding.
Challah
2 c. hot water
1 T. each sugar, salt and oil
1 package active dry yeast
¼ c. warm water
About 8 cups flour
2 beaten eggs
Poppy or sesame seeds, optional
In large bowl combine hot water, salt, sugar and oil. Dissolve yeast in warm water in small bowl and add to oil/water mix. Stir in 1 cup of the flour and eggs, reserving 2 tablespoons of the eggs for later. Gradually stir in enough of the flour to make soft dough. When dough pulls away from sides of bowl remove to floured surface. Knead dough, adding flour as necessary about 8-10 minutes. Dough should be smooth and elastic. Place dough in a lightly greased bowl, turning to grease top, cover with a towel and allow to rise in a warm, draft free place until doubled, about 1 hour.
Punch dough down and divide into 8 equal pieces. Roll three of the pieces into 12- inch ropes. Place in a greased 9×5-inch loaf pan. Take one of the remaining pieces of dough and divide into thirds. Roll the pieces into 3-nine inch ropes and place on top of the braid already in the pan. Repeat with remaining dough and cover. Allow to rise until doubled in bulk, about 1 hour. Preheat oven to 400 degrees. Brush loaves with reserved eggs and sprinkle with sesame or poppy seeds, if desired. Bake 40-45 minutes. When done loaves will be nicely browned and sound hollow when tapped. Makes 2 loaves.
Note: Bread dough can also be placed on greased baking sheets instead of in loaf pans. The result will be longer and flatter loaves. I think they are very pretty.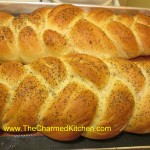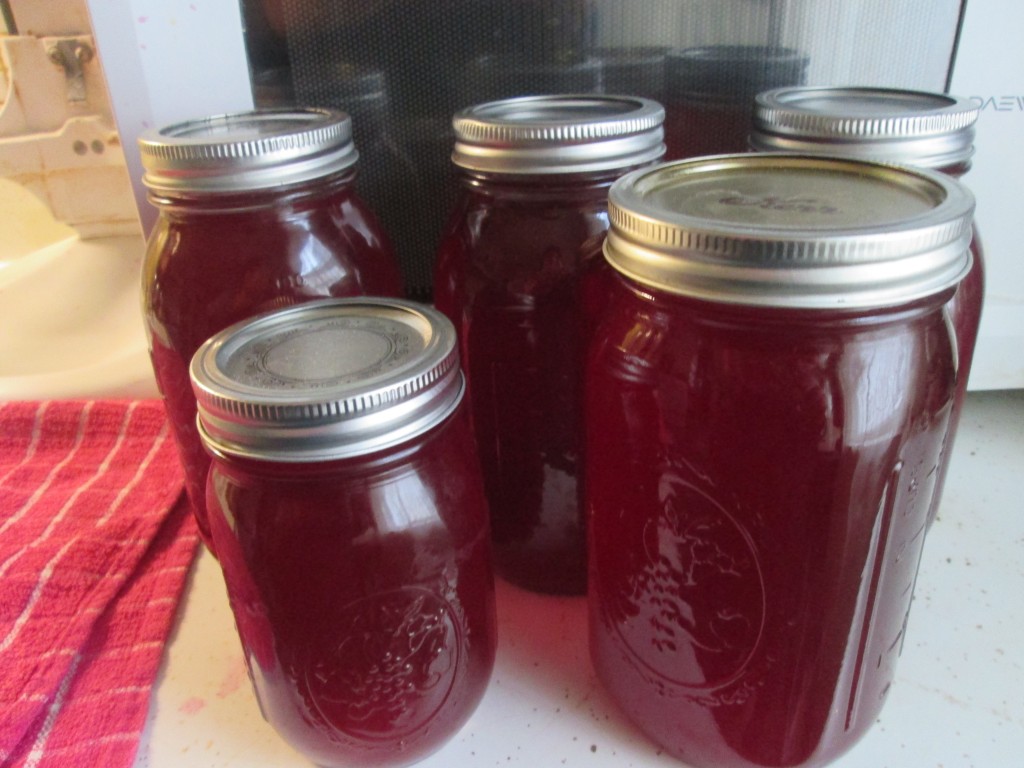 I bought quite a few bags of cranberries right after Thanksgiving. I popped them in the freezer to enjoy later. As part of my pantry challenge, I am trying to use the ingredients I already have, rather than go to the grocery store. I also did an inventory of my freezer. I wanted to get these cranberries out of my freezer and use them for something. I decided to make and can cranberry juice. I even used the leftover pulp (after I strained the juice) for cranberry fruit roll ups.
The juice came out great. So much better than store-bought. It was pretty easy, too.
I started with about 5 quarts of berries, which I had sorted out for bad ones, and rinsed. I measured them out and added an equal amount of water. I brought this mixture to a boil and let it cook until the berries starting popping. I strained the juice twice. First time through a fine strainer. Then I put the juice in the fridge overnight. This allowed the solids to settle to the bottom. The second time, I strained the juice through a strainer lined with cheesecloth.
I returned the juice to the pot and brought it up barely to a simmer (190 degrees). To sweeten it, I added less than a cup of sugar, which comes out to less than a 1/4 cup per quart of juice. Once the juice was up to a simmer, I ladled it into clean, hot quart canning jars. I filled them to about 1/4 inch from the top, wiped the rims and closed the jars. I also used the last of it to fill a pint jar. Processed in a boiling water bath for 15 minutes. Once the time was up, I turned off the heat and left the jars in the canner for five minutes before placing them on the counter to cool. Ended up with 5 quarts and 1 pint for my efforts.
After making cranberry juice I was left with a lot of pulp. I didn't want to toss it, so I decided to make cranberry fruit roll ups with it. I mashed the pulp with a fork, then sweetened just a little- less than half a cup of sugar. I  spread the mixture on plastic wrap placed on the trays of my dehydrator. I ended up with 8 of them. I dried them overnight. They should be pliable but not sticky to the touch when done. A  friend stopped over yesterday and got a chance to taste one. She said she liked that the roll ups were not too sweet- they had a nice tartness to them. Once finished, I rolled them up in the plastic wrap and will store them in the fridge. Honestly, they aren't going to be around long.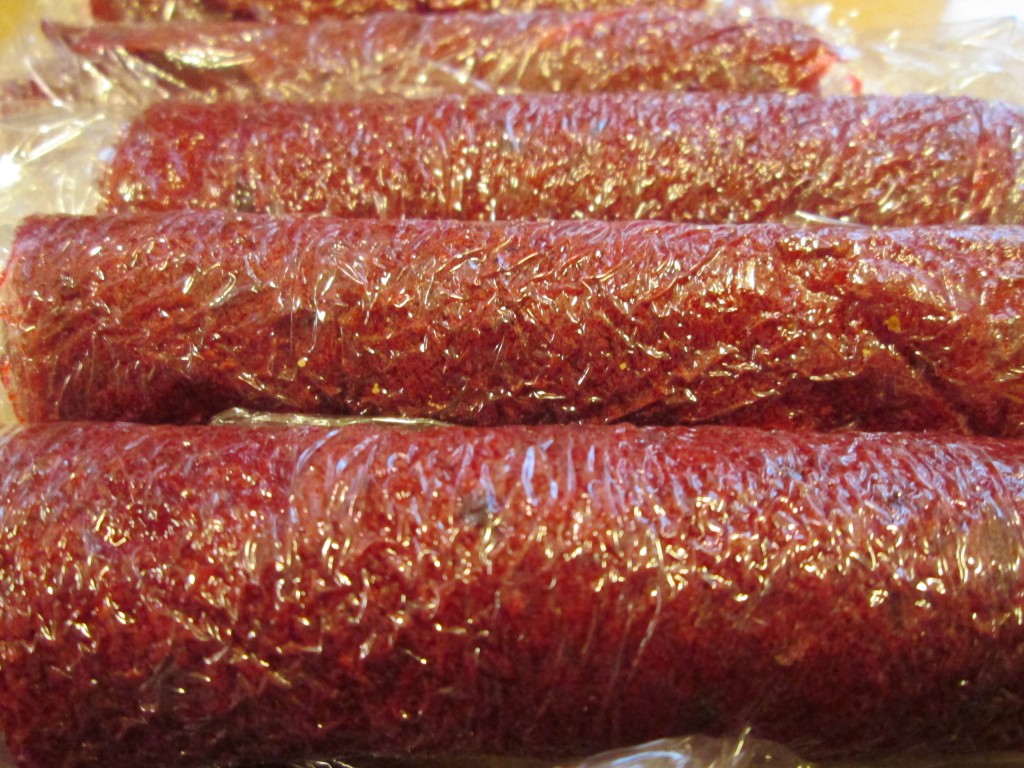 Winter is citrus season. Oranges and other citrus fruits are abundant this time of year. I love them. I love the tiny Mandarins, the big navels and the seedy, but oh so juicy, Temples. I am content to just peel and eat any of them, any time.
You can do a lot more with oranges than just eating them fresh or juicing them. Oranges can be added to both sweet and savory dishes. We use lemons and limes in cooking all the time, why not cook with oranges?
I have put together some of my favorite recipes using oranges. I've even including recipes to use the peels!! Enjoy!!
Orange Broiled Salmon
2 large oranges
4 (4 ounce) fillets salmon
1 teaspoon red wine vinegar
1/4 cup chopped green onions
1 teaspoon cracked black pepper
Preheat the oven's broiler. Slice, peel, and pith oranges; slice crosswise into 1/4 inch rounds. Season fillets with salt. Place salmon fillets on broiling pan. Place the pan of fillets 4 to 6 inches from heat. Cook for 15 minutes under the preheated broiler, or 10 minutes per inch of thickness. Remove from broiler just before they are cooked through. Sprinkle with vinegar. Arrange orange rounds on top. Sprinkle with green onions and cracked black pepper. Broil 1 minute longer. Serves 4.
Orange Kissed Chicken
1 (4 pound) chicken, cut into pieces
1 tablespoon oil
3 onions, thinly sliced
1/2 cup chicken broth
1/3 cup orange juice
salt and pepper to taste
In a large skillet, heat oil over medium-high heat. Add chicken pieces and sauté for 5 minutes, until lightly browned. Add onions and sauté for 2 minutes more. Add juice, broth, salt and pepper. Stir all together. Cover skillet and reduce heat to low. Let simmer for 45 minutes or until chicken is cooked through and juices run clear. Serves 4.
Orange Vinaigrette
1/2 cup balsamic vinegar
2/3 cup extra virgin olive oil
1 orange, juiced
2 tablespoons orange zest
2 tablespoons coarse-grained mustard
In a medium bowl, whisk together the balsamic vinegar, olive oil, orange juice, orange zest and mustard. Use immediately, or store in the refrigerator for up to one week. Great on mixed greens or on chicken or seafood salad.
Hot Cranberry-Orange Punch
2 quarts cranberry juice cocktail
3 cups orange juice
1/4 cup brown sugar
2 tablespoons fresh lemon juice
1 pinch salt
2 (3 inch) cinnamon sticks
In a 4 quart or larger slow cooker, combine the cranberry juice, orange juice, white sugar, brown sugar, lemon juice, salt and cinnamon sticks. Stir to dissolve sugar. Cook on high for 4 to 6 hours. Turn heat to low and keep warm for serving. Or heat on stove in saucepan. Simmer, covered for 30 minutes before serving. Serves 10-12.
Orange Tea Bread
2 cups all-purpose flour
1-1/2 teaspoons baking powder
1 teaspoon baking soda
1/2 teaspoon salt
2/3 cup non-fat plain yogurt
2/3 cup sugar
2 large eggs (egg substitute optional)
3 tablespoons melted unsalted butter
1 tablespoon grated orange zest
SYRUP
1/2 cup orange juice
1/4 cup sugar
Preheat oven to 350 degrees. Grease an 8-1/2″x4-1/2″x2-5/8″ loaf pan. Line pan with wax paper or parchment and set aside. Sift flour, baking powder, baking soda and salt into a bowl. In a separate bowl, whisk together yogurt, sugar, eggs, butter and orange zest. Add liquid ingredients to dry ingredients, and stir mixture until well combined. Transfer batter to loaf pan, smoothing top, and bake in oven for 45 to 50 minutes, or until skewer inserted in middle comes out clean. While the bread is baking, combine orange juice and sugar in a saucepan. Bring mixture to a boil over moderate heat while stirring, and simmer for 1 minute. Keep syrup warm. Make holes in top of bread with a thin wooden skewer and drizzle with syrup. Let stand in pan until cool. Makes 1 loaf.
Whole Orange Liqueur
3 oranges, unpeeled, cut into wedges
½ lemon
3 whole cloves
3 cups vodka
1 c. sugar syrup
Combine fruit, cloves and vodka in jar. Vodka should cover fruit. Steep 10 days. Strain and filter. Add sugar syrup and mature 3-4 weeks. Makes 4 cups. Note: Sugar syrup is made from 1 cup of sugar and ½ cup of water. Bring to a boil, then cool. You will have 1 cup of syrup.
Orange Peel Liqueur
Peels only from 4 large oranges, scraped and cut into chunks
3 cups vodka
1 c. sugar syrup, see note
Remove all traces of white from orange peels. Mix peels and vodka and steep 2-3 weeks. You can use more peels for stronger flavor. Strain and filter and add sugar syrup. Let mature a week. Makes 4 cups. Note: Sugar syrup is made from 1 cup of sugar and ½ cup of water. Bring to a boil, then cool. You will have 1 cup of syrup.
Orange Beef Sauce
1-1 ½ lbs. lean ground beef (turkey or chicken would also work)
1 T. olive oil
1-2 garlic cloves, minced
½ c. chopped onion
¼ c. grated carrot
½ c. orange juice
1 c. beef, chicken or vegetable stock
½ t. caraway seeds
½ t. orange peel
1 T. brown sugar
1 T. vinegar
salt and pepper to taste
¼ c. water
2 T. cornstarch
Brown meat in oil until no longer pink. Drain and place in Dutch oven with the vegetables Cook until onions are tender. Add remaining ingredients, except water and cornstarch and simmer, covered, 30-60 minutes. Five minutes before serving dissolve cornstarch in water and add to sauce to thicken. Cook until sauce is thickened and bubbly. Serve over pasta.
Citrus Sugar
1 c. sugar
1 T. orange, lemon, lime or tangerine peel
1/2 t. cinnamon
1/2 t. nutmeg
1/8 t. allspice
Mix all ingredients and place in pie pan. Place in a preheated 200 degree oven for 15 minutes, stirring every 5 minutes. Cool sugar before storing in airtight jar or you can powder the sugar in a blender for 10 seconds or so before storing. Use in tea, on sugar cookies, on toast and bagels or with fresh fruit and yogurt.
Note: you can also make a citrus mint variation by combining sugar with citrus peel and 1 tablespoon dried mint leaves, omitting other flavorings. This sugar is great in lemonades and iced teas.
Orange and Oatmeal Scones
2 1/2 cups flour
2 cups rolled oats
1 cup sugar
1 teaspoon salt
1 tablespoon baking powder
1/2 teaspoon baking soda
1/2 cup very cold, unsalted butter – cut into chunks
1 egg
1/2 cup orange juice
2 t. grated orange peel
1 cup raisins – plumped and well dried
Glaze
milk, sugar, orange zest
Line a large baking sheet with parchment paper (double two sheets if you have them – one inside the other). Preheat oven to 425 F. In a large bowl, place flour, oatmeal, sugar, salt, baking powder, baking soda and mix together. Cut or rub in butter to make a mealy mixture. Stir in egg and orange juice. Add orange peel and raisins. Mix to make a soft dough. Turn out onto a lightly floured board and knead for a few minutes. Roll or pat out into a thickness of 1/2 inch. Using a serrated cookie cutter cut into disks or rounds. Brush with milk and sprinkle with sugar and orange zest. Bake until nicely browned – about 14 minutes. Makes about 24.
Chocolate-Orange Scones
1 1/2 c. baking mix, like Jiffy or Bisquick or homemade
1 T. grated orange peel
3/4 c. heavy cream
1/2 c. milk chocolate chips or 3 oz. milk chocolate, chopped
Combine baking mix and orange peel in medium bowl. Stir in cream to make a soft dough that forms into a ball in the bowl. On floured surface gently knead in chocolate and press or roll dough to 3/4- inch thickness. Cut into 2 1/4 -inch rounds, re-rolling scraps. You should get 8. Place on and ungreased cookie sheet and bake in a preheated 425-degree oven for 8-10 minutes.  
Double chocolate version: Knead 3 tablespoons of cocoa into dough with the chocolate chips.
Orange and Chocolate Mini Cheesecakes
8 chocolate graham crackers
3 T. butter, melted
2 (8 oz.) cream cheese, softened
½ c. sugar
2 t. orange zest
2 t. vanilla
2 eggs
4 or 5 mandarin oranges
4 T. sugar
3 T. water
Line 12 muffin tins with paper liners. Set aside. Crush graham crackers into crumbs- you should end up with about a cup of crumbs, or a bit more. Place crumbs in small mixing bowl. Drizzle the melted butter over the crumbs, and toss to distribute the butter evenly. Spoon a rounded tablespoon of the crumb mixture into each of the paper lined muffin tins. Press firmly on the crumb mixture. I used the bottom of a small glass to press the crumb mixture down. Set aside. Beat together the cream cheese, sugar, zest and vanilla for 1 minute with electric mixer. Beat in the eggs until just mixed in. Divide this mixture in the muffin tins, filling each 3/4 full. Bake 25 minutes at 325 degrees. While cheesecakes are baking, prepare oranges. Peel oranges and break apart into segments (sections). You will need 36 segments in all. In small pan, boil together sugar and water for two minutes. Place orange segments in a small bowl and pour the sugar syrup over them, tossing gently to coat. Set aside to cool down. Place three orange segments on top of each cooled down cheesecake. Makes 12. Serves 6.
Candied Orange Peel
2 large oranges ( you can also use 1 grapefruit or 3 lemons)
¾ c. water
¾ c. sugar, plus extra for rolling
3 T. light corn syrup
Remove peel from fruit using a sharp knife. Try to get the peel off in 4 pieces. Cut the peel into ¼-inch wide strips. Place peel in a pot with cold water and bring to a boil. Boil 1 minute, drain and rinse under cold water. Repeat process 2 more times. Return to pan with fresh water and boil 15 minutes. Drain and pat dry. Bring ¾ c. water and ¾ c. sugar to boil in sauce pan with the corn syrup. Boil 2-3 minutes and then add the peel. Simmer, stirring occasionally until all but a spoonful of the syrup is left. This should take about 10 minutes. On a wax-paper lined baking sheet sprinkle 1 cup of sugar and arrange the peels on top of the sugar. Toss the peels around until cooled adding more sugar if needed. Place peels on a drying rack for 24 hours before storing. Once dried you can also dip one end of the peels in dark chocolate. Makes ½ pound.
Dried Orange Zest
I love to use orange zest in a lot of recipes, but I don't always have fresh oranges around to zest. I dry my own, so I always have orange zest handy. It's easy to do. You don't need a dehydrator, but you can use one, if you have one. You can save the entire peel from thin-skinned oranges, like mandarins or temple oranges. For oranges with a thick, white pith, use a peeler to remove the peel in strips- leaving as little of the white portion on them as possible. Place in a single layer in a basket. Air circulation helps them to dry faster. If you pile them up, you risk them getting moldy before they dry. Leave room for air circulation. You can also leave them on a tray in a single layer. When the peels are brittle, break into smaller pieces and grind into a powder. A spice/coffee mill works well. A blender works fine, too. I have tried to powder them up in several types of food processors and the peels seem to get wedged between the blades and the sides of the work bowl. Once they are powdered up, I use a fine strainer to get out any larger pieces. To be safe, just in case they aren't completely dry, I put my zest in a freezer container and store in the freezer. The freezer helps the zest to retain its flavor and color longer, too. Better to use organic oranges, if you can.   
Chocolate and Orange Mini Cheesecakes

Dried Orange Zest
Orange and Oatmeal Scone

Orange Tea Bread

Chocolate Orange Scones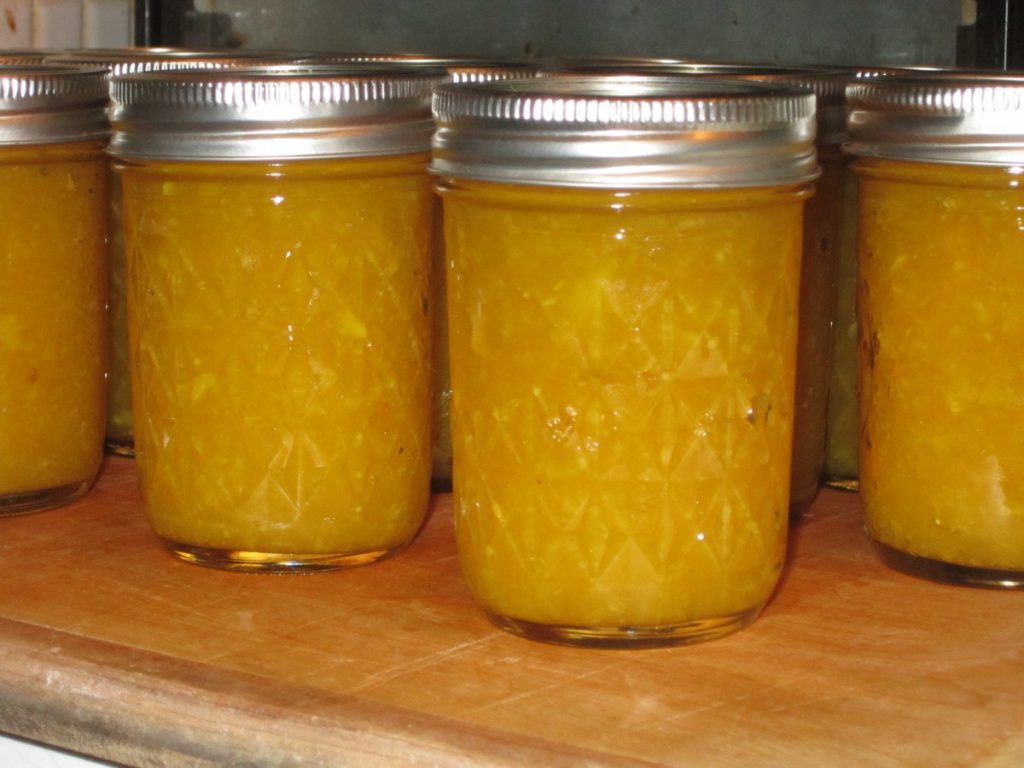 Food waste is a growing problem. Estimates are that American families throw out $1,000-$3,000 of food every year. There are things you can do to reduce your food waste. Here are some tips to waste less and save money on food.
Buy less. I know, duh. The problem is stores they are designed to get us to buy more. There are some tips to help you buy less. Don't go to the store when you are hungry, which does work. Make a list. That also helps. Perhaps shop with cash! I know- so many people do not carry cash, but at least set a budget. If you don't buy too much, you will automatically toss out less. If there is a special sale, only buy it if you can use it, store it, or keep it for later use. If you see a great price on chicken- and your family eats a lot of chicken- get it. Just don't get more than you have room for in the freezer.
Avoid stocking up on highly perishable foods. There is only so much you can do with leaf lettuce. I have a friend who said she stopped buying bags of potatoes because they go bad before she can use them. In the old days, we had root cellars for storing things like potatoes, onions, cabbages etc. Most people don't have root cellars anymore, so buy what you can use before your food goes bad.
Inventory your pantry at least once a year. Same for the freezer. Pull everything out and see what you have. Check expiration dates. Keep in mind that expiration dates on canned goods don't mean a lot. Properly stored, canned foods are good a long time after the dates. You can at least move older stuff to the front. Maybe pull out some things and keep them handy, so you will use them.
Use as much of what you buy as possible. Potato peels, broccoli stems, carrot tops, pickle juice can all be used in creative ways. My mom used to save garlic and onion skins. She would put them in the red mesh bags that the onions came in. My dad kept the bag hanging in the garage. When he grilled, he would sprinkle some of the garlic and onion skins on the hot coals. They imparted a lovely flavor on the food he was grilling.
Be a seasonal shopper. When produce is in season it costs less, but foods like turkey and ham tend to cost less during the fall and winter holidays.
Grow a garden. Even a few herbs in a pot on a sunny windowsill can save you money. If you have room for a vegetable garden, even better. Be creative. You can plant lettuces in between flowers for an attractive and edible landscape. Depending on what you grow a vegetable garden can produce $4-5 per square foot over a season.
Preserve it. I know, you never canned and are afraid, but you can freeze and dehydrate produce when you have too much. Sauce can be frozen instead. Canning info is available from your local extension office or from the USDA. When you have fresh herbs, freeze what you can't use and have them on hand whenever you like.
Convenience comes at a price. I am not suggesting you grind your own wheat for bread, but try to use fewer convenience foods when you can. Bake bread once in a while or buy regular carrots and peel them rather than using the more expensive baby carrots. Buy a head of romaine or other lettuce and wash it yourself. It costs much less than bagged salads.
Buy off-brands. Store brands item such as canned or frozen vegetables and fruits cost less and you will never know the difference. Same for items like flour, oatmeal, sugar, saltines, oil, jelly, olives, mustard and many more. If you just must have a certain brand of peanut butter, that's fine, but at least try other brands once in a while.
Shop at discount stores. You may have to bag your own at stores like Aldi and Sav-a Lot but you will save money. That goes for Marc's and Big Lots, too. They have smaller selections, so you might not find everything you need, but the savings can really add up.
 Make a list. Impulse shopping and shopping hungry can add a lot of extras to your bill. Some people also find it helpful to use cash. If you only bring a certain amount with you, you are limited from going over budget.
Avoid frequent trips to the store. Stopping in can lead to impulse buying or overbuying. You'll also save money on gas and time.
Be open to those unexpected bargains. Keeping in mind that it is no bargain if you can't use it you can sometimes really save money on in-store specials.
Use the leftovers. Get creative with what's in the fridge. Soups, stews and omelets can be a great way to use up bits of this and that. I often toss leftovers into a dinner salad. If you choose to freeze leftovers be sure to label and date them so it won't turn into mystery food, shuffled around the freezer for a couple of years and then tossed.
 Make your own convenience foods. When I had a big garden I would often drop off bags of peppers at Mom's. She would make a batch of stuffed peppers and mashed potatoes and freeze her own frozen dinners for later use.  I make my own chicken nuggets, cook and freeze them in smaller packages for later use. Not expensive and a lot better than anything you can buy.
Soup it up.  Soups can be a great way to make food go farther, and be good for you, too.  I sometimes think of the year as having 2 seasons-soup and salad. When it is cold I nearly always have a pot of soup going. In warmer weather I make many variations on salads.
Look in the cupboards.  Try making soups, stews, skillet dinners and salads using at least a few items from the cupboard. This can save a trip to the store and keeps stored foods from getting pitched eventually. 
Drink tap water: Bottled water costs a lot more than tap water and isn't better for you. Try keeping a pitcher on ice in the fridge during the summer. I have had kids in cooking camps get confused when I tell them to get water from the sink.
Lose the soda: I know they taste good, but your family budget can get sipped up quickly. Try making lemonade, iced tea or even just water with a bit of lemon juice in it.
Mix it up: Use mix brownies or cake mix for family desserts rather than that stop at the bakery. It will save you a lot and makes the house smell good, too.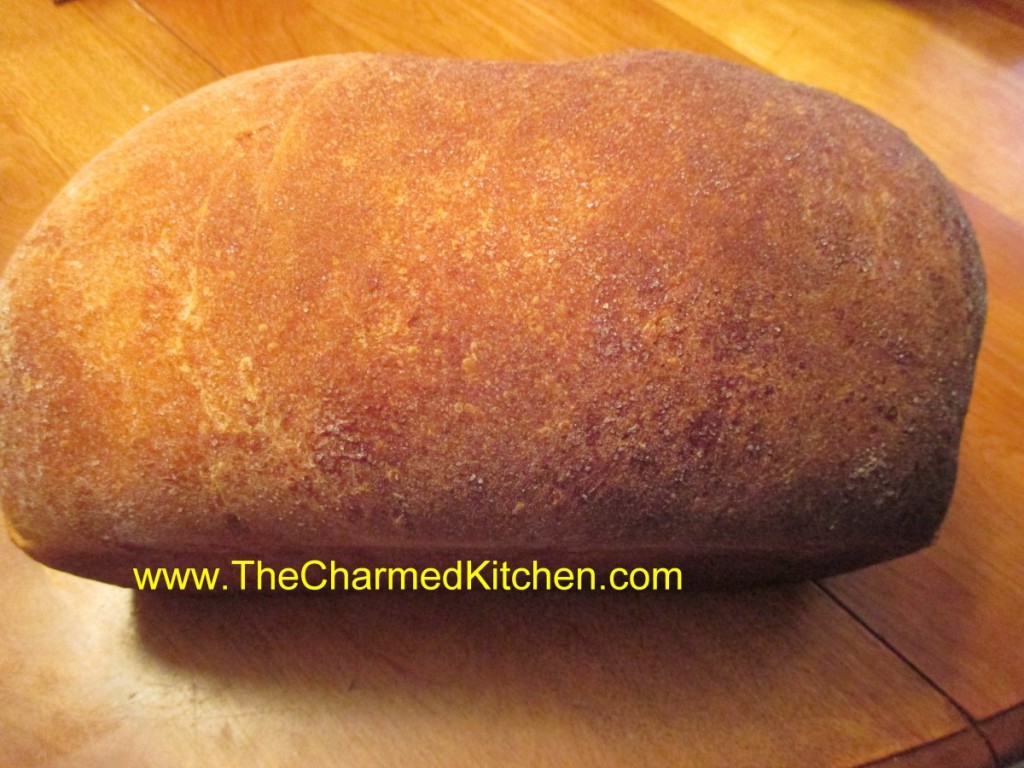 There is just something about homemade bread. I love the way the house smells when bread is baking. I decided to bake some spelt bread last night. It is one of my favorites. Besides, since I have challenged myself not to go to the grocery store for a month, if I didn't bake it, I wouldn't have it.
I always have at least a few people who ask me what spelt is.
Spelt flour is a close relative to wheat. I love cooking with it because it is so easy to work with. It doesn't require much, if any, kneading when you make yeast bread out of it.
Spelt has a texture much closer to white flour in baking other things, like muffins or biscuits. It does contain gluten, so it's not an answer for people with gluten issues.
For those who do cook with wheat, spelt provides whole grain nutrition in a delicate, less heavy package. The bread I baked was so easy to make and gives me all the taste and fiber of whole wheat bread with less work.
Spelt flour is still tricky to find. Some larger grocery stores carry it, but you might have to go to specialty markets. Bob's Red Mill is my usual source, so if your store carries their products, you should be able to locate it.
Spelt Bread
3 ¼ c. spelt flour
1 pkt. Active dry yeast
1 c. water
1/3 c. honey
¼ c. oil
1 t. salt
1 egg
Place 2 c. flour, yeast and salt in a medium bowl. Heat together water, honey and oil until warm (120-130 degrees) Add water mixture to spelt mixture and beat on low speed of electric mixer for 30 seconds, or until moistened. Add egg and beat on high 3 minutes. Stir in enough spelt to make a soft dough. Cover bowl with towel and allow to rise until doubled, about 1 hour. Grease a 9×5 inch loaf pan and use a rubber scraper to transfer dough into prepared pan. Cover and let rise until doubled, another hour. Bake in a pre-heated 375 degree oven for 25-30 minutes. Cover top with foil during last 10 minutes of baking. Bread is done when it sounds hollow when lightly tapped. Remove from pan and cool on wire rack. Makes 1 loaf.
There are several reasons we freeze foods. Safety is probably the biggest one. Frozen foods last a lot longer than most foods that aren't frozen. Convenience is another reason. You can make a big batch of soup or chili, then freeze some to eat later. Freezing can also reduce food waste, by allowing you to keep something to use later, that might otherwise go bad before you can use it.
People always seem surprised at some of the foods that I freeze. I've been getting more questions lately, so I made a list of some things you can freeze- but maybe didn't know you can freeze.
If you find something in the frozen food section at the store remember- if they can freeze it- you can freeze it. Part of my pantry challenge is to eat foods I already have, without going to the grocery store. My frozen foods are what really make this easier. Besides the typical meats and veggies, I have some fun ingredients to work with in my freezer. I can also extend the life of some of my foods by freezing them.
So here is a quick list that I came up with, in no particular order.
1. Eggs: While they keep for a pretty long time you can find yourself with more eggs than you can use. Crack the eggs and place them in ice cube trays or small containers- and freeze. No special instructions. Some people prefer to add a tablespoon of water to each egg. I have tried with and without water and both seemed fine. You can also freeze the yolks and whites separately. Add a little water to yolks when freezing them on their own. Don't freeze eggs in their shells.
2. Avocados: This really prompted a lot of feedback. I posted a recipe for guacamole once and mentioned that you could freeze avocados. I got a lot of response to that. Most people said they never even considered freezing avocados. They freeze great. Frozen avocados work best used in dips and smoothies later. Don't expect to slice them to top your salad after they were frozen, but they mash up great and would still work on toast. Just cut in half, remove the pit and scoop out the flesh. Dip in lemon juice and place in a freezer bag. Squeeze out any air and seal. You can also just mash them up before freezing. The lemon juice keeps their color better. You could use lime juice, if you like.
3. Pasta and Rice: Decided to lump these together since the information for both is about the same. Easiest way is to just freeze the pasta or rice in portion sized baggies. Thaw in fridge or microwave when ready to use. This is a great way to eat more brown rice, at least it works for me. Rice takes 15-20 minutes to cook. Brown rice takes double that amount of time, at least. I cook up a big batch of brown rice, portion it out and freeze it. Now I can grab a baggie whenever I want. Same for pasta. Not so much the time it takes to cook as getting out that water and getting it boiling. Or sometimes I just cook too much pasta. Freezing the extra means I can have pasta when ever I want.
4. Milk: There are some problems with freezing milk. It will separate so it won't be quite like the fresh stuff you pour on your cereal, but milk that was frozen is perfect for baking and cooking. I don't drink much milk. This way, rather than tossing milk, I can freeze the extra and use it for cooking later on. Also easier than me trying to keep milk on hand, when I rarely drink it.
5. Whole Grains/ Whole Grain Flours: This isn't so much about whether you can freeze them, but rather, why you should. All whole grains contain the germ and bran, which contain fat. Over time, they can become rancid. Don't panic, doesn't happen all that quickly, but if whole grains are stored in a hot kitchen they will develop an off taste. Also depends on how much you buy and how quickly you go through it. The last few bags of brown rice I brought suggested refrigerating after opening the package. If you don't have the freezer space- store them as cool and dry as you can and don't buy more that you can use in 6-9 months, or so.
6. Cheeses: Yes, you can freeze cheese. Harder cheeses seem to hold up better. There will be textural changes, more noticeable in soft cheeses. If you have more cheese than you can use, freezing will extend its shelf life.
7. Crackers: Some of you are wondering- why freeze crackers? The answer – to keep them fresh and crisp long past the expiration date. I was at a bakery outlet store one time and one of the employees shared that tip with me. There was a great sale on crackers but I was worried they would get stale. She told me to freeze them, in the package. She also said to leave them in the package until they came up to room temp, when I wanted to use them. I left one pack out and froze the rest. Several months later opened the pack I had left out of the freezer- the crackers were stale. All of the packs I had frozen stayed crisp.
8. Cheesecake: Not sure why so many people ask me about cheesecake. Does Sara Lee sound familiar? Yes, you can freeze cheesecake. I like to freeze slices on a baking sheet, then wrap in plastic wrap after they are frozen solid. Defrost with the wrapping loosened, but still on. Best defrosted in the fridge for a few hours.
9. Grapes : A lot of people don't realize that grapes can be frozen. In fact, frozen grapes are one of my favorite hot weather snack foods. Grapes, like berries, can be frozen by just placing clean fruit on a baking sheet until they are solid. Then transfer to a freezer container or freezer bag. You can eat them right out of the freezer- or use them in cooking. I often make cobbler out of frozen grapes.
10. Baked Goods: Most baked goods freeze great. Cookies, cakes, pies. I prefer to freeze pies unbaked- then bake when ready to use. Again, think about some of the stuff you see in the freezer section at the store. I like to take my cookie dough and shape it into balls. Freeze the balls of dough on a baking sheet- then transfer to a freezer bag. When I need a few cookies I take them right out of the freezer- place on a baking sheet and bake- just add a few minutes to the baking time.
11. Soups, T.V.Dinners etc: Freezing meals is one of the best ways to use your freezer. For one thing, you can freeze stuff before you get sick of it. I know you LOVE your chili- but do you really want to eat it all week? I bet not. By freezing it in portions that are practical for you and your family, you can have chili when you want, without having to make a fresh batch every time. Again, if Stouffer's can freeze it, you can freeze it. Mac and cheese, stuffed peppers, sliced turkey with gravy and mashed potatoes. Have fun with it. A lot of people save take out containers and use those. You can also buy containers that are used over and over- so the cost isn't so much over time. I make big batches of vegetable soup- then puree it. I freeze it in both pint and quart containers. Great for a quick lunch or if friends stop by. It can be eaten as is, or you can add rice or pasta- you already have some in the freezer!! I will sometimes use this soup as a of pasta sauce.
12. Breakfast Foods: Really this is a continuation of number 11. You can freeze waffles, pancakes, breakfast sandwiches, smoothies etc. Makes breakfast time a little easier and you will probably like your waffles better than most of what you can buy at the store. Will save you a lot of money, too.
!3. Lemons and Limes: If you are like me, I prefer to have fresh lemons and limes on hand for drinks and cooking. However, they can go bad before I get to using them. I hate to find a fuzzy lemon at the bottom of the fridge. You can freeze them a couple of different ways, depending on how you want to use them later. For adding to drinks later, just cut the fruit in wedges or slices. Place on a small tray and pop in the freezer until solid. Once frozen, remove the fruit from the tray and place in a freezer bag or container. Now they are easy to grab right out of the freezer to add to your favorite beverage. For use in cooking, I zest the fruit and place the zest in a freezer container. Then I juice the fruit and pour the juice in ice cube trays. Once frozen, I can pop out the lemon or lime juice cubes and place in a freezer bag or container. Now, when I want lemon or lime juice for a recipe, I just grab a cube or two.
Some Extra Freezing Info
When it comes to vegetables a general rule is that if it is a vegetable that you cook- then it is a vegetable you can freeze. Works most of the time- we don't normally cook lettuce and it doesn't freeze well.   Most vegetable are blanched before freezing- that means placed in boiling water, then put in ice water, drained then frozen. This stops certain enzymes from working and keeps the veggies tasting fresher. Some veggies, like onions or peppers- don't need blanching. You just cut them up- place on a baking sheet and place in freezer until solid, then transfer to a freezer container or bag.
Most fruits don't get blanched- just washed, cut up if bigger fruits, and frozen. Some in syrup and some frozen "dry".
High salt foods are not great for freezing. Think about it, we use  salt to melt ice. Salty foods, like cured meats, don't freeze well and will get an off flavor if frozen too long. Freeze them if you must- but use as soon as you can, within a few months, for best flavor.
Part of the challenge of living off of just the food you already have- is knowing what food you actually have. I think I have a pretty good idea already. I inventory my pantry every year. I also have a freezer that needs to be manually defrosted a couple of times a year. That really helps me to stay on top of what I have and what I don't have.
Even then, I sometimes get a surprise or two. I went through my pantry yesterday to do an inventory. I am sure there was a reason I bought garbanzo bean/fava bean flour. I don't recall it at the moment, but there it was in my cupboard. It has now been moved to the front and will be used in some dish in the near future. Or perhaps a friend who uses it will speak up and take it off my hands.
I also started keeping "like" things together in my pantry. Canned fruits and jams together, condiments and olives in another area. Baking supplies all roughly in the same area. Helps to find things, but also to keep an eye on what you have plenty of, and what you need.
Expiration Dates
When you do an inventory, be sure to look at expiration dates. Move the older food to the front of the cupboard, so it will be used first. Expiration dates on canned goods are not the indicator of whether the food is still OK to eat. It will just let you know which can of black beans is older. A lot of factors will determine if the food is still safe.
First, the expiration dates on canned goods are kind of meaningless. Canned goods last for years and years (if properly stored). Manufacturers are required to put dates on canned goods- so they do. They use dates that are well before when the food might go bad.
Second, how the cans were stored is a much bigger factor in whether the food inside is still safe to eat. Cans stored in a damp basement, or a too hot garage are not going to last as long as canned goods stored in a cool, dry place. Rust on the outside of a can is a warning sign that the can has not been properly stored or is too old. Obviously, bulging cans should be disposed of.
Third, the food may still be safe to eat, but quality goes down over time. Think of expiration dates on cans, not so much as a date for when the food is unsafe, but a time when the food may start to lose some of its flavor and color. You can safely eat the can of peaches that "expired" six months ago, but they would be a little better looking if eaten sooner.
Taking Stock
Last year I had to replace my refrigerator. I cleaned out both the fridge the freezer while waiting for my new fridge to arrive. When I was cleaning out my freezer, I found a lot of ginger root. A whole lot of ginger root. Seems about every time I would go to the Asian grocery store, I bought more. Don't get me wrong. I love ginger and use it frequently. But this was well over a pound of ginger. I haven't bought any ginger all year- and I have used up quite a bit of my stash.
It's a good idea to take stock, every now and then. Do an inventory of what is in your cupboards and in the freezer and fridge. It will help to reduce food waste in the long run. Use what you can, and donate what you won't. If some things need to get tossed, then toss them. I hate food waste, but don't want anyone to get sick from eating food that has been around too long.
My goal, as I go on the adventure to skip the grocery store for a month (or longer?) is to learn something more about how to reduce food waste. Maybe a better way to keep on top of the foods I have. Better ways to keep produce fresh, easier ways to keep an eye on the inventory. I will also need to get creative the longer the challenge continues.
More to come. Thanks for all the feedback on social media yesterday. This is going to be a lot of fun.
Do you ever think about how long you could go without buying more groceries? What would you have after a few days, weeks? After talking about it with a few friends, I have decided to take the challenge. For the month of January I will not be going to the store. I will use what I have here and make it work.
I have a pretty well- stocked pantry, so I don't think it will be a problem, but I know as the month goes on, it will be trickier. Fresh fruits and veggies are the biggest issue, but I should be able to work with what I have frozen, dehydrated and what I canned.
So why do this? Partly to see how prepared I would be in case of an emergency. If something happened, could I get by, and for how long?
Part of it, too, is about food waste. I know I buy things, put them in the freezer or pantry, and forget about them. I think most people do that sometimes. Estimates are that American families throw out between $1,000 and $3,000 worth of food annually. Anything to bring that number down is a good thing, right?
This is a perfect time of year for me to do an inventory. I have some time off before I go back to teaching cooking classes. I have time to really see what I have and where I am lacking.
The Inventory
I will pull out all the foods in my pantry, to see what I have to work with. I will also look at expiration dates. While canned goods last a long time past those dates, quality starts to suffer over time. I will set aside anything that is getting close to its expiration date, and try to use it in something. It's a good idea for all of us to do this, at least once a year.
The inventory will also expand to the freezer and fridge. In the next few days, I will defrost the freezer to see what I have. I will admit to having a better idea of what is in the pantry, than what I have in the freezer. I tend to toss all sorts of stuff in the freezer, always with a plan to use it later. I am pretty good about labeling, but I always come across at least a few mystery items.
My mother was great about her spare freezer. She kept a notebook on top of it, and would mark down when she froze something, and when she took something out. I like to think I will do the same after I do my inventory, but we'll have to see how that works out. I start out good in the beginning, but get sloppy after time. My goal is to at least get an accurate accounting of what I have.
So what rules have I set up for myself? Pretty simple- I won't buy food for a month. The only time I would buy anything is if I need something for a cooking class. That is for work, so I feel that is not cheating. I also want to up the ante, so to speak, by having people over at least once a week. That will get more interesting as the month progresses.
I will be posting updates as the month goes on. I might even extend the no-shopping challenge into February, but I will wait a while before deciding that. I hope you will enjoy reading about this adventure. Maybe join me on it? Or perhaps, at the least, be a dinner guest at some point.
Happy New Year!!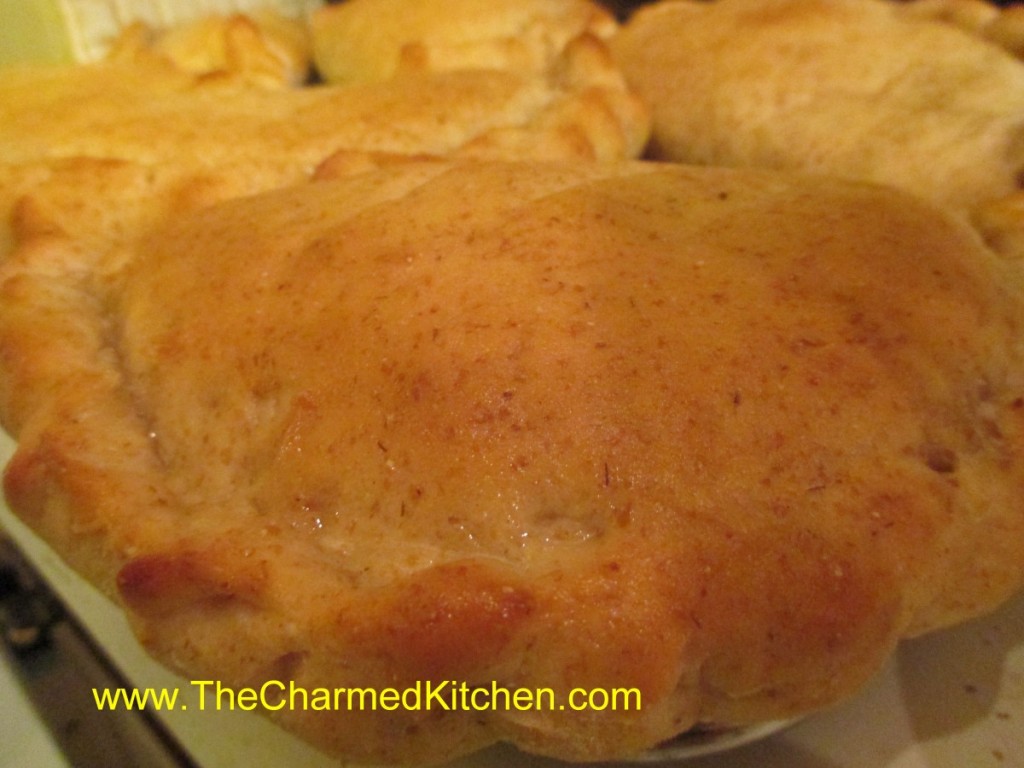 Of course, ham makes a great sandwich, but there are a lot more things you can do with it.
If you enjoyed a ham over the holidays, you may find yourself with leftovers. Here are some recipes for all that ham.
Ham is versatile and can be used in all sorts of dishes. Added to soups, stir fry, breads, salads and omelets, it adds a wonderful smoky flavor to every dish. And of course, the ham bone can flavor a whole pot of soup.
So here are some recipes you might want to try.
Ham and Swiss Calzones
4 c. flour
2 c. rye flour
2 T. sugar
2 t. salt
2 packages quick-rising yeast
2⅓ c. hot water
2 T. oil
2 lb. thin sliced ham- more or less
1 lb. sliced Swiss cheese
Thousand island dressing- recipe follows
1 egg , beaten
Set aside 2 cups of the all-purpose flour. Combine remaining flour with the other dry ingredients in a medium bowl. Stir in water and oil and gradually stir in enough flour to make a soft dough. Turn onto lightly floured surface and knead until dough is smooth and elastic, about 5 minutes. Cover dough and let rest 20 minutes. Divide dough into 12 pieces and roll one piece into a 8 -inch circle. In the middle of the dough place 1 1/2 ounces of the Swiss cheese, a spoonful of the dressing and 2-3 ounces of the ham. Brush the edge of the dough with water. Fold over the dough in half and press the edges to seal. Brush the edge again with water and roll the edge over again. It will give you a prettier look and seal the calzone better. Repeat with remaining dough and fillings. Place calzones on greased baking sheets- or on a baking sheet with a silicone liner or parchment paper liner. You will end up with 12 calzones in all. Only put 4 on one baking sheet. Cover and let rest 15 minutes while preheating the oven to 400 degrees. Before placing calzones in the oven brush with beaten egg and make a few slashes with a knife to help steam to escape while baking. I put 2 baking sheets in the oven at the same time and switch them halfway through baking. Bake in a preheated 400-degree for 20-25 minutes or until golden brown. If baking 2 at once switch them after 10 minutes or so. Cool slightly before eating. Serve warm and refrigerate leftovers. Makes 12.
If you want to use regular yeast use warm, rather than hot water. Also, allow a little more time for the dough to rise the first time, about 40 minutes. Everything else will work the same.
Thousand Island Dressing
Combine equal parts of ketchup, mayo and sweet pickle relish. You likely need at least a cup for this recipe. I made extra so the sandwiches could be dipped in extra dressing, if desired.
Tortellini and Ham Salad
¼ c. olive oil
¼ c. red wine vinegar
1 t. fresh rosemary
1 clove garlic, minced
1 t. sugar, optional
1/2 t. red pepper flakes
12 oz. mushroom or cheese tortellini, cooked
1½ c. diced ham or turkey ham
1 red pepper, seeded and diced
1 c. sauteed, sliced mushrooms, cooled
4 green onions, chopped
Parmesan cheese, optional
Combine first 6 ingredients in large bowl and whisk to blend well. Add next 5 ingredients and toss to coat. Add salt and pepper to taste. Chill at least 30 minutes before serving. Serve with Parmesan cheese on the side. Serves 4.
Corn and Ham Saute
1 T. oil
1 small onion, diced
1 c. diced ham
4 c. corn- fresh or frozen
salt and fresh ground pepper to taste
In pan cook onion in oil until tender. Add the ham and cook a few minutes longer. Add corn and continue cooking until corn is heated through. Season to taste and serve. Serves 3-4.
Ham and Swiss Bread Florentine
3 ¼ c. flour
1 T. sugar
1 t. salt
1 package quick-rising yeast
1 c. hot water
1 T. oil
¼ c. Dijon mustard
6-8 oz. sliced ham
4 oz. sliced Swiss cheese
1 large bunch fresh spinach, rinsed and steamed a few minutes to wilt, drained well.
Set aside 1 cup of the flour. Combine remaining flour with the other dry ingredients in a medium bowl. Stir in water and oil and gradually stir in enough flour to make a soft dough. Turn onto lightly floured surface and knead until dough is smooth and elastic, about 5 minutes. Roll dough into a rectangle about 16 x 8. Spread mustard down center middle of dough. Top with meat slices, cheese and spinach. Cut one-inch wide strips of dough from filling to edge on both sides. It will sort of look like fringe. Alternating sides, fold strips up and over the filling at an angle. Carefully lift loaf onto greased baking sheet and place at an angle. Cover with a towel and place sheet on top of a roasting pan half-filled with simmering water for 15 minutes. Bake in a preheated 400-degree for 20-25 minutes or until golden brown. Cool slightly before slicing. Serve warm and refrigerate leftovers.
Note: The variations for this bread are almost endless. Some favorite combinations are Corned beef and Swiss with sauerkraut and thousand island dressing., roast beef and cheddar, chicken, broccoli and cheese, Spinach with ricotta or feta and onions, pizza, assorted fillings. You get the idea. Use your imagination and have fun. Just be careful not to overfill, or the bread will be hard to move, use fillings that aren't too runny and always use cold fillings.
If you want to use regular yeast use warm, rather than hot water. Also, don't let dough rise over boiling water. After kneading cover dough and let rise 45 minutes. Punch down and assemble as in original recipe. Cover with a towel and let rise until dough looks puffy, about 40 minutes. Bake as directed above. These breads can also be frozen.
Ham and Corn Chowder
I was looking for a quick soup for dinner the other night. Inspiration hit when I came across some corn in the freezer. I had blanched and frozen it during the summer at the peak of corn season. I had a little ham in the fridge I was wanting to use up and the pairing was a natural. I started by sauteing an onion in a little butter. Once the onion was tender I added a peeled and diced potato, the corn, the diced ham and about 2 or 3 cups of chicken stock. I covered the soup and let it simmer until the potato was tender, about 15 minutes. I then took 4 tablespoons of flour and put it in a jar. I added a cup of milk, put on the lid and shook it until the flour was well mixed in. I poured the flour mixture into the pot and brought the mixture up to a gentle boil. I stirred it as it thickened up. I cooked it for a few minutes and adjusted the seasonings adding salt, fresh ground pepper and a dash of hot sauce. I also added some chopped parsley. The end result was a wonderful chowder that took almost no time at all. Sometimes the best dishes come from just looking at what we already have. In this case some frozen veggies and a bit of leftover ham.
Ham and Veggie Stir Fry
2 T. oil
1 medium onion, sliced
1 medium carrot, peeled and sliced thinly
1 c. sliced cabbage
1 clove garlic, peeled and chopped
1 sweet red pepper, seeded and cut into thin strips
2 c. sliced bok choy
1 1/2 c. cubed cooked ham
2 green onions, trimmed and sliced
1/2 c. whole almonds
fresh grated ginger- or powdered, to taste
soy sauce to taste
dash of hot sauce
Heat oil in wok or skillet and cook onion and carrots for 3 minutes. Add cabbage add garlic and stir fry 2-3 minutes longer. Toss in the pepper and bok choy and cook 3 more minutes. Add ham, green onions and almonds along with seasonings and soy sauce and cook until ham is heated through. Serve over hot cooked rice or pasta. Serves 3-4.
Ham with Brussels Sprouts
I started by trimming the Brussels sprouts and cutting small ones in half. I quartered the larger ones. I heated a little butter in a skillet and added 3 cups of prepared Brussels sprouts. I cooked them until they were getting a little color on them. I think their flavor is enhanced by sauteing. I then added 1 1/2 cups of diced cooked ham and 1/2 cup of water. The water helps steam the sprouts so they are tender. I like Brussels sprouts tender. You can skip the water, if you like. The water evaporates quickly and as soon as the ham starts to brown a little the dish was pretty much done. I added a little freshly ground pepper- but it didn't need salt. I also served it with fresh grated Romano cheese. You could serve it as is or toss in some cooked pasta with the ham. Simple and really good. You might even get a Brussels sprout hater to give this one a try.
Swedish Yellow Split Pea Soup
1 lb. yellow split peas, rinsed
2 qts. Boiling water or stock
1 bay leaf
2 c. chopped onion
2 c. sliced carrots
1 tsp. dried marjoram
1/4 t. ginger
dash nutmeg
1/2 t. pepper
1 T. salt, or to taste
2 cups diced ham
Note: you can use 1 teaspoon liquid smoke if omitting meat.
Combine peas, boiling water or stock and bay leaf and simmer, covered, about an hour, stirring occasionally. Remove bay leaf. Add remaining ingredients, except diced meat and salt, and cook, covered, over low heat for about 30 minutes. Add meat and cook 1 hour more, stirring occasionally. Season to taste. Serve with a pumpernickel bread. Freezes well. Serves 6-8.
Ham and Cheese Strata
12 slices bread, crusts removed if desired – I used rye
6 slices cheese – I used Swiss
1/4 c. diced green onions
1/2 c. chopped sweet pepper
2 c. diced cooked ham or turkey ham
3 eggs
2 c. milk
1 t. salt
1/8 t. pepper
Place six slices of bread on bottom of 2-quart oblong casserole. Top each slice of bread with a slice of cheese. Top cheese with the onions, peppers and ham. Top with remaining bread and cut each "sandwich" in half diagonally. Combine remaining ingredients and pour over sandwiches. Cover dish and let stand several hours or overnight in the fridge. Bake uncovered in a 350-degree oven for 40-45 minutes, or until puffed and set. Serves 6.
Ham and Swiss Quiche
1 (9-inch) unbaked pie crust
1½ c. shredded Swiss or Gruyere Cheese
4 t. flour
1 c. diced cooked ham or turkey ham
3 eggs
1 c. milk or half-half or evaporated milk
2 T. fresh chopped parsley or 2 teaspoons dried
¼ t. salt
¼ t. dry mustard
Dash of hot sauce
Toss cheese with flour in a bowl and place in pie crust. Sprinkle the ham over the cheese and set aside. Combine remaining ingredients in a small bowl beating well to combine. Pour over the ham and cheese mixture and bake in a preheated 400-degree oven for 15 minutes. Turn down heat to 350-degrees and bake until knife inserted off-center comes out clean, about 30 minutes more. Makes 1
Note: This quiche freezes well. After adding the fillings just wrap in heavy foil and freeze solid until ready to bake. When ready to bake unwrap and allow to sit at room temperature for 30-60 minutes. Bake as with the fresh version, but add another 10-15 minutes to the baking time. If you don't want to freeze the pie pan, you can line the pie pan with foil before you add the crust. Once it is frozen you can remove the frozen quiche from the pie pan and wrap, returning to freezer. When ready to use unwrap and put the quiche back in the pie pan before baking. You can also use a foil pie pan.
Ham and Asparagus Quiche
1 (9-inch) unbaked pie crust
1½ c. shredded cheese – I used Havarti
4 t. flour
1½ c. diced cooked ham
12 oz. asparagus, trimmed, cut in ½- inch pieces and steamed 3 minutes
4 eggs
1 c. milk or half and half
2 T. fresh chopped parsley or 2 teaspoons dried
¼ t. salt
1T. Dijon mustard
1 t. hot sauce
Toss cheese with flour in a bowl and place in pie crust. Sprinkle the ham and asparagus over the cheese and set aside. Combine remaining ingredients in a small bowl beating well to combine. Pour over the ham and asparagus mixture and bake in a preheated 400-degree oven for 15 minutes. Turn down heat to 350-degrees and bake until knife inserted off-center comes out clean, about 30 minutes more. Makes 1.
Note: This quiche freezes well. After adding the fillings just wrap in heavy foil and freeze solid until ready to bake. When ready to bake unwrap and allow to sit at room temperature for 30-60 minutes. Bake as with the fresh version, but add another 10-15 minutes to the baking time. If you don't want to freeze the pie pan, you can line the pie pan with foil before you add the crust. Once it is frozen you can remove the frozen quiche from the pie pan and wrap, returning to freezer. When ready to use unwrap and put the quiche back in the pie pan before baking. Or, if you are planning on freezing it, you can use a foil pie pan.