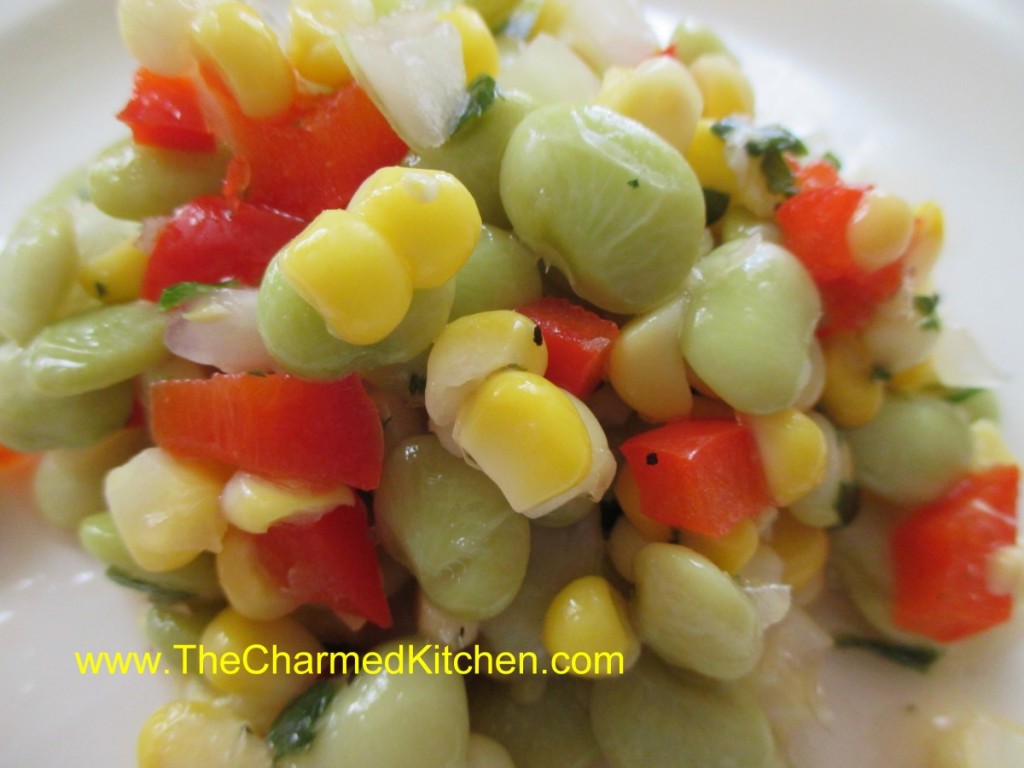 I remember having succotash a few times when I was a kid. I didn't like Lima beans all that much- but I did like saying succotash.
I  like Lima beans now, and use them often in soups and stews. I had several ears of sweet corn and a bag of Lima beans in the freezer so it seemed natural to make this salad. The addition of sweet pepper, sweet onion, fresh chopped parsley and a simple apple cider vinegar dressing and it was good to go.
Here is the recipe. This might be a fun salad for your Labor Day picnic.
Succotash Salad
1 lb. lima beans, cooked and cooled
4 ears of corn, cooked, and kernels cut off the cobs
1 sweet pepper, seeded and diced
1 small sweet onion, diced
3-4 T. chopped fresh parsley
Dressing:
2/3 c. apple cider vinegar
1/3 c. oil
1/4 c. honey
1 t. cumin
dash of hot sauce
salt and pepper to taste
Combine veggies and parsley in a medium bowl. In small bowl whisk together dressing ingredients. Adjust seasonings and pour over the Lima bean mixture. Cover and chill for at least several hours before serving. Serves 6-8.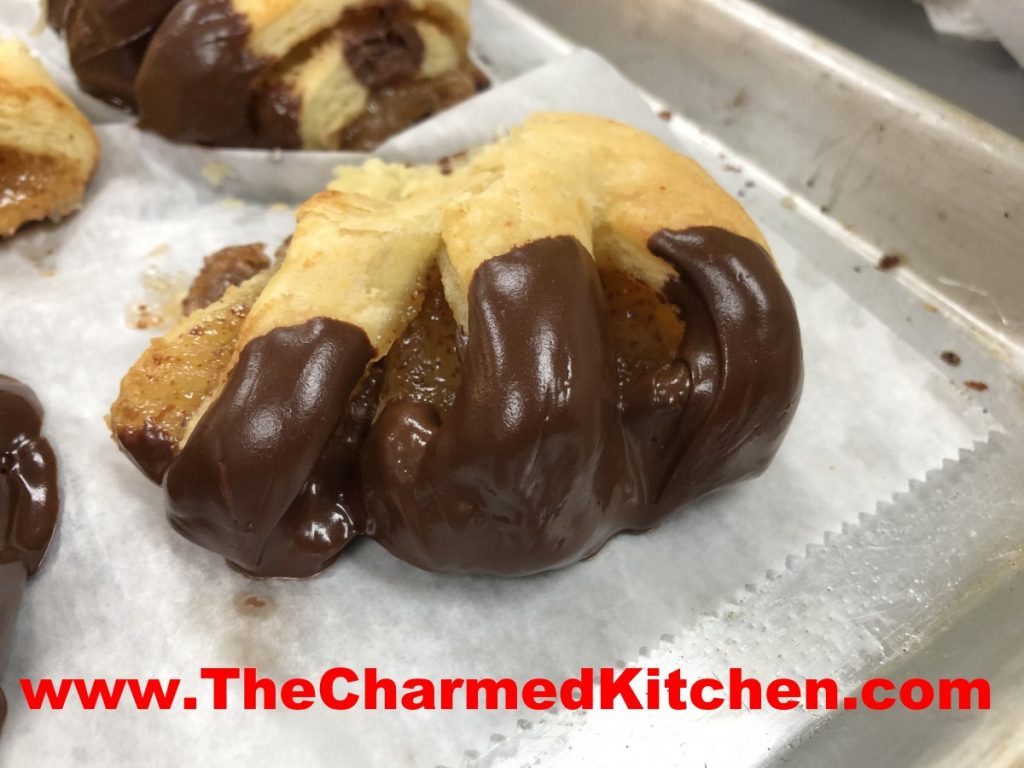 I taught a class on Coffeehouse Treats last week. One of the favorites that night were the Easy Bear Claws.
While not a true classic version of a bear claw, these pastries are pretty close. They are pretty tasty, too.
The secret is to start with prepared puff pastry dough. The dough is thawed, filled and sliced. Then it is baked until crispy and golden brown. Once the bear claws cool down a bit, the "toes" are dipped in melted chocolate.
These make a great dessert. I almost always have puff pastry dough in the freezer, so a nice option if you need dessert in a hurry.
Easy Bear Claws
1 package frozen puff pastry (2 sheets) thawed
1 can or jar (10-12 oz.) almond filling
1 c. chocolate chips
1 T. shortening or coconut oil
Open one pastry sheet onto lightly floured surface and spread with half of the filling. Roll up loosely, jelly roll fashion, leaving seam side down on surface. Cut roll in half and each half into thirds. You will have 6 pieces total. On one closed edge of each pastry use scissors (preferred) or a sharp knife to cut 3 "toes". Do not make cuts on open filling sides. Pull apart slightly. Place 2 inches apart on ungreased baking sheet. Repeat with remaining dough and filling. Bake in a preheated 425-degree oven until golden, about 20-25 minutes. Cool on wire rack. Melt together chocolate and shortening in microwave-safe bowl in microwave. Stir to smooth and dip top of each "claw into chocolate. Set on rack or wax paper to set up chocolate. You can also put in the fridge for a few minutes to harden chocolate quicker. Makes 12.
Variations: For filling you can use cinnamon sugar in stead of almond filling or even use another filling flavor like poppy seed.
For topping you can use a powdered sugar glaze or even just powdered sugar.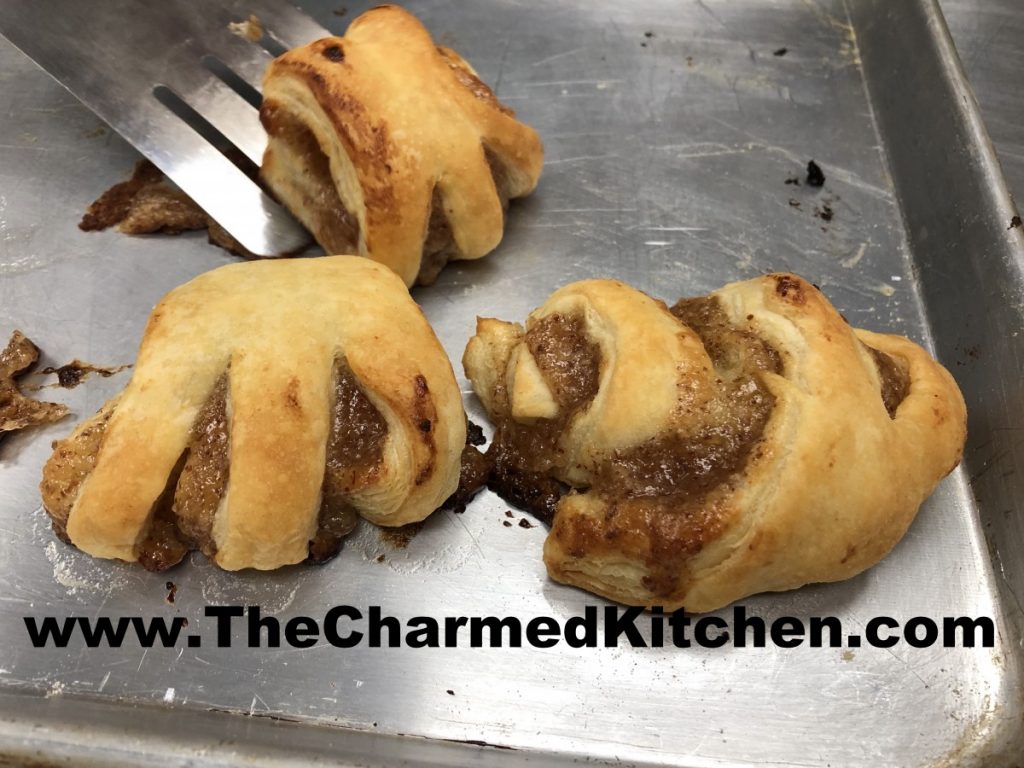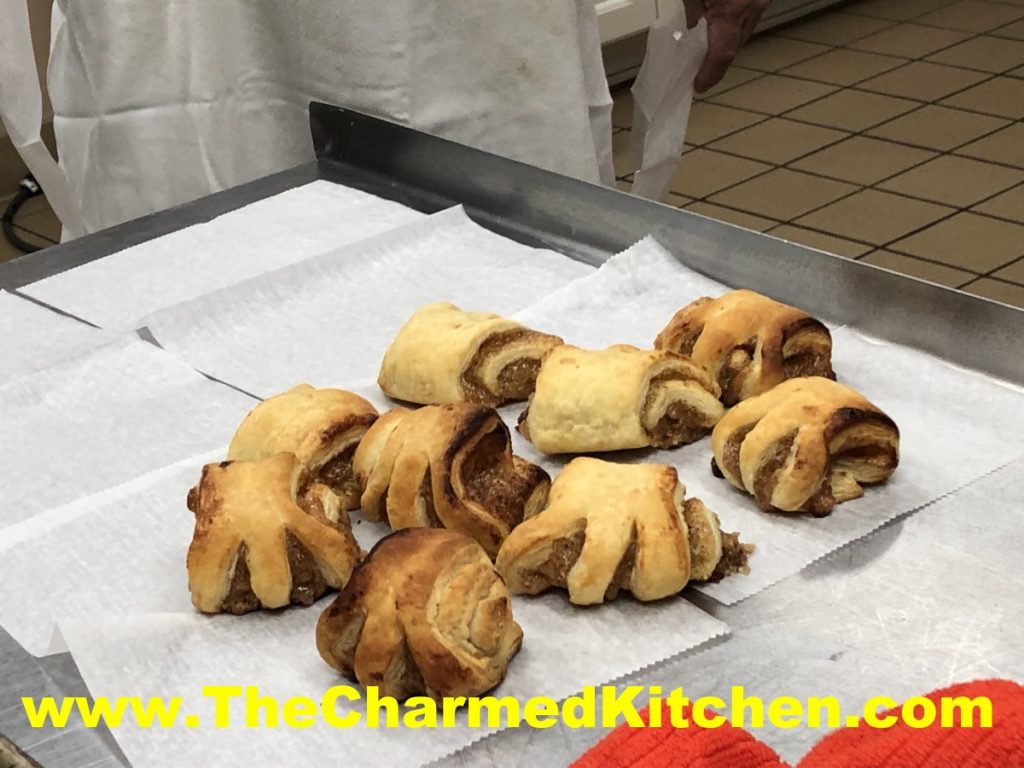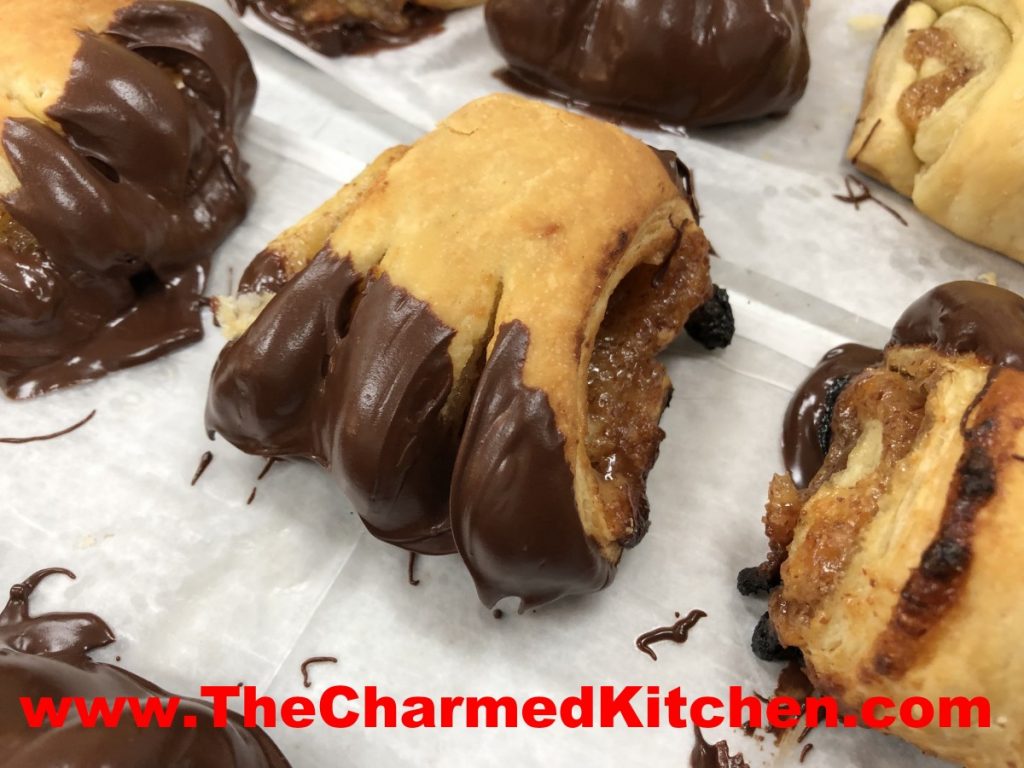 I get a little nostalgic when I make Hawaiian Wedding Cake. This recipe was very popular when I was a kid. I don't know a lot of people making it anymore- and that is a shame. The cake is very tasty and quite easy to make.
This recipe proves that you don't always need a lot of time, to bake a homemade dessert. You can make this moist and tasty cake in less time than it takes to make a box mix cake. Really. The ingredients are all combined at once in a mixing bowl, and stirred by hand until mixed.
Of course, time saving means nothing if the dessert doesn't taste good. The cake is really good. It is studded with nuts, coconut and has plenty of pineapple in it, too. Once baked and cooled, it can be topped with cream cheese frosting, powdered sugar or cinnamon sugar. You can even leave it plain.
The cake can make a nice gift, too. Use small foil loaf pans- and divide the batter among them, filling half way. Bake at the same temperature, but for a shorter time.
The mix of tropical ingredients certainly inspired the name of this cake. I don't really know if people in Hawaii actually ever serve this cake at weddings. I like to think that they did. I do know how much I like it. I think you will, too.
Hawaiian Wedding Cake
2 c. flour
2 eggs
1 (20oz.) can crushed pineapple in its own juice, undrained
1 c. shredded coconut
1 c. sugar
1 c. chopped walnuts
2 t. baking soda
Preheat oven to 350 degrees. Grease a 9×13 inch pan. Combine all ingredients in a bowl and mix well. Pour into prepared pan and bake 35 minutes or until golden brown on top. Cool and dust with cinnamon sugar, powdered sugar, or frost. Serves 12.
Frosting recipe:
8 oz. Cream cheese, softened
3/4 c. powdered sugar
1 stick butter, room temperature
Beat all together until fluffy. Frost cake and refrigerate until ready to eat.
Cake should be golden brown on top when baked
Sorbet is such a nice dessert for summer. Light, fruity and fresh. I try to keep a few different kinds on hand. So many fruits are abundant this time of year. They are the perfect start for a great sorbet.
This peach sorbet combines ripe peaches with both basil and mint from my garden. The combination worked well together. Adding herbs and other flavorings can make sorbet even more fun to eat.
You don't need an ice cream machine to make it, either. You just puree the fruit with the other ingredients and freeze. The secret to a smooth sorbet, is to puree the frozen mixture a time or two. I place the frozen sorbet in my food processor and run it until the sorbet looks creamy. Then I put it in the freezer again. For extra creamy sorbet , repeat this process a third time.  Easy to make, but there is wait time for the sorbet to freeze.
Here is the recipe for the peach sorbet. I thought the herbs added a really nice touch to the final product. Feel free to experiment with the flavors you like.
Peaches and Herb Sorbet
5-6 medium peaches, pitted. You can peel, if you like
honey to taste – I used 1/4 cup, but depends on how sweet the fruit it
3-4 basil leaves
2 sprigs of fresh mint
Puree all ingredients together until smooth. Adjust sweetener and seasonings. Mixture will taste less sweet after it freezes. Freeze until solid. Remove from freezer and break into chunks. Process in a food processor until mixture looks creamy. Depending on how cold your freezer is, you might have to let the sorbet soften a few minutes before processing it. Place back in freezer until ready to serve. Makes about 1 quart.
Note: For even creamier sorbet- process a another time or two- refreezing after each time.
I love eggplant prepared in a lot of different ways. I must say, this preparation is one of my favorites. I think it is because it reminds me of my parents.
My mother used to bread and bake eggplant this way. My dad loved it- and he was not a big eggplant fan. I guess pretty much anything tastes better when breaded. She would top the eggplant with some cheese and sometimes with some marinara sauce.
I cut the eggplant in slices, but you could also cut them in strips and serve like French fries, if you prefer.
One of the problems with eggplant is about how much oil it will absorb when cooking. If you fry these slices in a skillet- they will soak up the oil like a sponge. I prefer to bake the eggplant, with a drizzle of oil. They come out crispy, but not greasy.
They make a nice side dish or even main dish. I topped mine with fresh tomato sauce and Asiago cheese. Mozzarella was what my mom used. I often use Parmesan cheese or a Pecorino Romano.
Baked Eggplant
1 large eggplant or 2 medium
salt
1 egg
1/2 c. milk or half and half
pepper
1 T. Tuscan seasoning* recipe follows or use another blend of Italian herbs
1 t. garlic powder
about 1 cup of bread crumbs
1/2 c. oil
1/2 c. Asiago cheese, or more
Peel and slice eggplant. Place in a large bowl and sprinkle generously with salt. Let sit for 20 minutes. Drain, rinse and pat dry. Prepare egg wash by mixing the egg with the milk or half and half, pepper, a little more salt, Tuscan seasoning and garlic powder. Place in a shallow bowl. Place bread crumbs in another shallow bowl. Preheat oven to 400 degrees. One slice at a time, dip eggplant in egg wash, then in the bread crumbs, turning to coat evenly. Place on a baking sheet. Repeat with remaining eggplant. Drizzle with the oil and bake for about 25 minutes. Turn slices after 15 minutes and continue baking until eggplant slices are golden brown and tender. Sprinkle with cheese and return to oven for 5 minutes longer. Serve as is, or with a marinara sauce. Serves 3-4.
*Tuscan Seasoning
½ c. dried basil
½ c. dried oregano
½ c. dried marjoram
3 T. dried minced onion
2 T. dried minced garlic
2 T. dried rosemary
2 T. dried parsley
1 t. crushed red pepper
I had some extra zucchini bread and wanted to do something different with it. I ended up making this zucchini bread pudding. It came out even better than I thought it would. Rich, not too sweet. A simple, classic dessert.
I felt it needed some sort of topping or sauce. I made a vanilla caramel sauce to dress it up a little. It worked great. Ice cream or whipped cream would have worked, too.
I guess I should really call it a zucchini bread bread pudding. After all, it is bread pudding made from zucchini bread. My spell check hates it when I type the same word twice, so zucchini bread pudding it is.
I know this would also work with other quick breads, like pumpkin or banana bread.
So here is the recipe- for the bread pudding, the zucchini bread and the caramel sauce.
Zucchini Bread Bread Pudding
6-8 cups cubed zucchini bread- recipe follows
8 oz. cream cheese- cubed
2 c. half and half
3 eggs
1 T. vanilla
1 t. cinnamon
Vanilla Caramel sauce- recipe follows
Butter a 2-quart casserole. Preheat oven to 350 degrees. Place half the cubed zucchini bread in the prepared pan. Add half the cubed cream cheese, scattering over the bread. Repeat with remaining bread and cheese. In bowl, combine the remaining ingredients, beating until well mixed. Pour over the zucchini bread mixture. Place casserole in oven and bake for 30 minutes, or until bread pudding is set. Allow bread pudding to cool a little before serving. Serve with the vanilla caramel sauce or top with ice cream or whipped cream. Serves 8.
While often served warm, this bread pudding is tasty served chilled, too. Heck, I just had some for breakfast.
Zucchini Bread
3 c. flour
3 eggs
2 c. sugar
2 c. shredded zucchini
1 c. oil
1 c. chopped nuts or raisins
½ c. sour cream or strained yogurt
1 t. each vanilla, cinnamon, baking powder, salt and baking soda
Preheat oven to 350 degrees and grease 2 (9×5 inch) loaf pans. Set aside. Place flour in large bowl. Beat eggs and add with remaining ingredients to flour, mixing well and scraping bowl. Pour batter into prepared pans and bake 1 hour and 20 minutes, or until browned and toothpick in center emerges clean. Cool in pans on wire rack. Freezes well. Makes 2.
Vanilla Caramel Sauce

1 c. sugar
¼ c. water
4 T. butter
2 t. vanilla
¼ c. half and half
Pinch of salt
Combine sugar and water in a small saucepan. Bring to a boil and cook for about 3 minutes. Remove from the heat and add the remaining ingredients. Stir until smooth.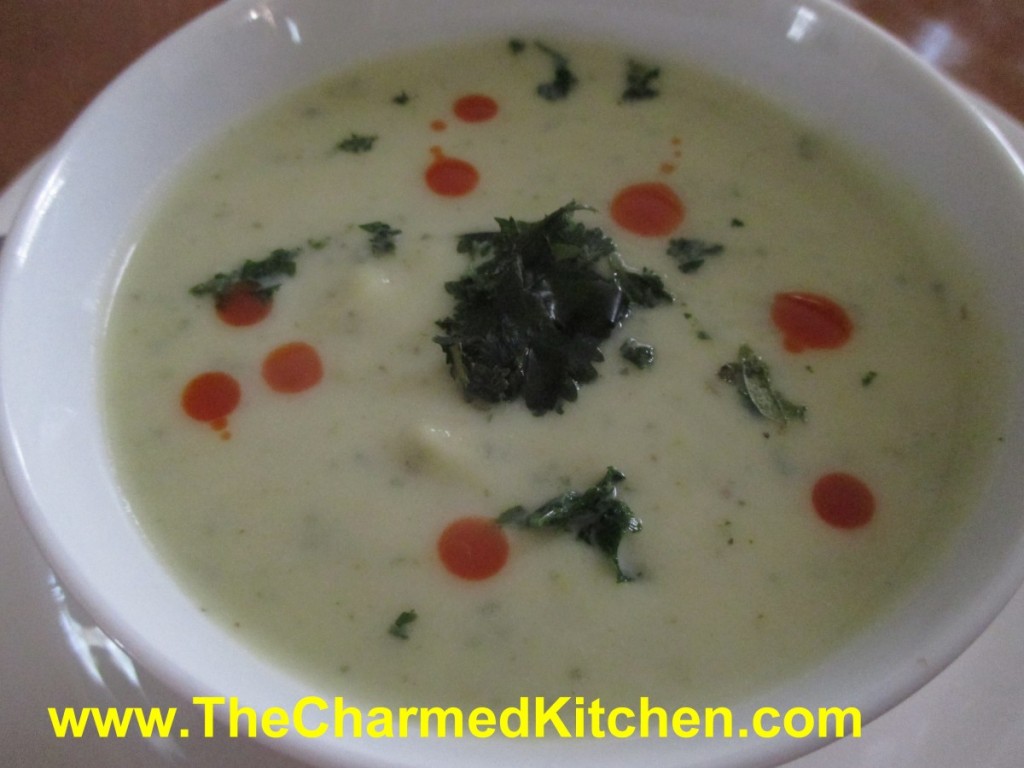 You can never have enough recipes for zucchini. If you have ever planted zucchini, you know what I mean. 
This is a recipe I've had for ages, but had not made in awhile. I forgot how much I liked it. It tastes really good. As an added bonus, it can be served hot or cold.
I leave the skins on my zucchini, I like the way the little green flecks look in the soup, but you can peel, if you prefer. You can also use a combo of green and yellow summer squash.
Here is the recipe.
Creamy Zucchini Soup
1 medium onion, chopped
2 T. butter
4-6 medium zucchini, sliced
1 large potato, peeled and diced
1 T. chopped parsley
½ t. each basil, marjoram and thyme
1 t. hot sauce, or to taste
salt and pepper to taste
6 c. chicken or veggie broth
1 c. milk or half and half- I prefer the half and half
In Dutch oven cook onions in butter until tender. Add vegetables and seasonings and cook until hot. Add broth, heat to a simmer and cook 15 minutes. Puree mixture in blender in batches and return to pot. Add milk and heat through. Adjust seasonings. Serve hot or cold. I topped mine with some fresh chopped parsley and a little hot sauce. Serves 6-8.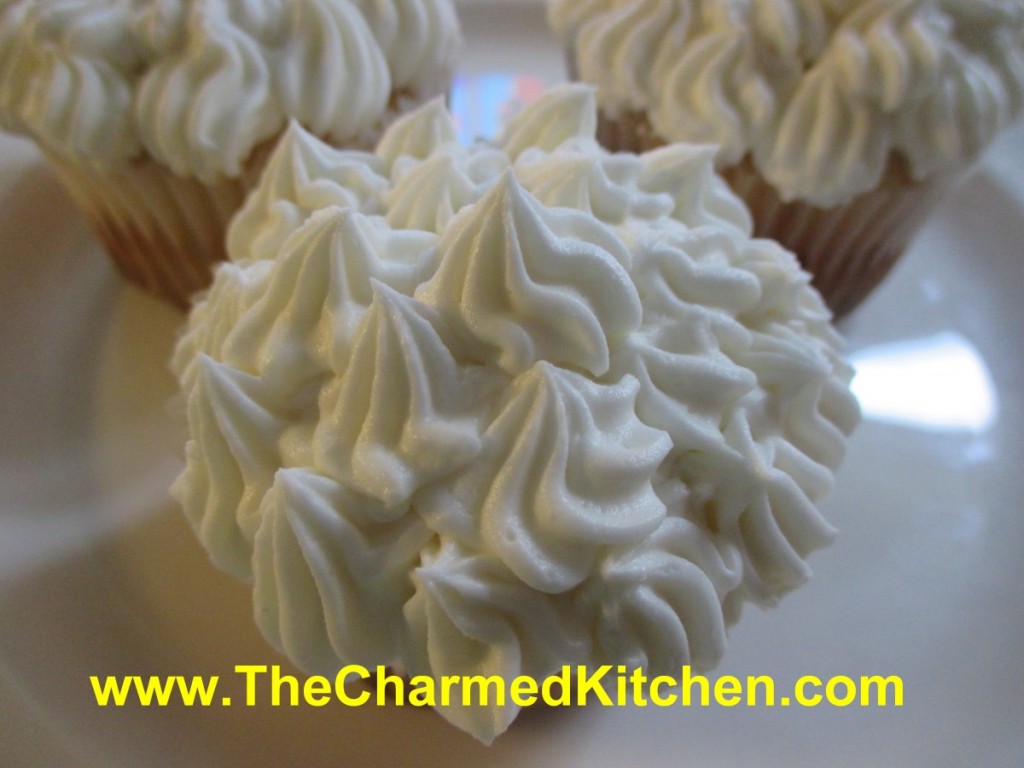 Today is another camp day- and a day of making cupcakes with kids. I am really looking forward to it. The kids always have a great time and get very creative.
I must admit to being a sucker for the classics. This cupcake is certainly a classic.
I normally top them with a vanilla buttercream, but decided to make a white chocolate frosting instead. Yes, I know white "chocolate" is not really chocolate. But when I say white chocolate, everyone knows what I am talking about.
I used a white chocolate bar- and broke it into pieces, before melting, but you could you use white chocolate chips instead. The frosting has a really nice flavor and fluffy texture, without being too sweet. These cupcakes are always a hit.
Classic White (Vanilla) Cupcakes
1 cup sugar
1/2 cup butter
2 eggs
2 teaspoons vanilla extract
1 1/2 cups all-purpose flour
1 3/4 teaspoons baking powder
1/2 cup milk
Preheat oven to 350 degrees. Line a muffin pan with 12paper liners. In a medium bowl, cream together the sugar and butter. Beat in the eggs, one at a time, then stir in the vanilla. Combine flour and baking powder, add to the creamed mixture and mix well. Finally stir in the milk until batter is smooth. Pour or spoon batter into the prepared pan. Bake 20 to 25 minutes. Cupcakes are done when they springs back to the touch. Makes12
White Chocolate Frosting
6 oz. white chocolate – if using bars, chop before melting
1 stick (4 oz.) cold butter, cut into cubes
1-2 c. powdered sugar
1 t. vanilla
Melt chocolate. I just melt mine in a microwave safe dish, but you can use a double boiler. Let chocolate cool down a little. Beat butter into the melted chocolate. Beat until smooth and then beat in the powdered sugar and vanilla. Whip until frosting is smooth and fluffy. I normally beat for 5 minutes or longer. If too thick, add a few drops of water or milk.