I took these blueberry granola bars to a friend's house last night. I was invited over for dinner and wanted to bring something. My friends loved them. I love them, too.
They aren't too sweet and make a wonderful dessert. The crust is tender and crumbly. The blueberry filling adds just the right amount of flavor and sweetness. I could see adding a scoop of ice cream, if you wanted to dress them up a bit. One of my friends thought they would make a great breakfast. I agree.
They freeze well, too.
Here is the recipe. Enjoy.
Blueberry Granola Bars
3 c. blueberries, fresh or frozen
¾ c. sugar
1/3 c. water
2 T. cornstarch
2 t. cinnamon
½ t. salt
2 c. flour
1 T. baking powder
2 t. cinnamon
½ t. baking soda
1 c. butter
2 c. rolled oats
¾ c. chopped nuts, optional
1 c. packed brown sugar
Preheat oven to 350 degrees. Grease a 9×13-inch baking pan and set aside. In a medium saucepan, combine the blueberries with the sugar, water cornstarch and salt. Heat to a simmer, stirring constantly. Once mixture gets bubbly and thickens up, remove from heat and set aside. In mixing bowl, stir together the flour, baking powder, cinnamon and baking soda. Cut in butter until mixture resembles coarse crumbs. Stir in oats, nuts, if using, and brown sugar. Stir mixture until well combined. I actually used my hands to get it to stick together better. Press half of oat mixture into prepared pan. Pour over the blueberry mixture, spreading evenly in pan. Top with the rest of the oat mixture. Bake for 45 minutes, or until top is lightly browned. I used a glass baking dish, so I reduced the heat to 325 once I put the bars in the oven to bake. Cool before cutting into bars.  
I love beets in all sorts of dishes. The bright color and earthy flavor appeal to me. They are so versatile. Beets are great in soups, salads and even desserts. One of my favorite ways to prepare beets is to pickle them.
Last week, I was lucky enough to get some really beautiful organic beets at a local produce market. I made beet soup and beet cake and enjoyed the greens steamed.
I had enough beets left to pickle some. This simple preparation makes them perfect to add to salads, or to enjoy on their own. They will keep in the fridge for weeks and weeks. I sometimes serve pickled beets with cheese and crackers as an appetizer.
I cooked my beets by just boiling them whole until tender, but you can also roast them. Once cooked, just let them cool a little and slip off the skins. Then just dice them up and add the dressing. They will taste better after a few days in the fridge. It gives the dressing a chance to get into the beets and onion and give them that pickled flavor. Feel free to add other seasonings. I had some fresh dill, so that is what I used.
Pickled Beets
2 lbs. beets, greens trimmed off, leaving 1 inch of the stem
1 red onion, peeled and sliced thin
1 c. cider vinegar
1/2 c. sugar- more or less to suit your taste*
2-3 cloves of garlic, minced
1 T. fresh dill snipped, or 1 t. dried
2 t. salt
1 t. fresh ground pepper
1/2 t. celery seed
dash of hot sauce
Cook beets whole until tender. I boiled my beets in a large pot of water for about 35 minutes- they were kind of big. You could roast them, if you prefer. Place in cold water for 5 minutes, then remove from the water and slip off the skins. They usually come off easily, but you might have to peel them. Dice into 1/2 -inch cubes and place in a bowl. Add the onion. Combine remaining ingredients and pour over the beets. Stir to combine, cover and place in fridge. These are ready to eat in a couple of days. Keep for weeks.
*You can also omit the sugar altogether- they will be very tart- but still tasty.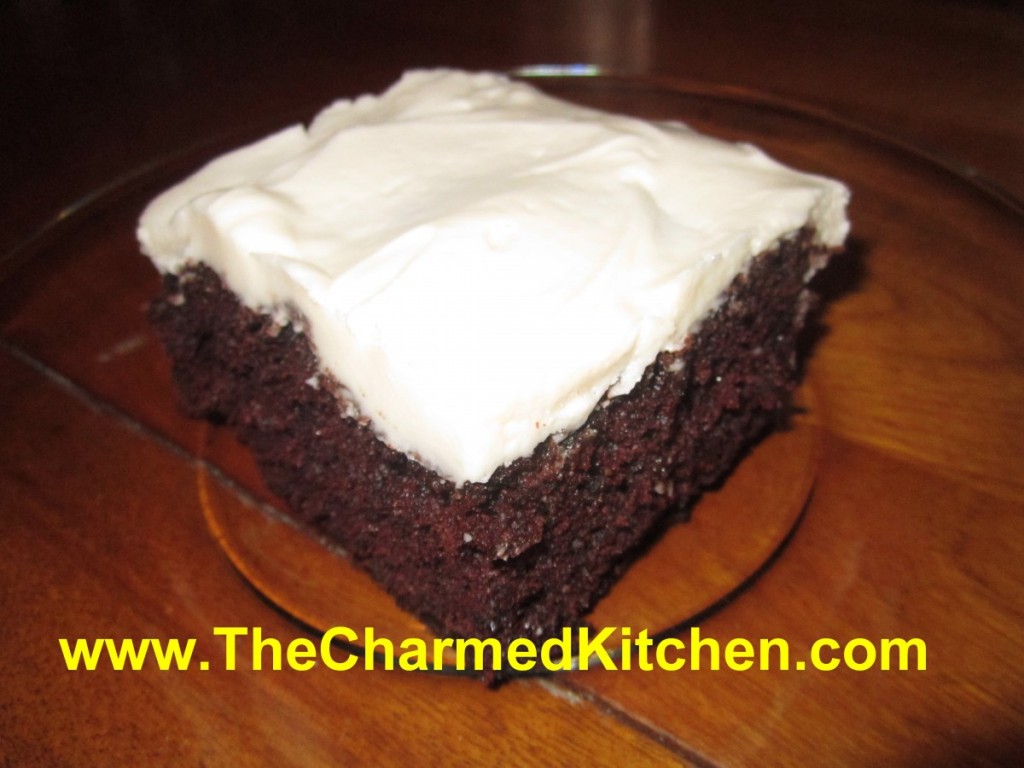 I got some beautiful beets the other day. I made a batch of beet and potato soup. I had some extra beets and decided to make this chocolate beet cake. I have posted the recipe before, but thought I would post it again, after someone asked me about it. This is one of my favorite cake recipes.
When I say beet cake, a lot of people give me a funny look. First, there are the beet haters, and you know who you are. The people who just don't like the taste of beets. I get that, beets are an acquired taste.
Then there are the people who like beets, but could never picture them in a cake. I bake cakes with carrots in them, zucchini and even parsnips. Adding beets to a cake is not so far off. The beets add a subtle red color to the cake, but they also add moistness. The end result is a cake that is full of flavor and has a wonderful, moist texture.
Truth is, I don't really taste the beets in the cake much at all. I taste the chocolate. So here is the chocolate beet cake recipe. I hope you enjoy it.
Chocolate Beet Cake
2 cups all-purpose flour
1½ teaspoons soda
1/2 teaspoon salt
1 1/2 cups sugar
1/2 cup cocoa powder
3 large eggs, beaten
1 cup plus 2 tablespoons oil
1½ cups grated cooked beets
2 teaspoons vanilla
Powdered sugar, optional, or cream cheese frosting- recipe below
Preheat oven to 350°. Combine flour, soda, salt, sugar and cocoa in a bowl; set aside. In a mixing bowl, combine the eggs and oil. Beat in vanilla and continue beating until well blended. Slowly beat in dry ingredients until well mixed; stir in beets. Pour into a greased and floured 9×13-inch baking pan. Bake at 350° for 25 to 35 minutes, or until cake bounces back when touched lightly with finger. Cool in pan on a rack. Frost cooled cake, or dust with powdered sugar.
Frosting recipe:
8 oz. Cream cheese, softened
3/4 c. powdered sugar- or more to taste
1 stick butter, room temperature
Beat all together until fluffy. Frost cake and refrigerate until ready to eat.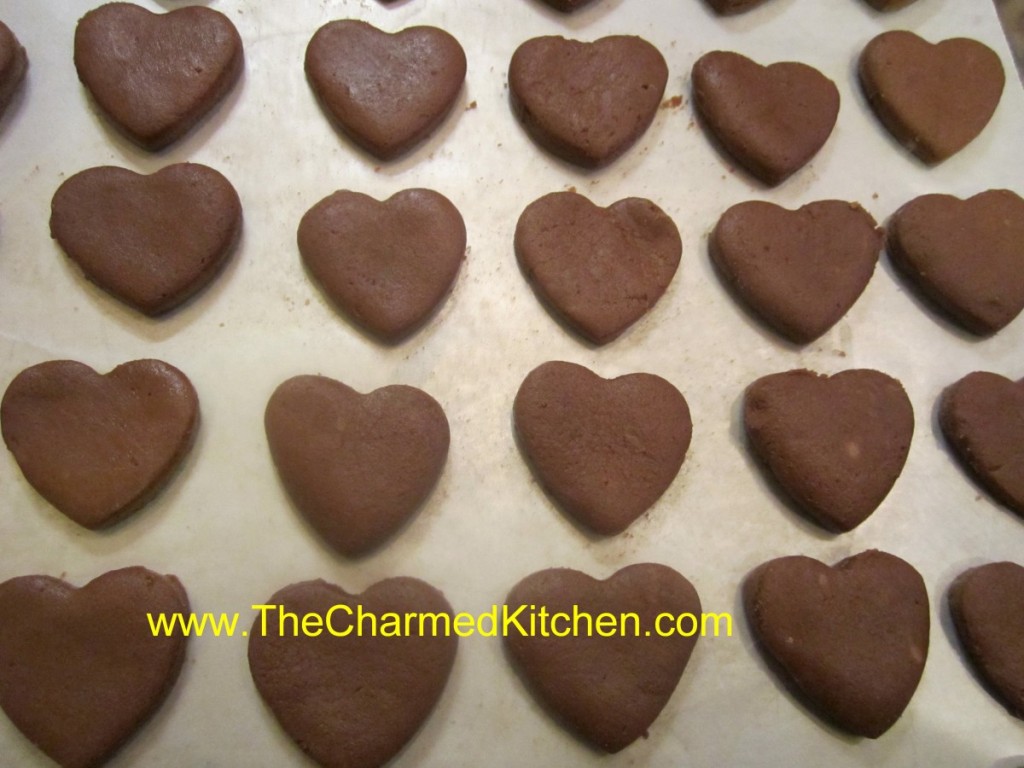 If you are looking for a simple chocolate treat- that requires no cooking – try Mint Cocoa Hearts. They are tiny, but pack a lot of flavor.
This easy to make candy is made with just a few ingredients. The "dough" is mixed and rolled out. Then you just cut them out into little hearts.
They taste great and they are also a nice project for kids. There is no special equipment needed other than a tiny heart-shaped cookie cutter.
Once they have time to set up- they can be boxed up- or wrapped in individual foils.
So if time is short, and you really want to make something homemade this Valentine's Day- these could be the answer.
Mint Cocoa Hearts
9 c. powdered sugar
1 c. cocoa
1/2 c. butter, softened
1/2 c. water
2 t. peppermint extract
In large bowl combine ingredients until well blended. You can add more water, if needed, 1 teaspoon at a time. Divide mixture into 2 pieces and shape in balls. Place each between sheets of wax paper and roll out to 1/4 -inch thickness. Cut out with tiny cutters and place on foil-lined tray. Chill several hours, then wrap up in colored foil or place in tiny candy bags. Makes 80 (1-inch) candies.
Cut out with heart-shaped cookie cutters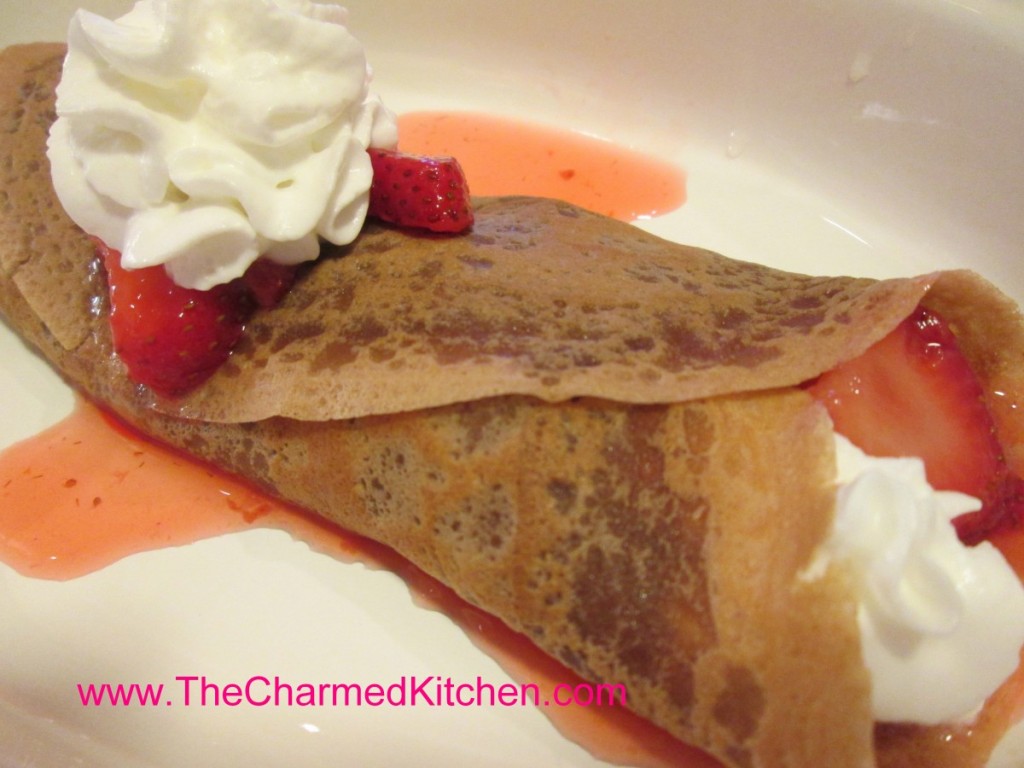 I love these chocolate crepes. They make a great dessert, or breakfast, for Valentine's Day.  The crepes pair nicely with fresh berries, but you could add any number of fillings. Ice cream works, or try jam, pudding, custard or whipped cream.
I topped mine with berries and whipped cream. You could also add some shaved chocolate as a topping.
If you haven't made crepes, this might be just the recipe to convince you.
I often make a double batch of the crepes, then freeze some, between layers of wax paper. That way I can have crepes whenever I want.
Truth is, you can fill these crepes with all sorts of stuff. I had fresh berries, so that is what I used. I added some Kahlua to the batter for a little extra flavor and it worked out just great.
You can have all the components ready, then just assemble when ready to serve. Such a lovely dessert.
Here is the recipe.
Chocolate Crepes
1 c. flour
4 eggs
1 1/2 c. milk
¼ c. cocoa
3 T. sugar
¼ c. Kahlua or other coffee flavored liqueur or ¼ c. strong coffee
1/4 c. butter, melted and cooled
Mix all ingredients in blender (except butter) until smooth, scraping sides often. Add butter and blend well. Let stand for 30 minutes before using, or batter can be refrigerated, covered, overnight. Beat again, just before using.
Heat 6 or 7 inch skillet. Brush with butter or oil and pour in about 1 tablespoon of batter, tipping pan to cover bottom of pan completely with batter. Cook until edges start to brown, turn over and cook until lightly browned (about 2 minutes per side.)
Crepes can be made day ahead or even frozen between sheets of waxed paper and frozen. Makes 18.
Strawberry filling: I just sliced a couple of pounds of berries and added a little sugar- about ½ cup- a tablespoon of vanilla and a healthy dash of cinnamon.
When filling the crepes I spooned some berries down the center of the crepe and added some whipped cream. Folded over, topped with a few berries and another bit of whipped cream.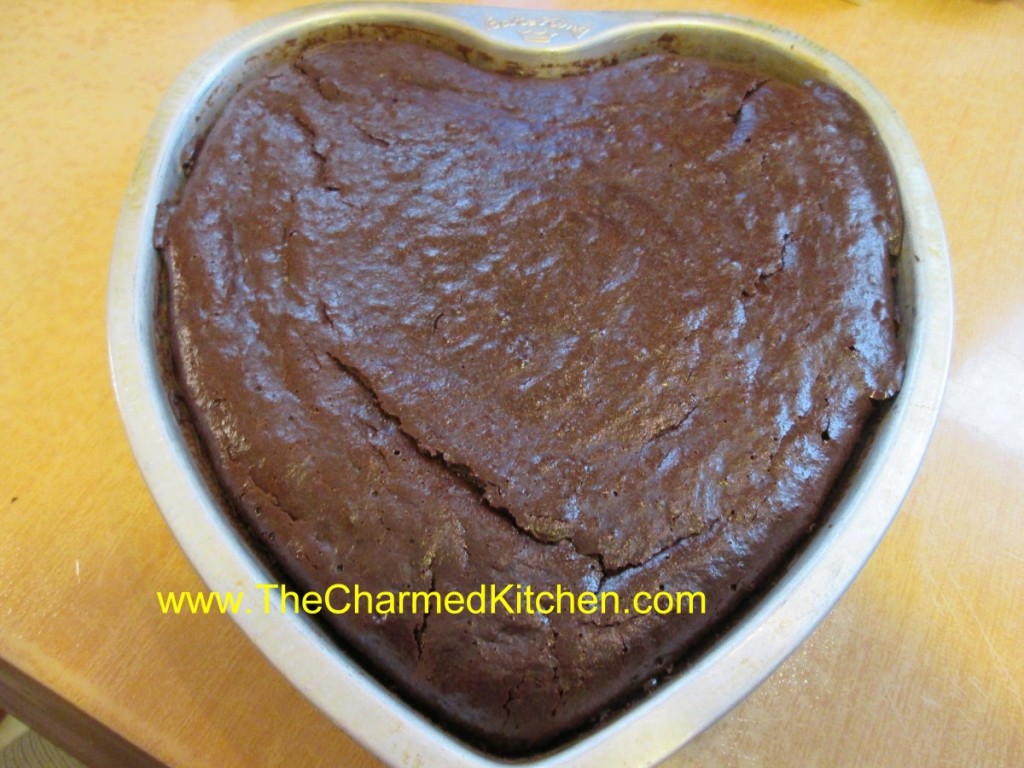 If you are looking for a dessert for your Valentine, you might want to make this cake. The cake is made without any flour and trust me, you will never miss it.
This is a dessert everyone seems to love whenever I make it. This is also a great dessert option for those who can't tolerate gluten. The texture is dense, but not heavy. With only 6 ingredients, it is also pretty simple to make. While it can be baked in any cake pan, I chose a heart shaped pan this time.
Once baked and cooled, the cake can be served as is, or garnished with any number of things. Fresh berries are always a nice touch, or a light dusting of powdered sugar. Sometimes I'll pipe some whipped cream around the edges.
Flour-less Chocolate Mousse Cake
½ c. each sugar and water
1 stick butter
12 oz. semi sweet chocolate
6 eggs
¼ c. dark rum or other liqueur
Butter an eight inch cake pan and line with parchment. In saucepan heat together water and sugar until they boil. Stir in butter and bring to boil. Remove from heat and stir in chocolate until melted. Beat in eggs until smooth and stir in rum. Pour batter into prepared pan and place pan in a roasting pan. Pour boiling water into roaster to come up sides of pan 1 inch. Bake in a preheated 325 degree oven for 45 minutes. Cool, invert onto plate.
Serve cake topped with whipped cream and decorate with raspberries, other fresh fruit or even toasted nuts. Dense and rich, this cake serves 8-10.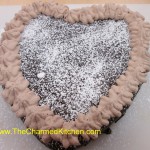 Finished with powdered sugar and chocolate whipped cream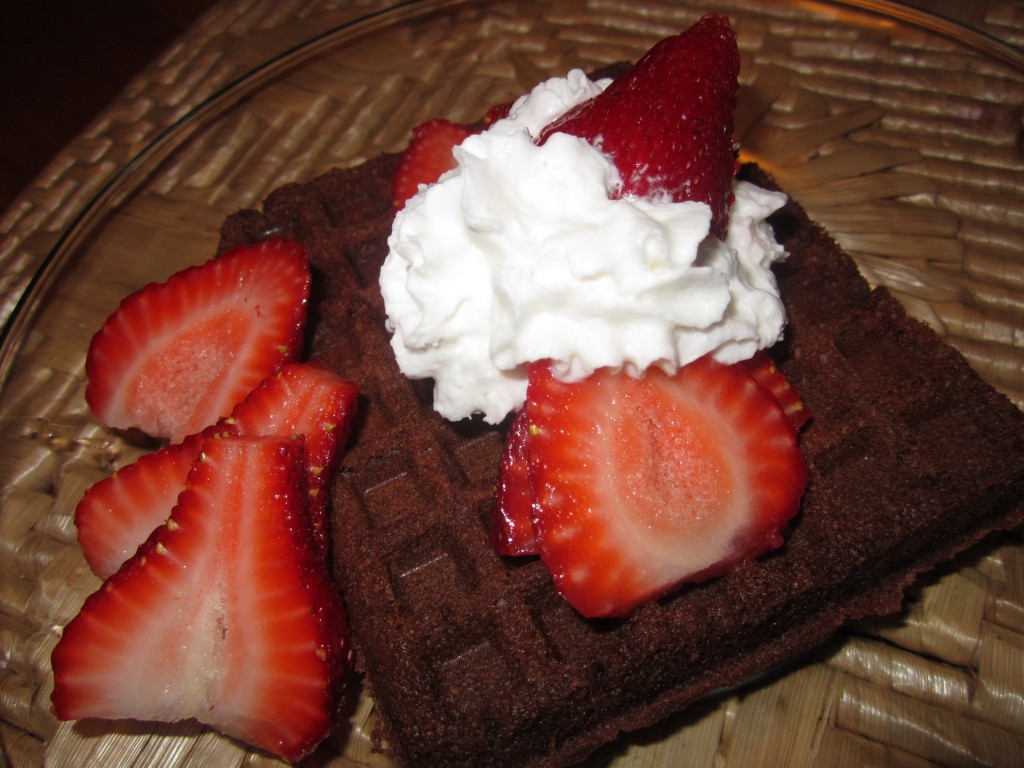 These waffles can make a great start to Valentine's Day. Chocolate for breakfast? Why not? They also make a wonderful dessert.
The waffle batter has cocoa in it, for the chocolate flavor, but I added some cinnamon and nutmeg for a little spice. The flavor is wonderful.
Top them with whatever you like. For breakfast, warm maple syrup or a dusting of powdered sugar work well.
For dessert, I enjoy topping them with whipped cream and berries. You can also top with a scoop of ice cream and hot fudge.  If you like, add some chocolate chips to the batter for a stronger chocolate taste.
Chocolate Waffles
2 eggs, room temperature
1/2 stick butter, melted and cooled
1 t. vanilla
1 c. buttermilk
1 c. flour
3/4 c. sugar
1/2 c. cocoa
1 t. cinnamon
1/2 each baking powder and baking soda
1/4 t. salt
1/4 t. nutmeg
Beat first three ingredients until light and foamy, about 2 minutes. Stir in milk. Beat in dry ingredients just until blended. Bake until waffles are cooked through. Makes 4 cups batter. Serve with whipped butter or sour cream and fresh fruit. I like them just dusted with powdered sugar, too.
We made this recipe in a winter salad class the other night. I love the tart flavor and bright color it adds to my food. This relish is a great topper for sandwiches, but can be used for a whole lot more.
The onions can be served with cheese and crackers for an easy appetizer. You can add some to salads, and the liquid can be combined with a little oil for a simple salad dressing. In class, we added some to a zucchini "noodle" salad. Sometimes I just like to serve it as a side dish.
I even had some with my scrambled eggs for breakfast. After you cook it, you just ladled into jars, cool it down, and store it the fridge. It will keep for weeks and weeks.
Red Onion Relish
4-5 medium red onions, peeled and sliced thin
2 c. red wine vinegar
1½ water
1 c. sugar- or to taste
2 T. salt
1 T. mustard seed
1 T. celery seed
1 t. fennel seeds, optional
2 cloves garlic, minced
1 cinnamon stick- 4 inch
4 whole cloves
Place all ingredients in a pot and bring to a boil. Turn down to a simmer and cook, uncovered for 10-15 minutes. Cool and place in jars, then store in the fridge. Use as a sandwich topper, salad addition, appetizer with cheese and crackers. You can also use the liquid as the base for a salad dressings, with the addition of some oil. Keeps for weeks in the fridge. Makes 5 cups.