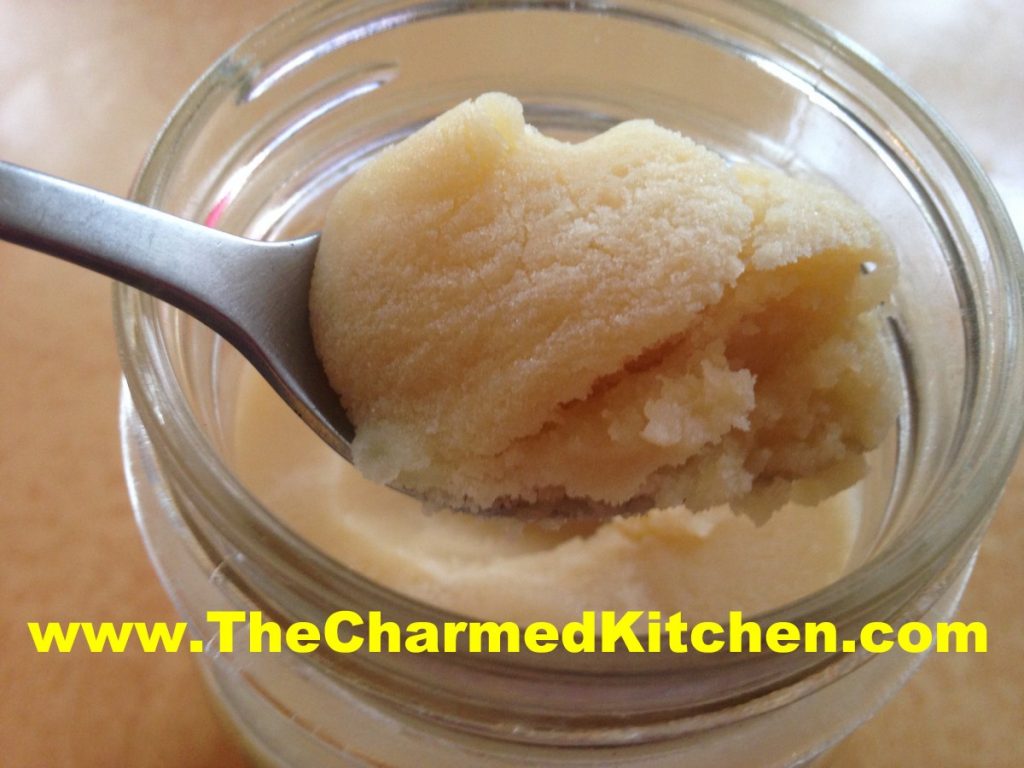 Ghee, if you haven't had it before, is a kind of clarified butter, often used in Indian cooking. You can buy it at stores that carry international foods, but it is easy to make. I had a lot of butter left over from holiday baking, so I used some to make ghee.
Ghee has a wonderful, toasted, nutty flavor and it can be used in all sorts of dishes. You can add it to veggies or spread it on toast. I love to add ghee to rice or pasta.
A wonderful bonus when using ghee, because the milk solids have been removed, you can fry foods in it. It doesn't burn quickly, like regular butter.
Because the solids have been removed, you can store ghee at room temperature. Although, it is recommended to use up home made ghee in a month or so. For longer storage, you can pop it in the fridge, but you don't have to.
The difference between ghee and clarified butter is that ghee is cooked longer, to develop a darker color and wonderful toasted flavor. The longer cooking also removes any water in the butter, leaving just the fat behind.
There are several methods for making ghee. Some suggest long, slow cooking. Others a little more heat and less cooking time. I prefer the latter. I am not the most patient person.
Here is how I made my ghee.
Start with a pound of unsalted butter. Place the butter in a heavy bottomed, medium sized saucepan. Melt the butter over low heat. As soon as the butter is melted, turn the heat up a bit- to medium. It will start to form foam on the top at this point. After a few minutes, the foaming will stop. Turn up the heat a little more- not high heat, but a little higher medium, if that makes sense. Watch for the second foam to form on the top. This takes about 7-8 minutes. It will have turned a pretty, golden color. At this point, your ghee is done. You'll have to strain it, to keep out the solids, which will have settled to the bottom of the pan. I strained my ghee twice, through several layers of cheesecloth. Be sure the container you are straining the ghee into is heat proof- it is pretty hot at this point. I used a stainless steel bowl, then transferred the ghee to a canning jar. You could also use a fine mesh strainer, if you don't have cheesecloth. Store in a container with a tight fitting lid- you don't want moisture to get to your ghee. It will get more solid as it cools down.
One last thing. I used a stainless steel pot and the brown bits took a bit of scrubbing to get out of the pot. Small price to pay for your own ghee.
That's all there is to it. Try to use within a month or store in the fridge. Trust me, it never lasts that long around here!!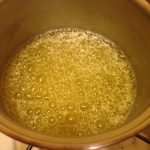 first foam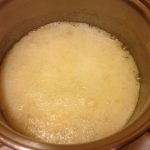 second foam
strained, still warm
All cooled down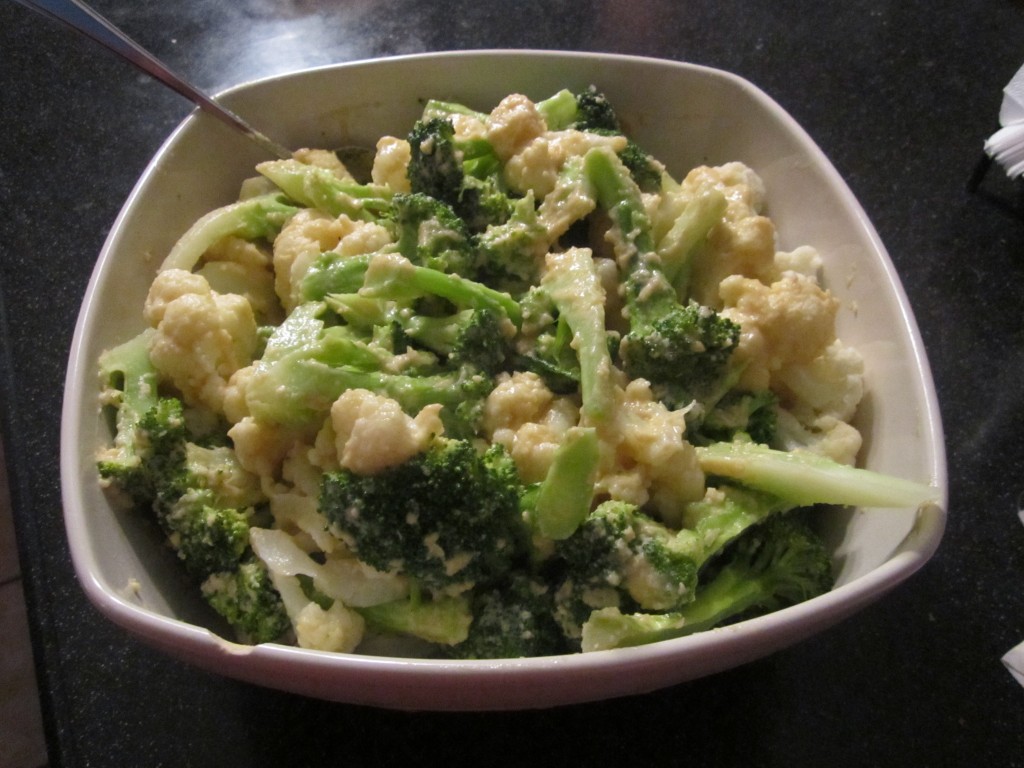 When you think of hummus, I bet you think of it as a dip. It is a great dip, paired with some pita bread or fresh veggies. But hummus can be more than a dip.
I love to toss hot veggies with hummus. I especially like to do this with broccoli. I started doing this years ago for a friend who was vegan. The hummus was a nice substitute for butter or a cheese sauce.
You can use homemade hummus, but store bought is fine, too. Hummus is made from chickpeas, olive oil, tahini, lemon juice, garlic and a few seasonings. Of course, you can make all sorts of variations, if you prefer. You just combine the ingredients in a food processor or blender until smooth. Doesn't get much simpler. I prefer to make my own, so I can flavor it the way I want.
One of my favorite combinations is hummus with broccoli. The flavors work great together. You just toss hummus with freshly cooked broccoli. So yummy.
Since I had some cauliflower, I added some of it to the dish as well.
So the next time you have some hummus around, try tossing it with hot, cooked veggies for a fun side dish.
Steamed Broccoli with Hummus
1 lb. fresh broccoli, you can also use cauliflower or a combination
1/2 c. hummus, homemade or store bought
Cut broccoli into long spears, peeling and trimming tough stems. Steam until just tender. Warm hummus over low heat or in a microwave and spoon over the cooked broccoli. Toss to coat evenly. Serves 4 as a side dish, 2 as a main course.
Hummus
1 can garbanzo beans, drained
1/4 c. olive oil
2 T. lemon juice
2 T. tahini (sesame seed paste)
2 cloves garlic
salt and hot pepper sauce to taste
Combine all ingredients in a blender or food processor until smooth. Adjust seasonings. Chill. Serve with pita bread, crackers or fresh vegetables. Also nice spread in a pita bread with sliced tomatoes, cucumbers and lettuce. Freezes well.
If you are looking for a twist on a Reuben sandwich try baking all the traditional ingredients into a loaf of bread. By using quick rising yeast, this bread can be ready to eat in right around an hour. It tastes amazing, and looks pretty impressive, too. Easier than you think, it will look like you spent all day making it. Plus, you can switch out the ingredients in all sorts of fun combinations.
This would make a great bread to serve for your Super Bowl party. Fun for anytime. really.
 Reuben Bread

3 ¼ c. all purpose or bread flour, you can add a little rye flour, too
1 T. sugar
1 t. salt
1 package quick-rising yeast
1 c. hot water
1 T. oil
¼ c. thousand island dressing*
6-8 oz. thin sliced corned beef
4 oz. sliced Swiss cheese
1 c. sauerkraut, rinsed and squeezed dry
1 egg white, beaten
Caraway seeds
Set aside 1 cup of the flour. Combine remaining flour with the other dry ingredients in a medium bowl. Stir in water and oil and gradually stir in enough flour to make a soft dough. Turn onto lightly floured surface and knead until dough is smooth and elastic, about 5 minutes. Roll dough into a rectangle about 16 x 8. Spread dressing down center middle of dough. Top with meat slices, cheese and sauerkraut. Cut one-inch wide strips of dough from filling to edge on both sides. It will sort of look like fringe. Alternating sides, fold strips up and over the filling at an angle. Carefully lift loaf onto greased baking sheet and place at an angle. Cover with a towel and place sheet on top of a roasting pan half-filled with simmering water for 15 minutes. Brush with egg white and top with seeds. Bake in a preheated 400-degree for 20-25 minutes or until golden brown. Cool slightly before slicing. Serve warm and refrigerate leftovers.
* You can make your own Thousand Island Dressing by combining equal parts of ketchup, mayo and sweet pickle relish.
Note: The variations for this bread are almost endless. Some favorite combinations are ham and Swiss with mustard, roast beef and cheddar, chicken, broccoli and cheese, Spinach with ricotta or feta and onions, pizza, assorted fillings. You get the idea. Use your imagination and have fun. Just be careful not to overfill, or the bread will be hard to move, use fillings that aren't too runny and always use cold fillings.
If you want to use regular yeast use warm, rather than hot water. Also, don't let dough rise over boiling water. After kneading cover dough and let rise 45 minutes. Punch down and assemble as in original recipe. Cover with a towel and let rise until dough looks puffy, about 40 minutes. Bake as directed above. These breads can also be frozen.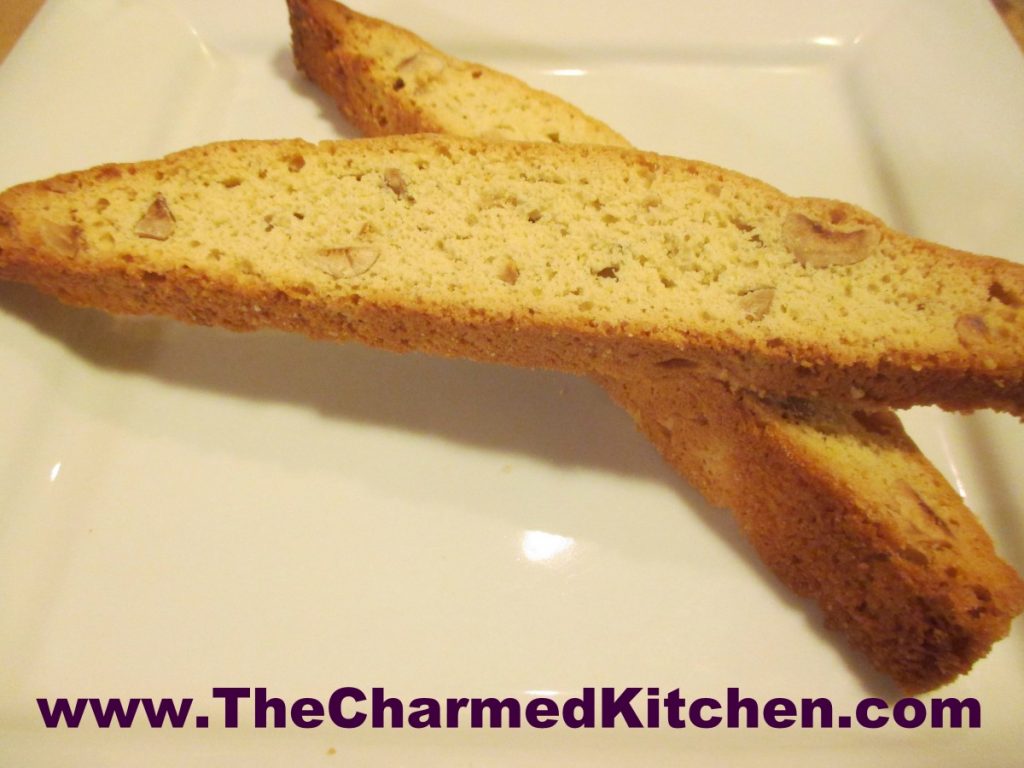 These biscotti are the perfect treat to have with your morning cup of coffee or tea. Crisp, but not too hard, they are studded with crunchy hazelnuts and flavored with vanilla and orange peel. I like them just the way they are, but you could dress them up with a drizzle of powdered sugar glaze. You can also dip one end of each biscotti in melted chocolate.
I was inspired to make these after buying hazelnuts recently.
I don't know why more people don't make their own biscotti. They are so easy to make, and you can flavor them to suit your own taste. Once baked, store them in an air tight container. They stay crisp for weeks. Assuming you don't eat them first!
Biscotti get their distinctive, extra crunchy texture, from being baked not once, but twice. The batter is spread on a cookie sheet and baked until firm. Once cooled and little, the loaf is sliced and the slices are returned to the oven to get baked until crisp and toasted. I put the slices on a cooling rack, placed on the baking sheet, before the second bake. That way, the biscotti toast on both sides evenly. No need to turn them all over half-way through the second bake.
So here is the recipe. I hope if you haven't made biscotti before, you give them a try.
Hazelnut Biscotti
3 c. flour
2 t. baking powder
1/2 t. salt
3 eggs
1 c sugar
1/4 c. butter, melted
1/4 c. olive oil
1 1/2 t. vanilla
1 t. grated orange peel
1 c. hazelnuts, toasted, peeled and chopped*
Combine dry ingredients and set aside. Mix together eggs, sugar, butter, oil, vanilla and peel. Beat until smooth and stir in flour mixture and nuts. Grease a large baking sheet, oil your hands,  and place dough on sheet, forming into a 16×4-inch log. Bake at 325-degrees until tester inserted in center comes out clean, about 30 minutes. Loaf with spread a bit. Cool 15 minutes and leave oven on. Use serrated knife to cut into 1/2 -inch thick slices. Place cooling rack on a baking sheet. Place slices, cut side down, on cooling rack and return to oven for 20-22 minutes. Cool. Makes about 24.
If you like, you can dip one end of the finished biscotti in melted chocolate.
to toast hazelnuts, place on a baking sheet and bake in a 325 degree oven for about 10-15 minutes. You don't want them to burn. While they are baking, place a tea towel on a rimmed baking sheet. When the nuts come out of the oven, dump them on the tea towel. They tend to roll around, so the rimmed baking sheets is to save you from cursing as nuts roll off the towel and onto the floor. Fold the nuts up in the towel and rub them to get the skins off. Most of the skins will come off, which is fine.
I love sweet potato pie. I am always surprised when someone tells me they  have never had it. Maybe it is a north/south thing? I have made it for friends several times, and there is always someone who says they never had a sweet potato pie before. Once they taste it, they love it. 
I used to work with a wonderful woman named Hazel Pruitt. She grew up in Alabama and taught me so much about southern cooking. I first made collard greens with Hazel. She also taught me how to make sweet potato pie. This is her recipe and I want to share it with you. I think of her every time I make it.
I used Martha Stewart's recipe for the crust, but use whatever crust you like. Her recipe makes two crusts, so I will use the other half of the dough for another pie.
Hazel's Sweet Potato Pie
½ c. sugar
1 t. cinnamon
½ t. allspice
½ t. salt
¼ t. cloves
1 ½ c. cooked, mashed sweet potato
2 eggs, beaten
1 c. milk or almond milk
2 T. melted butter or 2 T. olive oil
1 (9-inch) unbaked pie crust
Combine sugar with seasonings. Stir in remaining ingredients and combine until smooth. Pour into pie crust and bake in a preheated 400 degree oven for 40 minutes, or until filling is set.
Martha Stewart's Pie Crust Recipe
2½ c. flour
1 t. salt
1 t. sugar
2 sticks (1 cup) butter, very cold
About 6 T. ice water
Combine dry ingredients and cut in butter to resemble coarse crumbs. Using a fork to mix the dough start to add the ice water a tablespoon or 2 at a time until mixture just holds together. Wrap and chill until ready to use. Makes 2.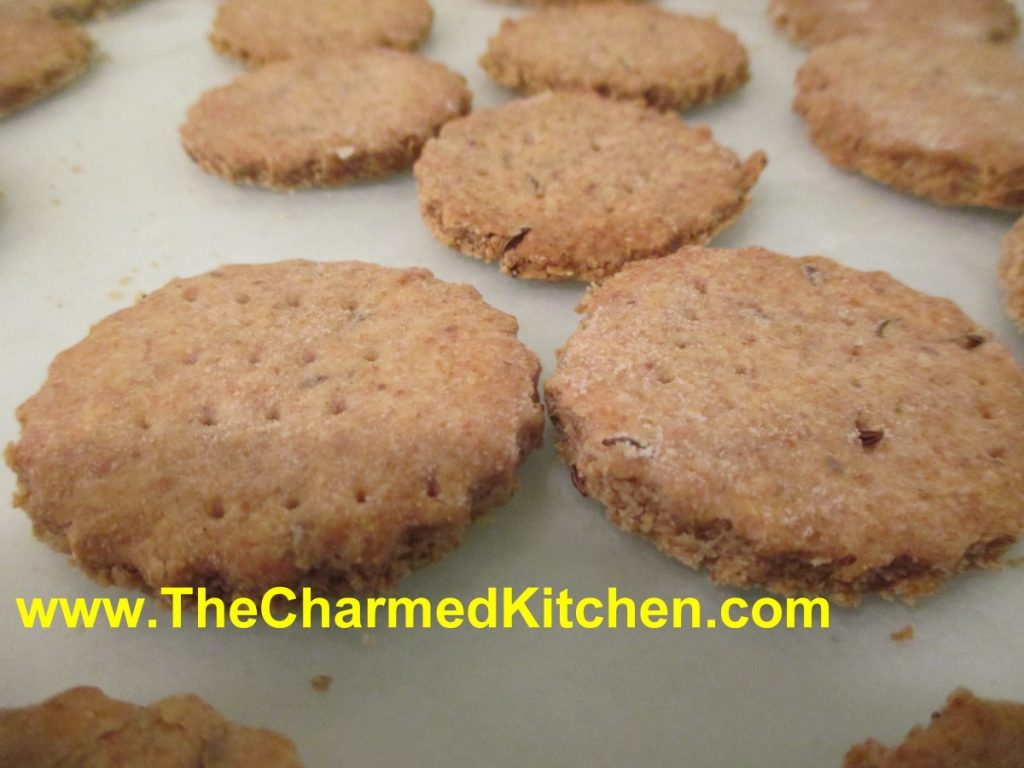 Making crackers is fun, and actually pretty easy. These rye crackers are as simple to make as a batch of cookies. They are crisp and full of flavor. The thinner you roll them out, the crisper they will be.
I am a big fan of rye bread and a fan of these rye crackers, too. I just love the flavor of rye flour. I think it pairs so well with any number of toppings. These are great with a little Swiss cheese melted on the top. You can also cut the crackers out in fun shapes.
So here is the recipe for rye crackers. I hope you'll give cracker making a try.
Rye Crackers
1 c. rye flour
1 c. all-purpose flour
1 T. caraway seed
1½ t. salt
1 t. onion powder
1 t. garlic powder
1/3 cup oil
1 t. honey
¼ c. water, or as needed
Combine the rye flour, all-purpose flour, caraway seed, salt, onion powder, and garlic powder in a bowl. Stir in the oil and honey. While stirring with a fork, slowly add the water until the dough comes together in a ball. Cover and rest for 10 minutes. Preheat oven to 375 degrees.  Divide the dough into 4 sections, rolling each piece out on parchment paper to 1/8 inch thick. Cut into desired shapes, then place on a baking sheet. Prick each cracker a few times with a fork. Bake until the edges are brown and the crackers are crisp, 10 to 12 minutes. Remove immediately to a cooling rack.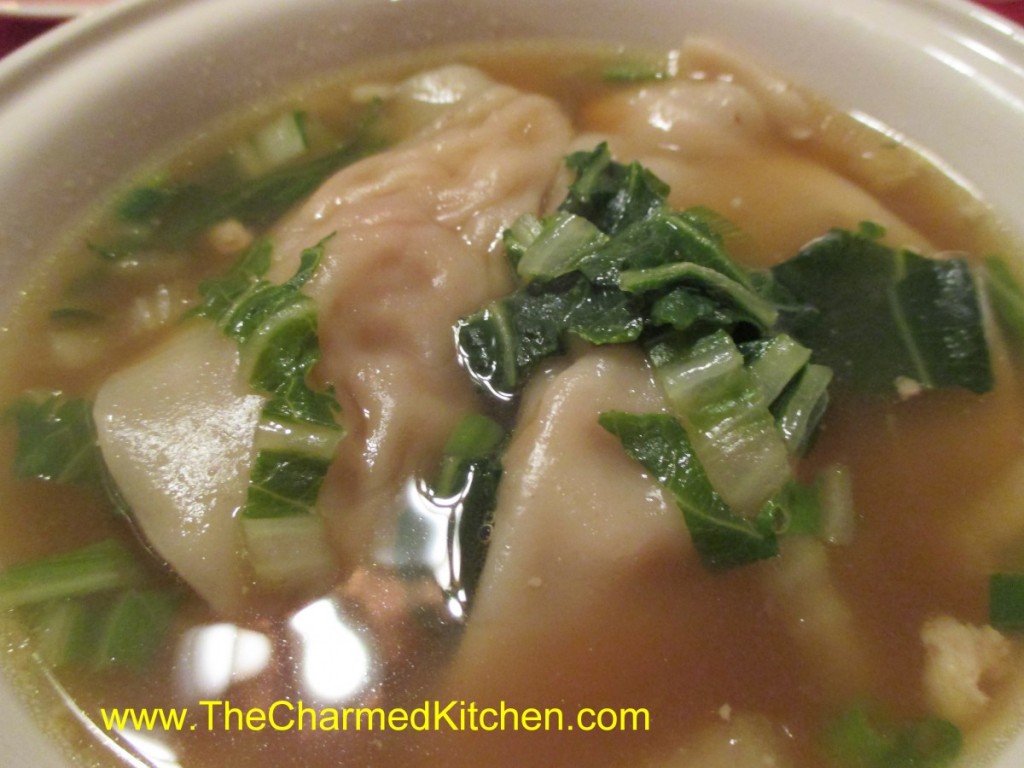 With a chill in the air today, I decided to make wonton soup. It is one of my childhood favorites. Wonton soup is actually not that hard to make, and everyone seems to like it.
For me, Wonton soup always brings back memories of going out for Chinese food with my family, when I was a kid. The restaurant would serve it family style, and my mom or dad would ladle out everyone's soup. It always looked and smelled wonderful. Tasted wonderful, too. Even more special, because we only had it when we out to dinner.
The one problem I find when trying to make this soup at home is finding wonton wrappers that are thick enough. The square ones I find at the neighborhood grocery store are OK, but thinner than the ones in Wonton Soup at a restaurant. At a local Asian grocery I have found round wrappers that are labelled for dumplings and are thicker. That is what I used. They worked out better. I normally add strips of roast pork to wonton soup, but one of my friends doesn't eat pork, so the use of chicken thighs was a great substitute. You can play around with fillings, too. I often add shrimp as both a filling, and to the soup itself.
Wonton Soup
1½ lb. chicken
1 head bok choy, or 4-5 baby bok choy
3 T. hoisen sauce
1 clove garlic, minced
24 won ton wrappers
2 qts. chicken stock
1 t. ginger
1 t. hot pepper sauce
Chopped green onions
Sesame oil
Bake the chicken until cooked. I used boneless chicken thighs, but even leftover roasted chicken would work. Once cooled, I minced enough of the chicken to give me 1 cup of meat. The rest I cut into thin strips. I then took stems from the bok choy and minced enough of them to make 1 cup. Combine the minced chicken with minced bok choy, the hoisen and the garlic. This is the filling for your wontons. Slice more of the bok choy- using mainly the leaves, into thin shreds. This will go into the soup later, along with the strips of chicken. You should have at least a couple of cups of the shredded bok choy, but more is OK, too. To make the wontons place one on your work surface and spoon a rounded teaspoon of the filling into the middle of it. Moisten edge with water, fold in half and press to seal. I used round wrappers, but square wrappers are fine, too. Repeat with remaining wontons and fillings until done. Bring stock to a boil and add the ginger and hot sauce. Add the wontons to the simmering stock. Simmer gently for 3-4 minutes, stirring occasionally, then add the strips of chicken and the shredded bok choy greens. Cook about 5-6 minutes longer. Finish soup with chopped green onions and a drizzle of sesame oil. Serves 6-8.
There is nothing better than the smell of fresh baked bread. This Swedish rye bread is a favorite of mine. It has a soft texture and makes great sandwiches. It also makes the house smell wonderful as it bakes.
The flavor in enhanced by a combination of caraway seeds and a little orange zest. It even makes wonderful French toast. My brother-in-law says it is just like the bread his Swedish mother made.
It is not like rye breads you might traditionally think of. Limpa is lighter in color and texture. It makes really great French toast, too.
I shape mine in two round loaves, but you can also bake this bread in loaf pans, if you prefer. If you want to use it for sandwiches, the loaf pans are probably a good idea. You can also shape the dough into dinner rolls, if you like. You will get 2-3 dozen rolls out of this recipe, depending on how big you make your rolls.
Swedish Limpa
6 ½ c. flour
2 c. rye flour
¼ c. brown sugar
2 t. salt
2-t. caraway seeds
2 t. grated orange peel
2 pkt. Active dry yeast
2 T. butter, softened
2 2/3 c. hot water (125-130 degrees)
Set aside 1-cup flour. Mix remaining flours and other dry ingredients in a large bowl. Add butter and water to flour mixture and stir to blend. Mix in enough additional flour to make a soft dough. Knead on a floured surface until smooth about 8-10 minutes. Place dough in oiled bowl turning to oil top. Cover and let rest in a draft free area until doubled, about 30 –40 minutes. Punch down. Divide dough in half and form into 2 balls. Place on greased baking sheet and cover until doubled in bulk, about 30 –40 minutes. Bake in a preheated 400-degree oven for 30 minutes or until bread sounds hollow when tapped lightly. Makes 2 loaves.
Note: you can also divide the dough and place in 2 (9×5-inch) greased loaf pans.
I have wonderful memories of my Aunt Josie making these for every family gathering. Aunt Josie cut the cake into squares. They were all perfectly even. I asked her how she did that. She told me that she used her cooling racks to get the lines even. She would set the cooling racks on her cake and use the wires as guides. So clever.
I never could seem to get them even, so I bake my cake in cupcake tins and call then snowballs. Whatever the shape, these little cakes are a favorite treat in my family.
In bakeries, you'll find them in squares or rectangles. She shared her recipe with me a long time ago, and I am sharing it with you.
You can bake the batter in mini muffin pans or standard muffin pans. It just depends on what size you want your snowballs to be. After the cupcakes are baked, freeze them. The frozen cakes are dipped in a chocolate sauce and then rolled in desiccated coconut.
Desiccated coconut is dried and unsweetened. It looks like coarse, white bread crumbs. You can find it in stores that carry baking supplies and at Asian markets. It is the same kind of coconut used to make coconut shrimp.
Here is the recipe for making the "snowballs". The recipe for the cupcakes is listed below, as well. I just doubled my classic white cupcake recipe, but you could use a box mix, if you prefer.
Aunt Josie's Coconut Cake Squares aka "Snowballs"

1 white cake, prepared and frozen solid*
Chocolate Sauce
1 c. unsweetened cocoa
1 1/4 c. sugar
2 c. water
1 t. vanilla

1 c. desiccated coconut (available at cake supply stores and some health food stores)
Cut frozen cake into small squares, or cake can be baked in regular or mini cupcake tins. Keep cake frozen until ready to use. Meanwhile, make the chocolate dipping sauce. Combine remaining ingredients, except coconut, in a medium saucepan. Bring to a boil then simmer 5 minutes. Remove from heat and cool completely.
Using toothpicks or fondue forks, dip frozen cake in sauce let drain a few seconds, then roll in the coconut. Can be enjoyed right away or frozen again for later use.
*If you make the cake in muffin tins you'll get 24 cupcakes or about 60 mini cupcakes.
Classic White Cupcakes
1 cup sugar
1/2 cup butter
2 eggs
2 teaspoons vanilla extract
1 1/2 cups all-purpose flour
1 3/4 teaspoons baking powder
1/2 cup milk
Preheat oven to 350 degrees. Line a muffin pan with 12paper liners. In a medium bowl, cream together the sugar and butter. Beat in the eggs, one at a time, then stir in the vanilla. Combine flour and baking powder, add to the creamed mixture and mix well. Finally stir in the milk until batter is smooth. Pour or spoon batter into the prepared pan. Bake 20 to 25 minutes. Cupcakes are done when they springs back to the touch. Makes 12.
When a family member was diagnosed with Celiac disease years ago, the selection of gluten free foods was pretty limited. Happily, today going gluten free is much easier. I buy a gluten free flour at Costco that can be used in any recipe that calls for all purpose flour. Gluten free flour is available in many grocery stores, too.
Gluten free flour seems to bake, or at least brown, a little faster, so you have to keep an eye on what you use it in. It doesn't get much easier than that. In this recipe you could also use all purpose flour, if that is what you prefer. Just increase baking time 3-5 minutes.
The muffins are moist and not too sweet. They are great for breakfast, snacks or even as a dessert. They could also be served with lunch or dinner in places of rolls.
They freeze well so you can make a batch and freeze the extras for later.  Wonderful for busy days when you don't have time to make them.
Sweet Potato Muffins- Gluten Free
4 eggs, slightly beaten
3/4 c. oil
1 c. sugar
2 c. cooked sweet potatoes, mashed
1 3/4 c. gluten-free flour
1 T. cinnamon
1 t. nutmeg
2 t. baking powder
1 t. baking soda
3/4 t. salt
Blend together in large bowl eggs, sugar, sweet potatoes and oil and set aside. In another bowl combine dry ingredients. Add dry ingredients to egg mixture and stir until well blended. Pour into paper-lined muffin tins, filling about 2/3 full. Bake in a preheated 350-degree oven for 20-25 minutes or until muffins spring bake when touched lightly.  Makes 30-36.
These freeze well.