Today would be my Mom's birthday. I still miss her. She was a great cook and I learned a lot from her. Here is the bread she was famous for in our family.
My Mom used to make this wonderful sweet bread. Made it for every family occasion. The recipe uses butter. She was a very frugal person. One day, she decided to render the skin from a duck she was using in soup. She would never just toss it. Too wasteful. Once it was cooled, the duck fat looked like butter. She was making her sweet bread and substituted the duck fat for the butter in the recipe. When my brother-in-law, Bob, tasted it he declared it was the best bread yet. My Mom told him what the secret ingredient was, and from that day on, we always called it duck fat bread, even when it was made with butter. Here is the recipe- wonderful even if made with plain old butter.
Mom's Butter Coffeecake Braids aka Duck Fat Bread
4 1/2 c. flour
2 T. sugar
1 t. salt
½ c. butter or 1/2 c. cooled rendered duck fat
1 packet yeast
¼ c. warm water
2 t. sugar
1 c. evaporated milk
2 eggs, beaten
Combine flour with sugar and salt. Cut in butter or duck fat and set aside. Dissolve 2 teaspoons sugar in warm water. Dissolve yeast in warm water mixture and set aside. Allow to become bubbly, about 5 minutes. Combine milk with eggs. Stir in yeast mixture and add to flour mixture stirring well. Knead dough in bowl until smooth, about 10 minutes. Place on lightly floured surface and knead until smooth. Cover and let rise until doubled, about 1½ hours. Divide dough in half and then each half into thirds. Roll dough into ropes and braid three ropes together. Repeat with remaining 3 ropes. Place braids in 9×5 inch greased bread pans and cover with a towel. Place in a warm, draft-free place and allow to rise until doubled, about 1½ hours. Bake in a preheated 350 degree oven for 25 minutes. If you like glaze loaves while warm with a mix of powdered sugar, a little milk, butter, and vanilla. Toasted almonds or walnuts can be added, if desired. Makes 2 loaves.
Note: You can also refrigerate the dough after kneading it if you would prefer. Just place dough in an oiled bowl, cover with plastic wrap and chill overnight. Roll and shape dough into braids when cold from the fridge. Rise, covered, until doubled in bulk, about 2-3 hours. Bake as directed.
Note: You can also place loaves on a greased baking sheet for a longer, flatter bread rather than in loaf pan.
Tomorrow would be my Mother's birthday. Every time I prepare something she used to make, I feel like I am honoring her a little. I had a friend over for dinner the other night for chili and cornbread. He said it tasted like his Mother's chili, too.
I love chili and make all sorts of variations, but I crave this simple version my Mother used to make. It was one of my favorite dishes when I was a kid. She'd often make cornbread to have with it. I admit to spicing it up more now, often adding a good shot of hot sauce, but it is still the same dish I remember so fondly.
Miss you Mom. Love you.
Mom's Chili
1 large onion, chopped
Oil
3 lbs. coarsely ground beef
3 (28 oz.) cans crushed tomatoes – I used 3 quarts of home canned tomatoes
2 cans (about 15 oz.) kidney beans, rinsed and drained
1 T. minced garlic
¼- ½ c. chili powder, or more to suit your taste
2 t. cumin
Salt and pepper to taste
Hot pepper sauce to taste
In Dutch oven or soup pot, sauté onion in oil until tender. Add meat and cook until no pink is visible. Drain off excess fat. Add tomatoes, beans, garlic and chili powder to taste and cumin. Cover and simmer over low heat until flavors blend, at least 30 minutes. Longer cooking is even better. I often transfer the chili to the crock pot for a couple of hours. Adjust seasonings and serve. Serves 4-6.
Can be eaten as is- or top with shredded cheese or a dollop of sour cream.
I have made a lot of versions of cornbread in my life, but this one might just be my favorite. Perhaps because it is my Mother's recipe.
Her secret? She put a layer of shredded cheese between layers of batter. She also added cream style corn to some of the batter.
You end up with a cornbread that is full of flavor. It is also very tender and crumbly, but not dry. I baked mine in a cake pan, but there is no reason you could not bake this recipe in cast iron, if you prefer.
I served this cornbread with a chicken-vegetable soup last night. I had a friend in for dinner. My friend loved it.
I was so pleased. I hadn't made Mom's version of cornbread in awhile. I will definitely be making it more often from now on.
My Mom's birthday would be in a couple of days. To remember her, I will be posting some of her recipes in the next few days. Stay tuned for some great food.
Mom's Cornbread
1 c. cornmeal
1 c. flour
2 T. sugar, optional
4 t. baking powder
¾ t. salt
2 eggs
1 c. half and half
¼ c. oil- or melted butter or bacon fat
4 oz. pepper Jack cheese, shredded
1 c. cream style corn
Grease a 9-inch square pan and set aside. Preheat oven to 425 degrees. Combine dry ingredients in medium bowl, and set aside. In small bowl, combine eggs, half and half and oil and beat until smooth. Stir egg mixture into dry ingredients, stirring until combined. Don't over-mix. Pour half of the batter into prepared pan. Sprinkle shredded cheese over the batter in the pan. Combine remaining batter with the cream style corn. Pour this mixture over the cheese in the pan. Bake 20-25 minutes. Serves 8-9.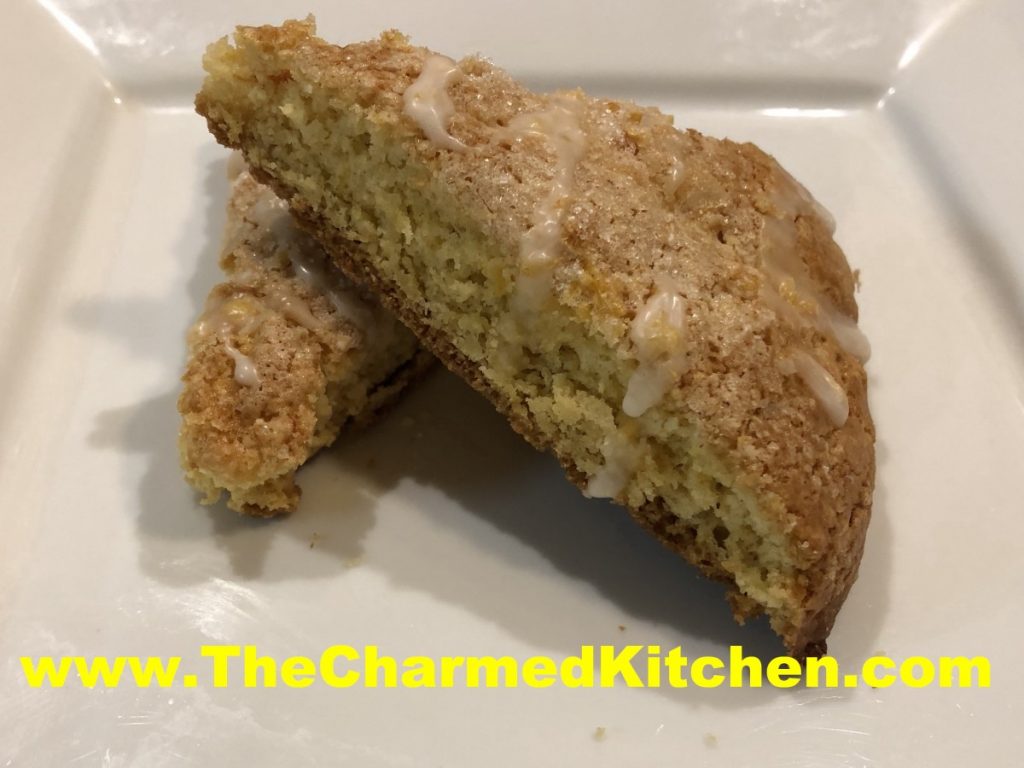 I needed something to serve with tea and decided to make scones. I am not sure why I decided to use grapefruit in the recipe. It might have been that big bowl of pink grapefruit sitting on the counter.
I started with a scone recipe I had used before, then tweaked it by adding grapefruit zest and juice. I added grapefruit juice and zest every where I could think of.
They came out great and were a big hit with my guests. You could even see a little fleck of pink here and there.
Scones, done right, are very tender. These scones came out just perfect. A little crispy on the outside, tender on the inside. Not too sweet and the delicate flavor of grapefruit. So here is the recipe.
Grapefruit Scones
2 c. flour
½ c. sugar
1 T. baking powder
1 t. baking soda
½ t. salt
Zest of 1 grapefruit
½ c. cold butter
1 egg, beaten
¼ c. half and half
¼ c. grapefruit juice
Topping:
2-3 T. half and half
4 T. sugar
1 T. grapefruit zest
Glaze:
1½ powdered sugar
1 T. grapefruit zest
3-4 T. grapefruit juice
Preheat oven to 375. Line a baking sheet with parchment paper or silicone liner- or grease lightly. Set aside. In medium bowl, combine flour with sugar, baking powder, baking soda, salt and zest. Cut in cold butter until mixture looks like coarse crumbs. In small bowl, combine egg with half and half and grapefruit juice. Add to flour mixture and stir until mixture forms into a soft dough. Mix until combined, but don't overmix. On lightly floured surface, divide dough in half. Dust an 8-inch round cake pan. Add half of the dough and press in until dough is evenly spread in the pan. Turn the pan over, quickly onto the prepared baking sheet to get the dough out. Note: this part seems a little tricky, but it gives you a perfect 8-inch circle of dough. Don't under-flour the pan and the dough will come right out. Also, be sure to flip the dough near one corner of the baking sheet, so you will have room for the other half of the dough. Re-flour the cake pan, press in the rest of the dough and flip it onto the baking sheet. Now you have 2 ( 8-inch)  circles of dough on the baking sheet- hopefully. Don't sweat this part. If the dough doesn't come out easily, just scrape it out of the cake pan, add more flour, return the dough to the cake pan, and try it again. And when you are flipping it out of the pan- do it quickly. If you prefer, you can place the dough on the baking sheet, in two piles, and shape it into 2 ( 8-inch) circles. Using a dough cutter or a spatula, cut each circle of dough into 8 wedges. For the topping, brush the scones with half and half. Combine the sugar and zest and sprinkle over the dough. Bake for 20-22 minutes, or until golden brown. Re-cut the scones where you cut them before, and place the scones on a cooling rack. Let them cool a few minutes. Meanwhile, make the glaze. Combine the powdered sugar and zest, then add enough grapefruit juice to make a glaze you can drizzle. Using a small spoon or even a fork, drizzle the tops of the scones with the glaze. Make a pot of tea and eat your scones. Makes 16.          
I wanted a lovely meal for a dinner with friends. It had to be special. When it occurred to me to make Chicken Paprikash, I knew I had made the right choice. Chicken, in a sour cream-paprika laden sauce, served over spaetzle. Ultimate comfort food.
I love paprikash, but had not made it in a long time. To save time, I used boneless thighs. Traditionally, bone-in chicken is used. Chicken legs would be my usual choice. The thighs did save a lot of time and they were tender and juicy.
Paprika is made from peppers that are dehydrated, then ground into a powder. There are dozens of types of paprika and it can get confusing. Sweet paprika just means that sweet peppers were used. Hot paprika means hot peppers are the base. The type of paprika is a personal choice. Hungarian is always a classic and will not disappoint. Just know whether you want a sweet or a hot paprika. You probably don't want a hot paprika for a dish like this. It will make it too spicy. Lots of people like Spanish paprika. I fly in the face of tradition sometimes, by using a California paprika. I have also made my own paprika. If you like the flavor, then you are using the right one for you. To keep it's flavor, store paprika in the fridge. Paprika can get rancid if stored too long at higher temps.
So here is the recipe. I will admit I didn't measure the paprika before dredging the chicken in it. Don't be timid. Use enough to coat the meat. I think the amount I listed in the recipe is pretty close to what I used. I also added some smoked paprika for extra flavor. Not a required ingredient, but I think it was a really good addition. The spaetzle recipe follows as well. Enjoy!
Chicken Paprikash
3-4 T. oil
2 onions, peeled and sliced
1 sweet pepper, seeded and chopped
6-8 boneless chicken thighs* (about 2 lbs., depending on the size)
6 T. paprika
1-2 t. smoked paprika
Salt and pepper
¼ c. flour
2 c. chicken stock- or a bit more
1- 1½ c. sour cream
2 T. flour, optional
Heat oil in skillet. Cook onions until golden and add peppers. Continue cooking until peppers are tender. A little golden color on the veggies will add more flavor. Remove veggies from the pan and set aside.  Meanwhile, combine paprika with seasonings and ¼ cup flour and place in a shallow pan. Dredge the chicken in the paprika mixture. Add chicken pieces to the skillet and cook on high heat. Brown both sides of the chicken. You might have to do this in batches, depending on how much chicken you have. Once the chicken pieces get golden on both sides, turn down the heat and cook until chicken is done, or very close to done. Remove chicken, spoon out any excess fat, and add the stock to the skillet. Heat the stock until simmering. Place sour cream in a bowl and add some of the warm stock to it. If you think the sauce is too runny, add the extra flour to the sour cream mixture. Stir until sour cream mixture is smooth. Turn heat down in skillet to low. Place the sour cream mixture in the skillet and stir until sauce is smooth. Return the chicken and veggies to the sauce and cook, over low heat, until chicken is cooked and heated through. Adjust seasonings. Serve over spaetzle or egg noodles. Serves 4-6.
* Paprikash is traditionally made with bone-in chicken. If you use bone-in chicken, cooking time is longer. I brown chicken legs in the pan, then place them in a 350 degree oven to finish cooking, before returning to the sauce in the skillet.      
Spaetzle
3 eggs
1/2 c. half and half or evaporated milk
1/2 t. salt
1 1/2 c. flour
Combine all ingredients and let rest 30 minutes. Drop by small spoonfuls into boiling water. Cook until they float and puff up, about 5 minutes. I use a spaetzle maker, which produces smaller pieces. I only cook them a couple of minutes. Drain and serve with soups, stews, sauces or buttered. For the paprikash, I browned the spaetzle, after cooking, in a butter- oil mixture. I also tossed in some fresh parsley at the end.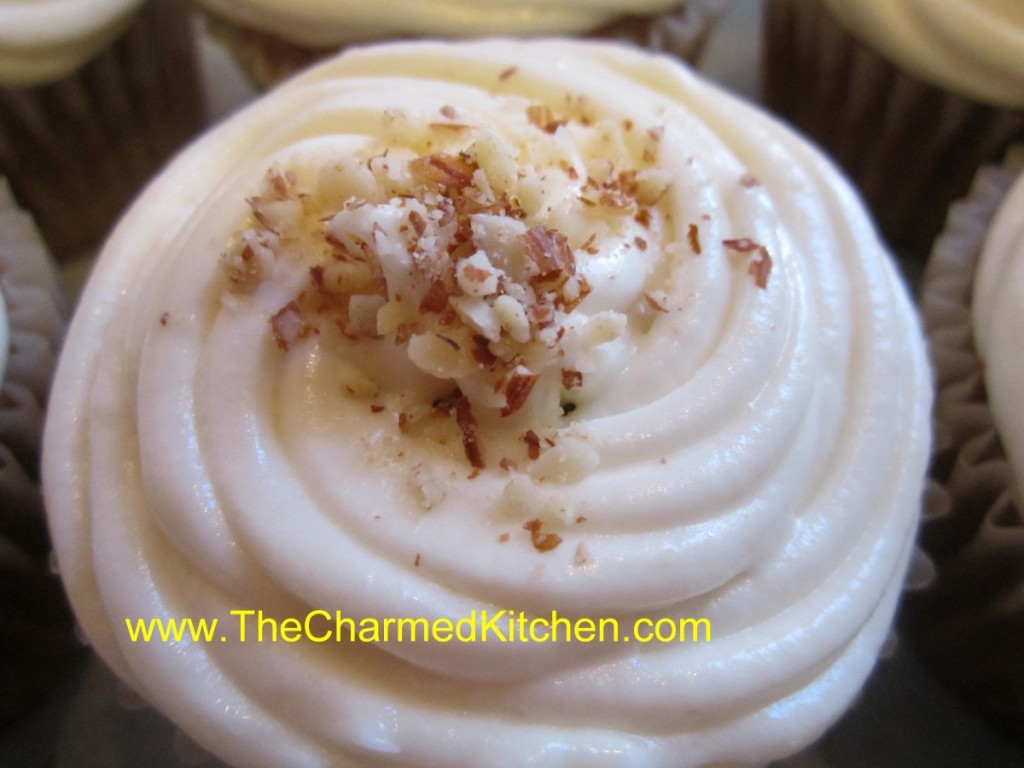 If you only use parsnips in savory dishes (or maybe you never use parsnips at all), you might be surprised to see them used in a dessert.
Truth is, parsnips are similar in flavor to carrots and carrots are used in cake quite successfully. While not exactly the same in flavor, think of parsnips as white carrots.
Combined in a spiced batter, they make wonderful cupcakes. Good any time of the year, they seem especially nice for an Autumn dessert.
I have company coming for dinner later. I had some parsnips, so I decided to make cupcakes for our dessert.
Spiced Parsnip Cupcakes
1 1/2 c. flour
1 c. sugar
1 T. ground ginger
1 T. cinnamon
2 t. baking powder
1 t. nutmeg
1 t. allspice
1 t. salt
1/2 t. cloves
3 eggs
1/2 c. oil
1/2 c. milk or half and half
2 t. vanilla
2 c. packed peeled and shredded fresh parsnips, 2-3 large
1/2 c. chopped nuts, optional plus extra for topping, optional
1 recipe cream cheese frosting- see below
Preheat oven to 350. Line 24 cupcake pans with paper liners- or grease lightly. Combine dry ingredients in a mixing bowl. In smaller bowl combine eggs, oil, milk and vanilla and mix well. Stir egg mixture into flour mixture until smooth. Stir in parsnips and nuts, if adding. Spoon batter into the prepared pans, filling half-full. Bake for 15 minutes – or until toothpick inserted into a cupcake comes out clean. Cool and frost. Sprinkle with fine chopped nuts, if you like. Makes 24.
Cream Cheese Frosting
8 oz. cream cheese, softened
4 0z. (1 stick) butter, softened
1 c. powdered sugar
1 t. vanilla
Beat all ingredients together until fluffy. Frost cupcakes and chill until ready to eat.
Parsnips
Shredded parsnips
Fresh out of the oven
Winter squash season is here, and I could not be happier. I love the variety of squash (and pumpkin) at the markets this time of year. They are both beautiful and tasty.
This dish is a combination of butternut squash with onions, garlic, carrots and finished off with black sesame seeds. It makes a great, seasonal side dish.
I used butternut squash, but you could use any number of hard squashes, or even pumpkin. If you are looking for a different way to cook some of those squash- try this dish. I think you might be surprised at just how good it is.
When cutting up hard squashes, you have to be careful not to cut yourself. A round, hard squash, with a tough outer skin can be a recipe for disaster. I trim a small slice off one end of my squash, creating a flat side. Then I lay it down on that side, to make it more stable for cutting. With the butternut, once it was sliced on one side, I was able to cut in in half pretty easily.
To peel a hard squash, so you can cut it into cubes, and use a vegetable peeler to remove the skin. You will need to run the peeler over the skin a few times to get off all of it. Then cut into cubes.
Butternut Squash Sauté
3 tablespoons olive oil
1/2 cup chopped onion
1 teaspoon minced garlic
4 cups cubed fresh butternut, acorn or Hubbard squash or pumpkin
1/2 cup grated carrot
2 tablespoons soy sauce
1 teaspoon salt
1 teaspoon ground black pepper
2 teaspoons black sesame seeds
Heat the oil in a large skillet. Add the onion and garlic; cook and stir until the onions begin to brown. Stir in the squash, carrot, soy sauce, salt, and pepper; cook, covered, another 5 to 7 minutes, until squash is tender. Sprinkle with sesame seeds before serving.
There is something about the smell of baking bread that always makes me remember my childhood, and going to the movies. I know that sounds odd, but there is an explanation. When I was a kid, there was a neighborhood movie theater. It was close and we would walk there to see movies. On the walk home, we passed a local bakery. Late at night they would be baking bread and other goodies for the next day. The air would be filled with the aroma of baking bread.
This oatmeal bread is one of my favorites. With the addition of rosemary and molasses, the bread has an earthy sweetness that I just love. It is versatile. You can make 2 round loaves, or bake it in loaf pans, or even make dinner rolls out of it.
Rosemary Oatmeal Bread
5-5 ½ c. flour
1 package active dry yeast
3T. fresh rosemary or 1 T. dried, chopped
1 ½ t. salt
1 1/3 c. water
¼ c. milk
¼ c. molasses
¼ c. butter
1 egg
1 c. old fashioned oatmeal
In large bowl mix 1 cup of the flour with yeast and salt. In small pan heat together next 4 ingredients until warm. Pour into bowl with flour mixture and beat 2 minutes. Stir in 1 cup additional flour and egg and beat 2 minutes longer. Stir in oatmeal and 1 cup more flour and stir, adding enough flour to form soft dough. Turn onto lightly floured surface and knead, adding flour as needed until dough is smooth and elastic. Place dough on a greased bowl, turning to grease top and cover, allowing to rise in warm place until doubled in bulk, about 1 hour.
Grease a large baking sheet and set aside. Punch dough down and divide in half. Shape each half into a ball and place on prepared sheet. Cover with towel and allow to rise until doubled, about 1 hour. Bake in a preheated 375 degree oven for 30 minutes or until done. Loaves are done when they sound hollow when tapped lightly. Makes 2 loaves.
This versatile dough can also be shaped into loaves and places in 8×4-inch greased loaf pans. Baking time will remain the same. Dough can also be divided into 24 equal pieces and shaped into dinner rolls. Bake rolls at 375 for 15 minutes.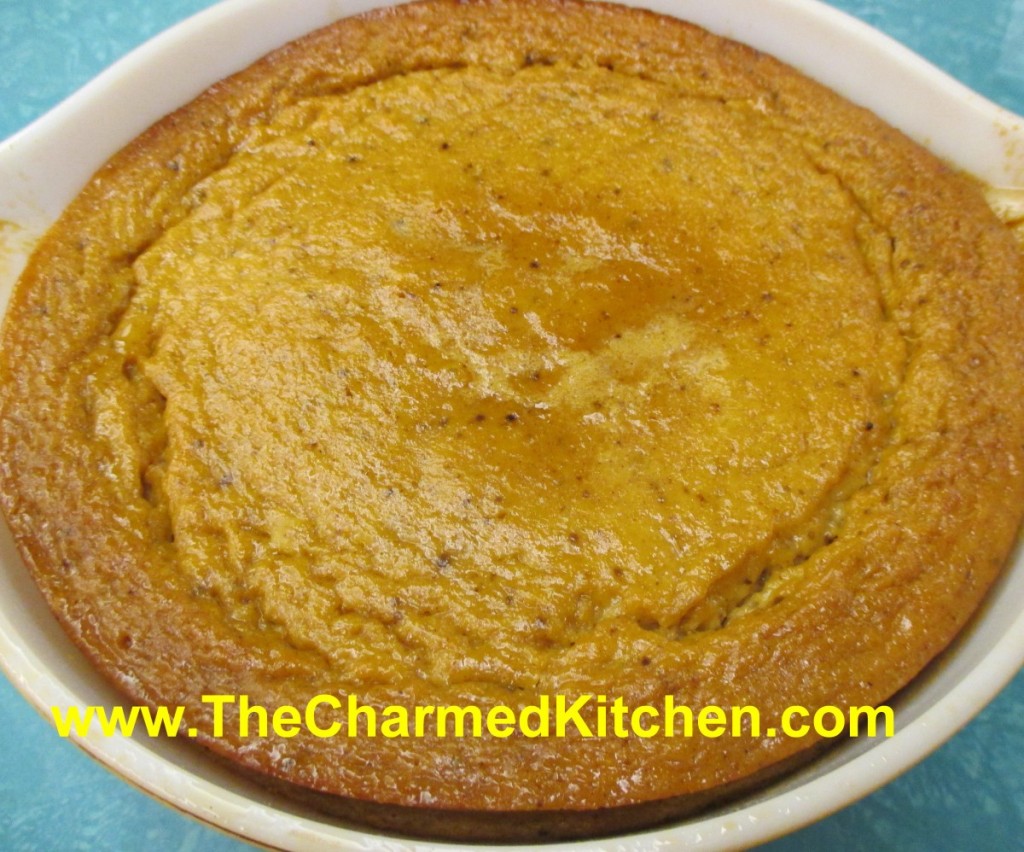 I fondly remember when my Mom used to make this dessert. I think of her whenever I make it. From a technical cooking standpoint, it's not really a chiffon, but that is what my Mom called it, so I will leave it as Pumpkin Chiffon.
It's more like a pumpkin pie, without the crust. Super easy to make and quite tasty. I bake it in a casserole dish but you could also make it in individual ramekins. This recipe is always a big hit when I make it for friends.
You could use canned or fresh cooked pumpkin or winter squash, like butternut or Hubbard. I always cook up and freeze pumpkin and squash for later use, so frozen would work, too. Because there is no crust, it is also gluten-free. I sometimes serve it with gingersnaps and whipped cream. It is a lovely Fall dessert.
Mom's Pumpkin Chiffon
½ c. applesauce
1 c. cooked or canned pumpkin or squash
¾ c. brown sugar
1 t. cinnamon
½ t. salt
½ t. nutmeg
1/8 t. cloves
4 eggs, well beaten
1 c. half and half or evaporated milk
Stir together first seven ingredients. Beat in eggs and stir in milk. Place mixture in 1 ½ quart casserole and bake in a 350-degree oven for 1 hour and 15 minutes. Serve alone or with cookies. Serves 6-8.
Sauerbraten is not a dish that you throw together on the spur of the moment. The first time I had sauerbraten was at my sister Cindy's home. I was instantly in love with it. The flavors were so complex. I could not get enough of that wonderful gravy.
The secret to sauerbraten is the long marinading process. A beef roast marinades in a mix of vinegar, wine, veggies and spices for 3-5 days. In that time, the meat becomes very tender and it picks up all those flavors. It's almost like pickling the meat.
When ready to cook, the meat is dredged in flour, browned, then simmered in water until tender. All those ingredients in the marinade flavor the cooking water, creating a broth. The broth is tart. To offset the sourness of the vinegar, a gravy is made with the broth that contains cookies. Yes, cookies. Gingersnaps, to be exact.
It sounds odd, but it really is wonderful. The ginger, cinnamon and cloves in the cookies add such a wonderful flavor to the gravy. I made my own gingersnaps, but you can use store bought. I posted the recipe for gingersnaps earlier in the week.
Sauerbraten
Marinade:
1 c. red wine vinegar
½ c. cider vinegar
½ c. red wine
1 large onion, sliced
2 carrots, peeled and sliced
top from 1 bunch celery
few sprigs of fresh parsley or 1 T. dried
1 bay leaf
4 whole cloves
3 whole allspice
½ t. whole peppercorns
1 t. salt
4- 6 lb. lean boneless chuck roast – I actually used a bottom round roast
additional flour for dredging
⅓ c. oil
2 c. warm water
¼ c. flour
I T. sugar
1 c. crushed gingersnaps – or a few more
water
salt and pepper to taste
Combine marinade ingredients in a large glass or ceramic bowl. Add meat and cover. Refrigerate 3-5 days. Tum meat at least once a day. Remove meat from marinade and pat dry. Discard marinade. Dredge in flour. Heat oil in Dutch oven and brown meat in pan. Add warm water and simmer, covered, for 1- 2 hours or until fork tender. Start testing meat for doneness after the first hour. Remove meat to platter and keep warm while sauce is being prepared.
For sauce, strain the pan juices and discard solids. Skim off any fat. Return the juices to the Dutch oven and keep hot. In small bowl combine the ¼ c. flour, sugar, and gingersnaps. Stir in cold water until smooth paste is formed. Whisk this paste into the hot liquid in the pan and simmer, stirring until thickened. If it's not thick enough, make a little more paste with flour and water. Serve meat sliced thin, with sauce on the side, and hot cooked noodles, potatoes, potato dumplings, or spaetzle.
Serves 8 – 12.