This is a fun recipe and great when you don't have time to bake. No-cook so nice in warm weather, too. There is the super easy version, using frozen whipped topping and a version using real whipped cream with just a little more work.
No-Bake Chocolate Eclair Cake
4 c. prepared vanilla pudding (or your favorite flavor)
1 small container non-dairy whipped topping, thawed- or 1 c. whipping cream, whipped

1 box graham crackers
1 can chocolate frosting or 1-2 c. homemade chocolate frosting

Combine pudding and whipped topping  or whipped cream and set aside. In 9×13 inch cake pan place 1 layer of graham crackers. Spoon half of the pudding mixture over the crackers and spread out evenly.
Place another layer of graham crackers over the pudding mixture and then spoon on the remaining pudding mixture, smoothing evenly. Place last layer of crackers on top. Warm frosting slightly and pour over the top. Spread out evenly. Cover and refrigerate overnight. Serves 10-12.
If the only way you eat hummus is as a dip you might want to try it this way. I love tossing hummus on hot, cooked veggies. Warming the hummus a little really brings out the flavors and it is a nice change for the veggies, too. Last time I made it I had a lot of cauliflower so added some to the mix. Since I am lactose- intolerant it is another option for me.
Steamed Broccoli with Hummus
1 lb. fresh broccoli
1/2 c. hummus, homemade or store bought
Cut broccoli into long spears, peeling and trimming tough stems. Steam until just tender. Warm hummus over low heat or in a microwave and spoon over the cooked broccoli. Serves 4 as a side dish, 2 as a main course.

Hummus
1 can garbanzo beans, drained
1/4 c. olive oil
2 T. lemon juice
2 T. tahini (sesame seed paste)
2 cloves garlic
salt and hot pepper sauce to taste
Combine all ingredients in a blender or food processor until smooth. Adjust seasonings. Chill. Serve with pita bread, crackers or fresh vegetables. Also nice spread in a pita bread with sliced tomatoes, cucumbers and lettuce. Freezes well.
I have some friends who have been singing the praises of coconut oil for cooking. I'd been wanting to try some and finally got to Costco and picked up a big jar. It's certified organic and was a much better price than I had seen elsewhere. It looks like shortening so I decided to try it out in a recipe in place of the shortening. I chose pumpkin bread since it is a favorite of mine but also because it is a favorite of Jonathan's. Jonathan was going to till my garden today and I wanted to make it for him as a thank you.  He is also one of the people who has been urging me to try the coconut oil so I figured he would be the best person to do the taste test. While taking a break from the tilling he tried it and loved it. He does think I should add even more coconut oil. Maybe the next time….. Here is the recipe.

Pumpkin Bread
1 3/4 c. flour
2 t. cinnamon
1 t. baking soda
3/4 t. salt
1/2 c. coconut oil ( original recipe called for 1/2 c. shortening) you could also use butter instead
1 1/2  c. sugar
2 eggs
1 c. pumpkin
1/3 c. milk
Preheat oven to 350. Grease a 9×5-inch loaf pan and set aside. Combine dry ingredients and set aside. In mixing bowl beat together the coconut oil and sugar until well mixed. Add eggs and beat until light and fluffy. Beat in pumpkin and milk then stir in dry ingredients. Pour into prepared pan and bake for 60-65 minutes or until bread tests clean with a toothpick. Cool in pan 10 minutes before removing from pan and placing on a cooling rack. Wrap in plastic- best eaten the next day. Freezes well. Makes 1 loaf.
Have you ever had a turkey egg? I had not, at least not until today. My friend, Carl from Blue Pike Farm, gave me a couple of duck eggs and turkey eggs the other day. I decided to enjoy one of the turkey eggs for breakfast today. The verdict? It was quite wonderful. Bigger than a chicken or duck egg I decided to just have one with toast this morning. I just cooked it sunny side up in butter. Very tasty. Funny thing is that I never think of chickens when eating eggs but for some reason could not get Thanksgiving dinner out of my mind the whole time.
I recently got about 20 pounds of local fresh asparagus and wanted to preserve a lot of it. There was a mixture of both green and purple. I know that purple asparagus loses its purple color when cooked but I hoped I'd save some of the color with pickling. I was not disappointed. While not as bright purple as when fresh the asparagus retained a lovely color after processing.
Pickled Asparagus
10 pounds fresh asparagus
6 large garlic cloves, peeled
4 ½ c. cider vinegar- 5% acidity
4 ½ c. water
½ c. canning salt- do not use iodized salt

1 T. dill seed
1 t. red pepper flakes or more to taste

Wash jars in hot soapy water and rinse, set aside. Prep lids and bands according to manufacturer's instructions. Bring water in a canner to a boil. Meanwhile, wash and trim asparagus to fit into pint jars allowing for ½ -inch headspace at the top. Reserve bottoms for another use. Place a garlic clove in each of 6 pint jars. Fit asparagus into the jars with tips pointing up. Place remaining ingredients in a pot and bring to a boil. Pour vinegar mixture over the asparagus in the jars and fill to ¼ – inch from the top. Wipe rim and seal jars. Place in water bath canner and process at a simmer (185-degrees) for 10 minutes. Remove from canner and place in a draft free place to cool. Check seals once cooled. Makes 6 pints.
This is one of those "go to" recipes. I generally have fruit around that I can use and it makes a great dessert in no time at all. Also, since its full of fruit, it is actually pretty healthy as desserts go.
Easy Fruit Cobbler
4 c. peeled and sliced peaches, nectarines or apples
½ c. sugar
1 T. plus 2/3 c. baking mix (Like Bisquick or Jiffy Mix or even homemade)

½ t. cinnamon
2 T. packed brown sugar
¼ c. butter or margarine
2 T. milk
In 1-quart shallow casserole, combine fruit, sugar, 1 tablespoon of the biscuit mix and cinnamon. In medium bowl combine remaining biscuit mix with sugar. Cut in butter or margarine to resemble coarse crumbs. Stir in milk to make a soft dough. Drop by spoonfuls over fruit mixture. Bake in a preheated 400-degree oven for 30 minutes, or until toothpick inserted into dough comes out clean. Let stand 5 minutes. Serves 4-6.
Made these in a class the other night. These are really tasty. Substantial enough to make a meal if served with a salad.   
Cheesy Onion Garlic Bread
2 French baguettes, cut into 3/4 inch diagonal slices
1 large minced onion
8 cloves minced garlic
1/4 cup butter
2 cups shredded mozzarella cheese
1/2 cup grated Parmesan cheese
1 cup mayonnaise
Preheat the broiler. Slice the French baguettes diagonally into 3/4 inch slices.
In a medium skillet over medium heat, melt the butter. Combine the onions and garlic in the skillet. Cook and stir until tender. Set aside to cool. In a mixing bowl, combine the mozzarella cheese, Parmesan cheese and mayonnaise. On a cookie sheet, arrange the French bread slices in a single layer. Spread the onion and garlic mixture on the bread slices. Spread the cheese and mayonnaise mixture over the onion and garlic mixture on the bread slices. Broil about 5 minutes, until the cheese is bubbly and slightly browned. Serve immediately.
If you are looking for a slightly different ice cream for summer you might think about spicing it up. I added lavender blossoms to my strawberry ice cream but you can get creative and add other seasonings to make it special. Cinnamon, nutmeg, allspice, basil, lemon peel can all add interest to your frozen desserts. Open your mind up to experimenting and see what you can come up with. I made this the other day and wanted to share the recipe with you.  Can't wait to make it again.
Strawberry Lavender Ice Cream
2 c. chopped strawberries
1 c. sugar
1 T. lavender blossoms
1 T. vanilla
2 c. cream or  half and half or a combination. You can also use some milk or even almond or rice milk.
Additional sugar to taste
Place strawberries, lavender, vanilla  and sugar in saucepan and bring to a simmer, stirring occasionally. Remove from heat and chill. Combine chilled berry mixture with cream. Add additional sugar if you like. Remember that once it is frozen the ice cream will not taste as sweet so make this mixture a little sweeter than you want the final product to be. How much sugar you add varies with personal taste and how sweet the berries are. Place in an ice cream maker and process according to manufacturer's directions. Once finished put in an sir- tight container and place in freezer. Makes about 1 quart.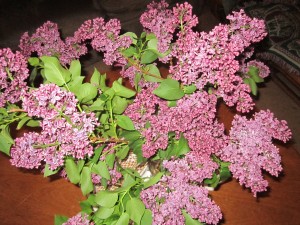 Here are the recipes I did for New Day Cleveland.
 Chicken and Asparagus with Fresh Herbs
1 lb. chicken, sliced into thin strips
2 T. sherry
2 T.oil
2 c. chopped fresh asparagus
¼-½ c. fresh chopped herbs, I used chives, parsley and lovage
Salt and pepper to taste
Place sliced chicken in a bowl and stir in the sherry. Cover and refrigerate for 2-24 hours. Heat oil in skillet. Sauté asparagus for 2 minutes. Add the chicken and cook, stirring often until no pink is visible on the chicken, about 4 minutes. Add the herbs and seasonings and cook, stirring often for another 2-3 minutes. Spoon chicken over lilac salad. Serves 3-4.
Lilac Salad
4-6 cups mixed salad greens, washed and spun dry
Olive oil
Lilac vinegar*
Salt and pepper to taste
Edible flowers, optional
Place greens in a salad bowl. Drizzle with a little olive oil and toss until leaves look glossy. Drizzle with a little lilac vinegar and toss. Season with salt and pepper and toss again. Add flowers, if desired and place in serving bowls.
* To make lilac vinegar take clean, organic lilac blossoms and place them in a jar. Pour in red wine vinegar to cover flowers completely. Place lid on jar and store at room temp, out of direct sunlight for at least a few days. The longer the blossoms steep in the vinegar the stronger the flavor you will get. You can use any vinegar you like as long as it is 5% acidity. Before using, strain out the blossoms and discard. Strain vinegar through a coffee filter to get out any sediment. Can be stored at room temp but holds it color longer if stored in the fridge.
Lavender Shortbread
1 c. sugar, plus extra for sprinkling
2 c. butter
4 c. flour
2-3 T. lavender blossoms
Cream together the one-cup of sugar and butter. Stir in the flour and lavender blossoms. Press mixture in to a greased 9×13 inch-baking dish. Cut or score into small squares, or on the diagonal for diamond shapes. Sprinkle with extra sugar and bake in a preheated 300-degree oven for 50-55 minutes or until lightly browned around the edges. Re-cut the squares as soon as you remove the shortbread from the oven. Cool before removing from pan. Make about 100 small squares
I did my cooking demo on New Day Cleveland this morning. All the cast and crew were great to work with. Thanks to Carl Skalak from Blue Pike Farm for the purple asparagus. It worked out perfectly with the chicken and herbs. Carl tells me he still has some for sale. Here is the link so you can watch the show.