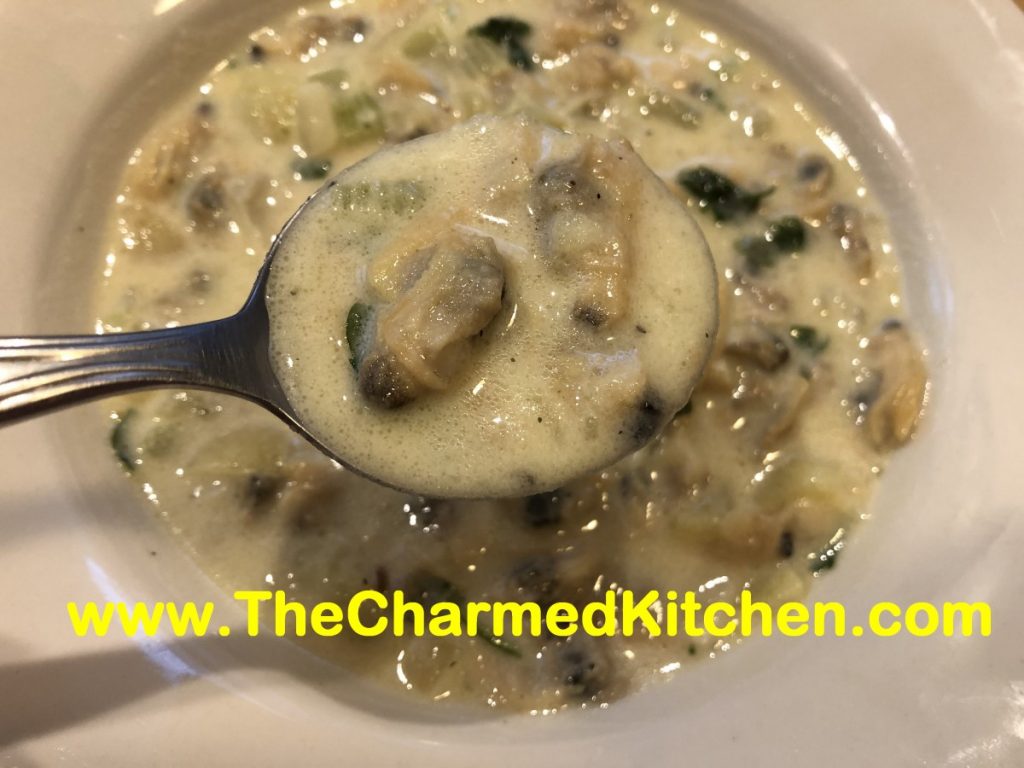 It is clambake season around here and it seemed like a great time to share this recipe. Aunt Josie's clam chowder is a favorite of mine. I have loved it from the first time I had it. It is pretty easy to make and full of flavor. We have it at every family clambake.
You have the option of adding some stock or water at one point. I sometimes have seafood stock in the freezer, but a bottle of clam juice would work great, too.
So here is the recipe. I hope you enjoy it as much as I do.
Aunt Josie's Clam Chowder
2 T. butter
1 onion, chopped
1 rib celery, chopped
2-3 small potatoes, cubed
1 c. water or stock
2 (10 oz.) cans clams, undrained*
1 T. butter
2 T. flour
2 c. milk – I use half and half
salt and pepper to taste
Sauté onions and celery in butter until tender, but not browned. Add potatoes and water or stock and cook, covered until potatoes are tender. Stir in clams and set aside. In another saucepan, combine butter and flour over low heat and stir in milk, stirring to make a white sauce. Cook mixture until it thickens and starts to bubble. Add it to the clam mixture and adjust seasonings. Bring to a gentle simmer. I added some parsley right before serving. Serves 4.
* You can also add clam meat and a little extra stock. I often buy frozen clam meat.
This post is dedicated, with love, to Aunt Josie.
My Aunt Josie used to make these coconut bars for almost every family party. They were a favorite of mine when I was a kid and they are a favorite of mine now. The bars are made from white cake that is cut up and frozen. The frozen cake is dipped in a chocolate sauce and then dipped in desiccated coconut. Desiccated coconut is the same kind of coconut used for coconut shrimp. It looks like panko bread crumbs and is not sweetened. I get mine at the local Asian grocery store.
The result is a cake that is tender and delicate and full of flavor. I sometimes make cupcakes instead of a sheet cake that I cut up. Either will work just fine. You can also make a gluten free cake, if you prefer.
Every time I make these, I think of my Aunt Josie.
Coconut Bars
1 white cake, prepared and frozen solid
1 c. cocoa
1 1/4 c. sugar
2 c. water
1 t. vanilla
1-1½ c. desiccated coconut (available at cake supply stores, Asian stores and some health food stores)
Cut frozen cake into small squares, or cake can be baked in regular or mini cupcake tins. You can also cut the cake into squares before freezing. Keep cake frozen until ready to dip. Meanwhile, combine remaining ingredients, except coconut in a medium saucepan. Bring to a boil then simmer 5 minutes. Remove from heat and cool completely. This can be done a day ahead, if you like, and sauce stored in fridge until ready to use.
Using skewers or fondue forks, dip cake in sauce, let drain a few seconds, then roll in the coconut. Can be served almost right away. They thaw very quickly. You can refreeze them to enjoy later, too.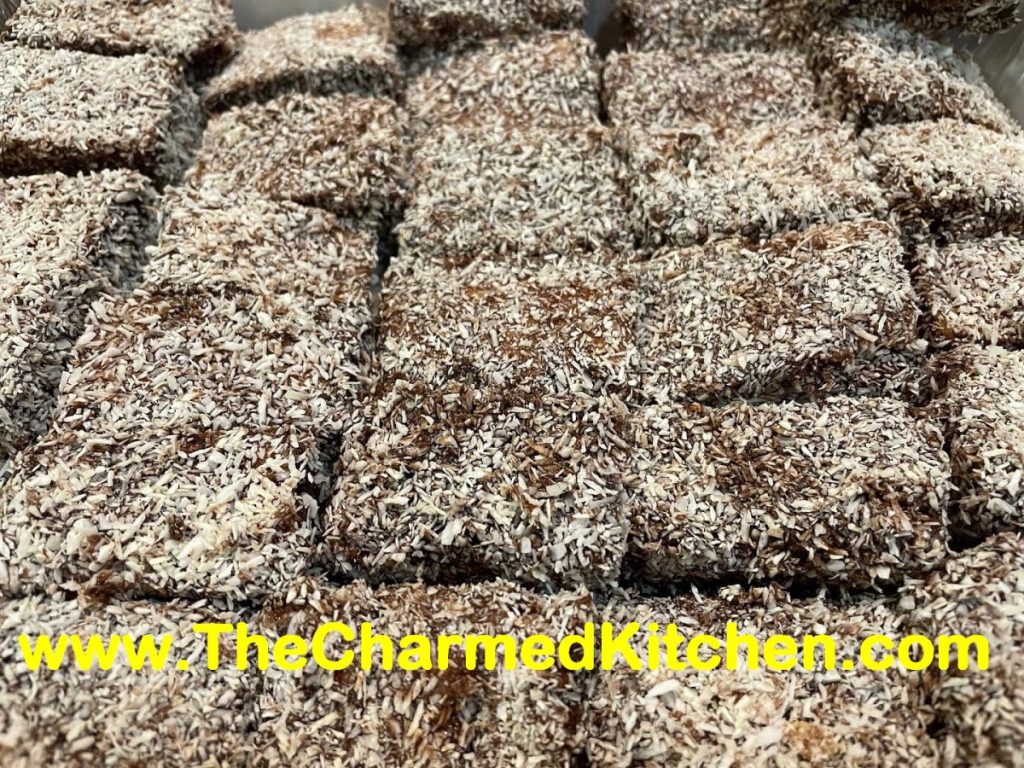 These tasty fritters would be a fun dessert for Halloween. This is also a great recipe when you have a little cooked pumpkin or winter squash to use up. The recipe only uses a cup of cooked pumpkin or winter squash.
It is a pretty simple recipe. I started with cooked butternut squash puree. I added eggs, flour, baking powder and a few other ingredients, then fried them up in oil, and ended up with a really good fritter. Crispy on the outside, soft and tender on the inside. I drained them on paper towels and then rolled them in cinnamon sugar while still warm. You could also dip them in a powdered sugar glaze. I think I might make a maple glaze for the next batch.
Pumpkin Fritters
1 c. cooked, mashed pumpkin or winter squash
2 eggs
2 T. brown sugar
2 t. baking powder
1 t. cinnamon
1/2 t. baking soda
1/2 t. nutmeg
1/2 t. salt
1 1/2 c. flour
oil for frying
cinnamon sugar for rolling- powdered sugar would work, too
In mixing bowl combine all ingredients, except the flour and beat until smooth. Stir in flour. Batter will be thick. Heat oil to 350 degrees.* There should be enough oil in the pan top be at least 1 inch deep- or deeper. To save oil I used a smallish pan and cooked 3-4 fritters at a time. Drop dough by rounded teaspoonfuls into hot oil and cook, turning once until golden brown on both sides. This will take about 3 minutes. Drain on paper towels then roll in cinnamon sugar while warm. Makes 24-30. Best served warm.
* Fun way to know when your oil has hit 350 degrees. Place an un-popped popcorn kernel in the oil. Popcorn pops at 350 degrees.
I have posted this recipe before, but thought it might be a good time to post it again. This one is fun for Halloween. You start with a baked 9×13-inch cake. Frost it with chocolate frosting and then use white frosting to draw a ghost on the cake.
You can make all sorts of images- cats, bats, pumpkins. When ready to serve the cake, the eyes are set on fire. Fun effect. Kids and grown-ups both will get a kick out of it.
Just be sure to have proper adult supervision for the kids. The picture doesn't do it justice. Very cool blue flames. Don't forget to turn down the lights!
Flaming Ghost Cake
1 prepared 9×13- inch cake, any flavor
2 c. chocolate frosting, I prefer homemade
1 c. vanilla frosting, I prefer homemade
3 oz. semi sweet chocolate, optional
2 empty eggshell halves, washed well and dried
2 sugar cubes
Lemon extract
Frost cake with chocolate frosting, then spread vanilla frosting in the shape of a ghost. Melt chocolate in a small plastic bag. When chocolate is melted snip off the corner of the bag and use to outline ghost. Place eggshell halves in cake, round side down where the ghost's eyes would be. Soak sugar cubes in lemon extract and place in eggshells. When ready to serve light sugar cubes and turn off the lights. Serve 12-16.
Variations: You can use the flaming eyes effect on cat shapes, pumpkins or even bats. Practice drawing the shape on paper before frosting the cake. If you bake a larger round cake the whole thing can be the pumpkin. Just frost it with orange tinted frosting.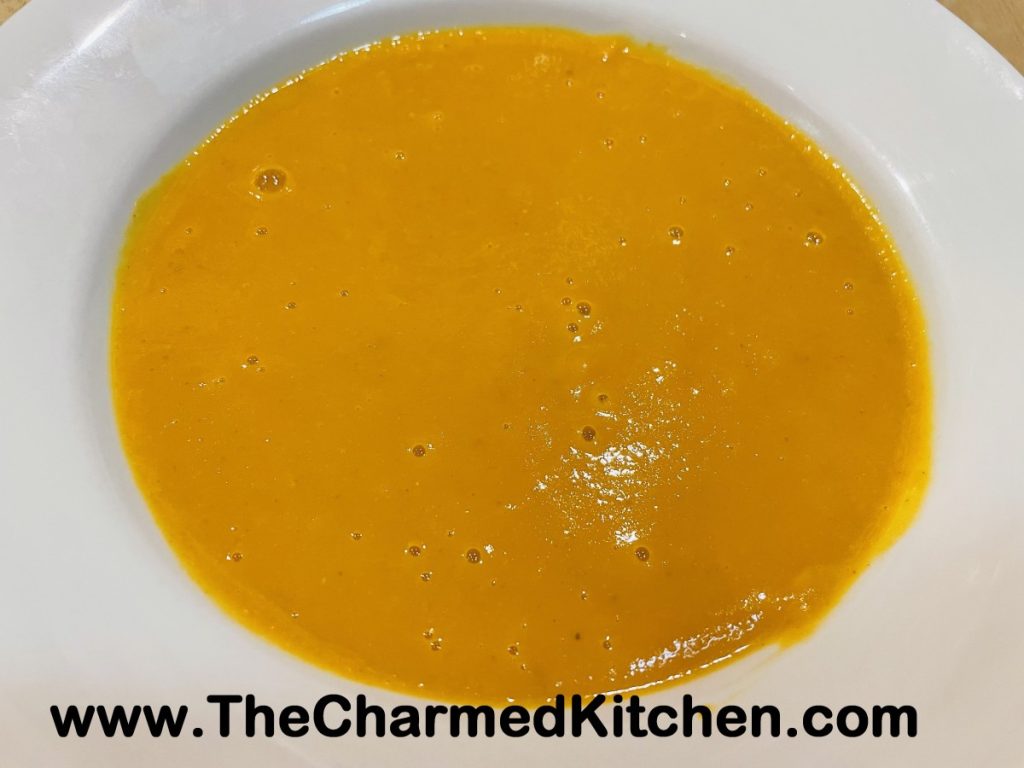 When fall arrives, I look forward to winter squash and all the wonderful dishes I can make with them. One of my favorites is butternut. A friend recently gifted me with squash from her garden. It has gotten chilly and I decided to make soup with one of the butternuts. Thanks, Irene.
I have been making versions of this soup for a long time. I tend to make a vat of it, then freeze some for later. I pared the recipe down this time. I tend to use the veggies I have on hand. Some, like onions, carrots, garlic and celery are always used.
I used a fresh squash that I peeled and cubed up, but you can use frozen or canned squash instead. Here is my latest version of this wonderful autumn soup.
Butternut Squash Soup
2 qts. Water, or a bit more
1 ham bone or smoked turkey on the bone (1 small turkey drumstick)
2 onions, peeled and halved
3-4 cloves garlic, peeled- the ones I had were very large
3-4 carrots, peeled and chunked
4 c. chopped cabbage
2 ribs celery, sliced
1 c. tomato sauce – or a couple of cups of chopped fresh or canned tomatoes
8 cups cubed butternut squash- you could use pumpkin or most any winter squash
-OR-
3-4 c. cooked pumpkin or winter squash
Paste-type soup base to taste, about 3-4 tablespoons
1 fresh sage leaf or ¼ teaspoon dried
Hot sauce to taste
Place all ingredients, except soup base and seasonings, in a large pot and bring to a boil. Cover and simmer until vegetables are very tender and meat is cooked and tender, at least 1½ hours and up to 3 hours. Remove bone or meat to cool and add soup base and sage. Use an immersion blender to puree the vegetables. It does not have to be completely smooth, but it should be close. If it is too thick, you can add a little more water. Density is a personal preference. Add hot sauce to taste. Puree a little more. Adjust seasonings if needed. Optional: Cut the meat off the bones and return meat to the soup once pureed. Serves 6-8. Freezes well.
Note: I make it in even larger batches because this soup freezes well. You can add other vegetables like sweet potatoes, corn, potatoes, green beans or whatever else you have around. I often add cauliflower and zucchini. If you want thicker chowder add a potato or two to the recipe. For a smoky taste you can also add smoked turkey sausage and the chowder will be cooked in less time. Just remove the sausage, puree the chowder, slice sausage and return to the pot. Smoked paprika or liquid smoke can also be used to add a smoky flavor. This is a good way to use up a ham bone or leftover ham.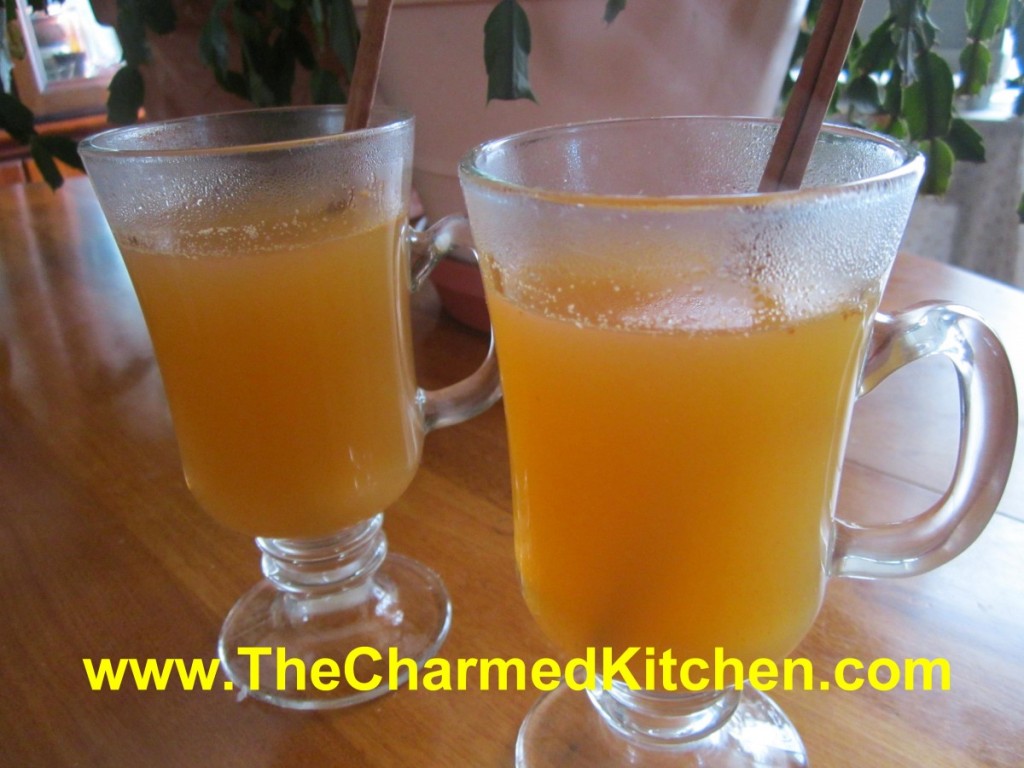 It's been chilly lately, and I love a mug of hot apple cider to warm up. I made some recently, but I wanted to spice it up a little. I ended up adding sliced ginger and a cinnamon stick and the result was really good.
I always keep ginger root in my freezer. It is frustrating to buy a piece of ginger and then find it in the bottom of the crisper drawer weeks later looking like a science experiment gone bad. Freezing it solves that problem. When I want to use it, I just take it out of the freezer, scrape off the peel and grate or slice off what I need. It keeps pretty much forever that way, and I have "fresh" ginger whenever the mood strikes me. You can also finish the cider off with a splash of brandy just before serving.
Ginger Cinnamon Cider
2 cups apple cider
1-inch piece of ginger, sliced
1 cinnamon stick, broken in half
Place cider in a saucepan with the ginger and cinnamon. Simmer gently for 5 minutes- or a little longer if you want a more intense ginger taste. Strain and serve. Serves 2.
Note: Some of the cider will boil off so add a little more if you simmer it longer or keep the pot covered to reduce evaporation. I actually like the more intense flavor when it cooks down a little.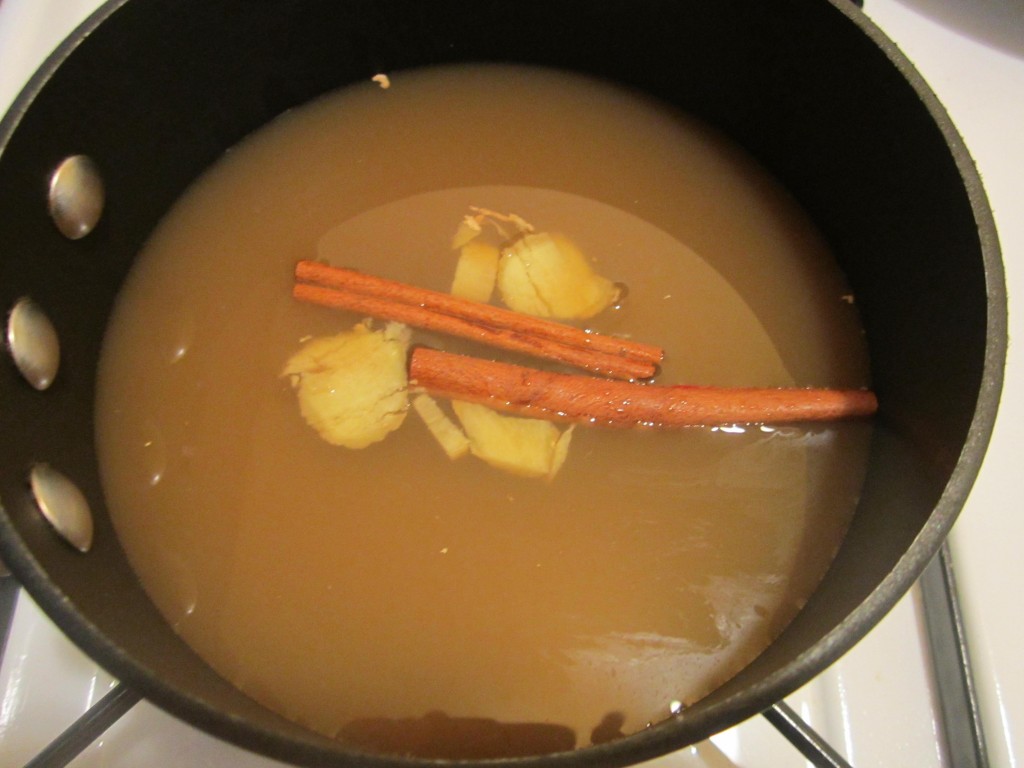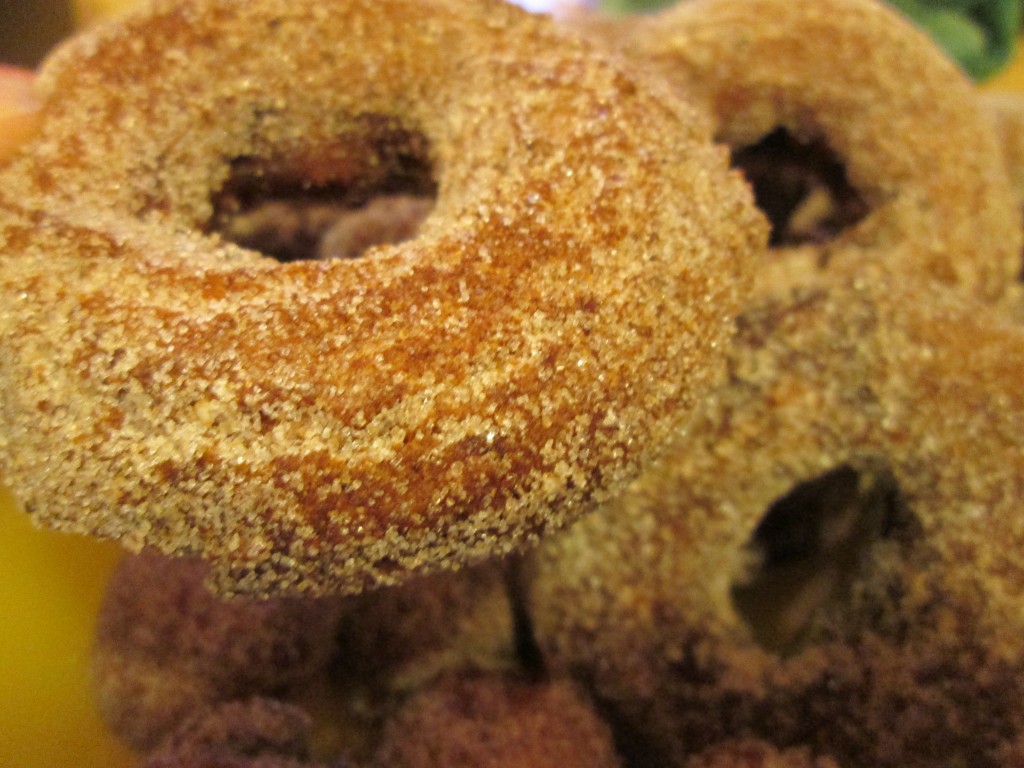 If you want homemade doughnuts, you can't much easier than these Maple Bacon Doughnuts. They are a cake-style doughnut. That means baking powder is used to leaven the doughnuts, not yeast. You can mix up a batch of dough in just a few minutes.
You do need to let the dough chill before frying, so allow time for that.
The sweetness from the maple syrup pairs so well with the smoky bacon. Once the doughnuts are fried, I like to roll them in cinnamon sugar, but you can dust them with powdered sugar, or even make a powdered sugar glaze.
Maple Bacon Doughnuts
3 c. flour
1 T. baking powder
2 t. cinnamon
1 t. salt
1/2 t. grated ginger
2 eggs
1/2 c. sugar
1/2 c. maple syrup
1/3 c. buttermilk
1/4 c. melted butter
1 c. cooked, crumbled bacon
oil for deep frying
cinnamon sugar
Combine dry ingredients and set aside. In another bowl beat together eggs, sugar and syrup until well mixed. Stir in buttermilk and butter then stir in dry ingredients and bacon. Do not over mix. Chill dough at least a couple of hours before using it. Overnight is better. When ready to use, heat oil to 375 degrees. While oil is heating roll dough out, on a floured surface, 1/2 inch thick, and cut out with a doughnut cutter. Fry several at a time for 1 minute per side. Drain on paper towels. Roll warm doughnuts in cinnamon sugar. Re-roll scraps. You will end up with about 18 doughnuts and 18 doughnut holes.
I made this relish last night. I had a few red onions I wanted to use up. I love the tart flavor and bright color it adds to my food. This relish is a great topper for sandwiches, but can be used for a whole lot more.
The onions can be served with cheese and crackers for an easy appetizer. It looks great on a charcuterie board. You can add some to salads, and the liquid can be combined with a little oil for a simple salad dressing. I even had some with my scrambled eggs for breakfast.
After you cook it, you just ladled into jars, cool it down, and store it the fridge. It will keep for weeks and weeks. Nice to have on hand for last minute entertaining.
Red Onion Relish
4-5 medium red onions, peeled and sliced thin
2 c. red wine vinegar
1½ water
1 c. sugar- or to taste
2 T. salt
1 T. mustard seed
1 T. celery seed
1 t. fennel seeds, optional
2 cloves garlic, minced
1 cinnamon stick- 4 inch
4 whole cloves
Place all ingredients in a pot and bring to a boil. Turn down to a simmer and cook, uncovered for 10-15 minutes. Cool and place in jars, then store in the fridge. Use as a sandwich topper, salad addition, appetizer with cheese and crackers. You can also use the liquid as the base for a salad dressings, with the addition of some oil. Keeps for weeks in the fridge. Makes 5 cups.
If you are concerned about keeping away vampires this Halloween, you might want to make this recipe for cheesy garlic toast. Garlic is widely accepted as a repellent for vampires- and a lot less messy than a stake through the heart.
This is one of my favorite appetizers. I make them a few times a year, but they are extra fun to serve at a Halloween party.
A mixture of garlic and onions are cooked in butter, then spread over the bread slices. That would be plenty for most garlic bread- but you take it up a notch with a cheesy/ mayo mix on top. They are baked for just a few minutes to get all toasty. These are always a hit. They can be served as an appetizer, or as a side with dinner. We had them last night with our mushroom barley soup.
Vampire Chasers
1 French baguette, cut into 3/4 inch diagonal slices
1 large onion, minced
8 cloves minced garlic
1/4 cup butter
2 cups shredded mozzarella cheese
1/2 cup grated Parmesan cheese
1 cup mayonnaise
Slice the French baguettes diagonally into 3/4 inch slices. In a medium skillet, over medium heat, melt the butter. Combine the onions and garlic in the skillet. Cook and stir until tender. Set aside to cool. In a mixing bowl, combine the mozzarella cheese, Parmesan cheese and mayonnaise. On a cookie sheet, arrange the French bread slices in a single layer. Spread the onion and garlic mixture on the bread slices. Spread the cheese and mayonnaise mixture over the onion and garlic mixture on the bread slices. Bake in a 400 degree oven for 10 minutes or broil about 5 minutes, until the cheese is bubbly and slightly browned. Serve immediately.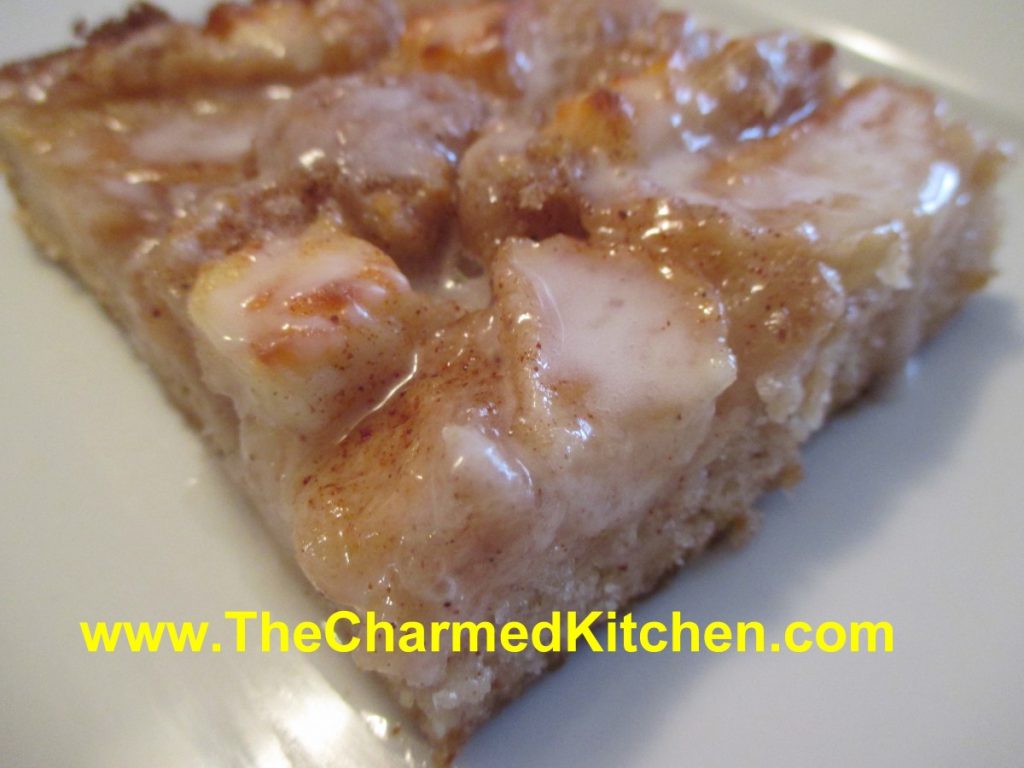 This pear-studded cake is perfect to have with that morning cup of coffee- or for dessert. The tender cake is topped with chopped pears, cubes of cream cheese, cinnamon sugar and a vanilla glaze. The taste is amazing. I used Bartlett pears, but any ripe pear would work.
I will say up front, that this is not the prettiest cake out there. It comes out of the oven kind of lumpy, from all those pears and the tiny cubes of cream cheese. Once you top it with the cinnamon sugar, and later the glaze, it looks a lot better. It is one of the tastiest cakes, though, and isn't that what's important?
So if you want to enjoy one of my favorite Autumn fruits in a new way- try making this simple, tasty pear coffeecake. I don't think you will be disappointed.
Cinnamon Pear Coffeecake
1 stick (½ cup) butter
1 egg, lightly beaten
1 c. half and half
1 c. all-purpose flour
1 c. sugar
2 t. baking powder
2 t. cinnamon
1 t. vanilla
½ t. salt
2 lbs. pears, about 4 large, cored, peeled and sliced *
8 oz. cream cheese, cut in small pieces
Topping
3 T. cinnamon sugar
Glaze:
½ c. powdered sugar
1-2 T. milk
½ t. vanilla
Preheat oven to 350 degrees. Melt butter and pour into a 9-by-13-inch glass baking dish. In a small bowl, mix together the egg, half and half, flour, sugar, baking powder, cinnamon, vanilla and salt. Pour directly over the butter in the baking dish, but do not stir. Drain pears well. Add the pears, arranging in a single layer as much as possible. Sprinkle cream cheese pieces over fruit. Place in preheated oven and bake for 45 minutes, or until top is golden brown and edges are bubbling. When you remove the cake from the oven, sprinkle with the cinnamon sugar. Set cake aside to cool. Make glaze by combining glaze ingredients. Add just enough milk for a nice consistency for drizzling. Drizzle over cooled cake. Store leftovers in fridge. Serves 12.
* To keep pears from discoloring place in a bowl with 2 cups of water and 2 tablespoons lemon juice