This time of year, I always get requests about how to make candied violets. I thought I would share the recipe again.
Since my yard is full of violets right now, I decided to candy some today. It's an easy way to enjoy these delicate flowers throughout the year.
I use them to decorate baked goods. Lovely on a cake, they also add a sweet touch to cupcakes.
Candied Violets
Powdered egg whites (see note)
Water
Superfine sugar (see note)
Fresh violet flowers, rinsed and drained on paper toweling- Not African violets
Following package directions reconstitute egg whites to the equivalent of one or two egg whites. You can dilute them a little to make them easier to brush on. Place sugar in a shallow bowl. With a food-grade fine brush coat a violet with the egg white and press into the sugar. Place on wax paper and repeat with remaining flowers. Allow to dry for about a week. Store in a container with a tight fitting lid in a cool place. I like to store them in the freezer.
Note: By using powdered egg whites, you remove the risk of salmonella from using raw eggs whites. Powdered egg whites can be found in some grocery stores and in cake decorating and candy making shops. Meringue powder can also be used.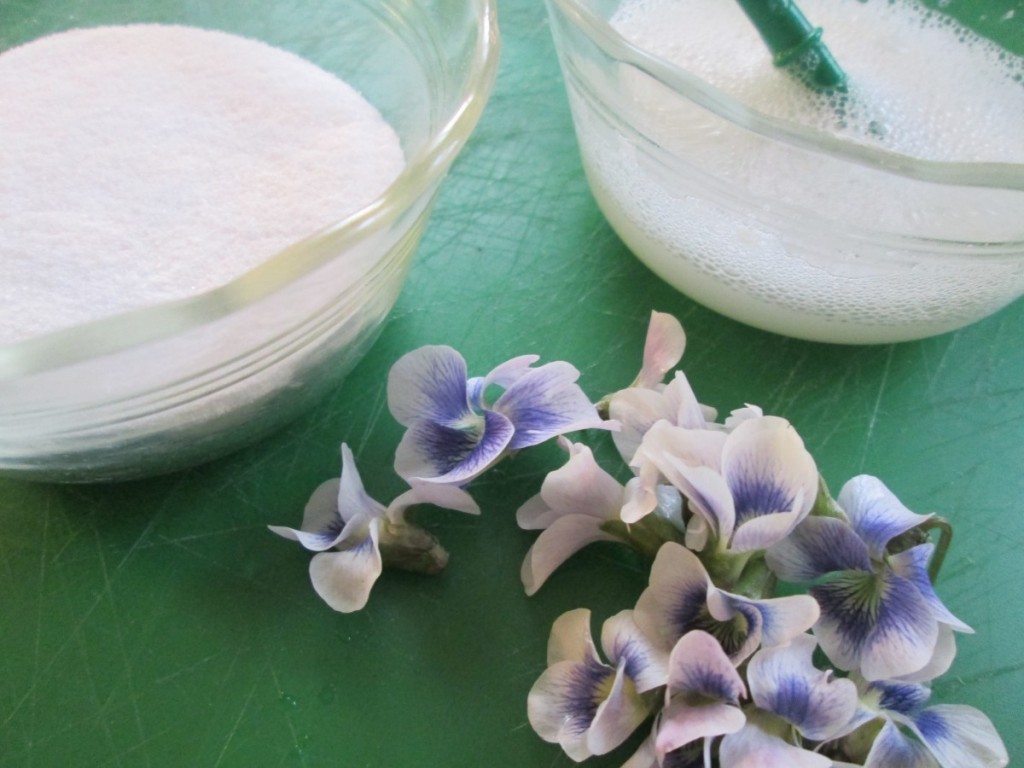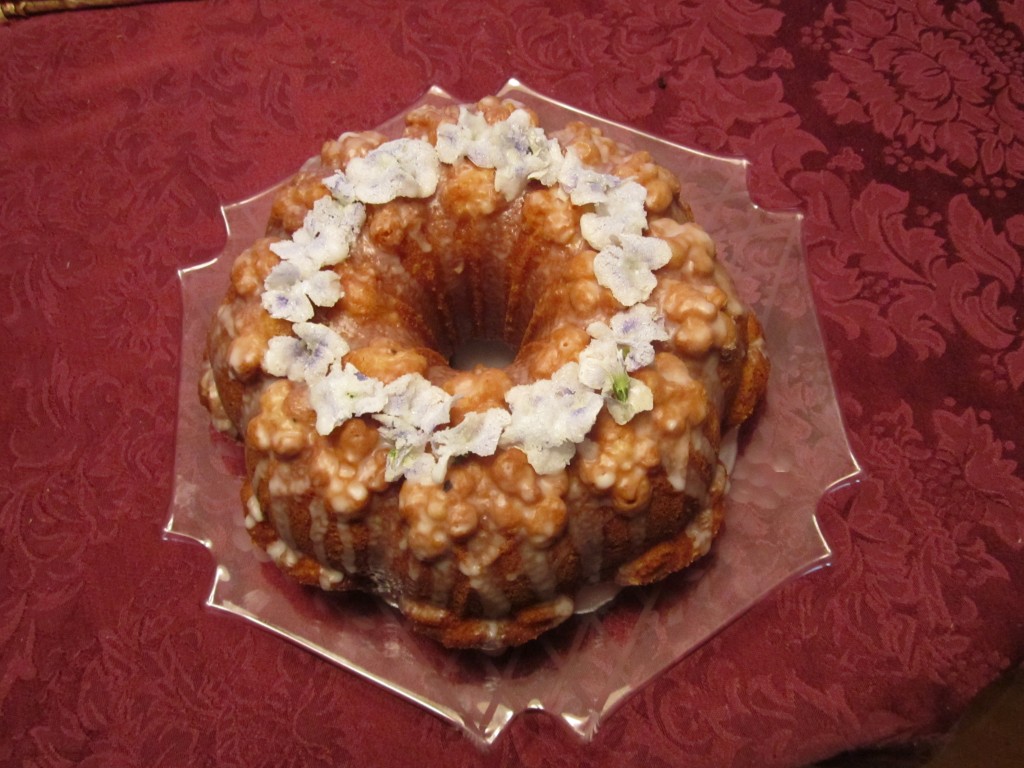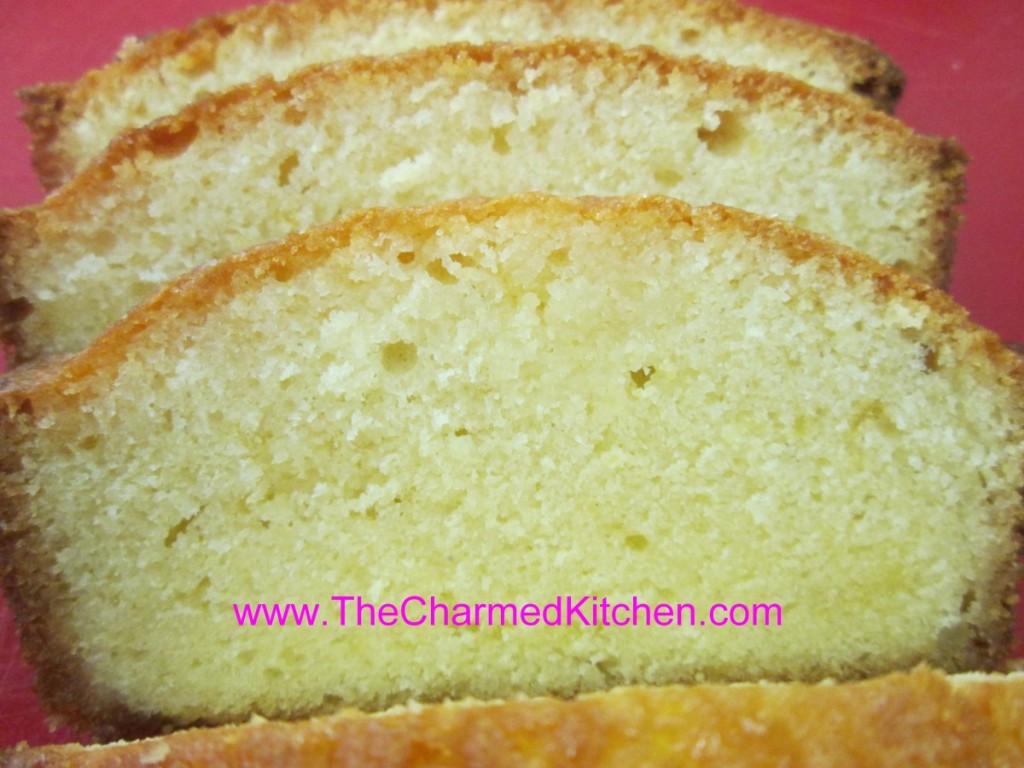 This is one of my favorite cakes of all time. It is a simple cake, enhanced with the flavor of lemon juice and lemon zest. Once out of the oven, you poke the hot cake with a large fork or a skewer, and pour a lemon syrup over it. The syrup gives the cake an extra lemony tang.
It is a perfect addition to afternoon tea.
Great all on its own, this cake is also wonderful served with fresh berries and whipped cream for a Spring dessert. On a hot day, I have been known to top it with a scoop of ice cream.
Before you ask, the measurements are correct- only 3/4 cup of flour.  No leaveners like baking powder or baking soda, either. The cake does not rise a whole bunch, but the texture is still very nice. The texture of the cake helps it to stand up to the lemon syrup.
I hope you will give it a try. I made it for a fire pit gathering with a few friends last night. Everyone liked it.
Lemon Tea Cake
2 lemons
3 T. sugar for topping
½ c. butter, softened
¾ c. sugar
2 eggs, beaten
3/4 c. flour
6 T. milk or half and half
Preheat oven to 375 degrees. Grease an 8- inch loaf pan and line with wax or parchment paper. Grate the lemon rinds and set aside. Combine the juice of 1 of the lemons with the 3 tablespoons of sugar, stirring to dissolve sugar. Set aside.
Cream together the butter with the rest of the sugar and beat until fluffy. Beat in the eggs, a little at a time until well mixed. Stir in the flour and lemon peel and beat well. Add the milk and beat well. Pour batter into prepared pan and bake at least an hour. The cake should spring back when touched lightly. As soon as you remove the cake from the oven pierce it all over with a long-tined fork or a skewer. Pour over the reserved lemon juice mixture. Cool cake in pan before serving. Cake will be moist and tangy.
I have received requests for directions on how to make violet liqueur. Violet liqueur is, in its most basic sense, a combination of violets and vodka, steeped together for several weeks, then strained and filtered. Once strained, the mixture is sweetened to taste with simple syrup. You can use other alcohols, if you like. Brandy perhaps.
Violet liqueur can just be sipped and enjoyed as is, but it is often used as an ingredient in cocktails.
I have made violet liqueur with the violets that grow in my yard. They are mostly white, with a small amount of purple color. The liqueur tastes great, but doesn't have a lot of color. It comes out a light golden color. That is fine with me.
For this batch, I am using purple violets I got from a friend's garden. The color will end up a light purple color. To make the color of your liqueur more purple, you can add a few raspberries or blackberries to the mix.
We need to talk about sweetening, too. A simple syrup is added to suit your taste. The recipe for simple syrup is at the end of this post. How sweet you make your liqueur determines whether it is a liqueur, or creme de violette. Lightly sweetened and it is violet liqueur. Double the amount of simple syrup and it is creme de violette. Strictly your choice and preference.
If you prefer to leave your violet mixture unsweetened, it is a violet eau du vie, which translates to violet water of life.
I use 1/2 cup of simple syrup for each cup of liqueur. Equal amounts of liqueur and syrup creates the creme de violette.
Violet Liqueur
1- 1 1/2 c. violet flowers, rinsed and drained
1 c. vodka
1″ piece vanilla bean, optional
a few fresh raspberries or blackberries, optional
1/2 c. simple syrup recipe follows
Combine violet flowers and vodka in a jar with vanilla bean and berries, if using. Screw on the lid and place the jar in a cool, dark place for at least 3 weeks for the flavors to combine. You can add more violets as you harvest them, if you don't have enough at first. After a few weeks, strain out the flowers and other ingredients and discard them. Filter vodka mixture through coffee filters or several layers of cheesecloth to get it really clear. Sweeten to taste. Return to jar, seal and allow flavors to mellow another week. Enjoy!!
Simple Syrup
Simple syrup is made from 1 cup of sugar and ½ cup of water. Bring to a boil, then cool. You will have 1 cup of syrup. You can sweeten with honey, if you prefer. Watch when you substitute honey for sugar, as it is sweeter and stronger flavored. Add a small amount, let it sit for a day or so- and give it a taste. You can always add more sweetener later.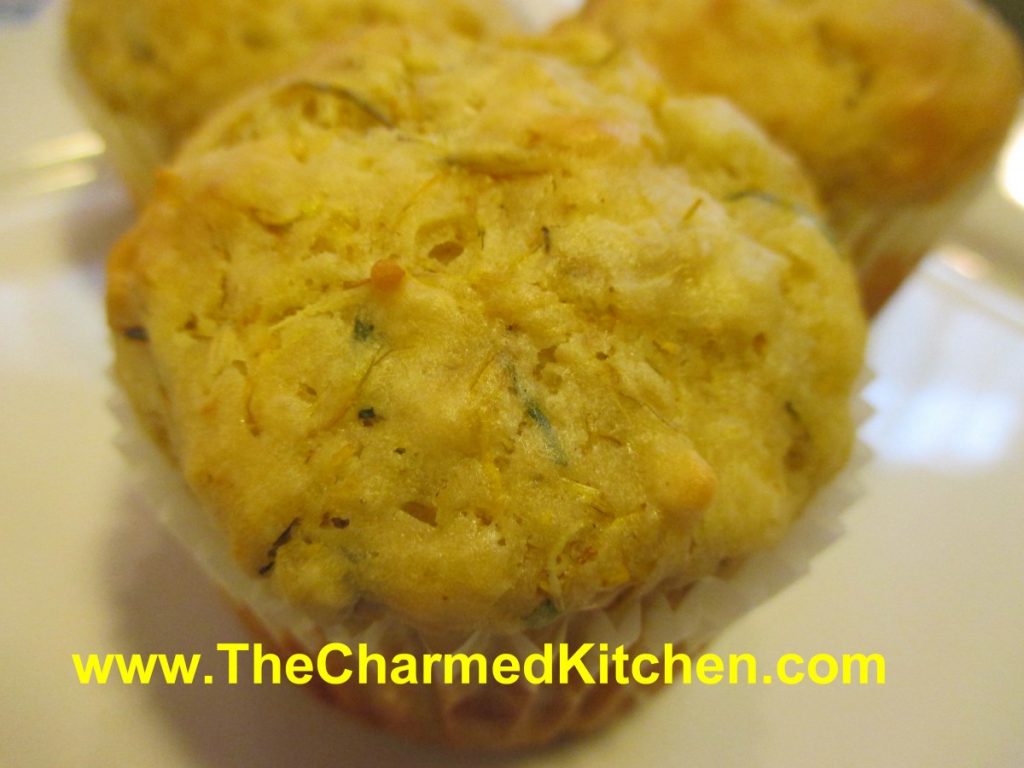 The curious name for this recipe comes from my own curiosity. I wondered just how many blossoms I would need to get about a cup and a half of petals. I decided to make muffins with some of the dandelions blooming in my yard. I have a lot of dandelions, and I wanted to use a really decent amount in my muffins. I started counting as I trimmed them and stopped when I had a cup and a half. It turned out to be 100 flowers. So now, if you want to make this recipe, you will know when you can stop picking!!!
If you can't beat them, eat them. I actually am a big fan of dandelions. I have organized dandelion cook-offs and edited a dandelion cookbook. I eat the leaves, and a tea made from the roasted roots. The flowers are a wonderful ingredient in cooking, too. They are used to make dandelion wine and I enjoy adding them to fritters, pancakes and other baked goods. So here is my recipe for dandelion muffins. They are pretty tasty, tender, light and not too sweet.
100 Flower Dandelion Muffins
2 c. flour
1 T. baking powder
½ t. salt
1 egg, beaten
1½ c. half and half
1/3 c. honey
¼ c. melted butter
1 t. vanilla
1 t. orange zest
1 ½ c. dandelion petals*
Preheat oven to 375 degrees. Line 12 muffin cups with paper liners or grease them, set aside. In medium bowl, combine flour with baking powder and salt and set aside. In another bowl, combine egg with half and half, honey, butter, vanilla and orange zest. Beat by hand until well mixed. Stir in dandelion blossoms, then stir in flour mixture. Do not over mix. Stir just until flour is mixed in. Spoon batter into prepared pans, filling them about ¾ full. Bake for 20 minutes or until lightly browned on top. Great served warm with butter and honey. Makes 12.
* To prepare the dandelion blossoms you want to trim of the tough base and just use the petals in the recipe. Some of the green sepals will get mixed in, and that is OK. Measure the petals after trimming. I picked 100 flowers and ended up with about 1½ cups of petals.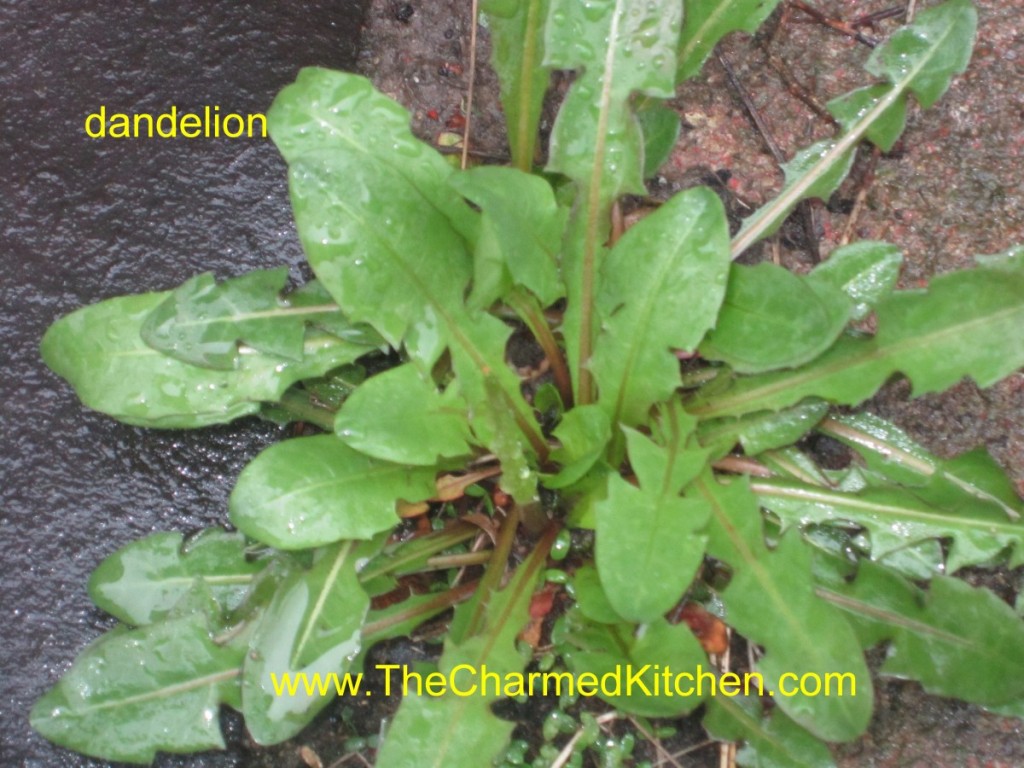 It's funny when you think about it. People spend tons of money to eradicate dandelions from their lawns, but will go to an upscale restaurant and pay good money for a salad with mixed greens including dandelions. Dandelions were not always considered a weed. In fact, immigrants brought the seeds to America as a vegetable.
While the greens can be bitter, they can also be tamed when paired with certain ingredients. Combining dandelions with tomatoes, vinegar, cheese or other dairy products, and bread or cereal products will make them less bitter when eaten.
Dandelions are packed with nutrients, and if you don't spray your yard with herbicides, you can likely find them under your own feet. Free, tasty and nutritious. Sounds like a win all around.
The plant is pretty much edible from top to bottom. The leaves for salads, soups and other dishes. The flowers are used for wine, jelly and the "burger" recipe at the bottom of this page. I recently baked dandelion flowers into muffins. The roots are roasted and used as a substitute for coffee. If you haven't eaten dandelions before my only question is, what are you waiting for?
A classic dish using dandelions is dandelion gravy. Some versions use bacon, others not. This one uses bacon, sour cream and is served with boiled potatoes.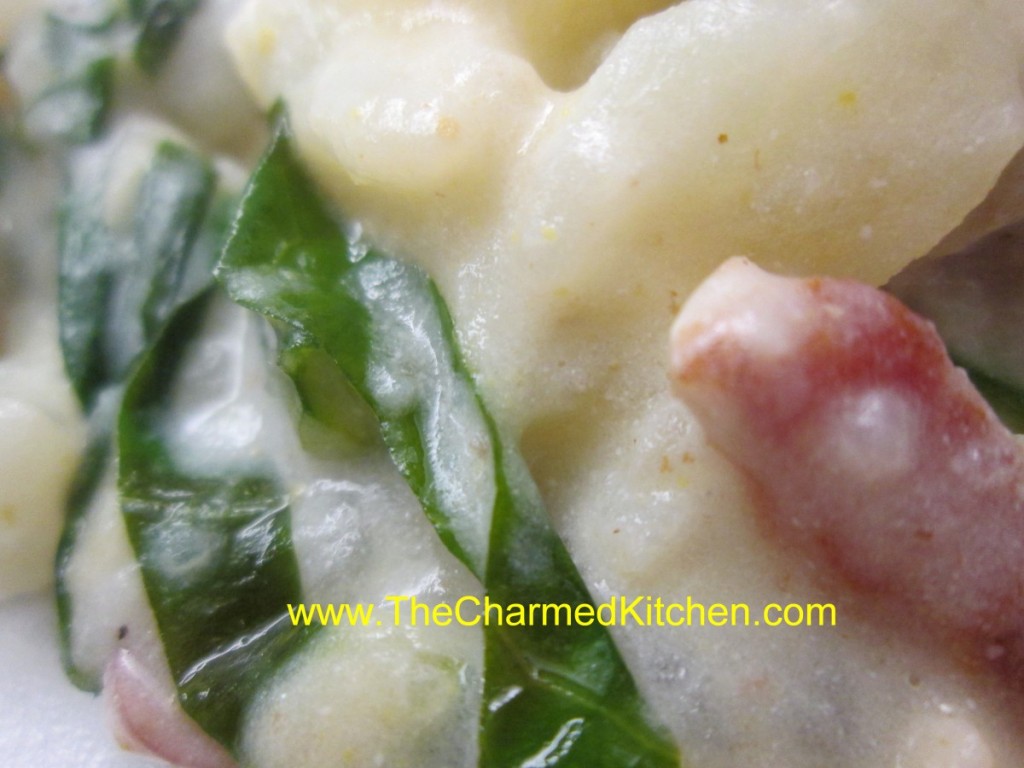 Dandelion Gravy
4 strips bacon
3 T. flour
1 c. water
1 lb. dandelion greens, washed and chopped
½ c. sour cream
1 T. sugar
1 T. vinegar
Salt and pepper to taste
Hot boiled or baked potatoes
Fresh chopped parsley, optional
Chop bacon and cook in skillet until crisp. Leave bacon in the pan. Remove all but 3 tablespoons of the bacon fat and stir in the flour until smooth. Add water and dandelion greens and cook over medium heat until greens are tender- about 5- 10 minutes. Add more water if mixture is too thick. Turn off heat. Combine sour cream with sugar and vinegar and stir into dandelion mixture. Adjust seasonings. Spoon gravy over potatoes.
Serves 4.
Note: If you want leave out the bacon instead add 3 tablespoons of oil to skillet along with the flour.
The next 2 recipes come from Dr. Peter Gail, my mentor and dearly loved friend. I will always remember Peter when I cook with dandelions.
Dandelion Pita Pizza
Pita bread, toasted English muffin, or toasted bread
Spaghetti or pizza sauce
Fresh dandelion greens of any age, chopped fine
Grated cheese (any kind)
Cover bread with sauce, add chopped greens, top with cheese, and toast in oven until cheese
melts. For a more sophisticated treat, chopped dandelion greens may be sauteed in olive oil with
onions, mushrooms and several cloves of crushed garlic, and then spread on the pizza and topped
with cheese.
Dandy Burgers
1 cup dandelion flowers, green removed
½ cup flour, any kind
1/4 cup onions, chopped fine ½ tsp salt
½ tsp garlic powder
1/4 tsp thyme
1/4 tsp basil
1/4 tsp rosemary
1/8 tsp pepper
enough milk to make thick batter.
Peel dandelion flowers and put in 4 quart mixing bowl. Add onions and mix together. Blend
flour and seasonings together, add to the flowers and onions, and blend thoroughly. Add milk
slowly, blending it in until you have a thick batter.
Heat olive oil in frying pan to cover bottom. Form batter into golf-ball-sized balls. Place in
oil, and squash down flat to make a 2″ diameter patty. Fry till brown on both sides. Remove and
serve on small rolls as you would hamburger sliders.
This post is dedicated in loving memory of Dr. Peter Gail
When I want a special breakfast, I make waffles. No one ever complains when you make waffles for breakfast. Or if you make waffles for lunch or dinner, for that matter.
The response is even better when you make Belgian waffles. At least that has been my experience. My theory is, that because Belgian waffles are bigger, people love them even more.
These waffles are light and rich at the same time.
Belgian waffles can be used as a dessert, too. For dessert, just top them with ice cream, chocolate sauce or whipped cream – or all three.
You can even freeze any extras. Oh, who are we kidding? There aren't going to be leftovers. But if there were, you could freeze them.
Cinnamon-Vanilla Belgian Waffles
2 c. all-purpose flour
3/4 cup sugar
3-1/2 teaspoons baking powder
2 t. cinnamon
2 eggs, separated
1-1/2 cups half and half- or milk
1 cup butter, melted
2 t. vanilla extract
Sliced fresh strawberries, powdered sugar or syrup
In a bowl, combine dry ingredients. In another bowl, lightly beat egg yolks. Add milk, butter and vanilla; mix well. Stir into dry ingredients just until combined. Beat egg whites until stiff peaks form; fold into batter. Bake in a preheated waffle iron according to manufacturer's directions until golden brown. Serve with strawberries, powdered sugar or syrup. Yield: 10 waffles (about 4-1/2 inches).
I have posted this information before. I think it is information worth sharing again. You might have a fresh salad growing all around you, and not even know it.
A lot of people don't realize how many common plants they can eat. I thought it might be fun to share a few of them with you. Some of these are plants we grow as landscape/ornamental plants. Others are more often thought of as "weeds". All have one thing in common. They are edible.
Some you may already know. I hope I might show you a few edibles you didn't know about before.
I tried to stick to plants that were easy to identify. If you are not sure what it is – don't eat it. Don't eat plants where pesticides have been sprayed, either.
With any luck, you have at least a few of these in your yard.
Violets: Violet flowers are edible and used to decorate pastries and to make jelly. Did you know you can also eat the leaves? They are mild flavored- especially when young- and are a great addition to salads. Violet leaves are also high in vitamin C.
Purslane: The thick, fleshy leaves of purslane are easy to identify. Many vegetable gardeners make every effort to keep them out of their yards. Truth is, purslane is grown as a vegetable in many parts of the world. The leaves can be eaten raw in salads, can be cooked in a stir fry or just steamed as a fresh veggie. They can also be pickled. I make a salsa out of purslane leaves. They are crunchy with a slightly citrus flavor.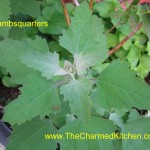 Lambsquarters: Lambsquarters are one of my favorites. They sprout all over my yard and in pots as soon as the weather warms up in the Spring. The leaves can be eaten raw when young or cooked as they mature. They taste just like spinach and are even better for you. Plants can get quite large and provide an easy harvest of nutritious greens.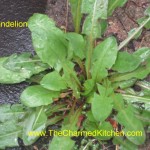 Dandelions: We spend so much money trying to kill them. Sad because they are really a tasty green. Dandelions were brought to America by European immigrants as a vegetable. Their bitter greens can be an acquired taste. By combining the greens with certain foods you make them taste less bitter. Starchy foods like breads or potatoes, dairy products, tomatoes and vinegars all seem to tame the bitterness. Dandelion greens can be eaten cooked or raw. Flowers are used to make jelly and wine and can be added to baked goods.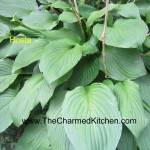 Hosta: If you can get to them before the deer do, you will be pleasantly surprised. Hosta leaves are quite mild flavored, similar to Bibb lettuce. I add them to salads and even serve them with dips. The older leaves get tough so pick young leaves.
Sweet Potato Leaves: A friend from Hawaii first told me about eating sweet potato leaves. The leaves are pretty mild flavored. I normally eat them cooked although I have friends that eat them raw as well. You can eat the leaves of all sweet potatoes, including ornamental types.
Lilac: Lilac flowers are fragrant and edible. I use them every year to make lilac infused vinegar. They have a nice spicy taste that works well in the vinegar. Blossoms can be added to salads, too. This year I also made lilac jelly.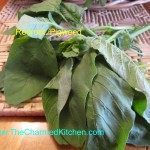 Redroot/Pigweed: This member of the amaranth family is distinguished by a reddish color to its roots. It has a spinach like flavor and can be cooked and used like spinach is any recipe. The plants can get several feet tall and often show up in places where the soil has been tilled.
Tulips: Tulips are more than pretty, they are also quite tasty. The petals taste like a mild flavored lettuce and can add a beautiful touch to salads. The bulbs are also edible but we rarely eat them because to do so would destroy the plant. The petals, however, can be harvested and eaten year after year without harming the plant.
Roses: Rose petals have been used to make fragrances for a very long time. The petals are also edible and can be added to salads and used to make jelly, syrup and of course, rose water. The hips are also quite edible. Rose hips are the round balls that are left after the bloom is spent. They are full of vitamin C and can be cooked and used to make tea and jelly.
This is far from a complete list. Just a few things from my yard that I thought you might have, too.
If you haven't tried ramps, you really don't know what you are missing. Ramps are a member of the onion/allium family. They grow wild in wooded areas and are only around for about a month, during the Spring. They are sometimes called wild leeks or wild onions. Their flavor might best be described as a garlicky leek.
People have been foraging ramps forever. A recent increase in their popularity has put them at risk in some areas. Only pick ramps where it is legal to harvest them. Only purchase ramps from someone who you trust to harvest responsibly. While I love the bulbs, I often harvest just the leaves from them. That way the plants are not killed. I have also planted some of the harvested ramps and have had friends do the same, to start stands of them in new places.
So here are some of the ways I use my ramps.
Ramp butter is a wonderful way to preserve the ramps and a great way to prep them for use in all sorts of recipes. The recipe is pretty simple- ramps, mixed with softened butter, perhaps a little lemon zest and some salt, if desired. The butter is then put in small containers, or shaped into little logs and frozen. Whenever you want some ramp flavor in your cooking, you just spoon out or slice off a bit of ramp butter.
I don't know that I have a hard and fast "recipe" for ramp butter. I can tell you how I make mine, though.
I like my ramp butter with lots of ramps in it. Ramp forward, if you will.
I mix equal parts of butter and ramps.  You can add some salt to the mix, too. Use a food processor to get the mixture well mixed and to chop the ramps up. I divided the mixture into 6 or seven containers and threw all but one in my freezer. The last container is in my fridge, being used in all sorts of dishes.
Ramp Oil
The process is similar to making ramp butter, but you use oil instead of butter. I used a lemon infused olive oil and some avocado oil.  I use those oils because I like the flavors, but also because they will freeze solid. For long term storage- ramp oil should be frozen. Any stored in the fridge should be used up in a week or two.
The uses are somewhat similar to ramp butter. You can use some of the ramp oil to make ramp pesto or ramp pasta. You can use it as a base for salad dressing. It is really good added to potato salads.
Prepare the ramps the same way you would for ramp butter.  I placed the cleaned ramps in a food processor and added about a cup of oil to two cups of ramps. I ran the machine until the mixture was pretty smooth. Add a little more oil, if needed. The mixture should be thick, but pour-able. The flavor is  intensely ramp. That is what I like. I can cut it down with other ingredients later on.
Salmon with Ramp Butter
2 salmon sides
salt
pepper
1 c. ramp butter
2 lemons, sliced thin
Place the salmon on parchment paper and season with salt and pepper. Spread ramp butter down the center of each salmon side. Use about 1/2 cup on each one. Place lemon slices on top of the ramp butter.  Bake the salmon in a 375 degree oven for about 30 minutes. Rest 5 minutes before serving. Serves 16.
Pickled Ramps
4-5 c. ramp bulbs, some stem attached, if you like
2 c. cider vinegar
1½ c. water
1 c. sugar
2 T. salt
1 T. Tuscan seasoning*
Wash ramp bulbs well and remove any roots. In pot, combine all ingredients and bring to a boil. Turn down heat to a simmer. Cover pot and simmer 10-15 minutes. Remove from heat. Pour into a heat-proof jar. Cool a little, cover and place in fridge. You can eat the ramp pickles right away, but they taste even better if you wait a few days. Will keep in the fridge for a few months.
*Tuscan Seasoning
½ c. dried basil
½ c. dried oregano
½ c. dried marjoram
3 T. dried minced onion
2 T. dried minced garlic
2 T. dried rosemary
2 T. dried parsley
1 t. crushed red pepper
Combine all. Store in a cool, dry place. Use for any number of recipes, from marinara sauce, to salad dressings.
Creamy Ramp Soup
1 lb. ramps
1/2 large sweet onion such as Vidalia or Walla Walla, thinly sliced
1/4 teaspoon white pepper
2 tablespoons oil
1/3 cup dry white wine
3 1/2 cups reduced-sodium chicken broth
1/4 cup grated Parmigiano-Reggiano
2 tablespoons unsalted butter
Garnish:extra-virgin olive oil
Trim roots from ramps and slip off outer skins if loose. Cut green tops from ramps and coarsely chop enough greens to measure 3 cups (reserve remainder for another use). Thinly slice ramp bulbs, including pink stems. Cook ramp bulbs, onion, white pepper, and 1/2 teaspoon salt in oil in a large heavy saucepan over medium heat, stirring occasionally, until softened, about 10 minutes. Add wine, then boil over high heat, stirring occasionally, until evaporated completely. Add broth and simmer, partially covered, stirring occasionally, until onions and ramps are very soft, about 20 minutes. Stir in ramp greens and boil 1 minute.Working in batches, purée soup in a blender until very smooth, about 1 minute per batch (use caution when blending hot liquids), then strain through a fine-mesh sieve into a large heatproof bowl, pressing hard on and then discarding solids. Return soup to cleaned pot and bring just to a boil. Whisk in cheese and butter until smooth. Season with salt. Serves 4.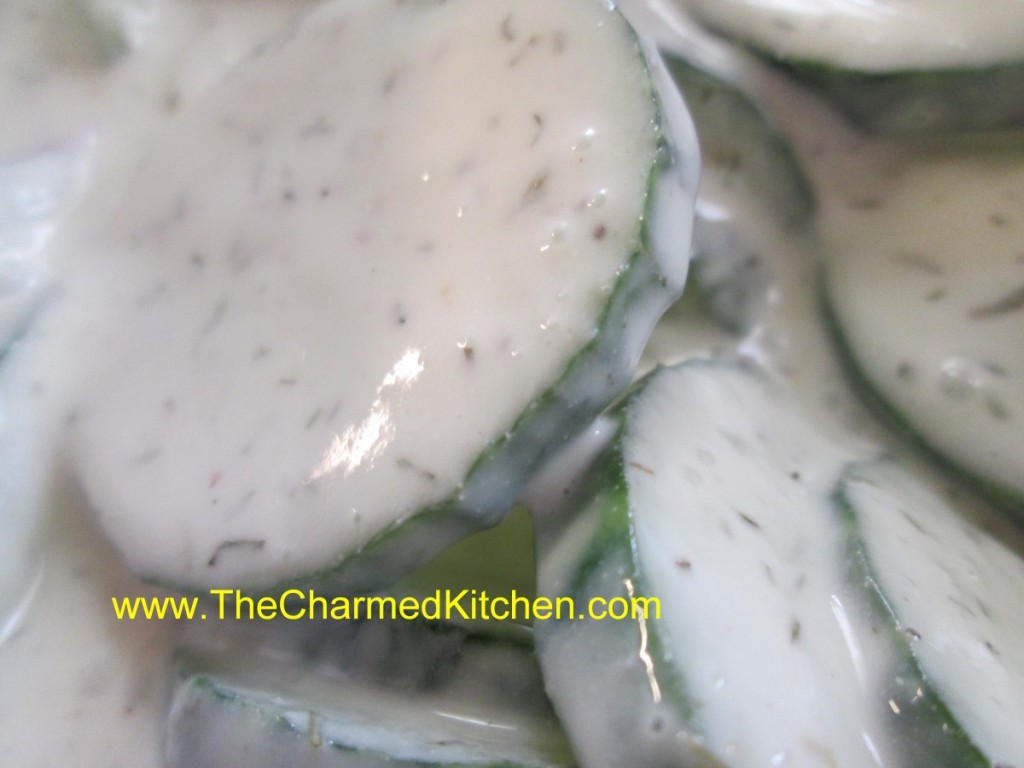 This is one of the recipes we made in salad class last night. This salad was such a summer tradition in my family. Sliced cucumbers in a creamy, sour cream based dressing, flavored with fresh dill. It always gives me a nostalgic feeling.
It was one of the first dishes I can remember helping my Mother make. She let me slice the cucumbers and mix the dressing. It seemed we often had it on the weekends when my Father was grilling. I can't make this salad without thinking of the wonderful smells wafting into the kitchen from that grill.
You can use any type of cucumber you like in this recipe. English cucumbers don't have to be peeled. You might want to peel cukes with tougher skins.
Cucumbers and Sour Cream
2-3 medium cukes, sliced
1 c. sour cream or strained yogurt
¼ c. sugar
¼ c. vinegar
2 green onions, chopped
1 –2 T. chopped fresh dill or 1-2 t. dried
Combine all ingredients and chill at least 10 minutes. Serves 6-8.