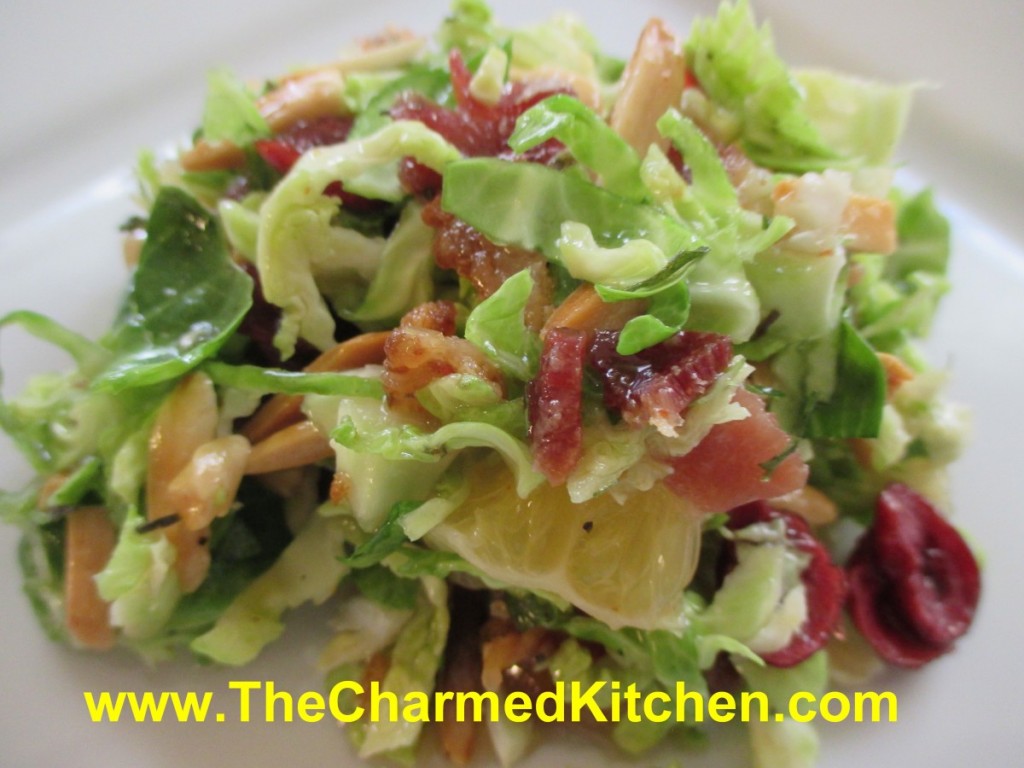 I know some people don't like Brussels sprouts. I am not one of them. I have always loved them, even when I was a kid. I like them steamed with butter, roasted, pan fried and even raw. This salad is a great way to enjoy their crunchiness in raw form. The smoky flavor come from the bacon. The dressing, sweetened with maple syrup, really makes the dish.
The nice thing about this salad, is that it tastes good even the next day. The sprouts are like little cabbages. Unlike leaf lettuce, which wilts quickly once dressed, the sprouts soften some, but retain most of their crunch.
Smoky Brussels Sprouts Salad
8- 10 oz. Brussels sprouts
1 large orange, peeled and cubed
4 slices bacon, cooked and crumbled
¾ c. dried cranberries
½ c. toasted slivered almonds*
Dressing:
¼ c. olive oil
¼ c. apple cider vinegar
2 T. maple syrup
1 T. fresh chopped parsley- or 1 t. dried
2 t. hot sauce, or to taste
½ t. dried thyme
½ t. dried basil
Salt and pepper to taste
Trim bottoms off the sprouts, cut in half and slice thin. You should end up with about 4 cups of sliced sprouts. Place in large bowl with the remaining salad ingredients. Place dressing ingredients in a jar with a tight fitting lid and shake well to combine. Toss over Brussels sprout mixture.
Note: The salad ingredients can all be assembled a day ahead, then just dressed when ready to serve. This salad is also good the next day.
*To toast the almonds, place in a skillet over medium low heat and stir occasionally, until toasted. Be careful, once they start to brown, they can burn easily.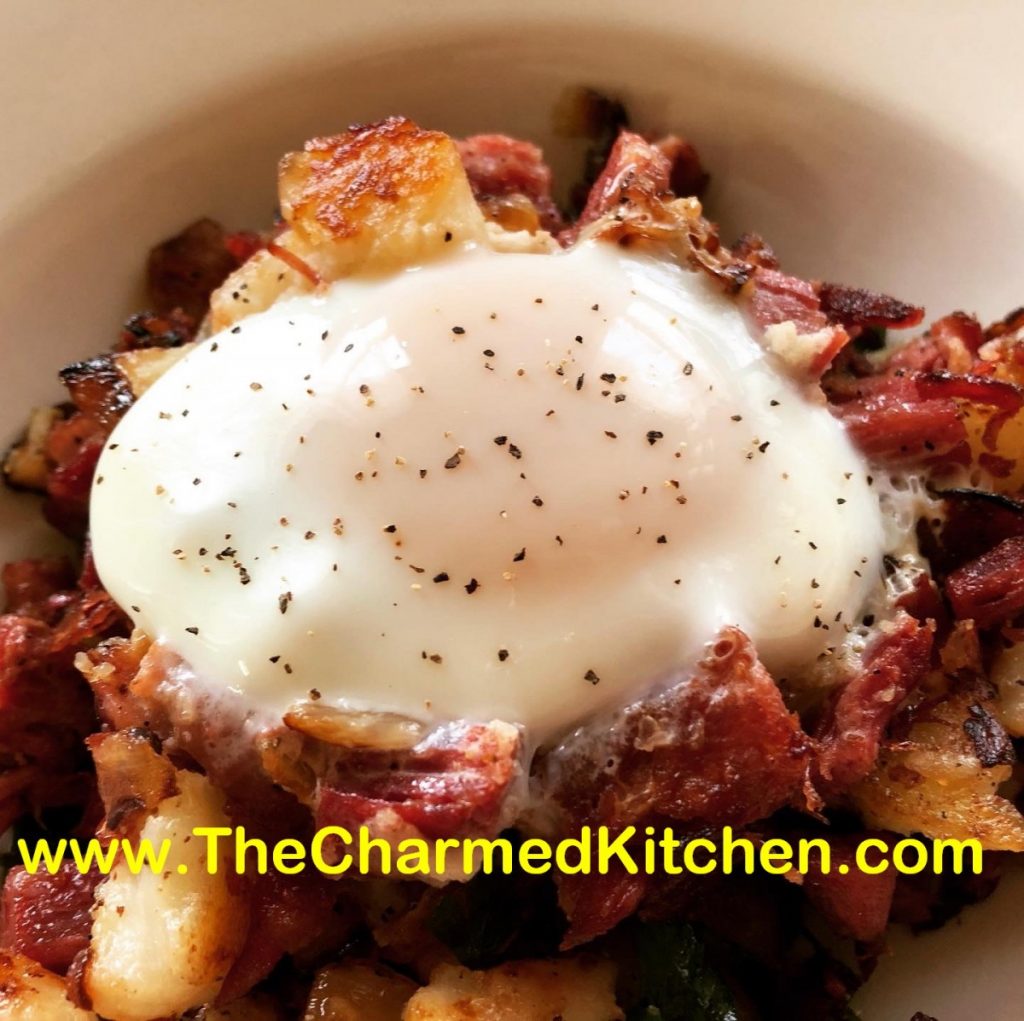 My mom used to make the best hash. Making hash for friends yesterday, gave me a chance to think about her. She taught me so much about cooking- and life.
I didn't have any specific recipe for hash, so I made a point of writing down what I did, and measuring ingredients, so I could share the recipe with you.
The hash tasted a lot like my mom's. That made me smile. Here is the recipe. Hope you give it a try.
Corned Beef Hash
4 T. oil, butter or bacon fat
2-3 medium onions, peeled and chopped
1-1½ lbs. potatoes, 4-5 medium, cut in cubes, peeling optional
1 lb. corned beef, cut into ½- inch cubes
Salt and pepper
Eggs, optional
In skillet, heat up your fat of choice. Cook onions over medium heat until translucent. Add cubed potatoes and cook until potatoes and onions are starting to brown. Rather than constantly stirring, I let the potato and onion mixture cook a few minutes, then turn over sections with a spatula. It seems to get them brown faster. Check a few random potatoes to make sure they are tender. Add the corned beef and continue cooking until everything is starting to get a little crispy. Season to taste with salt and pepper. At this point you can serve it. I like to add the eggs. To add the eggs, crack and add eggs, one at a time, to the pan. Keep some space between the eggs, if you can. Turn heat down to medium low and cover the pan. It should take about 5 minutes for the eggs to cook, with the whites firm and the yolks runny. Try not to keep peeking. I know you want to, but every time you remove the lid, the heat dissipates. Wait 3 minutes to check the first time, if you can. Don't set the heat too high, or you will burn the bottom of the hash while the eggs cook. I usually add one egg for each person I am serving. Feel free to allow more eggs per person, depending on your guests. Serves about 4.
Note: If you want to save yourself from dicing potatoes, you can use frozen hash browns. I prefer diced fresh potatoes, but the hash browns will save you time.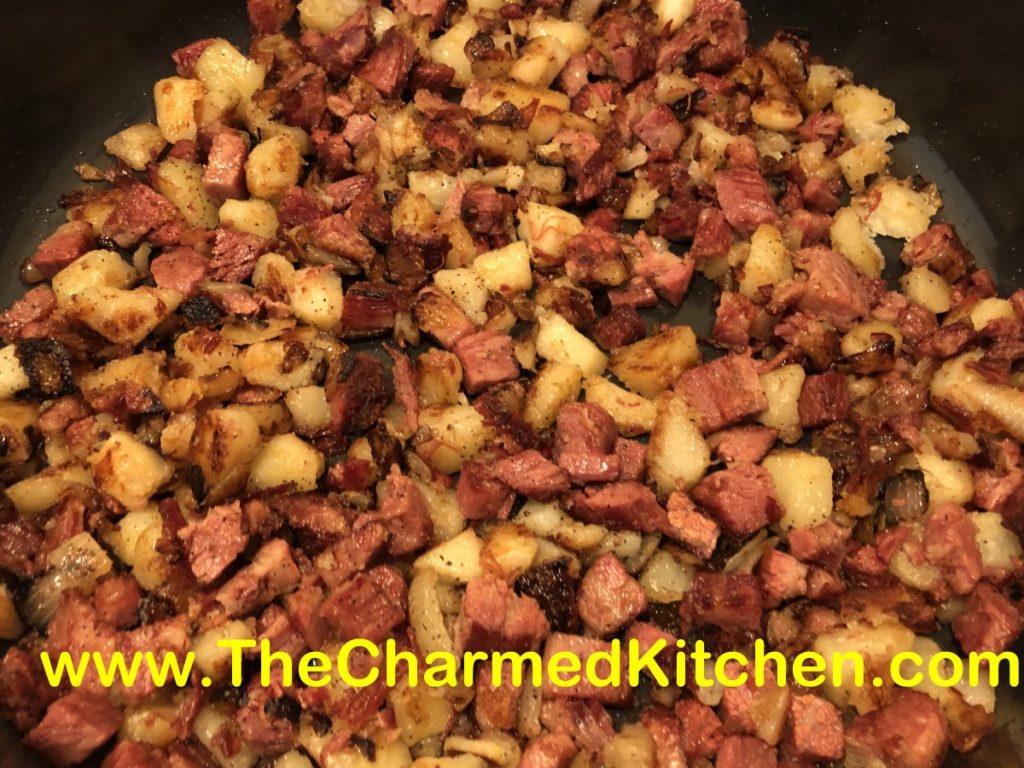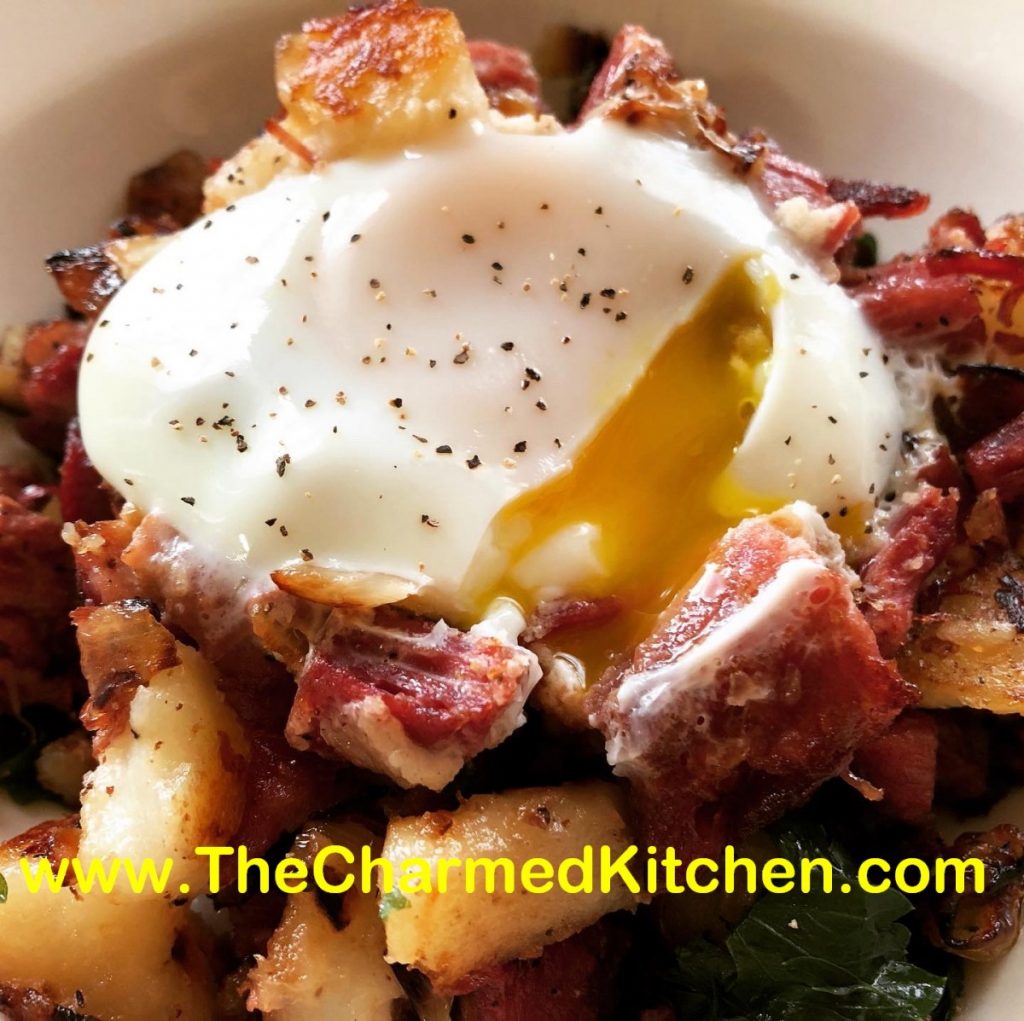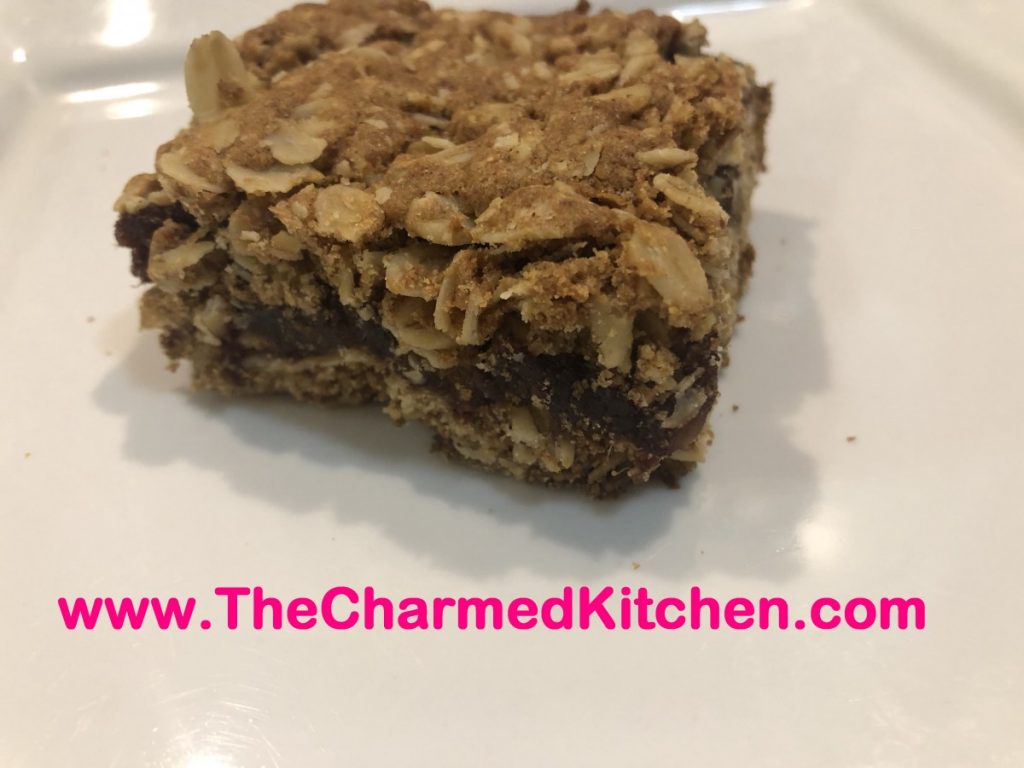 I wouldn't go so far as to call these granola bars, but they are pretty similar. The dough is made from oats, flour, nuts, brown sugar and butter. There is also the option of making a vegan version with applesauce and olive oil in place of the butter. Both variations are good.  Between the dough you add a layer of dates, although you can use any dried fruit you like or happen to have on hand. I have made these with fig jam, raisins and dried cranberries.  Once cooked and cooled, you cut them into squares. They keep for days, but can also be frozen. Great for road trips, picnics, boxed lunches, breakfast or just snacking.
Oatmeal Date Bars
4 c. rolled oats
2 c. flour (you can use whole wheat pastry flour, ap or spelt flour)
½ c. brown sugar  or ¼ c. honey
1 c. pecans, chopped
1 t. baking soda
1 t. salt
1 ½ c. butter, melted  or 1 c. applesauce and ½ c. olive oil
2 t. vanilla
½ c. water
2 c. pitted dates, chopped- or 2 c. any dried fruit
Zest of 1 lemon
1 t. cinnamon
Non-stick cooking spray
Heat oven to 350. Spray a 9×13-inch pan, set aside. Combine oats, flour, sugar, nuts, soda, salt. Pour in butter and vanilla, stir until well mixed and set aside. Heat together water with dates, zest and cinnamon and bring to a boil. Simmer two minutes and remove from heat to cool a little. Press half of the oatmeal mixture in bottom of prepared pan. Spread the date mixture over the oatmeal mix and then top with the remaining oat mix. Press down firmly. Bake until golden on the top, 35-45 minutes. Cut once cool. Makes 24 bars.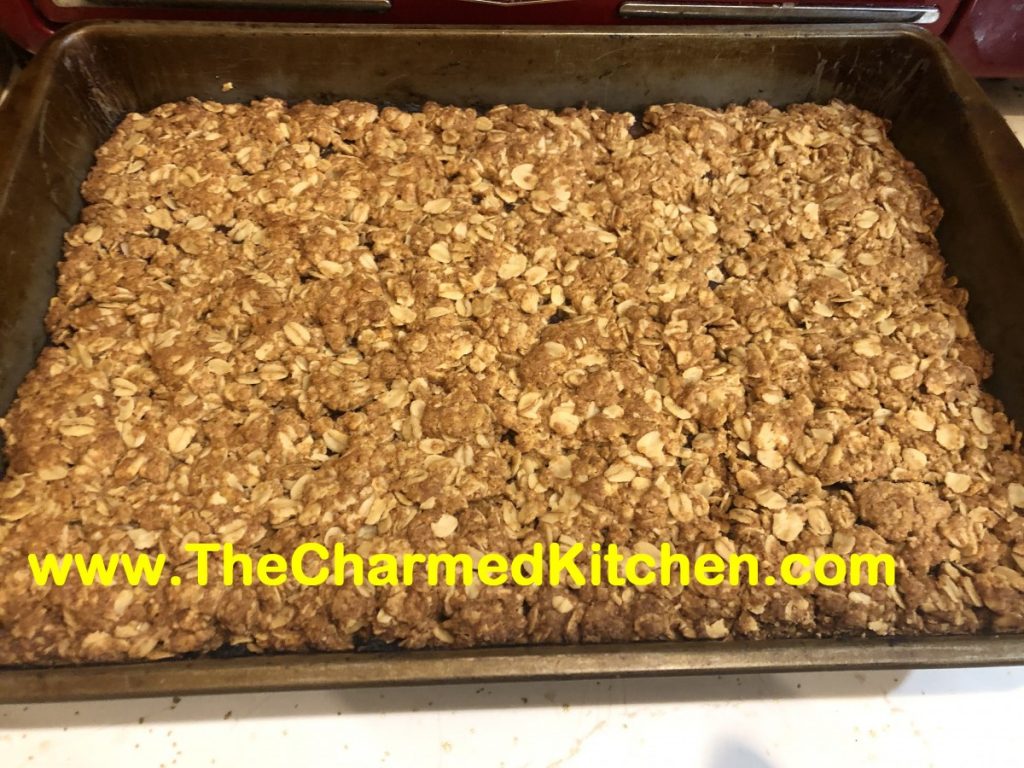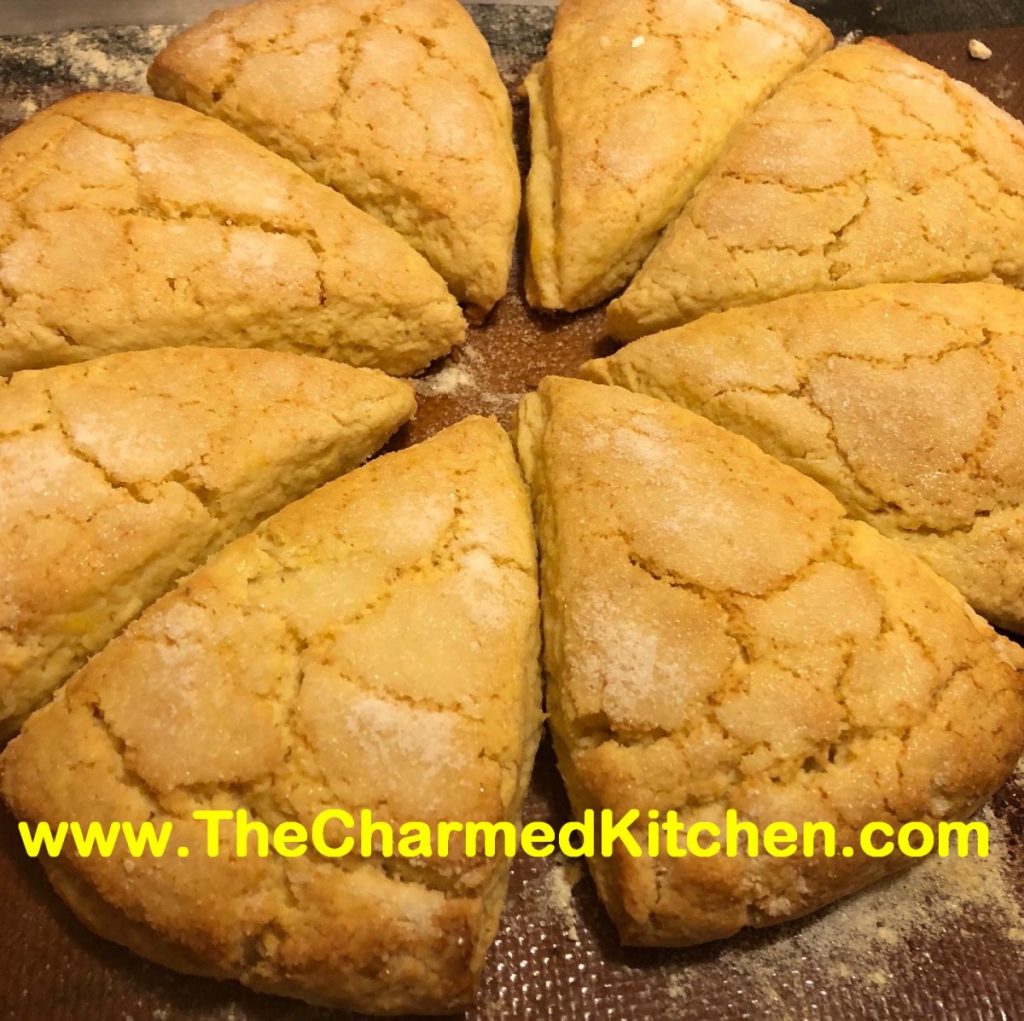 These are wonderful scones. They are just what a good scone should be, tender and crumbly, without being dry. The orange flavor comes from the orange zest used in the recipe. It is subtle, but there.
I love scones because you can have them for breakfast or with a cup of coffee or tea. You can also use them as the base for a shortcake dessert by splitting them, adding sweetened fruit and whipped cream.
I was in the mood for scones, but wanted to try something new. I had come across this recipe in an old file of mine. I had ripped it out of a magazine a long time ago. They looked promising, so I decided to make them. I made few changes from the original recipe. I was very happy with how they came out. I think you will be, too. I enjoyed one this morning with some homemade clementine marmalade.
Orange and Cream Scones
2 c. flour
¼ c. sugar
1-2 T. orange zest, I used 1 tablespoon, but could have used more
2 t. baking powder
½ t. salt
10 T. unsalted cold butter, cut into ½ -inch cubes
1 egg
½ c. cold half and half
1 t. vanilla
Extra flour
2 T. half and half or orange juice to brush the scones
Extra sugar for sprinkling on top- 3-4 tablespoons
Preheat oven to 375. Line a large baking sheet with parchment paper or use a silicone liner. Set aside. In a large bowl mix together the dry ingredients. Using your fingers, rub the butter into the flour mixture until it looks like coarse crumbs. You can also use a pastry blender, but what fun is that? In a small bowl, beat together the egg, half and half and vanilla. Pour into flour mixture and stir until mixture starts to hold together. I am going to save you from messing up your counter with this next part. Get an 8-inch round cake pan and sprinkle flour in the bottom of it. Don't be stingy, be sure there is a layer over the whole pan. One or two tablespoons should do it. Go back to your dough and sort of knead it in the bowl. That is why I said to use a large bowl. You don't really need to knead it on your counter. Use a wooden spoon, rubber spatula or your hands to get the dough to form into a ball. Make sure you get all the dry bits from the bottom of the bowl. This isn't a yeast dough. The idea is to get it to stick together with as little actual kneading as possible. Trust me, this is how you end up with super tender scones. As soon as the dough will hold together, and form into a ball, use a rubber scraper to get it into the floured cake pan. Press the dough evenly into the pan. Now a fun trick. You want to turn to the pan over so the dough ends up on the prepared baking sheet. You don't want to do this slowly or the dough might plop out too soon. You also want to dough to come out. In one motion turn the cake pan over quickly onto the baking sheet. You want to actually slam it firmly on the baking sheet. Then lift up the cake pan. If all has gone according to plan, you'll have a perfect 8-inch circle of dough on the baking sheet. I could have told you to just place the dough on the baking sheet and form it into an 8-inch circle, but I prefer the cake pan method. You get nice, even edges. There will be some flour on the dough. Leave it there for now. Using a bench scraper, or a long knife, cut the dough in half, then in half again, like cutting a pie. The dough is pretty moist, so the extra flour on top should make them easier to cut. Repeat two more times so you end up with 8 wedges. Pull them apart a little, so they can expand when they bake. I used a metal spatula to do this. If there is still extra flour on top and it is bothering you, you can brush it off. Using a pastry brush, brush a little half and half or orange juice over the scones. Then sprinkle the tops with the extra sugar. Bake for 25 minutes, or until golden brown. Makes 8. Great plain or served with jam.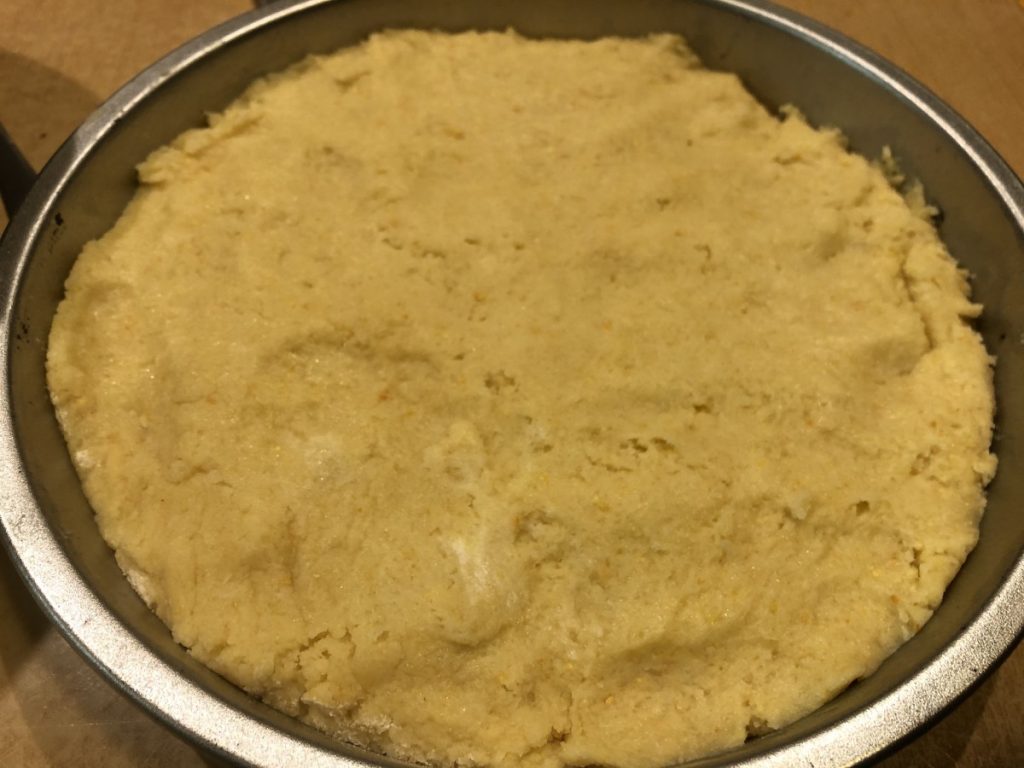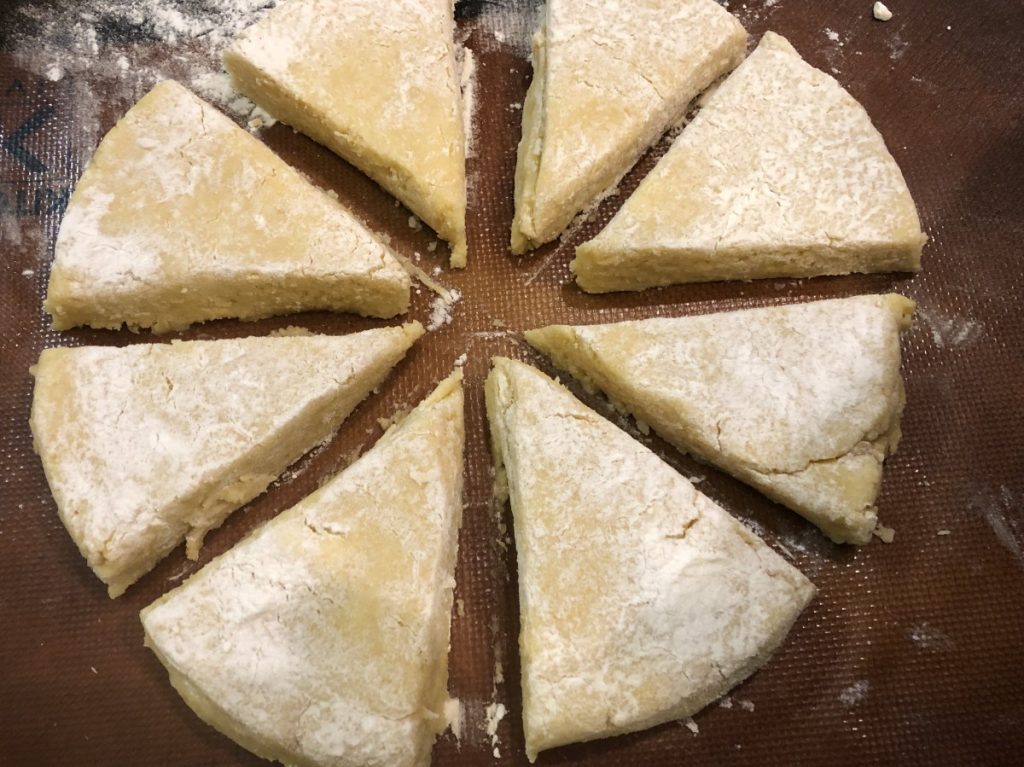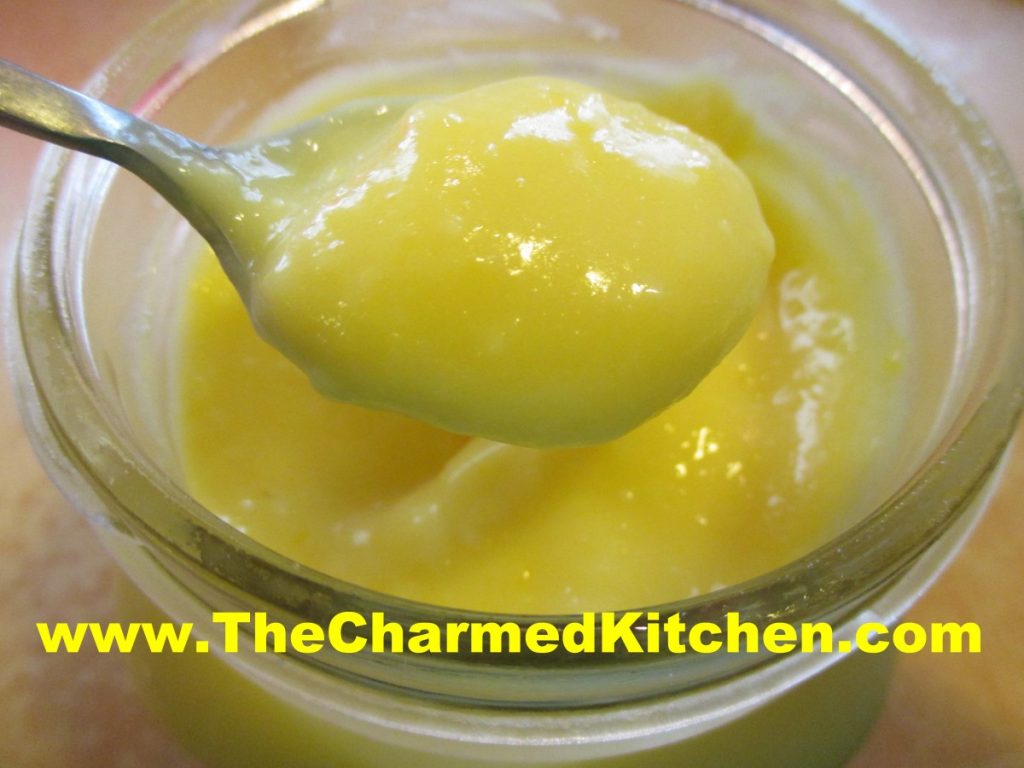 Lemons are in season and it is a perfect time to make lemon curd. Lemon curd is such a versatile dish. It's a sort of lemon pudding and can be served plain, or with a dollop of whipped cream. It is also great in trifle or served as a topper for any number of cakes and sweet treats. I especially like to make lemon curd to serve with scones. It is also really nice served with berry shortcakes.
It is easy to make and packed with fresh lemon flavor. Lemon curd is just a few ingredients, cooked over low heat until it thickens up. You can make a batch in under 10 minutes. The longest part of the prep time is just waiting for it to cool down after cooking.
So here is the recipe for the lemon curd. If you never made your own- you might want to give it a try. Certainly worth the effort.
Lemon Curd
1/2 c. lemon juice
zest from one good sized lemon- you should have 2-3 teaspoons
1/2 c. sugar
3 eggs
6 T. unsalted butter- cut into little cubes
In medium saucepan combine all ingredients. Whisk the mixture until the eggs are well blended. Cook over medium low heat, whisking often, until the mixture thickens. This will take 5-7 minutes. Whisk more often as mixtures warms and starts to thicken. Better to heat over lower heat and take longer than over too high a heat. You don't want the eggs to scramble. Once the mixture is thickened , transfer to a bowl or jar. Cover the surface with a piece of plastic wrap to keep the surface from developing a skin- like any pudding will do. Chill until ready to use. Makes about 2 cups. Will keep in fridge a week or two.
These stuffed breads are always fun to serve. Friends were coming over to work on a jigsaw puzzle. I wanted a dinner that would be easy to eat.
I have made a number of versions of this bread. Ham and Swiss is one of my favorites. You can add all sorts of fillings. I made a sauce to spread on the dough, before adding the ham and cheese. I used a combination of mayo, mustard, honey and horseradish. My friends loved it. Alos feel free to swap out a different cheese.
Here is the recipe with directions for using quick rising yeast or regular dry yeast.
Ham and Swiss Bread
3 ¼ c. flour
1 T. sugar
1 t. salt
1 package quick-rising yeast
1 c. hot water
1 T. oil
Dressing
2 T. mayonnaise
2 T. Dijon mustard
1 T. honey
1 T. horseradish
Fillings
8-10 oz. thin sliced ham
4-6 oz. sliced Swiss cheese
oil
Set aside 1 cup of the flour. Combine remaining flour with the other dry ingredients in a medium bowl. Stir in water and oil and gradually stir in enough flour to make a soft dough. Turn onto lightly floured surface and knead until dough is smooth and elastic, about 5 minutes. Roll dough into a rectangle about 16 x 8. Combine dressing ingredients. Spread dressing down center middle of dough. Top with meat slices and cheese. Cut one-inch wide strips of dough from filling to edge on both sides. It will sort of look like fringe. Alternating sides, fold strips up and over the filling at an angle. Pinch last strips to seal. Carefully lift loaf onto greased baking sheet and place at an angle. Cover with a towel and place sheet on top of a roasting pan half-filled with simmering water for 15 minutes. Bake in a preheated 400-degree for 20-25 minutes or until golden brown. Remove from oven and brush with oil or melted butter, if you like. Cool slightly before slicing. Serve warm and refrigerate leftovers.
Note: The variations for this bread are almost endless. Some favorite combinations are Reuben, roast beef and cheddar, chicken, broccoli and cheese, Spinach with ricotta or feta and onions, pizza, assorted fillings. You get the idea. Use your imagination and have fun. Just be careful not to overfill, or the bread will be hard to move. Use fillings that aren't too runny and always use cold fillings.
If you want to use regular yeast  (not quick rising) use warm, rather than hot water. Also, don't let dough rise over boiling water. After kneading, cover dough and let rise 45 minutes. Punch down and assemble as in original recipe. Cover with a towel and let rise until dough looks puffy, about 40 minutes. Bake as directed above. These breads can also be frozen.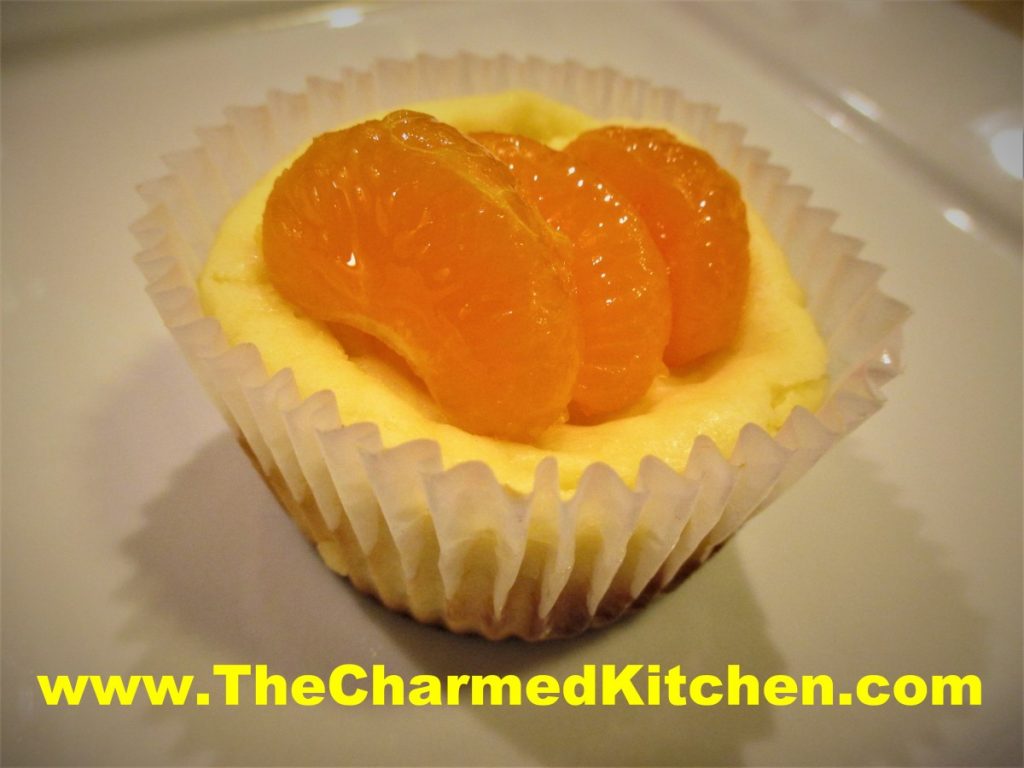 Winter is citrus season. Oranges and other citrus fruits are abundant this time of year. I love them. I love the tiny Mandarins, the big navels and the seedy, but oh so juicy, Temples. I am content to just peel and eat any of them, any time.
You can do a lot more with oranges than just eating them fresh or juicing them. Oranges can be added to both sweet and savory dishes. We use lemons and limes in cooking all the time, why not cook with oranges?
I have put together some of my favorite recipes using oranges. I've even including recipes to use the peels!! Enjoy!!
Orange Broiled Salmon
2 large oranges
4 (4 ounce) fillets salmon
1 teaspoon red wine vinegar
1/4 cup chopped green onions
1 teaspoon cracked black pepper
Preheat the oven's broiler. Slice, peel, and pith oranges; slice crosswise into 1/4 inch rounds. Season fillets with salt. Place salmon fillets on broiling pan. Place the pan of fillets 4 to 6 inches from heat. Cook for 15 minutes under the preheated broiler, or 10 minutes per inch of thickness. Remove from broiler just before they are cooked through. Sprinkle with vinegar. Arrange orange rounds on top. Sprinkle with green onions and cracked black pepper. Broil 1 minute longer. Serves 4.
Orange Kissed Chicken
1 (4 pound) chicken, cut into pieces
1 tablespoon oil
3 onions, thinly sliced
1/2 cup chicken broth
1/3 cup orange juice
salt and pepper to taste
In a large skillet, heat oil over medium-high heat. Add chicken pieces and sauté for 5 minutes, until lightly browned. Add onions and sauté for 2 minutes more. Add juice, broth, salt and pepper. Stir all together. Cover skillet and reduce heat to low. Let simmer for 45 minutes or until chicken is cooked through and juices run clear. Serves 4.
Orange Vinaigrette
1/2 cup balsamic vinegar
2/3 cup extra virgin olive oil
1 orange, juiced
2 tablespoons orange zest
2 tablespoons coarse-grained mustard
In a medium bowl, whisk together the balsamic vinegar, olive oil, orange juice, orange zest and mustard. Use immediately, or store in the refrigerator for up to one week. Great on mixed greens or on chicken or seafood salad.
Hot Cranberry-Orange Punch
2 quarts cranberry juice cocktail
3 cups orange juice
1/4 cup brown sugar
2 tablespoons fresh lemon juice
1 pinch salt
2 (3 inch) cinnamon sticks
In a 4 quart or larger slow cooker, combine the cranberry juice, orange juice, white sugar, brown sugar, lemon juice, salt and cinnamon sticks. Stir to dissolve sugar. Cook on high for 4 to 6 hours. Turn heat to low and keep warm for serving. Or heat on stove in saucepan. Simmer, covered for 30 minutes before serving. Serves 10-12.
Orange Tea Bread
2 cups all-purpose flour
1-1/2 teaspoons baking powder
1 teaspoon baking soda
1/2 teaspoon salt
2/3 cup non-fat plain yogurt
2/3 cup sugar
2 large eggs (egg substitute optional)
3 tablespoons melted unsalted butter
1 tablespoon grated orange zest
Syrup
1/2 cup orange juice
1/4 cup sugar
Preheat oven to 350 degrees. Grease an 8-1/2″x4-1/2″x2-5/8″ loaf pan. Line pan with wax paper or parchment and set aside. Sift flour, baking powder, baking soda and salt into a bowl. In a separate bowl, whisk together yogurt, sugar, eggs, butter and orange zest. Add liquid ingredients to dry ingredients, and stir mixture until well combined. Transfer batter to loaf pan, smoothing top, and bake in oven for 45 to 50 minutes, or until skewer inserted in middle comes out clean. While the bread is baking, combine orange juice and sugar in a saucepan. Bring mixture to a boil over moderate heat while stirring, and simmer for 1 minute. Keep syrup warm. Make holes in top of bread with a thin wooden skewer and drizzle with syrup. Let stand in pan until cool. Makes 1 loaf.
Whole Orange Liqueur
3 oranges, unpeeled, cut into wedges
½ lemon
3 whole cloves
3 cups vodka
1 c. sugar syrup
Combine fruit, cloves and vodka in jar. Vodka should cover fruit. Steep 10 days. Strain and filter. Add sugar syrup and mature 3-4 weeks. Makes 4 cups. Note: Sugar syrup is made from 1 cup of sugar and ½ cup of water. Bring to a boil, then cool. You will have 1 cup of syrup.
Orange Peel Liqueur
Peels only from 4 large oranges, scraped and cut into chunks
3 cups vodka
1 c. sugar syrup, see note
Remove all traces of white from orange peels. Mix peels and vodka and steep 2-3 weeks. You can use more peels for stronger flavor. Strain and filter and add sugar syrup. Let mature a week. Makes 4 cups. Note: Sugar syrup is made from 1 cup of sugar and ½ cup of water. Bring to a boil, then cool. You will have 1 cup of syrup.
Orange Beef Sauce
1-1 ½ lbs. lean ground beef (turkey or chicken would also work)
1 T. olive oil
1-2 garlic cloves, minced
½ c. chopped onion
¼ c. grated carrot
½ c. orange juice
1 c. beef, chicken or vegetable stock
½ t. caraway seeds
½ t. orange peel
1 T. brown sugar
1 T. vinegar
salt and pepper to taste
¼ c. water
2 T. cornstarch
Brown meat in oil until no longer pink. Drain and place in Dutch oven with the vegetables Cook until onions are tender. Add remaining ingredients, except water and cornstarch and simmer, covered, 30-60 minutes. Five minutes before serving dissolve cornstarch in water and add to sauce to thicken. Cook until sauce is thickened and bubbly. Serve over pasta.
Citrus Sugar
1 c. sugar
1 T. orange, lemon, lime or tangerine peel
1/2 t. cinnamon
1/2 t. nutmeg
1/8 t. allspice
Mix all ingredients and place in pie pan. Place in a preheated 200 degree oven for 15 minutes, stirring every 5 minutes. Cool sugar before storing in airtight jar or you can powder the sugar in a blender for 10 seconds or so before storing. Use in tea, on sugar cookies, on toast and bagels or with fresh fruit and yogurt.
Note: you can also make a citrus mint variation by combining sugar with citrus peel and 1 tablespoon dried mint leaves, omitting other flavorings. This sugar is great in lemonades and iced teas.
Orange and Oatmeal Scones
2 1/2 cups flour
2 cups rolled oats
1 cup sugar
1 teaspoon salt
1 tablespoon baking powder
1/2 teaspoon baking soda
1/2 cup very cold, unsalted butter – cut into chunks
1 egg
1/2 cup orange juice
2 t. grated orange peel
1 cup raisins – plumped and well dried
Glaze
milk, sugar, orange zest
Line a large baking sheet with parchment paper (double two sheets if you have them – one inside the other). Preheat oven to 425 F. In a large bowl, place flour, oatmeal, sugar, salt, baking powder, baking soda and mix together. Cut or rub in butter to make a mealy mixture. Stir in egg and orange juice. Add orange peel and raisins. Mix to make a soft dough. Turn out onto a lightly floured board and knead for a few minutes. Roll or pat out into a thickness of 1/2 inch. Using a serrated cookie cutter cut into disks or rounds. Brush with milk and sprinkle with sugar and orange zest. Bake until nicely browned – about 14 minutes. Makes about 24.
Chocolate-Orange Scones
1 1/2 c. baking mix, like Jiffy or Bisquick or homemade
1 T. grated orange peel
3/4 c. heavy cream
1/2 c. milk chocolate chips or 3 oz. milk chocolate, chopped
Combine baking mix and orange peel in medium bowl. Stir in cream to make a soft dough that forms into a ball in the bowl. On floured surface gently knead in chocolate and press or roll dough to 3/4- inch thickness. Cut into 2 1/4 -inch rounds, re-rolling scraps. You should get 8. Place on and ungreased cookie sheet and bake in a preheated 425-degree oven for 8-10 minutes.
Double chocolate version: Knead 3 tablespoons of cocoa into dough with the chocolate chips.
Orange and Chocolate Mini Cheesecakes
8 chocolate graham crackers
3 T. butter, melted
2 (8 oz.) cream cheese, softened
½ c. sugar
2 t. orange zest
2 t. vanilla
2 eggs
4 or 5 mandarin oranges
4 T. sugar
3 T. water
Line 12 muffin tins with paper liners. Set aside. Crush graham crackers into crumbs- you should end up with about a cup of crumbs, or a bit more. Place crumbs in small mixing bowl. Drizzle the melted butter over the crumbs, and toss to distribute the butter evenly. Spoon a rounded tablespoon of the crumb mixture into each of the paper lined muffin tins. Press firmly on the crumb mixture. I used the bottom of a small glass to press the crumb mixture down. Set aside. Beat together the cream cheese, sugar, zest and vanilla for 1 minute with electric mixer. Beat in the eggs until just mixed in. Divide this mixture in the muffin tins, filling each 3/4 full. Bake 25 minutes at 325 degrees. While cheesecakes are baking, prepare oranges. Peel oranges and break apart into segments (sections). You will need 36 segments in all. In small pan, boil together sugar and water for two minutes. Place orange segments in a small bowl and pour the sugar syrup over them, tossing gently to coat. Set aside to cool down. Place three orange segments on top of each cooled down cheesecake. Makes 12. Serves 6.
Candied Orange Peel
2 large oranges ( you can also use 1 grapefruit or 3 lemons)
¾ c. water
¾ c. sugar, plus extra for rolling
3 T. light corn syrup
Remove peel from fruit using a sharp knife. Try to get the peel off in 4 pieces. Cut the peel into ¼-inch wide strips. Place peel in a pot with cold water and bring to a boil. Boil 1 minute, drain and rinse under cold water. Repeat process 2 more times. Return to pan with fresh water and boil 15 minutes. Drain and pat dry. Bring ¾ c. water and ¾ c. sugar to boil in sauce pan with the corn syrup. Boil 2-3 minutes and then add the peel. Simmer, stirring occasionally until all but a spoonful of the syrup is left. This should take about 10 minutes. On a wax-paper lined baking sheet sprinkle 1 cup of sugar and arrange the peels on top of the sugar. Toss the peels around until cooled adding more sugar if needed. Place peels on a drying rack for 24 hours before storing. Once dried you can also dip one end of the peels in dark chocolate. Makes ½ pound.
Dried Orange Zest
I love to use orange zest in a lot of recipes, but I don't always have fresh oranges around to zest. I dry my own, so I always have orange zest handy. It's easy to do. You don't need a dehydrator, but you can use one, if you have one. You can save the entire peel from thin-skinned oranges, like mandarins or temple oranges. For oranges with a thick, white pith, use a peeler to remove the peel in strips- leaving as little of the white portion on them as possible. Place in a single layer in a basket. Air circulation helps them to dry faster. If you pile them up, you risk them getting moldy before they dry. Leave room for air circulation. You can also leave them on a tray in a single layer. When the peels are brittle, break into smaller pieces and grind into a powder. A spice/coffee mill works well. A blender works fine, too. I have tried to powder them up in several types of food processors and the peels seem to get wedged between the blades and the sides of the work bowl. Once they are powdered up, I use a fine strainer to get out any larger pieces. To be safe, just in case they aren't completely dry, I put my zest in a freezer container and store in the freezer. The freezer helps the zest to retain its flavor and color longer, too. Better to use organic oranges, if you can.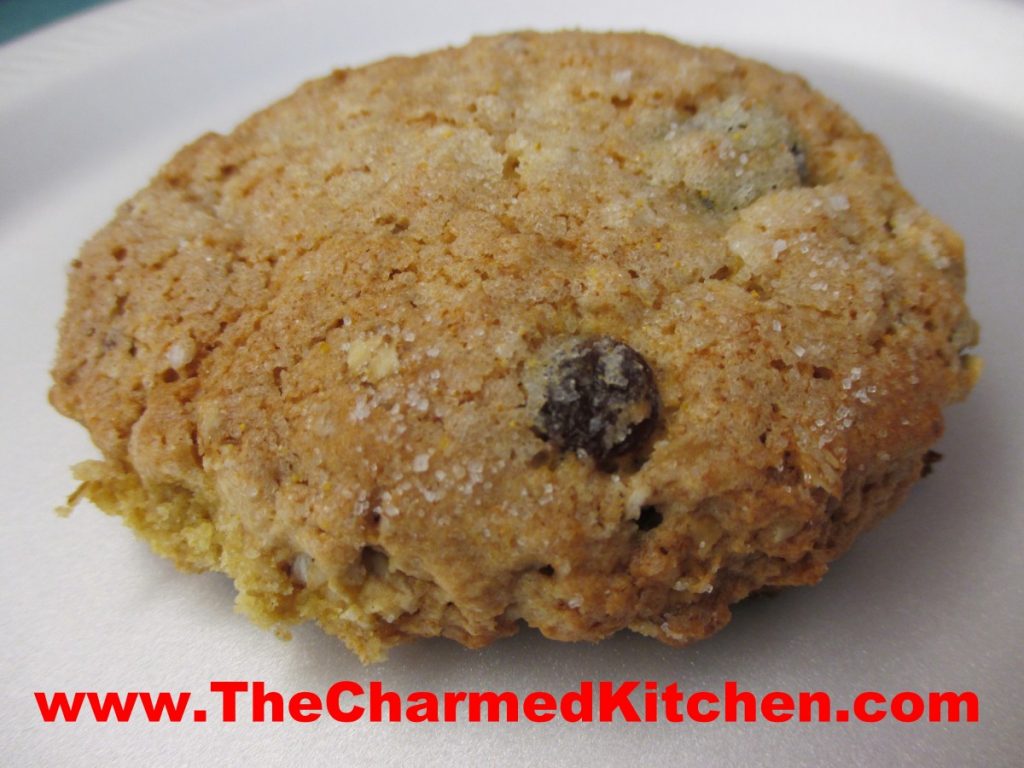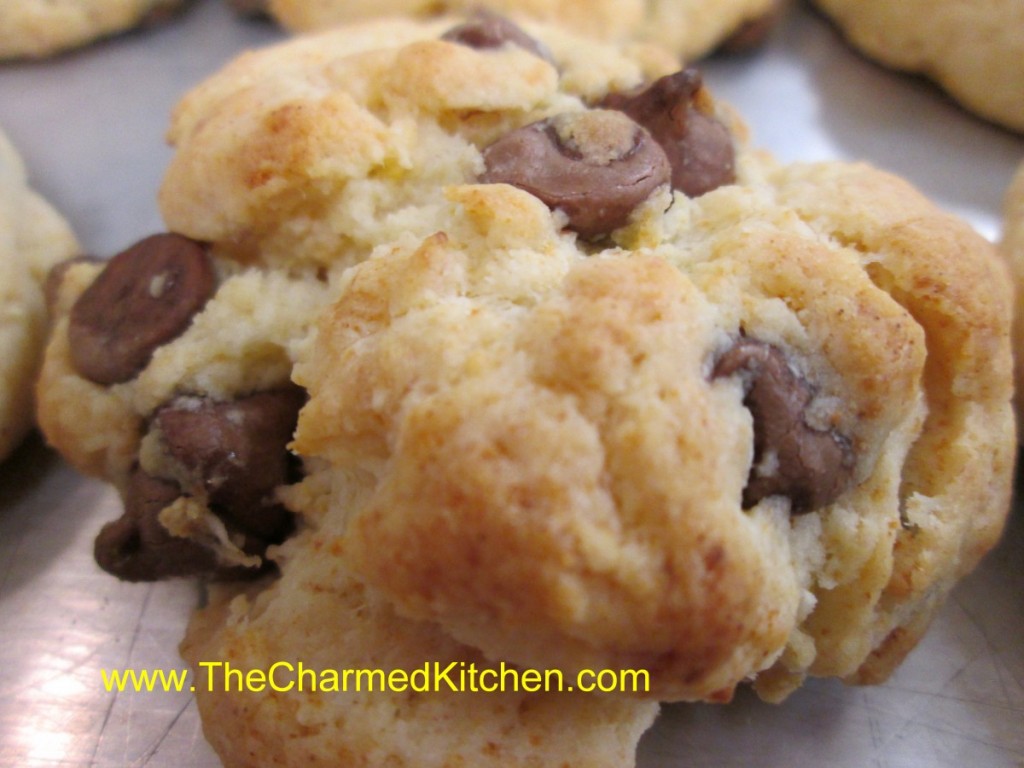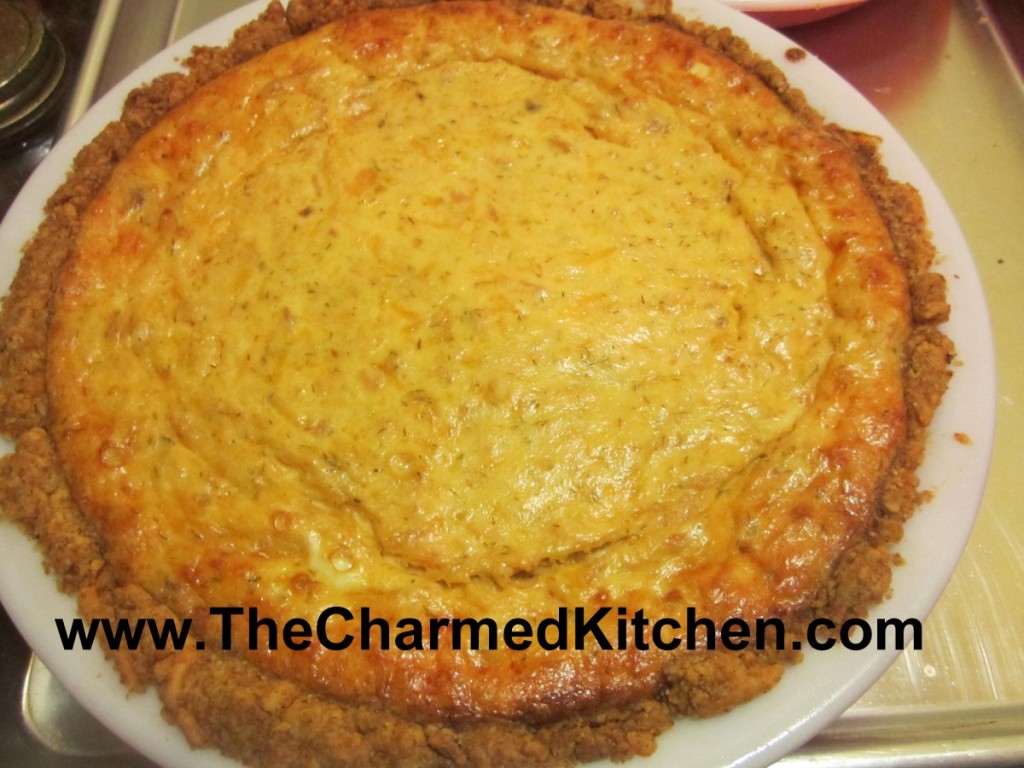 I like canned salmon. There, I said it. I know it sometimes gets a bad rap, but I find canned salmon very convenient to have around. If you didn't already know this- canned salmon is made from wild caught salmon and has all the nutritional benefits of fresh. If you are looking for something different to do with canned salmon, you might want to try this recipe.
If you prefer, you could use fresh salmon. About 12 oz. of cooked salmon, flaked, would be used in place of the canned salmon.
The crust is a breeze to make. It's pressed into the pie pan, rather than being rolled out. The crust is made with whole wheat flour, almonds and cheddar cheese. Yum. You could use this crust recipe for other quiches.
Did I mention it also freezes well?
Salmon Quiche
1 c. whole wheat flour
2/3 c. shredded sharp cheddar cheese
1/4 c. chopped almonds
1/2 t. salt
1/2 t. paprika
6 T. oil
1 (15 oz.) can salmon, flaked, drained, liquid reserved, bones and skin removed
3 eggs, beaten
1 c. sour cream
1/4 c. mayo or salad dressing
1/2 c. shredded sharp cheddar cheese
1 T. grated onion
1/2 t. dillweed
3 drops Tabasco
For crust, combine first 5 ingredients in a bowl. Add oil and mix well. Press into a 9 inch pie plate. Bake in a 400 degree oven for 10 minutes. Remove pie crust from oven and reduce oven temperature to 325 degrees. Meanwhile, begin filling. If needed, add water to reserved salmon juice to measure 1/2 cup. Combine remaining ingredients in a bowl, including reserved liquid. Pour into prepared crust and bake for 45 minutes or until set in the center. Makes 6 servings.
I froze a lot of blueberries when they were in season. I realized that recently when I defrosted my freezer. This time of year I often enjoy using some of those frozen berries in baked goods. Reminds me of warm summer days.
This muffin recipe is one of my favorites. The secret, I think, is the cup of melted butter that is folded into the batter. I also add a little cinnamon, which goes so well with the berries.
You end up with a rich muffin with a crumbly, tender texture and a great flavor. This recipe makes 36 muffins, so you will have extra to freeze. They freeze great.
Rich Blueberry Muffins
4 c. flour
2 T. baking powder
1 ½ t. salt
1 t. cinnamon
1½ c. sugar, plus extra for sprinkling
2 eggs
1 ½ c. milk
2 sticks (1 cup) butter, melted
4 c. blueberries -fresh or frozen
Paper line 36 muffin cups or grease lightly and preheat oven to 375 degrees. In large bowl mix dry ingredients. In smaller bowl mix eggs and milk and beat until smooth. Stir into flour mixture with a fork and mix until just moistened. Fold in melted butter and blueberries divide batter among cups. Sprinkle muffins with a little extra sugar. Bake 25 minutes, or until light golden. Makes 36.