I bring my rosemary in for the winter, so I have fresh rosemary available all year long. On this chilly day, the thought of warm biscuits was too tempting.
I really enjoy baking with herbs. They add so much flavor to both sweet and savory baked goods. I love these rosemary biscuits. You can have have them ready for baking in just a few minutes. One of life's simple pleasures is enjoying homemade biscuits warm from the oven.
Rosemary Biscuits
3 oz. cream cheese, cubed
1 ¾ c. biscuit mix, like Bisquick or Jiffy Mix, I use homemade, recipe follows
½ c. milk
2 t. minced fresh rosemary or ¾ t. dried
In mixing bowl cut cream cheese into biscuit mix until it resembles coarse crumbs. Stir in milk and rosemary and stir until soft dough forms. Turn dough onto lightly floured surface and knead until dough holds together, about ten times. Shape dough into a 6-inch square and cut into 4 3-inch squares. Cut each square in half diagonally and place on a lightly greased baking sheet. Bake in a preheated 400-degree oven for 10-12 minutes or until light brown. Makes 8.
Homemade Biscuit Mix
8 cups sifted, all-purpose flour
1 c. powdered milk
1 c. powdered buttermilk
¼ c. baking powder
1 T. salt
2 c. shortening ( you can use butter or coconut oil, I use coconut oil)
Sift dry ingredients together 3 times. Cut in shortening to resemble cornmeal. Keep in an airtight container.  Store in a cool dry place and use within six months.  If making with butter, store in fridge.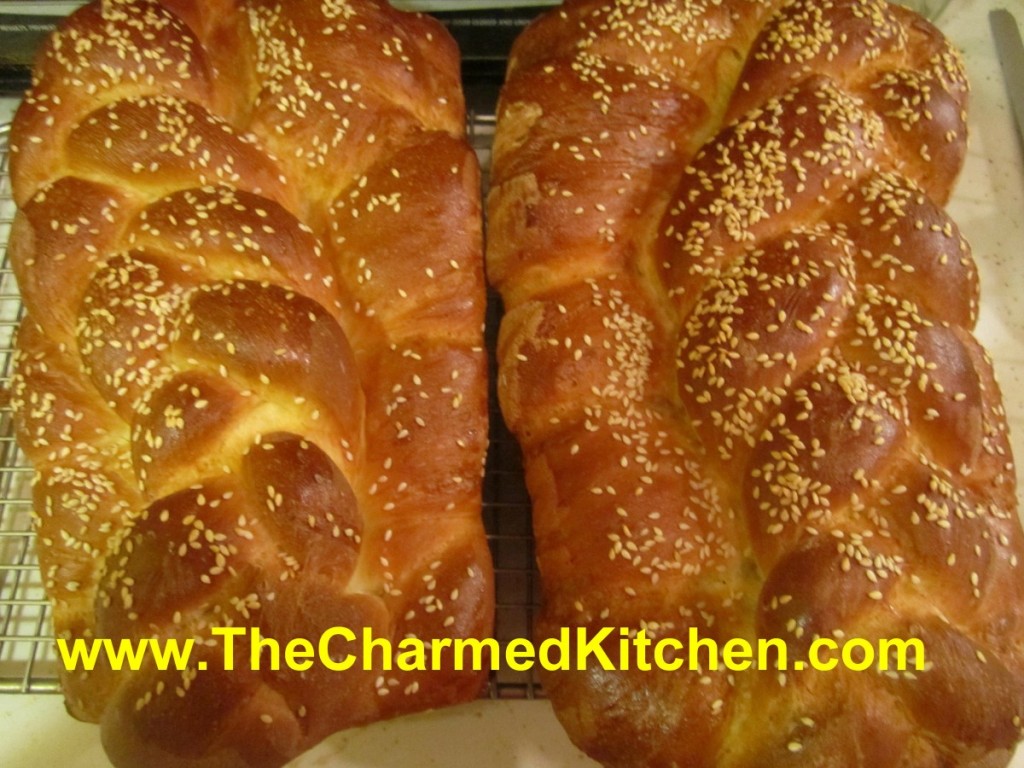 I decided to accept the pantry challenge at the beginning of the month. The challenge is to eat using only food you already have. No shopping for a month. I try to make it more interesting by having people over for dinner on a regular basis.
I had done a similar challenge a few years ago, so I was pretty confident. Two weeks in, I thought it was a good time to report on how things have been going.
As expected, I have enough food to eat so far. The challenge really gets interesting as I start to run out of some stuff later on. I have had to bake bread a couple of times. I like my homemade bread, so no complaints about that.
I did a clean out of both fridges. Found a few things I had forgotten about. I try to clean out the fridge every week. With the holidays, I few things were over looked. I had both whipping cream and half and half that was getting close to expiration. Froze them for now.
I have been making a real effort to not let any food go to waste. I had some celery, and I wanted to have it available for the whole month. I had already had it a while and I knew it would not keep to the end of the month. I dehydrated a lot of it. That way I can add it to soups later on and won't waste any of it. I had more carrots that I thought. There was a big bag in the downstairs fridge I had forgotten about. I dehydrated some of the carrots, too.
I also wanted to use some things up from the freezer. I had gotten cranberries on sale after Thanksgiving and had popped them in the freezer. I decided to make cranberry juice and can it. I also took the leftover cranberry pulp, and made it into fruit roll ups. That dehydrator has been coming in handy.
I got a call yesterday from a friend about some free produce. A local charity group had an excess of donated produce and was giving it away. He sent me pics of piles of boxes of assorted veggies. I decided, since I wasn't buying the food, it was okay, in the spirit of the challenge, to go get some of it. I picked up 4 butternut squash, 4 celery and 2 bunches of Swiss chard. I took a friend with me and she got some produce, too. About half of the celery is in the dehydrator now. It had seen better days and needed to be processed. I will be cooking up the chard later on today.
I am glad to see a little room in my freezer. I still need to get it defrosted and do a proper inventory. Even in the freezer, food does not last forever. I want to be sure to grab stuff from the back and use it first.
I suspect that a lot of food waste in our homes is from the fresh stuff, rather than the frozen or canned. I have onions and potatoes and I would like to have them keep until I want to use them. They have slightly different storage requirements, so I want to do what I can to keep them from going bad before I need them.
First off, don't store onions and potatoes together. They both give off moisture and that can cause faster spoilage. Ideally, both should be stored where they are relatively dry and cool, with a few feet between them. Good air circulation is a plus, and keeping them in the dark helps, too. Potatoes will turn green if stored in the light and the green part can make you sick. Onions tend to sprout of they are exposed to light.
In the "old days" people had root cellars. Most of the people I know today don't, so do the best you can to keep them cool. Areas near exterior basement walls tend to be cooler. An unfinished basement room would be a plus. You don't want them as cold as a refrigerator, but cooler than normal room temps is the goal. The mesh bags onions often come in are a great way to keep the air circulating. You can hang the onion bags in a cool area of your basement. Potatoes can be wrapped in newspaper, or just placed in a single layer in a cardboard box.
Sweet potatoes are a different matter. They don't like to be stored in a too cool place. When I grew a lot of sweet potatoes one year, I placed them in crates near my furnace in the basement. I put some newspapers in to keep them from touching each other. We enjoyed them all winter and only lost a few.
I look forward to the next couple of weeks and trying to come up with fun dishes to make with my stored foods.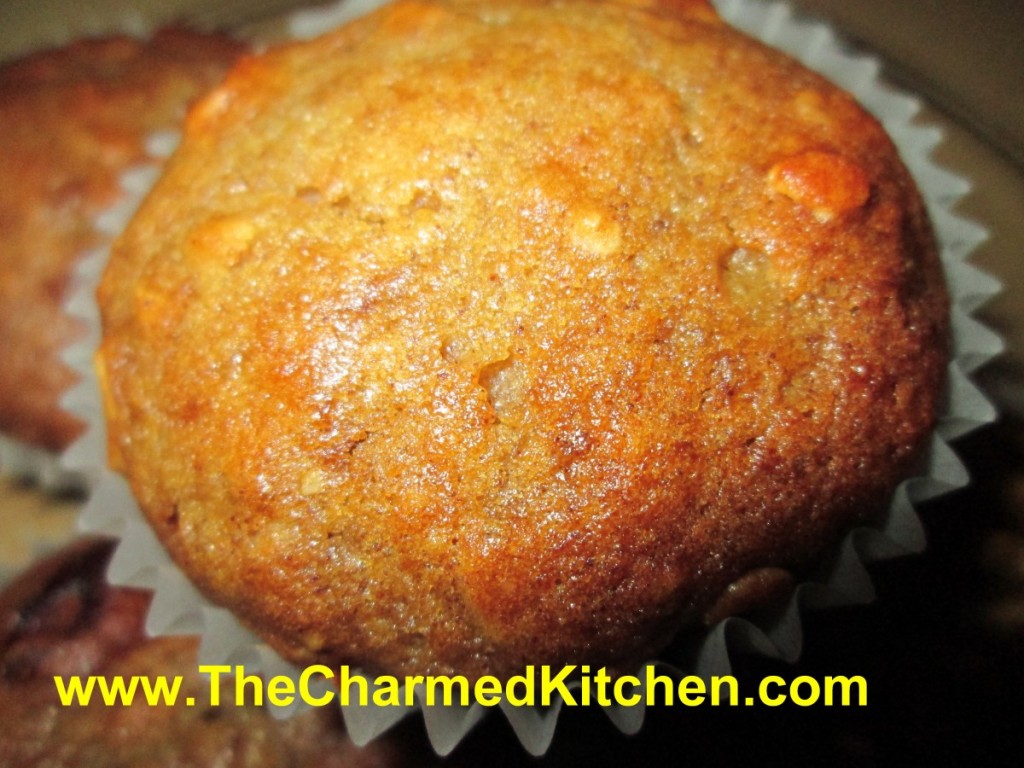 I had a request from a friend, for more vegan baking recipes. I came up with these muffins, and thought I would share it.
The muffins came out moist and light. Baking powder and baking soda gave them plenty of "lift". They rose beautifully.
I also have a lot of applesauce that I canned, so I am interested in recipes using applesauce. I was happy to use some of it in these muffins.
I added both raisins and walnuts for more texture and flavor. You could omit them, or add different dried fruit or nuts. You can also sprinkle a little cinnamon sugar on top of the muffins before baking, if you like.
I used olive oil in this recipe. I like the way olive oil tastes in baked goods. It almost tastes like I used butter. The secret is to use a mild flavored olive oil. A strong olive oil will over power the muffins. Sometimes I use avocado oil, which has a very neutral flavor.
I kept these fairly simple. Here is the recipe. Enjoy!!
Applesauce Oatmeal Muffins
2 c. applesauce- I used homemade with cinnamon in it
1/2 c. oil
1 c. sugar
1 t. vanilla
2 c. flour Note: You can use all purpose, I used whole wheat pastry flour.
1 c. rolled oats
2 t. baking soda
2 t. cinnamon
1/2 t. baking powder
1 c. dried cranberries or raisins
1 c. chopped nuts
Preheat oven to 375 degrees. Line 24 muffin cups with paper liners or grease lightly. Set aside. Combine applesauce with the oil and stir in sugar and vanilla. Add flour, oats, soda, cinnamon and baking powder. Stir to mix well. Stir in fruit and nuts. Spoon batter in to muffin cups, filling just over half-full. Bake for 18-20 minutes or until golden brown on top. Makes 24.
I had been cleaning out the freezer and found some berries from last summer. I decided to use some of them to make these scones. Even when the weather is chilly- berry scones make me think of warm summer days.
I used a combination of blueberries and blackberries, but raspberries would work nicely, too. I was so pleased with how they came out. They were a little crisp on the outside, but crumbly and tender on the inside.
These scones aren't too sweet. With scones, I think you can always sweeten them up by serving them with jam, if you like. I had one for breakfast this morning, and it was wonderful. Still warm from the oven.
They could also be used as a dessert- as the base for a shortcake. Split the scones, add some sweetened berries, sweetened whipped cream or ice cream as a filling. Top with whipped cream or more berries. A simple, classic dessert.
The secret to a tender scone is to be gentle with the dough. Do not mix it too much. As soon as the dough holds together, you are good to go. I used an ice cream scoop to portion them out. If you are rolling out scones, try to cut as many out at one time as possible. Each time you re-roll scraps of dough- the scones become a little tougher.
Here is the recipe.
Mixed Berry Scones 
2 c. flour
1/4 c. sugar
1 T. baking powder
¾ t. salt
6 T. chilled butter
1 ½ c. berries, fresh or frozen- do not thaw berries – I used blackberries and blueberries
1 t. lemon or orange zest
2 large eggs
1/3 c. heavy cream
Mix dry ingredients together in bowl and cut in butter to resemble coarse crumbs. Toss in blueberries and zest. Beat together eggs and cream and stir into flour mixture. Mix very gently to avoid bruising berries. Use a small ice cream scoop to scoop out batter and place on baking sheet. Place scoops about an inch apart. Press down slightly. Brush with a little cream and sprinkle with a little extra sugar. Bake in a preheated 400-degree oven for 20-22 minutes. Makes 15-18.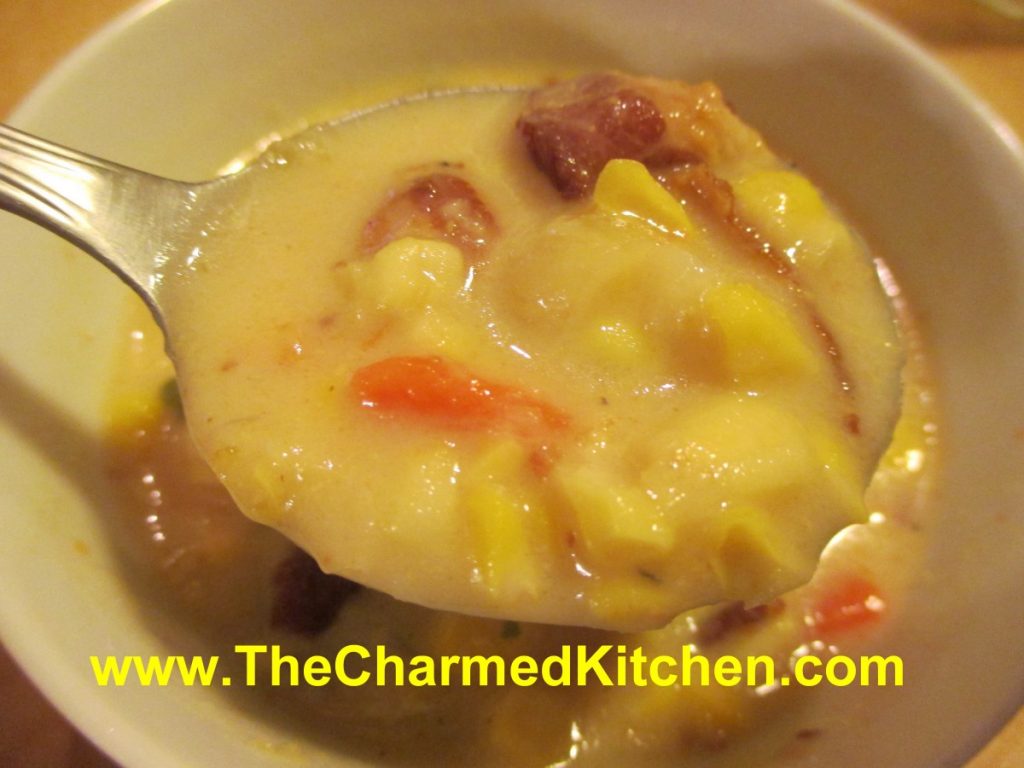 Part of my pantry challenge is using what I have on hand and not going to the store. I was defrosting my freezer and found local sweet corn I had frozen last summer. I wanted to make soup for lunch with friends, so I decided to use the frozen corn to make this chowder. I also had a pound of bacon, which gave the soup a wonderful smoky flavor. I cooked the bacon in the soup pot, allowing it to get pretty crisp. I removed as much of the fat as I could, but left the bacon in the pot. Then, when I cooked the onions and added the stock, all the little brown bits of bacon in the pot added even more flavor. I also had gotten a ham during the holidays, but hadn't used it yet. I added some of the ham to the chowder, too. It came out great!! A perfect dish for a windy, rainy day.
Corn, Ham and Bacon Chowder
1 lb. bacon
1 onion, chopped
2 carrots, peeled and sliced
6 c. chicken stock
2 potatoes, peeled and cubed
6 c. corn – I used frozen corn
2 c. chopped ham
2 cups half and half or milk
¼ c. flour
Salt and pepper to taste
Hot sauce to taste
Fresh chopped parsley
Cut bacon in 1-inch pieces and fry in a Dutch oven until crisp. Tip pot and spoon out most of the fat. Add the onion and sauté until translucent. Add carrots and stock. Cover and simmer 10 minutes, then add the potatoes, corn and ham. Cover and simmer 15-20 minutes, or until potatoes are tender. In jar with a tight fitting lid, combine 1 cup of the half and half or milk with the flour. Put on the lid and shake until mixture is smooth.  Stir into the pot along with the remaining half and half or milk and cook, stirring often until mixture thickens up. Adjust seasoning to taste. Stir in parsley and serve.  Serves 6.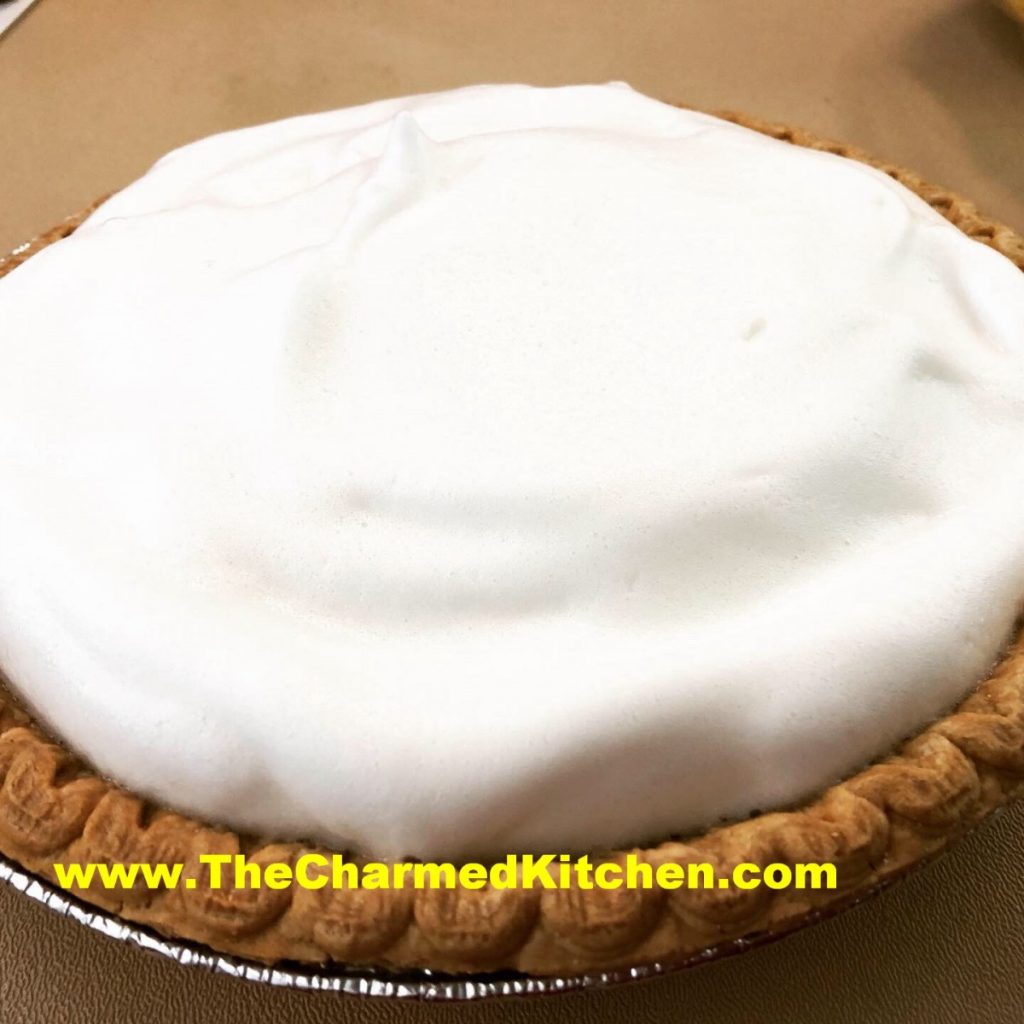 Did you ever find yourself in the middle of cooking, only to find you are missing an ingredient? Maybe its a baking ingredient that you don't use that often, so you don't keep on hand.
Cake flour is a good example. I don't have that many recipes that call for cake flour, so I don't keep it on hand. I don't need to really. Did you know you can easily make your own cake flour? There are a couple of ways to "make" cake flour when needed.
Cake flour isn't the only ingredient you can make at home. You might be surprised at some of the substitutes you have around already. There are lots of ways you can make what you need, or find something that will work just as well.  Here is a collection of some substitute solutions I have accumulated over time. Helpful for the next time you reach for something only to find you are out of it.
Cake Flour
Rather than keeping cake flour on hand, you can add lib in a pinch. There are 2 ways to substitute.
For each cup of cake flour you can measure 1 cup of regular all purpose flour and then just remove 2 table spoonfuls of the flour.
Some recipes also call to remove the 2 table spoons of regular flour and replace them with 2 tablespoon of cornstarch. I've tried both methods in baking and have had fine results either way. It is important that you measure the flour correctly to begin with. Flour should always be spooned into the measuring cup and then leveled off with a knife.
For a larger amount:
7 cups flour
1 c. cornstarch
Sift together and store until ready to use.
Self-Rising Flour
8 c. flour
5 T. Baking powder
2 T. sugar
1 T. salt
Combine all ingredients and store in an airtight container. Keeps for several months.
Cornstarch
To replace 1 tablespoon of cornstarch you could use:
2 tablespoons flour or 1 tablespoon arrowroot or 4 teaspoons quick cooking tapioca or 1 tablespoon potato starch
Light Brown Sugar
Combine 1 cup white sugar with 2 tablespoons of molasses. Note: for dark brown sugar increase molasses to 3 tablespoons.
Sweetened Condensed Milk
1 c. dry non-fat milk
2/3 c. sugar
1/2 c. boiling water
3 T. butter or margarine melted and hot
Combine all ingredients in a blender until smooth. Can be stored in the fridge and used within 3 days. This is the same as 1 14 oz. can.
Baking Powder
To replace 1 teaspoon you could use 1/3 teaspoon baking soda plus 1/2 teaspoon cream of tartar
Pie Crust Mix
5 1/3 c. flour
1 T. salt
2 1/3 c. shortening, butter or lard
Sift together flour and salt, and then cut in shortening to resemble coarse crumbs. Store in an airtight container until ready to use. To use lightly measure 1 1/3 c. mix into a small bowl. Begin adding cold water 1 tablespoon at a time, using about 4-5 table spoons all together. After each addition of water toss mixture with a fork and start to press it together. As soon as dough will hold together without being sticky, wrap in plastic wrap and chill about an hour. This will make 1 crust and an entire batch will make about 6 crusts.
Biscuit Mix (like Bisquick)

8 c. flour
1 c. powdered milk
1 c. powdered buttermilk
1/4 c. baking powder
1 T. salt
1 ½ c. shortening*
In large bowl combine dry ingredients and mix well. Cut in shortening until mixture resembles coarse crumbs. Store in a tightly closed container and use in 1-2 months. Makes 10 cups.
* You can use butter or coconut oil in place of the shortening- but store mix in the fridge.
Biscuit Mix 2
10 c. flour
½ c. sugar
1/3 c. baking powder
1 T. salt
2 c. shortening
Mix dry ingredients well. Cut in shortening until it resembles coarse crumbs. Store in an airtight container and use within 3 months. Makes 13 cups.
Aquafaba
Aquafaba is a meringue substitute, using the liquid from a can of garbanzo beans instead of egg whites. Handy for people allergic to eggs and for vegans, too. Not sure who figured this one out, but it is a fun and tasty substitute.
liquid from a can of garbanzo beans
2-3 t. cream of tartar
sugar to taste- granulated or powdered
1 t. vanilla – or other flavoring- optional
In mixing bowl, place liquid and cream of tartar and beat until mixture looks foamy and thick. Sweeten with sugar, a few tablespoons at a time until desired sweetness is achieved. The longer you whip, the better this works. Whip for at least 10 minutes. Add flavoring, if using. You can also add food coloring, if you like. Makes about 2 cups. Store in fridge. For best results, place finished aquafaba in a strainer and prop over a bowl until you are ready to use it. It seems to hold up better this way. Any liquid that forms, will drip off into the bowl below.
Taco Seasoning
4 t. onion powder
3 t. chili powder
1 t. cornstarch
1 t. garlic powder
1 t. cumin
½ t. oregano
1/8 t. cayenne pepper
Mix and store in a cool, dry place. This is the same as 1 packet of taco seasoning mix.
Homemade "Corn" Syrup
2 cups granulated sugar
3/4 cup Water
1/4 tsp. Cream of Tartar
dash of salt
Combine all in a large, heavy stainless steel pot. Stir and bring to a boil. Reduce heat to a simmer and cover with lid for 3 to 4 minutes to get the sugar crystals off the sides of the pan.
Uncover and cook to softball stage, 238 to 240 degree's F. or when a small amount is dropped into cold water and does not hold its shape; stir constantly. Cook for another minute.
Cool and store in covered jar at room temperature, will keep well for 2 months at room temperature.
For dark corn syrup add 1/4 cup molasses
Chocolate Substitutions
To substitute cocoa for unsweetened chocolate in a recipe combine 3 tablespoons of cocoa and 1 tablespoon of fat.
Unsweetened chocolate can be turned into semi sweet chocolate by adding 1 tablespoon of sugar to each melted ounce. Three ounces of unsweetened chocolate and 3 tablespoons of sugar will equal 4 ounces of semi sweet chocolate.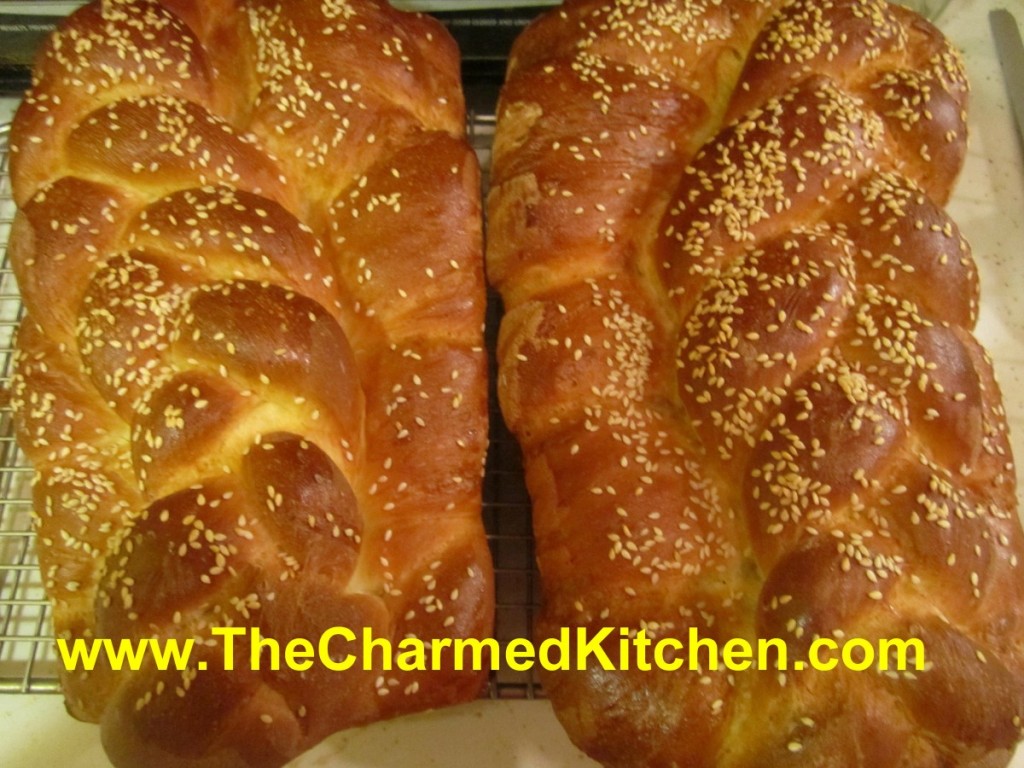 I have wonderful memories of my mother making this bread. Whenever I make it, I think of her. It is a simple egg bread, in many ways, but the braiding makes it look so pretty. You can bake the bread in loaf pans, or on baking sheets. Both look great.
This is one of my favorite sandwich breads, but I also like it for French toast. Challah is a nice option for bread in your holiday stuffing (or dressing) and it makes great bread pudding.
Challah
2 c. hot water
1 T. each sugar, salt and oil
1 package active dry yeast
¼ c. warm water
About 8 cups flour
2 beaten eggs
Poppy or sesame seeds, optional
In large bowl combine hot water, salt, sugar and oil. Dissolve yeast in warm water in small bowl and add to oil/water mix. Stir in 1 cup of the flour and eggs, reserving 2 tablespoons of the eggs for later. Gradually stir in enough of the flour to make soft dough. When dough pulls away from sides of bowl remove to floured surface. Knead dough, adding flour as necessary about 8-10 minutes. Dough should be smooth and elastic. Place dough in a lightly greased bowl, turning to grease top, cover with a towel and allow to rise in a warm, draft free place until doubled, about 1 hour.
Punch dough down and divide into 8 equal pieces. Roll three of the pieces into 12- inch ropes. Place in a greased 9×5-inch loaf pan. Take one of the remaining pieces of dough and divide into thirds. Roll the pieces into 3-nine inch ropes and place on top of the braid already in the pan. Repeat with remaining dough and cover. Allow to rise until doubled in bulk, about 1 hour. Preheat oven to 400 degrees. Brush loaves with reserved eggs and sprinkle with sesame or poppy seeds, if desired. Bake 40-45 minutes. When done loaves will be nicely browned and sound hollow when tapped. Makes 2 loaves.
Note: Bread dough can also be placed on greased baking sheets instead of in loaf pans. The result will be longer and flatter loaves. I think they are very pretty.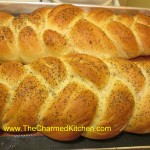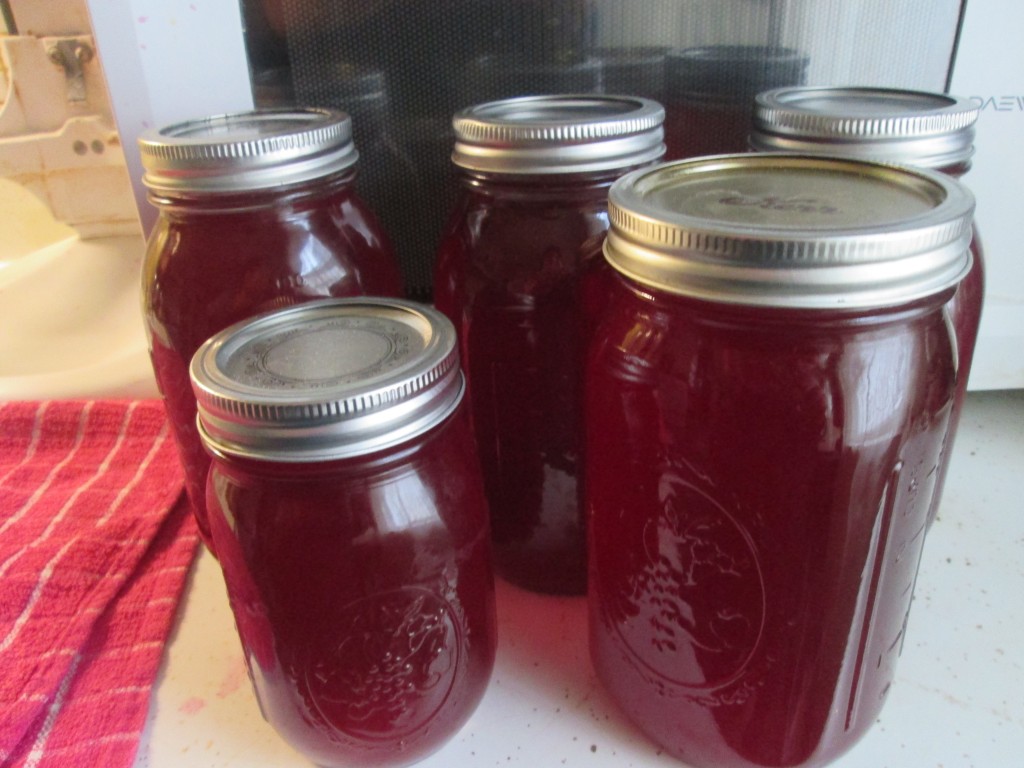 I bought quite a few bags of cranberries right after Thanksgiving. I popped them in the freezer to enjoy later. As part of my pantry challenge, I am trying to use the ingredients I already have, rather than go to the grocery store. I also did an inventory of my freezer. I wanted to get these cranberries out of my freezer and use them for something. I decided to make and can cranberry juice. I even used the leftover pulp (after I strained the juice) for cranberry fruit roll ups.
The juice came out great. So much better than store-bought. It was pretty easy, too.
I started with about 5 quarts of berries, which I had sorted out for bad ones, and rinsed. I measured them out and added an equal amount of water. I brought this mixture to a boil and let it cook until the berries starting popping. I strained the juice twice. First time through a fine strainer. Then I put the juice in the fridge overnight. This allowed the solids to settle to the bottom. The second time, I strained the juice through a strainer lined with cheesecloth.
I returned the juice to the pot and brought it up barely to a simmer (190 degrees). To sweeten it, I added less than a cup of sugar, which comes out to less than a 1/4 cup per quart of juice. Once the juice was up to a simmer, I ladled it into clean, hot quart canning jars. I filled them to about 1/4 inch from the top, wiped the rims and closed the jars. I also used the last of it to fill a pint jar. Processed in a boiling water bath for 15 minutes. Once the time was up, I turned off the heat and left the jars in the canner for five minutes before placing them on the counter to cool. Ended up with 5 quarts and 1 pint for my efforts.
After making cranberry juice I was left with a lot of pulp. I didn't want to toss it, so I decided to make cranberry fruit roll ups with it. I mashed the pulp with a fork, then sweetened just a little- less than half a cup of sugar. I  spread the mixture on plastic wrap placed on the trays of my dehydrator. I ended up with 8 of them. I dried them overnight. They should be pliable but not sticky to the touch when done. A  friend stopped over yesterday and got a chance to taste one. She said she liked that the roll ups were not too sweet- they had a nice tartness to them. Once finished, I rolled them up in the plastic wrap and will store them in the fridge. Honestly, they aren't going to be around long.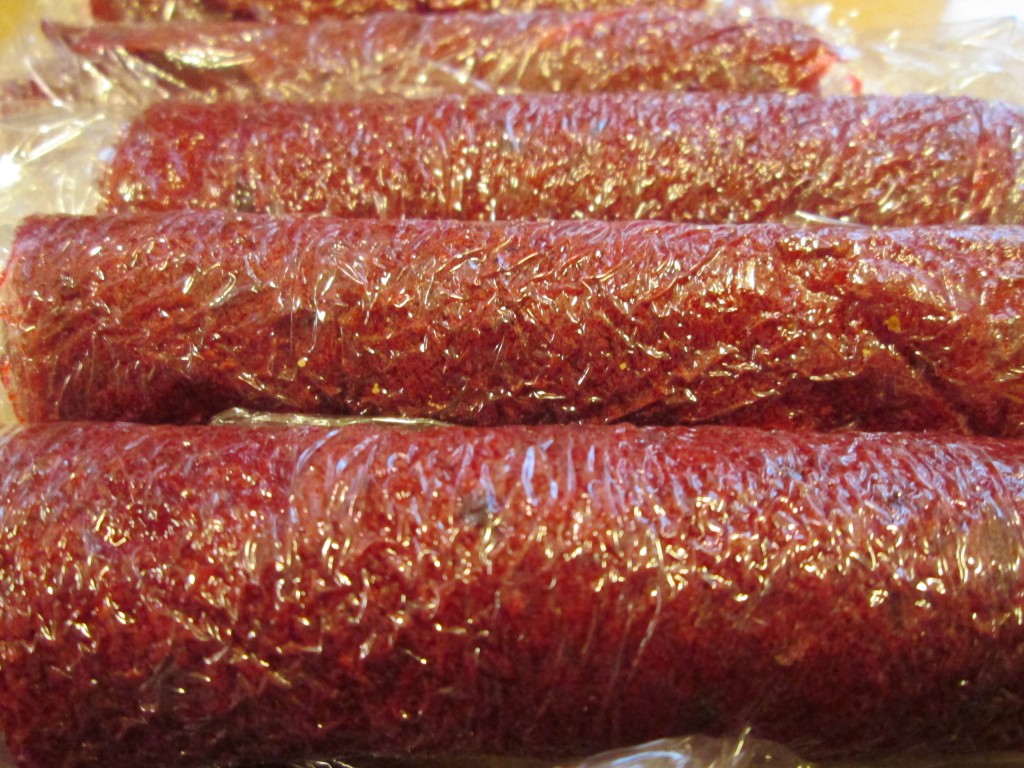 Winter is citrus season. Oranges and other citrus fruits are abundant this time of year. I love them. I love the tiny Mandarins, the big navels and the seedy, but oh so juicy, Temples. I am content to just peel and eat any of them, any time.
You can do a lot more with oranges than just eating them fresh or juicing them. Oranges can be added to both sweet and savory dishes. We use lemons and limes in cooking all the time, why not cook with oranges?
I have put together some of my favorite recipes using oranges. I've even including recipes to use the peels!! Enjoy!!
Orange Broiled Salmon
2 large oranges
4 (4 ounce) fillets salmon
1 teaspoon red wine vinegar
1/4 cup chopped green onions
1 teaspoon cracked black pepper
Preheat the oven's broiler. Slice, peel, and pith oranges; slice crosswise into 1/4 inch rounds. Season fillets with salt. Place salmon fillets on broiling pan. Place the pan of fillets 4 to 6 inches from heat. Cook for 15 minutes under the preheated broiler, or 10 minutes per inch of thickness. Remove from broiler just before they are cooked through. Sprinkle with vinegar. Arrange orange rounds on top. Sprinkle with green onions and cracked black pepper. Broil 1 minute longer. Serves 4.
Orange Kissed Chicken
1 (4 pound) chicken, cut into pieces
1 tablespoon oil
3 onions, thinly sliced
1/2 cup chicken broth
1/3 cup orange juice
salt and pepper to taste
In a large skillet, heat oil over medium-high heat. Add chicken pieces and sauté for 5 minutes, until lightly browned. Add onions and sauté for 2 minutes more. Add juice, broth, salt and pepper. Stir all together. Cover skillet and reduce heat to low. Let simmer for 45 minutes or until chicken is cooked through and juices run clear. Serves 4.
Orange Vinaigrette
1/2 cup balsamic vinegar
2/3 cup extra virgin olive oil
1 orange, juiced
2 tablespoons orange zest
2 tablespoons coarse-grained mustard
In a medium bowl, whisk together the balsamic vinegar, olive oil, orange juice, orange zest and mustard. Use immediately, or store in the refrigerator for up to one week. Great on mixed greens or on chicken or seafood salad.
Hot Cranberry-Orange Punch
2 quarts cranberry juice cocktail
3 cups orange juice
1/4 cup brown sugar
2 tablespoons fresh lemon juice
1 pinch salt
2 (3 inch) cinnamon sticks
In a 4 quart or larger slow cooker, combine the cranberry juice, orange juice, white sugar, brown sugar, lemon juice, salt and cinnamon sticks. Stir to dissolve sugar. Cook on high for 4 to 6 hours. Turn heat to low and keep warm for serving. Or heat on stove in saucepan. Simmer, covered for 30 minutes before serving. Serves 10-12.
Orange Tea Bread
2 cups all-purpose flour
1-1/2 teaspoons baking powder
1 teaspoon baking soda
1/2 teaspoon salt
2/3 cup non-fat plain yogurt
2/3 cup sugar
2 large eggs (egg substitute optional)
3 tablespoons melted unsalted butter
1 tablespoon grated orange zest
SYRUP
1/2 cup orange juice
1/4 cup sugar
Preheat oven to 350 degrees. Grease an 8-1/2″x4-1/2″x2-5/8″ loaf pan. Line pan with wax paper or parchment and set aside. Sift flour, baking powder, baking soda and salt into a bowl. In a separate bowl, whisk together yogurt, sugar, eggs, butter and orange zest. Add liquid ingredients to dry ingredients, and stir mixture until well combined. Transfer batter to loaf pan, smoothing top, and bake in oven for 45 to 50 minutes, or until skewer inserted in middle comes out clean. While the bread is baking, combine orange juice and sugar in a saucepan. Bring mixture to a boil over moderate heat while stirring, and simmer for 1 minute. Keep syrup warm. Make holes in top of bread with a thin wooden skewer and drizzle with syrup. Let stand in pan until cool. Makes 1 loaf.
Whole Orange Liqueur
3 oranges, unpeeled, cut into wedges
½ lemon
3 whole cloves
3 cups vodka
1 c. sugar syrup
Combine fruit, cloves and vodka in jar. Vodka should cover fruit. Steep 10 days. Strain and filter. Add sugar syrup and mature 3-4 weeks. Makes 4 cups. Note: Sugar syrup is made from 1 cup of sugar and ½ cup of water. Bring to a boil, then cool. You will have 1 cup of syrup.
Orange Peel Liqueur
Peels only from 4 large oranges, scraped and cut into chunks
3 cups vodka
1 c. sugar syrup, see note
Remove all traces of white from orange peels. Mix peels and vodka and steep 2-3 weeks. You can use more peels for stronger flavor. Strain and filter and add sugar syrup. Let mature a week. Makes 4 cups. Note: Sugar syrup is made from 1 cup of sugar and ½ cup of water. Bring to a boil, then cool. You will have 1 cup of syrup.
Orange Beef Sauce
1-1 ½ lbs. lean ground beef (turkey or chicken would also work)
1 T. olive oil
1-2 garlic cloves, minced
½ c. chopped onion
¼ c. grated carrot
½ c. orange juice
1 c. beef, chicken or vegetable stock
½ t. caraway seeds
½ t. orange peel
1 T. brown sugar
1 T. vinegar
salt and pepper to taste
¼ c. water
2 T. cornstarch
Brown meat in oil until no longer pink. Drain and place in Dutch oven with the vegetables Cook until onions are tender. Add remaining ingredients, except water and cornstarch and simmer, covered, 30-60 minutes. Five minutes before serving dissolve cornstarch in water and add to sauce to thicken. Cook until sauce is thickened and bubbly. Serve over pasta.
Citrus Sugar
1 c. sugar
1 T. orange, lemon, lime or tangerine peel
1/2 t. cinnamon
1/2 t. nutmeg
1/8 t. allspice
Mix all ingredients and place in pie pan. Place in a preheated 200 degree oven for 15 minutes, stirring every 5 minutes. Cool sugar before storing in airtight jar or you can powder the sugar in a blender for 10 seconds or so before storing. Use in tea, on sugar cookies, on toast and bagels or with fresh fruit and yogurt.
Note: you can also make a citrus mint variation by combining sugar with citrus peel and 1 tablespoon dried mint leaves, omitting other flavorings. This sugar is great in lemonades and iced teas.
Orange and Oatmeal Scones
2 1/2 cups flour
2 cups rolled oats
1 cup sugar
1 teaspoon salt
1 tablespoon baking powder
1/2 teaspoon baking soda
1/2 cup very cold, unsalted butter – cut into chunks
1 egg
1/2 cup orange juice
2 t. grated orange peel
1 cup raisins – plumped and well dried
Glaze
milk, sugar, orange zest
Line a large baking sheet with parchment paper (double two sheets if you have them – one inside the other). Preheat oven to 425 F. In a large bowl, place flour, oatmeal, sugar, salt, baking powder, baking soda and mix together. Cut or rub in butter to make a mealy mixture. Stir in egg and orange juice. Add orange peel and raisins. Mix to make a soft dough. Turn out onto a lightly floured board and knead for a few minutes. Roll or pat out into a thickness of 1/2 inch. Using a serrated cookie cutter cut into disks or rounds. Brush with milk and sprinkle with sugar and orange zest. Bake until nicely browned – about 14 minutes. Makes about 24.
Chocolate-Orange Scones
1 1/2 c. baking mix, like Jiffy or Bisquick or homemade
1 T. grated orange peel
3/4 c. heavy cream
1/2 c. milk chocolate chips or 3 oz. milk chocolate, chopped
Combine baking mix and orange peel in medium bowl. Stir in cream to make a soft dough that forms into a ball in the bowl. On floured surface gently knead in chocolate and press or roll dough to 3/4- inch thickness. Cut into 2 1/4 -inch rounds, re-rolling scraps. You should get 8. Place on and ungreased cookie sheet and bake in a preheated 425-degree oven for 8-10 minutes.  
Double chocolate version: Knead 3 tablespoons of cocoa into dough with the chocolate chips.
Orange and Chocolate Mini Cheesecakes
8 chocolate graham crackers
3 T. butter, melted
2 (8 oz.) cream cheese, softened
½ c. sugar
2 t. orange zest
2 t. vanilla
2 eggs
4 or 5 mandarin oranges
4 T. sugar
3 T. water
Line 12 muffin tins with paper liners. Set aside. Crush graham crackers into crumbs- you should end up with about a cup of crumbs, or a bit more. Place crumbs in small mixing bowl. Drizzle the melted butter over the crumbs, and toss to distribute the butter evenly. Spoon a rounded tablespoon of the crumb mixture into each of the paper lined muffin tins. Press firmly on the crumb mixture. I used the bottom of a small glass to press the crumb mixture down. Set aside. Beat together the cream cheese, sugar, zest and vanilla for 1 minute with electric mixer. Beat in the eggs until just mixed in. Divide this mixture in the muffin tins, filling each 3/4 full. Bake 25 minutes at 325 degrees. While cheesecakes are baking, prepare oranges. Peel oranges and break apart into segments (sections). You will need 36 segments in all. In small pan, boil together sugar and water for two minutes. Place orange segments in a small bowl and pour the sugar syrup over them, tossing gently to coat. Set aside to cool down. Place three orange segments on top of each cooled down cheesecake. Makes 12. Serves 6.
Candied Orange Peel
2 large oranges ( you can also use 1 grapefruit or 3 lemons)
¾ c. water
¾ c. sugar, plus extra for rolling
3 T. light corn syrup
Remove peel from fruit using a sharp knife. Try to get the peel off in 4 pieces. Cut the peel into ¼-inch wide strips. Place peel in a pot with cold water and bring to a boil. Boil 1 minute, drain and rinse under cold water. Repeat process 2 more times. Return to pan with fresh water and boil 15 minutes. Drain and pat dry. Bring ¾ c. water and ¾ c. sugar to boil in sauce pan with the corn syrup. Boil 2-3 minutes and then add the peel. Simmer, stirring occasionally until all but a spoonful of the syrup is left. This should take about 10 minutes. On a wax-paper lined baking sheet sprinkle 1 cup of sugar and arrange the peels on top of the sugar. Toss the peels around until cooled adding more sugar if needed. Place peels on a drying rack for 24 hours before storing. Once dried you can also dip one end of the peels in dark chocolate. Makes ½ pound.
Dried Orange Zest
I love to use orange zest in a lot of recipes, but I don't always have fresh oranges around to zest. I dry my own, so I always have orange zest handy. It's easy to do. You don't need a dehydrator, but you can use one, if you have one. You can save the entire peel from thin-skinned oranges, like mandarins or temple oranges. For oranges with a thick, white pith, use a peeler to remove the peel in strips- leaving as little of the white portion on them as possible. Place in a single layer in a basket. Air circulation helps them to dry faster. If you pile them up, you risk them getting moldy before they dry. Leave room for air circulation. You can also leave them on a tray in a single layer. When the peels are brittle, break into smaller pieces and grind into a powder. A spice/coffee mill works well. A blender works fine, too. I have tried to powder them up in several types of food processors and the peels seem to get wedged between the blades and the sides of the work bowl. Once they are powdered up, I use a fine strainer to get out any larger pieces. To be safe, just in case they aren't completely dry, I put my zest in a freezer container and store in the freezer. The freezer helps the zest to retain its flavor and color longer, too. Better to use organic oranges, if you can.   
Chocolate and Orange Mini Cheesecakes

Dried Orange Zest
Orange and Oatmeal Scone

Orange Tea Bread

Chocolate Orange Scones