With picnic season here, I thought I would share this recipe again. It always brings back great memories of childhood picnics/cookouts with my family. I love this recipe and I hope you do, too.
I looked forward to the big family picnics we had when I was a kid. My Dad and I would go early in the morning to pick out our favorite location, and get tables arranged. Then he would start a fire in the grill and make us bacon and eggs in the cast iron skillet.
Everyone started arriving soon after that. Well, not everyone. My Mom, and one of my aunts, would always come a little later. That is because they were finishing up the breaded chicken that was always a part of these picnics. She wanted it to be served nice and warm.
It would have been breaded the day before. My mom felt that when you breaded the chicken ahead of time, it seemed to help the breading to stick better. I do it the same way today.
This isn't fried chicken. The breaded chicken is lightly browned in a skillet, then finished off in the oven. It is crispy on the outside and nice and juicy inside. It is also a lovely memory for me of time spent with family. Here are the directions for how she made it.
Mom's Breaded Chicken
Chicken pieces, I often use a whole bird, cut into pieces, or just thighs and drumsticks.
salt and pepper to taste
flour
Parsley
Paprika
Garlic powder
eggs
Milk
Bread crumbs
oil
Pat chicken pieces dry. Season with salt and pepper. In a bag, combine flour- about ½ c. per 8 pieces of chicken should be about right. Season flour with a little salt and pepper. In bowl combine milk and eggs with the rest of the seasonings, including more salt and pepper. I use 1 egg with enough milk to make a thin batter for every 4-5 pieces of chicken. Keep in mind that the size of the pieces matters. Wings will need less batter than legs or breasts. Place bread crumbs in a shallow dish or in a plastic bag. Place a few pieces of chicken in bag with the flour and shake to coat, dipping off the excess. Then dip chicken pieces (1-2 at a time) in egg mixture, turning to moisten completely. Then place chicken in crumbs and turn or shake to coat evenly. Repeat with remaining chicken until all of it is breaded.
At this time you can cover and refrigerate the chicken for several hours or overnight if desired. You can also go ahead and cook it right away. Mom suggests you bread the chicken the night before so it will stick better, but hey, you're an adult, do what you want.
To cook the chicken, heat ½- inch of oil in a heavy skillet and preheat the oven to 400 degrees. Foil a roasting pan and then place a rack inside. Once the oil is hot, brown the chicken pieces several at a time, turning to brown evenly. Place the browned chicken on the rack in the baking dish and continue to brown remaining chicken. Place chicken in oven and bake until chicken is cooked and juices run clear when chicken is poked. Cooking time will vary depending on the size of the pieces, how much you browned them and how many you are cramming in one pan. Baking time will be about 45 minutes. Check a large piece of chicken, near the middle of the pan to be sure.
This is a real summer favorite and the baking on the rack helps fat to drip off, giving you fried chicken flavor with fewer calories. This chicken can be served hot, warm or cold.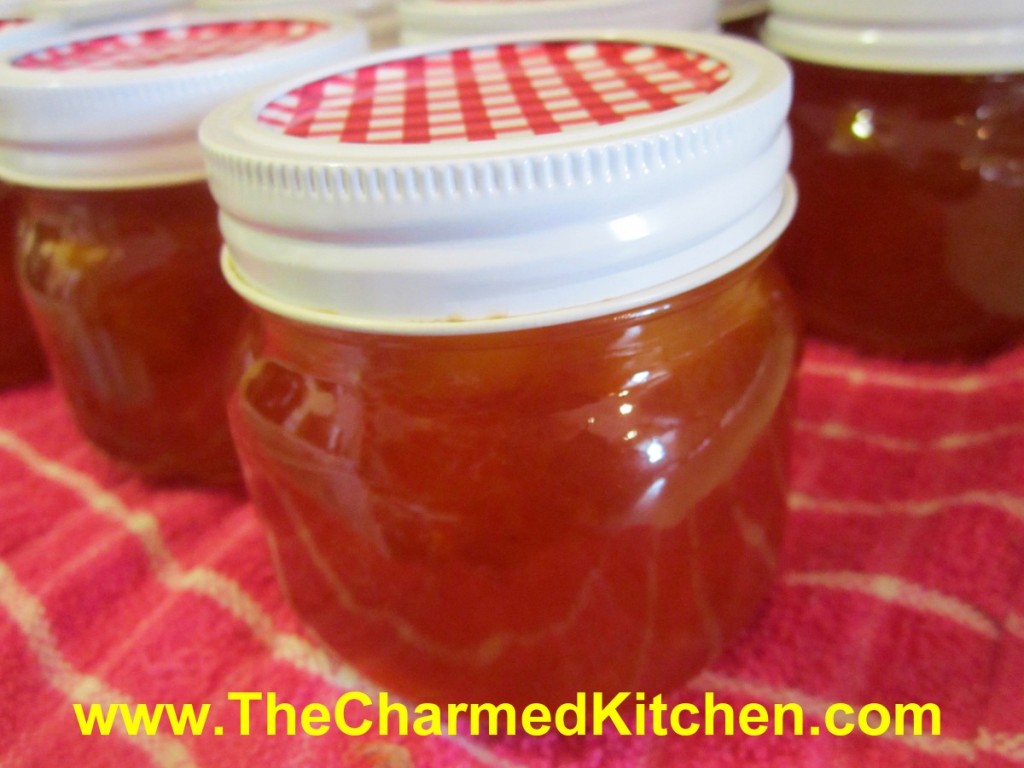 After getting some peaches from a local market, I decided to make preserves with some of them. The peaches were so juicy and perfectly ripe. They smelled amazing. I knew I would not be able to eat them all. I used a basic preserve recipe, but added cinnamon for added flavor. I also used pectin in this batch.
You can make peach preserves without added pectin, but because these were so ripe, I knew they would set better with the pectin. There is less pectin in very ripe fruit. The end result was just what I was going for. Pieces of peach, suspended in a soft gel, lightly flavored with the cinnamon. I may have to make another batch.
Peach Preserves – with cinnamon
4 c. sliced peaches, about 2-3 lbs. of fresh
6 T. pectin
2 T. lemon juice
3-4 (4-inch) cinnamon sticks
7 c. sugar
Note: Before starting the preserves have your canning supplies ready including clean jars, lids, rings, water bath canner, funnel and ladle.
Prepare peaches by scalding in boiling water for a minute. Place in cold water, then slip off the skins. Cut in half and remove the pits and any fibrous parts near the pits. Slice peaches and place peaches and any juices in a large pot. Add the pectin, juice and cinnamon sticks and bring to a boil, stirring often. Add the sugar and cook over high heat, stirring often, until mixture comes to a boil that you can't stir down. Stir constantly for 1 full minute.
Remove from heat and remove the cinnamon sticks. Skim off any foam, if needed. Ladle hot preserves into clean, hot jars, filling to ¼-inch from the top. Wipe rims and screw on lids until comfortably tight. Repeat until the jars are filled. Place jars in water bath canner filled with boiling water. Water must cover the jars by at least an inch or two. Cover pot. Once water returns to the boil, start timing. Process for 10 minutes, turn off heat and leave jars in pot for 5 minutes longer. Remove jars to counter with a towel on it, or a cooling rack. Keep out of drafts. Allow jars to cool, check seals. Makes about 9 half pint jars.
Adapted from Ball Blue Book
I was looking for something to serve at brunch with a friend. I had blueberries so I decided to make blueberry scones.  I added some cinnamon to the dough- I love the flavor of blueberry with cinnamon. Really was the right move. They are so good. Tender and just sweet enough. They are great served with butter and jam  or you can use them as the base for shortcakes. Filled with strawberries and topped with whipped cream, they would be a fun shortcake for the 4th of July. These would be a nice addition for a Sunday brunch.
Blueberry Cinnamon Scones 
2 c. flour
3 T. sugar
1 T. baking powder
2 t. cinnamon
¾ t. salt
6 T. chilled butter
1 ½ c. blueberries, fresh or frozen- do not thaw berries
1 t. lemon or orange zest
2 large eggs
1/3 c. heavy cream
Mix dry ingredients together in bowl and cut in butter to resemble coarse crumbs. Toss in blueberries and zest. Beat together eggs and cream and stir into flour mixture. Mix very gently to avoid bruising berries. Use a small ice cream scoop to scoop out batter and place on baking sheet. Place scoops about an inch apart. Press down slightly. Brush with a little cream and sprinkle with a little extra sugar. Bake in a preheated 400-degree oven for 20-22 minutes. Makes 15-18.
Summer is the time for picnics, campfires and S'mores. Summer is also the time of year to eat lots of ice cream and other frozen treats.
This dessert combines the ingredients of S'mores in a frozen treat. How fun is that?
They aren't hard to make, but you need to allow time for ingredients to freeze. The mixture is frozen, then cut into squares and sandwiched between Graham crackers. They get returned to the freezer to harden up. It is a nice treat to have on hand.
We make these in cooking camp every year. The kids love them!!
So here is the recipe.
S'mores Ice Cream Sandwiches
1 (14 oz.) can sweetened condensed milk
2/3 c. chocolate syrup
1 c. coarsely crushed graham crackers
1 c. mini marshmallows
2 c. whipping cream, whipped
72 graham cracker square halves
In large mixing bowl combine sweetened condensed milk and syrup. Fold in crackers, marshmallows and whipping cream. Pour in foil lined 9×5-inch loaf pan and freeze until firm, about 6 hours, or longer. Remove from pan and peel off foil. Slice loaf in half lengthwise and then each half into 18 (½ inch) slices. Place one slice between two crackers and repeat with rest. Wrap and freeze until ready to eat. Makes 36. Note: You can slice the filling thicker. You'll have fewer "sandwiches", but they will have more filling. I usually get about 2 dozen.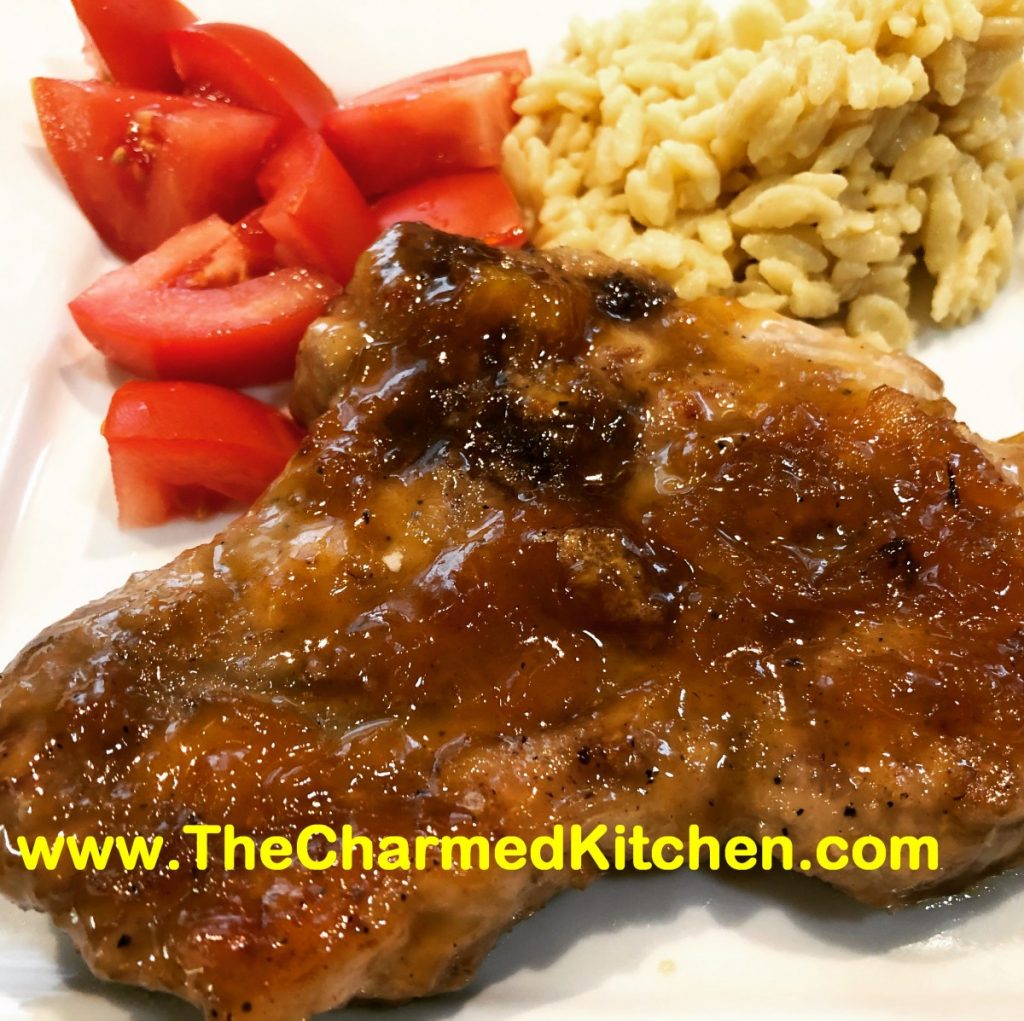 I found myself with some very ripe peaches. Since I was having pork chops for dinner I decided to use the peaches as a glaze for the pork. The combination was wonderful. The sauce added sweetness and some tang. I have some sauce left over. Thinking of using it on duck the next time.
Peachy Pork Chops
4 pork chops
Salt and pepper
Oil*
About 1 cup of the peach glaze- recipe follows
Season the pork chops with salt and pepper. Heat a little oil in a skillet and brown the chops on both sides over high heat. Add the peach sauce and turn the heat down to medium. Cook until chops are just cooked through and glaze has thickened a bit. Watch so glaze does not burn. Serves 4.
* I actually used bacon fat
Fresh Peach Glaze/Sauce
5 medium peaches, peeled, pitted and diced
1 small onion, peeled and chopped fine
½ c. cider vinegar
½ c. sugar
2 T. honey
2 T. lime juice
2 T. minced garlic
1 t. salt, or a little more to suit your taste
½ t. smoked paprika
½ t. red pepper flakes, or more for a spicier chutney
Combine all ingredients in a saucepan, and cook over medium heat until peaches are tender and onion is translucent, about 15 minutes. Stir occasionally to avoid burning. Cook over low heat, stirring occasionally until sauce thickens. It should cook down to about 2 cups. Adjust seasonings. Will keep in fridge a couple of weeks- can be frozen.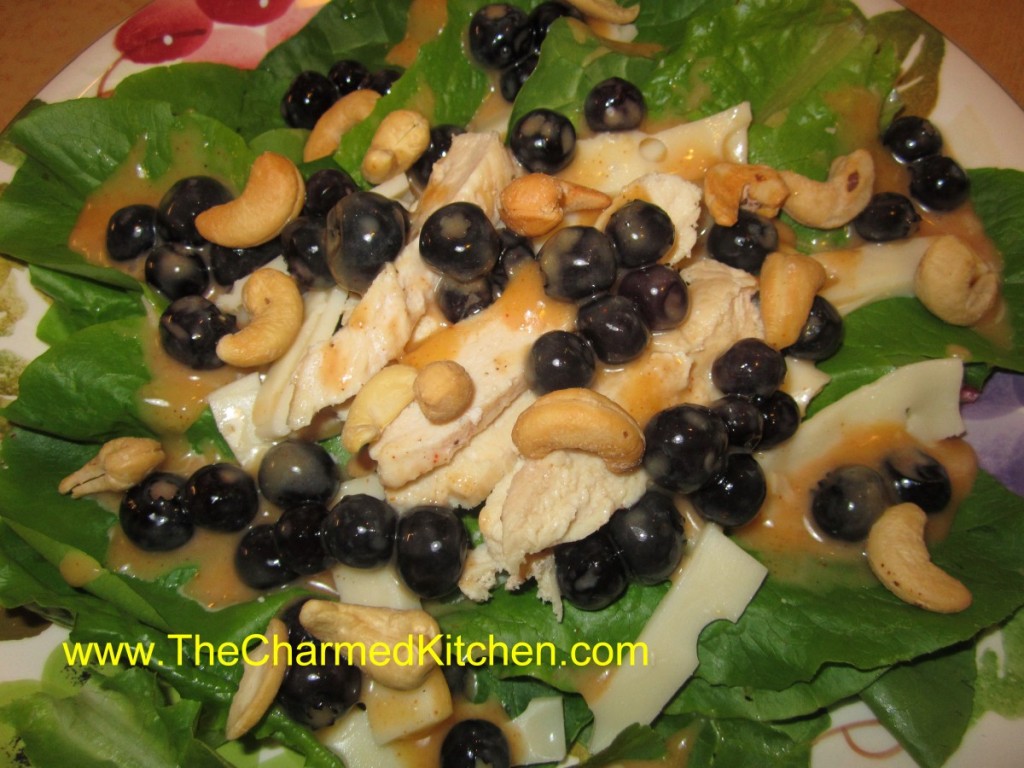 This is one of those salads that is good any time of the year. A local produce market had the most beautiful blueberries this week. I decided to enjoy some of them in this salad.
The dressing is a honey French type dressing. It really makes the whole salad work. You can add the berries to the dressing, or serve them on top of the salad. I topped it with cashews, but you could add croutons, if you prefer.
Blueberry Chef Salad
Dressing:
1/3 c. honey
1/4 c. white wine vinegar or cider vinegar
1 t. paprika
1 t. dry mustard
1/4 t. salt
1/2 c. olive oil
3 cups blueberries
Salad:
6 c. torn salad greens
12 oz. cooked chicken, turkey, ham etc, cut into strips
1 c. cubed cheese
1/2 c. cashews
In blender, combine first five ingredients and start running machine on high. Add oil in a slow stream until mixture becomes thickened. Pour into bowl and stir in berries and chill, several hours if you can. When ready to serve, arrange greens on one large platter or on smaller salad plates. Arrange meat and cheese on platter or plates. Spoon over the dressing and cashews then serve. Serves 4-6.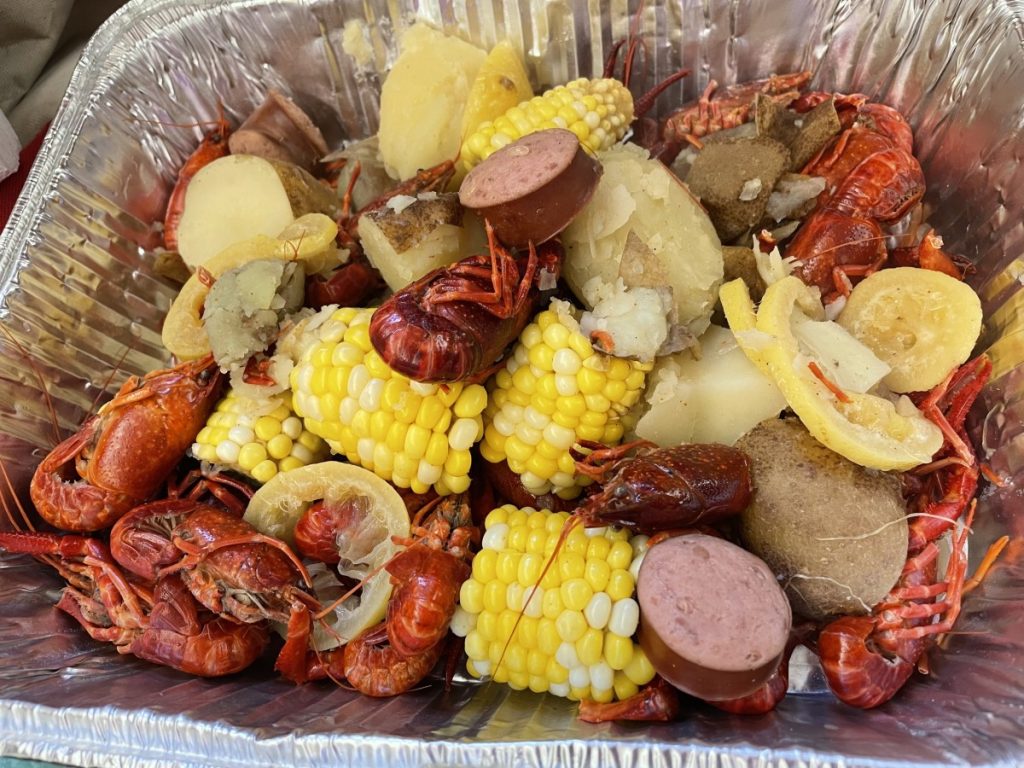 In a recent class on the Foods of New Orleans, we did a crawfish boil. It was a lot of fun. The boil was pretty easy to put together. Water is seasoned in a big pot, then brought to a boil. Corn, potatoes, sausage and garlic are added and simmered until the potatoes are tender then the crawfish are added.
Getting fresh crawfish wasn't really an option, so I opted to buy a bag of frozen crawfish. Cooking and prep times are a little different when using frozen. I explain in the recipe below. The dish is messy and communal and fun to eat.
Of course, you can play around with adding other seafood and other ingredients as well.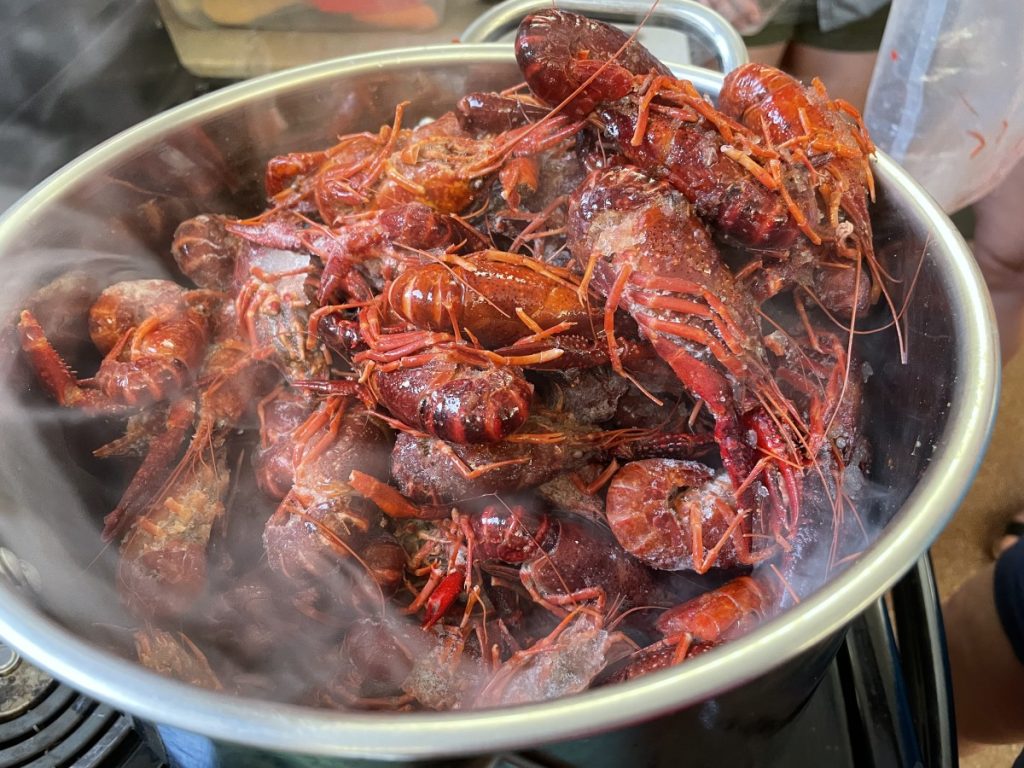 Crawfish Boil
3 lbs. crawfish fresh or frozen
8 -10 cups water or seafood stock – if using water, you will need to add salt
2 tablespoons Cajun seasoning or more to taste
1 tablespoon Lemon Pepper seasoning
1 head garlic, unpeeled but separated
3 ears corn, cut into 2-inch pieces
12 oz. potatoes, halved
14 oz. (400 g) smoked sausage, cut into chunky pieces
1 lemon, sliced into rounds
Fill a large pot with water. Bring the water to a boil. Add the seasonings. Bring to a rolling boil. Add the garlic, corn, potatoes, sausage and lemon slices. Cover the pot with its lid and cook for 10 minutes. Taste the crawfish boil water. If it's too salty, add more water. If it's too bland, add more seasonings to taste. Transfer the crawfish into the pot and cook for 3-4 minutes, with the lid covered. Turn off the heat and let the crawfish soak for 10 minutes. The longer the crawfish soaks, the spicier they will be. Remove all the ingredients using a strainer and serve immediately.
Note: When using frozen crawfish, you are really just thawing them out and warming them up. Add to the pot, cover and turn off the heat. Let soak about 10 minutes to pick up some of the flavor from the water, but don't cook them.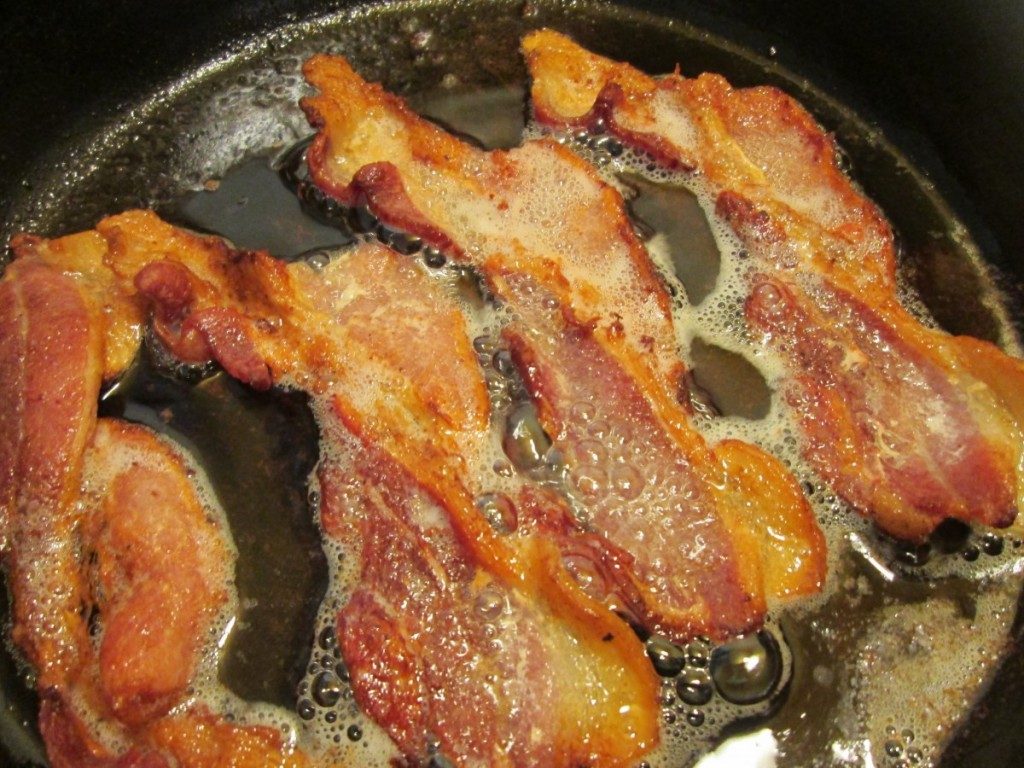 One of my favorite memories of my Dad, involved a very special breakfast. It was a breakfast only he and I shared.
Every summer, there was a park we would go to for family picnics. It was called Pine Way Trails. It has long ago been sold and the land developed.
The place would get very crowded, so we had to go early to get a prime location by the lake, and enough picnic tables for everyone. My Dad and I would go before anyone else.
Back then, it made me feel so special to go and to help. I am guessing it was because I was the baby, and no one else wanted to get up so early.
Dad and I would get there just as Pine Way Trails opened. The mist would still be rising off the lake. I'd help him unpack the car and place stuff on the tables we were claiming for the day. We would move them together and make sure they were level. Dad didn't want wobbly tables.
Then, he'd get a fire started in one of the grills. He always brought his cast iron skillet. Over the fire, he'd cook us bacon and then cook a couple of eggs. Dad had his thermos of coffee, and I had orange juice.
On paper plates we'd sit and enjoy our breakfast together. I don't think, as a kid, I really appreciated the skill it took to get that fire just right. The bacon was crisp, but never burnt and the eggs would be sunny side up- with the yolks warm, yet runny. I'd use my bacon to get the last of the yolk off my plate.
Later in the day, everyone else would arrive. My mom, sister and brother, aunts, uncles, cousins, friends. We'd have a wonderful day together swimming and fishing and eating grilled hot dogs and hamburgers, chicken and salads and fresh melon. It was noisy and so much fun.
That special part of the day for me, was the breakfast my Father and I shared, quietly by the lake.
I got out the cast iron skillet this morning- cooked some bacon and eggs and thought of him.
This really is a great bread. The dough has Swiss cheese melted into it- giving you great texture and flavor. It is also a cool- rise recipe.  That means the dough is prepared, rested for a bit, shaped and then popped in the fridge to rise. It can be baked several hours later or even the next day. You can prep it in the evening- let it rise in the fridge overnight- and bake it in the morning. Great for when you want homemade bread- but don't have a long block of time to make it. This was the first bread I ever made on my own. My Dad had been a baker and I think of him when I make it.
Whole Wheat Swiss Cheese Bread
3 c. flour
2 ½ -3 c. whole wheat flour
2 packages active dry yeast
2 T. sugar
2 t. salt
1 c. each milk and water
4 oz. diced Swiss cheese
3 T. butter
Oil
Combine 2 cups of the flour with the yeast, sugar and salt in a mixing bowl. Heat together water and milk with cheese and butter until warm, cheese does not have to melt. Add to flour mixture and beat 3 minutes. Stir in remaining white flour and beat 2 minutes. Stir in enough whole wheat flour to make a soft dough. Knead on floured surface until smooth and elastic. Cover with bowl and let rest 20 minutes. Divide dough in half and shape into loaves by rolling out and then rolling into a loaf and sealing seams. Place in greased 8×4 inch loaf pans and brush with oil. Cover with plastic wrap and place in fridge. Chill 2 –24 hours. Remove from fridge and remove plastic wrap allowing to stand while oven preheats. Bake at 375 for 35-40 minutes. Remove from pans and brush with butter. Cool. Makes 2 loaves.
I am not sure why I never combined ladyfingers with strawberries before. Using them together in this dish made a wonderful dessert- that was also very easy. I could see topping it with a few blueberries for the 4th of July.
I want to just say something about ladyfingers. There are two types I see in stores around here, soft or crisp. The soft ones are smaller and cake-like and found in bakeries in grocery stores. Like sponge cake. The other ladyfingers are crisp and larger. I find the crispy type at Italian stores and sometimes at specialty grocery stores. The ladyfingers you want for this recipe are the larger, crisp ladyfingers.
I was happy with how it came out. The ladyfingers were soft, not mushy. They actually were kind of fluffy. The flavors blended so nicely. Great summer dessert. Light and refreshing, but kind of rich, too. I made vanilla pudding, but make life easier and just use store bought- if you prefer.
Here is the recipe. Enjoy!!
Strawberry Shortcake Trifle
1½ – 2 pounds strawberries, washed, stemmed and sliced
½ c. sugar
24 ladyfingers
1 recipe vanilla pudding- recipe follows
¾ c. Hazelnut chocolate spread
Whipped cream or whipped topping
Combine strawberries with the sugar and set aside. Make the pudding, if you haven't already. You can use premade pudding. You'll need 2-3 cups of pudding. I had some leftover from the recipe I made. In a 9×9-inch baking dish, place one layer of the cookies. You might have to trim them a little to fit. I had 2 rows of 6 cookies, but I had to break off a little for the second row to fit. Spoon over half of the strawberries, with some of the liquid in the bowl. Spread a layer of pudding over the berries. For the next layer, spread some of the hazelnut spread over each lady finger before putting it in the pan. When you put them in the pan, place them with the spread on the under side. Add another layer of the pudding, then top with the rest of the strawberries. Cover and place in fridge until ready to serve. You can do all this up to 2 days ahead. Before serving, remove cover and top with whipped cream or any whipped topping you like. Serves 6-8.
Vanilla Pudding
1 c. sugar
½ c. cornstarch
½ t. salt
3 ¾ c. half and half
1 T. vanilla- or a little more
2 T. butter
Combine dry ingredients in a medium saucepan. Whisk in half and half and vanilla until well mixed. Heat over medium heat, stirring constantly, until mixture starts to bubble and get thickened. Mixture will get pretty thick. Turn down heat to keep it from scorching. As soon as pudding is thickened, remove from the heat and stir in the butter until melted. Place pudding in a bowl, cover with plastic wrap and chill until ready to use. Makes about 4 cups.