With blueberry season here, I had to make these rolls. These are a favorite recipe of mine. You know they have to be good, if I was willing to bake on such a hot day. One perk of working with yeast dough on warm, humid days, is that the dough loves this weather. They rose quicker than ever.
These rolls are great for breakfast, but I think they make a pretty good dessert. Sweet, but not too sweet.  Studded with plenty of berries, too. For dessert, I serve them with a scoop of ice cream or whipped cream.
Invited a neighbor over this morning for a cup of coffee- and surprised her with these. These rolls were just what we both needed. I sent her home with the rest.
Blueberry Sweet Rolls
3-3 1/2 c. bread flour
1 package active dry yeast
1 1/3 c. evaporated milk
6 T. butter
1/4 c. sugar
1 t. salt
1 egg
6 T. butter, melted
1/2 c. sugar
2 t. cinnamon
1 t. grated lemon or orange peel
2 c. fresh or frozen blueberries
In bowl combine 1 1/2 c. of the flour with the yeast, sugar and salt. Heat together the milk and 2T. of the butter until warm and add to the flour mixture, beating 2 minutes. Add egg and beat 2 minutes longer. By hand stir in enough of the remaining flour to make a soft dough. Turn dough onto a lightly floured surface and knead, adding flour as needed until dough becomes moderately stiff. Place in greased bowl, turning once to coat and cover. Allow to double in bulk, about 1 1/2 hours. Punch dough down, cover, and let rest 10 minutes. Divide dough in half. Roll each half into a 14×8 inch rectangle. Brush dough with the melted butter. Combine the remaining sugar, peel and cinnamon and sprinkle over the dough. Top with the blueberries and press the berries into the dough. Starting at the long side roll up dough jelly roll fashion and seal edge by pinching. Repeat with second roll. Cut each roll into 12 slices and place 12 rolls in greased 9 inch round pans. Cover pans and allow to rise until doubled, about 30 minutes. Bake in a 375 degree oven for 20-25 minutes. While rolls are warm, you can top with a powder sugar glaze, if desired. Makes 24.
In camp yesterday, we made pizza. The kids ranged in age from 6-12 years old. They made their own dough, rolled it out, and added the toppings they liked. It was a great experience for them.
Homemade pizza is not difficult to make. We didn't do anything fancy. We didn't have a pizza oven or a pizza stone. I will admit that pizza from a pizza oven or even better, a wood burning oven, is hard to beat. But for home cooks, and families with kids, this is a great way to get them started in making pizza.
I gave them a quick lesson in rolling out the dough. They rolled it out themselves. I kept a hands-off approach and only assisted when a few used too little flour and their dough was sticky. It was very warm and humid in the kitchen.
While they all got about the same amount of dough, pizzas ranged in size from a dinner plate, to the size of a baking sheet. Some only wanted sauce and cheese, others added a lot of toppings. Some were heart shaped, most were fairly round.
Were they perfect? Or the best pizza they ever had? I doubt it. But they made them on their own. Most wouldn't even taste them – because they wanted to share their pizzas with their families. To me, that was the best part of the day. As parents and family came to pick them up – the kids all showed off their "pies".
So here is the recipe we used. If you never made pizza at home- I encourage you to give it a try. Even better, find a kid to make the pizza with you.
Homemade Pizza
1 packet active dry yeast
1 t. sugar
1 2/3 c. warm water
4-4½ c. flour
2 t. salt
3 c. pizza sauce
16 oz. shredded mozzarella cheese
Cornmeal, optional
Assorted toppings. We had pepperoni, sausage, ham, mushrooms, sweet peppers, olives and pineapple
Combine yeast, sugar, salt and 3 cups of flour in mixing bowl. Add warm water and stir until smooth. Slowly start adding enough of the remaining flour to form a soft dough. The dough should start to come away from the sides of the bowl. Place dough on floured surface and knead until stretchy and smooth, about 10 minutes. Add more flour, if needed. Place in oiled bowl or plastic bag and cover. Let rise until doubled in bulk, about 45 minutes.
Punch dough down. Divide dough in half and roll each half into a 12-inch circle. Grease baking sheet and dust with a little cornmeal, if desired.  Place half of the remaining ingredients on the dough and repeat with remaining half of dough. Add more toppings, if you like and bake in a preheated 450-degree oven for 13-15 minutes. Cool a few minutes before cutting. Makes 2 pizzas.
Mini Pizzas: You can also divide the dough into 8 equal pieces and roll them out into 6-inch rounds. Then let each person make their own pizza. Bake a few minutes less than the big pizzas.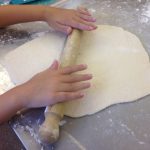 Homemade marshmallows were a big hit in cooking camp. The kids were fascinated that this little bowl of ingredients would whip up so light and creamy- and sticky. I think that was part of the fun.
They all took turns holding the mixer. It does take 15 minutes of mixing to get the result you want. Use a stand mixer, if you can.
We made classic vanilla marshmallows today, but you can add different flavors and even colors, if you like. How fun to enjoy a S'mores made with homemade marshmallows.
As promised, here is the recipe for making marshmallows. I've used this recipe for ages. I like that it is super easy, and still gives you quality marshmallows. I've seen more complicated versions- but why make life harder than it already is?
Marshmallows
1/2 c. cornstarch
1/2 c. powdered sugar
small amount of butter
2 envelopes unflavored gelatin, or 6 sheets of gelatin*
1/2 c. granulated sugar
1/3 c. water
2/3 c. corn syrup
1/2 t. vanilla
Combine cornstarch and powdered sugar in a small bowl. Butter an 8x8x2 inch-baking pan. Sprinkle with some of the cornstarch mixture. Reserve the rest of the mixture for use later on. Combine the gelatin, granulated sugar and water in a small saucepan and cook over low heat, stirring constantly until gelatin is dissolved.** Pour gelatin mixture into a large bowl, adding the corn syrup and vanilla. Beat with an electric mixer on high speed for 15 minutes. Be precise on the timing. The mixture will be thick and fluffy, marshmallow cream, actually. Pour mixture into the prepared pan, spread evenly and refrigerate overnight. The next day, sift some of the reserved cornstarch mixture over the marshmallows. Sprinkle some more of the coating mixture on a work surface and turn the marshmallow out onto the prepared surface. Cut the marshmallows into 1-inch squares, coating as you go. The marshmallows are very sticky until completely coated. Allow to dry on a rack. Store in an airtight container for up to 3 weeks. Makes about 4 dozen candies.
You can swap out flavorings- using maybe mint or lemon in place of the vanilla. You can also add a few drops of food coloring, if you like. Oh, and when you are at the rolling the pieces around in the cornstarch and powdered sugar stage of the process- don't wear black. You'll thank me later for that.
* Note: 3 sheets of sheet gelatin= one packet (1 tablespoon) of powdered gelatin.
** Note: If you are using sheet gelatin place it in the pan with COLD water and stir until dissolved. Then add the sugar and just cook, over medium-low heat until just warm, stirring often. Don't let the mixture get too hot or the gelatin will not work.
These cherries are so good, I am already wishing I had canned more of them. I was inspired by my cousin, Laurie, who needed spiced cherries for a recipe she wants to make.
I first thought about the spices I wanted to use. I didn't want to overpower the cherries, but I wanted the spices to complement the flavor of the fruit. In the end I used cinnamon sticks, fennel seeds, fenugreek, cloves and some cracked black pepper.
Once I decided which spices I wanted to use, I steeped them in boiling water. Kind of like making tea. Then I strained out the spices and used the spiced water in the syrup for the cherries.  I could just have added spices to the cherries when I canned them, but I didn't want stuff in the jars I would need to strain out later. I also knew the spices would get more intense over time, if left in the jars. By making a tea and tasting it, I knew what level of spice I would have in the final product.
The spiced cherries can just be eaten, right out of the jar. They can also be drained and added to fruit salads or used to top desserts. You can also use them to bake with. They aren't overly sweet.
Laurie is using them in some sort of chocolate cherry martini. Now that sounds good!!!
They would make nice gifts, too.
So here is my recipe for spiced cherries.
Spiced Cherries
7 (3-4 inch) cinnamon sticks
2 T. fennel seeds
2 T. fenugreek seeds
1 T. whole cloves
1 T. cracked black pepper
5 c. water
11 lbs. sweet cherries
3¼ c. sugar
Zest of 2 limes
Juice of 2 limes
Place spices in a large pot and turn heat on to medium. Toast spices in pot for about 4-5 minutes, stirring occasionally. You should be able to smell them. Watch so they don't burn. Add the water to the spices, bring to a boil, and simmer for at least 15 minutes. Longer cooking is fine. Fill water bath canner with water and heat up water to a simmer.   In the meantime, pit the cherries. You should end up with about 4½-5 quarts of pitted fruit. You can hold pitted cherries in a bowl of water with a little ascorbic acid in it, to prevent browning. Set aside. Remove the spiced water from the heat. Strain out the spices and discard them. Measure the spiced water and add enough fresh water to equal 5 cups. Return water to pot with the cherries (drained if they were in water), sugar, zest and lime juice. Bring mixture to a boil. Fill pint jars with cherries and cooking liquid, leaving ½-inch headspace. Wipe rims and screw on lids until fingertip tight. Place jars in water bath canner. Make sure the water covers the jars by 1-2 inches. Place lid on canner, and start timing when water returns to the boil. Process for 15 minutes. Remove jars from canner and place on a cooling rack or towel, in a draft free area. Once cooled, check the lids to make sure they are sealed. Remove bands and wipe down jars. Label and store. Makes about 9 pints.
Times and procedures all used NCHFP guidelines.
When you think about cooking with peaches, don't limit yourself to desserts and jam. Peaches can pair well with savory dishes, too. I often use peaches for glazes and sauces for meats.
In this dish, I paired peaches with traditional chef salad ingredients. I tossed the peaches in a homemade honey French dressing, then spooned them over the salad. The result was wonderful- and a great lunch or dinner option for hot weather.
You can top the salad with cheese, meats or both. I like to add some nuts, too. I made it for lunch today and topped the salad with sharp cheddar cheese and bacon. I really liked the combination of the sweet fruit with the smoky bacon. Use what you like- and what you have on hand. A chef salad is a great way to use up that leftover grilled chicken or that open package of cheese. Add extra veggies, too, if you like.
Peachy Chef Salad
Honey French Dressing:
1/3 c. honey
1/4 c. white wine vinegar or cider vinegar
1 t. paprika
1 t. dry mustard
1/4 t. salt
1/2 c. olive oil
3 cups chopped peaches
Salad:
6 c. torn salad greens
12 oz. cooked chicken, turkey, ham etc, cut into strips
1 c. cubed cheese
1/2 c. cashews, optional
To make the dressing, in blender, combine first five ingredients and start running machine on high. Add oil in a slow stream until mixture becomes thickened. Pour into bowl and stir in peaches and chill, several hours if you can. When ready to serve arrange greens on one large platter or on smaller salad plates. Arrange meat and cheese on platter or plates. Spoon over the peach/dressing mixture, add cashews, then serve. Serves 4-6.
I love peaches. For me, peaches always mean summer. My peaches aren't ripe yet, but I found some at a produce market recently. They were nearly ripe, so I put them in a brown paper bag to help them finish ripening. A few days later, I have a bunch of super tasty, juicy peaches.
Since it is going to be unseasonably warm for the next week, I decided to use some to make ice cream.  I added some vanilla and orange zest for some extra flavor- but mostly just plenty of peaches.
Homemade Peach Ice Cream
3-4 ripe peaches
2 c. half and half
1 c. sugar, or to taste
1 T. vanilla
1 T.  orange zest
Peel and dice peaches. Cook in a small amount of water and a little sugar until tender. If you don't precook the peaches they will be icy and hard in the ice cream. Cool and drain. In bowl combine half and half and sugar and stir until sugar is dissolved. Add remaining ingredients and stir well. Place in ice cream machine and process according to manufacturer's directions. If you don't have an ice cream maker place mixture in a shallow pan and freeze solid. Remove from freezer and allow to soften a little at room temperature then break up into chunks and place in a mixing bowl. Beat with a mixer until smooth and return to freezer. Makes 1 quart.
With a warm day ahead, I decided to make some blueberry ice cream.  Whipped up a batch this morning.  I look forward to having it for dessert later on. Heck, I just might have blueberry ice cream for dinner. While it is easier to make with an ice cream machine – you don't have to have one for this recipe.
I had hoped to use my own berries in this ice cream. I planted some blueberry bushes a few years ago. Trying to actually harvest my blueberries has been a challenge.
The bushes had a lot of flowers on them this year. I've gotten enough to have a handful for breakfast a few times. The birds have enjoyed them, too. And did I mention the chipmunks? Chip and Dale really like blueberries. I've added netting to some and used a deterrent spray. Still, when I check them out in the morning and the chipmunks are still hanging around.
I can live with the critters eating some of my berries – but they are NOT getting any of my ice cream.
So here is the recipe. Enjoy!!
Blueberry-Vanilla Ice Cream
3 c. blueberries
1 c. sugar
1/4 c. water
2 T. fresh lemon juice
1 T. vanilla
1 c. heavy whipping cream
1 c. half and half
Combine berries with sugar and water in saucepan and bring to a boil. Cook, stirring often, for 5 minutes. Puree mixture and stir in lemon juice. Refrigerate until completely cool. Stir in the whipping cream and half and half and freeze in an ice cream maker according to the manufacturer's instructions. Makes 6 cups.
Note: If you don't have an ice cream maker, freeze in shallow trays and thaw a little before whipping with a hand mixer. Better if you re-freeze and whip again later.  If you are lactose intolerant, you can use almond, rice or coconut milk in this recipe. Also feel free to add flavorings.
Today was all about fruit in cooking camp. The kids made smoothies and several fruit sorbets. They also worked in two teams to make a fruit tray using strawberries, blueberries, mango, watermelon, pineapple, red grapes and cherries.They also had knives and cherry pitters to help them.
They were to make a display that looked like something. The idea was for them to create the fruit tray- and then see if I knew what they had created. One team created a fruit volcano, the other team a day at the beach. I thought they were all very creative. Below are some of the pics from class- and some fun recipes using fruit.
Pink Lemonade
2 qts. prepared lemonade
1 pint strawberries, washed and hulled
Place berries in blender and add about 2 cups of the lemonade. Process until strawberries are pureed. Add strawberry mixture to the remaining lemonade. Serve over ice, garnishing with whole berries, if desired. Watch as seeds will accumulate on the bottom of the pitcher.
Red, White and Blue Fruit Salad
1 large pineapple, peeled, cored, and cut into cubes
1 qt. strawberries, washed and hulled
2 pts. blueberries, washed
Toss all together and chill about 1 hour before serving. Makes 8-10 servings.
Strawberry Sorbet
2 c. fresh or frozen strawberries (allow frozen berries to thaw a little first)
1/4 c. sugar, or to taste
3 T. fresh lemon juice
Place ingredients in food processor and process until smooth. Place in shallow pan and freeze. If you are using frozen berries re-freezing will take only about 1 hour. Up to 30 minutes before serving remove sorbet from freezer and allow to soften enough to break into chunks. Place in processor and blend again until very smooth. Serve immediately. Serves 4.
Fruit Smoothie
1 can (6 oz.) frozen orange juice concentrate
1 large ripe banana, sliced or 1 1/2 c. sliced fresh of frozen strawberries, or 1 1/2 c. sliced fresh, frozen or canned peaches
1 1/2 c. milk
1/2 c. water
2 T. honey
4-6 ice cubes
Combine all ingredients in blender, except the ice cubes and blend until smooth, about 1 minute. Add ice cubes and blend 1 minute more until thick and frothy. Serves 5.
                                                                Sun Fruit Salad
2 medium bananas, peeled and sliced
1 8oz. carton lemon yogurt
2 T. sugar
2 t. lemon juice
lettuce leaves
8 c. cut up fruit, using what is seasonal
1/4 c. toasted nuts
For dressing in blender combine bananas with yogurt, sugar, lemon juice and blend until smooth. To serve arrange lettuce on serving plates. Divide fruit among plates and drizzle with dressing. Makes 8 servings.
Grapescicles
Freeze green or red seedless grapes. Eat right out of the freezer. Great snack in hot weather.
Watermelon Pops
2 c. seeded chopped watermelon
1 c. apple juice
1/2 c. chocolate chips or raisins
Combine watermelon and juice in blender until smooth. Pour into a shallow pan and freeze until thickened. Fold in chips or raisins and pour into Dixie cups. Cover with foil and insert sticks. Freeze until firm, makes 6-8.
This is always a favorite day in cooking camp. A hot day, and a kitchen with no air conditioning, did not deter the kids from baking cookies- a lot of cookies. They did such a great job. Here are the recipes for the cookies we made and some pictures I took of their creations.
Versatile Butter Cookies
1 c. butter
1 c. sugar
1 egg
1 t. vanilla
2 ¼ c. flour
1 t. baking powder
¼ t. salt
Beat sugar and butter together until fluffy and then beat in egg and vanilla. Combine dry ingredients and stir into butter mixture. Chill dough at least a couple of hours. Roll dough into ¾-1 inch balls and roll in sugar, sprinkles or nuts. Place 2 inches apart on ungreased baking sheet and bake in a preheated 375 –degree oven for 8-10 minutes. Cookies will flatten somewhat. Makes about 6 dozen cookies.
Variations: You can bake plain cookies and then dip cooled cookies in melted chocolate and then in chopped nuts or sprinkles.
Form into balls and place on baking sheet then press a nutmeat into the center of each. When cool you can drizzle with a small amount of melted chocolate or glaze.
Cookie-Candies
1 c. butter or margarine
¾ c. powdered sugar
1 T. vanilla
2 c. flour
½ c. rolled oats
½ c. chocolate chips
¼ c. milk
finely chopped nuts
assorted sprinkles
shredded coconut
Cream together butter, sugar and vanilla. Stir in flour and oats. Shape teaspoonfuls of the dough into different shapes like rounds, ovals, cones cubes etc. Try to make them look like little candies. They will hold their shape very well while baking. Bake in a 325- degree oven for 20-25 minutes on an ungreased baking sheet. Cool. In microwave safe dish combine chocolate and milk and melt. Dip tops of cookies in chocolate mixture and then in one of the toppings you have. Chocolate topping will harden up after a while. Makes about 4 dozen.
Chocolate Sparkles
1 c. butter or margarine, softened
1 ¼ c. sugar
2 eggs
2 oz. unsweetened chocolate, melted
½ t. vanilla
2 2/3 c. flour
2 t. cream of tartar
1 t. baking soda
½ t. salt
¼ c. sugar
Cream together butter and sugar. Beat in eggs, chocolate and vanilla. Stir in next four ingredients. Chill dough. Shape dough into 1" balls and roll in ¼ cup sugar. Place about 2 inches apart on ungreased baking sheet. Bake in a preheated 400- degree oven for 8-10 minutes. Makes 5-6 dozen.