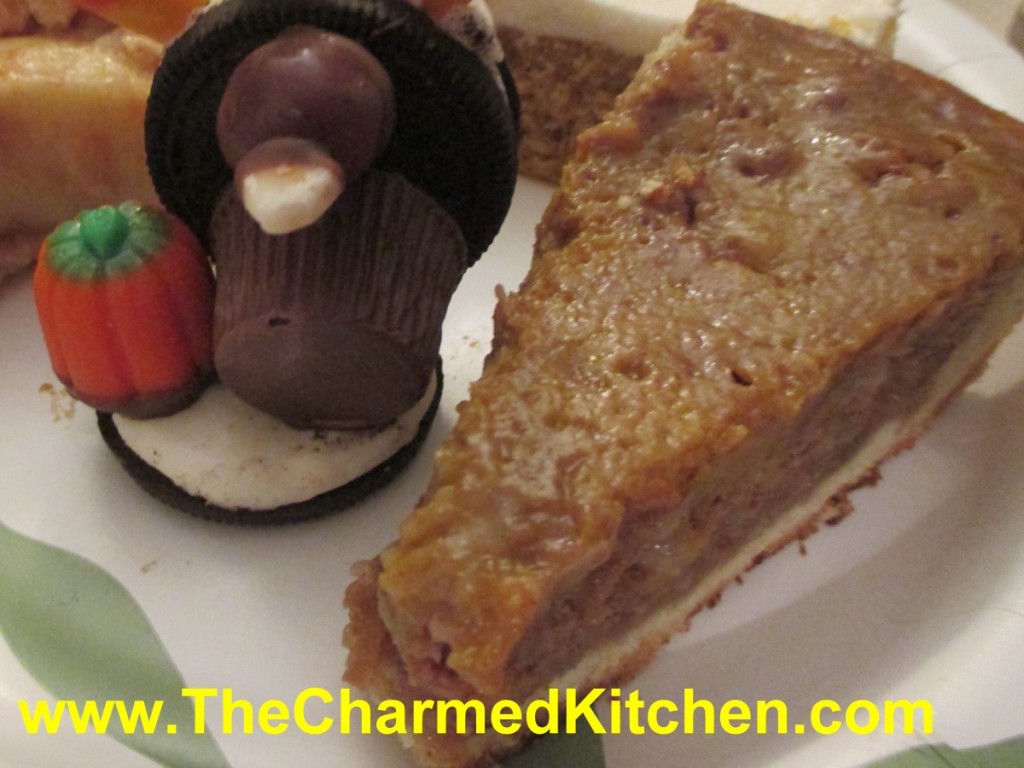 At first glance you would think my sister made a pumpkin pie. It looks like pumpkin pie. It also tastes a lot like pumpkin pie. When I was a kid, and tasted this pie for the first time, it was the first time I liked "pumpkin" pie
My sister has been making this squash pie recipe for years. I love it. It is part of our Thanksgiving tradition. Cindy made it clear, from the beginning, that she used cooked butternut squash for her pie and not pumpkin. She liked the flavor better. I can't argue with her success. The pie is yummy.
Of course, you could use pumpkin or other winter squash, if you like. I use Hubbard sometimes. The recipe has the right mix of spices and just enough sugar without being too sweet. What ever squash you use, I am sure this pie will be a hit with your family, too.
Cindy's Butternut Squash Pie
1 (9″) unbaked pie shell brushed with 1 egg white
2 eggs slightly beaten
1/2 cup brown sugar
1/4 cup white sugar
1 1/2 tsp cinnamon
1/2 tsp nutmeg
1/2 tsp ginger
1/4 tsp allspice
1/4 tsp cloves
1/2 tsp salt
1/2 tsp vanilla
2 cups (1 lb.) cooked, butternut squash (mashed or pureed)
3 Tbsp molasses
1 can evaporated milk (12 oz can)
Combine filling ingredients and pour into shell. Bake at 400 degrees for 55-60 min., or until custard tests done.
Cindy added: I find this to be a very generous recipe; could make 2 smaller pies or just bake the extra custard in a baking cup. I suppose it could be frozen and used in another recipe, but I've never tried to freeze the raw filling, so I don't know.
This can be used with pumpkin, too.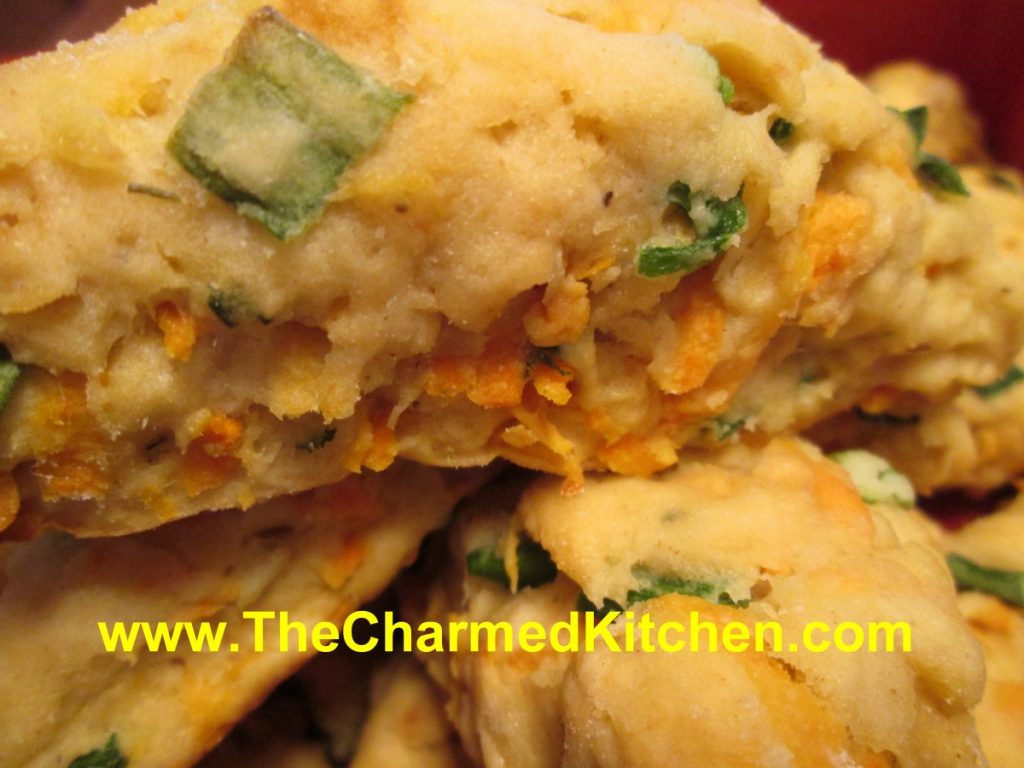 These biscuits are a favorite of mine. They go great with a bowl of chili. They also would make a nice addition to your Thanksgiving table.
I like sweet potatoes any number of ways. Steamed, roasted, mashed. In this biscuit recipe, raw sweet potatoes are grated and added to the dough, along with some herbs. The biscuits come out tender, with great flavor and texture.
I enjoy them with a bit of butter, warm from the oven.
When you mix the dough, don't be worried if it seems too dry. It takes a little bit of kneading to get the moisture out of the potatoes. The extra effort is worth it.
I cut them into triangles, but you can just form the dough into a log shape. Then, slice the dough for round biscuits. They taste wonderful, no matter the shape.
Sweet Potato and Herb Biscuits

2 1/4 c. flour
1 T. baking powder
1/2 t. grated lemon peel
1/4 t. each baking soda, dried basil and dried thyme
1 egg, beaten
1 1/2 c. shredded sweet potato, about 1 large
1/2 c. fine chopped green onions
1/2 c. sour cream
2T. butter, melted or olive oil
Stir together dry ingredients in large bowl and set aside. Combine remaining ingredients and add to flour mixture mixing until just blended. Turn onto lightly floured surface and knead a few times until dough just stays together. Dough will look too dry- but it will come together after you knead it. Press into an 8-inch square and cut into four squares.* Cross cut each square into four triangles. Place on greased baking sheet and bake in a preheated 425 degree oven for 20 minutes. Makes 16.
* I press the dough into a lightly floured 8×8-inch baking pan and then flip it out onto the work surface, before cutting. That way you'll get nice, even edges.
If you are looking for a new way to serve sweet potatoes, you might just want to try this recipe. Sweet potatoes are mashed, mixed with butter, eggs and spices, rolled in bread crumbs and fried. The end result is a delicate morsel that has a crunch on the outside- and creamy mashed sweet potatoes on the inside. They are addictive!!!
They make a great side dish, or can be served as an appetizer. While they are good hot, they maintain their crunch even after cooling down.
I first had a version of this recipe many years a go when a coworker made them and brought them to work. I recently found her original recipe, and added more seasonings to it. I love them as much now, as I did then.
The mixture, even after chilling, is soft. I placed spoonfuls of the mix in the breadcrumbs and rolled them gently into balls. The puffs are soft, even after frying, so remove carefully from the oil. You can fry up a batch in a few minutes, and serve right away. You can also cook them ahead of time, then reheat them before serving. I made my puffs into balls, but you could also flatten them a bit, more like the shape of a scallop.
This is a nice way to use up leftover cooked sweet potatoes, too.
So here is the recipe.
Sweet Potato Puffs
2 c. mashed, cooked sweet potatoes
3 T. softened butter
1 egg
3 T. chopped parsley, or 1 T. dried
½ t. salt
½ t. paprika
½ t. cumin
½ t. nutmeg
Hot sauce to taste
Dash of fresh ground pepper
Bread crumbs for rolling
Oil for frying
Combine sweet potatoes with butter and egg, stirring to mix well. Add seasonings and stir well. Chill mixture at least a couple of hours. Heat oil to 350 degrees. You should have at least a couple of inches of oil in the pan. Shape sweet potato mixture into 1-inch balls. Roll in crumbs and fry until golden brown. Drain on paper towels and serve. You can make a head of time, then just warm in the oven when ready to serve. They can also be fried and frozen for later use. These make a nice side dish or even can be served as an appetizer. They are very soft, even after frying, so remove from hot oil carefully.
Crunchy outside, soft and creamy inside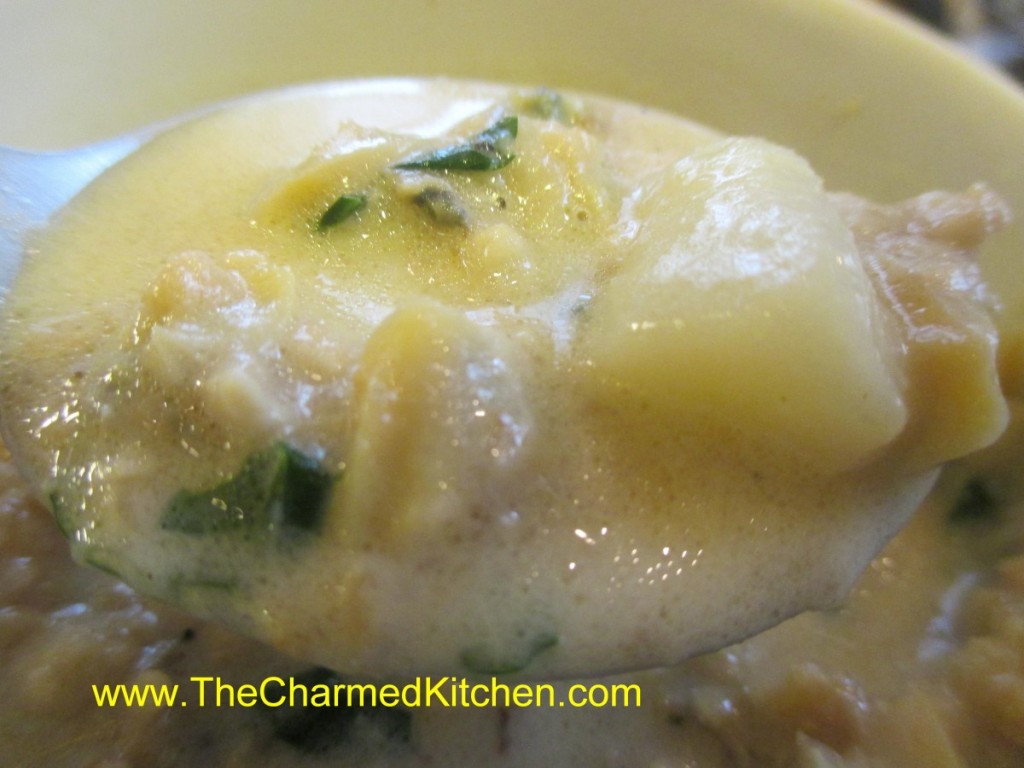 I thought I would finish up a week of Mom's recipes with one of her stranger ones. I was talking with a cousin at a recent family clambake and she mentioned my Mom's clam chowder. So here is the recipe, and the story of how she created this dish. Dedicated, with love, to my mother.
The mystery ingredient is in there because of my Uncle John. He was my Mother's older brother and a real smart guy. One day he and my Mom were talking about clam chowder. My Mom had made a big pot of it. She was on a tight budget and was saying that she wished she could afford to put in a lot more clams. She didn't use canned clams- she bought fresh ones and they cost a lot of money. She made a really good clam chowder.
My uncle wondered if she could add tripe to her chowder. He said that the texture was sort of like clams. Tripe didn't have a strong flavor on its own and surely it would absorb the flavor of the clams. He said he thought they could put them in and no one would ever know. My mother thought about it and agreed, but said the tripe, normally cut in strips, would not look like clams.
She then figured out that if she put the tripe through her meat grinder on coarse, the tripe would look a lot more like clams and might just work.
She was pretty smart, too.
So the plan was hatched. The next time my Mom made clam chowder she got tripe, ground it and cooked it until tender. She then added it to her clam chowder and invited family over to try it. Everybody loved the chowder and a couple of people even commented on how many clams were in it. So there it is – the story of why I put tripe in my clam chowder. Unlike my Mother I use canned clams. And unlike her and my uncle, I do tell people what is in it, before they eat it.
Clam and Tripe Chowder
1 lb. tripe
oil
2 large onions, chopped
8 cups water or stock
2-3 cans clams, undrained
2-3 c. peeled and cubed potatoes – about 3-4 potatoes
1 (12 oz.) can evaporated milk- or 1 1/2 cups half and half or heavy cream
2 T. flour, optional
1/2 c. chopped fresh parsley
salt, pepper and hot pepper sauce to taste
When I bought the tripe at the store the package said it had been scalded. Not sure that matters but I figured I'd mention it. I took the tripe and ground it in my meat grinder. If you don't have a meat grinder, you can cut the tripe up a bit and chop it up in a food processor. Pulse on and off until it is chopped up to the size you want. In soup pot heat the oil and cook the onion until tender. Add the tripe and the water or stock. Simmer, covered, until the tripe is tender, about 90 minutes. Some of the water cooked off, but that was fine with me. Add the clams and their liquid, season to taste and allow to simmer another 30 minutes or so. Add the potatoes and cook, covered, until the potatoes are tender, about 15 minutes. At this point you can add just the milk or you can add the milk and the flour- depending on how thick you like your chowder. If you are thickening it- place some of the milk in a jar with a tight fitting lid along with the flour. Put the lid on and shake well until flour is mixed into the milk and there are no lumps. Add to the chowder with the rest of the milk and the parsley. Bring to a gentle simmer and cook about 5-10 minutes longer. Stir from time to time so the chowder won't burn. Adjust seasonings and serve. Serves 6-8.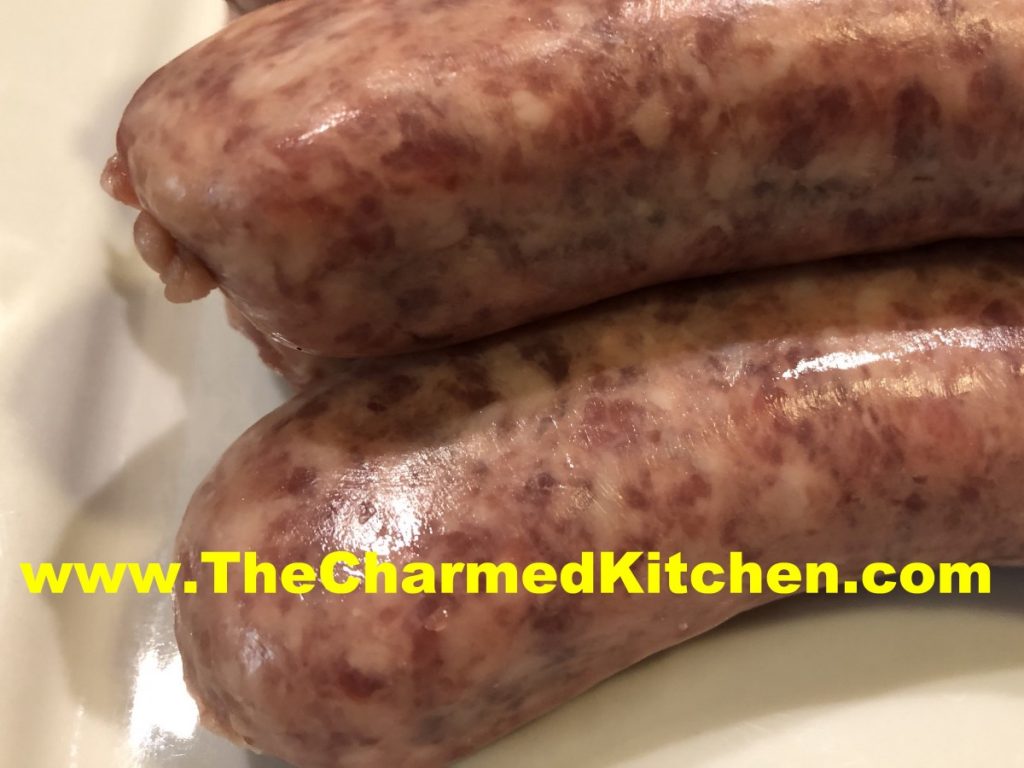 I can remember my parents making homemade sausage. As a kid, I thought a lot of parents did that. I don't think I really appreciated how special that was. When my parents got older, one of my cousins ( Jim) started making the sausage.
The sausage they made was kielbasa. Kielbasa is a Polish sausage. It was something we ate every Easter, Thanksgiving, Christmas. Well, you name a holiday, we would be eating kielbasa. Somewhere, there is even a film of my mom making kielbasa for Christmas. My dad was filming as my sister and brother watched. I wasn't born yet.
Since I shared a lot of my Mom's recipes this week, I thought it was time to share this one. I don't know how many people would go to the bother of making their own sausage, but I am hoping even a few people will make the kielbasa. It is a way of her kind of living on.
So here is her recipe. Enjoy!!
A bit of work, but the end result is divine. Make and freeze or share with friends and family.
Irene's Polish Sausage/ Kielbasa
10 lbs. Pork butts
5 T. salt
1 T. pepper
1 T. marjoram
1 t. thyme
2 cloves garlic or more to taste, minced
1 ½ c. water
Grind pork then combine with seasonings and water. The water helps the ingredients to blend. If you have a sausage maker, you can stuff the sausage into casings. Sausage can also be formed into patties or links. To cook sausages in casings, boil until cooked through. You can then serve them as is, on buns with bread or on a plate with mustard or ketchup and horseradish. You can also take boiled sausages and brown them in a skillet or under the broiler.
Patties and links made without casings can be pan fried until cooked through. You can add a little water and cover the pan allowing them to cook through without getting too brown. Without casings, they will fall apart in a big pot of boiling water. Sausages can be frozen cooked or uncooked, but uncooked is preferred.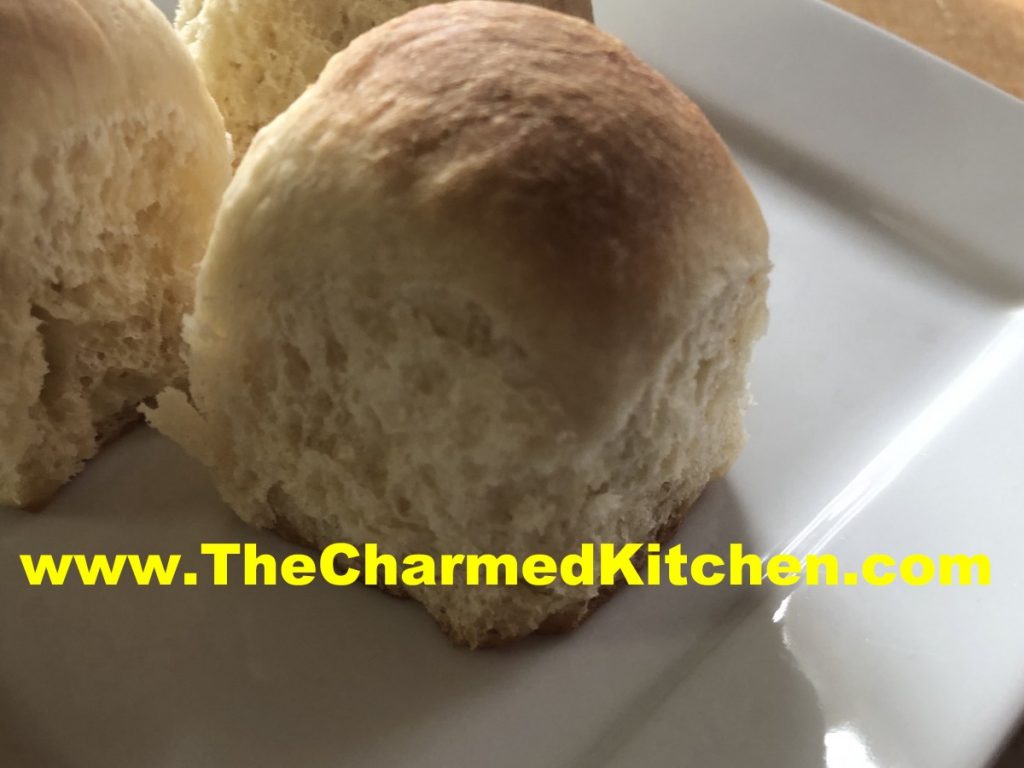 Someone asked me recently for a recipe for an old-fashioned dinner roll. The sort of roll her mom would have served for Sunday dinners. I knew exactly which recipe I wanted to share with her.
These rolls are soft, a little sweet and very tender. Great served with any family meal. Perfect for Thanksgiving, too.
I hadn't made these dinner rolls in a long time, so I made a batch last night. I always think that is a good idea. I wanted to be sure I had all my baking times right, before I shared the recipe. I am glad I did. I actually did make a small adjustment to the recipe.
So here is the recipe. A classic, simple dinner roll, just waiting for a pat of butter.
Rich Dinner Rolls
¾ c. milk
½ c. each butter and sugar
1 t. salt
2 packages active dry yeast
½ c. warm water
4-5 c. flour
2 eggs
Heat together milk and butter until warm. Stir in sugar and salt. Dissolve yeast in warm water and add to milk mixture with 2 cups of flour. Beat 3 minutes. Beat in eggs. Stir in flour until soft dough forms. Knead on floured surface until dough is smooth and elastic. Place in oiled bowl and cover. Let rise until doubled. This will take an hour, or a bit longer. Punch dough down and divide in 24-30 pieces. Shape each piece into a ball, making as smooth as possible. Place rolls into a greased baking pan ( 9×13 inch, or a bit larger) and cover until doubled, about 1 hour. Bake in a preheated 375-degree oven for 25-30 minutes, or until golden brown. Note: I used a glass pan, so I baked my rolls at 350. Brush with melted butter, if you like. Serve warm. Makes 24-30.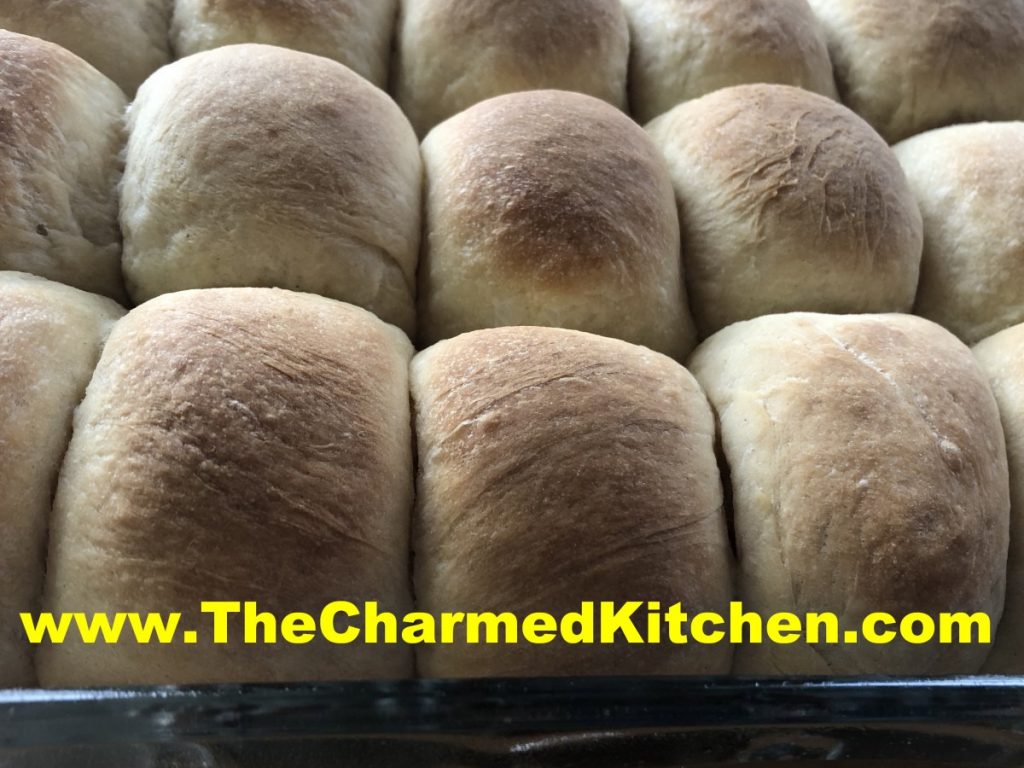 This recipe has been part of our family for years now. My mom made them for Thanksgiving every year- and I continue that tradition. Like my mom, I use fresh (or frozen) cooked pumpkin or winter squash. My mom didn't care much for the taste of canned pumpkin. She would cut up the Halloween pumpkin, cook it, puree it and freeze it- so she could make pumpkin squares anytime she wanted.
The original recipe came from Bisquick, but it had 2 cups of sugar in it. My Mother's sensibilities kicked in and she cut the sugar down to one cup. Great move on her part. The cake is still plenty sweet with less sugar.
It mixes and bakes up in no time. I normally top it with cream cheese frosting, but it would be good with a simple powdered sugar glaze, a buttercream frosting, or even just a dusting of powdered sugar mixed with a little cinnamon.
The texture is moist and tender and I think you'll enjoy it as much as I do.
Pumpkin Squares
1 c. sugar
½ c. oil
16 oz. cooked pumpkin, canned, fresh (preferred) or frozen
4 eggs, beaten
2 c. biscuit mix (homemade or Bisquick or Jiffy Mix)
2 t. cinnamon
½ c. raisins, optional
Grease a jelly roll pan and set aside. Preheat oven to 350 degrees. Beat first 4 ingredients for 1 minute. Stir in mix, cinnamon and raisins. Pour in prepared pan and bake 25-30 minutes. Test for doneness with a toothpick. Cool and frost. Frosted cake must be kept refrigerated between servings.
Frosting:
8 oz. cream cheese
2/3 c. butter
2 T. milk
2 t. vanilla
3 c. powdered sugar, or more
Beat together until smooth.
Today would be my Mom's birthday. I still miss her. She was a great cook and I learned a lot from her. Here is the bread she was famous for in our family.
My Mom used to make this wonderful sweet bread. Made it for every family occasion. The recipe uses butter. She was a very frugal person. One day, she decided to render the skin from a duck she was using in soup. She would never just toss it. Too wasteful. Once it was cooled, the duck fat looked like butter. She was making her sweet bread and substituted the duck fat for the butter in the recipe. When my brother-in-law, Bob, tasted it he declared it was the best bread yet. My Mom told him what the secret ingredient was, and from that day on, we always called it duck fat bread, even when it was made with butter. Here is the recipe- wonderful even if made with plain old butter.
Mom's Butter Coffeecake Braids aka Duck Fat Bread
4 1/2 c. flour
2 T. sugar
1 t. salt
½ c. butter or 1/2 c. cooled rendered duck fat
1 packet yeast
¼ c. warm water
2 t. sugar
1 c. evaporated milk
2 eggs, beaten
Combine flour with sugar and salt. Cut in butter or duck fat and set aside. Dissolve 2 teaspoons sugar in warm water. Dissolve yeast in warm water mixture and set aside. Allow to become bubbly, about 5 minutes. Combine milk with eggs. Stir in yeast mixture and add to flour mixture stirring well. Knead dough in bowl until smooth, about 10 minutes. Place on lightly floured surface and knead until smooth. Cover and let rise until doubled, about 1½ hours. Divide dough in half and then each half into thirds. Roll dough into ropes and braid three ropes together. Repeat with remaining 3 ropes. Place braids in 9×5 inch greased bread pans and cover with a towel. Place in a warm, draft-free place and allow to rise until doubled, about 1½ hours. Bake in a preheated 350 degree oven for 25 minutes. If you like glaze loaves while warm with a mix of powdered sugar, a little milk, butter, and vanilla. Toasted almonds or walnuts can be added, if desired. Makes 2 loaves.
Note: You can also refrigerate the dough after kneading it if you would prefer. Just place dough in an oiled bowl, cover with plastic wrap and chill overnight. Roll and shape dough into braids when cold from the fridge. Rise, covered, until doubled in bulk, about 2-3 hours. Bake as directed.
Note: You can also place loaves on a greased baking sheet for a longer, flatter bread rather than in loaf pan.
Tomorrow would be my Mother's birthday. Every time I prepare something she used to make, I feel like I am honoring her a little. I had a friend over for dinner the other night for chili and cornbread. He said it tasted like his Mother's chili, too.
I love chili and make all sorts of variations, but I crave this simple version my Mother used to make. It was one of my favorite dishes when I was a kid. She'd often make cornbread to have with it. I admit to spicing it up more now, often adding a good shot of hot sauce, but it is still the same dish I remember so fondly.
Miss you Mom. Love you.
Mom's Chili
1 large onion, chopped
Oil
3 lbs. coarsely ground beef
3 (28 oz.) cans crushed tomatoes – I used 3 quarts of home canned tomatoes
2 cans (about 15 oz.) kidney beans, rinsed and drained
1 T. minced garlic
¼- ½ c. chili powder, or more to suit your taste
2 t. cumin
Salt and pepper to taste
Hot pepper sauce to taste
In Dutch oven or soup pot, sauté onion in oil until tender. Add meat and cook until no pink is visible. Drain off excess fat. Add tomatoes, beans, garlic and chili powder to taste and cumin. Cover and simmer over low heat until flavors blend, at least 30 minutes. Longer cooking is even better. I often transfer the chili to the crock pot for a couple of hours. Adjust seasonings and serve. Serves 4-6.
Can be eaten as is- or top with shredded cheese or a dollop of sour cream.
I have made a lot of versions of cornbread in my life, but this one might just be my favorite. Perhaps because it is my Mother's recipe.
Her secret? She put a layer of shredded cheese between layers of batter. She also added cream style corn to some of the batter.
You end up with a cornbread that is full of flavor. It is also very tender and crumbly, but not dry. I baked mine in a cake pan, but there is no reason you could not bake this recipe in cast iron, if you prefer.
I served this cornbread with a chicken-vegetable soup last night. I had a friend in for dinner. My friend loved it.
I was so pleased. I hadn't made Mom's version of cornbread in awhile. I will definitely be making it more often from now on.
My Mom's birthday would be in a couple of days. To remember her, I will be posting some of her recipes in the next few days. Stay tuned for some great food.
Mom's Cornbread
1 c. cornmeal
1 c. flour
2 T. sugar, optional
4 t. baking powder
¾ t. salt
2 eggs
1 c. half and half
¼ c. oil- or melted butter or bacon fat
4 oz. pepper Jack cheese, shredded
1 c. cream style corn
Grease a 9-inch square pan and set aside. Preheat oven to 425 degrees. Combine dry ingredients in medium bowl, and set aside. In small bowl, combine eggs, half and half and oil and beat until smooth. Stir egg mixture into dry ingredients, stirring until combined. Don't over-mix. Pour half of the batter into prepared pan. Sprinkle shredded cheese over the batter in the pan. Combine remaining batter with the cream style corn. Pour this mixture over the cheese in the pan. Bake 20-25 minutes. Serves 8-9.