At a recent Lunar New Year party with friends, we all made dumplings. I made three dipping sauces to use on the dumplings and they were really well received. I had made the peanut butter sauce before and my friend Courtney, had found the green onion sauce online. The third sauce was my creation to have a spicy dipping sauce. My friend Diane liked it so much she said it was magic, so I named it Diane's Magic Sauce. Here are the recipes. Enjoy!!!
Peanut Butter Dipping Sauce
1/3 c. peanut butter
1/3 c. coconut milk
1/2 t. crushed red pepper
1-2 cloves garlic
1 t. fresh grated ginger
1 t. soy sauce
Dash hot red pepper sauce
Salt and pepper to taste
Combine all ingredients in a blender or food processor until smooth.
Note: If you want to use this sauce on pasta, thin it with 1/3 cup of chicken or vegetable stock.
Diane's Magic Sauce
½ c. rice vinegar
½ c. apple cider vinegar
½ c. sugar
2 T. spicy chili crisp sauce – found at Asian grocery stores
1 T. minced garlic or 1 t. dried minced garlic
1 T. orange zest
2T. light soy sauce
Combine all ingredients and stir until sugar melts. Use with dumplings.
Green Onion Dipping Sauce
5-6 green onions, trimmed and chopped into 2 inch pieces
2 T. oil
5 T. light soy sauce
1 T. Dark soy sauce
1 T. oyster sauce
1 T. sugar
Heat oil in skillet and cook onions until they are browned. Combine with remaining ingredients and stir to combine well. Keeps in fridge for about a month. Can be used as a pasta sauce, too.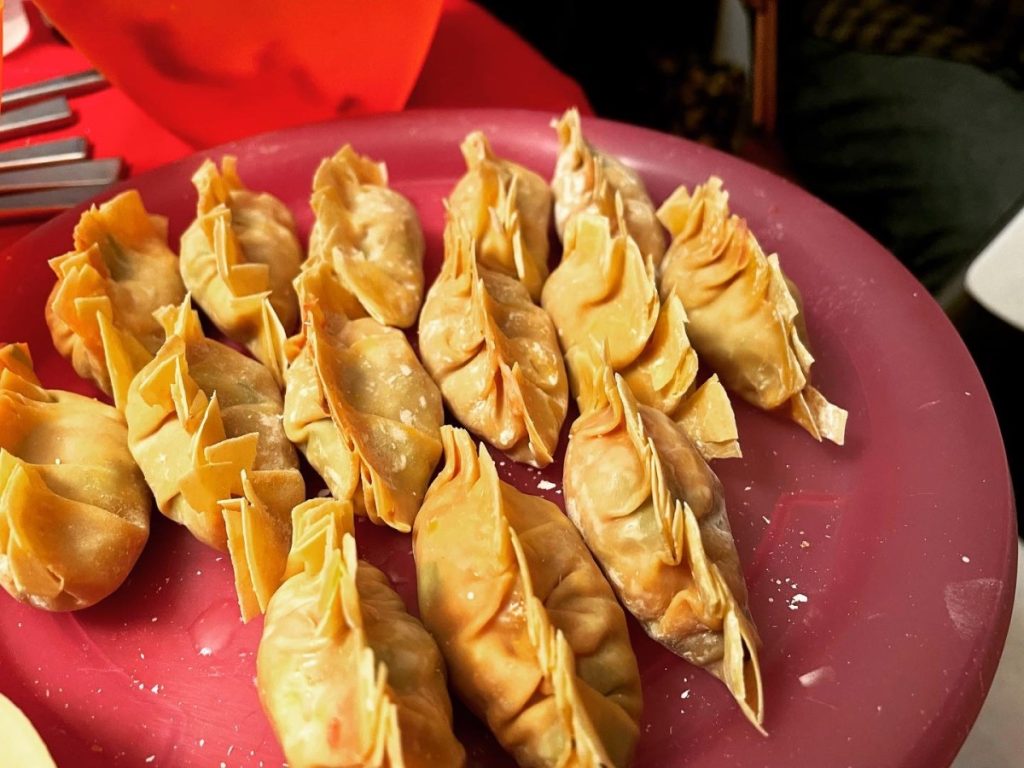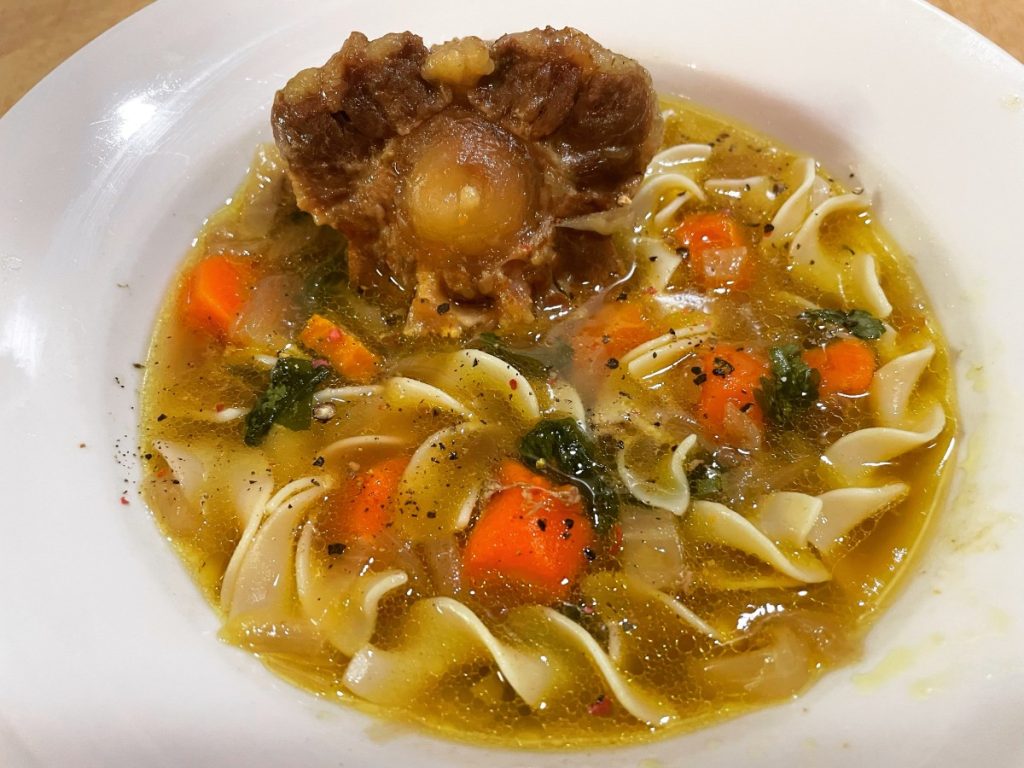 I always loved when my mom made oxtail soup. It took several hours to cook and the house smelled so good all day. Oxtails were cheaper back then and we had the soup often. Now, I almost look at oxtails as a splurge. Still, life is too short not to enjoy the things we love.
Oxtails can also be braised and stewed. They hold up well to pressure cooking, too, so they are great cooked in an Instant Pot. They just need the time or proper cooking method to get tender. The stock their long simmering produces is so tasty.
As a child, I thought oxtails came off of an ox. Seemed to make sense to me. I pictured a huge, almost feral beast. I was kind of sad to find out they were just another part of a cow.
Wherever they come from, oxtails are one of my favorite meats ever. This recipe is how my mom made the soup. You can tweak which veggies you add, depending on what you have around. Just be patient and let the soup simmer long enough for the oxtails to get tender and the stock to get filled with all that flavor. Enjoy!!
Oxtail Soup
5-7 lbs. Oxtails
6 qts. Water or beef stock* see note
2-3 small onions, peeled and halved
¼ c. chopped parsley, or to taste
handful of celery tops or two celery ribs
1 large tomato, or three small, fresh or canned, cut-up
4 large cabbage leaves
1 lb. carrots, peeled and trimmed, leave whole
3 cloves garlic, peeled
Salt and pepper to taste
Brown oxtails in soup pot in batches until browned. Add remaining ingredients, except carrots, to the pot with the oxtails. Simmer soup an hour, then add the carrots. Cook until meat is tender, about 2-3 hours longer. Remove meat and carrots from soup and strain stock. Return to kettle and skim off as much fat as you can. Adjust seasoning. Serve soup with cooked noodles and pieces of the carrots. You can eat the meat right off the bones, or remove some and dice it up to place in the soup. Makes 5-6 qts. Stock can be frozen and recipe can be halved.
Note: If you are using water, I would use Better Than Bouillon or another paste-type soup base to add extra flavor.
I got my Oxtails at Kocian Meats here in Cleveland. They were so well trimmed, I had very little fat in the stock. Thanks, Joe Kocian.
These are a fun appetizer to serve at parties. Sauerkraut balls are a mixture of sauerkraut, sausage, cream cheese and the ingredients you would see in traditional meatballs. These are not meatballs, though. They have a very different flavor and texture. The sauerkraut gives them a unique flavor. They are a big hit at parties.
I bake mine, but there are directions for baking or frying.
Enjoy!!
Sauerkraut Balls
1 pound pork sausage
1 small onion, minced
2 cups sauerkraut, well drained and finely chopped
3 T. bread crumbs
1 teaspoon whole grain or Dijon mustard
½ t. garlic powder
⅛ t. ground black pepper
4 ounces cream cheese, softened
¼ c. fresh chopped parsley
¼ cup all-purpose flour
1 large egg, beaten
¼ cup milk
¾ cup dry bread crumbs
1 quart vegetable oil for frying, or as needed (Optional)
Heat a large skillet over medium-high heat. Cook and stir sausage and onion in the hot skillet until sausage is crumbly and browned, about 10 minutes. Drain grease and allow to cool slightly. Transfer sausage mixture into a large bowl. Stir in drained sauerkraut, bread crumbs, mustard, garlic powder, and pepper. Combine cream cheese and parsley in a small bowl; mix into sauerkraut mixture. Cover and refrigerate for 1 hour or longer.
Place flour into a shallow bowl. Whisk together egg and milk in another bowl. Place 3/4 cup bread crumbs in a third bowl. Shape sauerkraut mixture into 3/4-inch balls. Coat balls in flour, then dip in egg mixture and roll in bread crumbs to thoroughly coat. Chill the balls for 30 minutes before cooking. You have two options at this point when it comes to cooking them. You can fry the sauerkraut balls or you can bake them.
To fry: Heat oil in a deep fryer to 375 degrees F (190 degrees C). Working in batches, fry balls in hot oil until golden brown, 2 to 3 minutes. Drain on a paper towel-lined plate and serve hot.
To bake them: Place on silicone lined or lightly greased baking sheet. Bake at 375 for about 20 minutes.
Note: I sprayed them with a little non- stick cooking spray or you can drizzle a little oil on them. You can also bake them as is. I like the finished texture better with a little oil added before baking. Serve hot. I like to serve them with honey mustard or barbecue sauce. Makes about 2½ dozen.
You can cook them ahead of time, then reheat before serving. To reheat, bake at 350 degrees F for 10-15 minutes.
After breading, the balls can be quick-frozen on a cookie sheet, then stored in freezer bags. They do not need to thaw before frying or baking. Add 8-10 minutes to baking time if using from the freezer.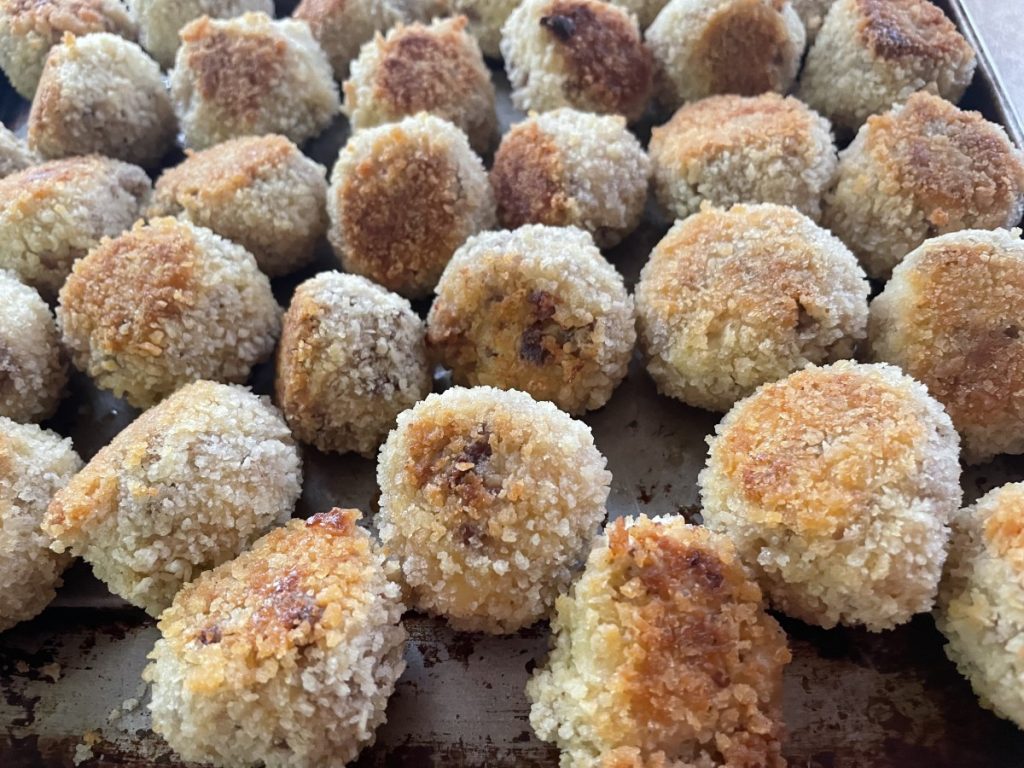 I have wonderful memories of my Aunt Josie making these for every family gathering. Aunt Josie cut the cake into squares. They were all perfectly even. I asked her how she did that. She told me that she used her cooling racks to get the lines even. She would set the cooling racks on her cake and use the wires as guides. So clever.
I never could seem to get them even, so I bake my cake in cupcake tins and call then snowballs. Whatever the shape, these little cakes are a favorite treat in my family.
In bakeries, you'll find them in squares or rectangles. She shared her recipe with me a long time ago, and I am sharing it with you.
You can bake the batter in mini muffin pans or standard muffin pans. It just depends on what size you want your snowballs to be. After the cupcakes are baked, freeze them. The frozen cakes are dipped in a chocolate sauce and then rolled in desiccated coconut.
Desiccated coconut is dried and unsweetened. It looks like coarse, white bread crumbs. You can find it in stores that carry baking supplies and at Asian markets. It is the same kind of coconut used to make coconut shrimp.
Here is the recipe for making the "snowballs". The recipe for the cupcakes is listed below, as well. I just doubled my classic white cupcake recipe, but you could use a box mix, if you prefer.
Aunt Josie's Coconut Cake Squares aka "Snowballs"
1 white cake, prepared and frozen solid* or cupcakes
Chocolate Sauce
1 c. unsweetened cocoa
1 1/4 c. sugar
2 c. water
1 t. vanilla

1 c. desiccated coconut (available at cake supply stores and some health food stores)
Cut frozen cake into small squares, or cake can be baked in regular or mini cupcake tins. Keep cake frozen until ready to use. Meanwhile, make the chocolate dipping sauce. Combine remaining ingredients, except coconut, in a medium saucepan. Bring to a boil then simmer 5 minutes. Remove from heat and cool completely.
Using toothpicks or fondue forks, dip frozen cake in sauce let drain a few seconds, then roll in the coconut. Can be enjoyed right away or frozen again for later use.
*If you make the cake in muffin tins you'll get 24 cupcakes or about 60 mini cupcakes.
Classic White Cupcakes
1 cup sugar
1/2 cup butter
2 eggs
2 teaspoons vanilla extract
1 1/2 cups all-purpose flour
1 3/4 teaspoons baking powder
1/2 cup milk
Preheat oven to 350 degrees. Line a muffin pan with 12paper liners. In a medium bowl, cream together the sugar and butter. Beat in the eggs, one at a time, then stir in the vanilla. Combine flour and baking powder, add to the creamed mixture and mix well. Finally stir in the milk until batter is smooth. Pour or spoon batter into the prepared pan. Bake 20 to 25 minutes. Cupcakes are done when they springs back to the touch. Makes 12.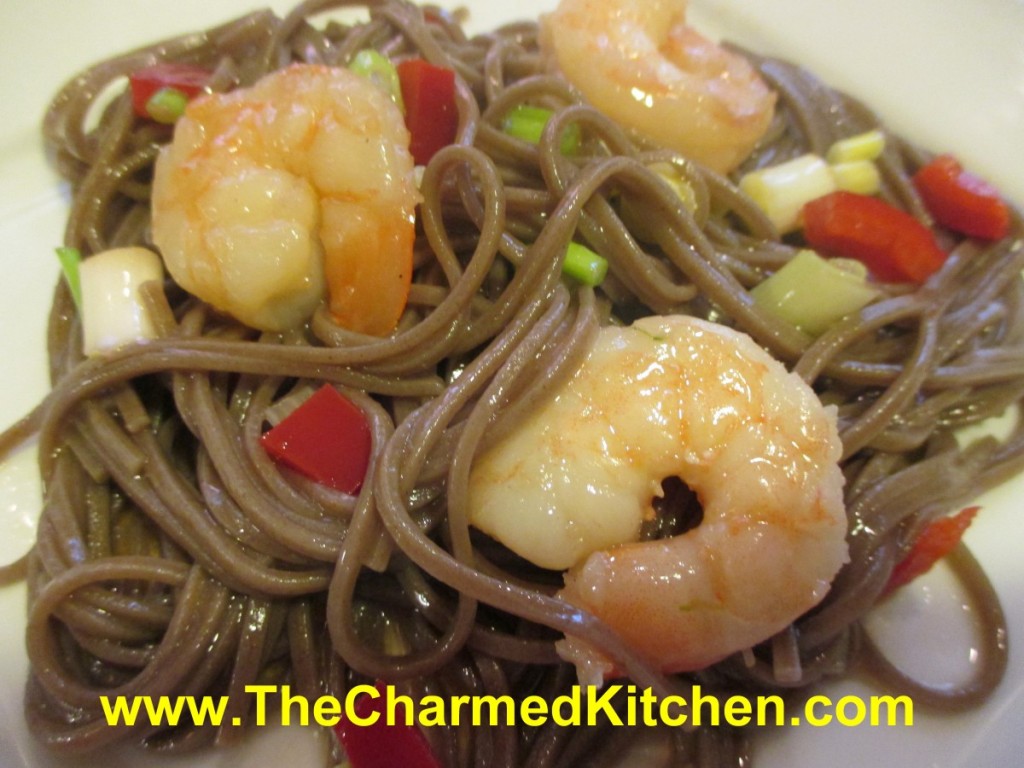 I eat salads all year round, even in winter. Whenever I make soba noodles, I wonder why I don't eat them more often. I really love their flavor.
Soba noodles are made from buckwheat flour. They have a wonderful, almost nutty flavor. I picked these up at a recent visit to the Asian market. You can find soba noodles in some grocery stores, too.
I have enjoyed soba noodles in cold salads, hot soups and stir fries. This time, I decided to use them in a salad that fell somewhere between hot and cold. It made a great meal for a winter afternoon.
Warm Shrimp and Soba Noodle Salad
12 oz. soba (buckwheat) noodles
1 lb. raw shrimp, shelled and de-veined
2 T. oil
2 cloves minced garlic
½ c. chopped sweet peppers
½ c. chopped green onions
Dressing:
¼ c. oil
2 T. Rice wine vinegar
1 t. sesame oil
1 t. soy sauce, or more to taste
1 t. hot sauce, or more to taste
1 t. ginger
In pot of boiling, salted water, cook noodles according to package directions. They only take a few minutes. Be careful not to overcook them. Drain and set aside. Heat a skillet and add the oil. Add the shrimp and garlic and stir fry until shrimp are just cooked through. Time will vary based on the size of the shrimp you are cooking. Place soba noodles in a bowl. Add the cooked shrimp and veggies. Make dressing by placing all dressing ingredients in a jar with a tight fitting lid. Shake until mixed well. Pour dressing over the noodle mixture and toss to coat evenly. Serve while still warm. Serves 4-5.
There is nothing better than the smell of fresh baked bread. This Swedish rye bread is a favorite of mine. It has a soft texture and makes great sandwiches. It also makes the house smell wonderful as it bakes.
The flavor in enhanced by a combination of caraway seeds and a little orange zest. It even makes wonderful French toast. My brother-in-law always said it was just like the bread his Swedish mother made.
It is not like rye breads you might traditionally think of. Limpa is lighter in color and texture. It makes really great French toast, too.
I shape mine in two round loaves, but you can also bake this bread in loaf pans, if you prefer. If you want to use it for sandwiches, the loaf pans are probably a good idea. You can also shape the dough into dinner rolls, if you like. You will get 2-3 dozen rolls out of this recipe, depending on how big you make your rolls.
Swedish Limpa
6 ½ c. flour
2 c. rye flour
¼ c. brown sugar
2 t. salt
2-t. caraway seeds
2 t. grated orange peel
2 pkt. Active dry yeast
2 T. butter, softened
2 2/3 c. hot water (125-130 degrees)
Set aside 1-cup flour. Mix remaining flours and other dry ingredients in a large bowl. Add butter and water to flour mixture and stir to blend. Mix in enough additional flour to make a soft dough. Knead on a floured surface until smooth about 8-10 minutes. Place dough in oiled bowl turning to oil top. Cover and let rest in a draft free area until doubled, about 30 –40 minutes. Punch down. Divide dough in half and form into 2 balls. Place on greased baking sheet and cover until doubled in bulk, about 30 –40 minutes. Bake in a preheated 400-degree oven for 30 minutes or until bread sounds hollow when tapped lightly. Makes 2 loaves.
Note: you can also divide the dough and place in 2 (9×5-inch) greased loaf pans.
Many years ago, my dear friend, Martha, got me to try Hot and Sour Soup. I have been in love with it ever since. I stock up on the ingredients when I am shopping at my local Asian grocery store. Since many of the ingredients are canned or dried, it is easy to keep them on hand. The soup itself does not take that long to make. You do need to soak the black mushrooms for a little while, but once they are ready, the soup comes together pretty quickly. The black mushrooms are available already sliced in thin strips. That is what I use. You can also find them dried whole. In that case, you would soak the mushrooms first, then slice them.
Feel free to play around with the additions. Sometimes I'll add some shredded nappa cabbage. I have also made a vegetarian version by using vegetable stock and omitting the sliced meat. It was still a very tasty bowl of soup.
You get plenty of heat from the white pepper, but you can add some hot sauce, if you like it hotter.
Hot and Sour Soup
5 c. chicken broth- or vegetable broth
2 c. pork, sliced in thin strips or you can use chicken or omit
1 T. soy sauce
¾ c. dried sliced Chinese black mushrooms, soaked 30 minutes in water and drained
1 can straw mushrooms, drained
1 c. sliced bamboo shoots – I use the braised ones in a can- nice flavor
1 can sliced water chestnuts, drained
10 oz. tofu, cubed
½ -1 t. white pepper
¼ c. cider vinegar
4 T. cornstarch mixed with 1/4 c. water*
2 beaten eggs
Sesame oil
1 green onion, sliced thin, or chives
Combine broth with pork, soy sauce, mushrooms, bamboo shoots and water chestnuts in pot and simmer 10 minutes. Add tofu, pepper, vinegar and cornstarch mixture and bring to a boil. As soup thickens and clears pour egg in slowly. Remove from heat; stir in a little oil and onions and serve.
Serves 4.
Note: For extra heat you can add hot sauce to taste.
* I use a type of cornstarch called Clear Gel. It remains thick, even after reheating. You can find it in Amish stores and on line.
Lo Mein is an easy dish to prepare and everyone seems to love it. I used cooked chicken in this one, but pork works great. too. The real trick is to not overcook the very fine pasta traditionally used in lo mein. Follow package directions, but cook a little under done. That way, when you mix all the hot ingredients together, the noodles get a chance to soak up all those flavors and not get mushy.
Chicken Lo Mein
1 onion, chopped
2 T. oil
1 can sliced water chestnuts, drained
1/2 c. green peas- you could also use green beans
2 c. diced cooked chicken- pork works too
8 oz. angel hair pasta -I use a very fine noodle I get at the Asian market
soy sauce to taste
Hoisen sauce or oyster sauce to taste- you could also use stir-fry sauce
sesame oil
chopped green onions
Heat water for pasta. Heat oil in skillet and cook onion until browned. Add water chestnuts and cook 1 minute longer. While onion is cooking, cook pasta. Add peas to onion mixture and stir to combine. Add the chicken and heat through.  Drain pasta and toss into chicken mixture. Season with soy sauce and what ever Asian sauce you have on hand. Drizzle with sesame oil and top with green onions. Serves 4.
I have to admit to loving all things sweet and sour. It takes a bit of work- but it is worth the effort. I used a fresh pineapple, which I prefer, but canned pineapple could be used, too. You can buy sweet and sour sauce in most grocery stores, but I like my own better.
Make the sauce first, so you can just toss it over the pork and veggies when ready to serve.
The pork is cubed and marinated overnight in a mixture of soy sauce, cornstarch and an egg. The pork comes out very tender, when prepared this way. You could substitute cubed chicken, for the pork, if you prefer.
Sweet and Sour Pork
1-2 lbs. boneless pork
1 egg
1 t. cornstarch
2 t. soy sauce
Additional cornstarch for dredging
oil for frying
1 medium onion, chopped
1 sweet red or yellow pepper, seeded and chopped
2 cups peeled and cubed fresh pineapple, or 1 can pineapple in juice, drained, reserving juice for sauce
Sweet and Sour Sauce, recipe follows
Chopped green onions
Cut meat into cubes and place in bowl. Combine egg, 1-t. cornstarch and soy sauce and pour over the meat, stirring to coat. Allow marinating at least 1 hour in fridge, but best if done the day before, or early in the day.
When ready to cook, heat 1-2 inches of oil in a medium sauce pan to 350 degrees. Dredge the pork in corn starch to coat. Set aside. Heat 1T. oil in large skillet or wok. In wok, sauté onions on high until tender. While you are cooking the onions and other vegetables, start cooking the cubed pork in the sauce pan in the 1-2 inches of hot oil. It will take several batches to cook the pork. As the pork cooks- it will take about three minutes per batch- remove the pork from the pan and drain on paper towels. Continue to cook the pork in batches while finishing the veggies and pineapple in the wok. Add pepper to onion and sauté 3 minutes more. Add pineapple and cook until pineapple starts to brown a little. Add the cooked pork to the onion mixture. Then and some of the sweet and sour sauce and toss until coated. There is usually extra sauce for a later use. Serve over rice, and top with some green onions. Makes 4-6 servings.
Sweet and Sour Sauce- see note
1/2 c. apple cider vinegar
1/2 c. sugar
1/2 c. pineapple juice
3 T. ketchup
2 T. soy sauce
2 T. cornstarch
1 t. dried minced garlic
1-t. fresh grated ginger
Hot pepper flakes to taste
In saucepan combine all ingredients. Cook over medium heat, stirring as mixture gets hot, until sauce begins to bubble. It will also get much clearer. Boil gently 1 minute, stirring constantly before removing You may also want to use only some of the sauce and save the rest for another use.from heat. Makes 1 1/2 c. Keeps in the fridge for a couple of weeks.
Note: If you make the sweet and sour sauce ahead of time it will get runny when reheated if made with regular cornstarch. Either use modified cornstarch (Clear Gel ) or make sauce just before using.
This might not be what comes to mind when you think fried rice. I love fried rice from the local Chinese restaurant, but I like this recipe so much better.
For starters, it is made with brown rice, which I really prefer. It also has a lot more veggies in it than more traditional fried rice. The additional veggies add a lot of flavor and texture and also makes it a pretty dish. It also doesn't use all that much oil for frying.
I make it often, swapping out veggies based on what I have, and what is in season. 
Be sure to use cold rice. I always cook the rice the day before, or earlier in the day. It fries up better that way.
Fried Brown Rice with Vegetables
3 T. oil
1 c. thinly sliced carrots
1 onion, sliced thin
1 clove minced garlic
1 large sweet pepper, seeded and sliced thin
1 c. thin sliced zucchini
1 c. sliced mushrooms
1 T. water, optional
2 c. green beans, sliced or pea pods, washed and trimmed
1 c. cold cooked brown rice
4 T. soy sauce
chopped green onion, optional
Place wok over high heat. Add oil when wok is hot. Add carrots and stir-fry 1 minute. Add onion, garlic and pepper and stir-fry 1 minute more. Add zucchini, mushrooms and beans or peas, stir-frying until vegetables are tender crisp, about 2-3 minutes more, adding water if needed. If needed, add extra oil as well. Add rice and stir-fry until just heated through. Add soy sauce and top with onions if you like. Serves 6.