Since I posted the recipe for making your own apple pie filling recently, I thought I'd share a fun way to use it- other than in a pie. I made blintzes with the pie filling.
I used flour tortillas for the crepes. Don't get me wrong, I love making real crepes. But, when you don't have the time, the tortillas are a fun and tasty substitute.
I soaked the tortillas in milk. By soaking the tortillas in milk, they soften up, and can be used like a crepe. Soak them for at least 10 minutes, or up to 30 minutes. I placed the tortillas in a shallow baking pan and made sure to drizzle each one with milk as I added them to the pan.
Apple Pie Blintzes
10-12 flour tortillas
1/2 c. milk
2 c. apple pie filling
3-4 T. butter
Powdered sugar or cinnamon sugar, for topping the blintzes
For the filling, I used some of my homemade apple pie filling. If you have fresh apples, you can just peel and slice the apples, then cook them in a little water and sugar until softened. You can make them as sweet as you like. You made need less sugar if the apples are extra sweet. Add some cinnamon and nutmeg, too. If they are too watery- combine a little cornstarch with cold water and drizzle the mixture in until the apples thicken up. Don't add too quickly or you might them too thick and gummy.
Place tortillas in a shallow pan, drizzling with a little milk as you go. Set aside for a few minutes, so the tortillas will soften.
To assemble the blintzes, place a softened tortilla on your work surface and spoon a little apple filling in the middle. You can do this with hot filling, but cold or room temperature filling is easier to use. Don't over fill them or you won't be able to fold them up. I used 8-inch tortillas and used about 1/3 cup of filling for each one. Fold the sides in until they almost meet in the middle and them roll the tortilla up to cover the filling. Place seam side down until ready to fry them.
Heat butter in a skillet, and brown the blintzes over medium heat until lightly toasted on both sides. They will be crispy on the outside, but tender in the middle. Put on a serving plate, sprinkle with powdered sugar and serve while warm. These are fine just as they are, but feel free to add ice cream or whipped cream, too.
My guests really liked them and said they did not realize they were made from tortillas. I have made these before and use different fruit fillings. I've even made a cheese filled version a few times. It seems I usually have a package of tortillas, so it is a go-to dessert for me in a pinch.
Winter squash season is here, and I could not be happier. I love the variety of squash (and pumpkin) at the markets this time of year. They are both beautiful and tasty.
This dish is a combination of butternut squash with onions, garlic, carrots, and finished off with black sesame seeds. It makes a great, seasonal side dish. Might also be a fun dish for Halloween, because of the colors.
I used butternut squash, but you could use any number of hard squashes, or even pumpkin. If you are looking for a different way to cook some of those squash- try this dish. I think you might be surprised at just how good it is.
When cutting up hard squashes, you have to be careful not to cut yourself. A round, hard squash, with a tough outer skin can be a recipe for disaster. I trim a small slice off one end of my squash, creating a flat side. Then I lay it down on that side, to make it more stable for cutting. With the butternut, once it was sliced on one side, I was able to cut in in half pretty easily.
To peel a hard squash, so you can cut it into cubes, use a vegetable peeler to remove the skin. You will need to run the peeler over the skin a few times to get off all of it. Then cut into cubes.
Butternut Squash Sauté
3 tablespoons olive oil
1/2 cup chopped onion
1 teaspoon minced garlic
4 cups cubed fresh butternut, acorn or Hubbard squash or pumpkin
1/2 cup grated carrot
2 tablespoons soy sauce
1 teaspoon salt
1 teaspoon ground black pepper
2 teaspoons black sesame seeds, or a bit more
Heat the oil in a large skillet. Add the onion and garlic; cook and stir until the onions begin to brown. Stir in the squash, carrot, soy sauce, salt, and pepper; cook, covered, another 5 to 7 minutes, until squash is tender. Sprinkle with sesame seeds before serving.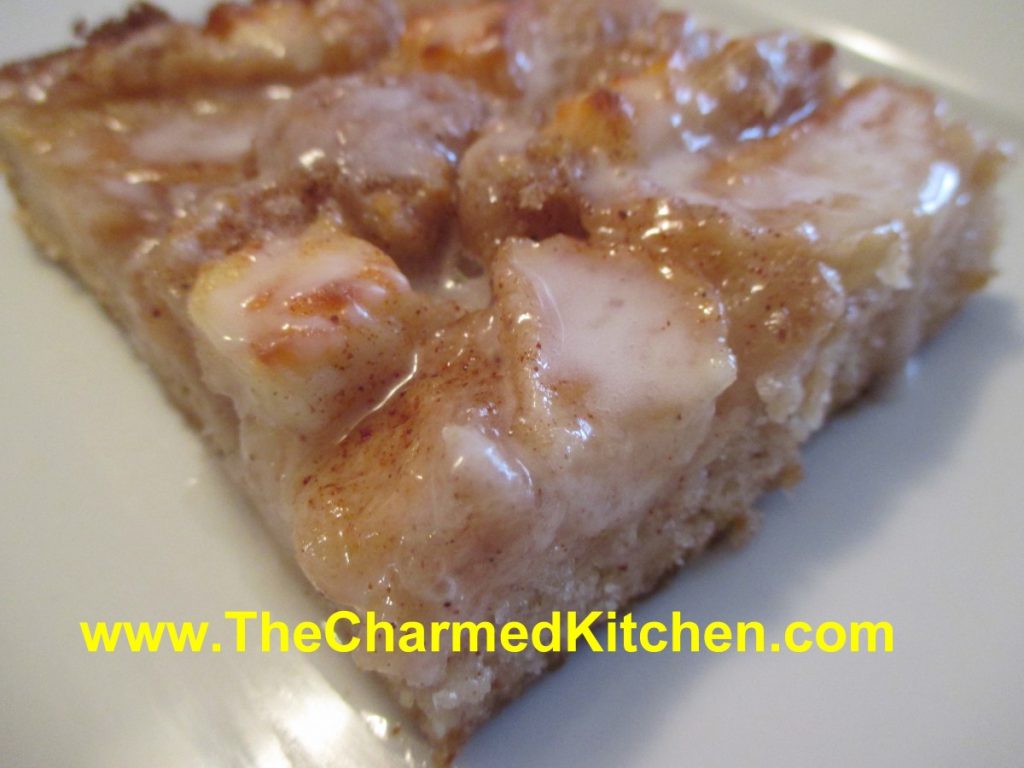 This pear-studded cake is perfect to have with that morning cup of coffee- or for dessert. The tender cake is topped with chopped pears, cubes of cream cheese, cinnamon sugar and a vanilla glaze. The taste is amazing.
I used Bartlett pears, but any ripe pear would work.
I will say up front, that this is not the prettiest cake out there. It comes out of the oven kind of lumpy, from all those pears and the tiny cubes of cream cheese. Once you top it with the cinnamon sugar, and later the glaze, it looks a lot better.
It is one of the tastiest cakes, though, and isn't that what's important?
So if you want to enjoy one of my favorite Autumn fruits in a new way- try making this simple, tasty pear coffeecake. I don't think you will be disappointed.
Cinnamon Pear Coffeecake
1 stick (½ cup) butter
1 egg, lightly beaten
1 c. half and half
1 c. all-purpose flour
1 c. sugar
2 t. baking powder
2 t. cinnamon
1 t. vanilla
½ t. salt
2 lbs. pears, about 4 large, cored, peeled and sliced *
8 oz. cream cheese, cut in small pieces
Topping
3 T. cinnamon sugar
Glaze:
½ c. powdered sugar
1-2 T. milk
½ t. vanilla
Preheat oven to 350 degrees. Melt butter and pour into a 9-by-13-inch glass baking dish. In a small bowl, mix together the egg, half and half, flour, sugar, baking powder, cinnamon, vanilla and salt. Pour directly over the butter in the baking dish, but do not stir. Drain pears well. Add the pears, arranging in a single layer as much as possible. Sprinkle cream cheese pieces over fruit. Place in preheated oven and bake for 45 minutes, or until top is golden brown and edges are bubbling. When you remove the cake from the oven, sprinkle with the cinnamon sugar. Set cake aside to cool. Make glaze by combining glaze ingredients. Add just enough milk for a nice consistency for drizzling. Drizzle over cooled cake. Store leftovers in fridge. Serves 12.
* To keep pears from discoloring place in a bowl with 2 cups of water and 2 tablespoons lemon juice
Fall is the time for cooking with pumpkin and other winter squash. I make plenty of pumpkin bread, pumpkin cake, pumpkin soup, and so on. I often am actually using butternut or Hubbard squash in place of the pumpkin.
This was the case with this soup. I have made it with pumpkin before, but this time I had a butternut squash, so that is what I used. Many winter squash can be used in place of pumpkin in cooking.
After cooking up one of my butternut squash, I was looking for a way to use some of it in a soup. I decided to use the squash as a filling for ravioli, then just put the ravioli in the soup.
I played with the spices and added some butter to the filling, too. It needed that extra bit of fat for flavor. It worked well. I just cooked the ravioli right in the soup, but you could cook and eat the ravioli without soup at all.
If you want the ravioli without the soup, you would cook the ravioli in water. Once they are tender, drain and top with the sauce of your choice. I like brown butter with a little sage, but even a red sauce would be nice with these ravioli. Here is the recipe- for both the ravioli and the soup.
"Pumpkin" Ravioli Soup
Ravioli:
24 round won ton/dumpling wrappers
Filling:
1 cup cooked pumpkin or winter squash
2 T. softened butter
1 T. chopped parsley
1 t. paprika
1 t. nutmeg
½ t. garlic powder
Salt and pepper to taste
Pinch of cayenne
Soup:
2 T. oil or butter
2 onions, peeled and sliced
6 c. stock- chicken or veggie
3-4 carrots, peeled and sliced
2-3 c. thinly sliced collard greens
Salt and pepper
Dash of hot sauce
Fresh chopped parsley
Combine ravioli filling. Adjust seasonings. Place a rounded tablespoonful of filling on one of the wrappers. Dampen edges with water and place another wrapper on top. Seal, pressing out as much air as possible. Continue with remaining filling and wrappers- you should have 12 raviolis in all. Set aside while making the soup.
Heat oil or butter in a pot and add the onions. Cook until onions are tender. Add stock and bring to a boil. Add carrots and collards and cook until veggies are tender. Add seasonings and bring soup to a boil. Add the raviolis and let the soup simmer gently until they are cooked- about 4 minutes. Stir a little to keep them from sticking, but gently. They get a lot bigger and are sort of delicate. Transfer gently with a large spoon to soup bowls and ladle over the soup. Serves 4- 6.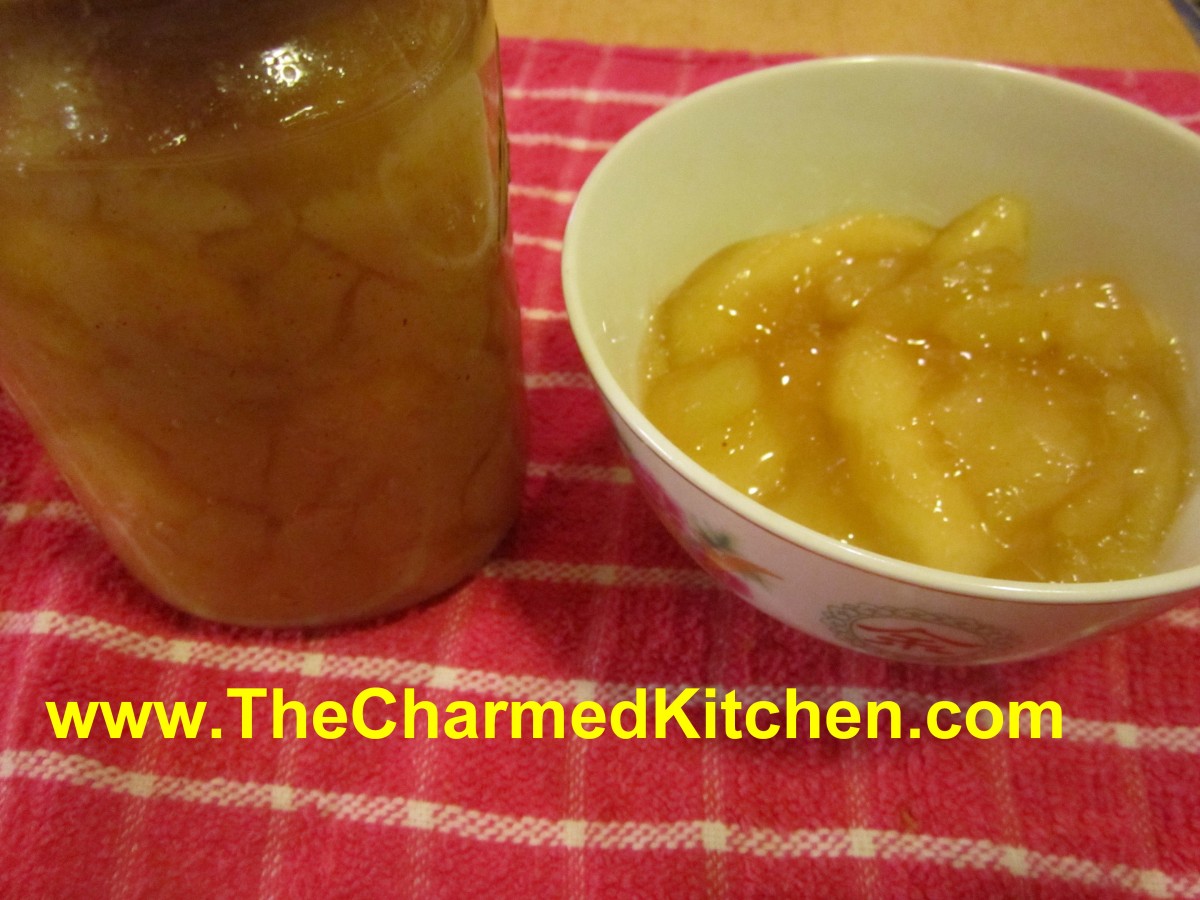 While I think the best pie is made with fresh apples, I also like making and canning my own apple pie filling. It is a handy way for me to enjoy local apples throughout the year. It is also a whole lot better than any commercial pie filling I have tried. Loaded with plenty of big chunks of apples and seasoned with cinnamon and nutmeg- I think it the next best thing to fresh apples for baking.
I am picking up a couple of bushels of apples this weekend, so I know I will be using some of them to make pie filling.
I use my canned pie filling  to make pies, but I also use it for kolachy, blintzes, cakes and more.
The hard part, for some, is getting a hold of Clear Gel. It is a special type of modified cornstarch. I buy mine online, but you can find it in stores where the Amish shop. Clear Gel stays thick, even if it is reheated. Regular cornstarch will not. Don't use Instant Clear Gel, either.
Here is the recipe I use. You can tweak the seasonings to suit your own taste, but keep in mind that spices sometimes get stronger when canned, so don't go too crazy!!
Apple Pie Filling
6 qts. apples, sliced and blanched
5 1/2 c. sugar
1 1/2 c. Clear Gel- modified cornstarch available on line and in Amish stores
1 T. cinnamon
1 t. nutmeg
2 1/2 c. cold water
5 c. apple juice
3/4 c. lemon juice
If apples lack tartness use an additional 1/4 cup of lemon juice. Wash, peel and core apples and cut into 1/2 thick slices. Place in water treated with either lemon juice, citric acid or ascorbic acid to prevent darkening. Remove from solution and drain well. Blanch in boiling water- 2 quarts at a time- for 1 minute. As you finish each batch place in a bowl and cover to keep warm. In large pot combine sugar, Clear Gel, cinnamon, nutmeg, water and apple juice. Stir over medium heat until mixture begins to bubble and thicken. Add lemon juice and boil 1 minute. Add drained apples and stir gently to combine. Ladle into hot, clean jars leaving 1 1/2 inches of headspace. Remove air bubbles. Wipe rims and adjust lids. Process in a boiling water bath- pints or quarts for 25 minutes. After the time is up, turn off canner and let jars sit in water bath for 5 minutes before removing. This will reduce the chance of siphoning. Makes 7 quarts or 14 pints.
For only 1 quart
3 1/2 c.apples
3/4 plus 2 T. sugar
1/4 c. Clear Gel
1/2 t. cinnamon
1/8 t. nutmeg
1/2 c. cold water
3/4 c. apple juice
2 T. lemon juice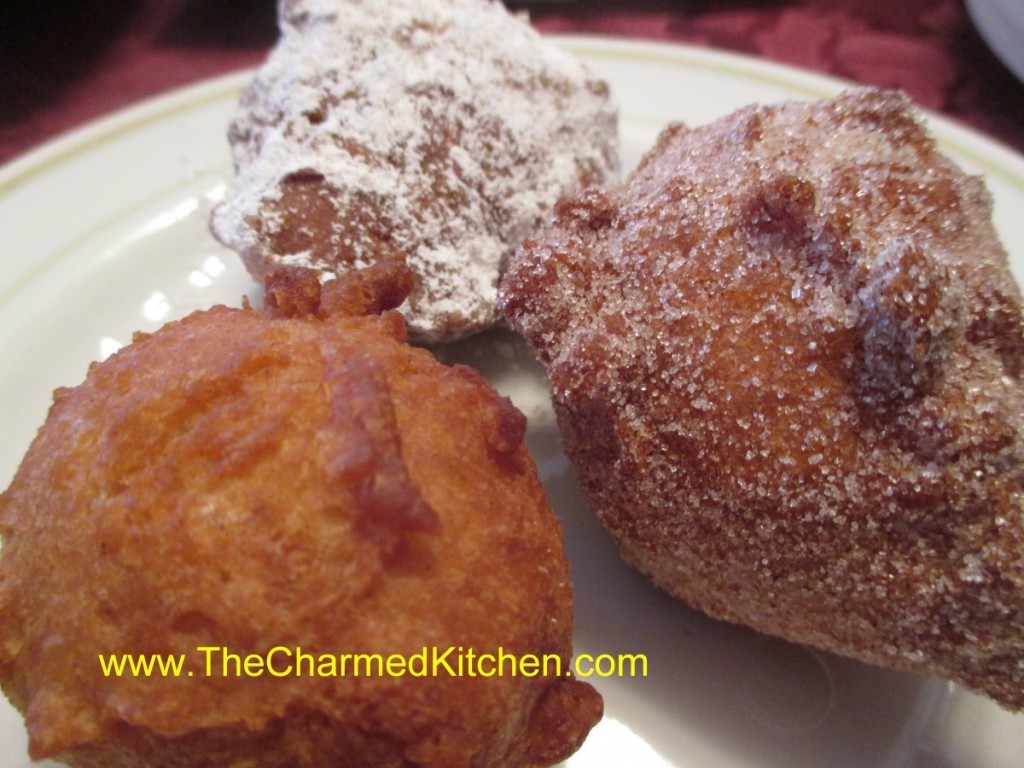 I love apple season. Besides eating them fresh, I enjoy cooking with apples. One of my favorite apple dishes is apple fritters.
Fritters are similar to doughnuts. Rather than being made from a dough that is rolled and cut, like doughnuts, fritters are made from a batter. The fritter batter is spooned into oil for frying. They are actually very easy to make.
Good fritters are light and airy inside, with a crisp outside. These are very good fritters. These fritters have diced apples and cinnamon in the batter and cook up tender and light. Fritters are good plain, but can be rolled in powdered sugar, cinnamon sugar or drizzled with a powdered sugar glaze. Unlike a lot of the giant-sized fritters I see at local orchards and farm markets this time of year, these fritters are smaller. Only a few bites each. I actually prefer that.
So enjoy one of my favorite recipes of the season, and make yourself some fritters.
Apple Fritters
2 c. flour
2 T. sugar
2 T. baking powder
1 T. cinnamon
1/2 t. salt
1 c. milk
2 eggs, beaten
2 T. melted butter
1 c. diced apples
oil for frying
Combine dry ingredients and set aside. Mix together milk with the eggs and butter. Stir in dry ingredients until just moistened and add the apples. Heat oil to 375. If using gluten-free flour heat oil to 350. Drop dough by tablespoonfuls into the hot oil and fry until golden brown. Don't do more than 4-5 at a time. It will take about  4 minutes in total but you need to turn them to brown evenly so 2 minutes per side. Drain on paper towels. While warm roll in powdered sugar, cinnamon sugar, or drizzle with a powdered sugar glaze. Makes about 32.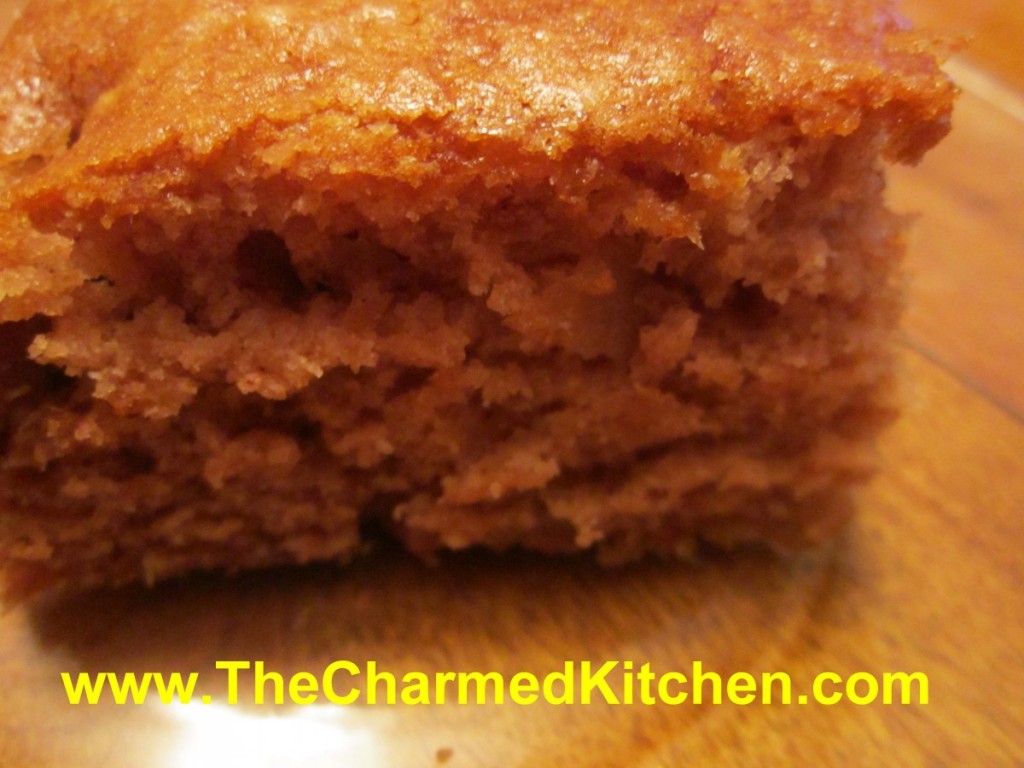 You don't have to limit yourself to just eating applesauce. You can also bake with it.  This cake is a fun way to eat applesauce, using homemade or store-bought. This cake is so simple to make and very tasty, too.
I used butter in the recipe, but if you used coconut oil instead, the recipe would be vegan. The spices work so well together. Sometimes simple is the best. Before someone asks, it is not a misprint, there are no eggs in the recipe.
I wish I remembered where this recipe came from. I have a piece of flowered stationery, a little crinkled around the edges, creased from being folded many times, with the recipe written on it. It is not my handwriting. I would love to credit the source of this wonderful recipe.
Spiced Applesauce Cake
2 c. unsweetened applesauce
½ c. butter
2 c. sugar
3 c. flour
1 T. baking soda
½ t. salt
1 t. each cinnamon, allspice and nutmeg
¼ t. cloves
1 c. raisins or chopped nuts
Heat together applesauce and butter until butter melts. Cool down a bit. Preheat oven 375 and grease 9×13-inch pan. Stir all ingredients together bake 30 minutes. Cool in pan.
Made this for breakfast this morning. A friend was coming over and wanted to make something special. I was so pleased she and her sweet dog were stopping by. I wanted food I could prep ahead and then just warm up. I also wanted something autumnal. It is the beginning of October, after all.
The Stuffed French Toast is one of my favorite breakfast/brunch dishes. You can make it and serve it right away. It can also be made ahead and just reheated. The apple compote can also be made ahead and warmed up when you are ready to eat. I prefer when I can get things done ahead for breakfast. I am not always the peppiest person in the morning.
The compote could also be made with pears or a combination of apples and pears.
Stuffed French Toast
1 (8 oz.) package cream cheese, softened
1 t. vanilla
½ c. chopped nuts- I used slivered almonds
1 16-oz. loaf French bread
4 eggs
1 c. whipping cream or half and half
1/2 t. vanilla
½ t. nutmeg
Mix together cream cheese, vanilla and nuts. Set aside. Cut bread into 10-12 1½-inch slices. Cut pocket in each slice and fill with 1½ T. filling. Combine eggs and whipping cream with remaining vanilla and nutmeg. Use tongs to dip the bread, taking care not to squeeze out the filling. Cook toast on lightly greased griddle until browned on both sides. Keep toast warm in oven until ready to serve. Makes 10-12 slices.
Apple Compote
4-5 apples
½ c. honey
¼ c. brown sugar
¼ c. butter
3 T. lemon juice
1-2 t. cinnamon
1 t. vanilla
Pinch of salt
Peel, core, and slice apples. Place apples in a bowl of water with a little lemon juice in it, to keep them from discoloring. Once apples are all sliced, drain and place in a skillet with the remaining ingredients. Heat over medium-high heat until apples are tender and sauce has thickened. Stir occasionally to prevent sticking. Serve warm with the French toast. The compote can be served over cake, waffles or with ice cream.
I love homemade applesauce so much better than anything I can buy at the store. It really is easy to make.
There is some disagreement about whether or not you have to peel your apples before making applesauce. It is a personal choice. You can cut up your apples without peeling them, if you are running them through a food mill. The food mill will remove the skins. If you use red-skinned apples, the skins will give your sauce a rosy tint.
I actually peeled my apples, mostly because I knew I was not using a food mill, but was using an immersion blender to make my sauce smooth. Either method is fine.
Sweetening is also a personal choice. You can leave your applesauce unsweetened, if you like. I normally use sweet apples for my sauce, so I don't need a lot of sugar. Plus, I'll let you in on a little secret. You need some water to help cook down the apples and keep them from sticking to the pot. Instead of water, I use apple juice or cider. It adds natural sweetness to the applesauce and a more intense apple flavor.
You can also add a couple of cinnamon sticks to the batch- don't forget to remove them before processing.
Home Canned Applesauce
12 lbs. apples, I used Melrose and Mutsu
Water*
2-3 cinnamon sticks, optional
4 T. lemon juice
sugar to taste
Peel and core apples. Put in water with some ascorbic acid, citric acid or lemon juice to prevent discoloration. Place apples in a pot with enough water* to prevent sticking. Add the cinnamon sticks, if using, and lemon juice. Cook over medium high heat until soft. Time will vary depending on the type of apples you are using, and how large the apples are. Turn off the heat and remove cinnamon sticks. I wanted smooth applesauce, so I used an immersion blender. Return apple mixture to a boil. Sweeten with sugar, if you like, or leave unsweetened. Have water bath full of boiling water and have hot, clean canning jars and lids and rings ready. Ladle hot applesauce into hot jars, leaving 1/2 inch of headspace. Wipe rims and apply lids. Process in a boiling water bath for 20 minutes for pints or quarts. Turn off heat and let jars stand in water bath 5 minutes before removing. Set in a draft free area to cool down. Yield: 4 quarts or 8 pints.
*rather than add water, to prevent the apples from sticking, you can use cider or apple juice instead.
Honey has been a favorite sweetener since prehistoric times and still has advantages over sugar even today. Honey is composed of two simple sugars, glucose and fructose. Honey is absorbed in a different manner and therefore causes a slower, more gradual rise in blood sugar. Because honey has a slightly higher percentage of fructose than sugar, it tastes sweeter, and less is required for equal sweetness.
Honey contains small amounts of numerous vitamins and minerals, but not enough to fulfill any of the body's daily needs. Remember that honey does contain calories, cannot be used freely by a diabetic and is not recommended for infant formulas.
The flavor, aroma and color of honey vary with the kind of flowers from which the bees gather the nectar used to make the honey. The fructose gives honey its sweet flavor, and the nectar adds the characteristic taste of the floral source to your recipes. Generally, the lighter the honey, the milder the flavor. If a stronger flavor is desired for your recipe, use a darker, stronger flavored honey; if a more delicate flavor is desired, use a lighter, milder flavored honey.
Honey can easily be substituted for sugar. Due to honey's ability to retain water, products made with honey tend to remain moister longer than similar products made with sugar or other sweeteners.
Some minor adjustments may need to be made to a recipe when substituting honey for sugar:
Use equal amounts of honey for sugar up to one cup. Over one cup, replace each cup of sugar with 2/3 to 3/4 cup over honey depending upon the sweetness desired.
Lower the baking temperature 25 degrees and watch your time carefully since products with honey brown faster.
In recipes using more than one cup honey for sugar, it may be necessary to reduce liquids by 1/4 cup per cup of honey.
In baked goods, add 1/4 teaspoon of baking soda per cup of honey if baking soda is not already included in the recipe. This will reduce the acidity of the honey, as well as increase the volume of your product.
Moisten a measuring spoon or cup first with water, oil, or an egg before measuring the honey to prevent it from sticking to the measuring utensil. Honey is heavy by weight. A 12 ounce jar equals one standard 8 ounce cup. A quart weighs 3 pounds.
Honey Saves the Day
When you are melting chocolate, it will sometimes seize. This normally happens when liquid gets in the melted chocolate. That's why you have to be careful when using a double boiler. A few drops of water can spell disaster. It becomes grainy and hard and usually just gets tossed out. But, if you add a little honey to the chocolate and stir it in gently the chocolate softens and can still be used!!!!
Mom's Cold Remedy
When I was a kid I remember my mother making her all-purpose combination for making her feel better, if she had a cold or sore throat. She would mix equal parts of honey, whiskey and lemon juice. She said the secret was just to take small sips throughout the day. Not sure if it really helped, but you certainly felt better if you sipped it all day!! For a non-alcohol version try equal parts honey, lemon juice and apple cider vinegar.
Homemade Granola
3 c. rolled oats
1/4 -1/2 c. each of any of the following to equal 1-2 c. total
Sesame seeds, sunflower seeds, chia seeds, wheat germ, peanuts, pecans, almonds, hazel nuts, pumpkin seeds, walnuts, coconut… you get the idea. Don't forget to chop up any big pieces.
1 t. cinnamon
1 t. orange peel
1/2 t. nutmeg
pinch of salt, optional
1/4 c. oil
1/4 c. honey- or add a little more if you like a sweeter granola
2 t. vanilla
Dried fruit to equal 1 -1 1/2 cups. Some choices could include: raisins, dried cranberries, cherries, pineapple, dates, figs, apricots, bananas, blueberries etc.
In large bowl combine oats with seeds and nuts and toss well with seasonings. Heat together oil, honey and vanilla and pour over oat mixture, tossing to coat evenly. Spread on a cookie sheet and bake in a 300-degree oven for 30 minutes. Halfway through the baking time stir mixture so the edges won't burn. Remove from oven and return to large bowl. Toss with the dried fruit and allow to cool before storing in an airtight container in a cool, dry place. Use in 1 month or store in freezer or fridge to keep longer. Makes 5-7 cups.
Honey Date Nut Bread
3/4 c. boiling water
1 c. pitted whole dates, chopped
1 egg
1 c. honey
1 T. butter, melted
1 t. vanilla
2 c. flour
1 t. baking soda
1/2 t. salt
1 c. chopped nuts
In small bowl pour water over dates and let stand until cool. Do not drain. You can do this early in the day or day ahead and refrigerate until ready to use. In small bowl beat eggs until lemon-colored, about 2 minutes. Beat in honey, butter and vanilla. Stir in dates and water. Combine dry ingredients and add to batter until smooth. Stir in nuts. Pour batter into 2 7×3-inch greased loaf pans or 1 9×5-inch greased loaf pan. Bake in preheated 350-degree oven 50 minutes for small pans and 65 minutes for large. Test for doneness with a toothpick. Cool in pan 10 minutes then turn out of pan and cool on wire rack. Makes 2 small or 1 large loaf.
Honey Cake
1 3/4 c. flour
1 t. cinnamon
3/4 t. each baking soda and salt
1/2 t. ground ginger
1 c. honey
2/3 c. oil
1/2 c. strongly brewed fresh coffee
2 large eggs
1/4 c. packed brown sugar
1T. whiskey or Bourbon
Preheat oven to 350. Grease a 9×5-inch loaf pan and set aside. Whisk together dry ingredients and set aside. Whisk together the honey, oil and coffee and set aside. In mixing bowl beat eggs and brown sugar together for 3 minutes. Beat in honey mixture and whiskey until well blended, about 1 minute. Using a rubber scraper stir in flour mixture until just combined. Pour batter into prepared pan and bake 30 minutes. Cover pan with foil and continue baking until cake starts to pull away from the sides of the pan and wooden pick inserted in center comes out clean about another 30 minutes. Cool on a rack for 1 hour before running a knife around the sides of the cake to loosen. Invert onto a rack then place upright to continue cooling. Serves 8-10.
Honey Ginger Cough Drops
½ c. honey
2 T. lemon juice
1 t. freshly grated ginger root
Optional for dusting: ¼ cup powdered sugar and 1 t. powdered vitamin C
Kitchen items you will need: a candy thermometer, a candy mold with small openings. You can make the cough drops without the mold; oil a piece of parchment paper and pour the candy onto it. Let it harden, and then break it up into small pieces.
Measure the honey, lemon juice, and grated ginger and pour it all into a saucepan.
With a wire whisk, stir the mixture as it heats to a boil. It will become foamy and start to climb up the sides of the pan, remove it from the heat and continue to whisk it until the foam reduces and then put it back over the heat. Repeat this until a candy thermometer reads 300 degrees. You will want to check frequently because the honey heats fast and scorches easily!
If you don't have a candy thermometer, you can also test for readiness this way. Drop a bit of the mixture into a glass of ice water (or, dip a spoon into the mixture and then quickly dip it into the ice water). If the mixture forms a hard, crunchy ball, it's ready! If not, keep up with the whisking and heating and try again in a minute or so. Once a hard ball forms in the ice water, you're good to go!
Let the mixture cool until the foam has reduced. Then, very carefully, drizzle the candy into the mold (or onto the oiled parchment paper). Let it cool at room temp until the cough drops are hard. When they are hard, press on the back of the mold to release. Or, if you're not using a mold, break the cough drops up into pieces.
Optional (to prevent sticking): In a small bowl, mix the powdered sugar with the vitamin C powder. Drop the finished cough drops into the mixture to coat. Pour the sugar and cough drops into a sieve and sift to remove extra sugar. Store in an airtight container. These actually do better in the fridge, as they attract moisture and tend to get sticky if left out.