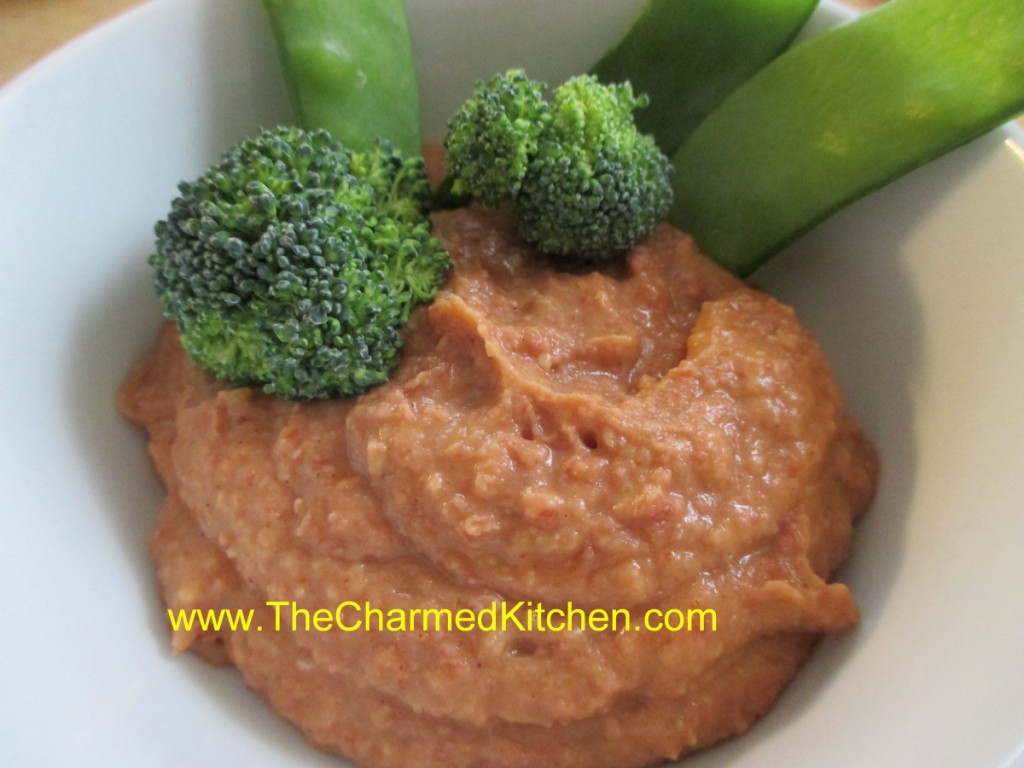 If you only use bean dip as an appetizer you are really missing out. Bean dip is often served with chips and veggies and it is always a hit. But, it can be used for a lot more than that.
Certainly in other Tex-Mex dishes like burritos or enchiladas.  I like to spread it on fresh tortillas and top with cheese, chopped peppers, onions and olives- then bake until hot and cheese has melted. It can also be spread inside pita bread and then the bread filled with sprouts or sliced veggies for a quick sandwich. You can also add the bean dip to hot cooked veggies like corn, green beans, or carrots, in place of, or in addition to, the butter. It also can be added to stir-fries for extra flavor or to soup as a thickener. I sometimes add it to chili, too. I often make a big batch and freeze some for later use.
Bean Dip
2 cans kidney beans, drained and rinsed – you can use other beans
1 c. salsa, store bought or homemade
¼ c. olive oil
2 T. cider vinegar
2 t. chili powder
1 t. cumin
Healthy dash of hot sauce
Salt and pepper to taste
In food processor blend all ingredients until smooth. I usually start the beans first for 30 seconds or so and then add everything else. If you want it thinner you can add some extra oil. Makes 3 cups. Freezes well.
I needed a recipe using pesto sauce for a recent program. I didn't want to just toss it in pasta, so I decided to make a cheese ball. With the holidays coming up, it seemed like a good idea to make an appetizer. It came out really well. I used homemade pesto, made from frozen basil and oil.
This recipe is great when you want something that is quick to make. It tastes great, too.
Pesto Cheese Ball
8 oz. softened cream cheese
½ c. prepared pesto- recipe follows
½ c. chopped nuts, sunflower seeds or pine nuts
Combine cream cheese with pesto, stirring until well mixed. Form mixture into a ball shape and rolls in the nuts or seeds. Chill until ready to serve. Serve with crackers, veggies or pita bread.
Pesto Sauce
1 c. tightly packed basil leaves
1/4 c. olive oil
3-4 cloves garlic
Salt to taste
1/2 c. pine nuts, sunflower seeds or walnuts*
1 c. fresh grated Parmesan cheese
Combine all ingredients, except the cheese, in a blender and mix until smooth. Stir in the cheese and toss over hot, cooked pasta or use as a sauce on meat and poultry. Sauce will keep a few days in the fridge and makes about 1 1/2 cups, enough for 1 lb. of cooked pasta. Pesto can also be frozen. *since I was adding nuts to the outside of my cheese ball, I didn't add the nuts to my pesto sauce this time. I am sure it would have worked even if I had added the nuts.
Sometimes the best recipes happen when you don't have time to plan. This is one of those recipes. Even better because it only uses 4 ingredients. I needed an appetizer, but didn't have extra time for prep. I also did not have time to go to the store, so used what I had on hand. I had some boneless chicken breasts. I cut them into strips and poured a bunch of hot sauce over them. Put them in the fridge to marinade overnight.  The next day I just tossed the chicken strips in breadcrumbs and fried them in a little oil. Served with extra hot sauce on the side, they were a big hit.
Firecracker Chicken
2 lbs. boneless chicken, I used breasts, but thighs would be good
3/4 c. hot sauce, plus extra when serving
2 c. bread crumbs
2 c. oil, for pan frying
Cut chicken into strips and place in a bowl. Pour over the hot sauce and stir to coat evenly. Cover and chill overnight, or even for a couple of days. Place bread crumbs in a plastic bag. Place a small handful of chicken in the bag and shake to coat. Place on a plate and continue with the rest of the chicken. Heat oil in skillet to 350- 375 degrees. fry chicken in several batches- you don't want to crowd them in the skillet- that will make the oil col down too much. Fry for a minute or two per side. Remove to platter lined with paper towels and cook the rest of the chicken. Keep chicken warm until ready to serve. serve with extra hot sauce on the side. Serves 8 or more as an appetizer, but can be served as a main dish, too.