One of the advantages of making stuff from scratch, is that you get to control what goes in it. This is really true for granola. The boxed stuff in the store is often full of way too much sugar for my taste. The base for granola is toasted oats, but after that you can get creative. I use plenty of nuts and seeds, sometimes coconut, and finish it off with an assortment of dried fruits. This is a great recipes when you are eating out of your pantry. You can use what ever nuts, seeds and dried fruits you have around.
I prefer my granola less sweet than most commercial brands. By making my own, I get to control what, and how much, sweeteners to add. For my granola, I use honey to sweeten it. You can more or less, to suit your taste.
I know granola is most often thought of as a breakfast food, but it makes a great snack, and sprinkled on yogurt it can also be a tasty choice for lunch. Great to take along when hiking or going to the park. I actually like to sprinkle granola on ice cream, too.
Homemade Granola
3 c. rolled oats
1/4 -1/2 c. each of any of the following to equal 1-2 c. total
Sesame seeds, sunflower seeds, chia seeds, wheat germ, peanuts, pecans, almonds, hazel nuts, pumpkin seeds, walnuts, coconut… you get the idea. Don't forget to chop up any big pieces.
1 t. cinnamon
1 t. orange peel
1/2 t. nutmeg
pinch of salt, optional
1/4 c. oil
1/4 c. honey- or add a little more if you like a sweeter granola
2 t. vanilla
Dried fruit to equal 1 -1 1/2 cups. Some choices could include: raisins, dried cranberries, cherries, pineapple, dates, figs, apricots, bananas, strawberries, blueberries etc. Cut up larger pieces.
In large bowl combine oats with seeds and nuts and toss well with seasonings. Heat together oil, honey and vanilla and pour over oat mixture, tossing to coat evenly. Spread on a cookie sheet and bake in a 300 degree oven for 30 minutes. Halfway through the baking time stir mixture so the edges won't burn. Remove from oven and return to large bowl. Toss with the dried fruit and allow to cool before storing in an airtight container in a cool, dry place. Use in 1 month or store in freezer or fridge to keep longer. Makes 5-7 cups.
Since so many friends are staying home and baking bread, I wanted to share one of my favorite recipes. This wonderful recipe came from the Finn grandmother of two good friends. I think of her every time I make this bread. She was a sweet and loving woman.
Nisu is a soft, slightly sweet bread, made special with the addition of cardamom.
Cardamom is a spice that has a rich, sweet flavor and fragrance.  You can purchase it whole, in pods, or ground. Cardamom is often used in baked goods and adds a nice flavor to frosting and glazes. It is also used to flavor coffee. Cardamom is a little pricey. The good news is a little goes a long way. If you buy ground cardamom, you can store it in the freezer to keep it fresh longer.
This bread is lovely just toasted, and makes great French toast. It is also a nice sandwich bread. The recipe makes three loaves, so you can leave one out and freeze the other two.
Nisu
½ c. warm water
2 packages active dry yeast
2 c. milk
½ c. sugar
2-3 t. ground cardamom
1 t. salt
6 T. butter
6-7 c. flour, preferably bread flour
2 eggs
Dissolve yeast in water and set aside. Place milk in large bowl and add the sugar, cardamom, salt and butter. Heat in microwave until liquid is very warm. Butter might not be completely melted. Stir mixture until sugar is dissolved. Place 2 cups of flour in a mixing bowl and add the milk mixture, eggs and yeast mixture. Beat on medium speed for 3 minutes. Add 1 cup more of the flour and beat 2 minutes more. Stir in enough of the remaining flour to make a soft dough. Turn onto a floured surface and knead until dough is firm and smooth, about 10 minutes. Place in an oiled bowl and turn dough to coat. Cover with a towel and allow to rest until doubled in bulk, about 1 hour. Punch dough down and divide into 3 pieces. Roll each piece into a loaf and place in greased 9×5 inch bread pans. Cover and allow to rise until doubled in bulk, about 45 minutes. Bake in a 375-degree oven for 30 minutes or until golden and loaf sounds hollow when tapped lightly. Makes 3 loaves.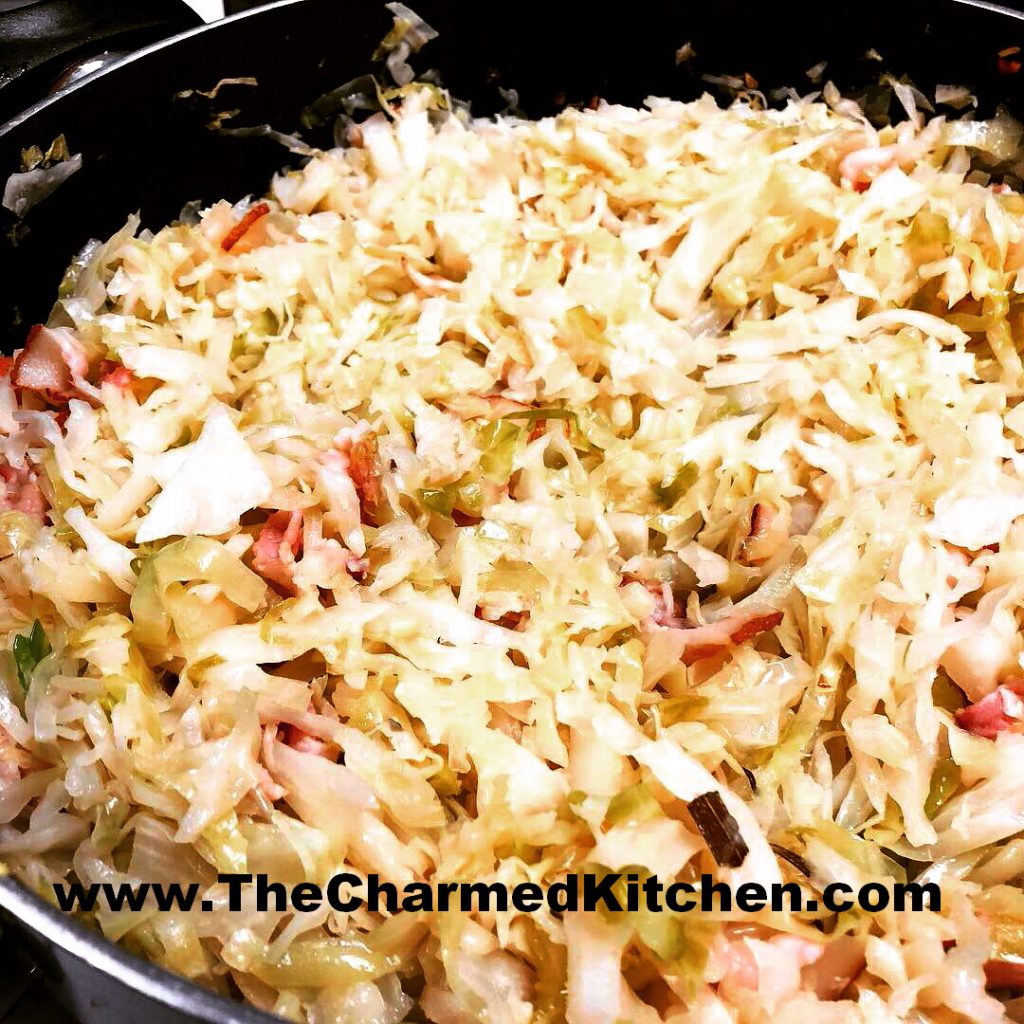 If you still have some cabbage sitting around after St. Patrick's Day, you might want to try making Venetian cabbage. This Italian-inspired recipe really elevates the humble cabbage.
I love cabbage in all sorts of dishes. Maybe it's my Eastern European roots. I really love it prepared this way.
Smokiness from the pancetta and a hint of rosemary and garlic really makes this dish sing. I made it last night, but didn't cook it as long as the original recipe called for. I think I prefer it less cooked. The cabbage retained some crispness. My best advice is to taste this dish as it cooks to see how "done" you like it.
If you are looking for an easy and tasty way to prepare cabbage, try this recipe for Venetian Cabbage. I think you will be pleased.
Venetian Cabbage
1/2 c. minced pancetta (Italian bacon) or thick bacon
2 cloves garlic, minced
pinch of rosemary, minced- I used a bit more
1 T. olive oil
2 1/2 lbs. green cabbage, trimmed and shredded
1/2 c. chicken stock or white wine
Cook bacon, garlic and rosemary and oil in saucepan until mixture starts to sizzle. Stir in the cabbage, tossing to coat well. Cook, covered, over low heat for an hour, or a little less,  adding the stock or wine a little at a time. Add salt to taste before serving. Serves 6.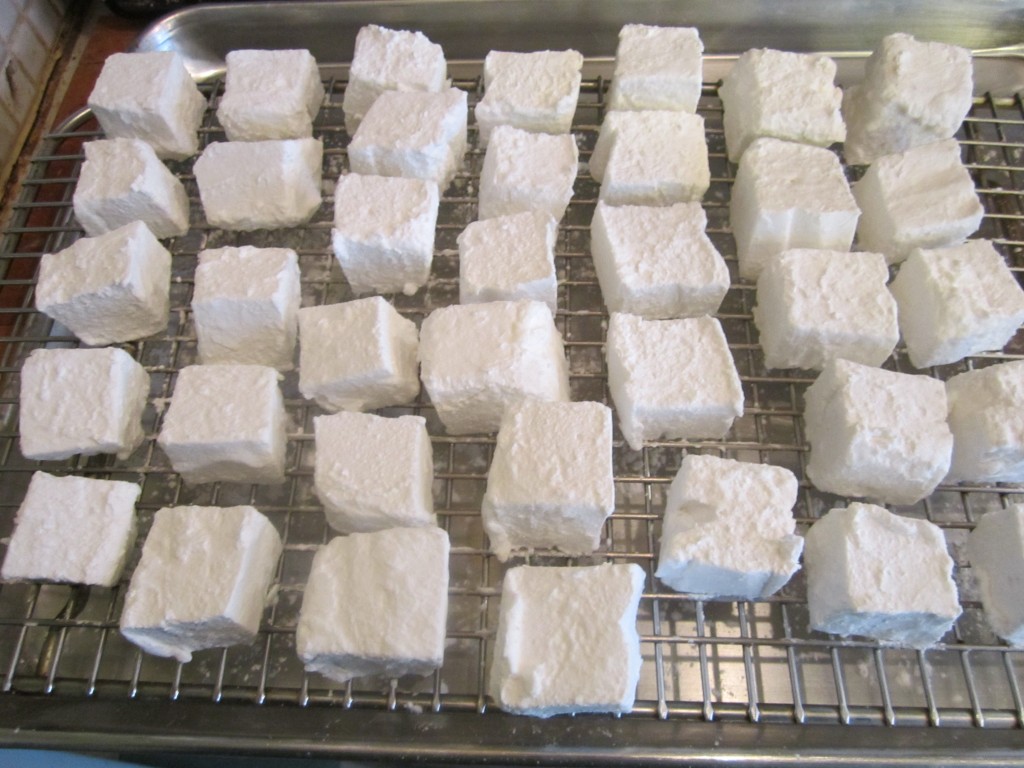 Marshmallows are very easy to make, and so much better than store bought. Kids can make them, too.
You don't need a candy thermometer, or any fancy equipment. A stand mixer is a plus, as the mixture needs to be whipped for 15 minutes. When you finish the mixing process, you have marshmallow fluff. After the fluff has time to set, you have marshmallows!!!
My recipe is for classic vanilla marshmallows, but you can add different flavors and even colors, if you like. How fun to enjoy a mug of hot cocoa topped with homemade marshmallows. Maybe even make a mint version for your cocoa? They also toast up just like store bought marshmallows.
I've used this recipe for ages. I like that it is super easy, and still gives you quality marshmallows. I've seen more complicated versions- but why make life harder than it already is?
Marshmallows
1/2 c. cornstarch
1/2 c. powdered sugar
small amount of butter
2 envelopes unflavored gelatin, or 6 sheets of gelatin*
1/2 c. granulated sugar
1/3 c. water
2/3 c. corn syrup
1/2 t. vanilla
Combine cornstarch and powdered sugar in a small bowl. Butter an 8x8x2 inch-baking pan. Sprinkle with some of the cornstarch mixture. Reserve the rest of the mixture for use later on. Combine the gelatin, granulated sugar and water in a small saucepan and cook over low heat, stirring constantly until gelatin is dissolved.** Pour gelatin mixture into a large bowl, adding the corn syrup and vanilla. Beat with an electric mixer on high speed for 15 minutes. Be precise on the timing. The mixture will be thick and fluffy, marshmallow cream, actually. Place mixture into the prepared pan, spread evenly and refrigerate overnight. The mixture is very sticky. You might need to wet a metal spatula to get it spread out evenly. The next day, sift some of the reserved cornstarch mixture over the marshmallows. Sprinkle some more of the coating mixture on a work surface and turn the marshmallow out onto the prepared surface. Cut the marshmallows into 1-inch squares, coating as you go. The marshmallows are very sticky until completely coated. Allow to dry on a rack. Store in an airtight container for up to 3 weeks. Makes about 4 dozen candies.
You can swap out flavorings- using maybe mint or lemon in place of the vanilla. You can also add a few drops of food coloring, if you like. Oh, and when you are at the rolling the pieces around in the cornstarch and powdered sugar stage of the process- don't wear black. You'll thank me later for that.
* Note: 3 sheets of sheet gelatin= one packet (1 tablespoon) of powdered gelatin.
** Note: If you are using sheet gelatin, place it in the pan with COLD water and stir until dissolved. Then add the sugar and just cook, over medium-low heat until just warm, stirring often. Don't let the mixture get too hot or the gelatin will not work.
Rainbow Marshmallows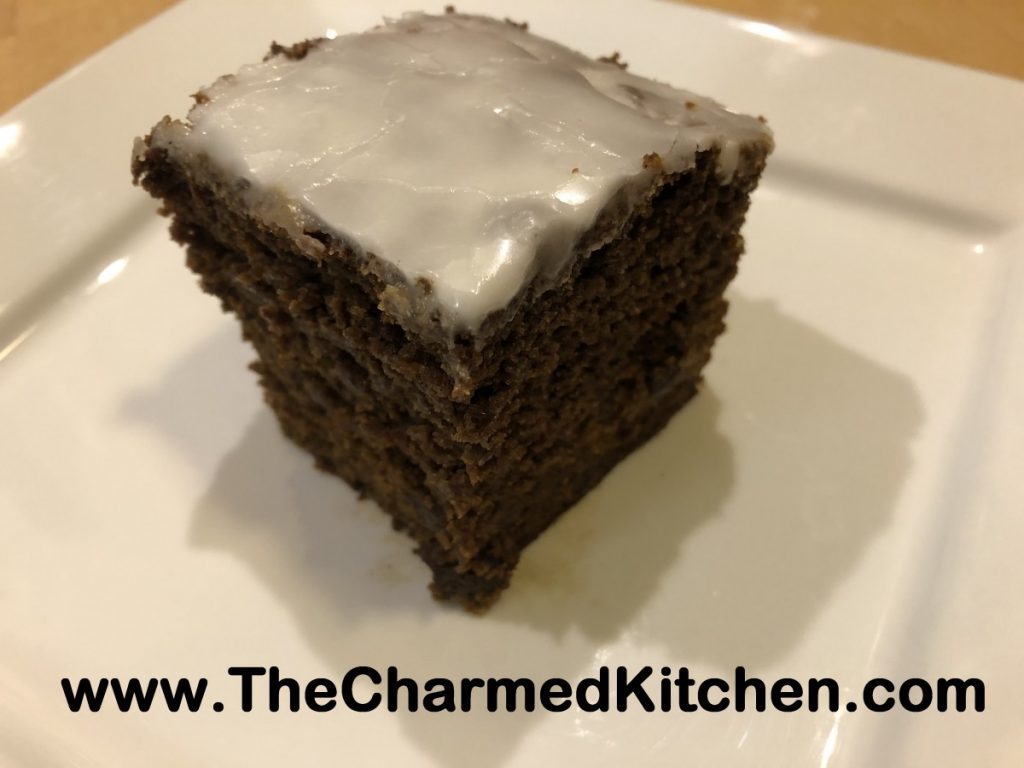 I can remember the first time I made a molasses cake. I was about 17. The recipe was in one of my Mom's "women's magazines". I loved the earthy flavor that the molasses gave the cake.
I also remembered that the cake had applesauce in it. I canned a lot of applesauce last fall and have been looking for recipes using applesauce.
I found the original recipe last night and decided to make the cake. I did change a few ingredients around. The recipe I originally used had shortening in it. I swapped it out for butter. I also added more spices.
It is every bit as wonderful as before. Moist, not too sweet, with just a kiss of spices. So, if you have a jar of molasses and some applesauce, give this cake a try.
Molasses Applesauce Cake
2¼ c. flour
1 t. baking soda
1 t. cinnamon
1 t. salt
½ t. nutmeg
Pinch of cloves
4 oz. butter, softened, 1 stick
1 c. applesauce
1 c. molasses
1 egg
¾ c. raisins, plumped in warm water, then drained well, optional
Glaze:
1½ c. powdered sugar
2 T. lemon juice
Preheat oven to 350. Grease an 8-inch square baking dish. Set aside. In mixing bowl combine dry ingredients and stir to blend. Cut in butter to resemble coarse crumbs. Add remaining ingredients to flour mixture and stir until blended. Pour batter into prepared pan. Spread out evenly. Bake for 40-45 minutes, or until toothpick inserted into cake comes out clean. Cool cake then top with glaze. To make glaze, combine powdered sugar and lemon juice in small bowl, stirring until smooth. Pour over the cake.  Serves 8.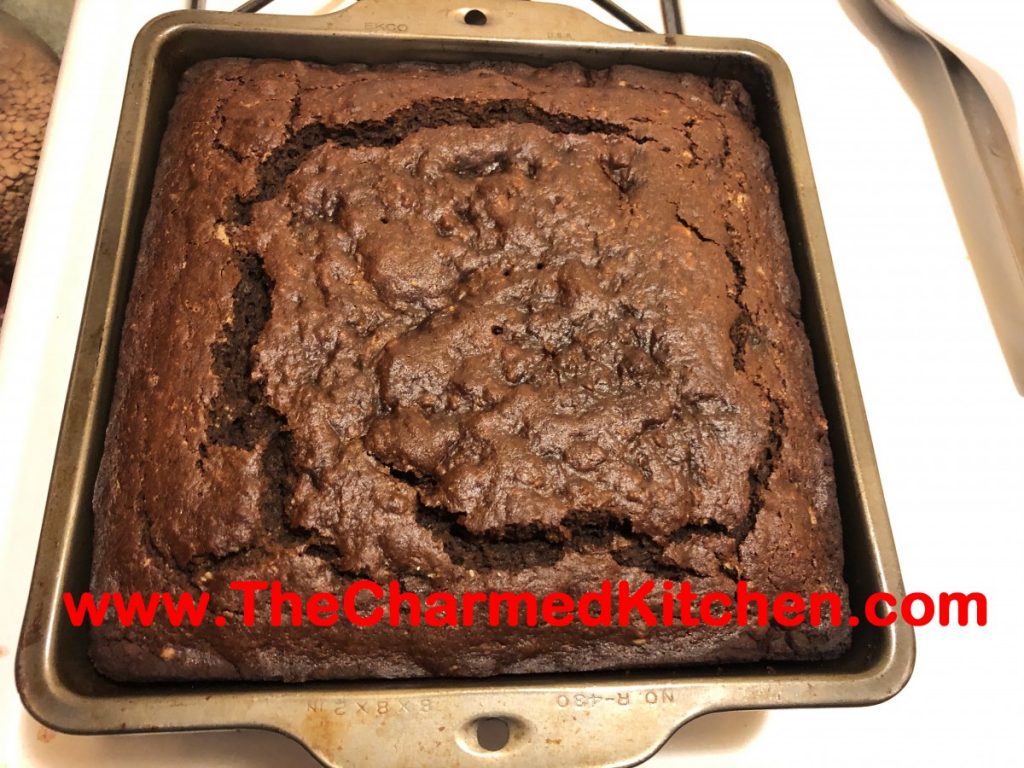 I wanted breakfast sausages, but didn't have any, so I had to make my own.
These breakfast sausage are so flavorful. The nice thing about making your own sausage, is knowing all the ingredients that go into them. You can adjust seasonings to suit your taste.
Making sausage does not have to be hard. I grew up in a family that had a sausage stuffer. So making sausage seems pretty normal to me. But if you never made sausage, you really should give it a go.
I have a home movie, from before I was born, of my parents making Polish sausage. They were grinding the meat, seasoning it, prepping the casings and getting the meat into the casings. They made it look easy.
But if you make sausage without the casings, like these little breakfast sausages, the process is pretty simple. You don't need any special equipment, either.
If you don't have ground meat or a meat grinder, you can grind the meat in a food processor. Just cut the meat into cubes and place in the processor. Pulse on and off until you get the grind size you want. For these sausages, you want a pretty fine grind. Don't put too much meat in at once. It is better to do a couple of smaller batches.
I made patties, but if you want links, just take the prepared mix, roll it out into tube shapes, wrap in plastic wrap and chill. Then just slice to the length you want. You can use ground pork, turkey, beef, chicken, venison or any combo you like. I even splurged once, and used ground duck.
Homemade Breakfast Sausage
2½ lbs. ground pork, turkey, beef, chicken (leave on some fat)
1 T. dried sage
2 t. salt
2 t. pepper
1 t. dried marjoram
½ t. dried thyme
¼ t. allspice
¼ t. nutmeg
¼ t. dry mustard
⅛ t. cloves
pinch of cayenne pepper
⅓ c. warm water
Mix herbs and spices with water and let stand 10 minutes. Add the water and spice mixture to the meat and blend thoroughly. Form into patties, and chill, or cook immediately.* You can also form into rolls, roll in plastic wrap and chill. Then just slice your patties from the rolls. Patties can be fried or baked. This sausage can also be frozen for later use. Makes almost 3 pounds.
* I have made my own brown and serve by cooking the sausage, over low heat in a large skillet. I add a little water and cover the pan, so they cook, but don't brown. Cool and then freeze. When I want to have a few, I grab them out of the freezer and just brown in a skillet over medium-low heat.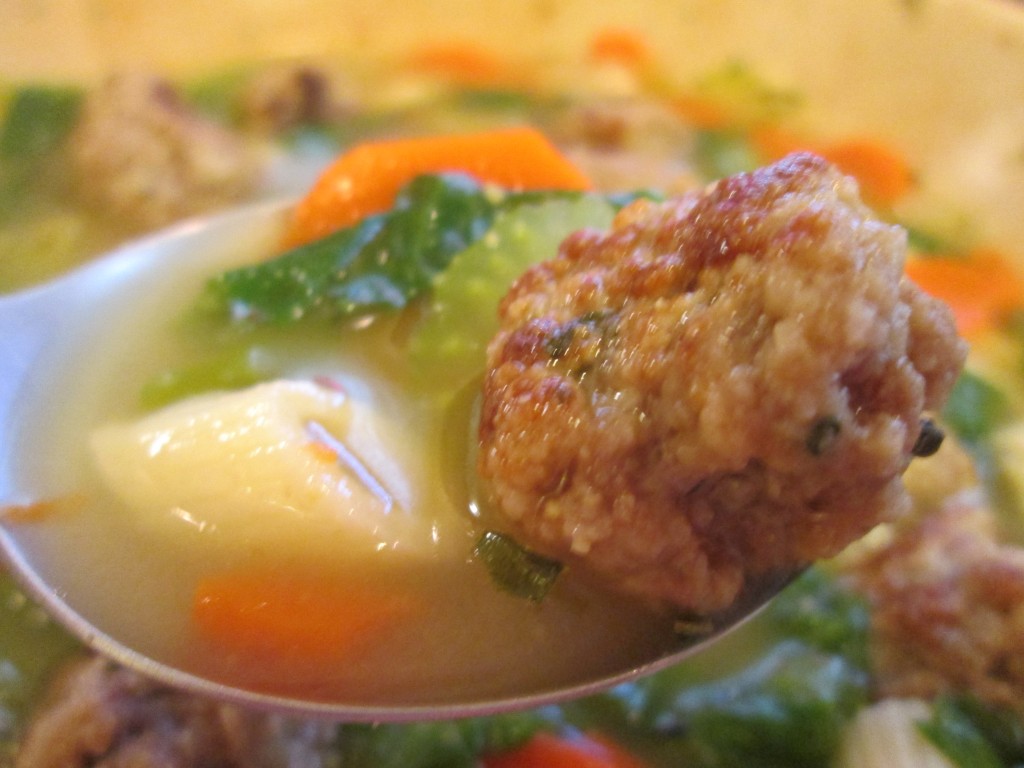 I love this soup. I've had different versions over the years, but they all have those wonderful little meatballs in common. This recipe came from the mother of a dear friend. I still have her handwritten copy in a file. Every time I make this soup I think of her.
Italian Wedding Soup
Meatballs:
3/4 lb. ground beef or a mixture of beef, pork and veal or turkey
1 egg, beaten
1/4 c. dry bread crumbs
2 T. grated Parmesan cheese
1 T. dried parsley or 3 Tablespoons fresh chopped parsley
1/4 t. salt
1/4 t. garlic powder or 2 cloves of minced garlic
1/4 t. each pepper and dried oregano
1 T. oil
Soup:
8 c. chicken stock, not too salty
1 c. thin sliced carrots
1 c. thin sliced celery
1/2 c. thin sliced green onions, optional
1/2 t. dried basil or 1 1/2 t. fresh chopped
1/2 c. uncooked small pasta, I like orzo
1/2 lb. escarole or kale, cut in thin strips
To make meatballs combine all ingredients except the oil and form into 50 tiny balls. Sauté in oil until browned on all sides. Drain. In large saucepan combine broth with vegetables. Bring to a boil and simmer, covered 10 minutes. Add basil, pasta, meatballs and escarole or kale and simmer 10 minutes longer. Serves 6-8.
Note: you can use spinach instead, but add for last 5 minutes of cooking.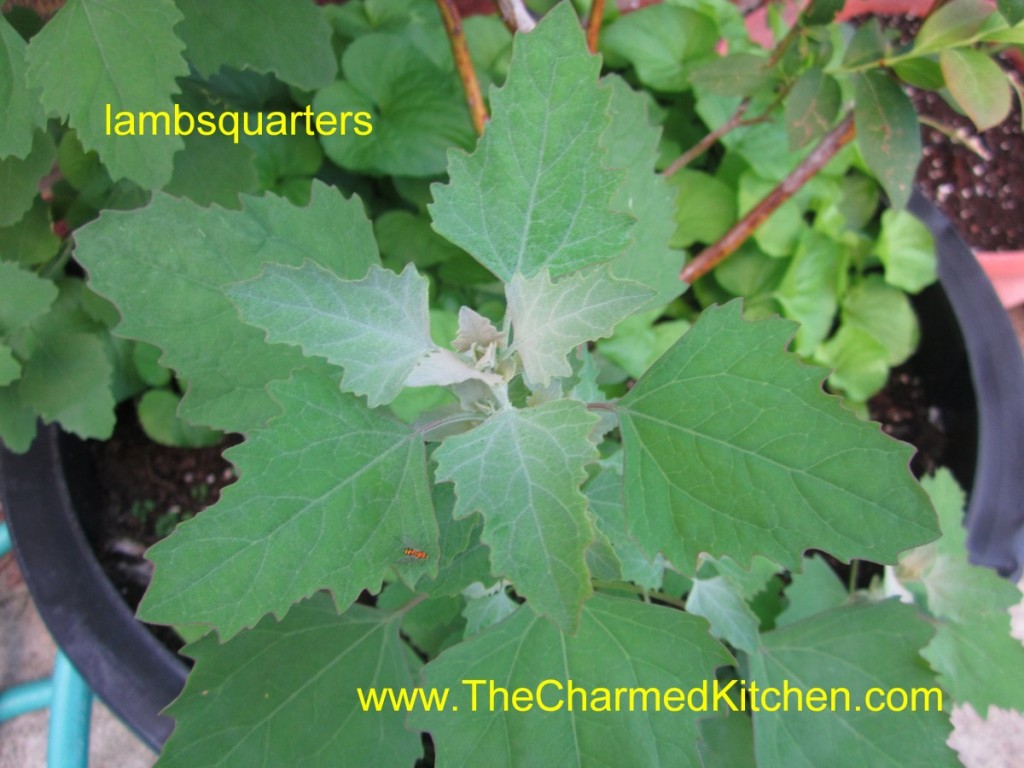 I have posted this information before. I think it is extra important now, when so many of us are staying home. You might have a fresh salad growing all around you, and not even know it.
A lot of people don't realize how many common plants they can eat. I thought it might be fun to share a few of them with you. Some of these are plants we grow as landscape/ornamental plants. Others are more often thought of as "weeds". All have one thing in common. They are edible.
Some you may already know. I hope I might show you a few edibles you didn't know about before.
I tried to stick to plants that were easy to identify. If you are not sure what it is – don't eat it. Don't eat plants where pesticides have been sprayed, either.
With any luck, you have at least a few of these in your yard.
Violets: Violet flowers are edible and used to decorate pastries and to make jelly. Did you know you can also eat the leaves? They are mild flavored- especially when young- and are a great addition to salads. Violet leaves are also high in vitamin C.
Purslane: The thick, fleshy leaves of purslane are easy to identify. Many vegetable gardeners make every effort to keep them out of their yards. Truth is, purslane is grown as a vegetable in many parts of the world. The leaves can be eaten raw in salads, can be cooked in a stir fry or just steamed as a fresh veggie. They can also be pickled. I make a salsa out of purslane leaves. They are crunchy with a slightly citrus flavor.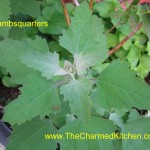 Lambsquarters: Lambsquarters are one of my favorites. They sprout all over my yard and in pots as soon as the weather warms up in the Spring. The leaves can be eaten raw when young or cooked as they mature. They taste just like spinach and are even better for you. Plants can get quite large and provide an easy harvest of nutritious greens.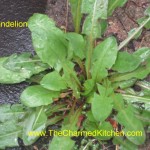 Dandelions: We spend so much money trying to kill them. Sad because they are really a tasty green. Dandelions were brought to America by European immigrants as a vegetable. Their bitter greens can be an acquired taste. By combining the greens with certain foods you make them taste less bitter. Starchy foods like breads or potatoes, dairy products, tomatoes and vinegars all seem to tame the bitterness. Dandelion greens can be eaten cooked or raw. Flowers are used to make jelly and wine and can be added to baked goods.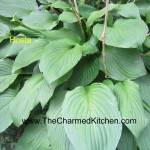 Hosta: If you can get to them before the deer do, you will be pleasantly surprised. Hosta leaves are quite mild flavored, similar to Bibb lettuce. I add them to salads and even serve them with dips. The older leaves get tough so pick young leaves.
Sweet Potato Leaves: A friend from Hawaii first told me about eating sweet potato leaves. The leaves are pretty mild flavored. I normally eat them cooked although I have friends that eat them raw as well. You can eat the leaves of all sweet potatoes, including ornamental types.
Lilac: Lilac flowers are fragrant and edible. I use them every year to make lilac infused vinegar. They have a nice spicy taste that works well in the vinegar. Blossoms can be added to salads, too. This year I also made lilac jelly.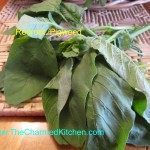 Redroot/Pigweed: This member of the amaranth family is distinguished by a reddish color to its roots. It has a spinach like flavor and can be cooked and used like spinach is any recipe. The plants can get several feet tall and often show up in places where the soil has been tilled.
Tulips: Tulips are more than pretty, they are also quite tasty. The petals taste like a mild flavored lettuce and can add a beautiful touch to salads. The bulbs are also edible but we rarely eat them because to do so would destroy the plant. The petals, however, can be harvested and eaten year after year without harming the plant.
Roses: Rose petals have been used to make fragrances for a very long time. The petals are also edible and can be added to salads and used to make jelly, syrup and of course, rose water. The hips are also quite edible. Rose hips are the round balls that are left after the bloom is spent. They are full of vitamin C and can be cooked and used to make tea and jelly.
This is far from a complete list. Just a few things from my yard that I thought you might have, too.
Don't let their small size fool you. These little cheesecakes pack a punch of lemon flavor. There is lemon zest in the batter and a topping full of lemony tartness. Not too sweet, either, which is a plus in my mind.
I wanted a dessert but didn't want to make anything too big. With a limited pantry these days, my options were limited, too. These mini cheesecakes were the right solution. The recipe only uses one package of cream cheese and only makes 6. They can be frozen if needed.
For the crust you can use vanilla wafers, but since I didn't have any, I just trimmed off the edges of some graham crackers, so they would fit in the muffin tins. You can even omit a crust and they are gluten free.
So here is the recipe. I hope you enjoy it.
Lemon Drop Cheesecakes
6 vanilla wafers or graham crackers
1 (8 oz.) cream cheese, softened
1/4 c. sugar
Zest of one lemon
1 t. vanilla
1 egg
Topping:
½ c. lemon juice or a combination of lemon juice and pieces of lemon*
½ c. sugar
2 t. cornstarch
Zest of a lemon
Line 6 muffin tins with paper liners. Place 1 wafer in each. If using graham crackers, trim them to fit the muffin tins. Beat together remaining ingredients for 1 minute with electric mixer. Divide this mixture in the muffin tins, filling each almost full. Bake 25 minutes at 325 degrees. Cheesecakes will puff up, then deflate as they cool. While cheesecakes are baking, make the lemon topping. Combine all topping ingredients in a small saucepan. Cook over medium heat, stirring, until mixture thickens and gets bubbly. Set aside. Once the cheesecakes have cooled down, spoon  over the lemon topping. Chill before serving. Store leftovers in fridge. Makes 6. These can be frozen. Serves 2-3.
* I only had 2 lemons, so to get the most from them, I removed the peel and white membrane and used the lemon segments in the topping. I was still a little short, so I added some extra lemon juice to get to ½ cup. You could just use all juice.