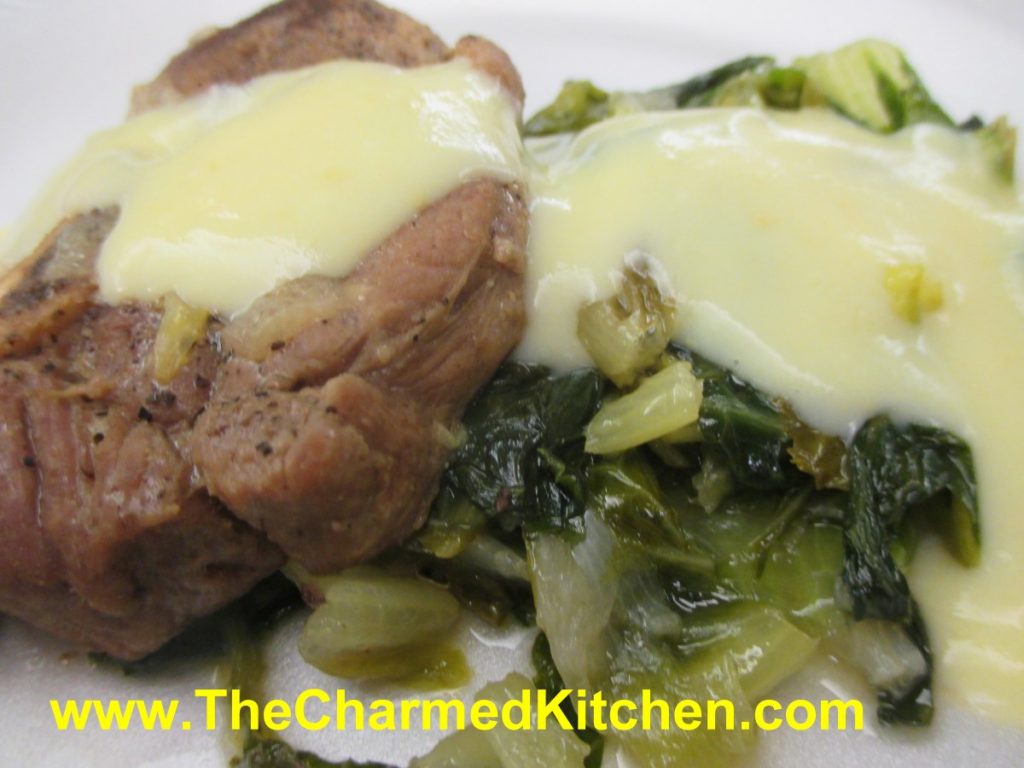 I am not sure which I love more in this recipe- the lamb that is cooked to tender perfection- or the Greek lemon egg sauce.  Both are very special. I love lamb and have cooked it lots of different ways. This preparation will always be a favorite. This a great dish to serve for Easter dinner.
The recipe uses lamb shoulder, cooked with onions and Romaine lettuce- yes lettuce. The lamb is browned and then cooks gently until tender. The lettuce also cooks down and adds a nice green flavor to the dish. I have used lamb shoulder chops, and cooked them bone in. You could certainly use lamb shanks, if you prefer. Just allow enough time for the shanks to get tender.
The real magic is the lemon egg sauce, used to top the lamb once finished. It is creamy and has just the right amount of tang from the lemon juice.
If you are thinking of serving lamb for Easter, this would be a lovely recipe to use.
You could make this dish with pork or even chicken, but my favorite version is with lamb. I also use the lemon sauce with meat and rice stuffed zucchini. My dear friend Amy, had the dish on a trip to Greece and we made it often.
Fricassee of Lamb with Lemon Egg Sauce
2 1/2-3 lbs. lamb shoulder, or use pork
3 medium onions, chopped
2-3 heads romaine lettuce, washed and sliced thin
1/2 c. olive oil
Egg and Lemon Sauce -recipe follows
Cut the meat into serving pieces. Heat the oil in a pot and sauté the meat. Add salt, pepper, the onions, lettuce and a small amount of water. Cover the pot and let the fricassee simmer for about an hour. Prepare the egg and lemon sauce, pour it over the fricassee and serve.
Lemon and Egg Sauce
1-2 c. stock
2 eggs
juice of 1 lemon
flour, about 1-2 tablespoons, depending on how thick you want the sauce
Bring stock to the simmer. Beat eggs well. Mix the flour with the lemon juice.
Add to the eggs and keep beating. Add the hot broth slowly while you keep beating. Pour the egg and lemon sauce in the pot and bring to a simmer, stirring constantly. Makes 1-2 cups. For a thinner sauce eliminate the flour.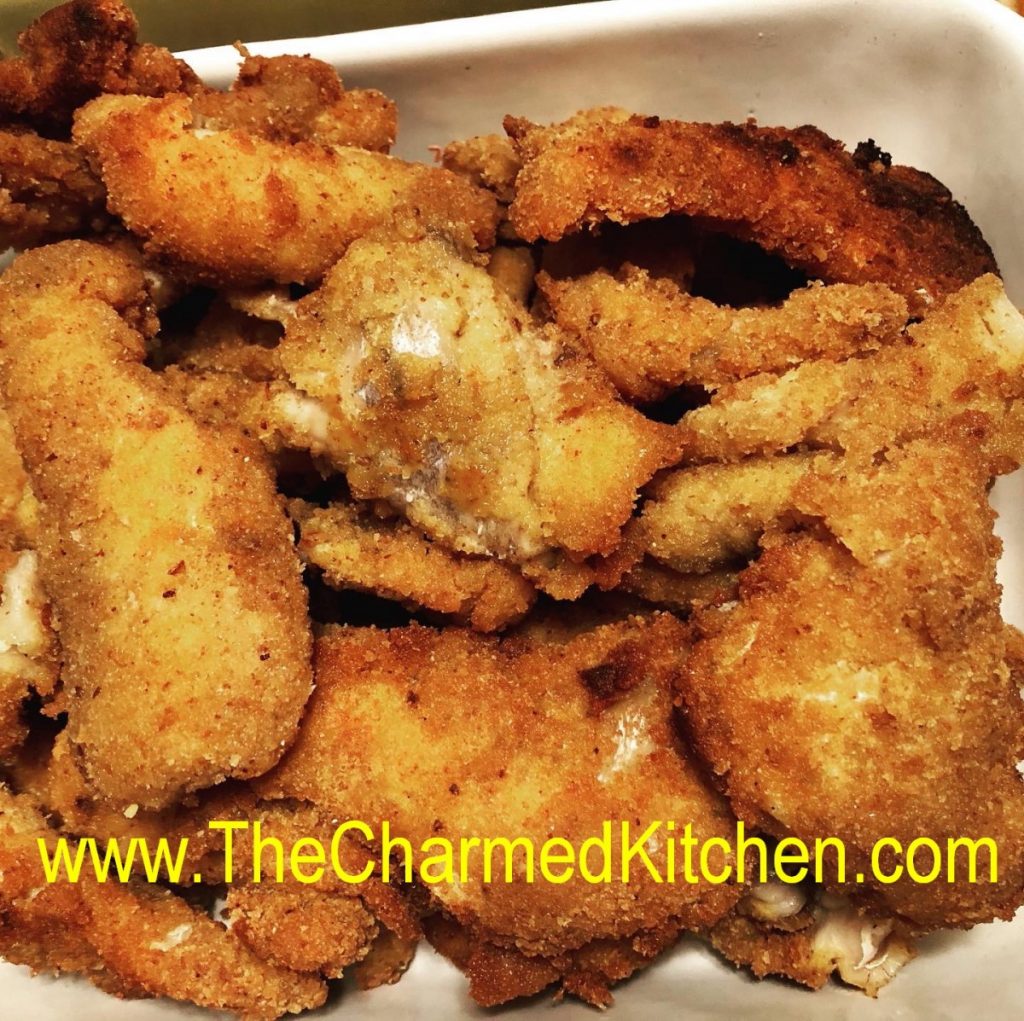 I love fried fish. I don't make it at home that often. It is more of a treat around here than an every day meal. This time of year, Friday night fish fries are very popular. I love them. You don't have to go out to have great fried fish.
I toyed with the idea of baking it, but frying won out. Nothing quite as good as fried catfish in my mind. Had a few friends over and I knew they would like it. too.
This is going to be one of those recipes that is more narrative that exact amounts. I really am good about writing stuff out. I just can't seem to locate my notes for this one- so I'll share what I did as best I can remember. It is also so easy to fry fish. Don't be scared to try.
I started with catfish fillets that were cut down into smaller pieces. The smaller size made them fast and easy to cook. It also made them fun to eat. Like chicken nuggets, only made with catfish.
Since they had been frozen, I thawed them out, and dried them off a bit by patting them with paper towels. I started with a 2 pound bag of catfish. I seasoned a little over 1/2 a cup of flour with salt, pepper and paprika. Then I placed the flour in a bag and tossed in the fish pieces.
I made a mixture of 2 eggs, a little mayo, salt, pepper, garlic powder and a small amount of smoked paprika. I dipped the fish in this mixture and let it soak in there while I put the breadcrumbs in a bowl.
I took the fish out of the egg wash a few pieces at a time and dropped them in the bread crumbs. I had the crumbs in a good sized bowl- but only filled about a quarter of the way with crumbs. I started with a cup of bread crumbs, but needed more. I added the fish and sort of tossed it in the crumbs by shaking and tossing the bowl. Made sure the fish all got coated. Pressed the crumbs a few times to make sure the breading stuck. Placed fish in a square container and kept adding it as I finished breaded the fish. Covered the dish and placed it in the fridge. I fried the catfish the next day. I could have fried it right away, but I knew I would be getting home from work just before my guests would be arriving. I wanted to get this part of the job out of the way. Sometimes breading sticks better if you do it a little ahead of time.
Once it was time for dinner, I put the oil on to heat up.
I was using an electric pot with a thermometer so I knew when the oil reached 350. I wanted to fry the fish between 350 and 375 degrees. If you don't have a pot with a thermometer, you can tell if your oil has reached 350 degrees with the use of popcorn. Yes, popcorn. Just put in a kernel of popcorn when you start heating up the oil. Popcorn pops at 350 degrees. When the popcorn pops, you know the oil is ready.
I had a pan, lined with paper towels ready as I started to drop the pieces of fish, several at a time, into the hot oil. They were cooked in just a few minutes. I pulled them when they were golden brown. Allowed them to drain on paper towels, in a warm oven, while I cooked the rest of the fish.
I served the fish with lemon wedges and homemade tartar sauce- which is just sweet pickle relish, mayo and capers.
The fish was a big hit.
As to the oil. You'll have plenty left over. I let it cool and strained it out. Then I poured it in the bottle it came from. You can save it for your next frying project, but don't use it again and again. Just a couple of times, then toss the rest. There were 4 of us for dinner and there was fish leftover. The 2 pounds of fish was easily enough to serve 6-8.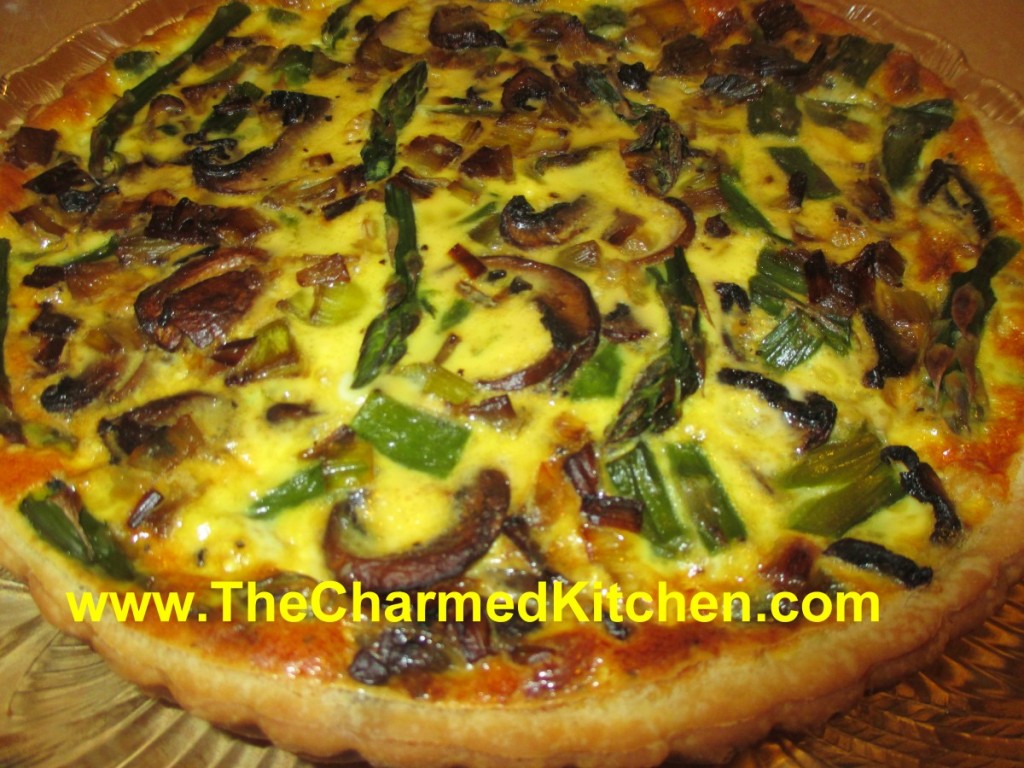 We made this quiche in a mushroom class the other night. We used a traditional pie crust and it came out great. The first time I made this recipe, I actually used a different dough.
Sometimes there are happy accidents in the kitchen. This recipe is one of those. I had made kolachy for a friend. Kolachy are filled cookies, made with a cream cheese based dough. There was some dough leftover, and I did not want to waste it. I decided to use it for a quiche. Well, technically a tart, since it was baked in a tart pan. I looked through my fridge for what I had, and came up with the combination of leeks, mushrooms and asparagus. I also had a nice chunk of Swiss cheese, so away I went. The rest was pretty easy. I just added the eggs, half and half and seasonings to complete the dish. You could, of course, use any crust recipe you prefer. I must admit, the kolachy dough worked really well. I would most definitely make this recipe again, using the cream cheese crust. I did include the recipe for the kolachy dough at the bottom of this post. So here is the recipe. Hope you enjoy it.
Mushroom, Leek and Asparagus Quiche
1 unbaked pie shell*
2 T. oil or butter
1 c. sliced leek- white or light green part only
4 oz. sliced mushrooms- I used baby Portobello
8 oz. asparagus, trimmed and sliced
4 oz. shredded Swiss cheese
2 T. flour
3 eggs, beaten
¾ c. half and half
1 T. fresh dill or 1 teaspoon dried dill
Salt and pepper to taste
Hot sauce to taste
Roll out crust to fit a 9 or 10- inch tart pan. Place crust in pan and trim edges. Chill crust until ready to use. Preheat oven to 400 degrees. In skillet, heat oil or butter and cook leeks until tender. Add mushrooms and continue cooking until mushrooms are golden. Set aside. Steam asparagus for 3-4 minutes, or until just tender. Set aside. Combine flour with cheese and toss to coat. Spread cheese in prepared tart shell. Top with the mushroom and leek mixture. Season with salt and pepper. Combine the eggs with the half and half, dill and hot sauce. Pour over the mushrooms mixture in the tart shell. Add the asparagus. Place in preheated oven and bake at 400 for 30 minutes. Turn down heat to 350 and cook for 20-25 minutes longer, or until crust is golden and filling has set up. Serves 4-6.

* While I would normally use a more traditional pie crust, I ended up using the dough I normally use for my kolachy. It was leftover and seemed like a nice choice. The kolachy dough is 3 sticks of softened butter, 8 oz. of cream cheese and 3 cups of flour. Mix all ingredients until smooth and chill until ready to use. It was leftover, so hard to say how many crusts a full recipe would make. I would think you could easily get three crusts from one recipe. You can, of course, use your favorite pie crust recipe.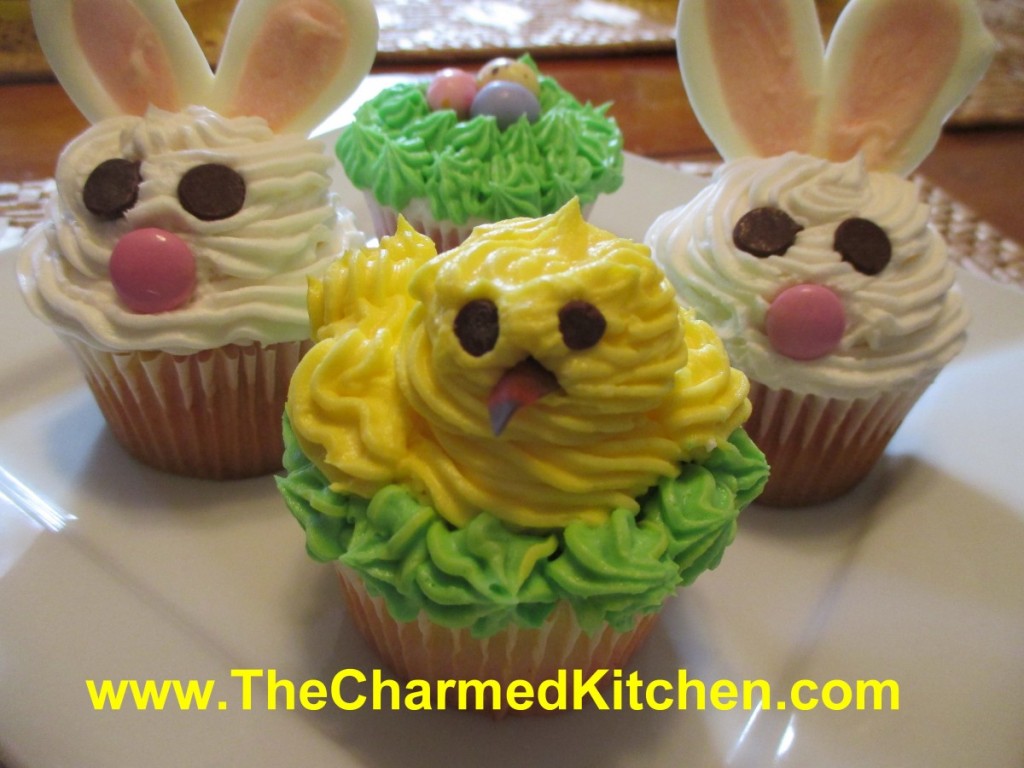 These cupcakes would make a great dessert for Easter- or any time. They are also a fun dessert for kids to make.
I started out by making a double batch of my classic white cupcakes- recipe follows. To add a little color to the cupcakes, I divided the batter into three bowls and tinted each of them a different pastel color.
As I filled the pans, I just added a spoonful of each of the tinted batters in them. They came out really nice.
I made three different cupcakes: bunnies, chicks and nests.
I also made a double batch of white chocolate frosting. You could certainly make a vanilla buttercream, if you prefer.
Details on how to make each of them are listed below.
Classic White (Vanilla) Cupcakes
1 cup sugar
1/2 cup butter
2 eggs
2 teaspoons vanilla extract
1 1/2 cups all-purpose flour
1 3/4 teaspoons baking powder
1/2 cup milk
Preheat oven to 350 degrees. Line a muffin pan with 12 paper liners. In a medium bowl, cream together the sugar and butter. Beat in the eggs, one at a time, then stir in the vanilla. Combine flour and baking powder, add to the creamed mixture and mix well. Finally stir in the milk until batter is smooth. Pour or spoon batter into the prepared pan. Bake 20 to 25 minutes. Cupcakes are done when they springs back to the touch. Makes 12.
White Chocolate Frosting
6 oz. white chocolate – if using bars, chop before melting
1 stick (4 oz.) cold butter, cut into cubes
1-2 c. powdered sugar
1 t. vanilla
Melt chocolate. I just melt mine in a microwave safe dish, but you can use a double boiler. Let chocolate cool down a little. Beat butter into the melted chocolate. Beat until smooth and then beat in the powdered sugar and vanilla. Whip until frosting is smooth and fluffy. I normally beat for 5 minutes or longer. If too thick, add a few drops of water or milk. For this recipe, I made a double batch of frosting.
Bunnies
extra white chocolate
food coloring- pink or red
chocolate chips
pastel ( pink) M&M's
Make bunny ears by melting some white chocolate and putting it in a piping bag or bottle. On wax paper, make outline of the ears in white chocolate and allow to cool/harden. Place a drop or two of pink or red food coloring in a microwave safe bowl and add some white chocolate. Melt in microwave, being careful not to burn the chocolate and stir until it turns pink. Pipe the pink chocolate into the middle of the ears. Allow to harden before peeling off of the was paper. Using a star tip, pipe frosting on cupcake. I made three layers – to add height to the cupcake. place ears on cupcake and add chips/candy for eyes and mouth.
Chicks
Frosting tinted yellow and green
mini chocolate chips
fruit roll up
Using star tip, pipe the chick's body onto the cupcake in yellow frosting. Pipe on head and wings. Pipe green frosting around chick to form a nest. Use mini chips for eyes and cut fruit roll up for beak.
Nests
Frosting tinted green
egg shapes malted milk balls- or you could use jelly beans
Pipe green frosting on cupcakes to make nests. Add three, or more, candies in the middle for eggs.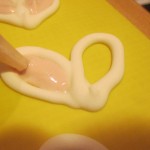 Piping pink filling in ears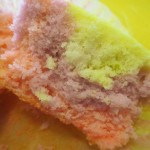 rainbow cupcake
bunnies
Chick cupcake
The nest cupcake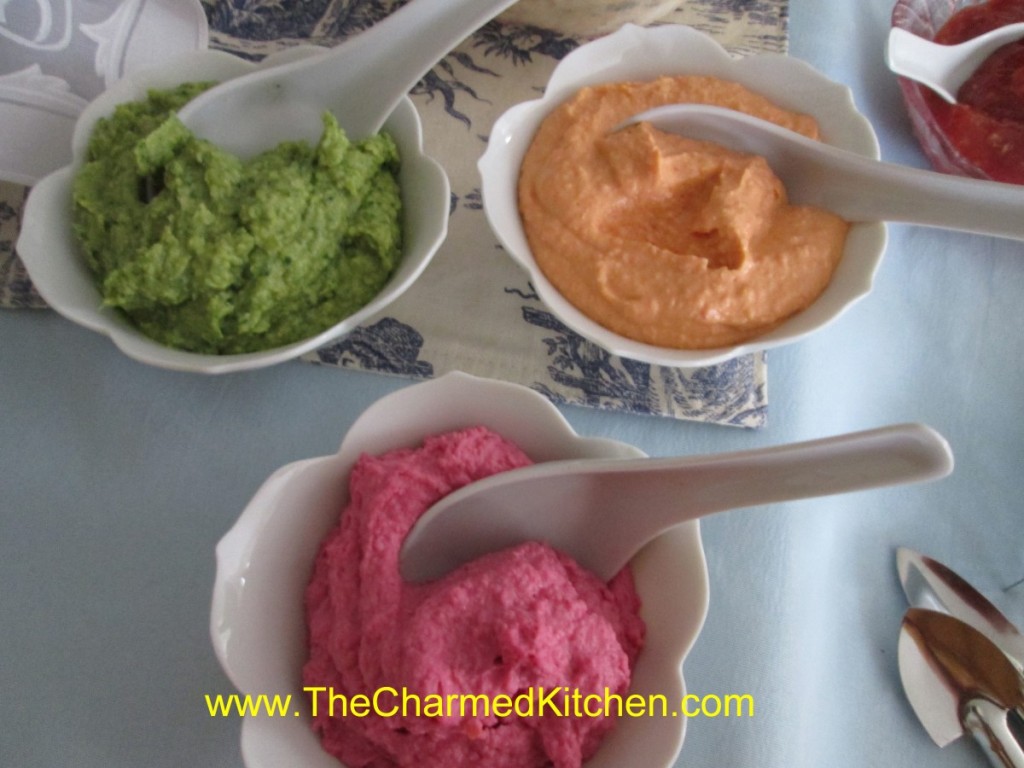 Hummus is always a favorite at parties around here. I've made classic hummus and have made variations with roasted peppers, black olives and garlic scapes.
I always remember the time my dear friend, Amy, wanted her hummus to be really colorful. It was for her Easter dinner. I believe that was the same year she dyed the egg whites for the deviled eggs. Amy really knew how to get the details right.
She and I had talked about how best to make tasty, colorful hummus. She decided to make spinach hummus and beet hummus in addition to her classic hummus. She wanted something that tasted good, but looked like Spring. She ended up with a beautiful array for Easter dinner that year. Tasty, too.
Here are the directions for making them.
Hummus
1 can garbanzo beans, drained, or about 2 cups cooked garbanzos
1/4 c. olive oil
2 T. lemon juice
2 T. tahini (sesame seed paste)
2 cloves garlic
salt and hot pepper sauce to taste
Combine all ingredients in a blender or food processor until smooth. Adjust seasonings. Chill. Serve with pita bread, crackers or fresh vegetables. Also nice spread in a pita bread with sliced tomatoes, cucumbers and lettuce. Freezes well.
Green Hummus (Spinach)
Make the original hummus recipe from above but add 2 c. fresh spinach and ½ c. chopped cilantro.
Pink Hummus (Beet)
Make the original hummus recipe from above but add 2-3 small cooked beets.
Note: You might want a little more salt in either of these recipes or a bit more lemon juice.
Miss you, Amy.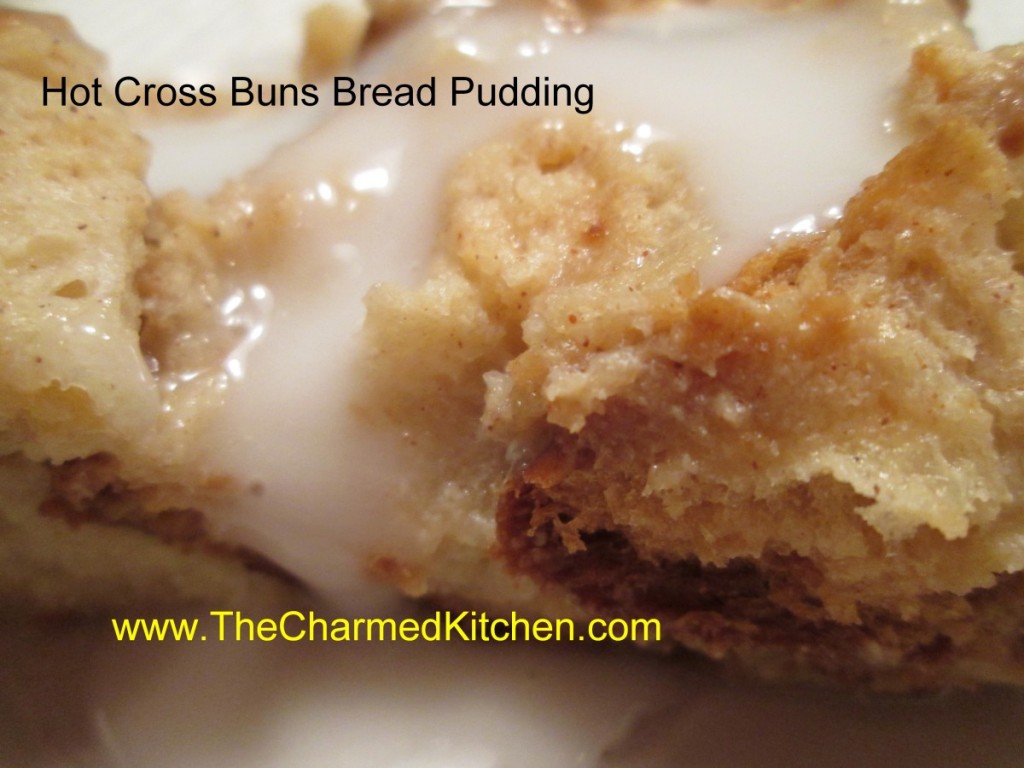 The first time I made this dish, it was sort of an accident. It was right after Easter, a few years ago. I was having dinner with friends, and I was in charge of making dessert. I had leftover hot cross buns, so I decided to re-purpose them into bread pudding. It is a great way to re-purpose something into a whole new dish.
The end result was really good. So good, that my friend Amy said it was one of the best desserts I had ever made. I now bake extra hot cross buns, just so I can make bread pudding from them.
You could use home made or store bought buns for this recipe. My recipe for hot cross buns is at the bottom of this post.
Amy's Hot Cross Buns Bread Pudding
12 c. torn up hot cross buns- I used 8 buns
2 c. half and half
1 c. milk – I used almond milk
1 c. sugar- or less if you are using frosted buns
5 eggs
1 T. vanilla
1 T. cinnamon
Frosting:
1 c. powdered sugar
4 t. milk
In large mixing bowl place the torn up buns. Mix remaining ingredients and pour over the buns. Stir to moisten evenly. Spoon mixture into a buttered 9×13-inch pan. Bake in a preheated 350 degree oven for 35-40 minutes or until bread pudding is set and a little golden on top. While the bread pudding is baking combine powdered sugar with milk to make a frosting thin enough to drizzle. Let bread pudding cool 10 minutes and drizzle with frosting.  Serves 8-10.
Love you, Amy. Miss you.
These rich rolls are a traditional at Easter. At least they are in my house. The dough is rich and slightly sweet. The frosting on top adds to their sweetness.
Hot cross buns can be served at breakfast, brunch or even as a dinner roll. I have served them with coffee, after dinner. So I guess they can be a dessert, too. If you have leftover hot cross buns, you can use them to make bread pudding. I do!
Because the dough is rich, they are slow to rise. If they aren't jumping out of the pan after an hour or so, don't worry. They do rise quite a lot in the oven.
After they cool a bit- pipe on the icing in the crisscross pattern that gives these rolls their name.
Hot Cross Buns
2/3 c. sugar
1 t. salt
2 packages active dry yeast
About 5 cups bread flour
1 ½ c. milk
½ c. butter
2 eggs
1 c. raisins
Icing
¾ c. powdered sugar
1 T. milk
In bowl combine sugar, salt, yeast and about 1 ½ c. flour. Heat together milk and butter until very warm. Beat milk mixture into to flour mixture and beat 2 minutes with electric mixer. Beat in 1 egg and 1 cup flour and beat 2 more minutes until batter thickens. Stir in raisins and enough additional flour to make a soft dough. Turn dough onto a floured surface and knead until smooth, about 10 minutes. Place dough in greased bowl, turning to grease top, cover with a towel and allow to rise in a draft free place until doubled in bulk, about 1 hour.
Place dough on floured surface and divide into 15 equal pieces. Cover with towel and lest rest 15 minutes. Meanwhile grease a 9×13 inch pan. Form dough into smooth balls and place in prepared pan. Cover and let rise until doubled, about an hour. Preheat oven to 350 degrees. Beat remaining egg. Cut a cross in each bun and brush with the egg. Bake for 25 minutes or until buns are golden. Remove buns to wire rack to cool 15 minutes. Make frosting, place in decorating bag and pipe onto buns. Makes 15.
When you hear green or yellow split peas- do you think of soup? You probably do. But when cooked until just tender, split peas make a great salad ingredient. I often just add some cooked split peas to a tossed salad. They add flavor, protein and a nice texture to salads. An added bonus is that split peas can be cooked from dry to tender in about 20 minutes. That makes them a great choice when time is tight.
This is one of my favorite salads using both green and yellow split peas. Fresh and colorful, it is a big hit with vegetarian and non-vegetarian friends. If some of you are looking for new meatless meals ideas, this one is a winner.
The salad uses both green and yellow split peas, along with black beans, butter beans, red lentils and assorted veggies. It is a great combination of colors and textures. It does make a lot, but you can easily cut the recipe in half.
The dish was inspired by my nephew Danny's love of sand art when he was a kid. The ingredients are layered in the bowl for a pretty presentation. It is also an homage to the layered salads I remember from my youth. I like this one a whole lot more.
  Rainbow Salad
1 c. each green split peas, yellow split peas and red lentils
1 can black beans, rinsed and drained
1 can butter beans, rinsed and drained
1 c. diced sweet onion
1 c. diced sweet pepper
1 c. grated carrot
Cook split peas and lentils separately just until tender. Split peas, both green and yellow will take 20 minutes. Red lentils will take about 8-10 minutes. Drain and rinse each under cold water when done and set aside until ready to use, or you can cook them a day ahead and keep chilled. Each will yield about 2 1/2 c. cooked.
In large glass bowl, place the following ingredients in this order.
Black beans, butter beans, green split peas. yellow split peas. onion, red lentils. carrots and peppers. Pour over dressing and chill several hours or overnight. Serve on a bed of greens.
Dressing *
1/2 c. oil
1/2 c. vinegar, I like apple cider vinegar or red wine vinegar
1 (14 oz.) can diced tomatoes, undrained
2-3 T. sugar
1/2 c. parsley or cilantro
1 t. each chili powder, cumin and salt
dash hot sauce
Combine in a blender or food processor until smooth.
*Note: Any fresh or bottled dressing you like can be used. Balsamic works very well.  I often serve it with homemade Italian dressing.