Liquid Pumpkin and Scones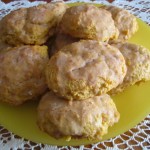 I got an email from a cousin in Columbus who had some issues with her scones. Marianne said they always come out heavy. I sent her some tips and found myself in the mood to make scones. I would have made one of my regular recipes this morning but yesterday afternoon I was cleaning the backroom. I had stored a couple of pumpkins there and checked on them frequently. Normally I keep the heat off in that room and the door shut so they store well. The recent string of warm days had changed things. When I went to check on them the big one was perfect but the smaller one had literally liquified!!! It put me in mind of an incident that had happened to a coworker years ago- but since it involved a dead body I'll spare you the details.  I scooped up the pumpkin goo and checked on the small Hubbard squash that was also stored there. It was perfectly fine so I decided to cook it up and freeze it. Had some for dinner and froze the rest but decided to make scones with the rest. The result was a batch of super yummy scones. So in a way it all worked out quite well. I had not planned on making pumpkin scones at all but because of the liquid pumpkin I decided to cook the Hubbard squash which inspired me to make these scones.
Sat outside this morning with a friend and had some. Still have a lot so call if you want a few. Here is the recipe along with the tips I shared with Marianne.
Pumpkin Scones
4 c. all purpose flour
1/2 c. sugar
1 T. baking powder
1 t. each salt, cinnamon, allspice, nutmeg and ginger
1/2 t. cloves
1 1/2 sticks cold butter
1 c. cooked pumpkin or winter squash
3 oz. milk
2 eggs
Vanilla glaze
2 c. powdered sugar
1 t. vanilla
4-6 T. milk
Cinnamon Glaze
2 c. powdered sugar
2 t. cinnamon
4 T. milk
Preheat oven to 400. Lightly grease 2 baking sheets or line them with parchment paper. Set aside. Combine flour with sugar, baking powder and spices and stir to blend. Cut in butter until the mixture looks like coarse crumbs. Combine pumpkin or squash with the milk and eggs and stir into the flour mixture. Stir until well mixed. Dough should be just a little sticky. Use an ice cream scoop to scoop dough onto the prepared baking sheets- leaving a couple of inches between them. Hint: If you spray a little non-stick spray on the cookie scoop first the dough will pop out easier.  Bake for 15 minutes or until scones are browned on the bottom and just getting golden on the top. If you want to put both baking sheets in the oven at the same time- switch them half way through the baking time and allow a few extra minutes. Remove scones to cooling rack. Meanwhile make both glazes by combining ingredients and stirring until smooth. Drizzle with the vanilla glaze while still warm and allow scones to cool and glaze to harden before drizzling with the cinnamon glaze. Makes about 20-30 depending on the size of the scoop you use.
 My hints to Marianne:
Use all purpose flour- NOT unbleached as it will make a tougher scone.
Make sure your baking powder is fresh. The test is to put 2-3 tablespoons of boiling water is a cup. Add 2 teaspoons of baking powder. It should bubble like crazy for a few seconds. No bubbles means that your baking powder is too old.
Don't over mix the dough. Often scone and biscuit recipes call for kneading dough . Unlike yeast doughs which you knead a lot to develop the gluten, biscuit and scone doughs should be kneaded only until the dough just holds together. You can also use the drop biscuit method like I did with the pumpkin scones to avoid kneading altogether.
Measure the flour carefully by spooning it into the cup and leveling off. Scooping the flour into the measuring cup might result in too much flour and heavy scones.
Well, I hope some of you try this recipe It is really good- or stop by for a few to eat and take home. 🙂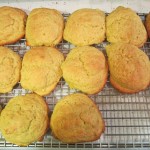 Fresh from the oven