Easy Salad Vinaigrette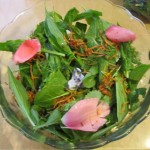 My niece, Sarah, asked for me to post more recipes for vinaigrette using herb vinegars. With so much great lettuce and other salad veggies at the local markets right now it seemed like a good time to post a few recipes.  I think she make like these. I think you will, too.  Love you, Sarah!!!
Pesto Vinaigrette
 1 c. fresh basil leaves
½ c. olive oil
2 cloves garlic
½ c. red wine vinegar or basil vinegar
2 T. Parmesan cheese
Salt and pepper to taste
2 T. pine nuts (optional)
In blender or processor combine oil, basil, and garlic until well-blended. Add vinegar and cheese and blend a few moments longer. Add salt and pepper to taste. Makes 1½ cups of dressing.
Note: Although you can add the pine nuts to the dressing at this point, I really like to sprinkle them on the salad when served. This dressing is great on a mixed green salad, including romaine lettuce and fresh garden tomatoes. Being especially fond of sweet multicolored peppers, I also pour this dressing over a plate of peppers cut into thin strips.  Pesto Vinaigrette can also be used as a marinade for veggies or chicken.
Wild Green Salad
8 – 10 cups assorted wild salad greens such as: dandelion greens, French sorrel, lamb's quarters and/or mixed baby greens, including: spinach and assorted lettuces or even micro greens.
¼ c. olive oil
2 T. herb or floral vinegar
1 T. balsamic vinegar
2 t. sugar
2 t. fresh dill leaves
2 t. fresh tarragon
salt and fresh ground pepper to taste
Wash and dry the greens. Combine remaining ingredients in a small bowl and whisk. Toss over greens and serve. Serves 8.