Tiger Paws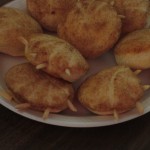 We had so much fun in cooking camp yesterday. The kids were making easy snacks. We did yogurt with fresh fruit and homemade granola, ants on a log, trail mix and Tiger Paws. You can use rolls of refrigerated biscuits or make your own. Once the biscuits are cut into rounds- or in the case of the refrigerated biscuits removed from the package just brush the tops with melted butter then press the top of the biscuits in cinnamon sugar. Cut little "toes" along one side then slip in slivered almonds for claws. Too cute.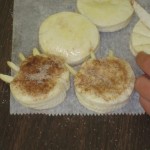 Tiger Paws
1 package (10 count) refrigerated biscuits- or 1 recipe biscuits supreme- see below
Melted butter
Cinnamon sugar
Slivered almonds
Separate biscuits and place on work surface. Brush top of each biscuit with a little butter and dip in the cinnamon sugar. Make several small cuts on one side of the biscuit. These will be the toes. Stick an almond in each "toe" to make claws. Bake as directed on package. Serve warm or cold with butter and jam. Makes 10.
Note: For "monster" paws you can swap out cinnamon sugar for colored sugar
Biscuits Supreme
2 c. flour
4 t. baking powder
2 t. sugar
½ t. cream of tartar
½ t. salt
½ c. shortening
2/3 c. milk
Stir together dry ingredients and cut in shortening to resemble coarse crumbs. Make a well in the center and add milk all at once. Stir until dough sticks together and knead on lightly floured surface 10-12 strokes. Roll or pat to ½ inch thickness. Cut with 2-21/2 inch biscuit cutter and place on ungreased baking sheet. Bake in 450-degree oven for 10-12 minutes. Serve warm. Makes 10-12.
Note: When making the Tiger Paws I bake the biscuits 25 degrees lower than the recipe suggests.