Be Cool – Beet and Watermelon Soup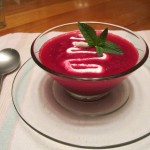 It is going to get hot again. I got this recipe from Brad Reynolds via Carl. I thought it might be a nice idea for you to try. I made the soup and LOVED it! Wasn't sure but I must admit the taste was great. There was the sweetness of the watermelon balanced out with the earthiness of the beets. I added the stock to the first batch I made but found myself enjoying the taste of soup without it on the second batch. Sort of a super healthy smoothie. I made a bigger batch the second time.You gotta love the color, too. So pretty.
Brad thanks so much for your recipe!!!
Cold Beet and Watermelon Soup
1 part diced beet (cooked)
1 part diced seedless watermelon
Put in blender
Add Chicken or Vegetable stock to taste/consistency
Add salt if desired
Dollop with Creme Fraiche or Sour Cream or even Greek Yogurt, if desired
Garnish with fresh mint.
With any cold soup- chill well after you make it. You might even want to chill the bowls and spoons.