Be Cool – Just In Thyme Potato Salad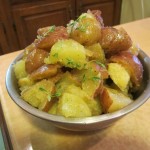 With warm weather here for the next few days I thought I'd share another cool recipe with you. I got Yukon gold potatoes from Blue Pike Farm this week. Love new potatoes and wanted to do something simple with them. Honestly, I could just steam them up and eat them plain they are so yummy. Here is the recipe for my potato thyme salad. I know the name is a little "cutesy" but when you've written as many recipes as I have you run out of ideas. You can steam new potatoes in just a few minutes- so you won't heat up the house too much in making the dish. 🙂
I hope you'll try it- I am sure you'll like it as much as I do.
Just in Thyme Potato Salad
2 lbs. Boiling potatoes, cut into bite sized pieces
½ c. olive oil
¼ c. red wine vinegar
1 T. fresh lemon juice
2 t. fresh thyme leaves
Salt and pepper to taste
Cook potatoes until tender. I like to steam mine- either stove-top or in a microwave steamer. Drain and toss with the rest of the ingredients and serve right away or chill to serve later. Serves 6-8.