Fresh Tomato Relish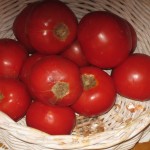 Hands down this is one of my favorite tomato recipes. I make a batch every year when I have a supply a garden tomatoes. The tomatoes have to be peeled so I plunge them in boiling water for 1 minute then let them cool a little and remove the skins. Except for that there is no cooking so the relish maintains that fresh tomato flavor and the house stays cool. It will keep for weeks and weeks in the fridge. I put mine in clean, hot canning jars to make it easier to store and easier to give as a gift.
Tomato Relish
12 large tomatoes, peeled, seeded and chopped
1 cup diced celery
3‑4 medium onions, peeled and sliced thin
1 green sweet pepper, seeded and chopped
3 red or yellow sweet peppers, seeded and chopped
3 T. canning salt (or non‑iodized)
1‑2 T. prepared horseradish
1 1/4 c. sugar
1‑2 T. whole mustard seed
1 t. ground cinnamon
1/2 t. fresh grated ginger
1/2 t. fresh ground pepper
1/4 t. ground cloves
1 c. cider vinegar
Combine vegetables with salt and horseradish in a stainless steel or ceramic container. Cover and refrigerate overnight. Remove from fridge and drain off all liquids in a colander. Discard juices. Return tomato mixture to bowl and add remaining ingredients, stirring to dissolve sugar. Chill several hours before serving. Adjust seasonings to suit your taste. Re-package in sterile canning jars for easier storage in refrigerator, or for gift giving. Keeps for several weeks in the fridge. Serve with crusty bread or crackers. I also serve it on the side as a salad.