Winter Greens Soup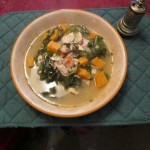 I think one of my favorite foods is soup. I'd eat it on all but the hottest days- and even then I'd eat a cold soup. Many soups are a whole meal all by themselves. As an added bonus they can be an easy way of eating more of the foods we all know we should eat more- vegetables. Seriously, do you like to eat vegetables without butter on them? I don't. But if you simmer veggies in a rich stock you don't need the added butter. Super healthy and easy, too. Win win.
Winter Greens Soup
I made this soup this morning and I am enjoying a bowl as I am writing this. It is so wonderful. Always a hit with friends, too.
2 T. olive oil
2 onions, chopped
3 carrots, peeled and sliced
1 c. chopped celery
2 qts. chicken stock
1 bunch collard greens, rinsed, trimmed and sliced into strips. About 8 cups
4 c. chopped cooked chicken
1 sweet potato, peeled and diced
3 cloves garlic, chopped
1/4 c. nutritional yeast*
2 T. Tuscan seasoning
salt and pepper to taste
healthy dash- or more- of hot sauce
Saute onion in oil until just turning brown. Add carrots and saute a few minutes longer. Add celery and stock and cook a few minutes before adding greens and chicken. Add remaining ingredients and cook until veggies are tender. Collard greens do not need to be cooked until mushy. They will be tender in 10-15 minutes. Makes 6-8 servings.
* Nutritional yeast adds nutrients and great flavor.It is available in health food stores and some grocery stores.