Lilac and Lavender Recipes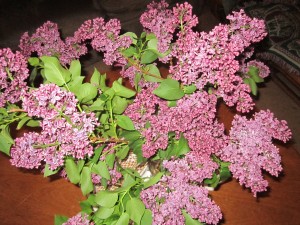 Here are the recipes I did for New Day Cleveland.
 Chicken and Asparagus with Fresh Herbs
1 lb. chicken, sliced into thin strips
2 T. sherry
2 T.oil
2 c. chopped fresh asparagus
¼-½ c. fresh chopped herbs, I used chives, parsley and lovage
Salt and pepper to taste
Place sliced chicken in a bowl and stir in the sherry. Cover and refrigerate for 2-24 hours. Heat oil in skillet. Sauté asparagus for 2 minutes. Add the chicken and cook, stirring often until no pink is visible on the chicken, about 4 minutes. Add the herbs and seasonings and cook, stirring often for another 2-3 minutes. Spoon chicken over lilac salad. Serves 3-4.
Lilac Salad
4-6 cups mixed salad greens, washed and spun dry
Olive oil
Lilac vinegar*
Salt and pepper to taste
Edible flowers, optional
Place greens in a salad bowl. Drizzle with a little olive oil and toss until leaves look glossy. Drizzle with a little lilac vinegar and toss. Season with salt and pepper and toss again. Add flowers, if desired and place in serving bowls.
* To make lilac vinegar take clean, organic lilac blossoms and place them in a jar. Pour in red wine vinegar to cover flowers completely. Place lid on jar and store at room temp, out of direct sunlight for at least a few days. The longer the blossoms steep in the vinegar the stronger the flavor you will get. You can use any vinegar you like as long as it is 5% acidity. Before using, strain out the blossoms and discard. Strain vinegar through a coffee filter to get out any sediment. Can be stored at room temp but holds it color longer if stored in the fridge.
Lavender Shortbread
1 c. sugar, plus extra for sprinkling
2 c. butter
4 c. flour
2-3 T. lavender blossoms
Cream together the one-cup of sugar and butter. Stir in the flour and lavender blossoms. Press mixture in to a greased 9×13 inch-baking dish. Cut or score into small squares, or on the diagonal for diamond shapes. Sprinkle with extra sugar and bake in a preheated 300-degree oven for 50-55 minutes or until lightly browned around the edges. Re-cut the squares as soon as you remove the shortbread from the oven. Cool before removing from pan. Make about 100 small squares