Fresh Corn Salad with Garbanzo Beans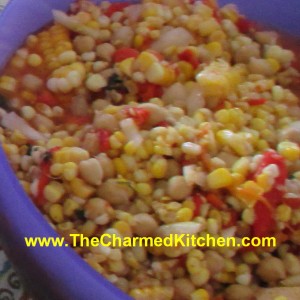 I was looking for a salad to go along with a taco bar, for a party. I had some nice sweet corn and used it to make this salad. After cooking the corn and cutting it off the cob I added roasted red peppers and garbanzo beans. Cilantro, sweet onions and a simple dressing and I was done. One of the party guests ask for the recipe, so here it is.
Fresh Corn Salad with Garbanzo Beans
6 ears of corn
1 can garbanzo beans, rinsed and drained
2 red peppers, roasted, skinned and seeded, chopped*
1 medium sweet pepper, diced
1/4 c. chopped fresh cilantro
Dressing:
1/2 c. oil
1/2 c. cider vinegar
2 T. sugar- or 1 T. honey
1 T. hot sauce
2 t. cumin
1 t. paprika
salt and pepper to taste
Cook corn, cool and cut off the cob. Place corn kernels in a bowl and combine with the remaining veggies and cilantro. Combine dressing ingredients and pour over the corn mixture. Stir to combine well and chill before serving. Serves 6-8.
*Here is the information on how to roast peppers. I used  medium hot red peppers for this recipe, but sweet peppers would be fine, too. I just placed the peppers on the open flame on my gas stove, turning them until blackened all over. Once the peppers are charred, remove the peppers from the flame and wrap in paper towels or place in a small paper bag to cool. When cooled the skins will slip off easily. Then just remove the seeds and chop. If you don't have a gas stove you can also roast peppers on a grill or under the broiler.
http://thecharmedkitchen.com/2014/01/20/roasting-peppers/