Onion Prosciutto Bread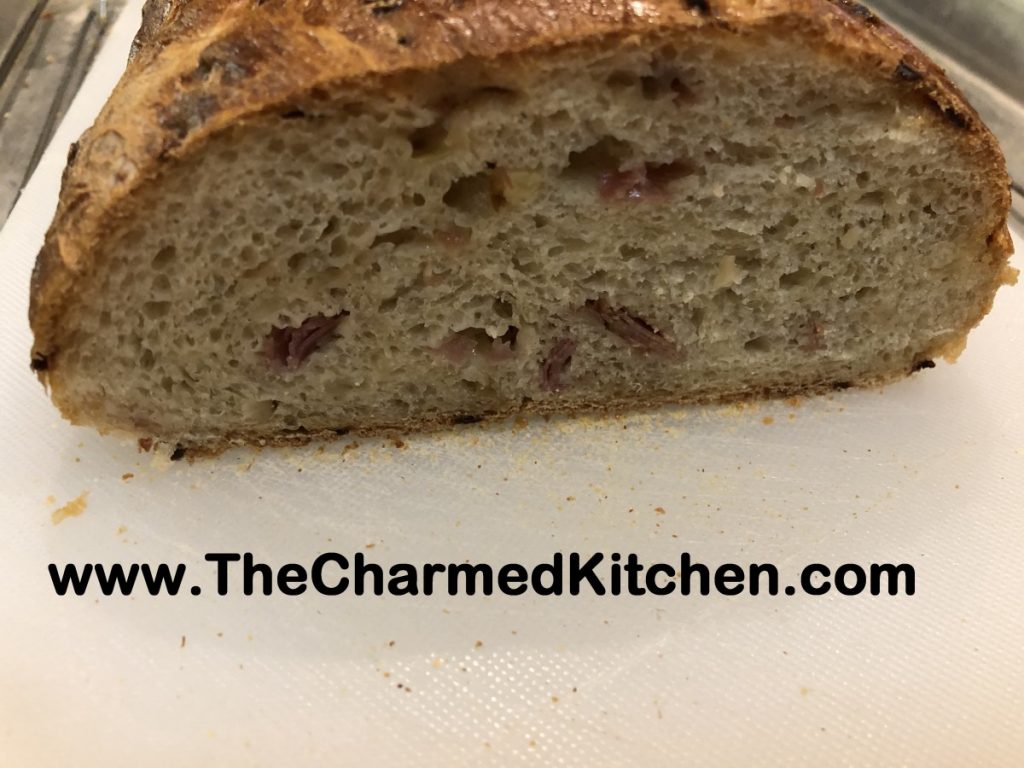 I have made a lot of different breads in my life. This is one of my absolute favorites. The bread has a wonderful, chewy texture and is studded with onions, garlic and the smoky flavor of prosciutto. What's not to love?
I first made this bread a long time ago. I even shared the recipe in bread baking classes. I only had the recipe in hard copy and at one point, I could not find it. Over time, I kind of forgot about it. Until a little over a week ago when I was going through a pile of old recipes and found it!! I decided to make it right away. It is every bit as good as I remember. I have shared slices of this bread with friends. The feedback has been great.
I made a few minor changes to the original recipe- a little more garlic and salt, but that was it. You don't want to mess around with perfection. 🙂
I love the bread toasted and buttered.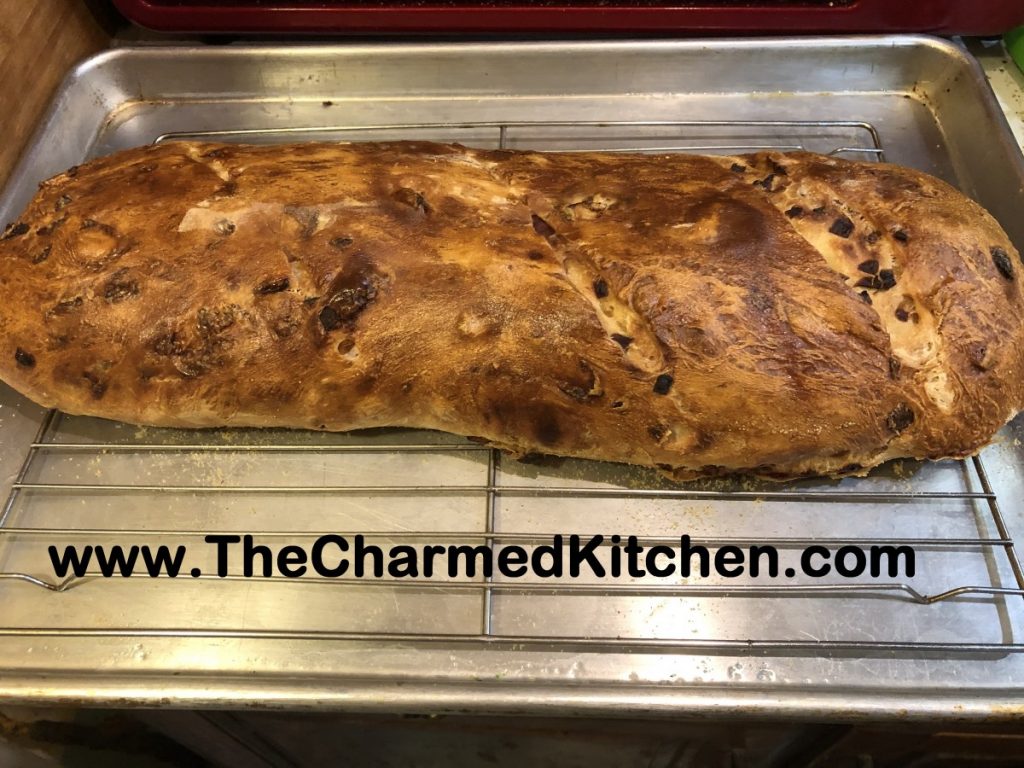 Onion and Prosciutto Bread
1 packet active dry yeast
¼ t. sugar
1⅔ c. warm water, 105-115 degrees F, divided
4-4½ c. flour
1 T. salt
2 T. olive oil
1 large onion, minced- about 1-1½ cups
4-5 garlic cloves, minced
4 oz. prosciutto, minced- 1½ cups
Cornmeal
1 egg
2 t. water
In large mixing bowl, combine 1/3 cup warm water with the sugar, 3 tablespoons of the flour and yeast. Stir until dissolved and let sit until mixture gets bubbly, about 10 minutes. Add the rest of the water, 3 cups of the flour and the salt. Stir until well mixed. Add enough of the flour to make a soft dough. Turn out onto a floured surface. Let rest 3 minutes, then knead until smooth and elastic, about 10 minutes. Dough should be on the soft side. Place dough in a lightly greased bowl and cover with a towel. Place in a warm place until dough has doubled in size. While dough is rising, prepare the onion mixture. Sauté the onions in the olive oil over medium heat until just tender, about 3 or 4 minutes. Add the garlic and cook 2 more minutes. Set aside to cool and stir in the prosciutto. Once the dough has risen, punch down and place on a floured surface. Roll dough out into a circle, about ½-inch thick. Sprinkle the onion-prosciutto mixture evenly over the dough. Fold the sides in, in thirds- like folding a piece of paper to go in an envelope. Then fold in the top and bottom in the same way. The dough will look like a bundle. Place back in the bowl, cover and let rise again until doubled. Turn dough onto a floured surface. Let rest a few minutes, then knead a couple of times. Roll the dough out again into the big circle. Do the same folding that you did before- sides folded in thirds, then the top and bottom folded in. This helps to distribute the onion-prosciutto mixture evenly. Place the dough on a baking sheet lightly greased and coated with cornmeal. Shape the dough into a 14-inch loaf. Cover with a towel and let rise until doubled. Preheat oven to 400 degrees. Place a pan with hot water on the bottom rack of the oven. Combine the egg with the 2 teaspoons of water, mix well and brush lightly over the bread. With a sharp knife make three slashes on the top of the bread. Place in oven and bake 25 minutes. Remove the pan of water and bake another 25 minutes or until bread is golden brown and sounds hollow when tapped lightly. Remove from oven and place on a cooling rack. Makes one very large loaf.