Pumpkin Cupcakes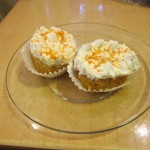 Had a great class in Beachwood today with 50 kids. The big hit was the pumpkin cupcakes. I had to promise we'd have them again next month!!! I also promised some of the kids I'd post the recipe so to Em, Giselle and Anna this is for you!
Pumpkin Cupcakes
4 eggs, slightly beaten
3/4 c. oil
2 c. sugar- I use less
2 c. cooked pumpkin or 1 (15 oz.) can
1 3/4 c. flour
1/4 c. cornstarch
3 t. cinnamon
1 t. nutmeg
1/4 t. cloves
2 t. baking powder
1 t. baking soda
3/4 t. salt
Blend together in large bowl eggs, sugar, pumpkin and oil and set aside. In another bowl combine dry ingredients. Add dry ingredients to egg mixture and beat until well blended. Pour into paper-lined muffin tins, filling about 2/3 full. Bake in a preheated 350-degree oven for 25-30 minutes or until cupcakes spring bake when touched lightly. Cool 30 minutes before frosting.  Makes 24-30. Frost with Cream Cheese Frosting or Butter Cream. I used the butter cream frosting recipe but used buttermilk.
Classic Butter Cream
1/3 cup butter
4 1/2 cups sifted confectioners' sugar
1/4 cup milk or buttermilk
1 1/2 teaspoons vanilla extract
In a bowl beat butter or margarine until fluffy. Gradually add 2 cups of the confectioners' sugar, beating well. Slowly beat in the 1/4 milk and vanilla. Slowly beat in remaining sugar. Beat in additional milk, if needed, to make of spreading consistency. Tint with food color, if desired.
Cream Cheese Frosting
8 oz. cream cheese
1 lb. powdered sugar
½ stick butter
2 t. vanilla
Beat together until smooth.