Eggplant Recipes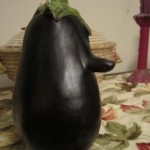 There are still a lot of eggplant at the farm markets and I thought you might be looking for recipes. Here are a few of my favorites.
Herbed Grilled Eggplant
1 large or 2 medium eggplant, peeled and sliced into 1-inch thick slices
Salt
¼ c. Olive oil
Pizza seasoning
3 cloves garlic, minced
¼ c. Parmesan cheese, optional
Marinara sauce of your choice
Place eggplant slices in a large bowl and salt the slices. Let them stand 30 minutes then rinse, drain and pat dry. Brush slices with oil and season with the pizza seasoning and garlic according to your own taste. Broil or preferably grill eggplant, turning often until browned and tender. Sprinkle with cheese near the end of cooking time, if desired. Serve with warmed marinara sauce. Serves 6-8.
Caponata
2 small eggplants, unpeeled and cut into 1/2-inch pieces, about 5-6 cups
1 large onion, chopped
1/2 c. olive oil, or a little more
4 celery ribs, sliced
2 sweet peppers, seeded and chopped
1 heaping tablespoon chopped garlic
3 tomatoes, chopped
1 c. sliced black olives
3-4 T. red wine vinegar
salt and pepper to taste.
Soak eggplant in salted water for at least 15 minutes. Rinse, drain and pat dry. Set aside. Meanwhile in skillet cook onion in 2 tablespoons of the oil until tender. Add the celery and cook until the celery is tender-crisp. Place mixture in a mixing bowl and set aside. Heat 2 tablespoons more of the oil and cook the peppers until tender. Add garlic and cook 1 minute longer. Add the tomatoes and cook 1 minute longer. Add this mixture to onion mixture and return skillet to the heat. Add remaining oil to skillet and cook eggplant until golden brown and tender. You may have to do this in 2 batches. Add remaining ingredients to bowl while eggplant is cooking. When eggplant is done add it to the bowl and mix well., Season to taste. Serve with crusty breads cold, hot or at room temperature. Serves 10-12.
Pasta with Bolognese Sauce
1 lb. ground meat, beef, chicken or turkey
1 t. minced garlic
2 c. marinara sauce
1 t. dried basil
1/2 t. dried oregano
1 can, 14.5 oz., diced tomatoes, undrained
1 c. caponata, see recipe above
1 lb. pasta, cooked, spirals preferred
In non-stick skillet cook meat and garlic until no pink is visible. Drain fat if needed before adding the rest of the ingredients, except the pasta. Heat through and cook 2 minutes. Toss with the pasta and serve. Serves 6.
Eggplant Parmesan
2 large eggplants
salt
flour
oil
1 (15 oz.) container ricotta cheese
1 T. Italian seasoning or pizza seasoning
2-3 c. tomato sauce or marinara sauce
12 oz. mozzarella cheese
Parmesan cheese
Peel and slice eggplant about 1 inch thick. Place in a bowl and slat lightly. Allow eggplant to stand 30 minutes, then rinse and drain. Dredge eggplant slices in flour and sauté in oil until browned and tender. Note: If you prefer you can place eggplant slices on a baking sheet coated with oil and bake in a 400-degree oven, turning once until browned and tender, about 20 minutes. Drain. Place a small amount of sauce in the bottom of a casserole dish. Add a layer of eggplant slices. Combine ricotta with seasoning and spread over the eggplant. Top cheese with a little more sauce and another layer of eggplant. Top with mozzarella, remaining eggplant and remaining sauce. Sprinkle generously with Parmesan cheese and bake, uncovered in a 350-degree oven for about 40 minutes, or until bubbly and browned around the edges. Serves 6-8.