Strawberry Waffles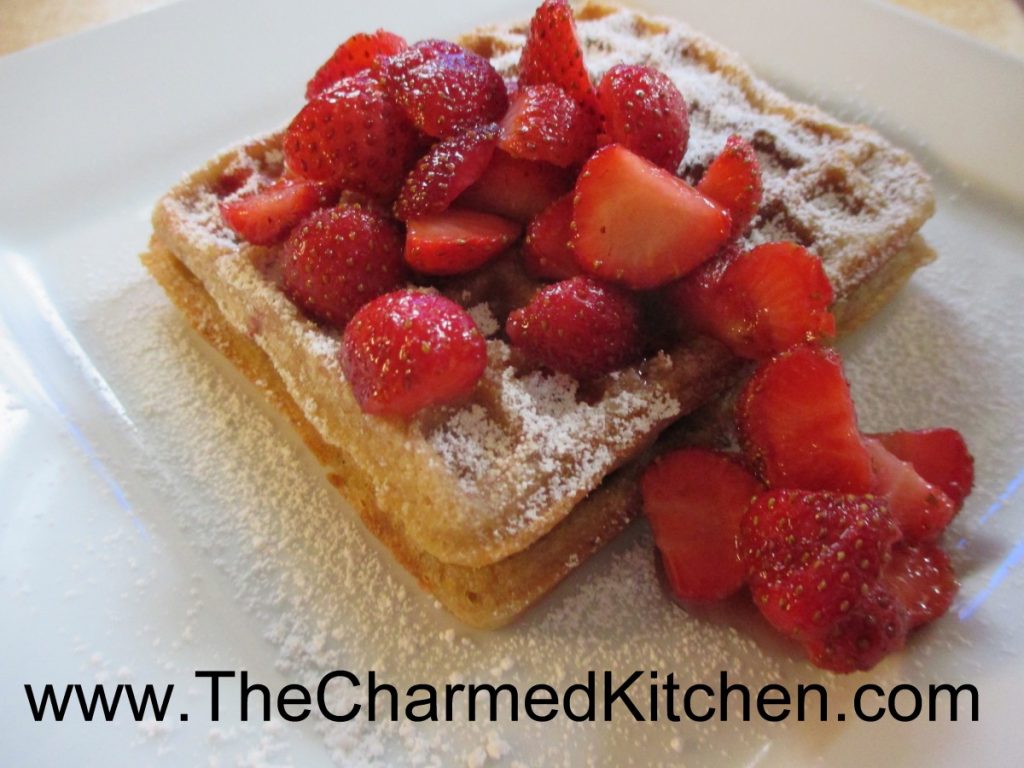 This waffle recipe came about because I needed a dessert for dinner with a friend. It was a last minute dinner, so I didn't have a lot of time. Waffles seemed like a great idea. They don't take a lot of time to make, and  they highlighted the berries. My friend really liked them. I did, too.
I made the waffles with fresh strawberries in the batter. Then, the waffles are served topped with more fresh berries and a dusting of powdered sugar.
They were a perfect dessert. I could see topping them with ice cream or whipped cream, too. Any leftover waffles can be frozen.
For the fresh strawberry topping, you just combine fresh, sliced berries with some sugar. If you can make it ahead of time, the sugar draws juice out of the strawberries, kind of making its own sauce. I made the topping first, then popped in the fridge.
So here is my recipe. Enjoy!!
Strawberry Waffles
1 1/3 c. flour
2 T. sugar
4 teaspoons baking powder
2 t. cinnamon
½ t. salt
2 eggs, separated
½ c. butter, melted
1¾ c. milk
2 t. vanilla
1 c. chopped fresh strawberries
Powdered sugar for topping waffles
Strawberry topping- recipe follows
In a large mixing bowl, whisk together all dry ingredients. Set aside. Separate the eggs. Set aside the yolks. Place the whites in a small mixing bowl. Beat whites until moderately stiff; set aside. Combine milk, melted butter, egg yolks and vanilla in small bowl. Add to dry ingredient mixture and blend. Stir in berries. Fold stiff egg whites into mixture. Ladle mixture into hot waffle iron and bake. To serve, top with powdered sugar and strawberry topping. Makes 10-12 (4-inch) waffles.
Topping
1 qt. strawberries
½ c. sugar- or to taste
Wash and stem berries. Slice berries. Place in bowl and sprinkle on the sugar. Stir to combine and place in fridge until ready to use. Try to do this at least 30 minutes before using. That will give the mixture time for juice to be released from the berries.