If you like apple pie, you will like apple galette. A galette is made by rolling out your crust, adding filling and folding up the edges. No pie pan involved.
I actually find a galette easier to make than pie. You don't have to try to roll out your dough to fit into the pie pan. Nor does your dough have to be rolled into a perfect circle.
That takes a lot of pressure off, if rolling a perfect circle of dough is not your best talent. I must confess to liking its rustic charm. I make my own crust, but you can used purchased crusts, if you prefer.
You can serve your galette with ice cream, whipped cream or dusted with powdered sugar. You can make it with other fruits, as well. Any fruit pie can become a galette.
Apple Galette
Flaky Pie Crust
2 c. flour
1 t. salt
3/4 c. butter, chilled
1 T. cider vinegar
4-5 T. cold water
Combine flour and salt and cut in butter. Toss in vinegar and water 1 tablespoon at a time until dough holds together. Use a fork to toss the ingredients together and as soon as the mixture holds together stop adding water. Makes 2. Chill well before using.
Filling:
5-6 medium apples- I used Jonathan, Gala and Macintosh
2/3 c. sugar- plus extra for sprinkling
3 T. cornstarch
1 T. cinnamon
1 T. Lemon juice, plus extra for treating the apples
1 t. nutmeg
1 t. vanilla
1/2 t. salt
Prepare dough. Roll half the dough into a 10-inch circle- repeat with remaining dough. Keep covered with plastic wrap until ready to use. Peel and core apples and slice thin. Place apples in water with lemon juice added to prevent browning. Drain apple slices well and place in a bowl. Toss with the sugar, cornstarch, lemon juice and seasonings. Place one of the crusts on a baking sheet. Pile half of the prepared apples on the center of the crust. You should have about a 2-inch circle of dough around the edges that is uncovered. Fold edges of the crust up over the apples pressing lightly to hold in place. Sprinkle with a little extra sugar. Repeat with the remaining crust and apples. You will have a little liquid in the bowl from the apple mixture- save that for now. Place the galettes in a preheated 425 degree oven and bake for 15 minutes. Turn down heat to 350 and bake for another 40 minutes or until crust is golden brown. While galettes are baking take the liquid left from the apples and cook in a small saucepan until thickened- it will take a minute or two. This will be used to glaze the galettes. When galettes come out of the oven brush the apples with the thickened glaze. Cool on wire rack. Makes 2.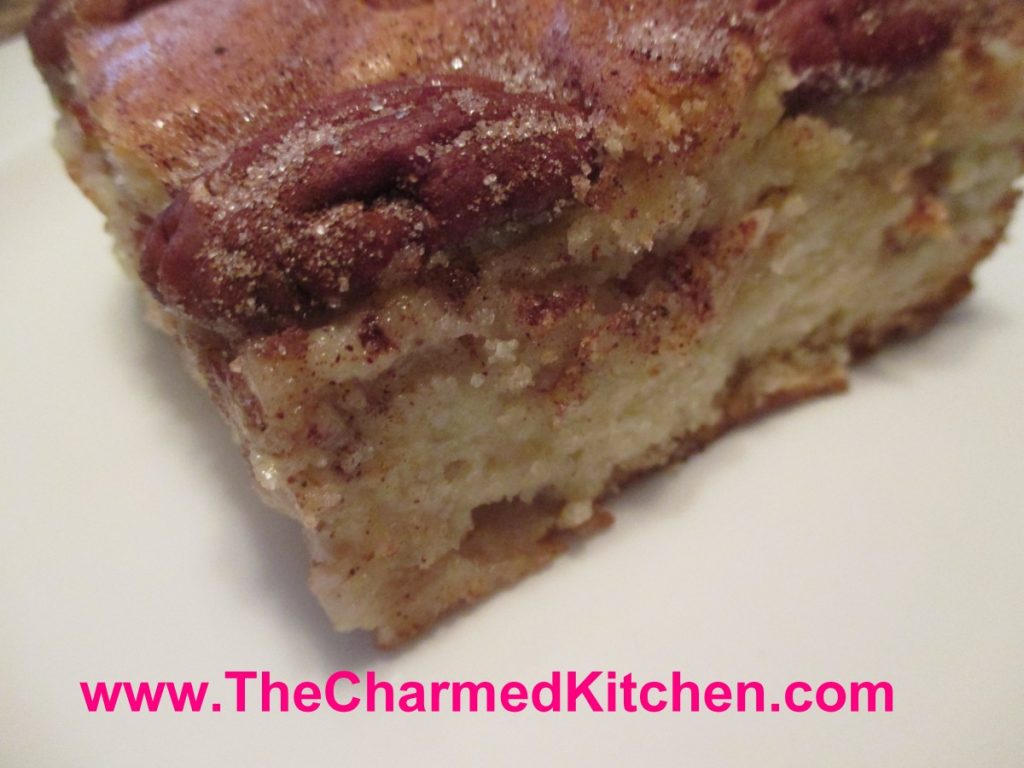 This may be one of my favorite pear desserts. I combined ripe pears with pecans and cinnamon sugar to create this moist and flavorful cake. I had both Bosc and Bartlett pears, but use whatever pears you have on hand. They should be ripe, but still firm. In the recipe directions I say to have the pears peeled and sliced, and ready to go in the cake. I actually made the batter first, then prepped the fruit. Mostly because I was distracted and forgot. It worked out just fine. The upside was that the pears did not have a chance to discolor, and I didn't have to put them in lemon water until ready to use.
The cake is wonderful served all on its own, but I also enjoy topping it with a scoop of ice cream or whipped cream.
Pear and Pecan Coffee Cake
1 c. oil- I like to use olive oil or avocado oil
4 eggs
1 t. vanilla
1/3 c. orange or lemon juice
3 c. flour
2 c. sugar
3 t. baking powder
¼ t. salt
3-4 pears, peeled, cored and sliced
½ c. sugar
1 T. cinnamon
¾ c. pecan halves or pieces
Grease a 9×13 inch pan. Preheat oven to 350-degrees. Combine oil with eggs, vanilla and juice until well blended. In a separate bowl, mix dry ingredients and add to egg mixture. Beat together until batter is smooth. Batter will be thick. Combine the ½ cup sugar with the cinnamon. Set aside. Place ½ of batter in prepared pan. Arrange pear slices on batter and sprinkle on ½ of the cinnamon mixture. Pour on remaining batter and top with the pecans. Sprinkle with remaining sugar mixture. Bake 50- 60 minutes or until toothpick inserted in cake comes out clean. Cool before slicing. Serves 10-12.
I had some ripe bananas and wanted to do something different with them. That is where the idea for these fritters came from. I was going to be making some doughnuts later that day, so I would already have hot oil ready for frying. Seemed like a great idea. I was quite pleased with how they turned out. Only a few ingredients, too. Simple to make and a nice change from banana bread.
I started with a couple of bananas, which I peeled and mashed with a fork. I purposely left some small chunks of banana. Then I added eggs and sour cream. I knew the sour cream would add richness and help keep the fritters tender. I also used cinnamon, both in the batter and in the powder sugar I rolled the finished fritters in. I like the combination of banana and cinnamon.
The fritters puffed up beautifully when fried. They were just a little crisp on the outside, tender and light in the middle. There is no sugar in the batter. The only sweetness comes from the bananas and the cinnamon powdered sugar I  rolled them in. I think they would be great with a powdered sugar glaze, too.
So here is the recipe. A fun way to use ripe bananas, for sure.
Banana Fritters
2 large ripe bananas
2 eggs, beaten
½ c. sour cream
1 t. cinnamon
2 c. flour
2 t. baking powder
1 t. baking soda
Oil for frying
1 c. powdered sugar
1 t. cinnamon
Peel bananas. Mash bananas with a fork, leaving some smaller chunks. You should end up with about a cup of mashed bananas. Combine in a small bowl with the eggs, sour cream and cinnamon. Combine flour with the baking powder and baking soda and stir into the banana mixture. Heat oil in a pot to 350 degrees. Oil should be at least a couple of inches deep. By rounded tablespoonful drop batter into the hot oil to fry. Only do a few at a time, so you don't overcrowd them, or bring the temperature of the oil down too much. Fry until golden brown. It will take several minutes. Remove with slotted spoon and drain on paper towels. Repeat with all the batter. You will end up with 2-3 dozen fritters.
Once the fritters are cooled down you can roll them in powdered sugar, cinnamon sugar or even make a powdered sugar glaze. I combined cinnamon with a little powdered sugar and rolled the fritters in that. The cinnamon worked nicely with the bananas.
 I was defrosting my freezer and found local sweet corn I had frozen last summer. I had forgotten all about it. I wanted to make soup for a dinner with friends, so I decided to use the frozen corn to make this chowder. I also had a pound of bacon, which gave the soup a wonderful smoky flavor. I cooked the bacon in the soup pot, allowing it to get pretty crisp. I removed as much of the fat as I could, but left the bacon in the pot. Then, when I cooked the onions and added the stock, all the little brown bits of bacon in the pot added even more flavor. It was a big hit. A perfect dish for a snowy evening.
Smoky Corn Chowder
1 lb. bacon
1 onion, chopped
2 carrots, peeled and sliced
6 c. chicken stock
2 potatoes, peeled and cubed
6 c. corn – I used frozen corn
2 cups half and half or milk
¼ c. flour
Salt and pepper to taste
Hot sauce to taste
Fresh chopped parsley
Cut bacon in 1-inch pieces and fry in a Dutch oven until crisp. Tip pot and spoon out most of the fat. Add the onion and sauté until translucent. Add carrots and stock. Cover and simmer 10 minutes, then add the potatoes and corn. Cover and simmer 15-20 minutes, or until potatoes are tender. In jar with a tight fitting lid, combine 1 cup of the half and half or milk with the flour. Put on the lid and shake until mixture is smooth.  Stir into the pot along with the remaining half and half or milk and cook, stirring often until mixture thickens up. Adjust seasoning to taste. Stir in parsley and serve.  Serves 6.
I make homemade liqueurs throughout the year, using seasonal fruits. Fall and winter are best for citrus, so it is lemon liqueur time!!! All you need to get started is a jar, some vodka and lemons. Since you are using the peels, best to use organic lemons, if you can find them. Use a vegetable peeler to get just the yellow part of the lemon peel. A little of the white is OK, but too much will make your liqueur bitter. Combine the peels with the vodka in a jar with a tight-fitting lid. Now it's just a waiting game. Once the peels have steeped long enough to flavor the vodka, just sweeten, if you like, and let the liqueur mature a little longer. Well worth the wait. You can use the same recipe to make lime liqueur, too. You can also use half lemon and half lime peels in the same batch for lemon/lime liqueur. You can also add other flavors, like mint, to your mixture.
Homemade Lemon Liqueur
8 lemons
3 c. vodka
1 c. sugar syrup
Peel lemons using a vegetable peeler. Use only the yellow part of the peel. If you get larger pieces of the white pith, scrape off and discard. Place peels in jar with the vodka. Cover and place in a cupboard.
Steep peels 2-3 weeks. Strain and filter and add sugar syrup. Mature 1-2 weeks.
Note: you can also make lime liqueur with the peels of 8 limes, or use 4 lemons and 4 limes for a lemon-lime liqueur.
Variation: You can also use rum as the base for a great daiquiri!
Note: To make citrus flavors without the peels substitute 2 t. pure extracts for the fruit and add sugar syrup right away. Just steep a few days to mature a little.
Also, lemon or lime are terrific unsweetened, to add to other cocktails. You can make some without the added simple syrup.
My family always gets together the night before Thanksgiving for a pre-Thanksgiving meal. Since we live in different cities, it is the first night we get to catch up before the big day. We try to keep it simple. My niece makes my Busha's Polish Mushroom Soup and I make an assortment of filled breads.
I have made these breads with plenty of different fillings, and I have posted many of those recipes. This year I made the Reuben, which was requested by my nephew.  I also made one filled with spinach, mozzarella and feta cheese, which I knew my niece would like. Several people have requested the recipe for this spinach bread, so here it is.
Spinach and Feta Bread
3¼ c. all purpose or bread flour
1 T. sugar
1 t. salt
1 package quick-rising yeast
1 c. hot water
1 T. oil
Filling:
1 (10 oz.) package frozen spinach, thawed and squeezed dry
1½  c. shredded mozzarella cheese
1 c. crumbled feta cheese
2 T. chopped parsley
1 T. lemon juice
2 t. hot sauce, or to suit your taste
1 t. dill weed
Grease a large jelly roll pan and set aside. Place a shallow roasting pan on the stove and fill halfway with water.  Start heating the water up. You'll need it later.
Prepare filling: Take spinach and place in a medium bowl. Combine it with cheeses and remaining filling ingredients. Use your hands and squeeze the ingredients together, partly to mix them up well, but also to get them to stick together a little. Set aside and prepare the dough.
Set aside 1 cup of the flour. Combine remaining flour with the other dry ingredients in a medium bowl. Stir in water and oil and gradually stir in enough flour to make a soft dough. Turn onto lightly floured surface and knead until dough is smooth and elastic, about 5 minutes. Roll dough into a rectangle about 16 x 8 inches in size. Spread spinach mixture down center of dough.  Squeeze it a little, sort of in a tube shape. You need to fold the dough over this mixture, so pressing it together helps with the next step.  Cut one-inch wide strips of dough from filling to edge on both sides. It will sort of look like fringe. Alternating sides, fold strips up and over the filling at an angle. Pinch the ends.  Carefully lift loaf onto greased jelly roll pan and place at an angle, so it will fit. Cover with a towel, and place the jelly roll pan on top of a roasting pan, half-filled with simmering water for 15 minutes. Because quick-rising yeast is more heat tolerant, the simmering water helps the dough to rise faster. After 15 minutes, remove towel and place jelly roll pan in oven. Bake in a preheated 375-degree for 20-25 minutes, or until golden brown. Cool slightly before slicing. Serve warm and refrigerate leftovers.
Bread can be baked ahead of time and reheated, too. Wrap in foil and place in a preheated 350 degree oven for about 25 minutes. Loosen the foil after 10 minutes so the bread does not get soggy.
Note: The variations for this bread are almost endless. Some favorite combinations are ham and Swiss with mustard, roast beef and cheddar, chicken, broccoli and cheese,, pizza, assorted fillings. You get the idea. Use your imagination and have fun. Just be careful not to overfill, or the bread will be hard to move, use fillings that aren't too runny and always use cold fillings.
If you want to use regular yeast, in place of quick rising yeast, use warm, rather than hot water. Also, don't let dough rise over boiling water. After kneading cover dough and let rise 45 minutes. Punch down and assemble as in original recipe. Cover with a towel and let rise until dough looks puffy, about 40 minutes. Bake as directed above. These breads can also be frozen.