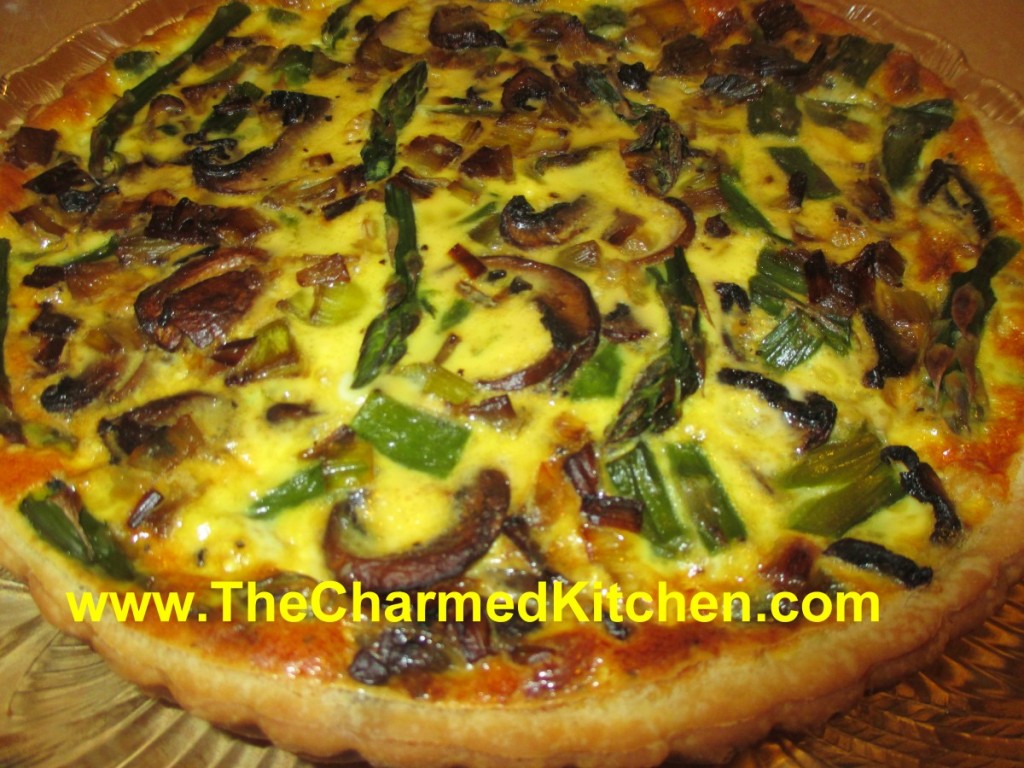 This quiche is a nice combination of ingredients for any Spring gathering. Would be great for a brunch, too.
Mushroom, Leek and Asparagus Quiche
1 unbaked pie shell
2 T. oil or butter
1 c. sliced leek- white or light green part only
4 oz. sliced mushrooms- I used baby Portobello
8 oz. asparagus, trimmed and sliced
4 oz. shredded Swiss cheese
2 T. flour
3 eggs, beaten
¾ c. half and half
1 T. fresh dill or 1 teaspoon dried dill
Salt and pepper to taste
Hot sauce to taste
Roll out crust to fit a 9 or 10- inch tart pan. Place crust in pan and trim edges. Chill crust until ready to use. Preheat oven to 400 degrees. In skillet, heat oil or butter and cook leeks until tender. Add mushrooms and continue cooking until mushrooms are golden. Set aside. Steam asparagus for 3-4 minutes, or until just tender. Set aside. Combine flour with cheese and toss to coat. Spread cheese in prepared tart shell. Top with the mushroom and leek mixture. Season with salt and pepper. Combine the eggs with the half and half, dill and hot sauce. Pour over the mushrooms mixture in the tart shell. Add the asparagus. Place in preheated oven and bake at 400 for 30 minutes. Turn down heat to 350 and cook for 20-25 minutes longer, or until crust is golden and filling has set up. Serves 4-6.

* While I would normally use a more traditional pie crust, I ended up using the dough I normally use for my kolachy. It was leftover and seemed like a nice choice. The kolachy dough is 3 sticks of softened butter, 8 oz. of cream cheese and 3 cups of flour. Mix all ingredients until smooth and chill until ready to use. It was leftover, so hard to say how many crusts a full recipe would make. I would think you could easily get three crusts from one recipe. You can, of course, use your favorite pie crust recipe.