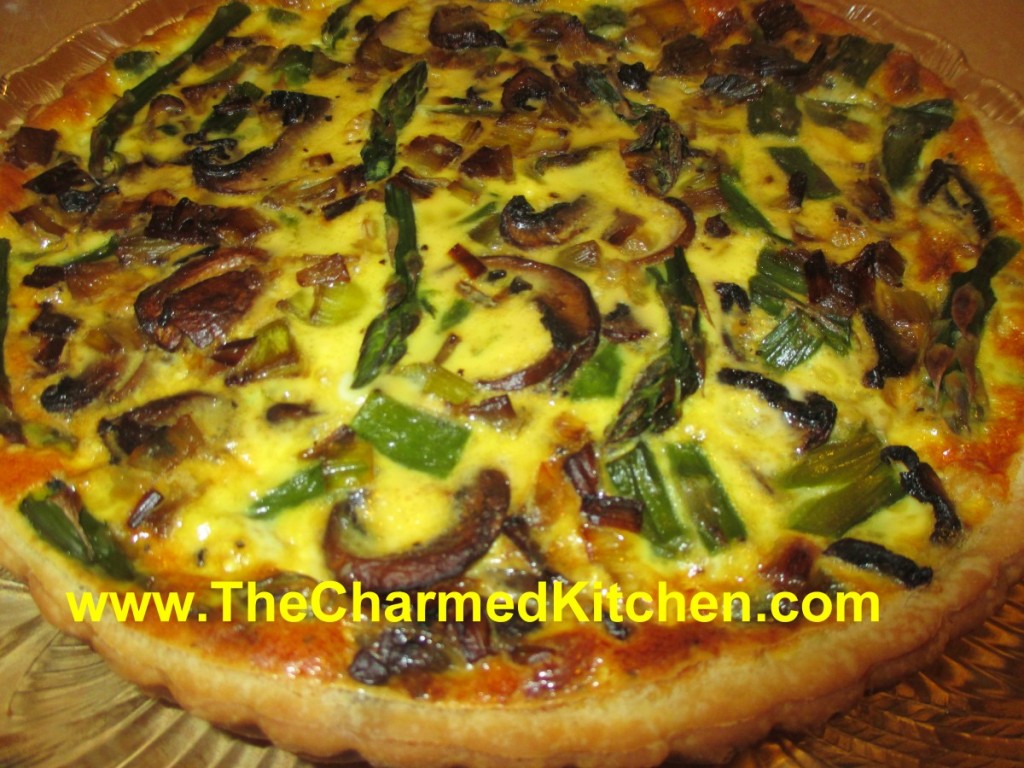 We had this quiche in the mushroom class last night. It is a nice combination of ingredients for any Spring gathering. Would be great for a brunch, too.
Mushroom, Leek and Asparagus Quiche
1 unbaked pie shell
2 T. oil or butter
1 c. sliced leek- white or light green part only
4 oz. sliced mushrooms- I used baby Portobello
8 oz. asparagus, trimmed and sliced
4 oz. shredded Swiss cheese
2 T. flour
3 eggs, beaten
¾ c. half and half
1 T. fresh dill or 1 teaspoon dried dill
Salt and pepper to taste
Hot sauce to taste
Roll out crust to fit a 9 or 10- inch tart pan. Place crust in pan and trim edges. Chill crust until ready to use. Preheat oven to 400 degrees. In skillet, heat oil or butter and cook leeks until tender. Add mushrooms and continue cooking until mushrooms are golden. Set aside. Steam asparagus for 3-4 minutes, or until just tender. Set aside. Combine flour with cheese and toss to coat. Spread cheese in prepared tart shell. Top with the mushroom and leek mixture. Season with salt and pepper. Combine the eggs with the half and half, dill and hot sauce. Pour over the mushrooms mixture in the tart shell. Add the asparagus. Place in preheated oven and bake at 400 for 30 minutes. Turn down heat to 350 and cook for 20-25 minutes longer, or until crust is golden and filling has set up. Serves 4-6.

* While I would normally use a more traditional pie crust, I ended up using the dough I normally use for my kolachy. It was leftover and seemed like a nice choice. The kolachy dough is 3 sticks of softened butter, 8 oz. of cream cheese and 3 cups of flour. Mix all ingredients until smooth and chill until ready to use. It was leftover, so hard to say how many crusts a full recipe would make. I would think you could easily get three crusts from one recipe. You can, of course, use your favorite pie crust recipe.
I had a chance to have a friend over for lunch. She is vegetarian. Neither of us had a lot of time so I wanted something fast and easy. I had a couple of portobello mushroom caps in the fridge so I used them as my starting point. I also had some whole wheat buns so a sandwich felt like the right choice. I don't like to use the word burger. Burgers for me will always be meat, but it did end up pretty close. The flavors, appearance and feeling was pretty burger-like, if not a true burger.
I started by  cooking some sliced onion in oil adding salt, pepper and some hot sauce. While the onions were cooking I rinsed the mushroom caps and gave them a drizzle of lemon-infused olive oil and white wine vinegar. Also gave them a dash of salt and some Italian seasoning. I would say I marinaded them, but seriously, it was for 10 minutes while the onions were cooking. Once the onions were getting almost caramelized I added the mushrooms to the pan with the liquids I had been soaking them in. I let them cook, turning a few times, until they were cooked and browning a little. By then most of the liquid in the pan was gone.
The biggest challenge with cooking any mushroom is water. They are full of it. To get a truly strong mushroom flavor you need to get that water out and intensify the mushroom's flavor. Don't be afraid to let them cook long enough for that to happen.
I finished the mushrooms off with a couple of slices of sharp white cheddar cheese. I also toasted the buns. To serve it I placed the cheesy mushrooms on the buns and topped each with some of the onions. It was a lunch I would make again, even for my non-vegetarian friends.
The cold winter this year has really got me craving comfort foods. Also have a real taste for some childhood favorites. My mother used to make some really good quiches. Always a home made crust. I used what I had on hand the other day to whip up this quiche. Thought of her when I made it.
Spinach and Mushroom Quiche
1 unbaked pie crust
1 T. oil
1 small onion, chopped
8 oz. sliced mushrooms
salt and pepper to taste
1 (10 oz.) package frozen spinach, thawed and squeezed dry
4 oz. diced Swiss Cheese
2 T. flour
1 c. milk or half and half
3 eggs, beaten
In skillet saute onion in oil until tender. Add mushrooms and cook about 5 minutes more. Season with salt and pepper. Stir in the spinach and set aside. In 9-inch pie pan place the crust. Toss cheese with the flour and place in crust. Add the spinach mixture. Combine milk with the eggs and pour over the spinach mixture. Place pan on a baking sheet to collect any drips and place in a preheated 400 degree oven. Bake for 30 minutes then turn down over to 325 and continue baking until quiche is firm near the middle, about 25-30 minutes more. To test for "doneness" insert a butter knife about an inch from the center of the quiche. If it comes out clean the quiche is done. Serves 4-6.