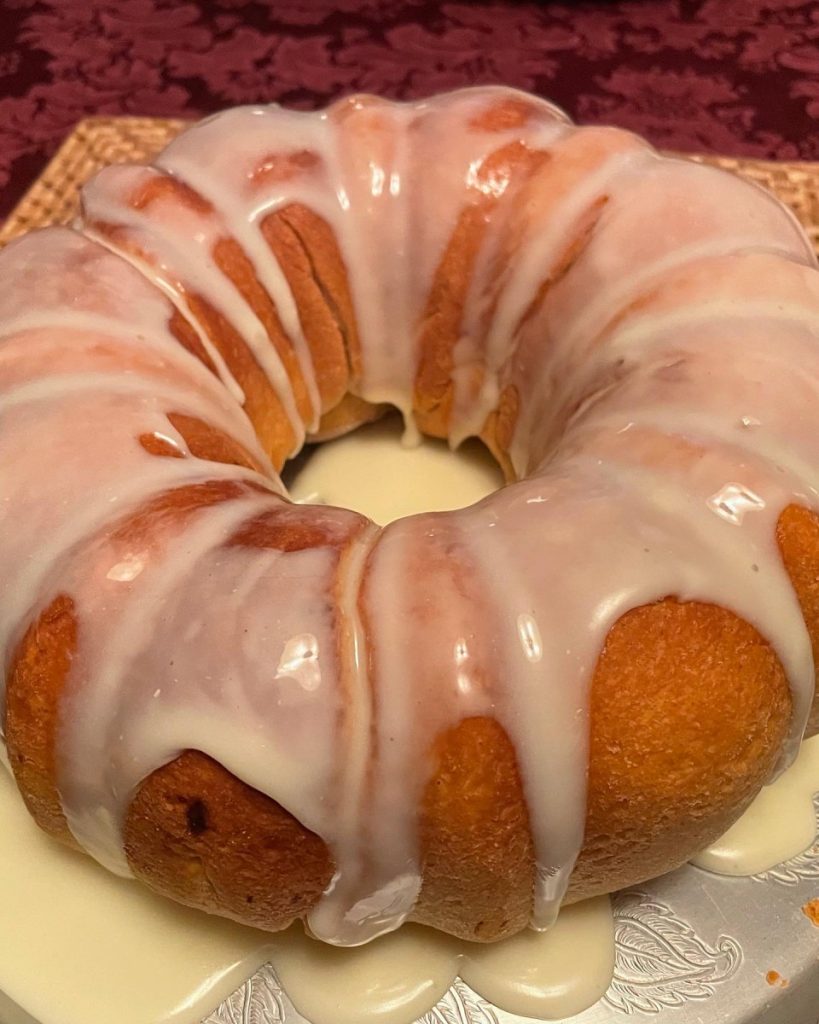 Last year, for April Fools' Day and a friend's birthday, a group of friends created a dinner made of food imposters. This may look like a Bundt cake, but it is actually a pizza bread. I made dough, rolled it out into a rectangle and added cheese, sauce and sausage. Then I sealed it up and put the dough in a greased Bundt pan. I let it rise and baked it.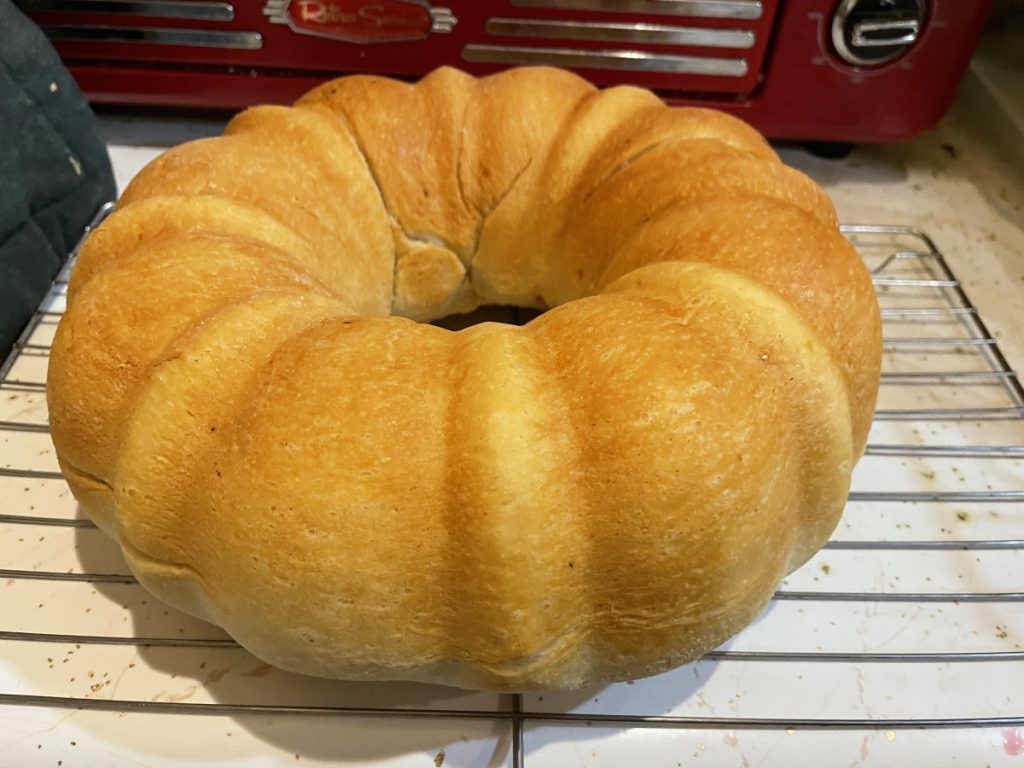 When it came time to serve it, I warmed it in the oven and made a mozzarella "frosting". To make it nice and smooth I combined hot water, milk and sodium citrate. I then added the cheese. I simmered it until the cheese melted. Sodium citrate helps to make cheese extra melty and smooth. I poured it over the "cake" and served it. It really was a lot of fun.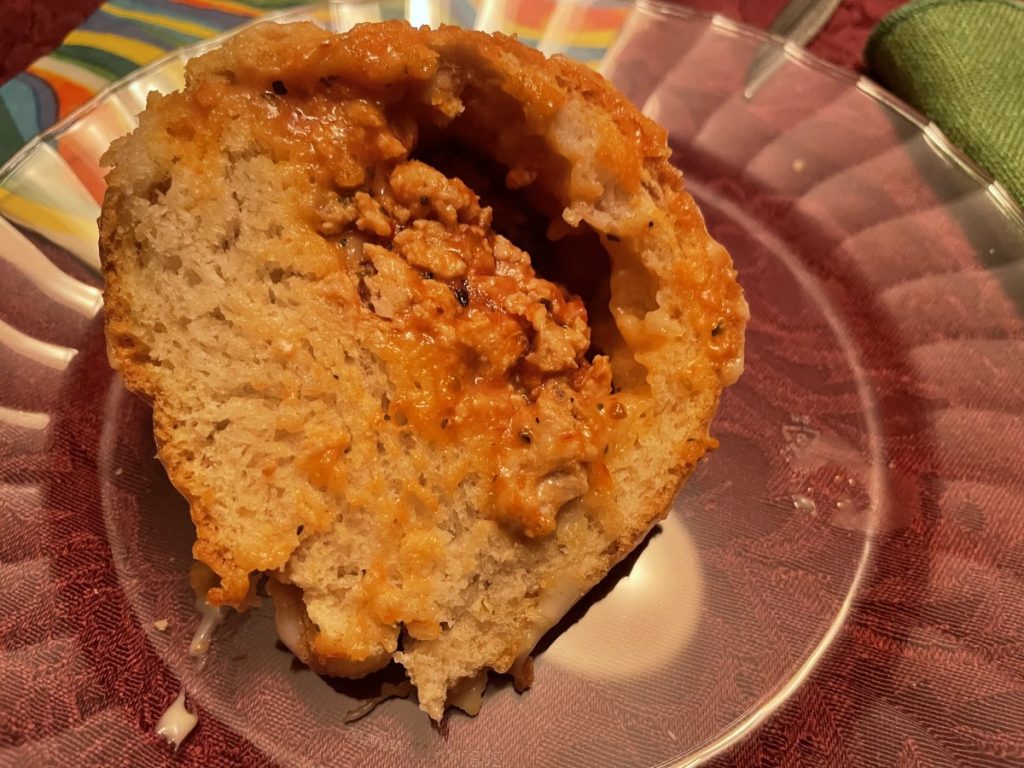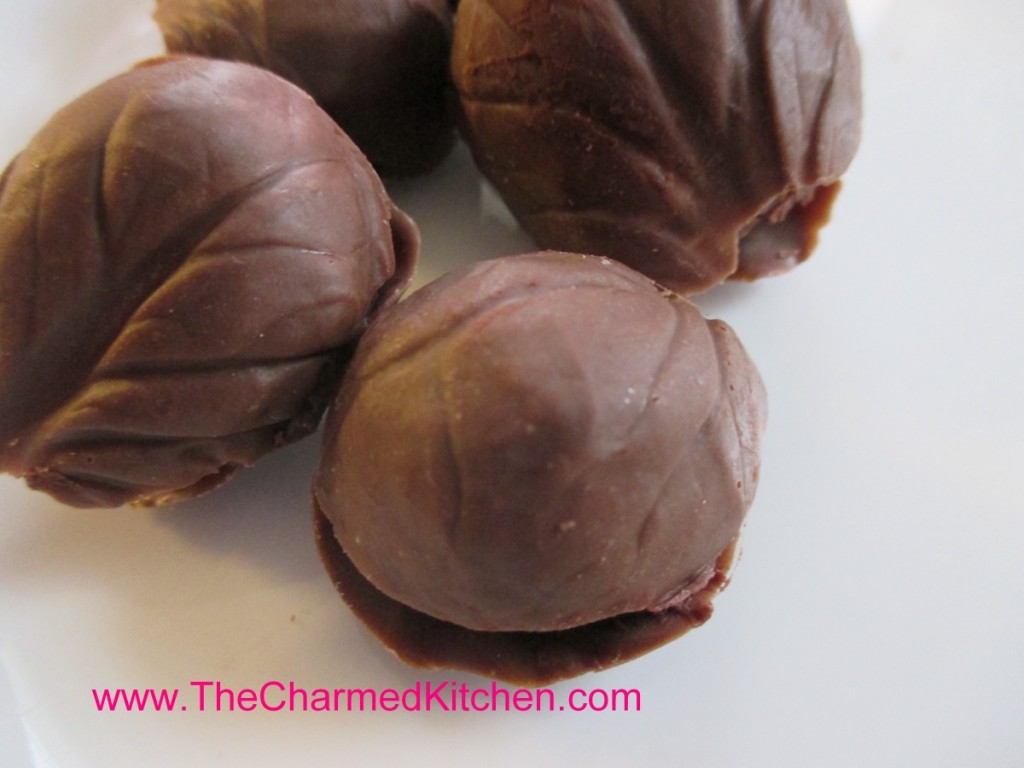 Before you think these have any Brussels sprouts in them- they don't. These truffles are all chocolate. The center is a chocolate truffle. The "leaves" are made by  painting Brussels sprouts leaves with melted chocolate. Once the chocolate  hardens, the leaves are peeled off. What remains looks like a Brussels sprout!!
This might be one way to get someone to eat Brussels Sprouts. Also a fun food to serve on April 1st.
I made my truffle recipe and put it in the fridge to firm up. The recipe follows.
Then I took some of the larger outer leaves off Brussels sprouts. I trimmed the bottoms off to make peeling of the leaves easier. You'll need two leaves for each truffle so be sure to have plenty. I had about 60.
You'll also need a few ounces of chocolate, for coating the leaves. Use whatever chocolate you like. The better quality of chocolate you use, the better the truffles. I wiped the leaves clean, and then melted several ounces of chocolate. I used a pastry brush to brush the insides of the Brussels sprout leaves with the melted chocolate. Once the chocolate had hardened, I gently peeled off the leaves and discarded them. Since the leaves were different sizes, I rolled out portions of the truffles that would fit the size of the leaves I was using. I pressed the truffle mixture in one leaf and then placed another leaf, of similar size, over the filling.
Normally I would roll the truffles in cocoa powder- but in this case, I didn't. I wanted the truffles to stick to the leaves and leaving them plain seemed like the best way to do that. The end result was very cute. Store in fridge until ready to serve.
Chocolate Truffles
1/3 c. whipping cream
6 T. butter, cut into small pieces
2 c. chocolate chips- or 12 oz. bittersweet chocolate, grated or chopped coarsely
Unsweetened cocoa
Heat cream to boiling in small saucepan. Stir in butter and cook until melted. Remove from heat and stir in chocolate until melted. Place in shallow bowl and chill until firm, at least a couple of hours. Roll mixture into 1-inch balls and roll in cocoa. Sometimes the mixture is quite firm and hard to roll into perfectly smooth balls. You can roll them out as smooth as you can, roll in cocoa and then roll again to smooth out. You might want to give them another roll in the cocoa after that. Makes about 30.
Note: For using as Brussels sprouts I skipped the rolling in cocoa part.  
This tart is sure to get some attention at your next party. A flaky crust and cheese filling are topped with veggies. The special part, is that the vegetables are rolled up to resemble roses. Simple and elegant. Plus it is a nice way to use up some of those zucchini.
It really is easy to make, although a bit time-consuming. It can be made a day or two ahead, baked, and then just reheated when you want to serve it. There are three parts to it. The crust- which I made using a favorite pie crust recipe. You could use a store-bought crust, if you prefer. That will save some time. The filling- a mix of cheeses, eggs and some herbs. Finally the topping. Various veggies, peeled into thin ribbons, wound into little "roses", and placed on the cheese layer.
The crust:
This is an old family recipe. Simple and flaky. It makes 2 crusts- so I used the other one for another dish. You could make two tarts or freeze the rest for another time.
Flaky Pie Crust
2 c. flour
1 t. salt
3/4 c. shortening, chilled, or use lard or coconut oil, I used coconut oil
1 T. cider vinegar
4-5 T. cold water
Combine flour and salt and cut in shortening. Toss in vinegar and water, 1 tablespoon at a time, until dough holds together. Use a fork to toss the ingredients together and as soon as the mixture holds together stop adding water. Makes 2. Chill well before using.
The crust was rolled out, using half the dough, and fitted into a 9-inch tart pan. I blind baked it- to insure it would be cooked through- because the tart doesn't cook that long. I poked the crust all over with a fork, then I topped the crust with a sheet of foil and then a pound of dry pinto beans. You can use pie weights, if you have them or uncooked rice. I have a jar of pinto beans that I keep just for blind baking. The crust is placed in a 425 degree oven and baked for 15- 20 minutes. It should be taken out of the oven before the edges get too brown. Set aside until you are ready to fill it.
The Filling
I used a combination of cheeses and eggs, with some seasonings. I am not sure I needed the eggs- but I wanted the cheese to set up.
1 (15 oz.) container ricotta cheese
1/2 c. Parmesan cheese
2 eggs
1 t. salt- or to taste
1 t. dried oregano
1 t. dried basil- or 1 T. fresh basil
healthy dash of hot sauce
Combine all ingredients and spread over the crust.
The Veggies
Even though these are listed last, you might want to get them ready ahead of time. I used a vegetable peeler to make "ribbons" out of the veggies I used. You could also use a mandolin, if you have one. Some were going to be hard to roll- so I steamed them in the microwave, in batches, for several minutes. That softened them up and partially cooked them. They should be tender- they don't get much softer in the baking process. Dry them off on paper towels. When I was ready to use them- I grabbed a "ribbon" and rolled it up, adding more ribbons until I had a little "blossom". As I made them I stuck them in the cheese mixture- already spread over the crust. Sometimes I used 2 veggies in one flower to make it look more interesting. Once the surface was covered, I pressed them down a little so they would all be the same height, roughly. Season with some salt.
2 zucchini
2 yellow summer squash
2 really big carrots – made for wider ribbons
1 really big beet*
I had some pieces left over and just made a stir fry with them.
Baking the tart:
Place the tart on a baking sheet and bake in a 350 degree oven for about an hour. Crust should be nice and golden around the edges and the veggies should be tender.
* The beet was the trickiest- but I wanted that pop of red. I peeled the skin off first, then tried to peel the longest pieces I could. Some were a little short, but once steamed, they still worked pretty well. sometimes I'd finish a beet center off with a longer zucchini ribbon to hold it together.