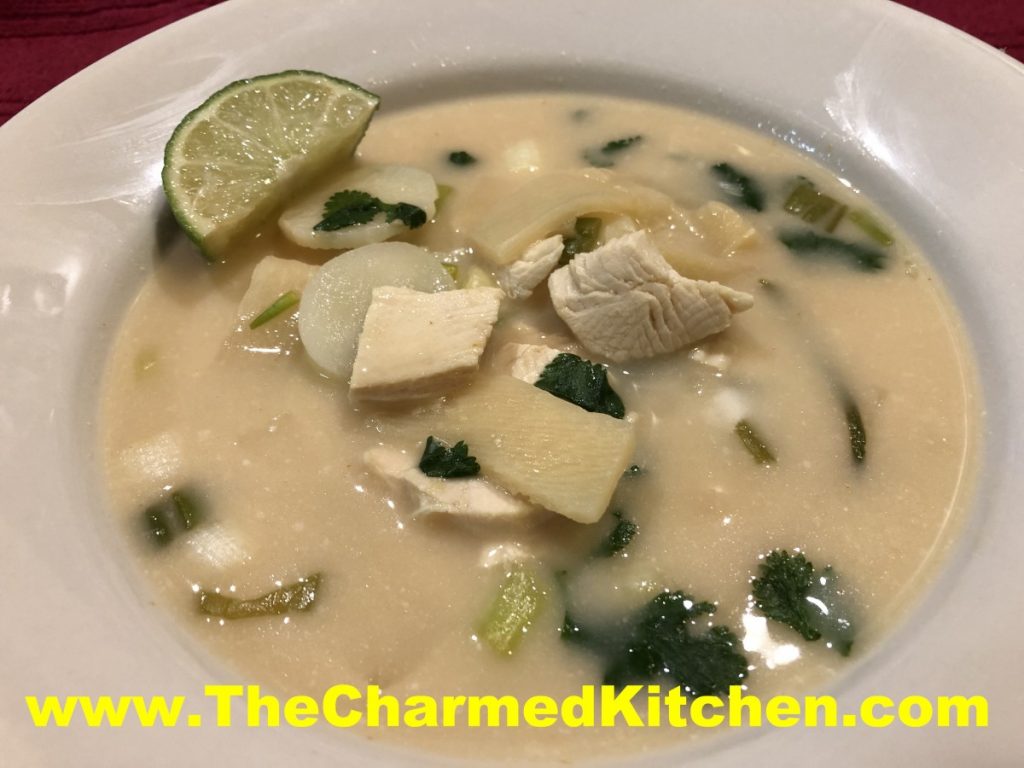 This recipe is inspired by a favorite dish at a local Thai restaurant. The recipe is pretty simple. Coconut milk and chicken stock are the base. The soup has a few veggies added and a healthy dash of lime juice and ginger. Then it is just a matter of adding some additional seasoning and the cooked chicken.
If you are starting with raw chicken, you could add it with the initial ingredients and just simmer long enough to cook the chicken. Small slices of chicken would cook in a few minutes. Since I had cooked chicken, I added it  at the end. It was in the soup just long enough to warm it up. That way the chicken wouldn't get tough from over-cooking.
The soup is meant to have a nice, citrus flavor from the lime juice. Adding the juice from three or four limes should be plenty, but all limes are not the same. If your limes are smallish, or not really juicy, feel free to add a little more.
For a soup thrown together so quickly, it really has a wonderful flavor. It is one of my favorite quick meals. So here is the recipe. Enjoy.
Coconut Ginger Soup
1 can, (13.5 oz.), coconut milk
2 c. chicken stock
1 can sliced water chestnuts, drained
1 jar bamboo shoots, drained
2 T. fresh grated ginger
Juice of 3-4 limes
Hot sauce to taste
3 T. fresh chopped cilantro- or parsley
3 T. chopped green onions
salt to taste
8 oz. cooked chicken, sliced in bite-sized pieces
Heat first 7 ingredients in a saucepan until heated through. Simmer about 5 minutes. Add cilantro and green onions and season to taste. My limes were pretty juicy. Feel free to add a little more lime juice, if you like. Add the chicken and simmer a few minutes longer. Serves 2-3.
Still in the mood for Chinese food so I made  a version of Won Ton Soup. I had some leftover won ton wrappers so I filled them with chicken. Simmered them in chicken stock and added spinach at the last minute. Not a traditional Won Ton Soup, but I had to work with what I had. It tasted good so that is what matters in the end.
Won Ton Soup
24 Won ton wrappers
1 c. cooked chicken
1/4 c. minced celery
1 t. soy sauce
1 t. sesame oil
4 c. chicken stock
4 c. fresh spinach
Combine chicken with the celery, soy sauce and sesame oil. Place 1 teaspoon of the chicken mixture in the center of a won ton wrapper. Moisten edges and fold in half to form a triangle. Press edges to seal. Repeat with remaining filling and wrappers. Heat stock and add the wrappers and spinach and cook until heat through and spinach is cooked, about 5 minutes. Serves 2-3.