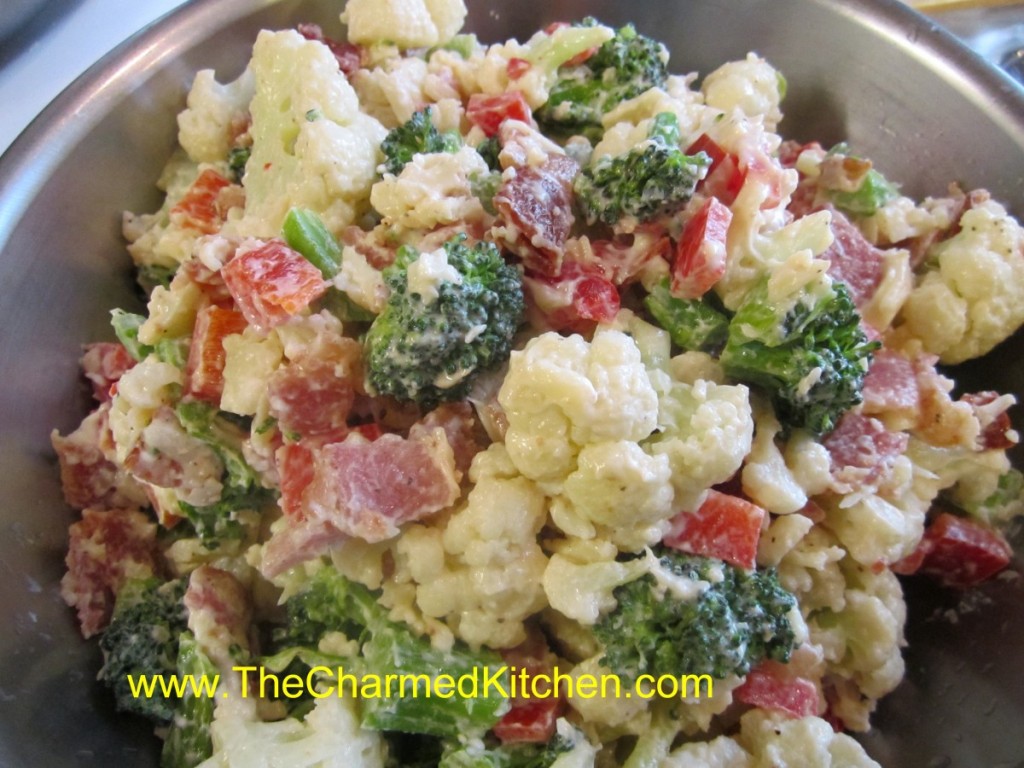 I make broccoli salad pretty often, but sometimes like to switch it up a little by adding cauliflower. The result is  a salad that has a great mixed of flavors, colors  and textures. The addition of bacon also adds a wonderful smoky flavor. Certainly, feel free to omit the bacon for a vegetarian salad. With or without the bacon, this is a great salad for the warmer days ahead. Fun to make for your next cook out or picnic, too.
Broccoli and Cauliflower Salad
4 c. cauliflower, broken into bite- sized pieces
2 broccoli crowns, cut into bite- sized pieces
1 can water chestnuts, drained and sliced
1 sweet pepper, seeded and chopped
1 c. shredded cheese, optional
8- 10 slices of bacon, cooked and chopped
1/2- 3/4 cup of mayo, adjust to your preference
salt and pepper to taste
Steam the cauliflower and broccoli until just tender/crisp. About 5 minutes in a microwave steamer, 6 minutes in a conventional steamer. Place in a bowl to cool down then combine with remaining ingredients and stir to combine well. Adjust seasonings, if needed. Serves 6-8.
I am always surprised at how many people have never tried broccoli rabe- also known as rapini. This versatile vegetable consists of stems, leaves and small flowerets with a strong broccoli flavor. It is all edible and very tasty. I think perhaps the sometimes strong, even bitter flavor, might turn people away from trying it. I enjoy that bitterness, but if you don't you can temper it by first blanching the broccoli rabe. That's what I do with this dish. I also pair the broccoli rabe with pasta and some cheese which also mellows out the flavor.
Broccoli Rabe with Pasta and Pecans
1 bunch broccoli rabe (rapini), trimmed and cut into 1-inch pieces
1 (8 ounce) box uncooked pasta
½ c. pecans
3 tablespoons olive oil
2 large cloves garlic, sliced
salt and black pepper to taste
1/2 cup shredded Parmesan cheese
Fill a large pot with lightly salted water and bring to a rolling boil over high heat. Once the water is boiling, stir in the broccoli rabe, and cook until just tender, about 5 minutes. Remove with a slotted spoon, and set aside. Return the water to a boil, and stir in the pasta. Cook, uncovered, stirring occasionally, until the pasta has cooked through, but is still firm to the bite. Drain well in a colander set in the sink. While the pasta is cooking, cook and stir the pecans in a skillet over medium heat until fragrant, about 5 minutes. Set the nuts aside, add the olive oil, and reduce heat to low. Stir in the garlic, and cook until golden brown, about 3 minutes. Stir in the broccoli rabe, and cook 3 minutes to reheat. Season to taste with salt and black pepper, then stir in the drained pasta and walnuts. Toss with Parmesan cheese before serving. Serves 4.