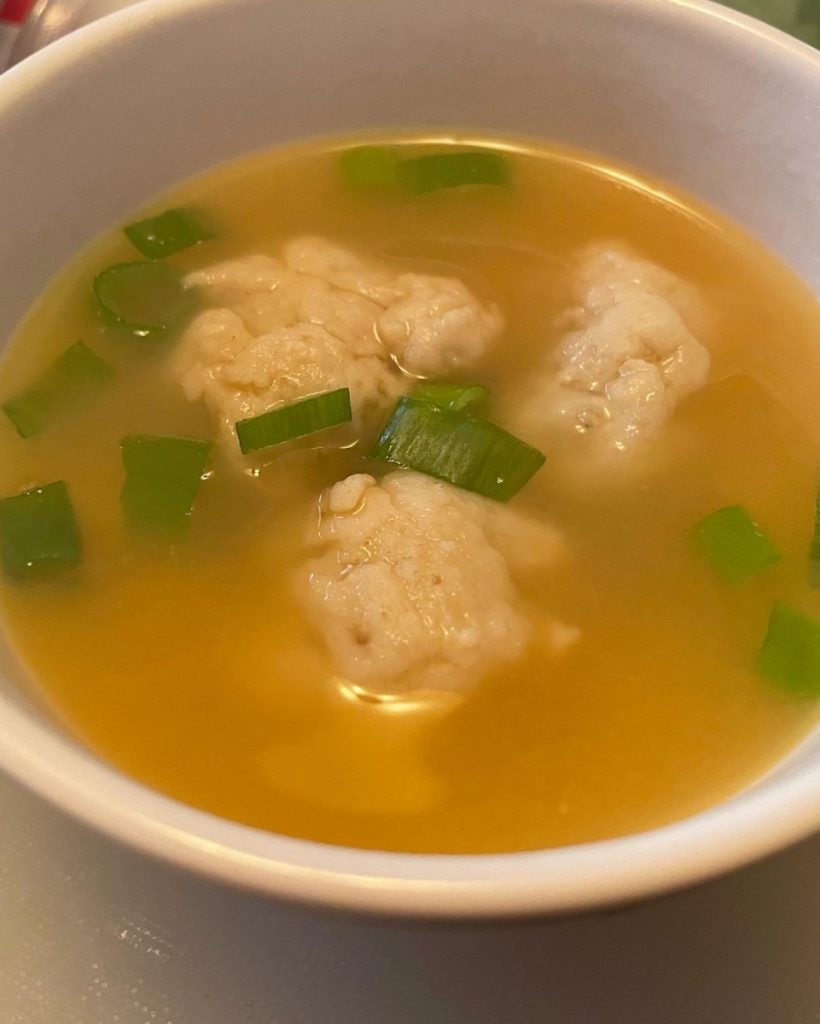 Fish dumplings are kind of like meat balls, but made with fish. Still, they are different, and it is the texture that makes them so special. I had eaten fish balls at Asian restaurants and always loved them. I was curious as to how they were made. I made them and because of the tender final product, thought of them as more of a dumpling. Since I was making other dumplings with friends yesterday, I made these, too.
We added them to simmering stock and served with dipping sauces.
The big difference in making fish dumplings, as opposed to a traditional meat ball, is that the fish is pureed into a smooth paste. Combined with a few other ingredients, the mixture is very soft. More like a batter or dough in feeling and appearance. The fish batter is also mixed for a long time. It helps to give you the smooth final product you want.
Once you make the base, the balls are shaped and simmered until done. The final texture should be smooth and light. Mine are pretty basic, but you can add all sorts of seasonings for different flavors. Different fish will also give you different flavors.
When you read the recipe, it sounds like a lot of work. There is some time in prep, but a lot of that is just letting the mixer do its job. I thought they were well worth the effort. I had plenty for a party, and extra to freeze.
I used catfish and I really loved the flavor.
Catfish Dumplings
2½ lbs. of raw fish – I used catfish
1¾ c. ice water, divided
4 T. sugar
2 T. dry sherry – not cooking sherry
3 t. salt
4 eggs whites
4 T. cornstarch
Place the fish in a blender add ¾ cup ice water and puree until smooth. Remove fish puree to a stand mixer and add the sugar, sherry and salt. Use the paddle attachment and blend the fish mixture on high for 12-15 minutes. Add the egg whites, one at a time, while the mixer is running, during the 15 minute blending time. Now, with the mixer still running add ½ cup of the ice water, then 2 tablespoons of the cornstarch, blending well each time. Add the rest of the water, then the rest of the cornstarch. This should take about 5 minutes. The mixture should look really smooth and kind of silky. Turn off the mixer and place a small spoonful of the mixture in water- to be sure it floats. Now, you are supposed to squeeze small amounts of the mixture through your hand as you make a fist to form into 1- inch balls. I just used a tablespoon to spoon out the mixture, then used wet hands to form into balls. They aren't going to be perfectly smooth and round, but that is fine. Have a big bowl of cold water standing by. As you make the balls drop them in the water. They will keep their shape and not stick together- they are soft, but should hold together. Once you have all the dough in balls, get a big pot of water just barely simmering. You don't want the water to boil. Drop about half of the dumplings into the water at a time. Cook until they float, 2-3 minutes. Remove with a slotted spoon and set aside to cool. Now you are ready to go. It makes a big batch, so feel free to freeze some. You can add your fish dumplings to soup, sauté in oil until crisp or warm in broth and serve with dipping sauces.