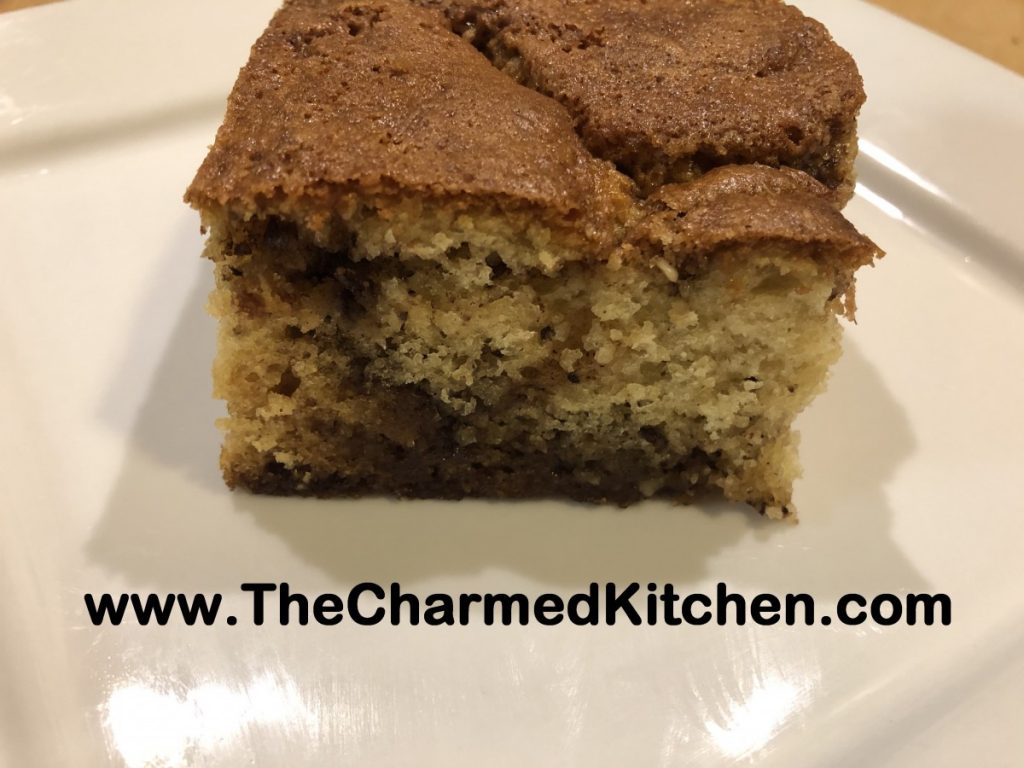 This is a rich, flavorful coffee cake. Sour cream helps to make the batter tender. Nuts, butter, brown sugar and cinnamon create a lovely filling that takes this cake to a whole different level. It is great with that morning cup of coffee or as dessert to end a lovely meal.
This was the first cake I can remember making from scratch with my Polish grandmother, my Busha. I was about 10 and I was spending the weekend with her. She didn't have the recipe written down, so I wrote down the measurements and directions as we went. I still have that index card where I carefully wrote down everything. It will always be a sentimental favorite of mine.
She did use shortening in the batter. I use butter or coconut oil as a substitute. Use what suits you- the cake comes out just fine with any of those ingredients.
The filling always sinks to the bottom. That is why the pan is greased, then lined with wax paper. Makes it easier to get the cake out of the pan later.
So here is the recipe. Enjoy.
Busha's Coffee Cake
1 c. light brown sugar
6 T. butter, softened
2 t. cinnamon
1 c. chopped nuts
3/4 c. sugar
1/2 c. butter, coconut oil or shortening
1 1/2 t. vanilla
3 eggs, room temperature
1 c. sour cream
2 c. flour
1 t. baking powder
1 t. baking soda
Mix first 4 ingredients together and set aside. Combine sugar and shortening until fluffy. Add vanilla and beat well. Beat in eggs one at a time. Stir in sour cream. Combine dry ingredients and add to egg mixture. Grease a tube pan or 9×9 inch square pan. Line bottom with wax paper. Pour half of batter in pan. Top with half of nut mixture, crumbling to spread evenly. Add remaining batter, spreading to smooth. Add remaining nut mixture and bake in a 350 degree oven for 45-50 minutes (tube pan),  or 35-40 minutes (9×9 inch pan). Serves 10.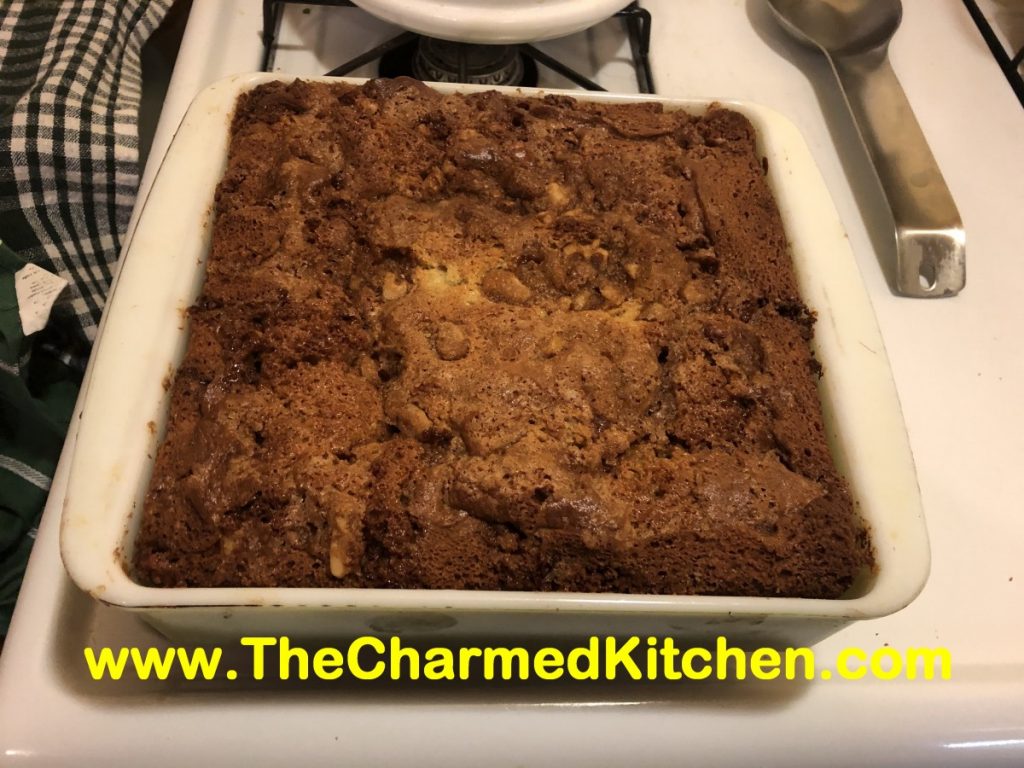 If you are looking for something to serve for Christmas morning or even as a dessert option I suggest you make this coffee cake. The rolls are filled with pineapple and cream cheese and are very yummy. They are arranged in a tree pattern before baking. Then the "tree" is topped with a light glaze and gently sprinkled with red and green sugars. So pretty and not that hard to make. As an added bonus the recipe makes two so you can keep one for home and perhaps gift one to a friend. Who are we kidding? You will keep them both for yourself- just invite more people over.  Here is the recipe.
Christmas Tree Coffee Cake
Dough:
4-4 1/2 c. bread flour
1/2 c. sugar
1 1/2 t. salt
2 packages active dry yeast
3/4 c. milk
1/2 c. water
1/2 c. butter
1 egg
Filling:
1 lb. Cream cheese, softened
1/2 c. sugar
1/4 t. nutmeg
dash salt
1/4 t. vanilla
1 (20 oz.) can pineapple in its own juice drained and squeezed dry
Topping:
11 red candied cherries, halved
2 c. powdered sugar
3 T. milk
red and green sugars
For dough in large mixing bowl combine 2 cups of the flour with the sugar, salt and yeast. Heat together the milk, water and butter until very warm. Add to flour mixture and beat 2 minutes. Add egg and 1 more cup of flour and beat 2 more minutes. Stir in enough of the remaining dough to make a stiff batter, about 1 cup. Cover bowl tightly with foil or plastic wrap and refrigerate for at least 2 hours or up to 3 days before using. For filling combine all ingredients for the filling except the pineapple and beat until smooth. Stir in pineapple and set aside until ready to use. Remove dough from fridge cut in half. Roll out one piece on lightly floured surface into a 10×11- inch rectangle. Spread with half the filling, leaving an inch at the end of 11-inch side. Roll up from eleven- inch side. Use thread or dental floss to cut through dough in 1-inch pieces by placing thread under roll and crossing ends. Pull outward and thread should cut through dough. If you aren't having any luck you can always use a knife, but they tend to flatten the rolls. On a greased baking sheet arrange the slices (you should have 11) into a tree shape. Start with one on the top and then a row of 2 below then 3 and then 4. The last roll will serve as the trunk. Cover dough with plastic wrap and set in a warm place to rise. Repeat with the remaining dough and filling. When dough is risen, about 1-2 hours bake in a 375- degree oven for 15 minutes then cover edges with foil to prevent over browning and return to oven for 10 minutes more. Cool on wire rack. Place half a cherry in the middle of each roll. Make a glaze with powdered sugar and milk and drizzle over. Sprinkle with the sugars. Makes 2 trees, 11 rolls each. Can be frozen up to a month ahead . defrost in a 350 -degree oven for 10 minutes and apply toppings.