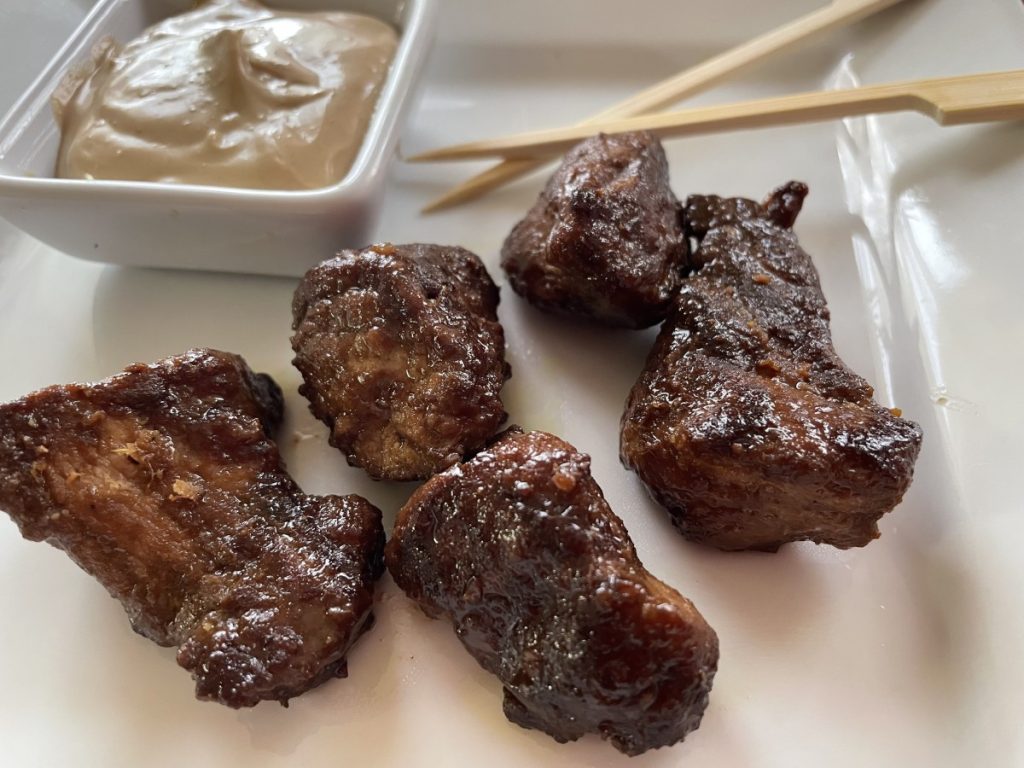 These pork appetizers are sure to please any carnivore at your next party. Cubes of pork are marinated for a day or two, before being sauteed. They are full of flavor and easy to make. You can bake or broil them, if you prefer.
I used cornstarch, soy sauce and sherry to start my marinade. Then I added ginger, garlic and curry powder. You can play around with different spices. Garam Masala would work well, too.
I decided to make a peanut sauce to dip them in.
You can serve them as is, or on small skewers. People always seem to love food on sticks. They can also be cooked ahead of time, then just reheated when ready to serve.
Ginger Curry Pork Bites
1-2 lbs. pork, cubed into 1-inch pieces – I used western ribs
½ c. cornstarch
¼ c. soy sauce
¼ c. dry sherry
1 (2 inch) piece fresh ginger, sliced
2 large cloves garlic, peeled and sliced
1-2 T. curry powder
2 T. oil
Combine pork cubes with cornstarch, soy sauce, sherry, ginger, garlic and curry powder. Mix well and refrigerate overnight or up to two days. Heat oil in skillet and sauté pork until just cooked through. Serve with peanut sauce on skewers.
Peanut Dipping Sauce
1/3 c. peanut butter
1/3 c. milk or coconut milk
1/3 c. chicken or vegetable broth
1/2 t. crushed red pepper
1-2 cloves garlic
1 t. fresh grated ginger
1 t. soy sauce
Dash hot red pepper sauce
Salt and pepper to taste
Combine all ingredients in a blender or food processor until smooth.