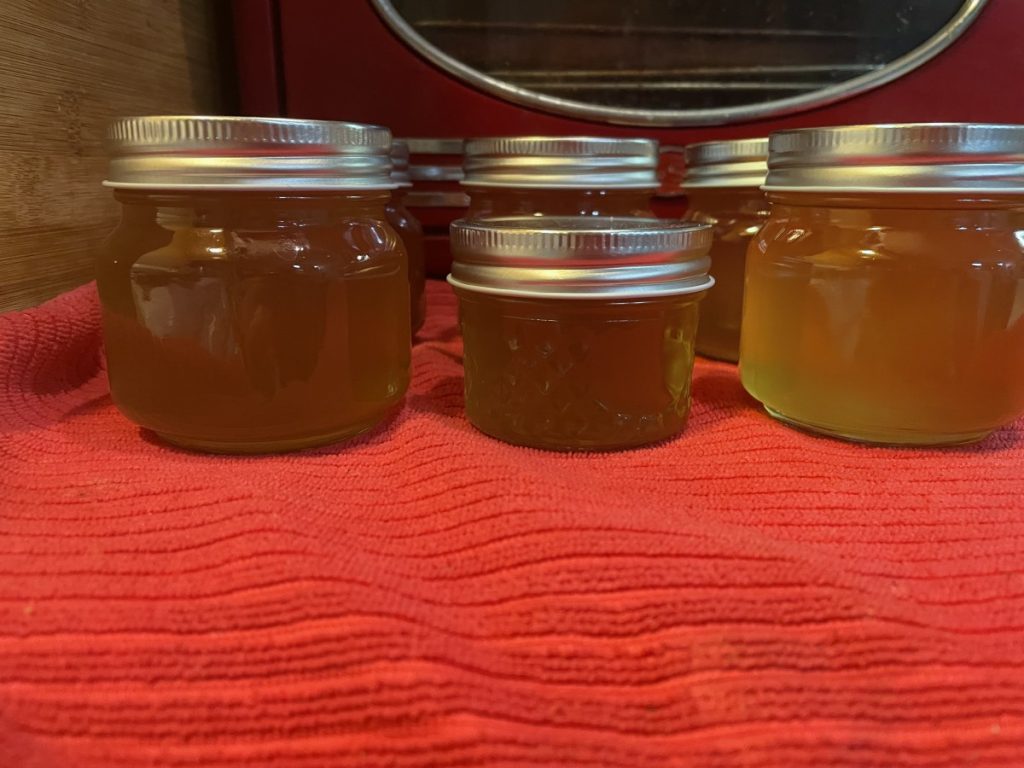 Dandelion jelly is one of those nice surprises in life. When people ask me what it tastes like, I tell them honey. It doesn't have the thick texture of honey. It is jelly, but the flavor is similar to honey. A pleasant flavor that goes well with everything. Dandelion jelly is not hard to make, either. You make a "tea" out of the flowers and use the tea to flavor the jelly. The better you are at removing any green the sweeter your jelly will be. I get the vast majority of green parts out by cutting off the green base of the flowers.
To be safe, be sure to only harvest blossoms where you know that weed killers have not been used.
Dandelion Jelly
3 cups dandelion blossoms, yellow only, green base removed
4 c. water
3 T. lemon juice
1 box (1.75 oz.) powdered pectin
4 c. sugar
After gathering the dandelion flowers, trim off stems and as much green as you can. You will need 3 cups of cleaned blossoms. You are going to start by making a sort of tea from the dandelion blossoms. Boil the water and pour over the cleaned blossoms. Allow to steep until it has cooled down. Strain out the petals and squeeze as much water out of them as you can. I then strained the liquid through a coffee filter to get it clearer. You can make the jelly right away or put the dandelion infused liquid in the fridge overnight. When ready to make the jelly, get a water bath canner ready. Add enough water to cover the jars and start to heat the water up to a simmer. Wash 5-6 jelly jars and lids. In a pot, add the dandelion liquid- if it is less than 4 cups add enough water to get to 4 cups. In the same pot add the lemon juice and pectin. Bring to a boil, stirring occasionally, and boil hard 1 minute. Add the sugar and bring back to the boil. Once the jelly is boiling, boil 2 minutes. Remove from the heat. Ladle hot jelly into jars within ¼ inch of the top. Wipe rim and attach lid. Place jars in water bath and bring water to the boil. Process 10 minutes once the water starts to boil. Turn off heat. Let jars sit in the water bath 5-10 minutes before removing to a towel or cooling rack. Allow jelly to cool down. Check seals the next day. I got 5½ (8 oz) jars.