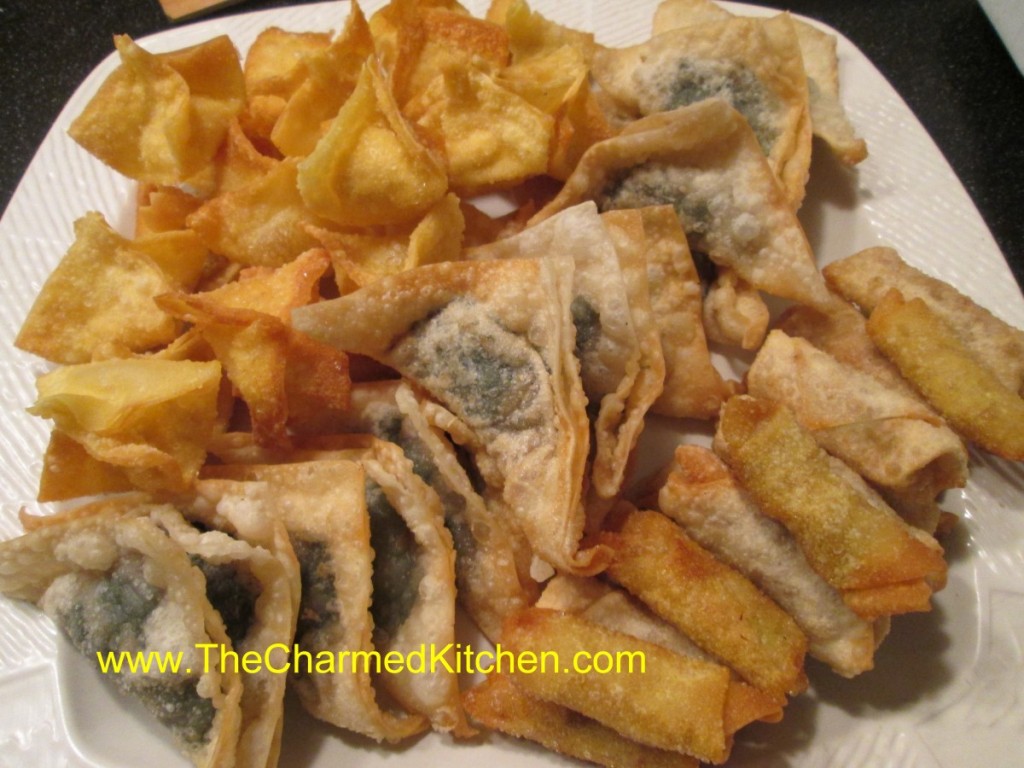 If you are looking to serve appetizers for New Year's Eve, or for other parties, here are some easy ones that your guests will love.
Some can be made ahead of time, saving you time the day of the party.
The won ton appetizers pictured here are from left to right- Crab Rangoons, Sesame Spinach Triangles and Honey Ginger Chicken Won Tons.
Sesame Spinach Triangles
oil
1 small onion, chopped fine
12 oz. fresh spinach, cooked, chopped and drained or 1 (10 oz.) box frozen spinach, thawed, cooked and drained
1/2 c. chopped water chestnuts
2 T. oyster sauce
2 t. sesame oil
1 t. hot sauce
won ton wrappers
Heat oil in skillet and cook onion until tender. Remove from the heat and stir in the remaining ingredients, except won ton wrappers. Adjust seasonings, if needed. Allow mixture to cool. Place 1 tablespoon of the filling in the center of a won ton wrapper. Moisten edges with a little water and fold over to form a triangle. Press to seal edges. Place filled triangles in 375 degree oil and fry for about 2 minutes or until golden.
Honey Ginger Chicken Won Tons
1 c. cooked diced chicken- I used thighs
1/4 c. minced celery
1/4 c. mayo
2 T. honey
2 T. dried minced onion
1 T. hoisen sauce
1 t. fresh grated ginger
salt and hot sauce to taste
won ton wrappers
Combine all ingredients, except the wrappers, and mix well. Place 2 teaspoons of filling in the center of each won ton wrapper. Moisten edges with a little water. Fold in 2 corners to meet in the middle. Starting at one of the remaining corners fold up and over and form into a roll. Press to seal edges. Fry in hot oil ( 375 degrees) for 1-2 minutes or until golden brown.
Crab Rangoons
1 clove garlic, minced
1 (8 ounce) package cream cheese
1 (6 ounce) can crab meat, drained and flaked
2 green onions with tops, thinly sliced
2 teaspoons Worcestershire sauce
1/2 teaspoon light soy sauce
won ton wrappers
Combine all filling ingredients and chill until ready to use. Place 2 teaspoons of filling onto the center of each wonton skin. Moisten the edges with water and bring 2 corners together. Bring the other 2 corners up and press all together to seal. Press all seams to seal. It should look like a little bundle. Fry in hot oil until golden brown, about 1-2 minutes.
Hot Crab Dip
8 oz. crab meat or faux crab, if you prefer
8 oz. cream cheese
1/2 c. mayo
1 T. chopped chives or green onion, optional
1 heaping teaspoon horseradish
1/2 t. Worcestershire sauce
1/4 t. hot pepper sauce, or to taste
Combine all ingredients in ovenproof bowl and mix until smooth. Bake in a 300-degree oven for 25-30 minutes or until hot and bubbly. You can also heat mixture in microwave for 90 seconds or until hot. You can mix the ingredients ahead of time and chill until ready to heat and serve. Serve with crackers, crusty breads or veggies. You can also spoon mixture into hollowed out tomatoes and broil until crab dip is hot and bubbly.
Pineapple Glazed Chicken Wings
12 chicken wings, cut into 2 pieces, save tips for another use
1 medium onion, chopped
1 can (or jar) of pineapple chunks, drained, reserving liquid- I used a pint jar- if using store bought use the 20 oz. can.
salt and pepper
Sauce:
1/2 c. apple cider vinegar
1/2 c. sugar
3 T. ketchup
3 T. sherry
2 T. soy sauce
1 t. minced garlic
1 t. red pepper flakes
reserved pineapple juice
3 T. cornstarch
Preheat oven to 400 degrees. Place wings in pan and season with salt and pepper. Bake chicken wings in roasting pan for 30 minutes. Add the onions and pineapple chunks to the pan with the chicken wings and return to the oven for 30 minutes longer. While chicken is cooking combine the first seven sauce ingredients in a small pot and bring to a boil. Check baking pan for any juices- Spoon them out and add to the sauce. Combine pineapple juice and cornstarch in small bowl, stirring until smooth and add to the sauce. Return to boil and stir until sauce is thickened and bubbly. Pour hot sauce over chicken and return to the oven to bake 20-30 minutes longer or until wings look nicely glazed and sauce has started to brown. Makes 24.
Brie Truffles
8 oz. brie, room temperature- I remove the rind from the brie for a smoother texture.
8 oz. cream cheese, softened
1 stick ( 4 0z.) butter, softened
2 c. fresh pumpernickel bread crumbs*
In food processor combine cheeses with butter until smooth. Chill mixture 30 minutes or longer. With a small cookie scoop or teaspoon form mixture into small balls. Place crumbs in a bowl and roll the balls of cheese in the crumbs to coat. Place in small paper cups and chill until ready to serve. Makes 3-4 dozen.
* To make the crumbs just place torn
Caramelized Onions "Toasts"

2 lbs. Onions, chopped
3 T. oil
1 t. salt
2 T. brown sugar
¼ c. balsamic vinegar
Dash red hot pepper sauce
Paprika
Sauté onions in oil with salt over low heat for 25-30 minutes. Onions should begin to caramelize and brown without burning. Add remaining ingredients and cook slowly another 15 minutes. Adjust seasonings, if needed and serve warm with crusty bread, crackers or smoked meats. Keeps in fridge for a couple of weeks or can be frozen. To make the toasts I placed a little of the onions on Wheat crackers and topped with squares of sliced Swiss cheese. Placed in a 400 degree oven until the cheese melted.
Brie with Pesto and Sun-Dried Tomatoes
2 c. basil leaves
3 T. Pine nuts, walnuts or pecans
2 T. olive oil
2 cloves garlic
3 T. Parmesan cheese
salt and pepper to taste
½ c. sun-dried tomatoes, soaked in water and chilled overnight
1 T. oil
1 t. oregano
small wheel of Brie 1-2#
Combine first five ingredients in a blender or processor until smooth. Add salt and pepper to taste. Drain tomatoes and chop coarsely. Combine with remaining oil and oregano and season to taste. Split Brie horizontally into 3 pieces. Spread
One layer with pesto and top with a piece of Brie. Spread with tomato mixture and top with remaining Brie. Wrap and chill overnight. Serve at room temperature or warm slightly. I warmed it wrapped in foil at 400 degrees for 10 minutes.Wanted it to brown a bit. Goes best with crusty breads.
Caponata
2 small eggplants, unpeeled and cut into 1/2-inch pieces, about 5-6 cups
1 large onion, chopped
1/2 c. olive oil, or a little more
4 celery ribs, sliced
2 sweet peppers, seeded and chopped
1 heaping tablespoon chopped garlic
3 tomatoes, chopped- or 1 (14.5) can diced tomatoes- undrained
1 c. sliced black olives
3-4 T. red wine vinegar
salt and pepper to taste*
Soak eggplant in salted water for at least 15 minutes. Rinse, drain and pat dry. Set aside. Meanwhile in skillet cook onion in 2 tablespoons of the oil until tender. Add the celery and cook until the celery is tender-crisp. Place mixture in a mixing bowl and set aside. Heat 2 tablespoons more of the oil and cook the peppers until tender. Add garlic and cook 1 minute longer. Add the tomatoes and cook 1 minute longer. Add this mixture to onion mixture and return skillet to the heat. Add remaining oil to skillet and cook eggplant until golden brown and tender. You may have to do this in 2 batches. Add remaining ingredients to bowl while eggplant is cooking. When eggplant is done add it to the bowl and mix well., Season to taste. Serve with crusty breads cold, hot or at room temperature. Serves 10-12.
* While I don't have any herbs listed in the ingredients I often add oregano and basil or an Italian or Tuscan seasoning blend. I also like to add capers.
Mushroom Spread
½ lb. mushrooms, trimmed, washed and chopped
2 T. butter or oil
1 medium onion, chopped
½ t. salt
Fresh ground pepper
Dash of nutmeg
1 t. lemon juice
2 t. flour
½ c. sour cream or strained yogurt
½-1 t. dill weed
Sauté onions and mushrooms in butter or oil for 4 minutes. Add seasonings, lemon juice and flour and cook 3 minutes more. Remove from heat and stir in sour cream or yogurt and dill. Serve with pumpernickel bread, crackers or in mini cream puff shells.
Bacon-wrapped water chestnuts are always a big hit when I make them. People can't seem to get enough of them. The combination of salty and sweet, with the smokiness of the bacon, a little heat, and the crunch of the water chestnuts is a flavor explosion.
We made them in cooking class the other night. It was the last dish out of the oven. Everyone was waiting for them. Let's just say there were no leftovers.
What is it about the smell of bacon cooking? Maybe for you, like me, it is a childhood memory. We never had bacon for breakfast during the week. Not even every weekend. But on some magical Sunday mornings, I would wake up and smell bacon cooking. No one slept in on those mornings. Mom or dad would be frying the bacon in the cast iron skillet. If we had pancakes or waffles, I would dip my bacon in the syrup on my plate.
This recipe combines some of those flavors. You can assemble them ahead of time, then just cook when you are ready. You can also cook them a day or two ahead, then reheat before serving. I have even been known to freeze them. They are easy to make, too.
So here is the recipe that I use. You can adapt it to suit your taste. Perhaps make them spicier? I hope you try them for a party soon.
Bacon-Wrapped Water Chestnuts
20 slices bacon cut in half
40 water chestnuts, whole
Hot sauce
Maple syrup
Brown sugar
Roll ½ a slice of bacon around water chestnut and place rolls in a baking dish. Cook in a 400 degree oven for 20 minutes or until rolls are well-browned. Remove from pan and drain on paper towels. Return rolls to baking dish. Drizzle with maple syrup and sprinkle with brown sugar and hot sauce. Return to oven and bake until caramelized. Makes 40.