This might look like an ice cream cone, but it isn't. It is a cupcake!! The batter is baked inside ice cream cones, then decorated to look like ice cream cones. I used from scratch recipes for both the cupcake batter and the frosting, but feel free to use what ever recipe you like. This is such a fun twist on a cupcake. Great for summer parties.
Because you use more frosting than you might normally use for more traditional cupcakes, make sure to have extra. I chose the recipe I did because it makes plenty of frosting. I did not tint my frosting, but you can, if you like.
These are fun for kids to make. We made them in cooking camp yesterday. You can let them decorate their own "cone". For a kid's party you can even have a couple of different cupcake flavors and frostings to pick from- and some assorted toppings, like cherries, tiny candies and assorted sprinkles.
Once you frost the cupcakes, they become a little top heavy. I find setting them together, letting them touch each other a little, helps to keep them from tipping over.
Sometimes, some of the batter drips over the edge of the cone when baking. Just pretend some of the "ice cream" has melted and cover drips with frosting.
Here are the recipes I used, with the directions for baking the cupcakes.
Chocolate "Ice Cream Cone" Cupcakes
4 oz. semisweet chocolate
1 cup butter
1 cup all-purpose flour
1 3/4 cups sugar
4 eggs
1 teaspoon vanilla extract
24 flat bottomed ice cream cones
Preheat oven to 325 degrees. In the top of a double boiler, combine chocolate and butter. Heat, stirring occasionally, until mixture is melted and smooth. Remove from heat and allow to cool to lukewarm.
Sift flour and sugar together into a large bowl. With mixer on low speed, beat in eggs one at a time. Stir in chocolate mixture and vanilla. Place 24 cones in muffin tins to hold them up and fill 2/3 full with batter. Bake for about 20 minutes, or until cupcakes puff to top of cones. Test with a toothpick. Cool and frost to look like ice cream. Decorate with sprinkles. Makes about 24.
Super Fluffy Frosting
1½ cup butter
1 1/2 tablespoons vanilla extract
1½ lbs. confectioners' sugar –
1/8 teaspoon salt
3 T. milk
In a mixer, combine the butter, vanilla and 1 tablespoon milk. Add the sugar and salt, beat until well mixed. Add a tablespoon or two more of milk, if needed. Turn mixer to the highest speed and beat for 15 minutes.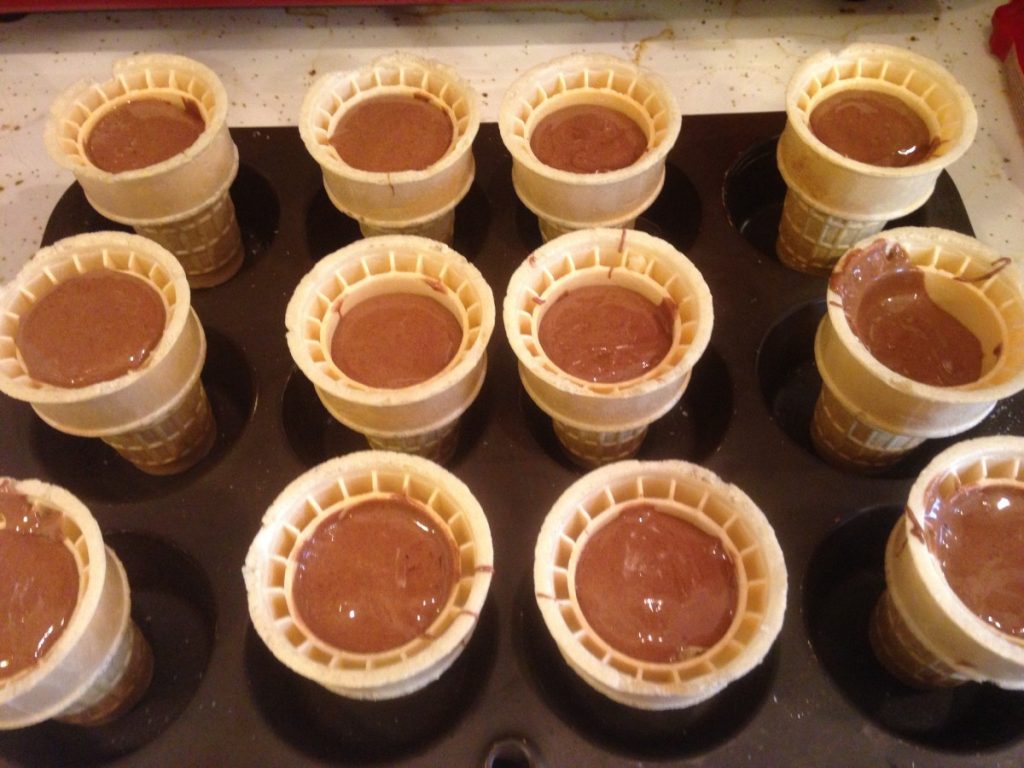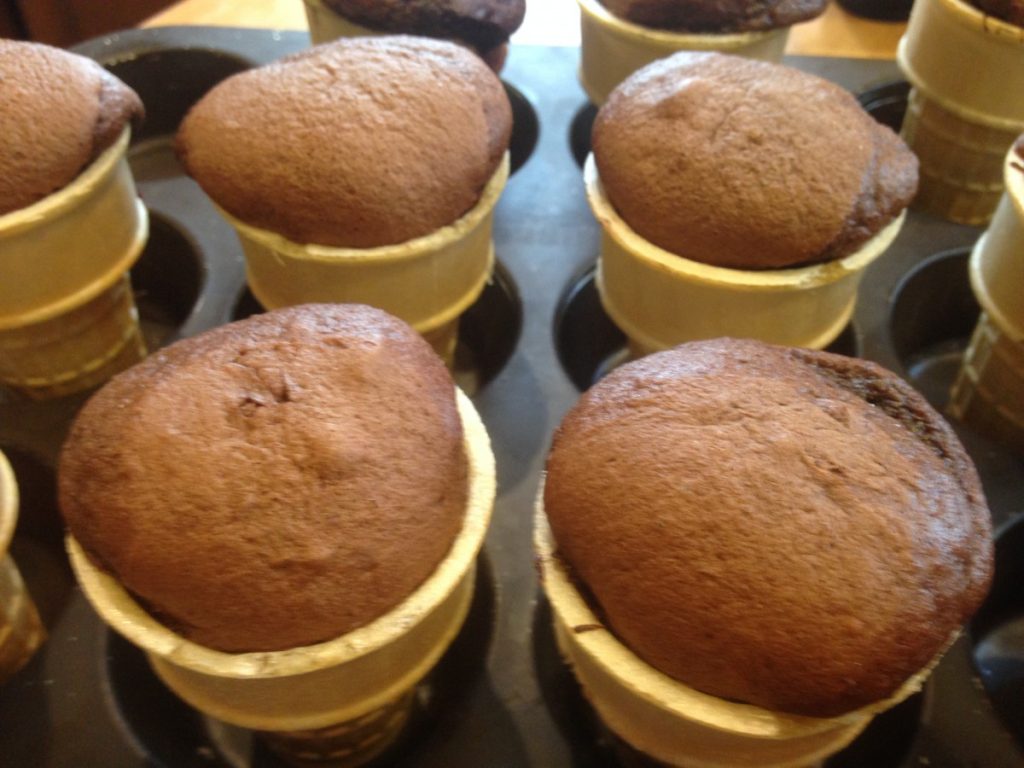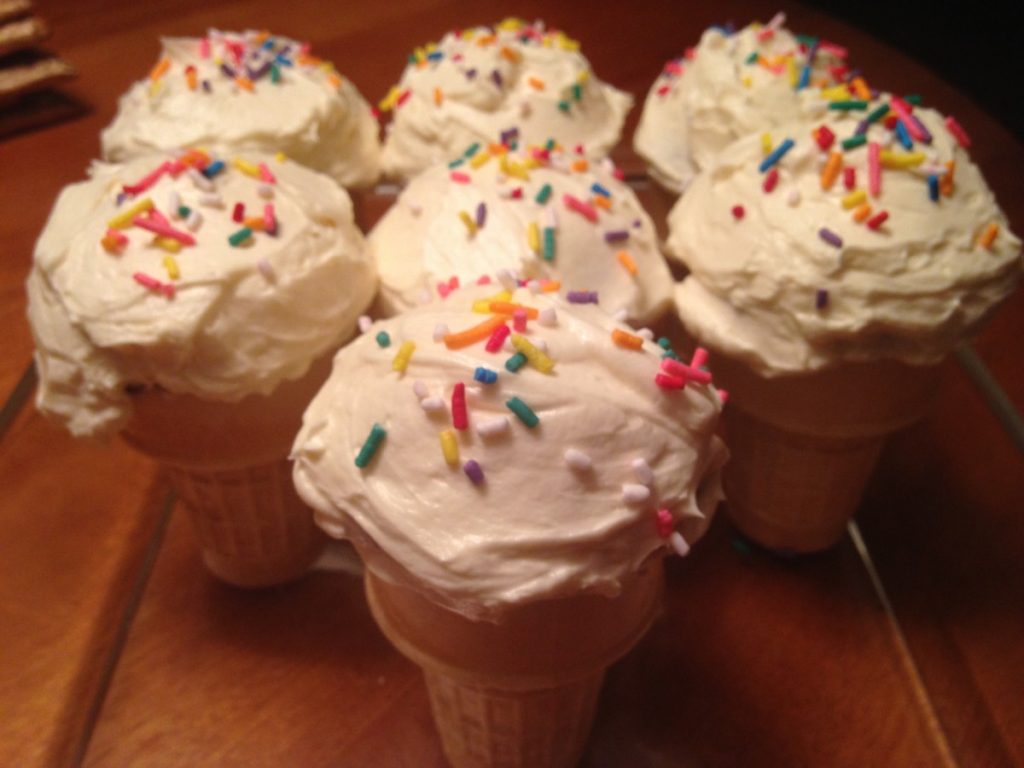 I am going to dinner with friends tonight and offered to bring dessert. With storms looming in the near future I decided to make something with a winter theme. I ended up making Melting Snowmen Cupcakes- or Global Warming Cupcakes- you decide. They were pretty easy to make. I just baked some vanilla cupcakes- you can make whatever kind you like. I had 2 containers of marshmallow cream a friend had given me so I used them for the frosting. You could just as easily use vanilla frosting- store bought or homemade. I set a marshmallow on the top and decorated them with frosting for eyes, scarves and carrot "noses" . Since I had some kisses I used them for hats.
Melting Snowman Cupcakes
24  prepared cupcakes
2 jars marshmallow cream- or 2c. white frosting
24 marshmallows
1/2 c. chocolate frosting- for eyes, mouths and scarves
small amount of orange frosting for carrot noses
24 kisses candies
If using the marshmallow cream, place in microwave-safe dish and  warm up in the microwave for a minute or so- stir until smooth. Dollop cupcakes with a small amount of the cream and allow it to melt over the cakes. Place a marshmallow on top of each cupcake to form the snowman's head- I used toothpicks to affix the marshmallows until the marshmallow cream set up. If you are using frosting,just frost the cupcakes allowing a little frosting to drip over the sides. Use a small writing tip with a decorating tube to make eyes and mouths with chocolate frosting. I used the same frosting for the scarves, but you can tint white frosting any color you like for the scarves. Use a small writing tip to make the orange carrot noses. If you have used toothpicks to affix the marshmallows- remove them. Affix the kisses to the heads of the snowmen with a little frosting- any kind you have extra of. Makes 24.