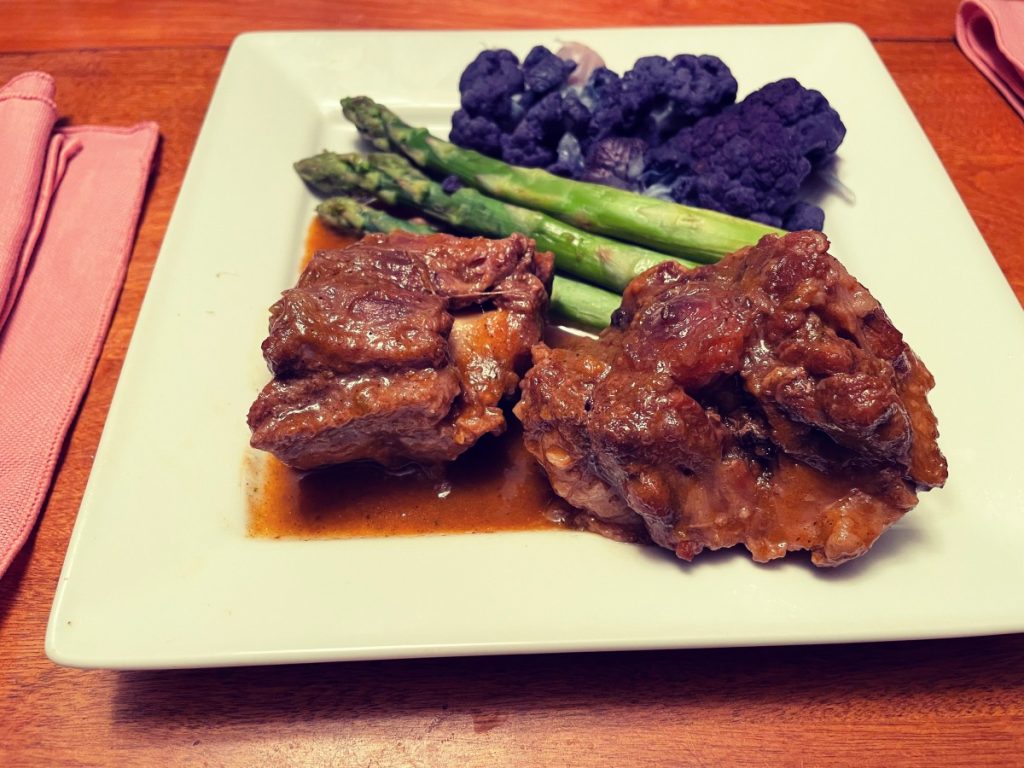 Oxtails will always remind me of the oxtail soup my mom used to make when I was a kid. It would simmer all day and smelled wonderful. I wanted to do something other than soup with these oxtails, so I decided to braise them instead.
Oxtails need a long, slow cook to get them really tender. Moist heat is the trick here. Soup is one way. Braising is another. Yes, you can also cook them in a pressure cooker to get the meat tender faster. I went more traditional though, and opted for a braise of several hours. While the cooking takes a bit of time, there really is nothing to do once the dish is moved to the oven. You just have to start them early enough. Longer cooking generally won't hurt them. It just depends on how tender you want your oxtails to be.
Oxtails are pretty fatty and you want to trim off excess fat before cooking or your sauce will be greasy. My local butcher trims them for me, saving a step. It also means I am not paying for fat that I am going to cut off and throw away. Oxtails were once an inexpensive cut of meat, but that has changed in recent years. It pays to save where you can.
So here is the recipe. I had a friend try them and he really enjoyed them. I think you will, too.
Chili Braised Oxtails
3-4 lbs. oxtails, excess fat trimmed, if needed
2 T. oil
2 large onions, chopped
2 large carrots, chopped
1 rib celery, chopped
4-5 cloves of garlic, chopped
4 cups stock- beef preferred
½ c. sherry or red wine
¼ cup chili powder
Salt and pepper
Cayenne pepper to taste
In Dutch oven brown the oxtails in oil until browned. Remove from the pan, add the vegetables and brown them for about five minutes. Return shanks to the pot. Add the stock and bring to a boil. Add sherry and seasonings. Place lid on pot and place in a preheated 350-degree oven for 3-4 hours. Check them after 90 minutes and add a little more stock, if needed. It is normal for some of the stock to cook down. I did not need to add more stock. Remove pan from the oven. Remove oxtails and keep warm. Puree the vegetable mixture to make a gravy. Adjust seasonings. Serves 3-4. 
One of my favorite meals when I was growing up was my Mother's oxtail soup. It would simmer for hours and the house always smelled so good. I got some oxtails the other day and decided to braise them. They were amazing and so simple to do. The hardest part of cooking oxtails is having to wait for them to cook long enough to get tender.
I started by browning the oxtails in a pot. I then covered them with water, added some onion, celery and salt and covered the pot. I cooked the oxtails at a simmer for a couple of hours. Once they were getting tender I added carrots, potatoes, corn on the cob ( broken into 3 -inch pieces)  and 3 cups of fresh tomatoes which I had peeled and chopped.  I also added half a cup of red wine, more salt and fresh ground pepper. As the veggies I got tender I left the lid partially off so the liquid would reduce.
I pulled out the meat and veggies and set them aside, loosely covered with foil while I finished the tomato gravy. I skimmed fat off the top of the liquid in pan and increased the heat to high. I cooked it until it reduced by half and had about a cup and a half of sauce. It was still a little thinner than I wanted so I combined 1 tablespoon of flour with about 1/4 cup of cold water in a small jar. I shook it until it was smooth and poured it into the pan. I let it simmer for a couple of minutes to thicken and cook the flour. I adjusted the seasoning and returned the oxtails to the pot, turning them to coat in the tomato "gravy" in the pan. Served the oxtails  with the corn, carrots and potatoes. So good.