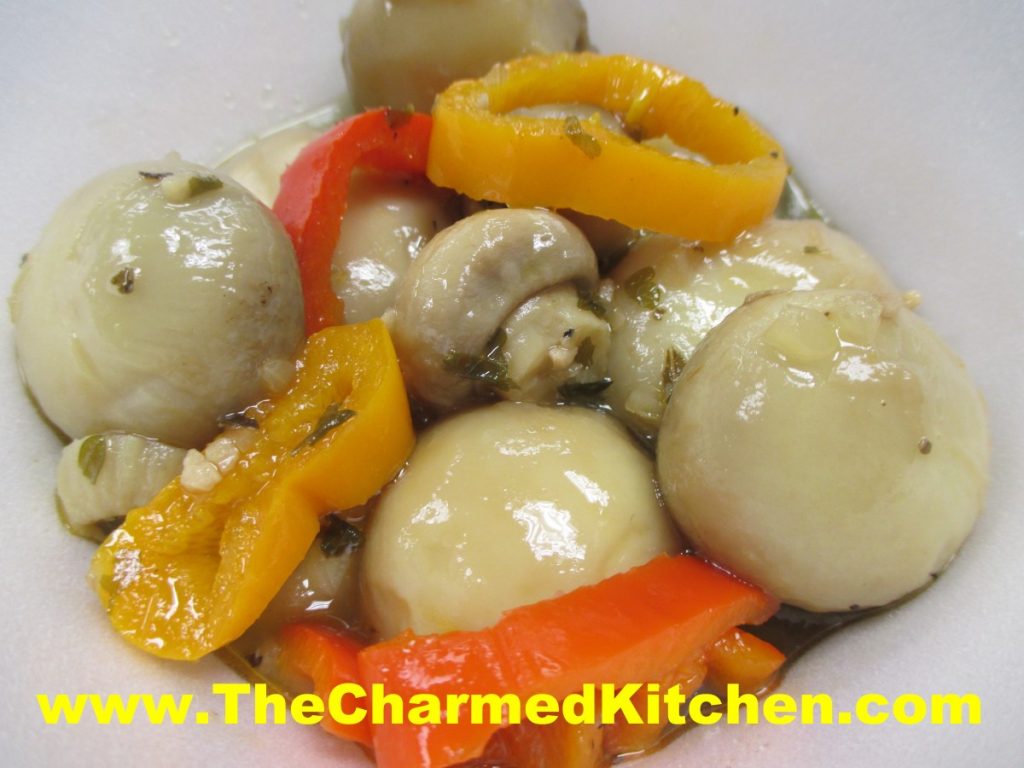 This dish combines two of my favorites- mushrooms and peppers. They are cooked together in an herb-rich brine, then allowed to chill in the brine, absorbing even more flavor. Think of it like a fresh pickle.
Once finished, the marinated veggies will keep for several weeks in the fridge.
This is a great dish to have on hand. You can serve it as an appetizer, with cheese and crackers, or as part of an antipasto tray. I have been known to eat them right out of the container as a snack.
You can also serve it on a bed of lettuce, as a salad, using some of the brine as the dressing. I sometimes double the brine ingredients, just so I have extra "liquid" to use as a dressing.
I kept it fairly mild, but you can add hot sauce for a spicier version, if you prefer.
I know 2 pounds of mushrooms sounds like an awful lot. It really isn't. The mushrooms cook down a lot.
     Pickled Mushrooms with Peppers
1/2 cup red wine vinegar
1/3 cup water
2 tablespoons oil
1 teaspoon sugar
1 tablespoon chopped onion
1 tablespoon chopped fresh parsley
1/2 teaspoon dried basil
2 cloves garlic, minced
1/4 teaspoon salt
1/4 teaspoon fresh ground black pepper
2 lbs. fresh mushrooms, stems removed
2 sweet peppers, seeded and diced
Combine the vinegar, water, oil, sugar, onion, parsley, basil, garlic, salt, and pepper; bring to a boil. Stir in the mushrooms and red bell pepper; return mixture to a boil; reduce heat and simmer until the mushrooms are tender, 5 to 10 minutes. Remove from heat and allow to cool to room temperature. Transfer to a covered container and store in refrigerator at least 4 hours before serving.
For those of you looking for another way to use some of those zucchini this dish is really fun and easy. The flavors of the zucchini, corn and peppers work really well together and makes a tasty side dish in just a few minutes.
Quick Corn and Zucchini Sauté
2 sweet peppers, seeded and cut into strips
2 medium zucchini, sliced
Oil
2 c. corn kernels cut from cobs, about 4 ears
1 t. garlic salt*
½ t. Italian seasoning
In oil cook peppers and zucchini until crisp tender, about 5 minutes. Add remaining ingredients and cook 4 more minutes, or until heated through. Serves 6-8.
*Feel free to use 1 teaspoon of salt and some fresh garlic, I often do.
I love the flavor of roasted peppers. They add a nice smoky flavor to many dishes from salads to soups. I made this one to use in a Greek salad. If you haven't roasted peppers before I encourage you to try it. Since I have a gas stove I just place the pepper right on a burner and turn the burner on medium. Turn the pepper, using tongs, until the pepper it charred on all sides. I know- it doesn't look appetizing, but trust me the flavor will be terrific. After the pepper is all blackened take it off the heat and roll in up in paper towels or place in a paper bag to steam. The steam will help to loosen the skin. Once the pepper is cool enough to handle just rub off the charred skin and discard. Seed and chop up the pepper and toss in whatever dish you are making. You can also take the seeded pepper and toss it in a blender with some herbs, salt and a little oil. Puree for a tasty salad dressing.
If you have an electric stove you can roast peppers under the broiler until charred, turning often or you can even roast peppers on the grill.