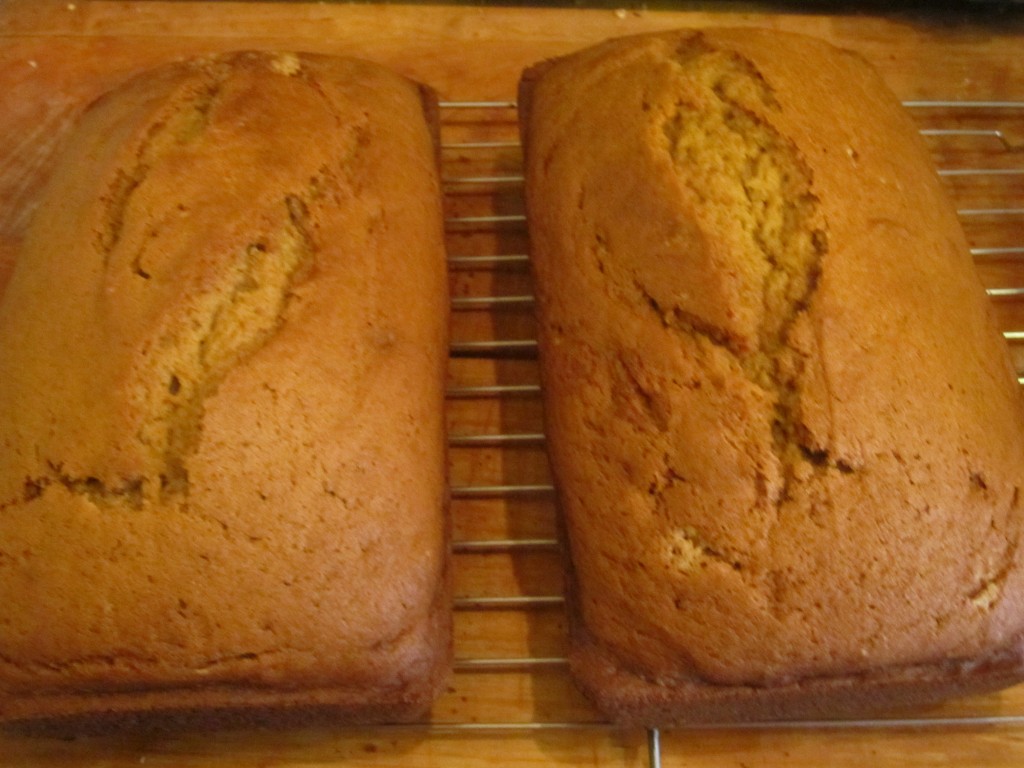 This is one of my favorite quick breads. I often make it with butternut or Hubbard squash, instead of the pumpkin. For some reason, squash bread does not sound as fun as pumpkin bread. I like to make several batches at a time, and freeze the extra. Of course, if word gets out that I have freshly baked pumpkin bread, it never makes it to the freezer. Every year I get a lot of requests. Everyone seems to love it.
The recipe called for butter originally. I decided to use coconut oil as a substitute for the butter, to see if it would work out. It was just an experiment, for a friend who can't eat dairy. She didn't want to use shortening, which was another option. The bread came out wonderful. Very similar to the original. Can't honestly say there is any taste difference between this and the original recipe. Maybe a slight taste of coconut, but that could just be because I know there is coconut oil in the bread.
It is a versatile bread. Served plain, it is a great breakfast. Topped with a dusting of powdered sugar or sweetened fruit and whipped cream or ice cream, it becomes dessert. I often bake smaller loaves for gift giving.
I do find myself adding more spices, sometimes. Play around to find the combination of flavors you like. I often add cloves, allspice or mace.
Coconut Pumpkin Bread
1 ¾ c. flour
1 ½ c. sugar
1 t. baking soda
¾ t. salt
1 t. each cinnamon and nutmeg
½ c. coconut oil, you could use 1 stick of softened butter
2 eggs, beaten
1 c. pumpkin puree – you can use other winter squash
1/3 c. water
Mix dry ingredients and set aside. Beat together butter and eggs until fluffy. Beat in pumpkin and water until smooth. Stir in dry ingredients until smooth. Pour into a greased 9×5-inch loaf pan. Bake in a preheated 350-degree oven for 60-65 minutes. Cool in pan 10 minutes before removing from pan and placing on cooling rack. Wrap in plastic, best served the next day. Freezes well. Makes 1 loaf.
As with other quick bread you can make this recipe and bake it in smaller pans for gift-size loaves. Baking temperature is the same. Time will vary, so check after 30 minutes and test for doneness as usual.